Published by The Morgans. Last Updated on August 26, 2019.
Disclaimers: Our site uses demographic data, email opt-ins, display advertising, and affiliate links. Please check out our Terms and Conditions for more information. Listed prices and attraction details may have changed since our visit and initial publication.
Hoi An, Vietnam, is located around 25km east of Danang International Airport.  Rather than flying in, we travelled up to Hoi An from Nha Trang (where enjoyed a wonderful mud bath at the Thap Ba Spa), taking the overnight train leaving at 9:30pm and arriving at 8 am in the morning. Overall the train ride was fine and we all slept well which let us start or exploration of Hoi An on the right foot.
Our six nights were full of many amazing activities that we all enjoyed, from our youngest to oldest.  The following are a collection of the best.
Bike Riding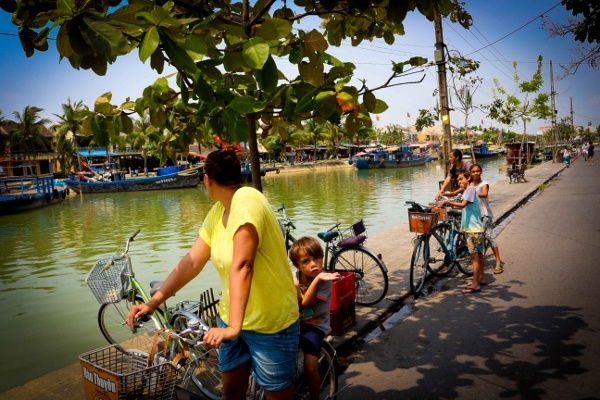 If you are not staying in the old quarter then you need some sort of transport to get around. We were located 3 km from town and 2 km from Cu Dai Beach. Luckily for us our homestay had bikes included for free in the room rate.
We enjoyed riding our bikes to the beach and to the old quarter but our favorite bike trips by far were to the rice paddies. We would ride through the rice paddies everyday and always see something new and exciting. We just loved the lush greenery and all the wildlife.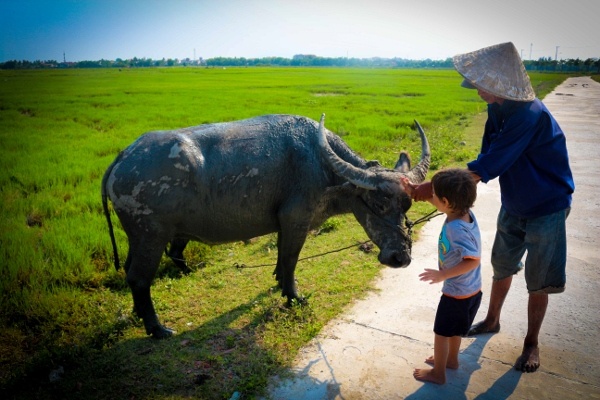 On our first day we got to pat a bull and have our photo taken and we also saw lots of cows, ducks, little ducklings and birds while on our adventures through the ride paddies.
Having a bike also allowed us to travel all over Hoi An and it was loads of fun and good exercise.
Cooking Class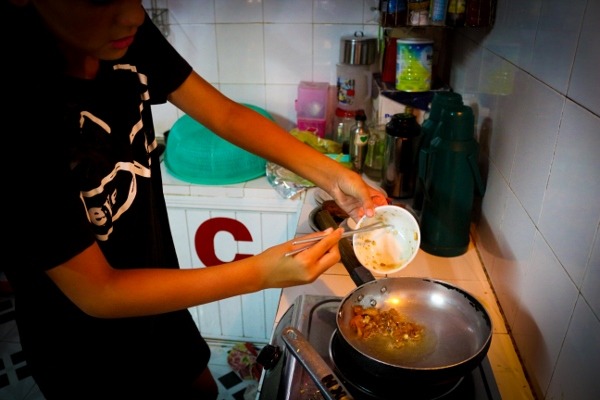 Hoi An is the culinary centre of Vietnam. Well that's what we think anyway. We have been enjoying the food in Vietnam very much and none more so than in Hoi An. We found so many delicious local dishes here and some of them are only made in Hoi An.
The girls and I did a local Vietnam cooking class while in Hoi An and it was great. You choose dishes from the restaurants menu a day in advance and then you just pay for the cost of the meal you make plus $5 USD per person.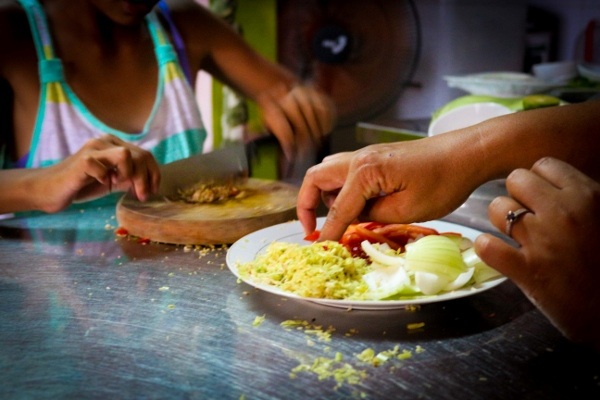 We made spring rolls, Chicken Curry, Chili and Lemongrass Chicken and my favorite Papaya Salad. The teacher gave me a pen and paper and I was able to write down the recipes while the girls did most of the cutting and cooking. It was an enjoyable experience and the food tasted just like it did when we ordered it from the restaurant! Can't wait to get stationary so I can recreate some of the dishes.
Old Quarter at Night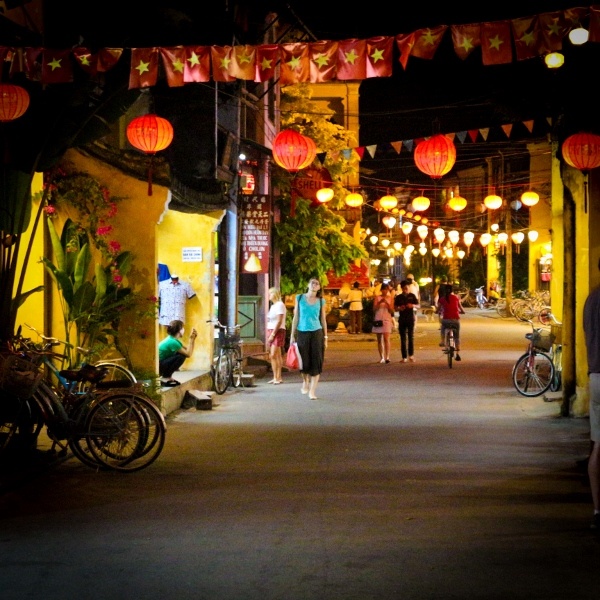 Hoi An's Old Quarter is a UNESCO world heritage site and was a trading port from the 15th to the 18th century. Most of the old buildings are in good condition and in the evening the whole old quarter lights up with beautiful lanterns and lights.
It is quite magical to take a stroll around the river when it is dark. The kids were quite intrigued with the light boats that can be bought and put into the water and all the pretty lanterns that light the night sky in an array of colors.
An Bang Beach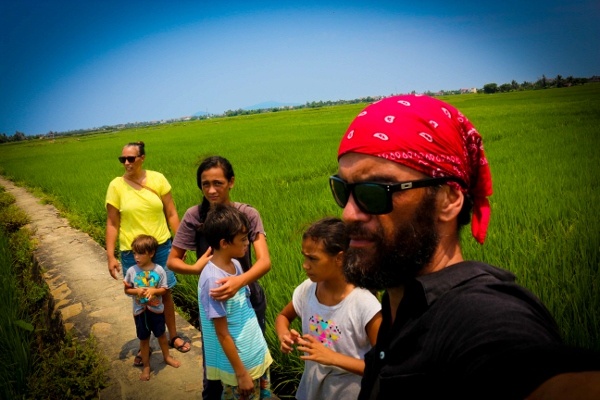 An Bang Beach is the local beach and was around a 6km bide ride from our homestay. We loved this beach as it was so picturesque with the Marble mountains and Danang in the background.
We also enjoyed the ride to this beach, as we had to go through many ride paddies to get there. We enjoyed spending time at the beach and the weather was just perfect while we were there. (About 92 degrees)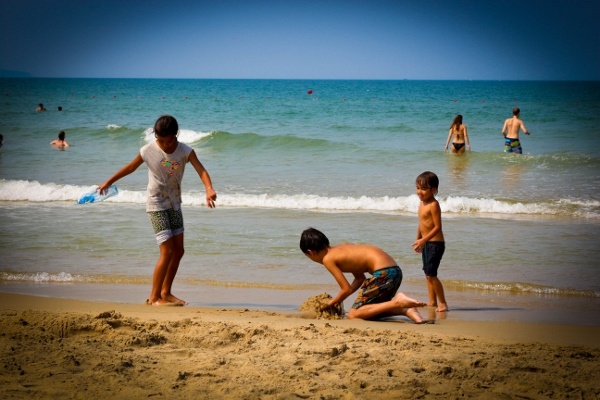 We enjoyed renting beach chairs on the beach and swimming in the cool water. There are many beach chairs on the beach and they can be enjoyed for free if you purchase drinks or food from the restaurants that provide the chairs.
The waves are not too big and our 3 year old enjoyed running in and out of the waves for hours.
Cu Dai Beach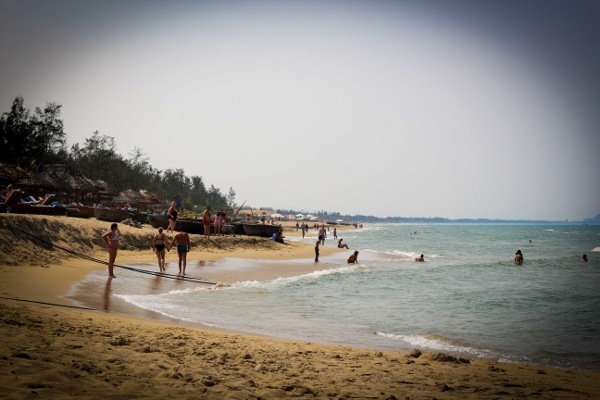 Cu Dai Beach is where all the big resorts are located. When we visited, however, there was almost no sand as it had been all washed out. Cu Dai beach was only a short 2 km ride from our homestay but we preferred the other beach. It is a lovely beach with lots of palm trees and would be ideal at a different time of year when the sand goes all the way to the water.
Hoi An is home to many more incredible attractions and opportunities, including the large tailor marketplace to get cheap custom suits made (try out Yaly Couture where Jeremy went).  While we didn't have any clothing made due to our small carry-on bags being quite full, we can certainly see why it is so popular.   Whether you visit for visiting a tailor, or opt to see the natural scenery and old town, Hoi An certainly has a lot for everyone!
About The Morgan Family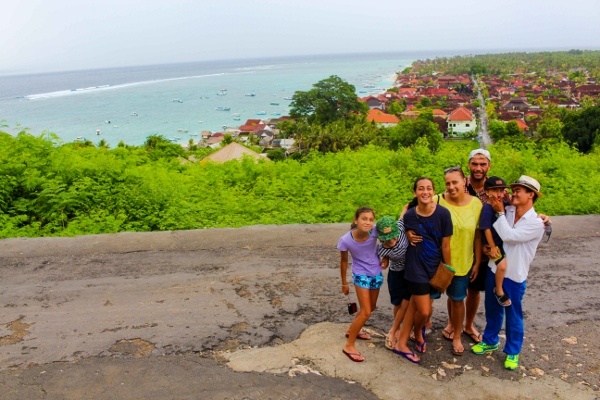 About the Author: The Morgan Family of Morgans Go Travelling are a traveling family that shared stories from their around-the-world trip from 2014 to 2015. They share frequent travel updates on their Facebook page.