Last Updated on January 27, 2022 by Guest Blogger
Disclaimers: Our site uses demographic data, email opt-ins, display advertising, and affiliate links. Please check out our Terms and Conditions for more information. Listed prices and attraction details may have changed since our visit and initial publication.
If you want to try hiking in Poland, you will not be disappointed! This country in central Europe has it all – rocky Tatra mountains, mild hills in the Beskids as well as long-distance trails. The longest one is called Main Beskid Trail (Główny Szlak Beskidzki) and runs for almost 500 km along the southern border of the country.
I have had it on my bucket list for a long time, but first I decided to try its smaller version– The Small Beskid Trail.
Practical Information for Hiking the Small Beskid Trail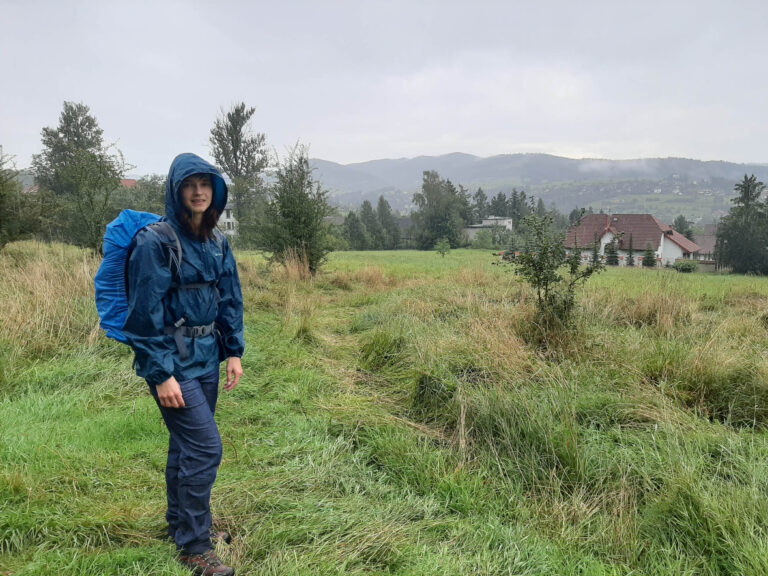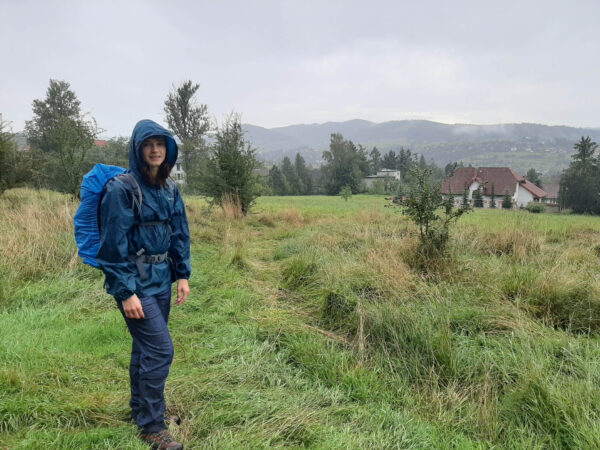 Small Beskid Trail is the fourth-longest trail in Poland and according to official sources, it's 137 km long and the total elevation gain is about 6500 meters.
It starts in the city of Bielsko-Biała and ends on top of the mountain Luboń Wielki. Or the opposite, you choose. I walked from Luboń Wielki to Bielsko-Biała because it was easier for me to get back home from Bielsko.
You can see the trail on the map here and read the full description of the trail here (in Polish).
The shortest possible hiking time for a regular tourist is four days– but that is a strenuous option for the advanced. I divided my hike into five days but I also decided to have one day of rest after day three. I am an active person, hiking regularly during free weekends and running twice a week but it was a demanding option for me. I don't think I would've completed the hike without the resting day.
My advice is to plan a minimum of five, and preferably six days to complete this hike.
Long Distance Hiking in Poland – The Small Beskid Trail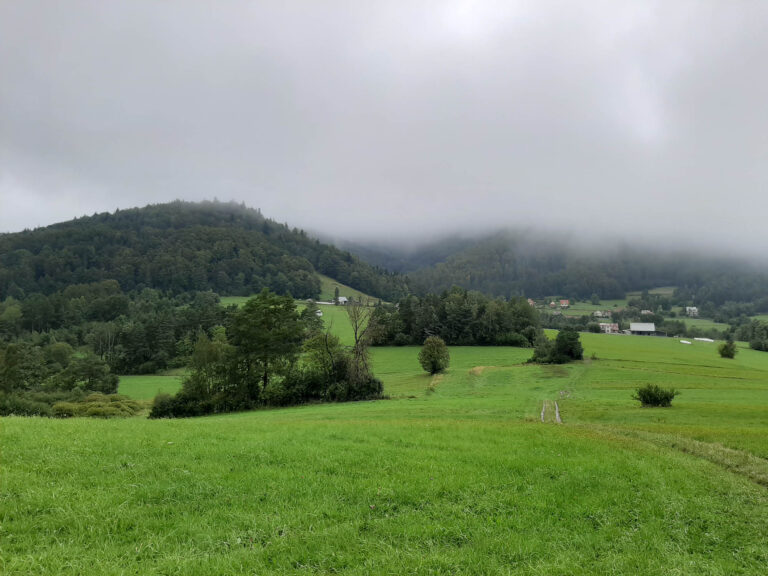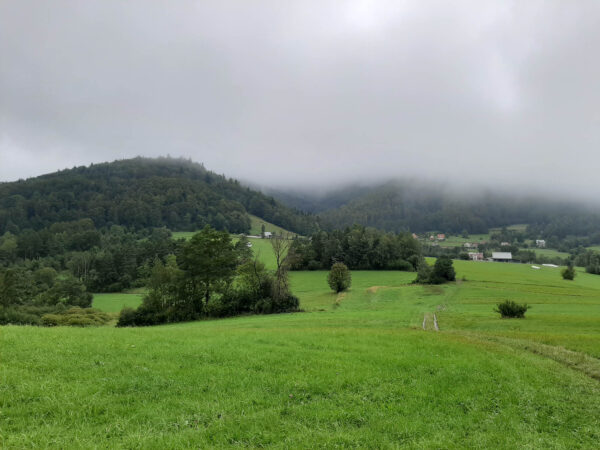 Day 1: Rabka Zdrój – Luboń Wielki – Kasina Wielka
Map: https://mapa-turystyczna.pl/route/bgbx
Total distance from accommodation to accommodation: 28 km
I set off from Rabka-Zdrój following the blue trail towards the beginning of the Small Beskid Trail – Luboń Wielki. The weather was horrible – rainy ad foggy but I did not get discouraged – I put a raincoat on me and my backpack and off I went! After 8 km I reached the beginning of Small Beskid Trail – Luboń Wielki.
I didn't rest regularly on the way and it was a mistake that I regretted further down the road.
I ate lunch on the way to Mszana Dolna. It was delicious but having my belly full was not fun before the so-called "terror of Small Beskid Trail" – Lubogoszcz mountain. It's 4 kilometers of an extremely unpleasant ascent, which in my case was between kilometers 18-22.
All the mistakes I made earlier took their toll then. No regular rests, eating irregularly, and all that resulted in extreme tiredness. I also underestimated the time- it was getting dark and my morale was horribly low.
I got to the accommodation 2 hours later than expected. I didn't even have the energy to warm up my food. I ate a cold dinner, took a shower, and fell asleep, despite a loud party in the room next door.
Day 2: Kasina Wielka – Myślenice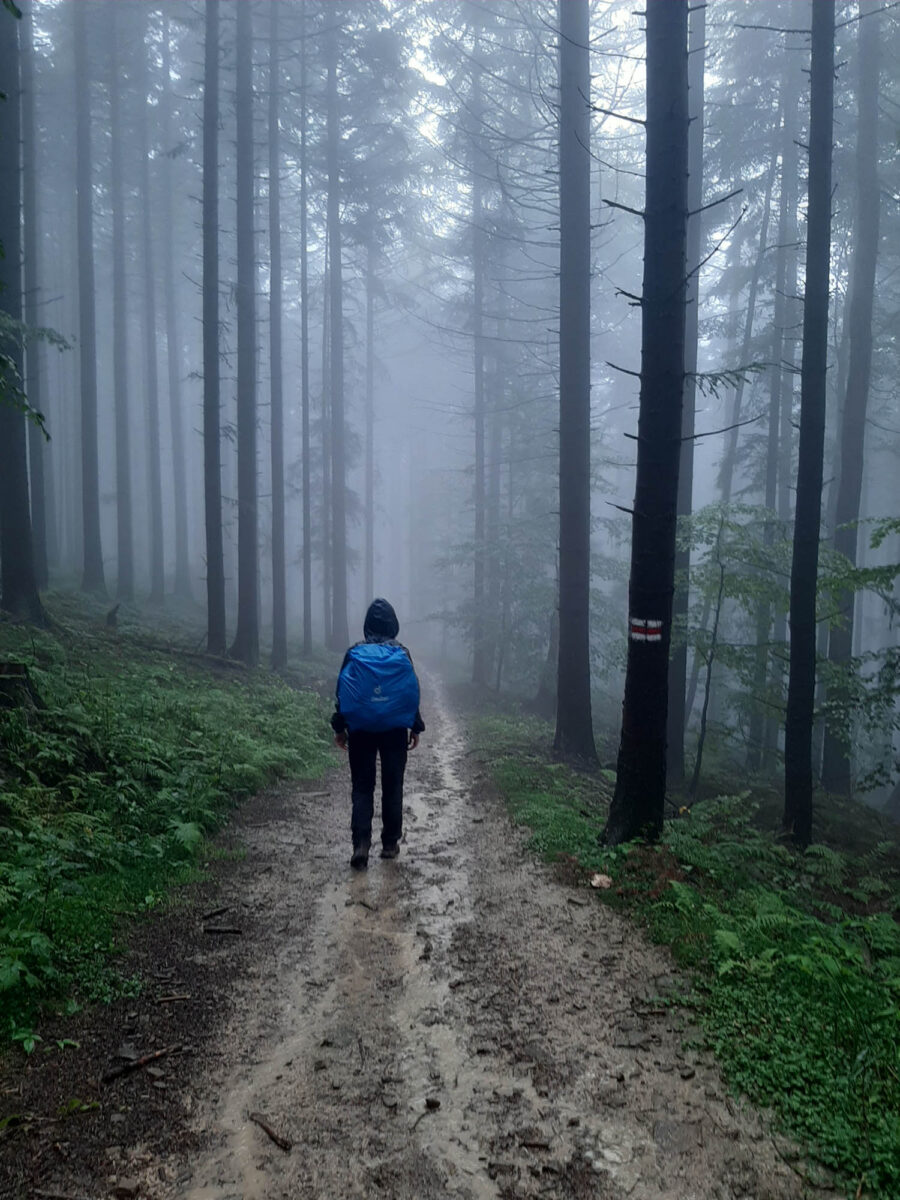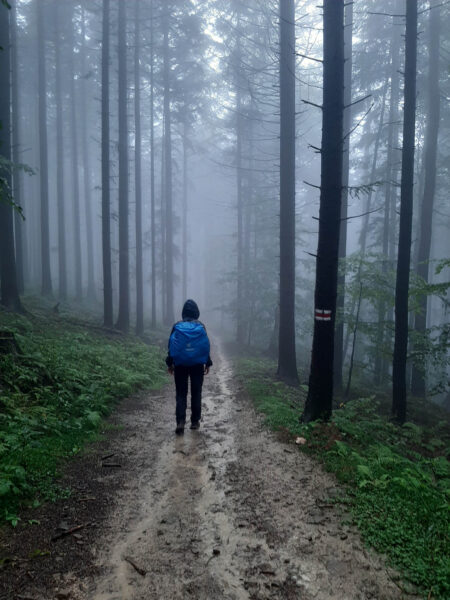 Map: https://mapa-turystyczna.pl/route/bgqn
Total distance from accommodation to accommodation: 26 km
When the alarm rang I immediately felt pain all over my body. I spent five minutes stretching and it helped, to some extent. I was happy I have the shortest day ahead of me.
I ate breakfast, packed sandwiches, and hit the trail. The beginning of the route led up and down through a picturesque forest. It was raining again. Call me crazy, but I love such a mysterious, wet forest. I enjoy its smell and its smell, but because of it I didn't rest regularly. On the second day, I made the same mistake and I took the first rest after 10 kilometers.
Then I reached the highest point of that day, Lubomir peak and then a mountain shelter "na Kudłaczach".
I had only 10 kilometers left, all downhill. Should be easy, right?
It wasn't. Again the mistakes from this and the previous day took their effect. Now, even if I tried to rest, it only helped for a short while. My shoulders ached, legs felt extremely heavy. I also got a stomach problem. Let me give you some advice- always take tissues with you to the mountains. You never know when they save your butt.
I reached my destination safely but the end of day two was my worst moment during the whole hike. I felt like crying in despair, but I learnt a practical lesson for the following days– and for all hikes to come in my life.
Day 3: Myślenice – góra Chełm – Stryszów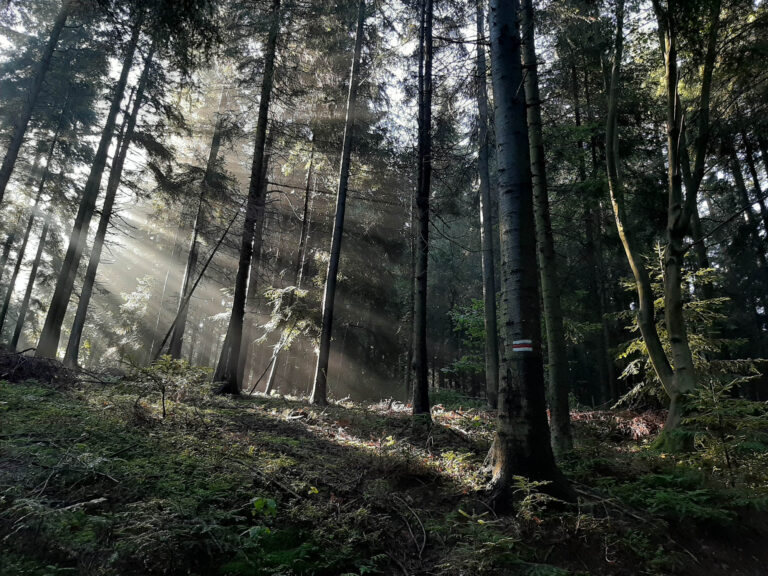 Map: https://mapa-turystyczna.pl/route/i2r8
Total distance from accommodation to accommodation: 34,5 km
When the alarm rang I immediately felt pain all over my body. A familiar feeling by now- I stretched, ate, prepared, and started the day.
The first kilometers of today led through Myślenice, a cute town, and then entered fields and forests again. And the best thing? It wasn't raining! What's more, the sun was shining and created stunning light beams. I couldn't be happier!
This was an area where John Paul II was born and lived and I noticed many little chapels on the way.
Taught by the previous days, I rested more regularly. I was taking my backpack off, massaged my shoulders, and stretched every two kilometers. But I still made mistakes. For example, I felt tired about two kilometers before the highest point on the trail (Babica, 728 m on the 17th kilometer) but I didn't rest when my body asked me to, I waited until reaching the top.
After 30 kilometers I reached the top of Chełm mountain. From this point, I left the Small Beskid Trail towards the village of Stryszów for my one day of rest by the lake. I felt good! But, the last four km kicked my butt! I lost the trail and it immediately caused frustration.
I reached the accommodation completely exhausted.
I was extremely happy to have a day of rest. I spent it reading a book, drinking beer, and enjoying the sun!
Day 4, long distance hiking in Poland: Stryszów – Góra Chełm – Chatka pod Potrójną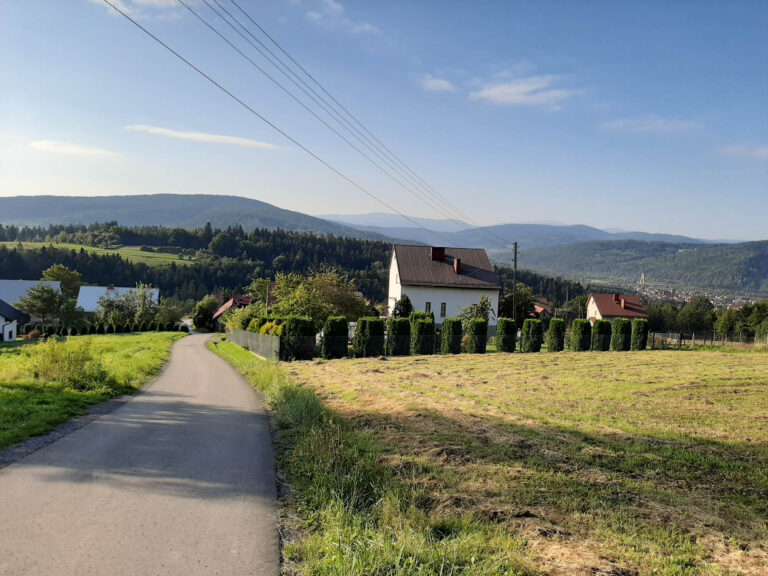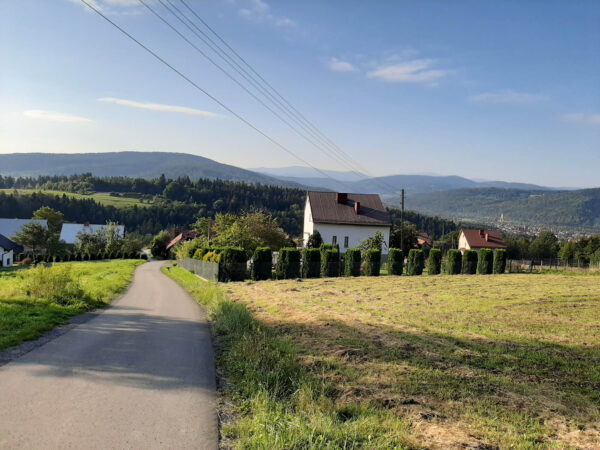 Map: https://mapa-turystyczna.pl/route/bghc
Total distance from accommodation to accommodation: 36 km
When the alarm rang, for a change my body did not hurt that much – the day of rest has been a blessing.
But I was stressed. I wondered whether I had overestimated my physical abilities for that day- I had 36 kilometers and 1600 meters of elevation to cover. Is that even possible? The previous day on the trail was 1.5 km shorter and with less elevation, and I arrived extremely tired.
I set off at 5 a.m., overwhelmed by the distance I have to walk. I promised myself to be smart about resting and I introduced a hard rest regime. Five minutes every hour, no backpack and, if possible, no shoes.
After around five kilometers uphill, I returned to the top of Chełm, to the Small Beskid Trail.
The route led down to the village of Zembrzyce, where I had to walk 2-3 kilometers along an asphalt road. Asphalt tired me more than a forest road. I took a longer rest because from this point on, I had a long way up. Six km ascent to Gołuszkowa Góra and Żurawnica, then descent to Krzeszów and another five km of ascent to the highest point of today's route- Leskowiec.
I stuck to the rest schedule and I reached Krzeszów in good shape. The rain came before the last ascent of the day. I put on my raincoat and step by step reached the highest point. I still felt fine!
From there I had "only" eight km left. These kilometers went by extremely slowly- especially that parts of the trail went slightly, but still uphill.
I didn't want to stick to my resting schedule anymore, I wanted to get there as soon as possible and finish the day with success. On the other hand, my body forced me to rest, and it frustrated me.
After 14 hours on the road (5:30 – 19:30), I happily reached Chatka pod Potrójną.
Day 5: Chatka pod Potrójną – Bielsko-Biała Straconka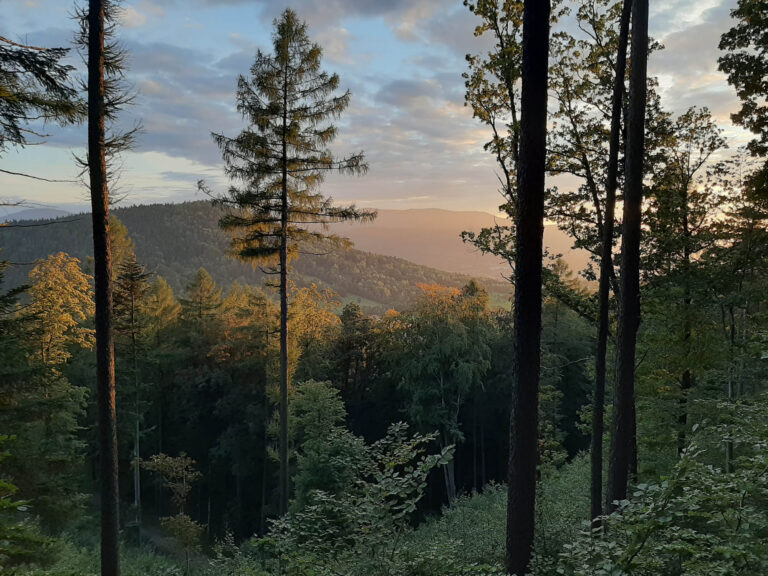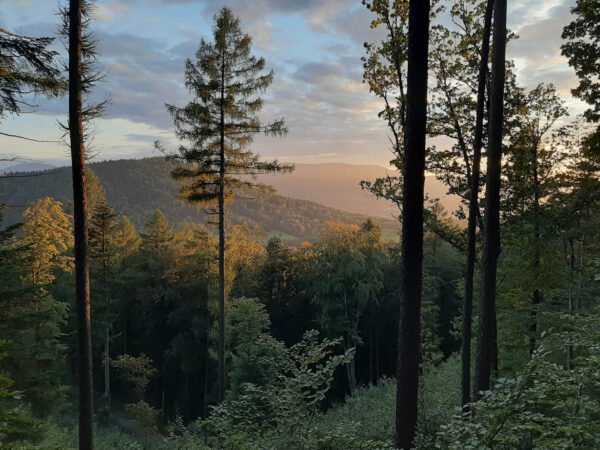 Map: https://mapa-turystyczna.pl/route/bghi
Total distance from accommodation to accommodation: 30 km
When the alarm rang, I immediately felt pain in all my body. What a surprise. I prepared and hit the trail, hardly believing that I was going home that day.
I was greeted by beautiful views in the area of Potrójna mountain. But after the first kilometers, I knew it would be a hard day. I walked slowly, the backpack was heavier than usual.
After 13-14 kilometers I was approaching Żar mountain- an extremely popular tourist destination that you can reach by car or by cable car. That's where I faced another serious crisis. I was almost crying from exhaustion while walking along an asphalt road leading to a cable car station, surrounded by people in sandals. They had to think was crazy, and I don't blame them.
I took a long rest in a restaurant on top of Żar and it helped. In much better shape, I continued. It was time to descend to the dam in Porąbka and then face the last ascent on Small Beskid Trail to Hrobacza Łąka. The ascent was four kilometers long and I thought to myself – "if that doesn't kill me, nothing will".
I took a deep breath and step by step, I slowly reached the last peak on the route! I don't remember much of that ascent. I started the autopilot, remembering only about regular rests.
After that, I only had the last seven kilometers of the trail! Again, the last kilometers felt way too long. On the last two kilometers, I missed the trail. I didn't notice a turn and I needed to go back up about 300 meters which did not do any good to my mood.
But when I saw the buildings, when I saw the church in Straconka where the Small Beskid Trail ends, and I almost cried with happiness. Fatigue almost knocked me off my feet, but I couldn't help but smile that I did it!
The Small Beskid Trail is one of my best experiences when it comes to hiking in Poland. Not because of spectacular views but because of emotions, what I learned about my body, and my mind when facing extreme fatigue. Besides, my mind rested like never before. Problems of everyday life don't exist on the trail. If you miss being "here and now" in your life- I highly recommend a long-distance trail.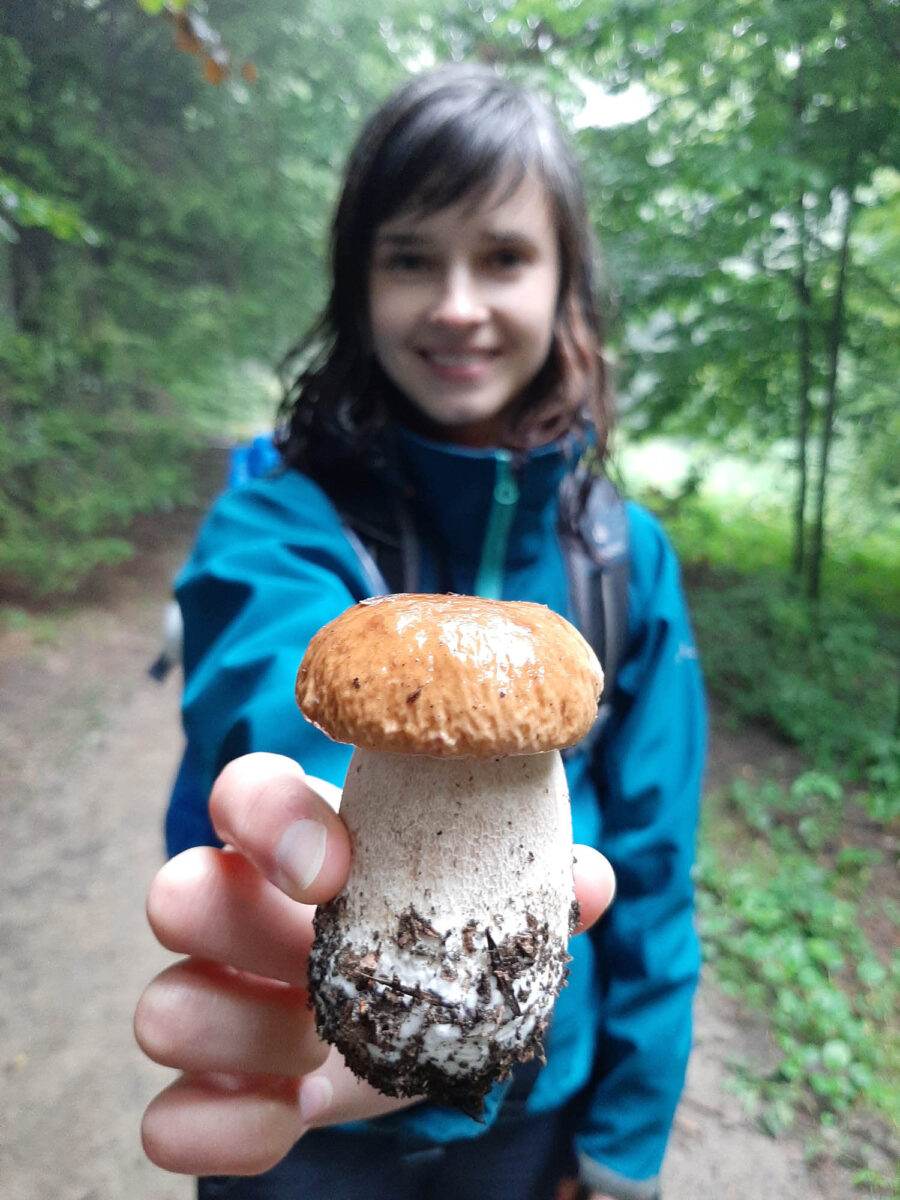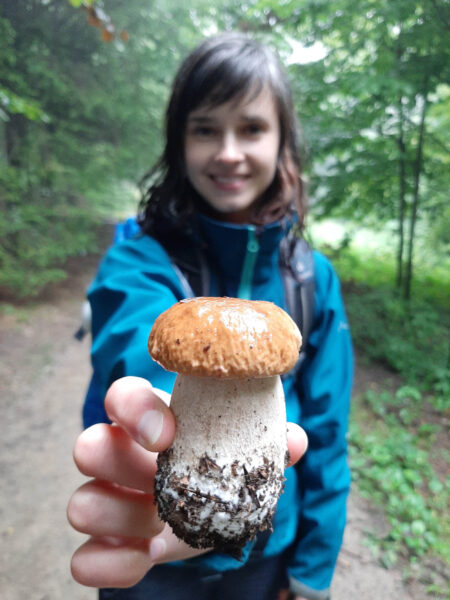 My name is Dorota, I come from Poland. I travelled and volunteered on three continents and I am fascinated by the beauty we can find in the world. But I love exploring Poland too, so I write a blog
Weekendowka
(in Polish language), which focuses on weekend trips in my beautiful country!
All images were provided courtesy of Weekendowka.
Book a Train Ticket in Europe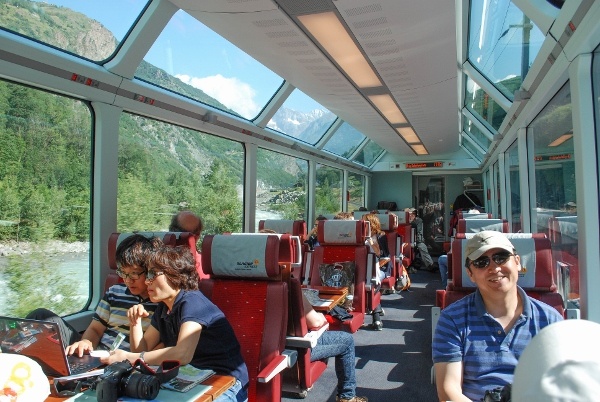 Want to learn more? Check out our Omio review!