Last Updated on July 21, 2022 by Guest Blogger
Disclaimers: Our site uses demographic data, email opt-ins, display advertising, and affiliate links. Please check out our Terms and Conditions for more information. Listed prices and attraction details may have changed since our visit and initial publication.
Already when landing at the airport of Guatemala City, you're usually greeted by the view of smoking volcanoes. What a landscape!
Guatemala is the country of volcanoes, and hiking Acatenango Volcano is a once-in-a-lifetime experience for many.
While I cannot deny that the Acatenango hike is really exhausting, the reward of the views and surroundings on top are priceless.
Among the many volcanoes in Guatemala, hiking Acatenango Volcano is the most popular. And that's for good reason. After a tough 4-5 hours climb to the base camp, you're rewarded with an incredible view of the other volcanoes.
The most spectacular sight by far is Acatenango's active neighbor, El Fuego Volcano. Every few minutes, you can see smoke and lava flying high in the sky, accompanied by a loud roar.
So let's get to the juicy part: How do you get up there?
Preparations for Hiking Acatenango Volcano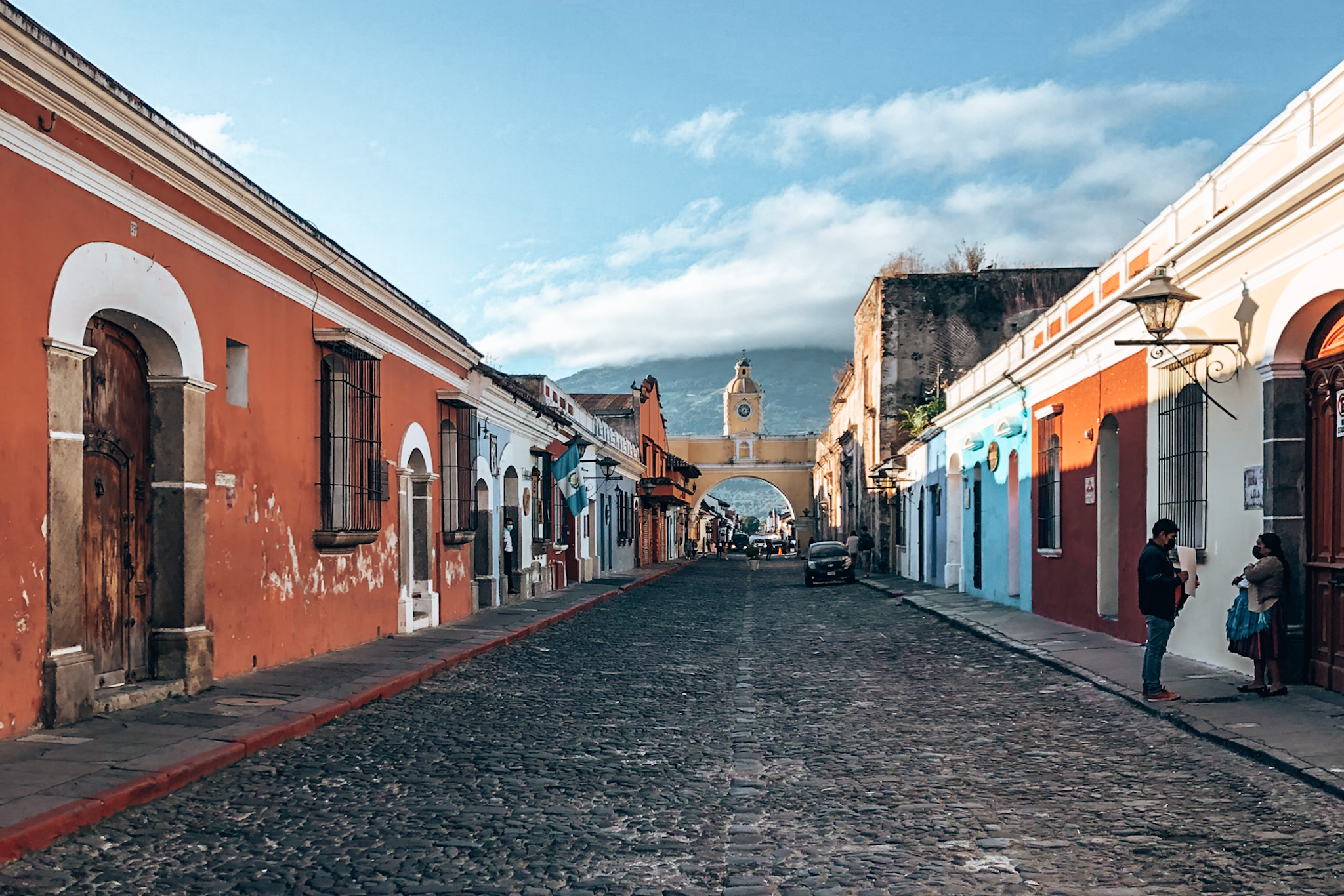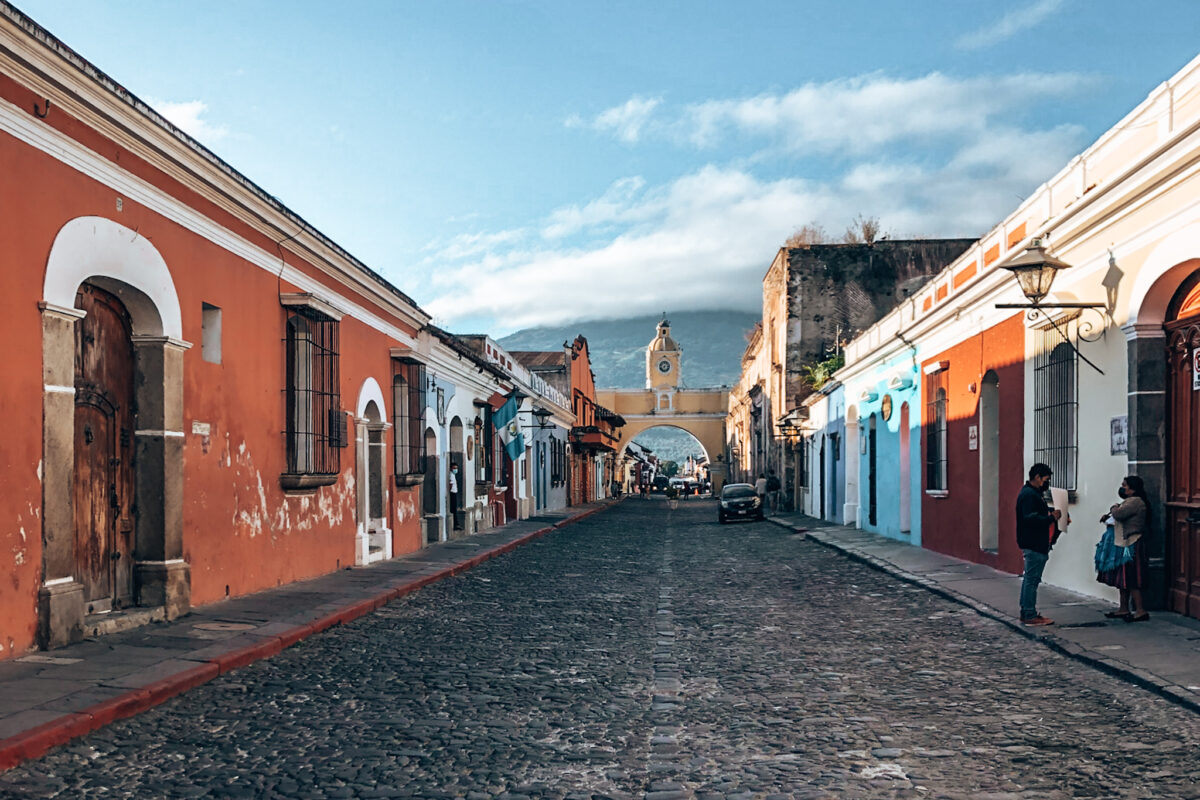 As you start your hike from around 1600 meters altitude, I highly recommend spending at least 2-3 days in Guatemala's old capital Antigua, before starting the hike. Your body needs to get used to the altitude, believe me. You'll regret it if you do the hike without giving your body the time to adjust.
When you're in Antigua, you can use the time to explore this gorgeous town, but also to decide on the tour guide or tour company you want to join for the hike. And this is really important.
If you're curious about how you can spend your days in Antigua, check out this post with travel tips for Guatemala.
Remember that this hike is not recommended to do by yourself. First, because it's a challenging experience for your body and there's no proper signposting on the way. At some point, everything looks similar at a certain height, and it's not difficult to get lost up there. Also, the weather changes quickly in the Guatemalan highlands. And you certainly don't want to get lost at an altitude where temperatures drop to freezing point at night.
Besides, there have been cases where hikers were robbed.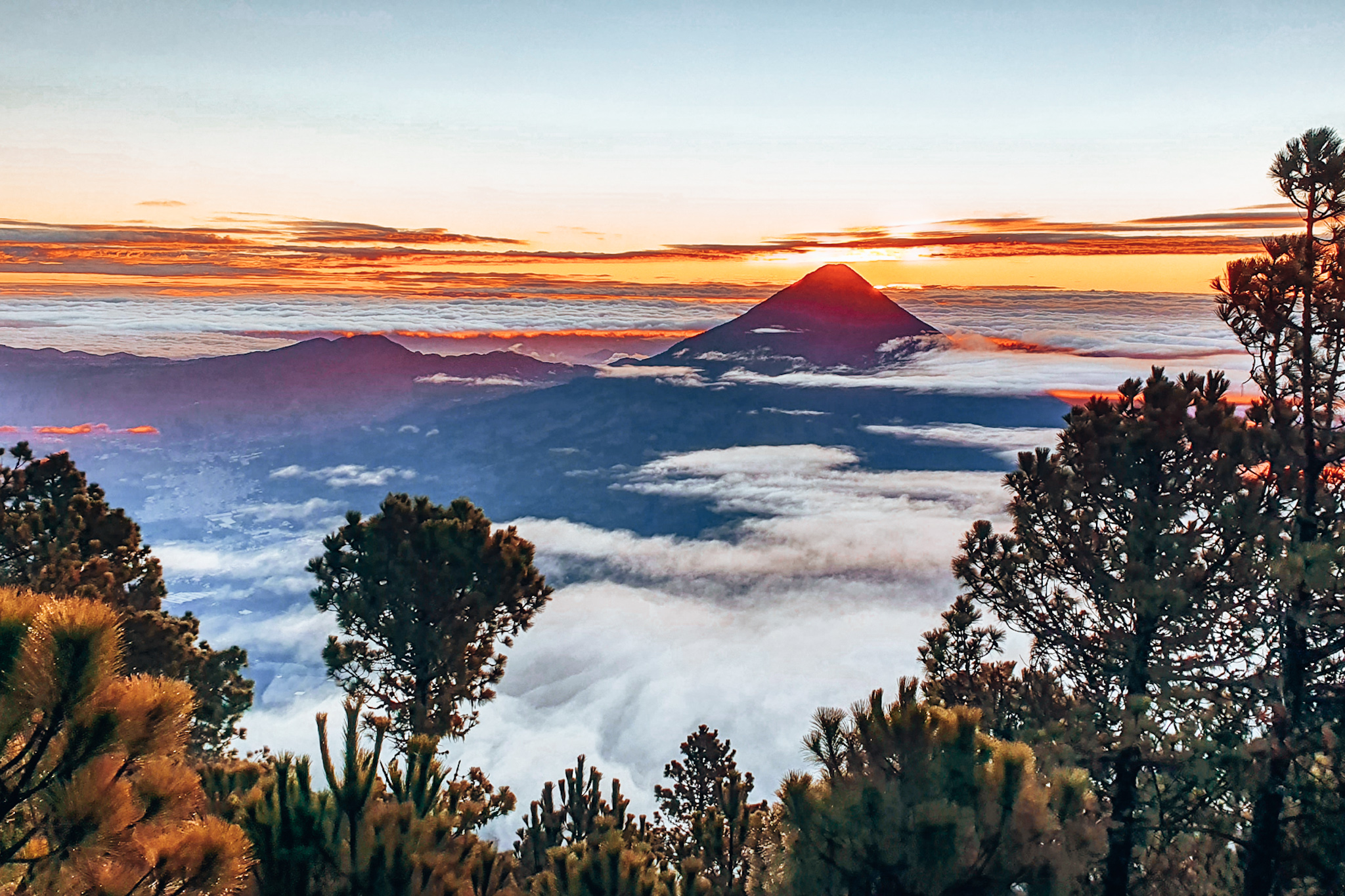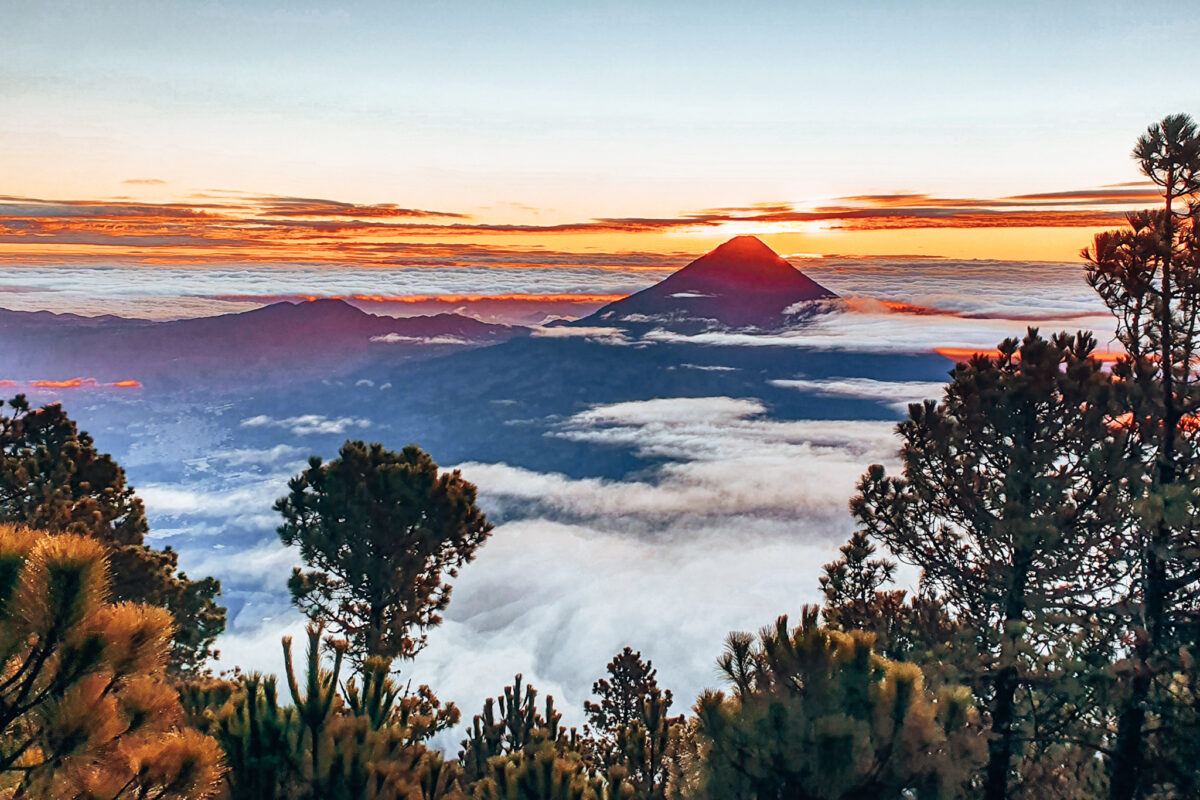 So let's just stick to hiking with an experienced, local guide. In Antigua, you can find many tour companies. But choose wisely, as there are large differences in the quality of the equipment they provide, the food you get, the shelter you'll sleep in, and the focus on sustainability.
My recommendation is to select a tour company that has a base camp with proper shelters instead of only tents. It gets really cold at night, so you won't regret this. Besides, make sure you can rent hiking poles, as they'll be a lifesaver on the sandy ground while hiking Acatenango Volcano.
Starting the Acatenango Hike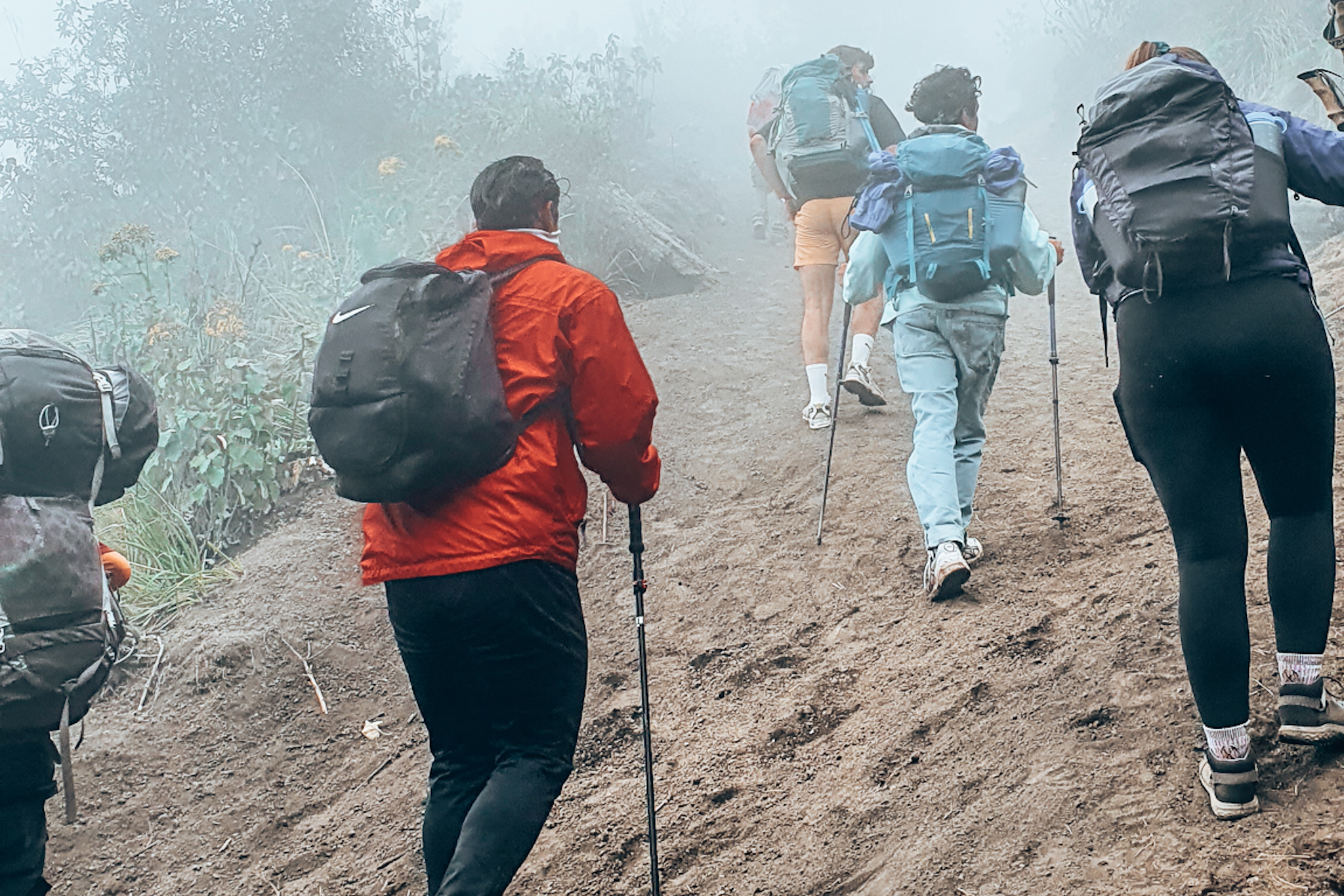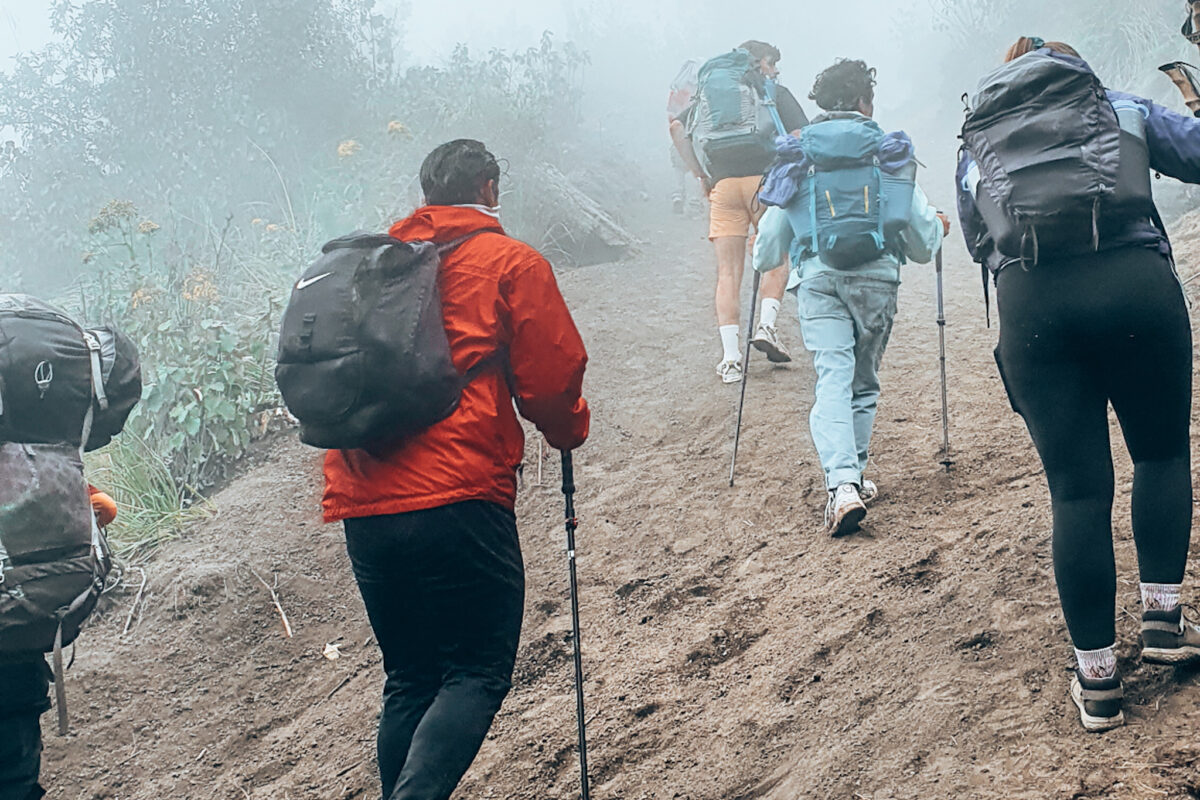 After an early check-in with your guides and a good breakfast, they take you to the starting point of the Acatenango hike.
I'm not sure if this is good news for you, but the first part of hiking the Acatenango Volcano is the steepest. Yes, that's indeed a very exhausting start. But after the first one or two hours, it gets easier.
And there are so many spectacular views waiting for you. During the 4-5 hour Acatenango hike, you pass through completely versatile landscapes. You'll pass through mossy forests followed by dry, dusty paths. This is one of the many moments in which you'll be so glad you rented the hiking poles!
Your guides will make sure that there are regular breaks, as well as a larger lunch break during which you can recharge.
Reaching the Base Camp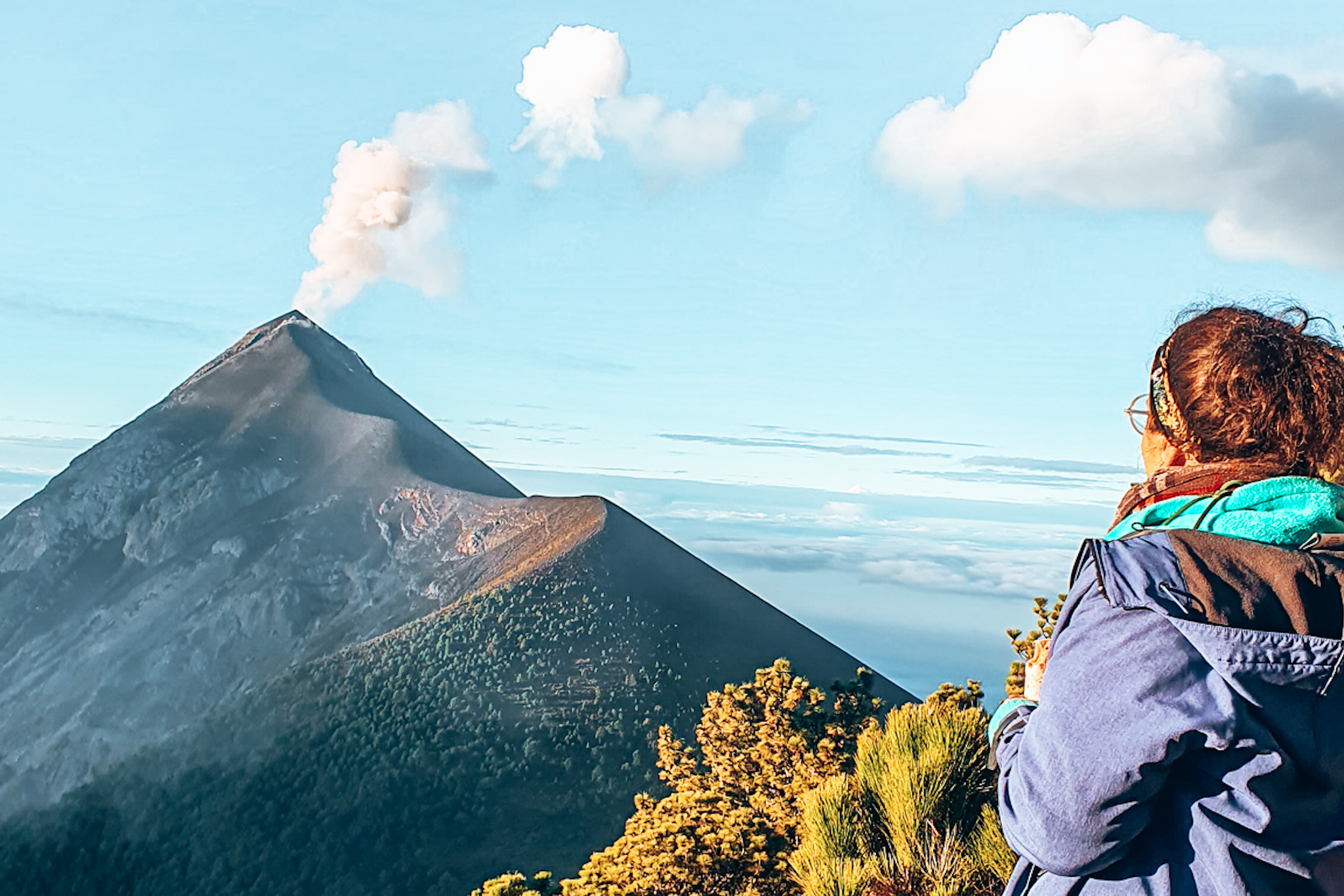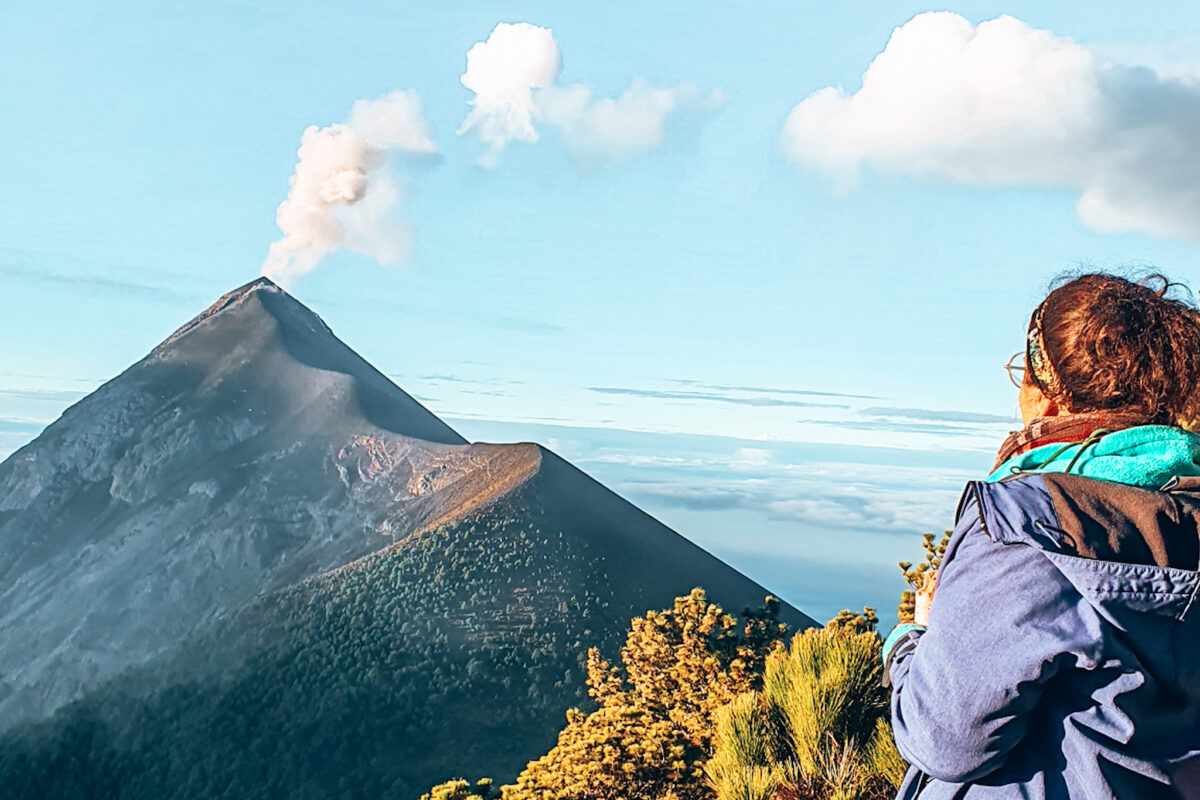 Here comes the moment you've been waiting for! If you reach the base camp at the right moment, maybe you're even welcomed by a loud roar of its neighbor El Fuego Volcano. The view and the feeling up here are so unique.
You made it! Now it's time to enjoy the stunning panorama while you calm down by the campfire, take lots of pictures, and enjoy dinner.
But don't get too cozy, because there's one more hike waiting for you (which is optional, but I highly recommend it). You can decide if you want to continue climbing up to the summit for sunset or enjoy it from the base camp. While the view from the base camp is already fantastic, from the summit it's simply breathtaking.
How about more travel tips about Central America? You can find all the information you need on Jill on journey's post about Central America.
Continue to the Summit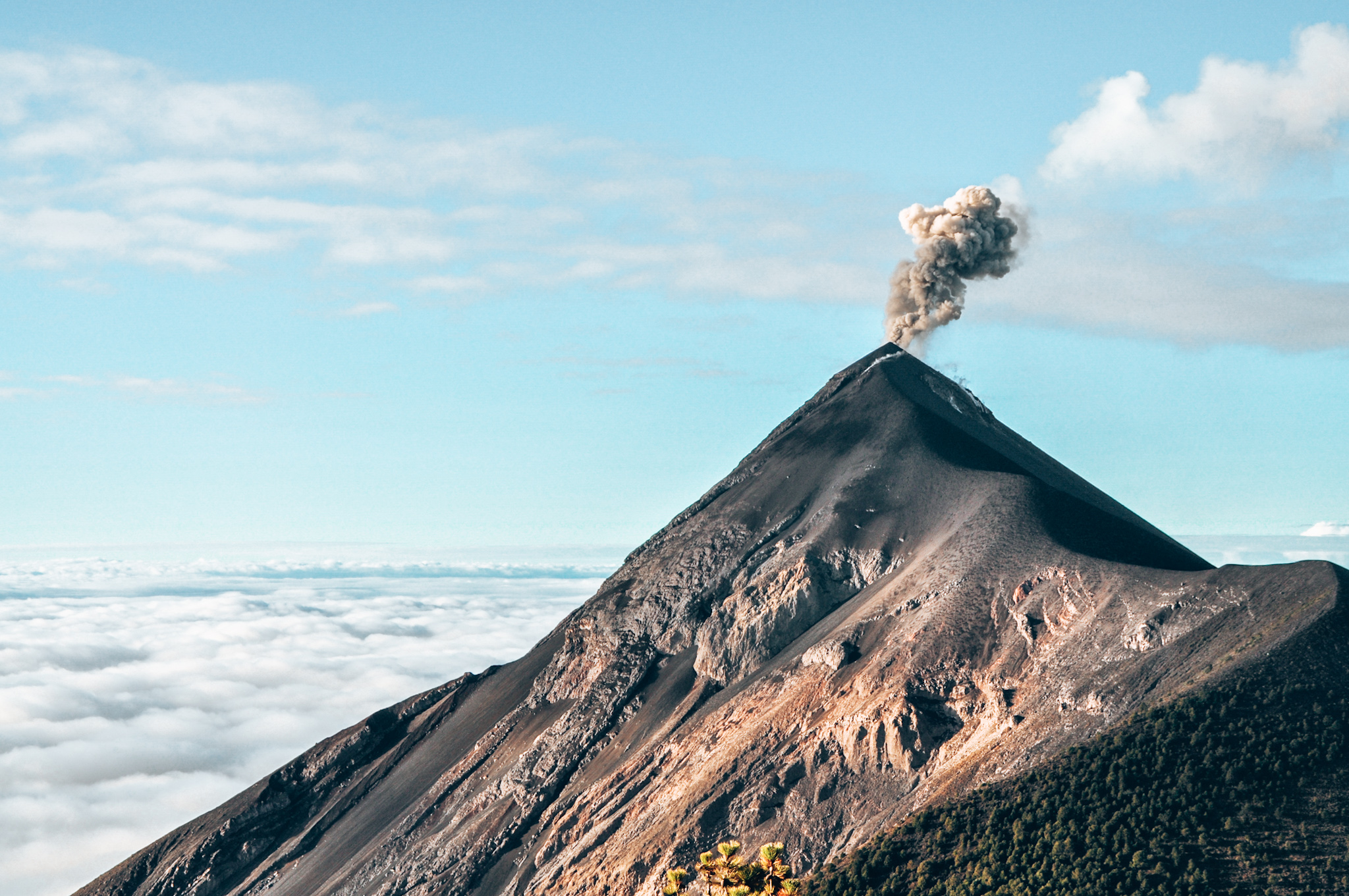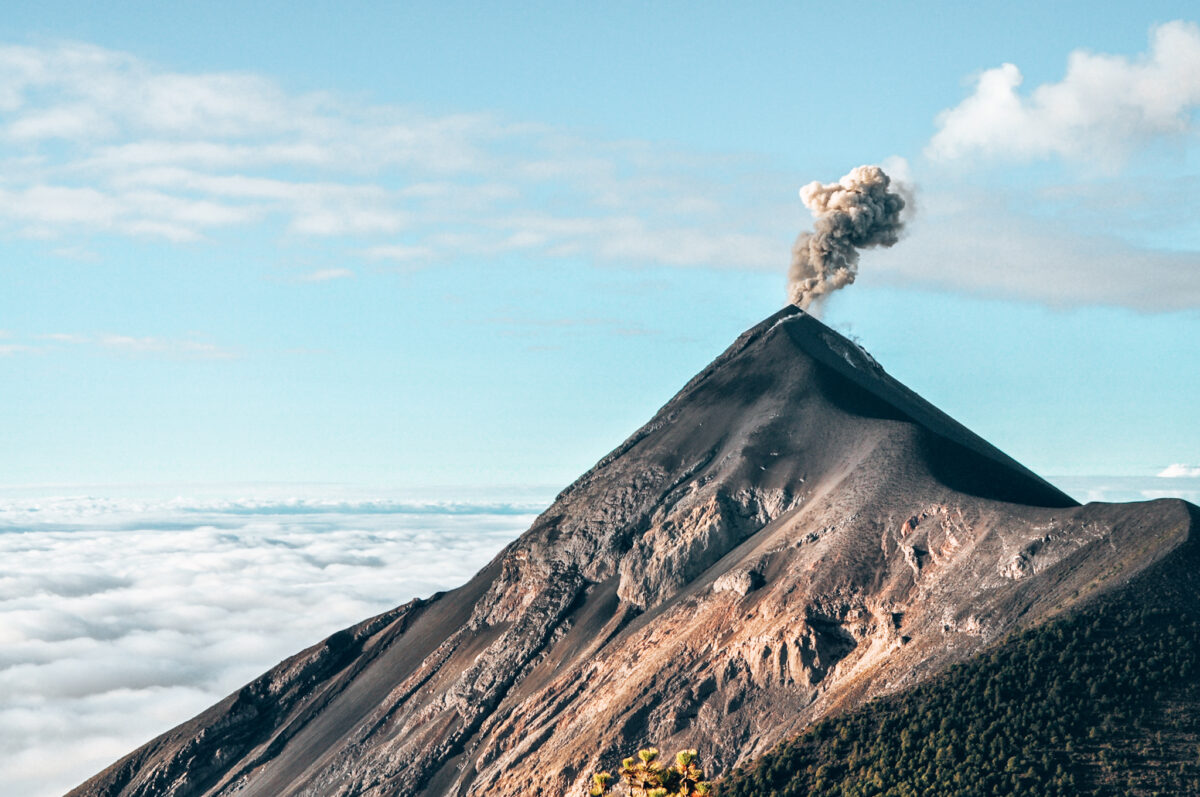 So let's heat up your hiking booths once more. Either for sunset or for sunrise (or both, if you want to) you can make your way up to Acatenango's summit. It's only one more hour, but due to the dusty path, it can be the most exhausting part of your Acatenango hike.
But just when you reach the summit, you'll already forget all the exhaustion. There's a 360-degree panorama waiting for you. Have you ever wondered what floating on top of the clouds feels like? Well, you can experience it here.
Time to watch neighboring El Fuego spitting large junks of ash and rocks into the sky. What a spectacle! You won't regret it.
Especially during darkness after sunset or before sunrise, this view is surreal. You can actually see the orange and red pieces of lava flying into the air and a thick, glowing slurry flowing down the mountain.
A Night in Base Camp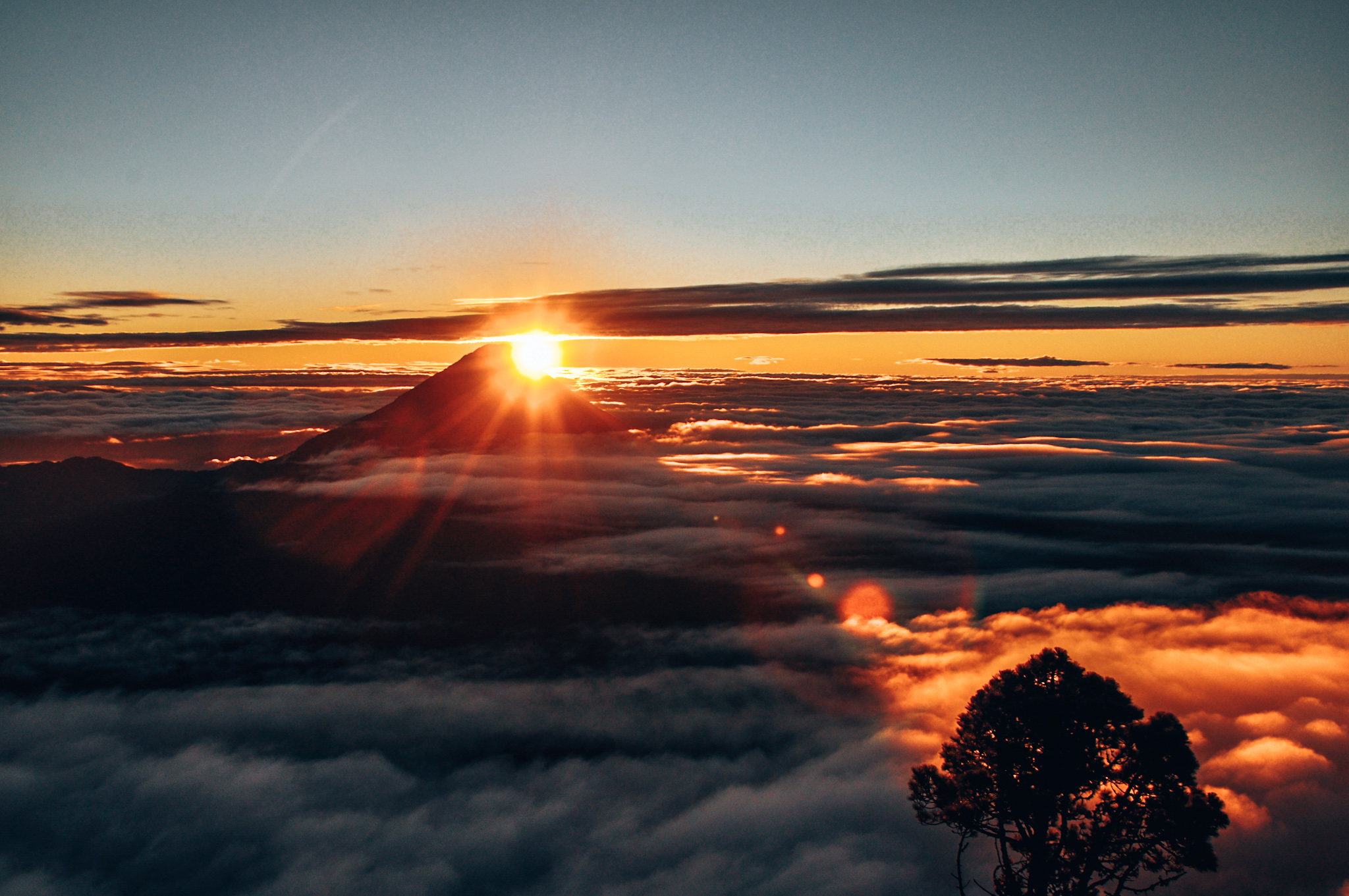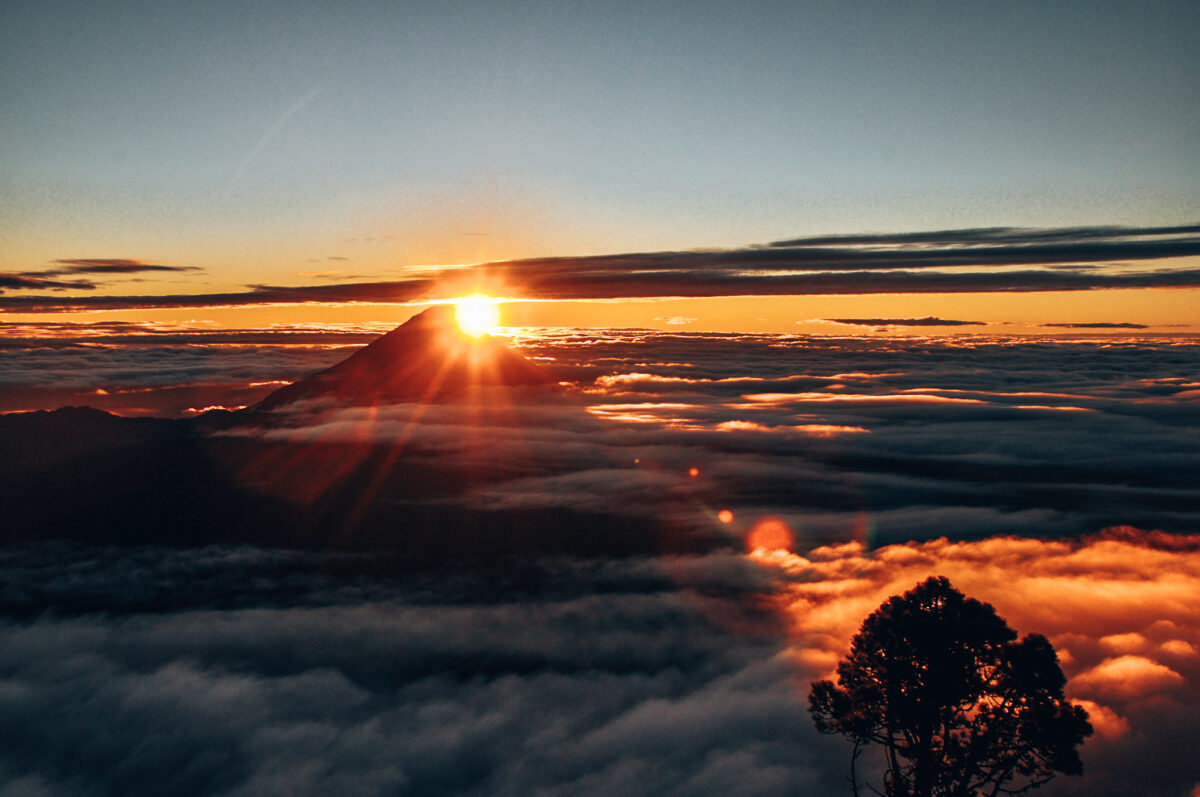 Back in the base camp, it's time to truly calm down and enjoy the ambiance at the campfire.
Sleeping in the base camp when hiking Acatenango volcano is a once-in-a-lifetime adventure. You can even feel the ground vibrating during some eruptions of El Fuego. And while you're so close to blazing lava, chances are high that it will get down to zero degrees at night.
Already when returning the next day you will realize what a unique adventure the Acatenango hike was. Your legs will be tired, your mind busy with all the impressions, and your heart filled with amazement at what you've just experienced.
Don't forget to cheer on your fellow hikers that are just on the way up while passing by! Still struggling with the steep ascent, they have no clue of the surreal experience they're about to encounter.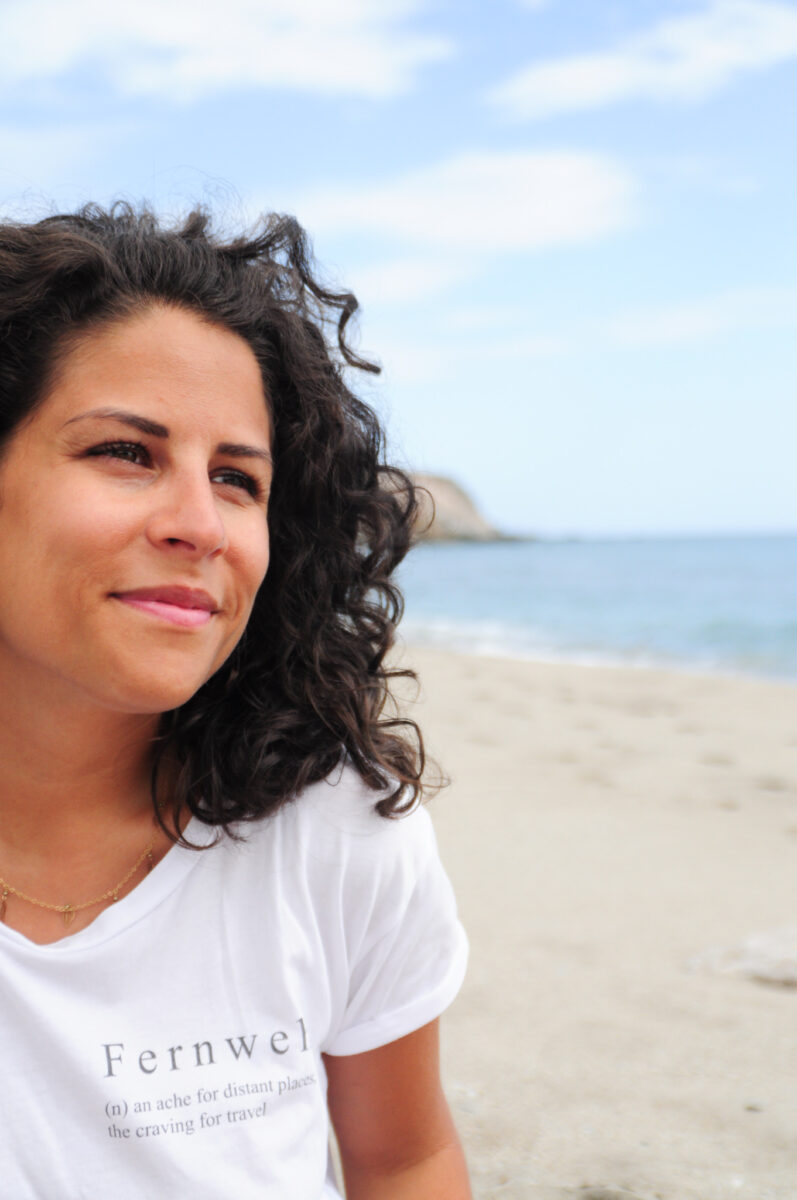 Jill is the author behind
Jill on Journey
, where she shares tips on how to travel more sustainably and inspiration on travel destinations. While she has traveled to 50+ countries, her mission is to inspire other travelers to experience the beauty of this world in order to learn the importance of protecting it.
All photos were provided courtesy of Jill on Journey.