Published by Jeremy. Last Updated on August 14, 2022.
Disclaimers: Our site uses demographic data, email opt-ins, display advertising, and affiliate links. Please check out our Terms and Conditions for more information. Listed prices and attraction details may have changed since our visit and initial publication.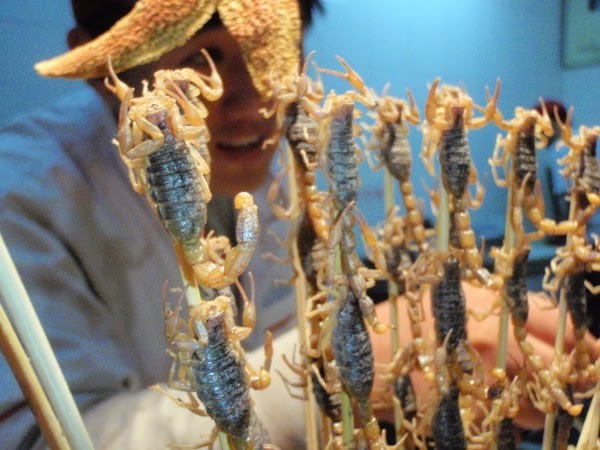 A must do for the off-the-beaten track crowd in Beijing is to visit one of the food markets that line the various districts. 
At these markets, the appetite of the adventurous can be put to the test with many offbeat and near disgusting creatures on display for consumption.
Normal foods are also available from the dozens of street carts for those wanting to have a more traditional meal of dumplings or noodles.
But my trip to the Wangfujing night market, however, was purely for one purpose; to eat the weirdest food I could find.  Namely scorpion.
Going for the Scorpion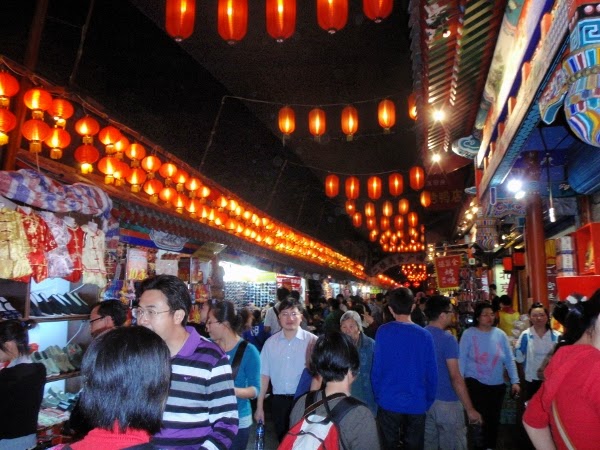 For the weak of stomach, this post will contain images of weird food that I had while at the market.  If eating weird creatures bother you, I would suggest avoiding this post. The images, as they say, are rather graphic.
Before talking about the main attraction, a helpful piece of advice is necessary in order to successfully complete a trip into the weird when visiting one of these markets: go with a crowd. 
Going alone gives many opportunities for fear to take over and to chicken out.  A crowd of like minded individuals puts you in a scenario where going forward is of greater commitment. 
My group of four had a very lucky round with all the food, as most came in portions for easy sharing with just our amount of people.
Scorpion? Why not!
Within moments of entering the food district, a side street off of the main Wangfujing street, we were greeted with our scorpion friends.  Surprisingly, impaled scorpions on the stick still wiggle around in agony before being dipped into frying oil and dispatched.  Four baby scorpions, 20 yuan (~$2.94 USD). 
Not a bad price when split four ways for one good bite.  I must further go on and preface my following statements with this thought: I was absolutely terrified. 
Before even looking around the market, an order for scorpions was placed and a stick in my hand being the volunteer to go first. Cameras flashing, I popped one in my mouth while the stick was shaking in my hand…
Not bad.  Scorpion, is surprisingly not bad.  While baby in size and missing large claws, a huge mid-section, or stinger on tail, the fried scorpion only had two discernible feelings: crunchy and nutty. 
Much like an over baked fried crisp of sorts.  Passing the stick along, the other guy in the group nervously tried it, and also agreed it was not bad. 
The two girls in the party then dove in without fear, and scorpion got a four out of four on the edible scale.  I'd get it again, maybe.
Snake? Snake. Snaaaaake!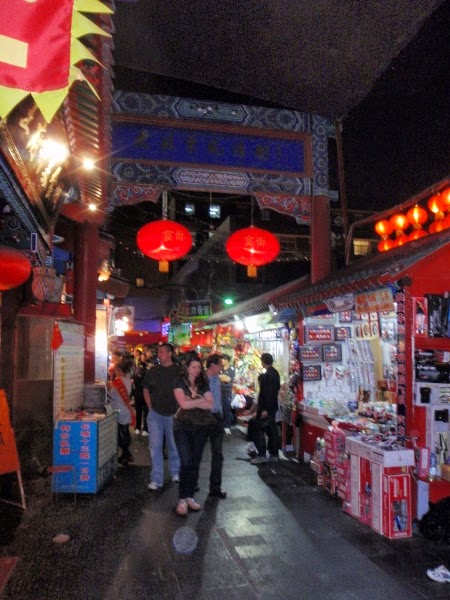 Next on the menu: snake.  A few moments later, an order for snake was placed for 15 yuan ($2.20).  Once again, it was served up fried and this time seasoned. 
Four snack bites allowed our group to sample with ease much to our happiness.  Like scorpion, snake had received a positive four out of four edibility ranking. 
The only drawback was over seasoning on the part of the chef, producing an overly salty flavor to our tastes-like-chicken snack.
While the rest of the cuisine sampled for the rest of the night were on the normal spectrum: spring rolls (5 yuan), sugar covered fruit (4-8 yuan), whole coconuts (unknown), gyoza (15 yuan per plate), there were a wide range of creepy crawlies available for those wanting to continue the eating frenzy. 
Some of the others out there that you can get excited for are starfish, seahorses, cockroaches, millipedes, centipedes, lizards, large scorpions, something that looked like a rat, liver, heart, and many other unrecognizable organs.
Although eating the creepiest of critters turned out to be a pretty good experience for what it is worth, the most entertaining aspect of the entire event was the crowds of Chinese locals that gathered around watching our extravaganza and also taking pictures of the weird tourists eating crazy food. 
I've expressed my concern about the language barrier in China, but on Wangfujing Street, everyone seemed to speak English only enough to ask us how it was.
Even though it was my last night in Beijing after spending 6 days in the city, the entire experience actually raised the bar on the city, which I had been fighting with myself on the week prior on whether I was enjoying my time or not. 
Maybe in this case, scorpion quite literally saved the day.  Or maybe it was my dessert of sugar covered fruit on a stick.
About Jeremy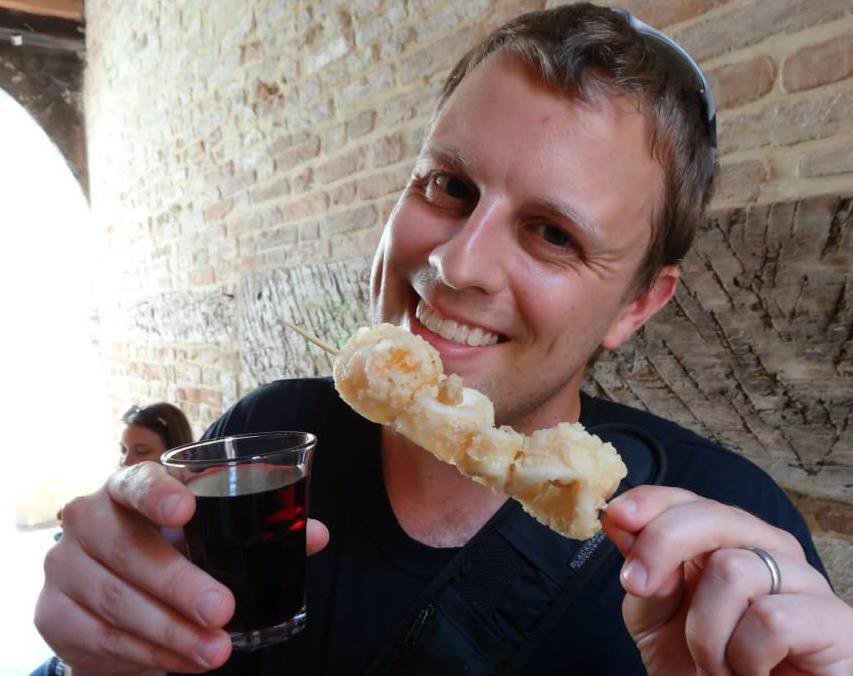 About the Author: Jeremy is a full-time travel writer based in Pittsburgh and primary author of this site. He has been to 70+ countries on five continents and seeks out new food, adventure activities, and off-the-beaten-path experiences wherever he travels.