Published by Angie. Last Updated on April 2, 2021.
Disclaimers: Our site uses demographic data, email opt-ins, display advertising, and affiliate links. Please check out our Terms and Conditions for more information. Listed prices and attraction details may have changed since our visit and initial publication.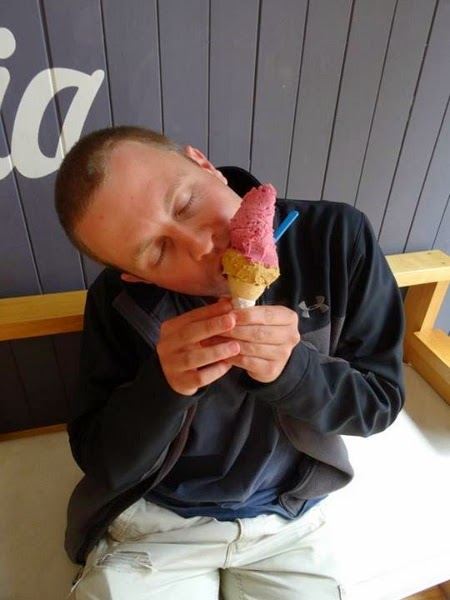 Dulce de leche is an iconic South American flavor. Milk and sugar cooked until the mixture is intensely creamy, rich, and caramelized- what's not to love?
Over the past two months that we've spent in Chile and Argentina, we've considered it our duty to seek out the best dulce de leche flavored things. While we've seen a few dulce de leche flavored desserts in Chile, Argentina has definitely felt like the epicenter of all things dulce de leche.
It's in everything: ice cream, cookies, crepes, chocolates, and churros, the list goes on and on.
What's even more amazing is that you can buy several kilogram tubs of it in grocery stores. Yum.
During our travels through Chile and Argentina, our top priority was finding the best dulce de leche ice cream, but along the way we also discovered some other delicious treats like dulce de leche crepes, cakes, and pastries.  
This post features only the best of the best that you must try when visiting these Patagonia restaurants and stores.
Ice Cream
We've heard Chileans claim they love ice cream more than Argentinians, but after many lackluster ice creams in Chile we have to say Argentina has the upper hand. Here were our top three favorite places for dulce de leche ice cream in Argentina.
Jauja: With locations from Buenos Aires all the way down to Patagonia, you're bound to run in to this ice cream shop. The texture was not as creamy as we would have liked, and there wasn't much consistency in the flavor across the different shops.
In Buenos Aires it had an almost burnt flavor like the dulce was cooked too long, but it was much better in the Patagonian shops.
If you're looking to try something different, the dulce de leche con brownie flavor comes highly recommended by some of our ice cream fanatic friends (but we didn't try it because of my nut allergy).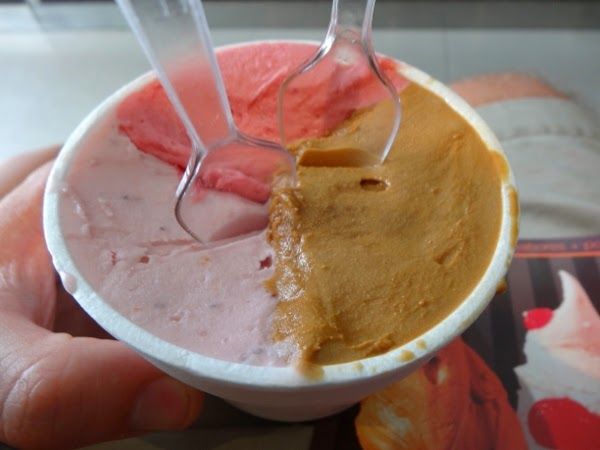 El Cadore in Buenos Aires:  The deliciously creamy texture and just the right amount of caramelization made this one of our favorite ice creams, hands down. That is, until we tried Mamusia…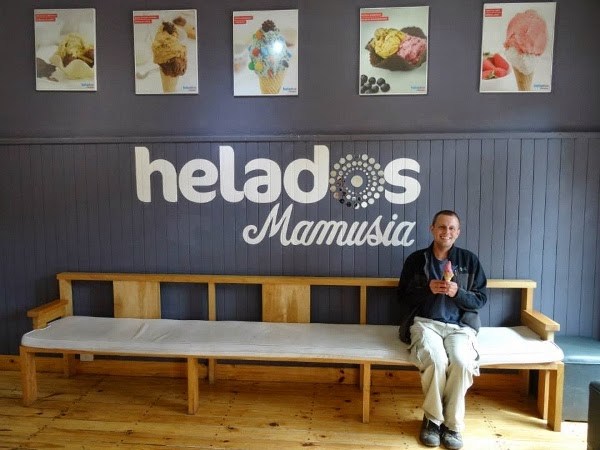 Mamusia in San Martin de los Andes: Although most ice cream shops have several different dulce de leche flavors (with nuts, with brownies, etc.), we generally just stuck to the original dulce de leche flavor. But then we saw 'dulce de leche bombon' in Mamusia and were intrigued. It's dulce de leche ice cream with a swirl of dulce de leche mixed in.
Healthy? No. Delicious? Yes.
The ice cream had the creamiest texture, and the dulce de leche swirled in gave a nice punch of extra flavor. Most ice cream shops have a flavor like this, although sometimes it's called super dulce de leche instead of dulce de leche bombon. It's our flavor of choice now!
Other Dulce de Leche Sweets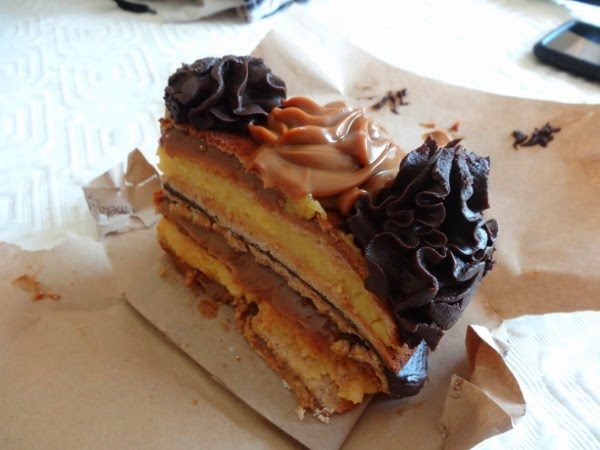 Cake at Caramelo on Easter Island: This cake was massive and intensely rich and should only be consumed in multiple sittings or by a minimum of 3 people. Seriously. It's a layer cake: crepe-like pancake, orange cream filling, pancake, dulce de leche filling, pancake, chocolate ganache…and this keeps repeating until the cake is bigger than your head.
On top are giant swirls of both chocolate ganache and dulce de leche.
Pairing dulce de leche with rich dark chocolate is genius- sometimes dulce de leche can be too sweet for its own good, but dark chocolate really helps combat that. This cake was impressive, even more so considering we had it on one of the most remote islands on the planet.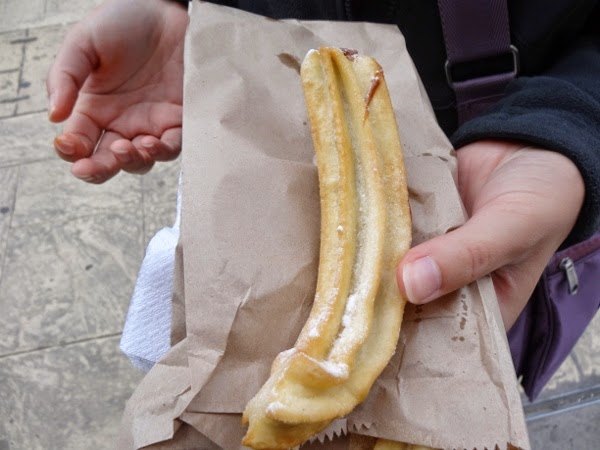 Churros in Punta Arenas, Chile: How do you improve upon a hot, crispy churro? Fill it with dulce de leche, of course! We tried several throughout Chile and Argentina, but the ones we had from a street vendor in Punta Arenas in the square by the main post office were the best.
Hot and fresh is the key, so just pick a vendor that is busy or is currently making them and you're good to go.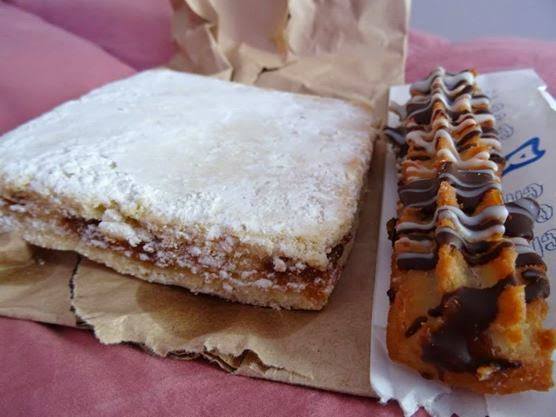 Dulce de leche Pastry in Ushuaia, Argentina: I think this pastry is what made me fall in love with dulce de leche. It was like a lemon bar, but with dulce de leche filling instead of lemon. The filling was sandwiched between two rich, buttery, flaky pastries and the top was sprinkled with powdered sugar.
I unfortunately don't remember the name of the bakery, but it's one of only two or three bakeries on San Martin St. and it's the tiniest.
No Love for Alfajores
You may notice one glaring omission from our list: alfajores. These cookie sandwiches filled with dulce de leche are everywhere in Argentina. We tried plenty, but I can't say I really loved any of them (usually the cookies were dry and tasteless).
I am, however, anxious to get home and try my hand at making my own. I think I could definitely make some improvements!
One more tip: if you want people to understand your ice cream order, make sure you practice your Spanish pronunciation of "dulce de leche". In Jauja it took lots of repeating and finger pointing for the cashier to understand what I was saying!
Apparently I have a tendency to pronounce it more like "dull-say" when it really should be "dool-say." Oops.
After spending two months eating all these delicious treats, and spreading dulce de leche on our bread every morning, you think we'd be sick of it. Quite the opposite- we just bought a giant jar of it to take with us since we don't know how prevalent it's going to be in other countries.
Bring it on!
About Angie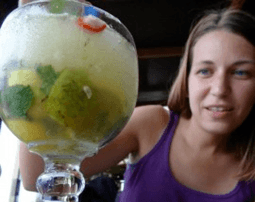 About the Author: Angie is a contributing author. She has been to nearly 60 countries and seeks out the best restaurants, bars, bakeries, and other unique food items wherever she goes- often with her husband, Jeremy.