Published by Jeremy. Last Updated on January 25, 2023.
Disclaimers: Our site uses demographic data, email opt-ins, display advertising, and affiliate links. Please check out our Terms and Conditions for more information. Listed prices and attraction details may have changed since our visit and initial publication.
The iconic road trip is a must experience travel style for wanderers of all ages.
There is something about jumping into a car, picking a direction, and driving that inspires a great wanderlust.  In fact, the concept of a road trip is not much different than any other long-term journey as you can, in nearly all cases, go wherever you please.
Tired?  Stop for the night.  Want to explore?  Pick a side road and head off to see what kind of adventure awaits.  Don't like it?  Turn around and pick a new direction.
As the fundamentals of the road trip are in-line with long-term travel, we've researched what we're calling the Top 5 Must Experience Road Trips from around the world.
Some are to be expected, others are unusual, and the only question you need to ask yourself is how to make them a reality for your next great road trip. 
Exploring the United Kingdom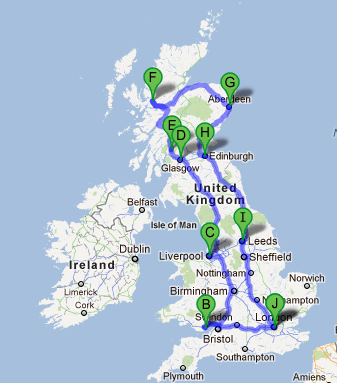 Road tripping through the United Kingdom is like a trip back in time. Starting in London, the entire drive goes further back into the regions history while stopping in Wales, Liverpool, and the northern cities of Scotland.
While in Scotland, visiting the beautiful Lochs and ancient castles give an alternative view of the region than the larger cities found in the south. Although Edinburgh and Glasgow offer a look into the major cities of Scotland, it is the small towns and historical ruins that really transport a visitor into the past to see what life was like several hundred years ago.
The only difference on this time warping itinerary is that the car comes with you on this incredible journey.
The dream United Kingdom itinerary has a second benefit in that most of the major destinations are very close together.
Much like the second road trip on this list, Tuscany, driving in England and Scotland means you aren't ever faced with long stretches of driving like some of the later inclusions demand.
The bonus in this road trip is all that extra time can be spent exploring the lesser visited destinations, driving on the back roads, parking and exploring random destinations, and even getting lost if you like.  Just don't forget to bring a GPS and a map! 
Preferred Mode of Transit:  Mini Coupe Roadster
Duration: 3 weeks
Driving Time: 24+ hours driving
Must See Spots: London, Liverpool, Glasgow, Loch Ness, Eilean Donan, Aberdeen, Edinburgh, Leeds
A Tuscany Road Trip Itinerary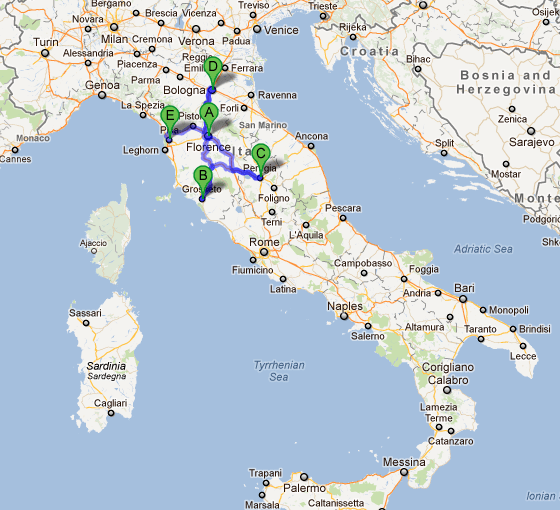 Food is the only thing we can think about when posed with the thought of Tuscany.  Unlike all of the other road trips on this list, Tuscany and the surrounding regions is the only road trip that would have a home base for the entirety of the journey.
Starting in Florence is a logical extension for the great Tuscan road trip as all of the amazing sights are seemingly within a 60 mile radius of the city.  A little more than an hour drive in the morning in any given direction will put you in small villages that most guidebooks leave behind with nothing but great local food, small vineyards, and very few tourists.
One day you could be walking in a village where nobody speaks English, and the next you could be in a great cooking class with some of the world's best food and views to match.
Hungry yet?  We are!
Preferred Mode of Transit: Lamborghini (kidding)… most likely a Fiat or other small car.
Duration: 10 days
Driving Time: 10+ hours driving
Must See Spots:  The general region of Tuscany within a 60 mile radius of Florence.
Australian Outback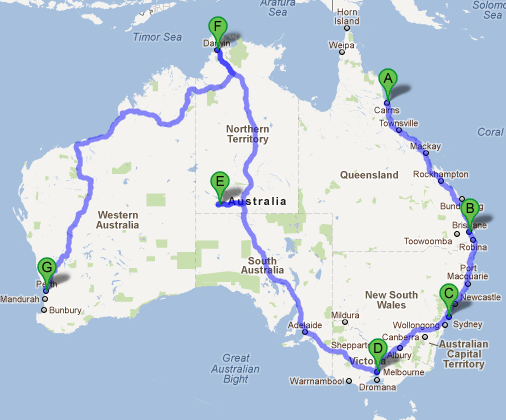 If we were to make the long flight to Australia and had several weeks of time, then the great Australian road trip is the only trip we would consider.  The greatest driving trip in Australia would have to begin in Cairns, as we would need to get in a few scuba dives in the Great Barrier Reef before beginning the several long driving stretches.
Driving down the East coast of Australia is much like driving down the coast of any country.  Countless miles of coastline, small cities and beautiful views can be found at every bend.
After reaching the Southern city of Melbourne and taking the Great Ocean Road to Adelaide, it is time for a change of pace as the long drive up to Darwin is packed full of open spaces.
Aside from a quick stop in Alice Springs and Ayers Rock in the central part of the country, this leg of the journey is best spent enjoying the vastness of the region and the company of those with you.
A brief stop in Darwin begins the next leg of the long journey down to Perth, where aside from a few stops along the coast, a few long driving stints await.  Take a few moments to stop, enjoy the scenery, and consider that you are on one of the biggest single country road trips the world has to offer. 
Preferred Mode of Transit: 4×4, Jeep, or SUV
Duration: 1 month
Driving Time: 5+ days of continuous driving
Must See Spots: Cairns, Brisbane, Sydney, Melbourne, Ayers Rock, Darwin, Perth
South East Asia Trip by Motorbike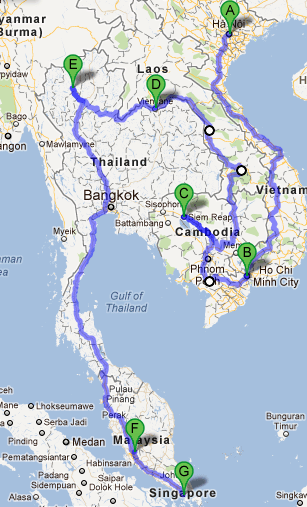 There are no cars in the perfect South East Asia road trip.  In order to truly experience the region, this road trip must be done entirely on the underpowered motor scooter.
My last trip to South East Asia lasted for a total duration about three months in the region (5 months in Asia total).  During that time I passed up on the opportunity to ride from one Vietnamese city to another by motorbike, and instead opted to make the journey by train.   Having never ridden on a motorbike without someone else driving, my fear of injury got the best of me and I skipped what was said to be an amazing experience.   Several weeks later I taught myself how to ride a motorbike in the islands of Thailand and spent countless days riding around the islands on my underpowered scooter.
Looking back on it and hearing stories from others who have done South East Asia with a motorbike of their own makes it seem like an amazing way to explore the region.  As the small bikes have little capacity for fuel, the frequent stops to refuel would force you to visit smaller towns and villages that are otherwise off the radar of most backpackers.  Even for a brief stop for fuel and food, the smaller locales are thriving with interesting sights and people, and is the side of South East Asia only a few travelers elect to see in addition to the best attractions.
Preferred Mode of Transit: Motor Scooter
Duration: 2-3 months
Driving Time: 4+ days of continuous riding.
Must See Spots: Northern Vietnam, Laos, Cambodia, Chiang Mai, Burma, Thai islands, Malaysia, Singapore
Great American Road Trip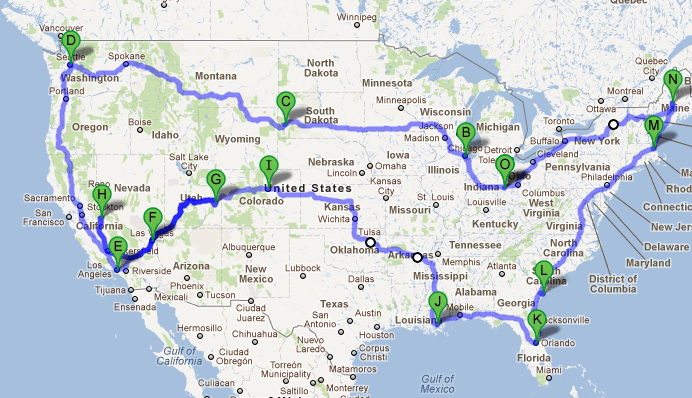 To finish out this list, we can think of nothing better than the iconic American road trip.   With a country so large, there is no better way to get around and experience all of its wonders.  Unlike the other countries in this list, exploring the one we call home would take quite a bit of time for the dream itinerary.
You see, when we think of an American road trip, we are not thinking of a 2 week journey that cuts across the major interstate.  No, our dream American road trip is a multiple month adventure that hits nearly every state, the top national parks, and the food capitals of the country.
Our ideal itinerary begins in the Midwest, where we call home.  From there we would begin the multi-day drive through the Midwest and plains with stops in major cities like Chicago, St Louis, or Minneapolis before reaching Mount Rushmore, the black hills of South Dakota, and the wide open spaces of Montana.
The final destination of the first stretch would be Seattle to take in all of the eating opportunities that are available.
The second stretch of the road trip would be down the west coast while stopping at every vineyard, national park, pretty beach along the way.
The third stretch of the road trip is where it gets a little hectic.  To pull it all off the return leg of the journey would be a zig-zag that crosses the country several times with Las Vegas, Arches National Park, Yosemite, Denver, New Orleans, Florida, and New England all being reached over the period of several weeks.
That is, of course, if you are not sick of driving at this point in what could be over 170 hours of driving before considering day trips and daily commutes. (
Preferred Mode of Transit: Any type of convertible.
Duration: 1-3 months
Driving Time: 7+ days of continuous driving
Must See Spots: Yosemite, Yellowstone, Wine Region of California, New Orleans, New England, and a lot of family.
About Jeremy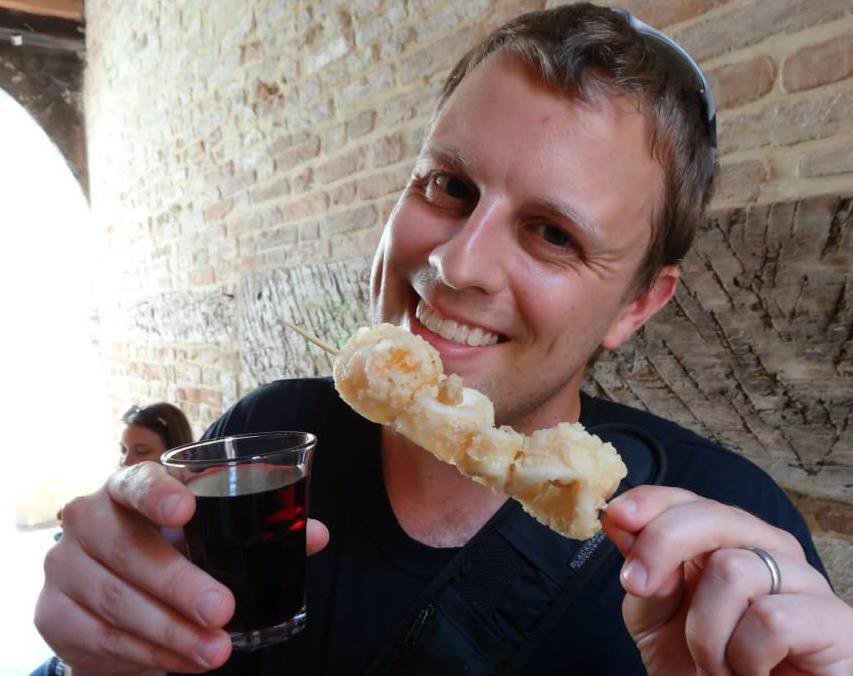 About the Author: Jeremy is a full-time travel writer based in Pittsburgh and primary author of this site. He has been to 70+ countries on five continents and seeks out new food, adventure activities, and off-the-beaten-path experiences wherever he travels.