Published by Jeremy. Last Updated on September 14, 2020.
Disclaimers: Our site uses demographic data, email opt-ins, display advertising, and affiliate links. Please check out our Terms and Conditions for more information. Listed prices and attraction details may have changed since our visit and initial publication.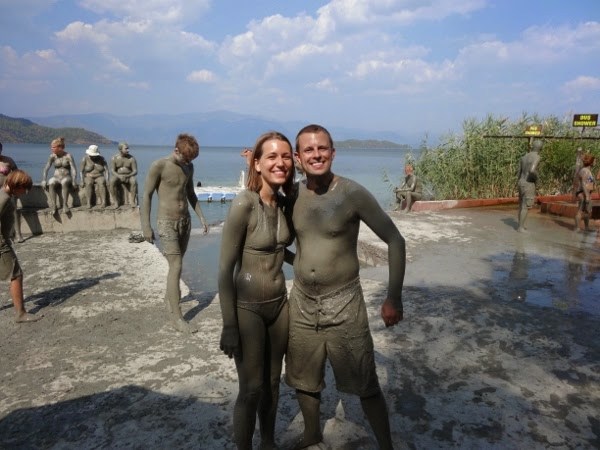 The city of Dalyan in Turkey is one of southwest Turkey's star cities.  The surrounding region includes just about every geographical feature and attraction a visitor would be looking to explore. 
From ancient Lycian rock tombs, the ruins of the city of Kaunos, lake Koycegiz, and a protected beach where the endangered loggerhead sea turtle makes its nesting ground, Dalyan has something for just about everyone.
In addition to all these sights, the city is home to an attraction that is unique to just a few places in the world – the famous mud baths and sulfur hot springs. 
On our recent visit to Dalyan we decided to try out these attractions to see if they are truly worth the fuss, and while their true benefit may be lost on us, we found them to be an enjoyable way to spend an afternoon.
But while the baths and hot springs are a great attraction in Dalyan, we quickly found out that getting to them is the trickiest part!
The Dalyan Mud Bath Requires a Day Tour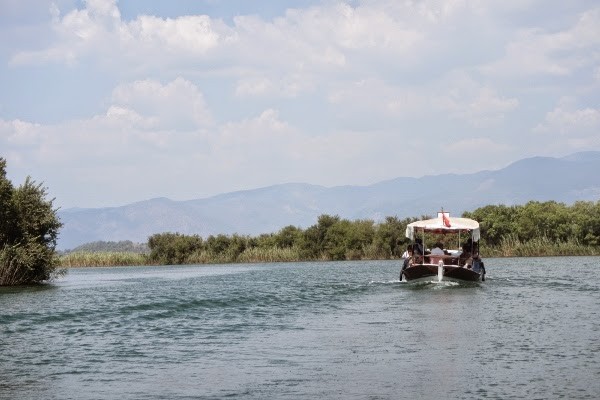 As the mud baths and sulfur pools are located on the far side of Lake Koycegiz on the outskirts of Dalyan, the most common way to reach these attractions is by boat. Unfortunately, the cost for a private boat rental to visit these sights can exceed 150 Lira ($77 US), leaving the only economical option to be a guided tour.
A daily guided tour is available from the docks in Dalyan every day at 2 pm (as of August 2013).  The cost of the tour is 20 Lira per person ($10 US) and includes the boat ride out to the lake, 1 hour to enjoy the mud baths and sulfur pools (an extra 4 Lira), and two stops for swimming at different spots in the lake.
As much as I would have liked a bit longer than an hour at the mud baths, the cost disparity leaves only one option for small groups.
Rather than throwing in the towel on visiting this highlight of Dalyan, we went for it.
The Turkish Mud Baths
Much like my experience at the Dead Sea in Jordan, the mud baths in Dalyan are touted to have medicinal benefits for your skin due to the nutrient rich nature of the mud.  
Rheumatic diseases, arthritis, and eczema are just a handful of many conditions that the mud is report to help against, although many people question the validity of such claims.
In any case, medically needed or not, we had to see what it was like for ourselves.
At this particular attraction, the concept of a mud "bath" is taken literally as the mud is filled in a small swimming pool that visitors can swim around in to cover themselves.  (This is compared to the Dead Sea where workers coat visitors in mud that was hauled up from the sea floor in buckets).
To say that the feeling of a pool of mud is gross is putting it lightly.  It is disgusting. 
The steps to enter the pool are caked with hardened mud and stones that are incredibly rough on the feet, and the bottom of the pool is a mix between wet, clumpy mud and sticks at just about every step. 
I'd make a few comparisons on what I thought it actually felt like, but I don't think it would be appropriate to post here (we are family friendly, after all).
The one cool thing about the mud baths is that you can clearly tell the mud is full of nutrients by one unique feature – you float!  Just like in the Dead Sea, one of the world's saltiest bodies of water, the small pool of the mud bath becomes so concentrated in salts that you are able to float on top of the water without issue.
But with only an hour at the baths, there isn't much time to sit back and enjoy this wonder of nature and it quickly becomes time to coat up, get out, and let the layer of mud dry.
Crackling Mud – The Fun Continues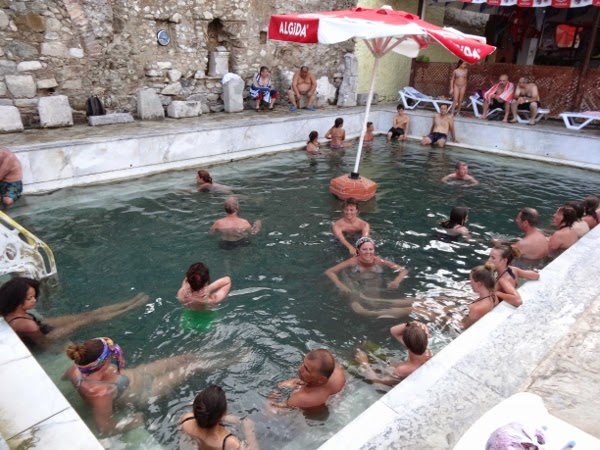 As the mud dries you can feel almost every inch of your skin as the pores and crevices get dried out with the mud.  Cleansing?  Perhaps.  Awkward?  Definitely.
We had the misfortune for the sun to go behind some clouds while we were drying and never got to that fully crusted state like is recommended.  
This deep level of cleansing will have to be saved for another spot on the trip, as we had to keep moving to make sure we got back to the boat on time.
A quick rinse and dip in the lake later and we were almost completely clean of mud (although we have some souvenir mud on our backpack that we're keeping as a battle scar).
Our skin felt fresh, but not enough that I can say with certainty that it helped.  Of course, we do not have any of the ailments that a mud bath is good for, so the true highlights may be a bit lost on us.
Either way, who can turn down looking like a mud monster on a day out?
The Stinky Sulfur Bath in Dalyan
Much like the mud baths, the nearby sulfur spring is touted to have medicinal benefits for people who have rheumatism, hypertension, liver disease, gout, and a long line of other ailments.
The natural spring is rich in sodium, chloride, calcium, and sulfur; far more than other natural springs.  Couple these with a piping hot temperature of 39°C (102°F) and you have a wonderful set of conditions to ease the symptoms of the ailments we mentioned above.
But while a dip in the sulfur pool can be relaxing, keep this in mind: it smells awful. The smell of the sulfur pool is like one of the strongest rotting egg smells you can have and is a big deterrent that stops visitors from staying in longer than they otherwise could (or if you have a medical condition, should).
Coupled with published levels of radiation in the water (low, but high for a natural spring), the spring outside of Dalyan provides a significant mental hurdle for all those who come visit. 
But don't worry about the radiation at one, it is perfectly safe for a dip during your quick stay. 
Even with that knowledge it is still somewhat worrisome as the mind tries to convince you on an argument you clearly know is incorrect.
Lucky for us we didn't stick around to try and find out any more, as our one hour visit at the mud baths and sulfur pools was coming to a close and we needed to get back on the boat to Dalyan.
Are the Mud Baths and Sulfur Pools Worth It?
It is hard to say if the mud baths and sulfur pools are truly worth the visit to Dalyan.  I wouldn't recommend going out of your way to come to the city just to try out the baths and pools, but if you happened to be in the city and had a free afternoon it is a great way to enjoy the scenery!
The boat trip to the baths and back crosses Lake Koycegiz and takes about 45 minutes each way. 
During this time it is easy to spot tons of local birds and enjoy watching the other boats go past.  If you look at your tour as a "Lake Tour" first (as it is actually called when you book it) and a visit to the sulfur pool and mud baths second, you'll be sure to have a great time!
But if you do happen to have one of the medical conditions we mentioned in this post and want to take the baths for their full benefit, you may want to look into alternative options for reaching the pools than this day trip.  For you, one hour may not be enough.
For everyone else, you can't ask for much more at that cheap of price.
While in Turkey, be sure to head east for a Cappadocia hot air balloon ride or to take a hike at Saklikent gorge too!
About Jeremy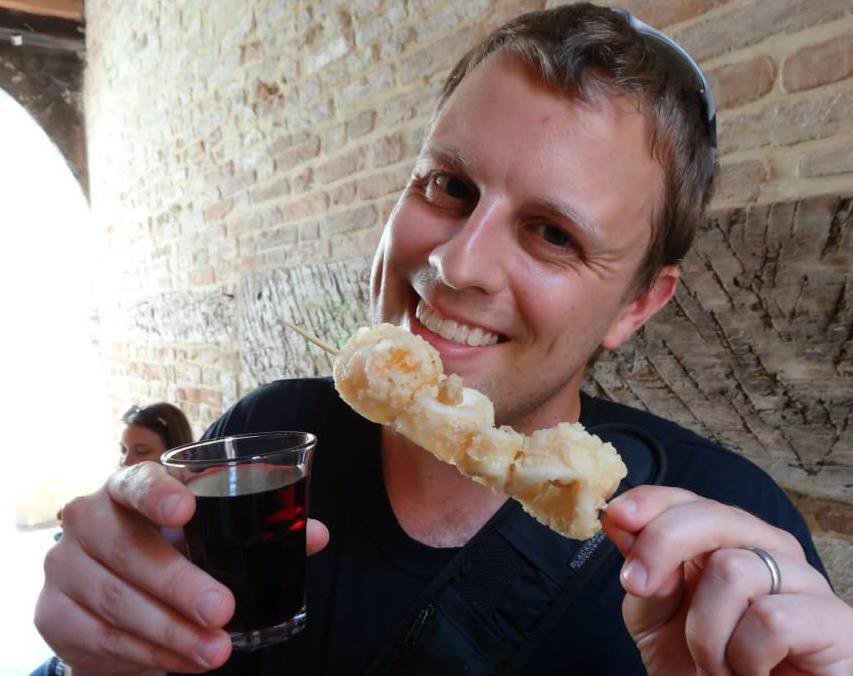 About the Author: Jeremy is a full-time travel writer based in Pittsburgh and primary author of this site. He has been to 70+ countries on five continents and seeks out new food, adventure activities, and off-the-beaten-path experiences wherever he travels.