Published by Guest Blogger. Last Updated on February 8, 2022.
Disclaimers: Our site uses demographic data, email opt-ins, display advertising, and affiliate links. Please check out our Terms and Conditions for more information. Listed prices and attraction details may have changed since our visit and initial publication.
Exploring the CN Tower is definitely an iconic experience when visiting Toronto. As one of the most recognizable landmarks in the world, The CN Tower impressively held the record for the world's tallest freestanding structure for 32 years. It wasn't until 2007 that it was finally surpassed by the Burj Khalifa.
Today, the CN Tower is known worldwide for another reason: it is the home of EdgeWalk. The CN Tower EdgeWalk is the world's highest full circle hands-free walk on a 5 ft (1.5 m) wide ledge.
As the first attraction of its kind in North America, every year EdgeWalk attracts thousands of thrill-seekers and adventurous souls, who are looking to check this experience off their bucket lists. So in this one, I wanted to share what you can expect and some FAQ about the experience!
What is the CN Tower EdgeWalk?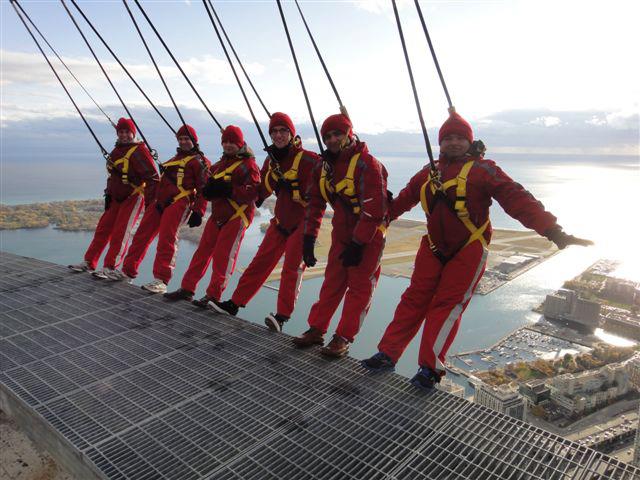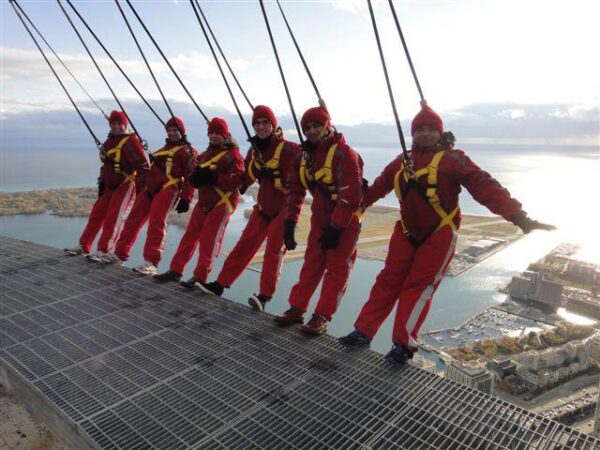 Considered to be the CN Tower's most thrilling attraction in its history, EdgeWalk opened to the public on August 1, 2011. The experience takes you a jaw-dropping 356 m / 1,168 ft (116 stories) above ground, as you walk around the top of the tower's main pod.
Thrill-seekers can push their limits, leaning back over Toronto with nothing but air and incredulous views of Lake Ontario and the city below.
The experience is led by trained EdgeWalk guides, who not only ensure the safety of all participants but also make sure that everyone is having the experience of a lifetime!
What Can You Expect During the Indoor Portion of the CN Tower EdgeWalk Experience?
Your EdgeWalk experience starts at the base of the CN Tower. Start to finish, the whole experience runs about 1.5 hours, with the outdoor walk only lasting approximately 30 minutes.
After a quick check-in at base camp, participants are led through the retail store to the EdgeWalk entrance. This is where airport-style security screening takes place, as well as screening for alcohol.
At this point, guests are treated to a scenic elevator ride up to the south side of the tower. Safety measures continue as participants are outfitted in special Walk suits.
EdgeWalk guides go over all safety procedures, including how the harnesses work, and what to expect during the outdoor portion of the experience.
Visitors are then placed in groups of six for their EdgeWalk experience and led to a staging area. It is here, that everyone is attached to an overhead safety rail, via a trolley and harness system, before being taken outside.
What Can You Expect During the Outdoor Portion of the CN Tower EdgeWalk Experience?
Cue the jaw-dropping views and heart-pounding thrills, as the guides take everyone out on the ledge! When the trek around the tower pod begins, guides will take everyone through several exercises, all designed to make guests feel more at ease, while at the same time, pushing their limits.
During the EdgeWalk experience, participants are given the opportunity to explore on their own, while the guide comes around to take individual photos. Free time is great for perfecting the 'Toes over Toronto' move, or just to admire the phenomenal views.
And speaking of incredible views, on a clear day, it is actually possible to see the misty clouds over Niagara Falls, as well as the tallest roller coasters at Canada's Wonderland!
The experience ends on the south side of the main Tower pod, just above the 360 Restaurant.
As a side note, the 360 Restaurant would be an incredible place to celebrate your CN Tower EdgeWalk achievement! This high-end restaurant takes 72 minutes to complete a full revolution.
Enjoy spectacular views, as you indulge in gourmet meals that are made with locally sourced ingredients, and an accompanying wine list worthy of the Wine Spectator.
The 360 Restaurant is open daily, however, reservations are recommended.
What Should I Wear During My Walk?
Dressing appropriately for the weather conditions is definitely important when doing the EdgeWalk experience. Since EdgeWalk runs rain or shine, being comfortably dressed will play a large part in whether or not guests have a good experience.
A Walk suit is provided to all participants, however, it is meant to be worn over top of regular clothing. Hats, gloves, jackets, and masks will also be provided according to weather conditions.
As far as footwear is concerned, fully enclosed running shoes with laces are a requirement, as these will provide proper support and grip.
For participants who need prescriptions glasses or want to wear sunglasses, a lanyard will be provided to secure them. Other than that, no personal items are permitted on the walk due to safety concerns, and lockers are provided during the experience.
All EdgeWalk participants receive a video and photos from the experience as well as a certificate. The awesome guides can still assist in grabbing that Instagrammable photo!
When Can You Take the EdgeWalk?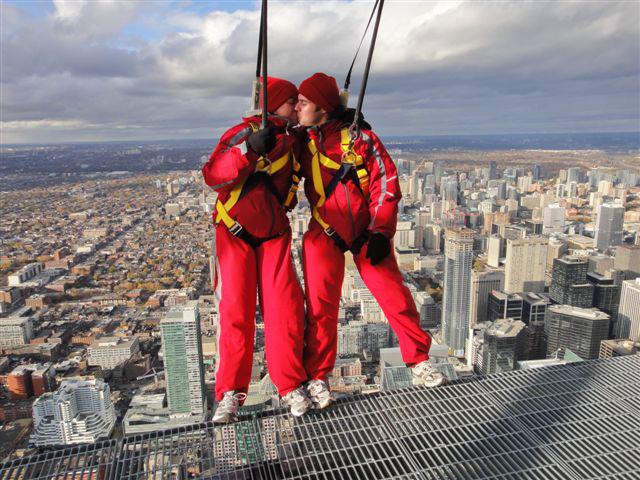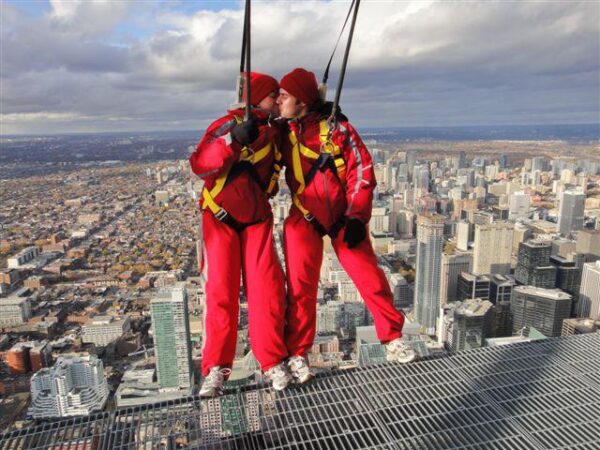 The EdgeWalk operates from April to December, with hours fluctuating based on the season. Tours run 7 days a week, with both day and night time walks available.
The CN Tower EdgeWalk experience operates during most types of weather but may close due to high winds, lightning, and other extreme conditions.
Although summer tends to be busy, the shoulder seasons have the advantage of being less crowded, with the cold clear air making for some amazing visibility!
How Much Does the EdgeWalk Experience Cost?
EdgeWalk is on the more expensive end of the spectrum. At $175 + tax per person, it is definitely a once-in-a-lifetime experience and worth every penny!
Beyond the tour, participants receive a Tower Experience Ticket to access the LookOut, Glass Floor, SkyPod, and the Movie and Motion Theatre Ride.
Are There Age Restrictions?
Most people are surprised to find that the CN Tower EdgeWalk is family-friendly and even wheelchair accessible! Although kids 13 and over can participate, guests under 18 will need to be accompanied by a guardian.
It is also worth keeping in mind that there are weight restrictions: Participants must be over 34kg and under 140 kg (roughly 75 – 300 lbs).
How Do You Get to the CN Tower?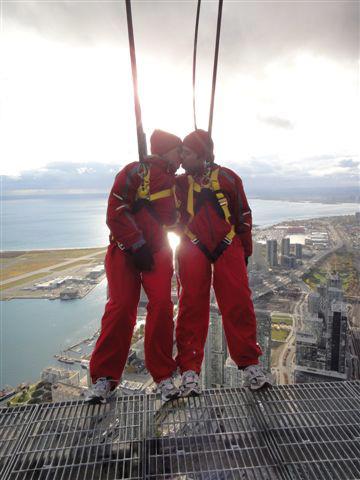 The CN Tower is located in downtown Toronto, at 301 Front St W. Participants are required to enter at the base of the tower, where there will be plenty of signs to point them towards the EdgeWalk.
Parking can be found nearby in several public parking lots and many public transportation options are available in Toronto proper.
Final Thoughts on the CN Tower EdgeWalk Experience
The CN Tower EdgeWalk is a unique Toronto attraction that really should be on everyone's bucket list! Whether participants are adrenaline-junkies at heart, or someone just looking for a brag-worthy Instagram photo, the EdgeWalk will definitely deliver on being the experience of a lifetime!
About the Author: Marianne is the founder of the Journeying Giordanos. We are a family travel blog specializing in Canadian travel and adventure. Together with my husband and four children, we are exploring the country making new memories and learning through travel.