Last Updated on January 3, 2023 by Jeremy
Disclaimers: Our site uses demographic data, email opt-ins, display advertising, and affiliate links. Please check out our Terms and Conditions for more information. Listed prices and attraction details may have changed since our visit and initial publication.
There are so many great Belgian beer brands to enjoy when visiting the country that is simply impossible to try them all. During our one-week visit, with somewhere between three to five beers each per day, we only began scratching the surface of trying all the best beer Belgium has to offer.
While we could go on and on about great brews we had when traveling around Belgium, in this one we thought we'd take a step back and look at where you can buy all of these great brews outright. So let's talk about our favorite Belgian beer bars and breweries, what you can expect when visiting, and share some of our highlights from each!
But we should note upfront that not every brewery or Belgian beer bar is recommended purely to drink beer. Some may be great spots to buy beer to take home and others offer historical tours that are must-sees over their beer offerings. To put it bluntly, this list has something for everyone.
Cantillon in Brussels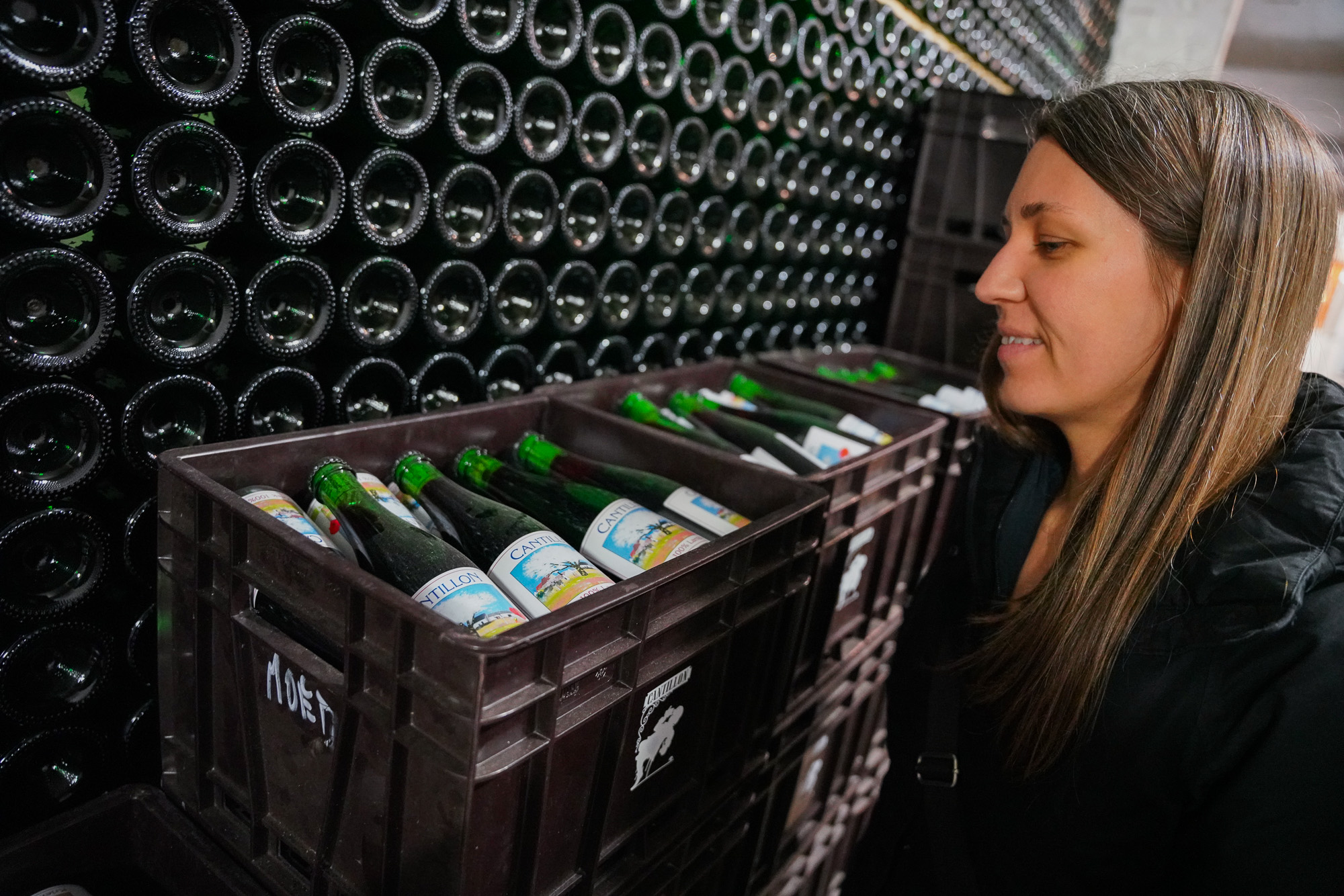 One of the things we love about breweries in Belgium is that most distribute their beer throughout the country. So if you don't visit the brewery proper (many of which we found don't actually have tasting experiences outright), you can find their beer readily available at beer bars without insane secondary markup.
Cantillon Brewery in Brussels feels the opposite.
This brewery is one of the most famous in the country and their gose, lambic, and other wild fermentations are sought after by enthusiasts around the world- often heralded as the best of the best. Suffice it to say, they're rather rare to find available via 3rd parties and when you do, are often sold for secondary prices starting at 2x markup or more. (Which, considering 750 mL bottles often start around 20 Euro at the brewery proper, adds up quickly.)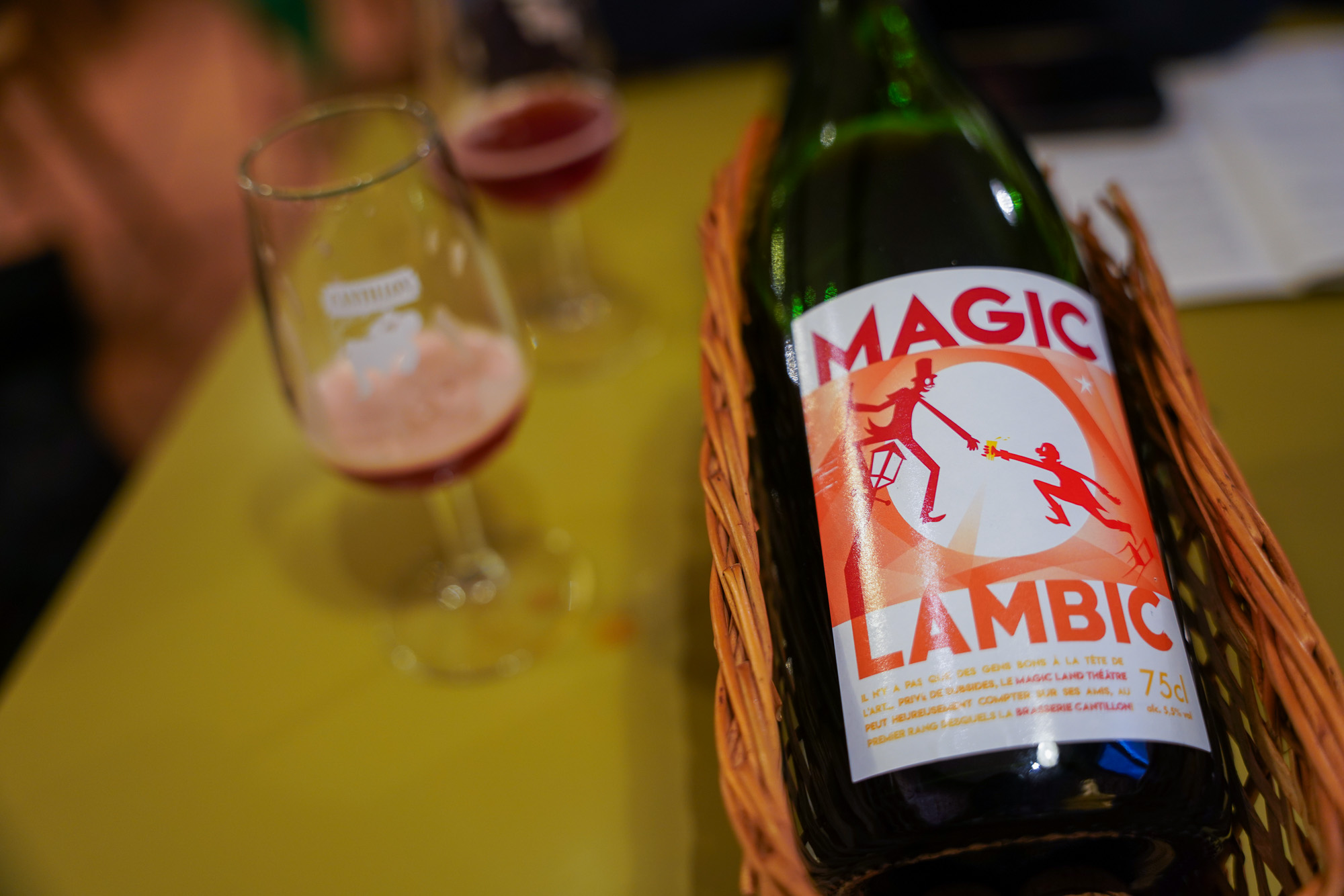 So for most, the best chance you have to try Cantillon's brews is by visiting the brewery right in Brussels. For a nominal fee, guests can tour the facility on a self-guided walk and then sample three brews in a tasting at the end (typically a trio of a young gose, an aged gose, and a lambic) with the opportunity to buy more bottles to enjoy on-site or to go.
While the self-guided tour and tasting is worth the price, visitors should note that if you want to try other brews beyond the flight trio, you have to buy a full bottle (which, previously noted, most are 750 mL format only). Did we want to try more of their famous lambics at the bar? Yes. Could we justify buying more than one due to the larger format and 20 Euro+ price point? Not in the slightest, which was simply unfortunate as the bar list was quite incredible.
So make friends and share if you are able- the beer here is worth the extra effort and then some!
Cantillon Brewery is located at Rue Gheude 56, 1070 Anderlecht in Brussels.
Delirium Cafe in Brussels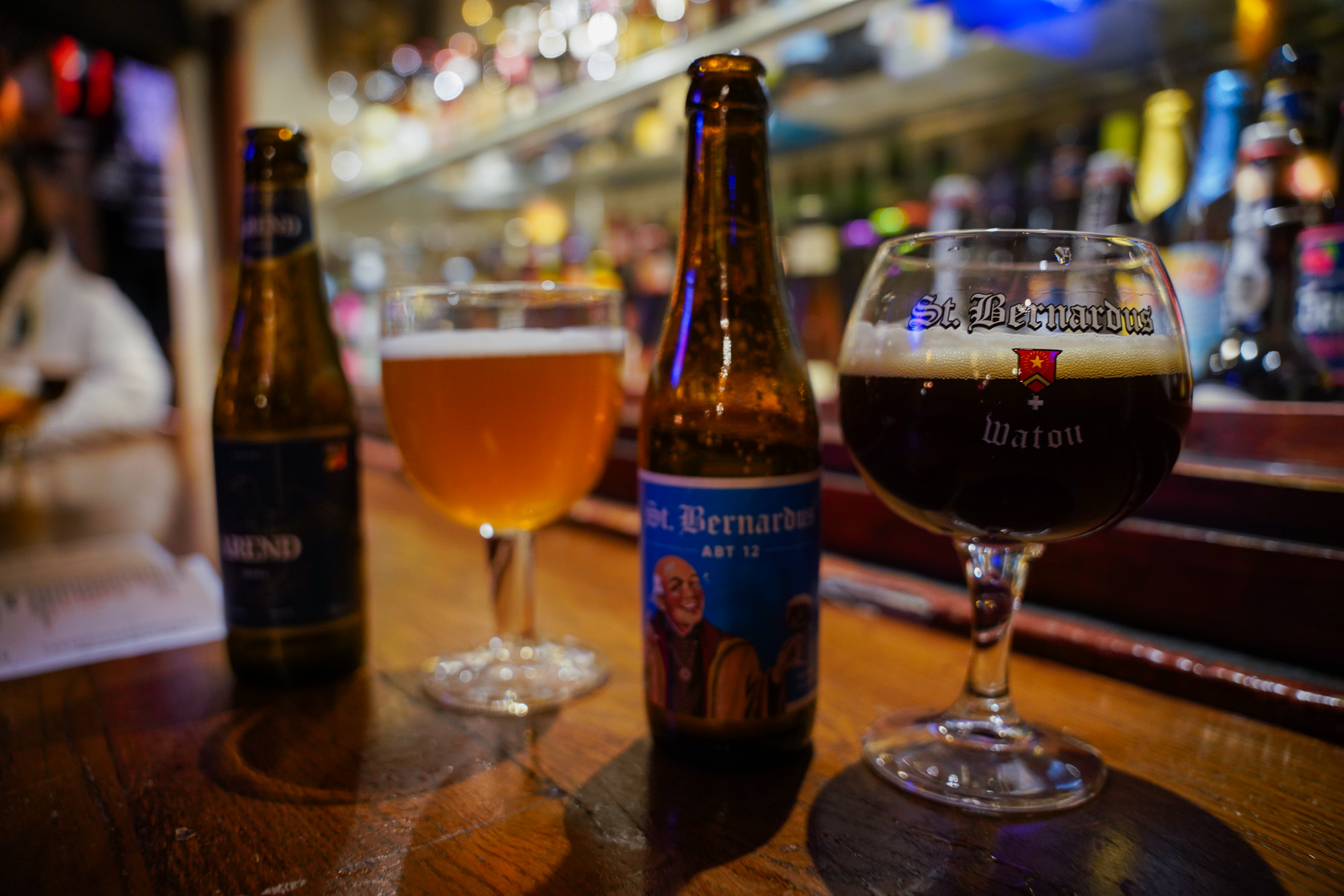 When you speak of Delirium bar in Brussels, you really should be thinking of it more as the Delirium complex (or as they call it, Delirium Village). This spot in the heart of the old town features several themed businesses within the village space- each with its own twist of a certain element of bar culture.
At its heart is the Delirium Cafe- a basement bar with a devoted following for its absurdly large beer collection. In 2004, this cafe was certified by the Guinness Book of World Records for having the most bottles of beer in the world- 2,004 unique bottles!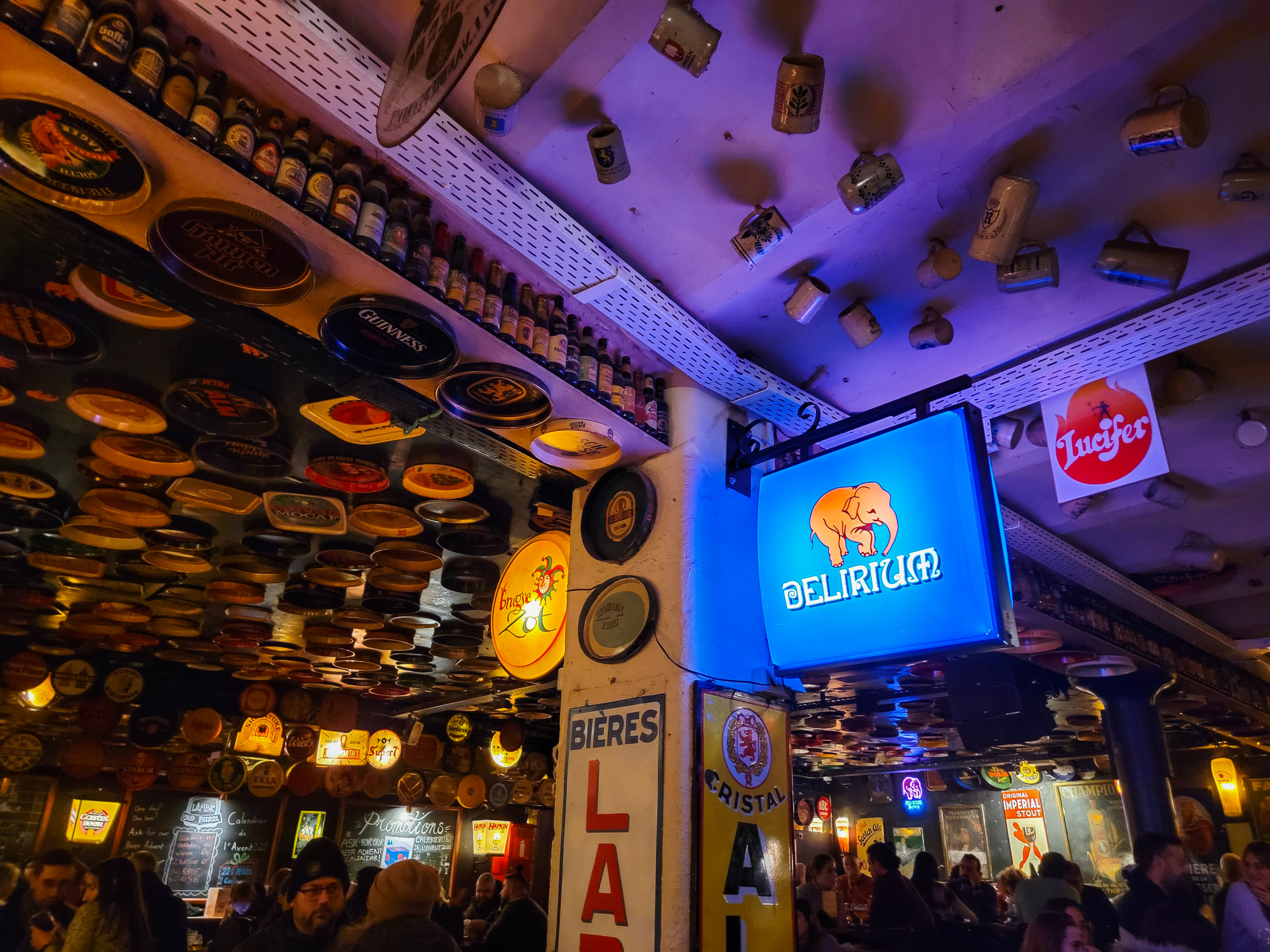 So if you are in the need of a bar where you can try, well, everything, Delirium Cafe in Brussels is the place to be. Although, we have to admit that we also didn't drink any Delirium when visiting this bar. That is the issue when you have roughly 2,000 bottles to choose from. Oops!
Delirium Cafe is located at Imp. de la Fidélité 4, 1000 in Brussels.
Dulle Griet in Ghent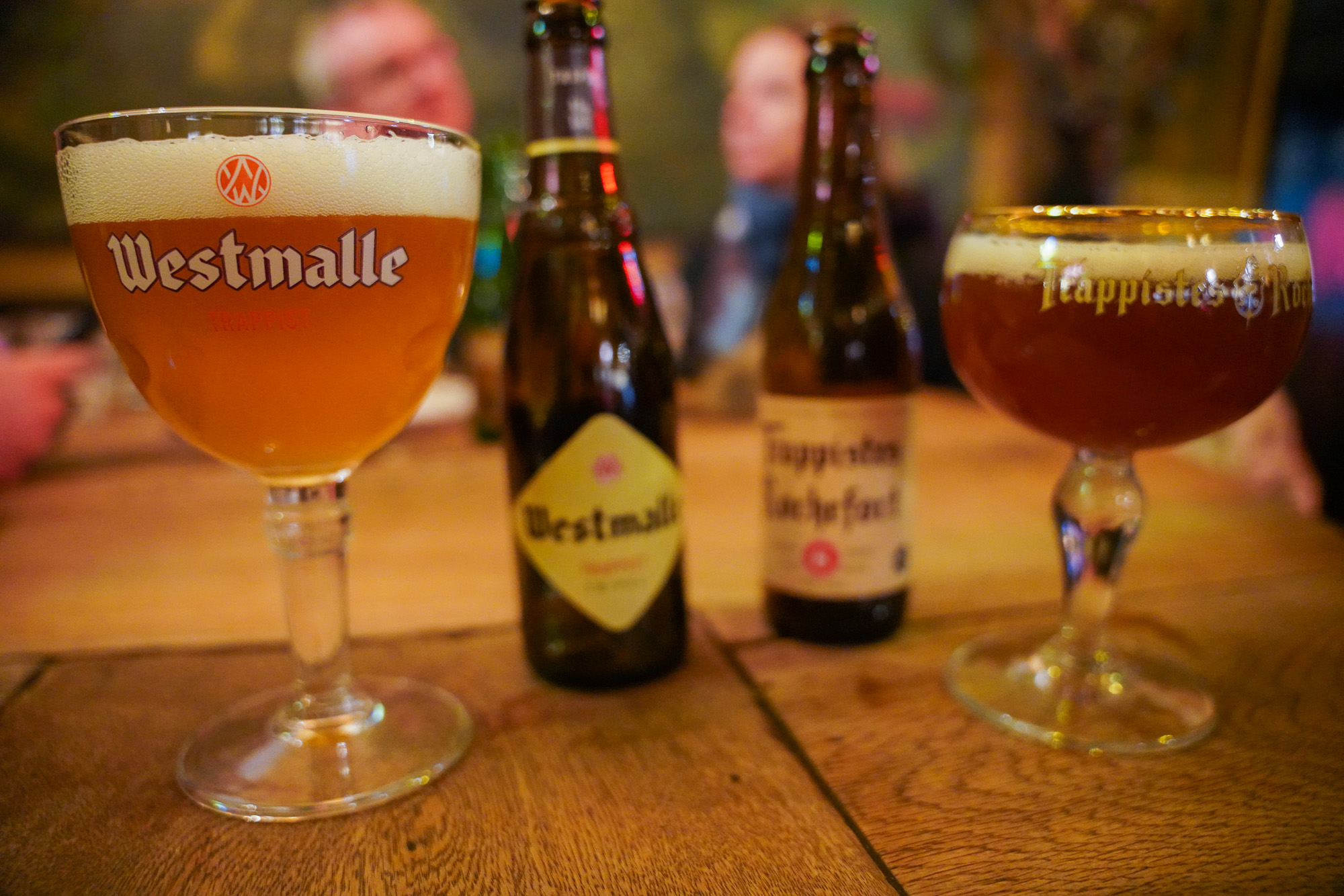 In the mood for a beer bar in Ghent that has an impressively large menu (> 500 beers) and an ambiance that is hard to beat? Dulle Griet is the place to be.
This one features a book of brews, all at respectable prices, their own house ales, and more. While we used this one primarily to work our way through the list of Trappist producers in Belgium, we have to admit the collection of beers at large gave us a wealth of options to choose from.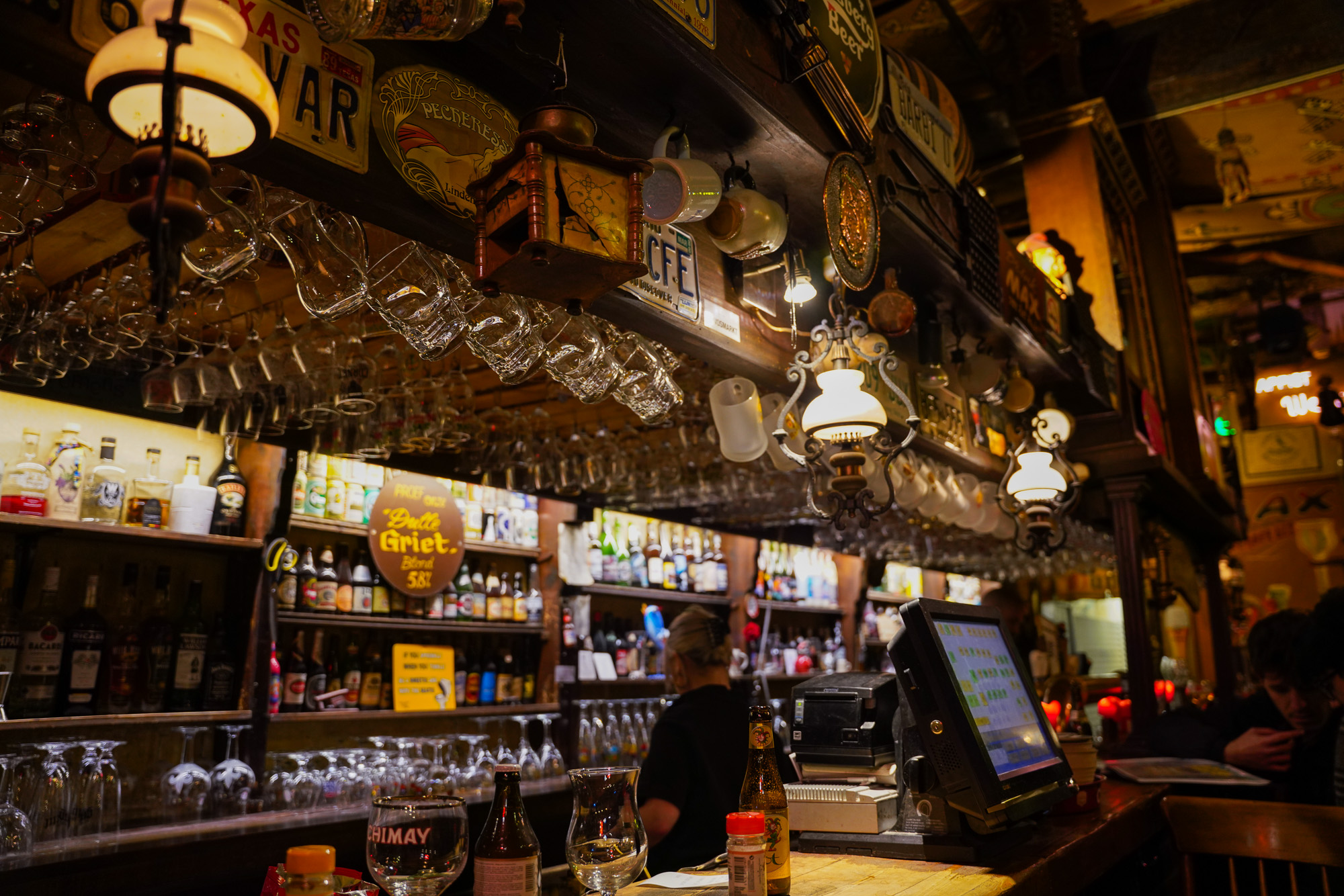 Perhaps the most interesting part about Dulle Griet is what they do for those who order the house beer. You see, the house brews are only served in large format, custom glasses (>1L) with a high-security deposit. Yes, there is the monetary element (something like 90 Euros for a broken glass), but they also take your shoe to ensure you return the glass outright!
Yes, every few minutes throughout the night a basket with a bell on it is lowered to the bar floor to add or take out shoes in a spectacle you really have to see to believe. Did we order a beer and give up one of our shoes? Sadly, no- if only because we wanted to try many brews and didn't want to commit to over a liter of just one. But did we want to? Absolutely.
Don't know what to order? Ask your server about their favorite beer in a particular category. I asked for a favorite Tripel and was given Paix Dieu which was one of my favorites from our entire visit!
Dulle Griet is located at Vrijdagmarkt 50, 9000 in Ghent.
Het Waterhuis in Ghent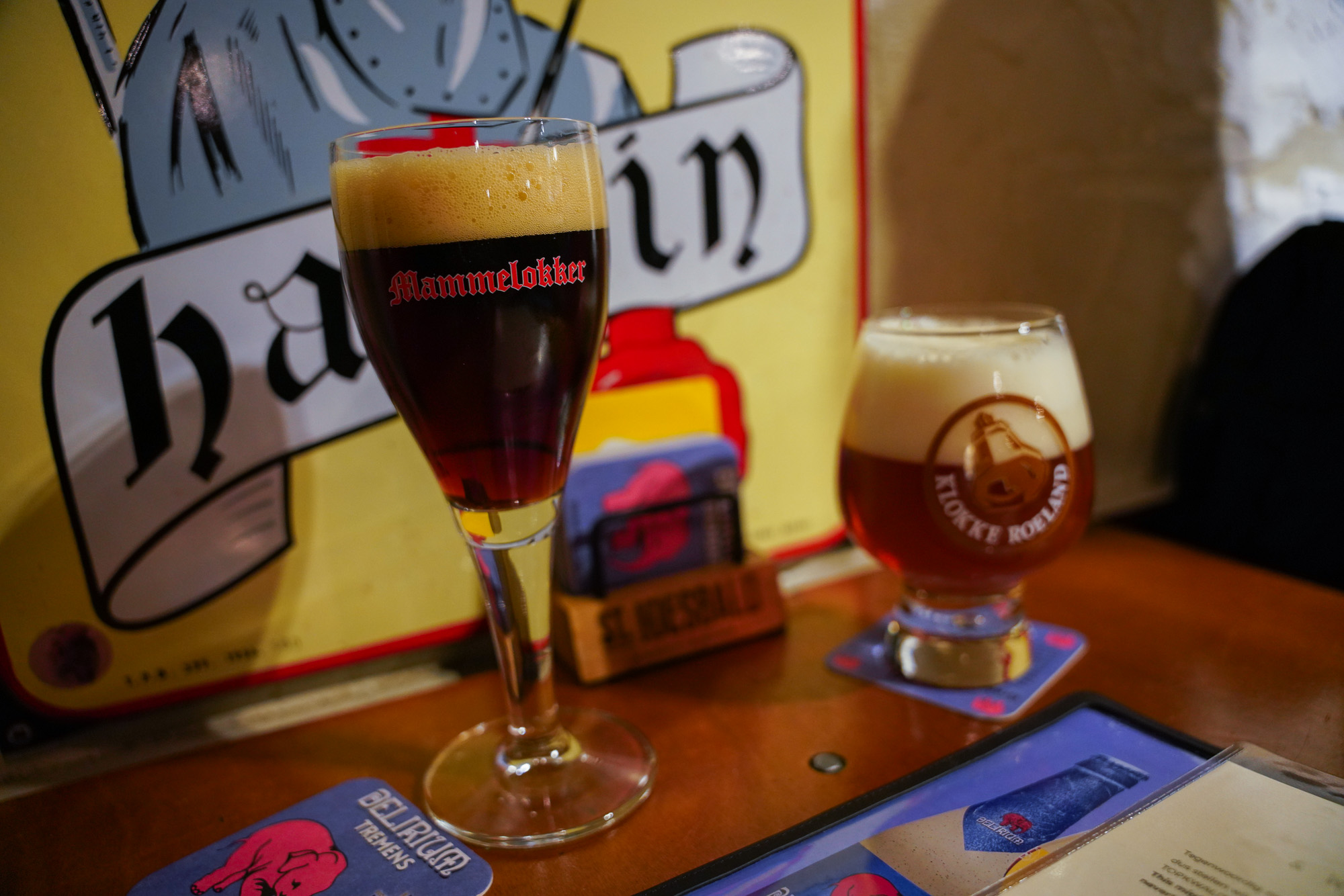 If you're looking for a more intimate beer bar right on the river in Ghent, look no further than Het Waterhuis- just a few blocks from Dulle Griet, above.
This beer bar has an impressive beer menu, both in draft and in bottle, but with a bit more of a relaxed ambiance overall from the hustle and bustle of Dulle Griet.
One of the things we loved about this one during our December visit was how they had a strong feature of Christmas brews from various producers- something that was highlighted better here than just about anywhere else we visited!
Het Waterhuis is located at Groentenmarkt 9, 9000 in Ghent.
De Garre in Bruges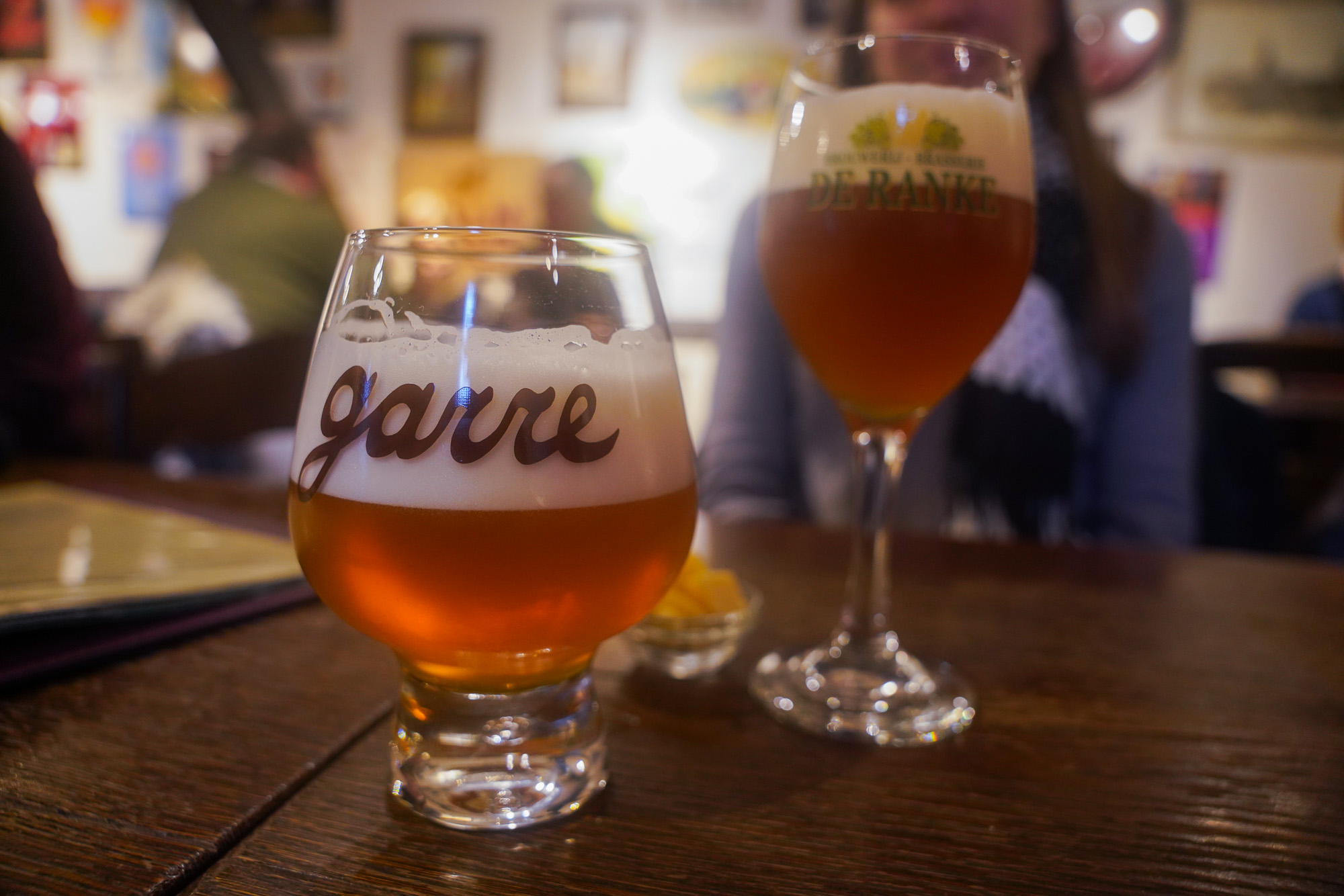 Bruges is home to many breweries and beer bars, but the one that stood out to us the most was De Garre.
This famous, three-story beer bar located in the heart of Bruges has an impressive bottle collection, much like others featured in this article, but also has its own house tripel brewed by Brouwerij Van Steenberge that you cannot find anywhere else (apart from, perhaps, a beer store or two in Bruges).
This tripel was also one of our favorites of the style and we'd almost go as far as saying is worth dealing with the crowds in Bruges just to try it on its own. So while you may be walking up and down the old stairs on several passes to find a seat during peak hours, it is worth the effort to try this one (plus others from their collection)!
De Garre is located at De Garre 1, 8000 in Bruges. De Garre alleyway is unlabeled with its many entry point on Breidelstraat just a minute or so from the Basilica of the Holy Blood. As of our visit in 2022, there was a Neuhaus chocolate shop to the right of the entrance to the alley as reference. Walk down the alley almost to the end and you will see a small, unimposing sign by the door to the bar.