Last Updated on August 25, 2022 by Jeremy
Disclaimers: Our site uses demographic data, email opt-ins, display advertising, and affiliate links. Please check out our Terms and Conditions for more information. Listed prices and attraction details may have changed since our visit and initial publication.
We were spoiled when we went on a vacation in Spain for our honeymoon.
There is no easier way to say it than that. 
From the world-class cuisine, amazing Spanish tapas bars, free-flowing wine, all the way to the famous ham that we ate with every single meal, Spain satisfied our appetites with every bite. 
After returning home we tried to find a great restaurant that embodied all of the wonderful meals we had while in Spain.  In particular, was our quest to find a great tapas bar with the small plates of food that we had just about every day in the country. 
But as it turns out, tapas bars in the style we fell in love with are hard to come by, and our search has gone on unfulfilled for the last year.
Loving the Spanish Tapas Bar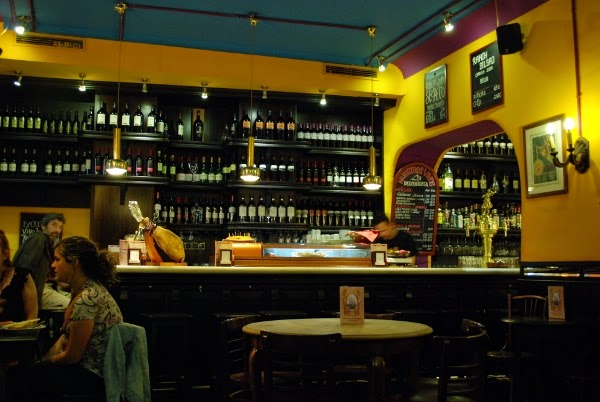 There is a misnomer in the USA that has been particularly frustrating to us ever since we returned from Spain. The new "foodie" trend is for restaurants to serve tapas while mimicking the style of Spanish cuisine. But other than the name and a few authentic dishes, this is where the similarities end.
While the term tapas is technically applicable in this situation, as the plates are small and food varied, the restaurants fall flat of what we would consider being a true Spanish tapas bar. 
You may go with some friends or your spouse, share a few small plates, and walk away stuffed with a moderately sized bill to match. But this is not the type of tapas bar we came to love while in Europe.
In fact, other than the small plates of food, tapas restaurants in the USA are almost the exact opposite in structure to their comparably themed counterparts in Spain.
What is a Tapas Bar?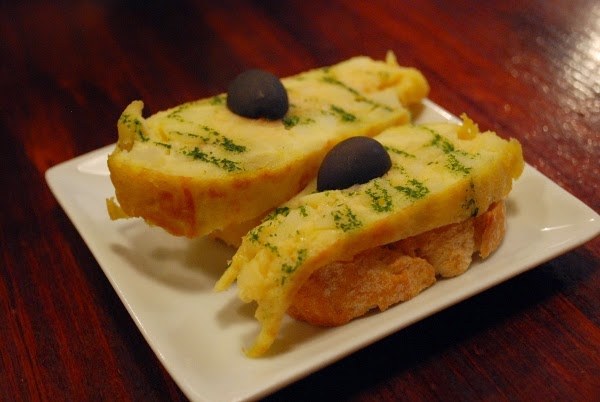 During our honeymoon in Spain, we came across two unique styles of tapas bars, with the major distinction being found due to their geographic location. 
It is quite possible that there are several other styles of tapas bars in Spain than the ones we found, but these are the two we discovered and enjoyed during our honeymoon in Madrid, Granada, Seville, and Barcelona.
Style 1 – Buy Small Plates at the Bar
The first style of tapas bar is similar to the restaurants here in the USA, with the exception that the eating and drinking takes place at tables in a pub or small bar.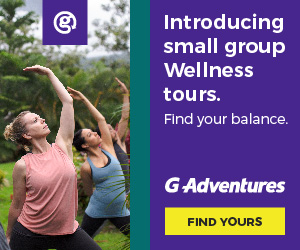 In these establishments, there is often a glass case at or near the bar that is full of food that the bartenders continually load and deplete items from. 
While drinking you grab the attention of the bartender, tell them the quantity and types of food you want (or point if you don't speak Spanish), and they'll appear in front of you for your consumption.
During the course of your stay, you'll go through various rounds of eating the small plates, drinking another glass of beer or wine, and so on. At the end of the meal, your bartender will tally everything up and present you with the bill. 
Simple and to the point.
We found this type of tapas restaurant to be the big thing in Barcelona, with Xampanyet being our favorite. After all, what is there not to like about a tapas bar being called, quite literally, Champagne, and serving glasses of their namesake to all visitors? 
But don't go expecting it to be cheap!  Each tapa ranges from 1-3 Euro per piece and can get real pricey, real quick.
Style 2 – Drink a Lot, Eat For Free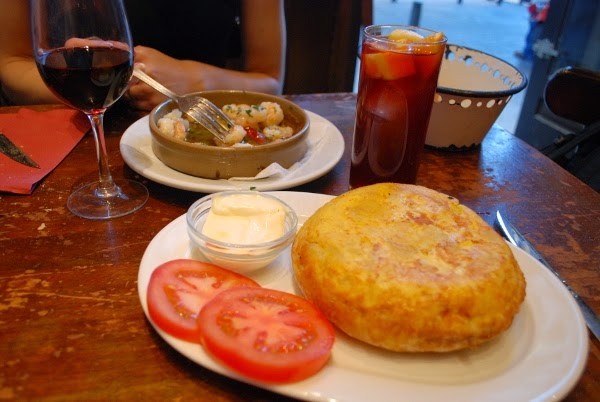 Compared to the first style of tapas bars, our favorites were definitely in Madrid and the Andalusia region to the south.  As the name of this style suggests, you won't be paying for your food at these types of establishments; perfect for travelers on a minimal budget.  
In this type of tapas establishment, food comes free if you drink.
We heard stories of tapas bars where food gets brought out to you for free when you drink, but we always thought they were a joke.  Why would a business give out a perfectly good appetizer plate they could easily charge a few Euro for?  
It didn't take long for us to find out the truth.
As it was our honeymoon, Angie and I wanted to drink great wine and beer as much as we could.  When we first sat down in a dingy bar in Madrid and ordered a round of drinks, a big plate of ham showed up in front of us.  A plate we did not order. 
Confused, we ate it and realized the stories of tapas bars must be true!  When the next plate showed up with our next round, we quickly realized that the large half portions of food we did ordered was a bad idea.  
We were already stuffed when it arrived.
Cue the love affair with Spanish tapas bars.
The Limits of Tapas Generosity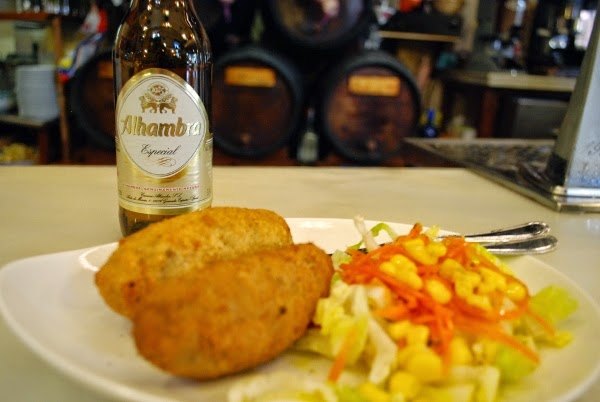 We never tested the limits with just how many free tapas plates you can get when ordering a round of drinks.  Partly because we felt silly, but mostly because we just don't drink that much.
At first, we thought that a tapas portion only showed up with each round of drinks for the table.  It made sense because we always ordered our first drinks together. 
But at many of the smaller bars in Granada and Seville I would order a second drink well before Angie.  As the drink came out, so did another plate of food. A few minutes later Angie would order her drink, and a third plate a food arrived in a similar fashion.
The distinction with the "free" tapas restaurants is that you do not get to pick the type of food that is brought out to you.  Your first plate may be a cheese plate, then a crostini of sorts with a light topping, and a third could be a plate of ham. 
It all depends on what the bartender has in stock at any given time, but each successive round will likely be unique.  
It is because of this that we saw several travelers feasting purely on tapas while only paying for their incredibly cheap beers each afternoon.
Free food for the price of beer?  Sign us up!
Where Are You in the USA?
At the beginning of this article, we mentioned that we have not been able to find any good tapas bars in the USA.  Sure, there are many places that serve small plates at obscene prices while claiming to be Spanish tapas. 
As a standalone item, the small plates we've tried at restaurants in the USA have been delicious and in similar or better quality than their Spanish counterparts; but fine dining is not the point of a tapa in our experience.  
Rather than being charged an obscene price for a plate, Spanish tapas is more about getting you into the bar to pass a few hours by with friends.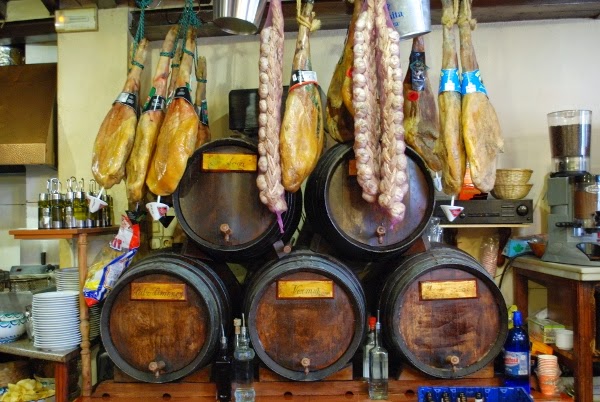 Perhaps it is the American way to charge for just about everything.  Even happy hour specials don't have "free" drinks but reduced rates for select hours.  In our happy hour setup, the goal is to get people in for the drinks and keep them there to order food. 
But in Spain, this logic seems reversed when it comes to a tapas bar; get people in for the free food, and keep them to drink.  Perhaps this is the reason that all of the food has a subtle hint of salt, encouraging us to order another round in the process.
Whatever methodology the Spanish tapas bars use, it is a good one.  One I wish was more popular in this country than the less-than-authentic tapas spin-offs we have now.
Looking for more Spain articles? Check out our posts on buying Spain train tickets or what to see in Barcelona!
Book a Train Ticket in Europe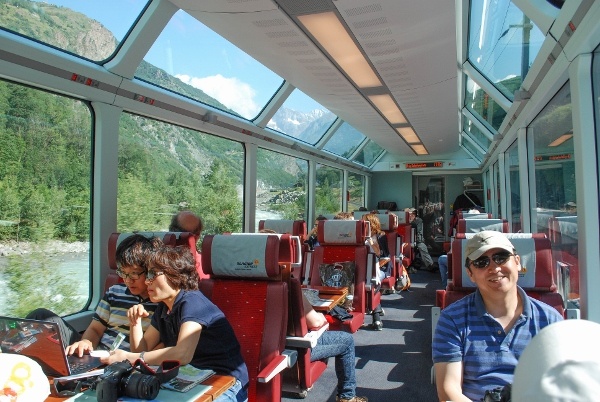 Want to learn more? Check out our Omio review!
About Jeremy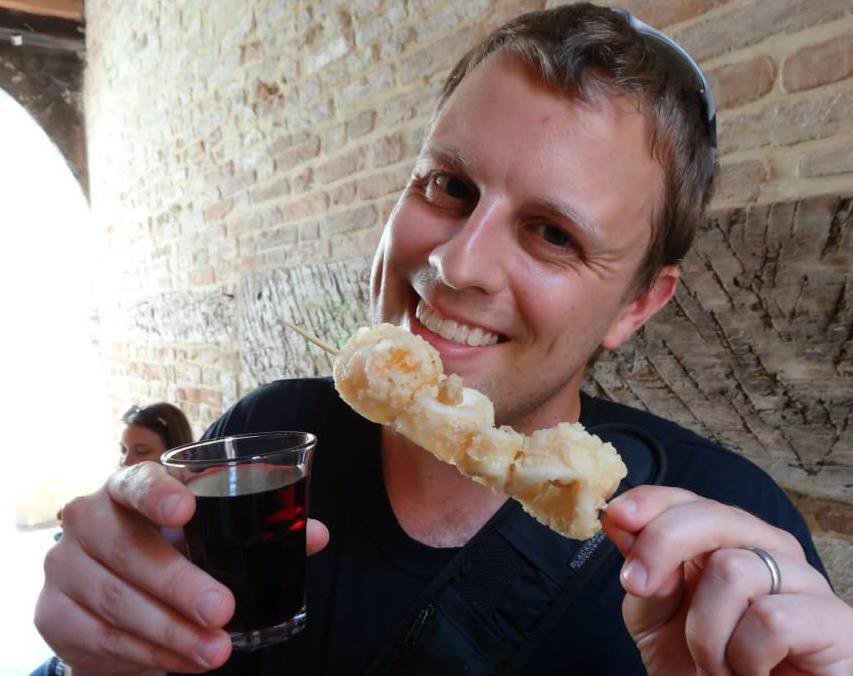 About the Author: Jeremy is a full-time travel writer based in Pittsburgh and primary author of this site. He has been to 70+ countries on five continents and seeks out new food, adventure activities, and off-the-beaten-path experiences wherever he travels.