Last Updated on July 21, 2022 by Jeremy
Disclaimers: Our site uses demographic data, email opt-ins, display advertising, and affiliate links. Please check out our Terms and Conditions for more information. Listed prices and attraction details may have changed since our visit and initial publication.
As we are reaching the point in our lives where we desire comforts when we travel, flying in business class has been something we're moving to more and more. But as we typically cannot afford these tickets outright (as conventional routes can be $2,000, $3,000, $5,000, or more roundtrip), we have been acquiring these coveted seats in recent years using points.
In the past, we would go the conventional route for snagging a rewards business class seat- simply using a boatload of points to buy the ticket outright while only having to pay taxes on the flight (often a nominal amount). But our points-earning capabilities have dropped a bit in the last few years such that we have to be a bit more selective with how we redeem our points when flying.
Thankfully, many airlines also let you upgrade a paid economy ticket with a mix of miles and dollars as a bit of a hybrid approach to try and snag a business class seat for less of a hit to your bottom line (pending availability). We tried this on a recent flight from Newark to Lisbon, Portugal, and had success in getting upgraded on our red-eye flight outbound.
So in this one, we thought we'd take a look at the process to score a United upgrade with miles and dollars, who has the best odds of snagging a seat in this process, and what happened when we didn't get upgraded on our return flight home!
Note: This article is based on our travel experiences flying United in October 2021. Rules can and do change regularly so please read current T&Cs of your particular airline before upgrading a future flight as things may change.
How We Used Points to Upgrade to United Business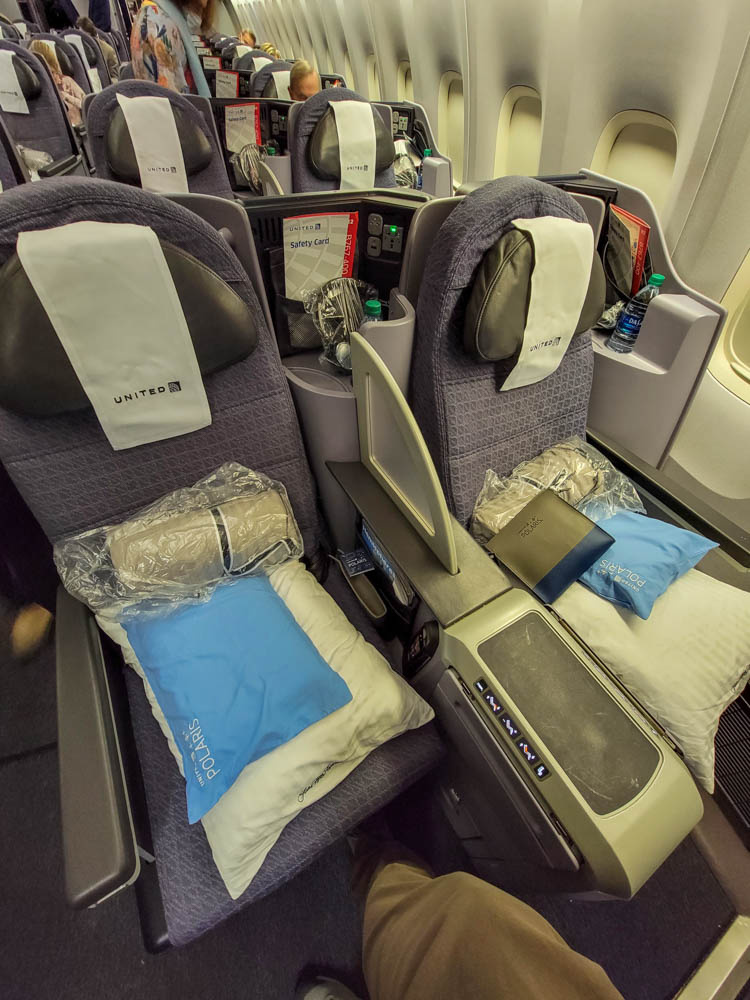 For our flight to Lisbon, we decided to buy economy tickets and use United's upgrade request feature in order to try a coveted business class seat. Part of this was because we didn't want to blow all our points in buying a business class seat outright (we have much longer flights coming up we are saving that for), another was because we booked just one month out at cheap business routes were hard to come by, and finally was also because regular economy tickets were on sale for the exceptionally low price of ~$600 round trip.
We figured we'd take a shot at getting an upgrade, and if it didn't work out, well, we still scored an incredible price for a last-minute trip to Europe all the same.
Note: Basic Economy fares were even cheaper than the above, but generally do not qualify for upgrades on United as far as we are aware. Read the fine print more before booking to be safe.
At the time of booking, United gave us a quote of an extra $550 per person, per way, as well as 20,000 per person, per way as the total upgrade fee to try and get a seat in Polaris Business Class. If you don't want to do the math, that means our total ticket price would've been $1,700 and 40,000 points each if we had been upgraded both ways.
If our math is right, for the two of us combined this would've been equivalent to buying one business class ticket in cash and one in points. Not terribly great overall from a value perspective, as some business class sales have gone on for that $1,700 price point alone, but good enough for us to give it a try to see what would happen.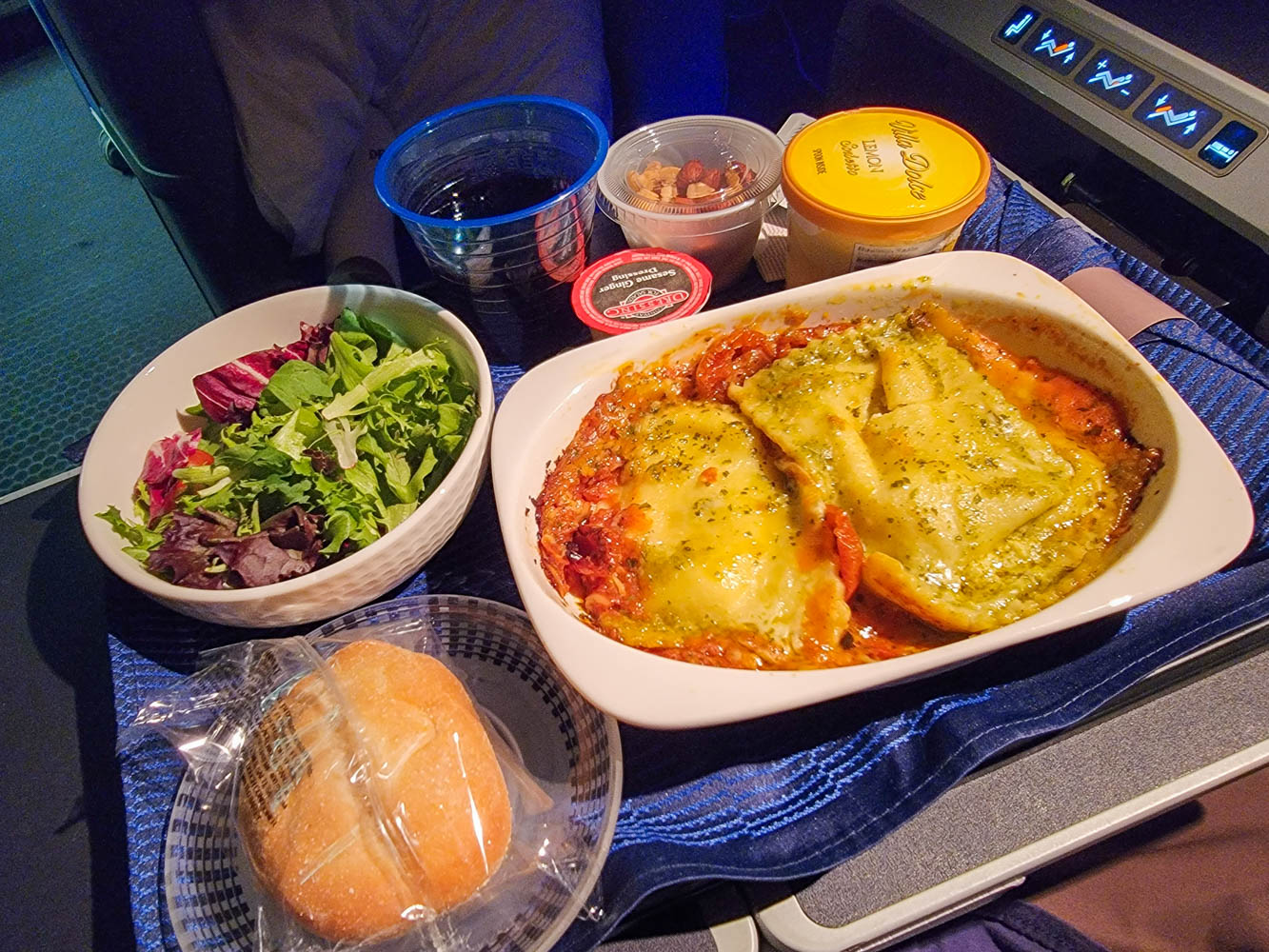 Once you put your request in, you pay upfront but are likely not going to hear back about getting your upgrade until the day of your flight (possibly not even until you're at the gate). The only real ways to get an instant upgrade are to be a 1K member and use some of your allocated upgrade points, and without that you're at the mercy of a number of factors including when you made your purchase, your United status, if you hold United credit cards, perhaps the fare class of your base ticket, and of course total availability of seats to name a few.
As Angie was United Platinum, we did not have any opportunities for instant upgrades and instead held our breath until we checked in. Thanks to her status, we ended up being 1st and 2nd on the upgrade list and received our upgrade notification shortly after check-in. On our return trip, however, we were only 7 and 8 on the upgrade list and did not receive an upgrade- so it was economy plus for us there. There really must have been a lot of higher status holders than us on that flight!
While we were upgraded on an older Polaris plane, we have to admit the lay-flat seats were everything we needed in an overnight flight and allowed us to hit the ground running in Lisbon the very next day. (The economy seat on the return trip, not so much.)
But because we did not receive the upgrade on both segments, we were wondering- will United refund us that half of the upgrade credit? We couldn't find a good answer to this online and share more of what happened below.
What if You Don't Get Upgraded on United?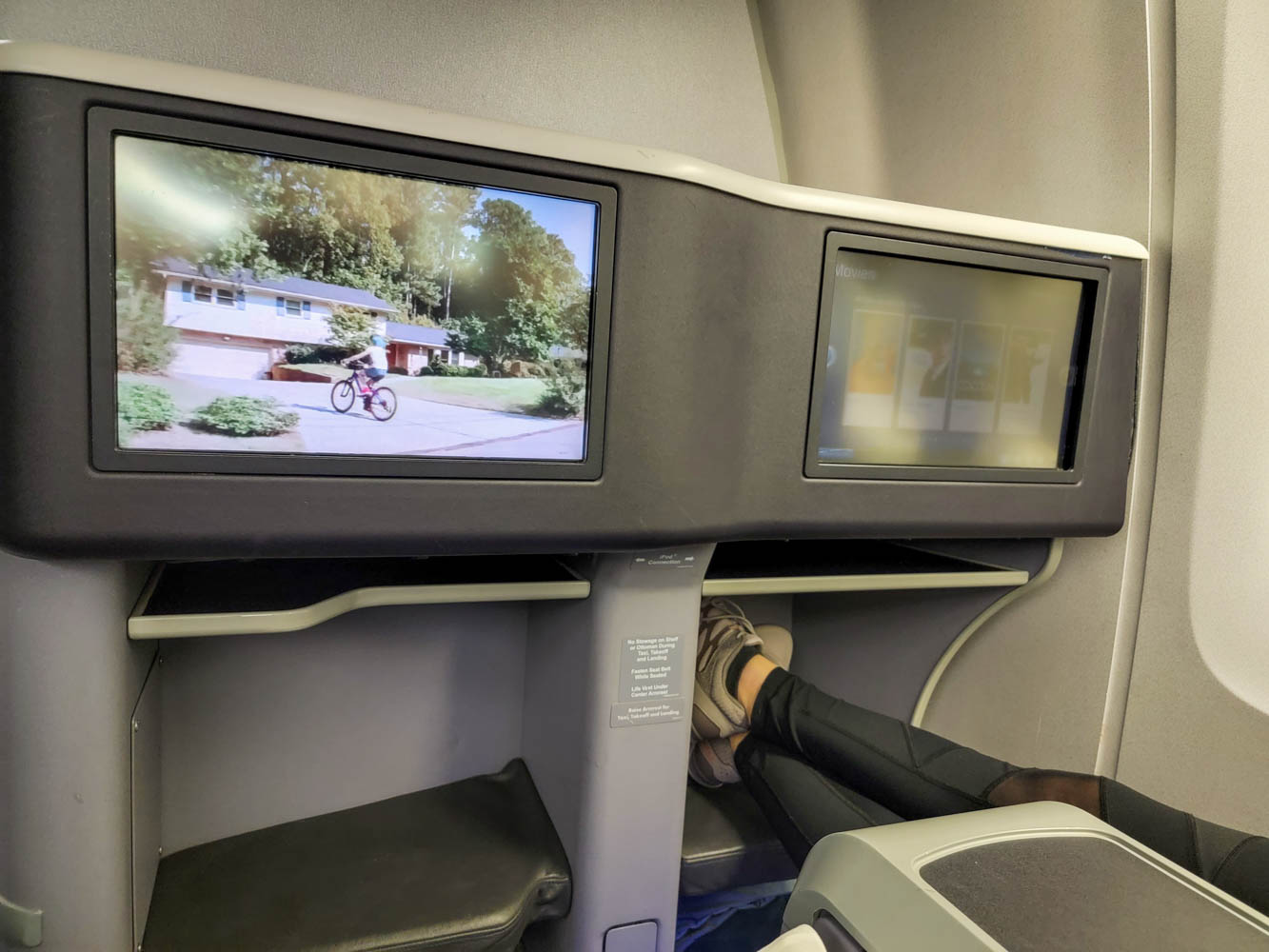 When you read about using points and miles to upgrade an economy ticket on United, you'll most likely see that you can be refunded if you are not upgraded on any segment. This sounds great, but the fine print goes on to list many caveats where you may not get refunded and is also not terribly clear on what they define a "segment" as, either.
As we were billed per person, per leg with four separate credit card charges and four separate points withdrawals (one per person, each way), it seemed like United's interpretation of the term segment meant outbound to Lisbon or inbound returning from Lisbon- but we were never 100% clear on that.
As we were flying with a route that included Polaris Business Class, a special caveat jumped out to us that said that if you are upgraded on the non-Polaris flight but not on your Polaris flight, you could also be eligible for a refund as well. That is to say, an upgrade on our short hop from Pittsburgh to Newark would not count against us if our Newark to Lisbon (or reverse) flight was not upgraded. We tested this out as Angie was upgraded on our short domestic flight home despite neither of us having Polaris on our long-haul flight back.
Submitting a refund request was easy. All we had to do was use this form on United's site, put all our information in (separately as United had split our ticket in the process), and wait. Within about one business day United emailed me saying they will be processing my refund and Angie received one the next day. The only note here was that they said it may take 1-2 billing cycles to hit our credit card, which is an unfortunate wait but not much you can do about it there- although ours hit in just a couple of days.
Overall, it was a pretty straightforward process.
In retrospect, however, our scenario was the best we could've asked for. $1,700 and 40,000 points per person for a business class flight to Lisbon was pushing it for us with regards to value, but having our red-eye be in business class with an economy return for $1,150 and 20,000 points per person was an absolute steal and precisely what we wanted in the first place. If only we could request one-way upgrades all the time!
Is Upgrading on United Worth it For Everyone?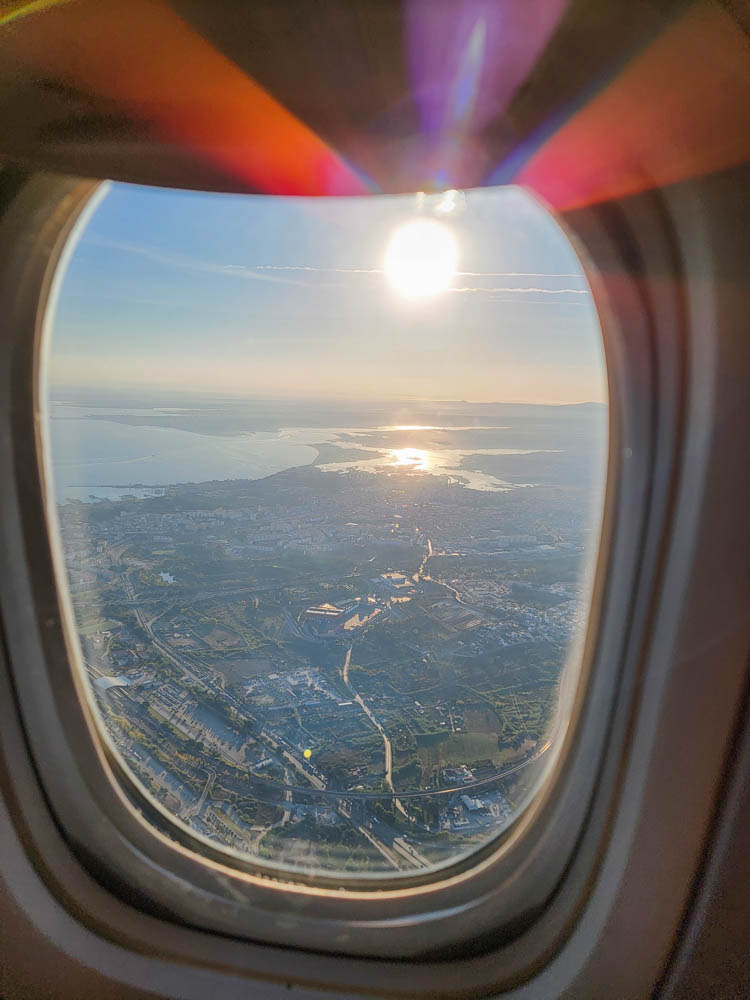 While I was pretty impressed with United's system at large for using points and dollars to upgrade existing economy tickets, there is one glaring pitfall here that is worth pointing out- your status matters.
We only just got one of the last seats in Polaris business class thanks to Angie's Platinum status getting us towards the front of the upgrade list. A dozen or so other people on the upgrade list were not as lucky. On our return trip, her status meant virtually nothing as business class was almost full at check-in and we were 7 and 8 on the list outright.
Had it just been me with no status and a credit card, or even future versions of us that may only reach a lower status, our odds of getting an upgrade would've been virtually zero. So while we would've been refunded the points and dollars either way (albeit with that hold on my card for weeks if not months), it does beg the question of when it is better to just buy an upgrade using points at the start.
As such, this one is likely going to be hit-or-miss for many users, and we were likely on the luckier side of the spectrum than most. So in this instance, your mileage will truly vary. But as long as we have United Platinum or higher, well, we're going to keep on trying with this one!
Have you upgraded to business on United using points and dollars? How did it go for you? Comment below to share!
About Jeremy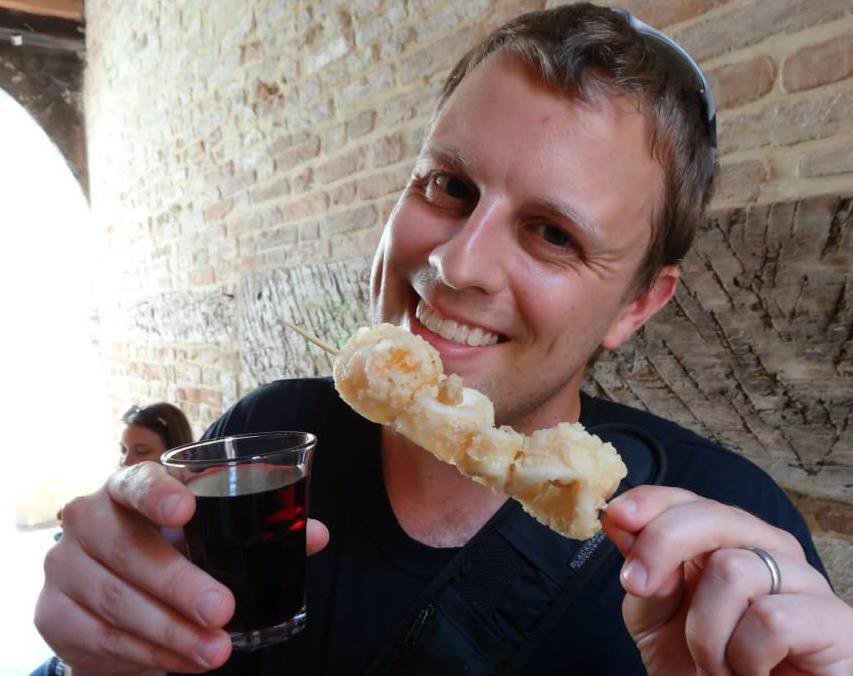 About the Author: Jeremy is a full-time travel writer based in Pittsburgh and primary author of this site. He has been to 70+ countries on five continents and seeks out new food, adventure activities, and off-the-beaten-path experiences wherever he travels.