Published by Jeremy. Last Updated on August 14, 2022.
Disclaimers: Our site uses demographic data, email opt-ins, display advertising, and affiliate links. Please check out our Terms and Conditions for more information. Listed prices and attraction details may have changed since our visit and initial publication.
One of the most unforgiving experiences in travel is attempting to sleep on airplanes. For some this skill comes easy, while the rest of us are not so lucky. 
Poor leg room, minimal reclining capabilities, and zero comforts make it incredibly difficult for any sort of rest and relaxation to be had. Amplify that over 12 hours, and the experience can be a nightmare.
Airlines try to provide small comforts such as pillows and blankets, however these are in poor design that leave most people wanting more. With blankets that don't quite cover and pillows that are missing half the required fluff, it is almost easier to go without. 
To get around this, many travelers bring external items on board to increase comfort, with the most common site found on any plane being an inflatable travel pillow. 
Finding the best inflatable neck pillow, however, may be incredibly challenging as each style has its own pros and cons associated. In this one, we review several options from years of testing!
Testing Three Inflatable Pillows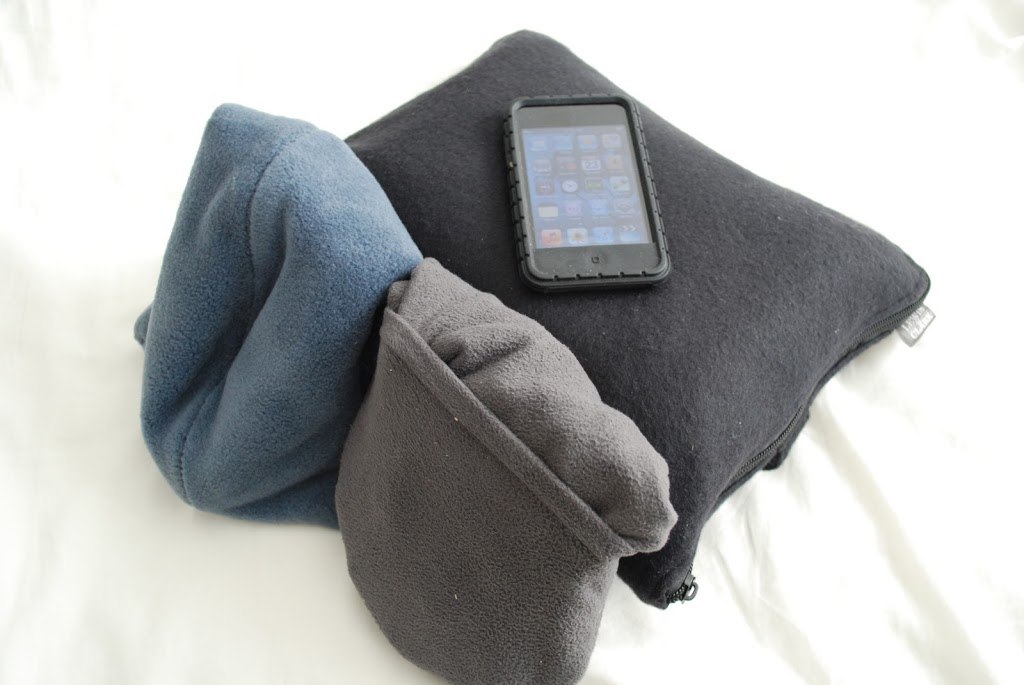 Three unique types of travel pillows were put through rigorous testing to determine if one style is best for sleeping in confined spaces.
*The Hed Bed pillow is no longer available. The above link is to the Travelrest pillow which is the closest analog on the market currently.
For travel pillows, there are three unique criteria that should be considered when purchasing. These are comfort, size, and uniformity over time. 
The third is especially important as all pillows reviewed are inflatable types, which typically lose air during use, requiring multiple inflations.
Travel Pillow Packing Size is Key
Adding a travel pillow into a carry-on can consume precious cargo space. With airline bag fees becoming higher and higher, more travelers are opting to pack more into carry-on bags to avoid potential price hikes. 
The size of an deflated travel pillow can be substantial, and should be taken into account when ordering.
As is illustrated in the preceding image, both the Eagle Creek (gray) and Smooth Trip (blue) inflatable neck pillows compress to approximately the same size, shown with an iPod for scale. 
The Lewis N Clark set is slightly larger than both individual neck pillows together when compressed. 
Where the two inflatable neck pillows can be crammed into any open space in a bag, the larger set would have difficulty being stored for easy access in most cases. 
The Winner of this Category is a tie between Eagle Creek and Smooth Trip.
Inflatable Pillow Comfort is the Big Concern
The entire reason for this review came about due to my original travel pillow (Eagle Creek) being incredibly uncomfortable. The 'U' shape is supposed to wrap around your neck or shoulder comfortably, allowing your head to rest in any direction. 
The flaw in this design is that headrests on airline seats are not designed to allow the head to lean back, such that the added bulk of the pillow actually pushes the head and upper body forward into an awkward position.
I have had luck sleeping with the pillow when propped on a wall, but never in its intended form, which defeats the purpose of the design entirely.
The Lewis N Clark set is ideal for comfort, as the fully inflated pillow looks and feels like a normal pillow at home. The appreciable bulk allows for great comfort in any position, and would shame traditional airline pillows. The added inclusions of a blanket, ear plugs, and eye mask are an extra bonus that help in most cases. 
A special note should be made, in that the eye mask is only about 95% opaque, and a little light is let in around the nose. Likewise, the blanket is only slightly thicker and longer than traditional airline blankets, and would not be long enough to cover shoulder to toes those taller than 5'9″ (1.75m).
The surprising aspect of the Smooth Trip neck pillow is that the slightly curved features allow for a large number of positions. 
The curve is designed such that you can lean on the pillow while resting on your shoulder, without dropping your neck far enough evoking horrible neck pains. 
The pillow can also be used behind the neck like the similarly designed Eagle Creek pillow, however would come into the same problems when used on the poorly designed airline seats. 
For the alternative of keeping the neck and head comforted without pushing the entire body forward while wearing on the side, the Winner of this Category goes to Smooth Trip.
Deflating Over Time, A Minor Annoyance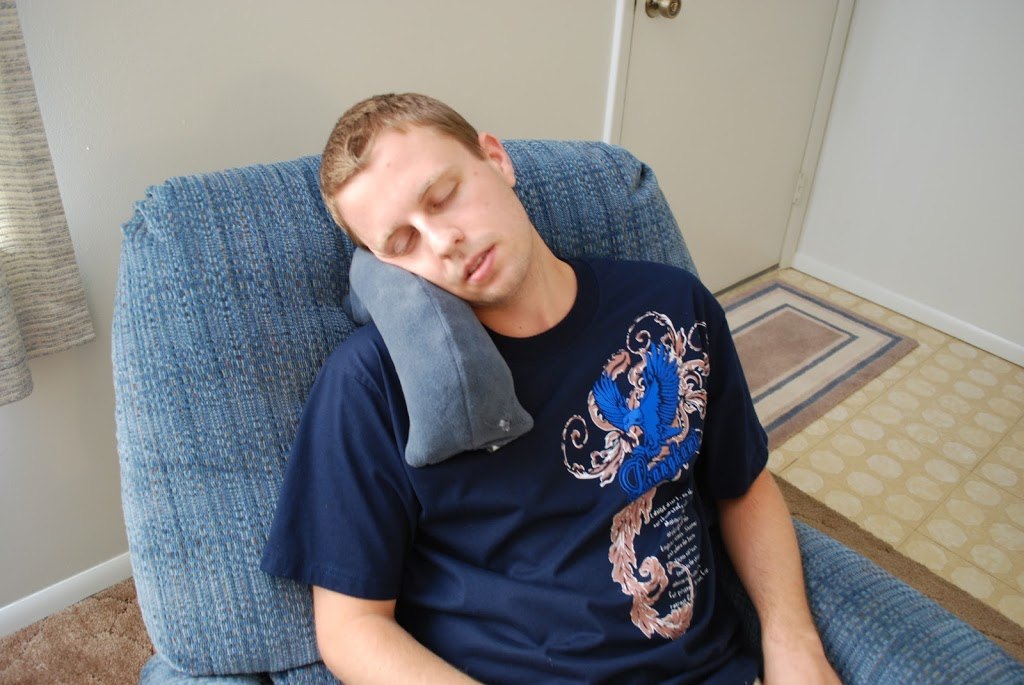 One of the fundamental flaws with inflatable pillows is in the need to re-inflate over time. Whenever there is gas and a seal, there is likely to be a leaky, and cheaply designed pillows are no exception. 
The greater the pressure put on the pillow, the more likely it will be to deflate over time. This is where the Eagle Creek and Smooth Trip neck pillows are flawed. The small design takes more stress than the comparable Lewis N Clark set, and deflate quicker.
The Smooth Trip neck pillow has an added issue in that the pillow can never be fully inflated due due to the mouth piece not having a back pressure seal like the Eagle Creek pillow. 
This is okay to me personally, as the minor void reduces the overall amount of firmness to the pillow, which I tend to avoid.  But less air initially means more refills required over time, however unlike my original pillow, it is unforeseen how long it will take for the seals to start leaking an appreciable amount.
The Winner of this Category goes to Lewis N Clark for being the least likely to leak over time.
So, Which Travel Pillow One is Best?
I am torn on making a unanimous conclusion on which travel pillow is the best. 
Both the Lewis N Clark set and Smooth Trip neck pillows provide ample abilities for comfort over the poorly designed Eagle Creek pillow.  Any way to avoid adding bulk between your upper body and an airplane seat will increase the level of comfort substantially, and both designs do so.
For short term trips, where packing is light, I would recommend the Lewis N Clark set for having greater comfort, as well as for the bonus blanked and mask. 
However for long term journeys, where every inch of packing space is a valuable commodity, the clear winner in this case goes to the Smooth Trip neck pillow (and its more recent analog) for size and comfort. Purchase a face mask separately, and enjoy the relaxation on the next plane flight.
Do you have a travel pillow that is different style from the ones reviewed in this article? Comment below and tell us about it!
About Jeremy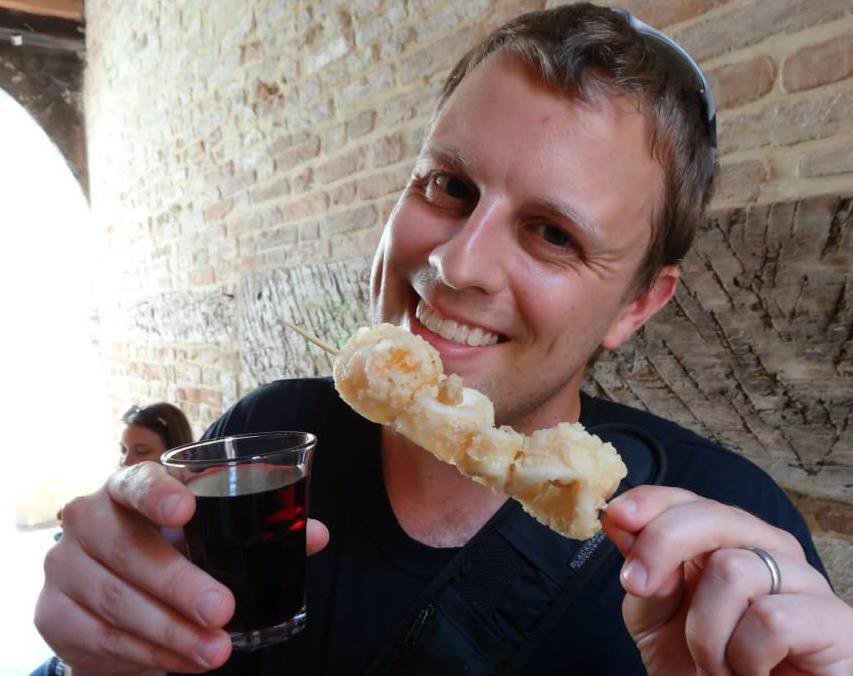 About the Author: Jeremy is a full-time travel writer based in Pittsburgh and primary author of this site. He has been to 70+ countries on five continents and seeks out new food, adventure activities, and off-the-beaten-path experiences wherever he travels.