Last Updated on January 19, 2021 by Jeremy
Disclaimers: We were hosted for this experience. Our site uses demographic data, email opt-ins, display advertising, and affiliate links. Please check out our Terms and Conditions for more information. Listed prices and attraction details may have changed since our visit and initial publication.
Disclaimer: We were provided this backpack courtesy of Standard Luggage Co. for a review. All opinions are our own.
When it comes to luggage that we can travel with, we often find ourselves balancing form and function. We like our backpacks to look neat and elegant and also have the capacity to match.
For many years, our travel setup included rolling suitcases with separate backpacks for electronics and more sensitive items (generally in the structure of one large checked suitcase, one carry-on rolling suitcase, and two backpacks). But recently many companies have started to merge the two carry-on styles in the form of backpacks large enough to accommodate everything in a single piece of luggage.
Standard Luggage Co is one such company, and we were fortunate enough to put their Carry-on Travel Backpack to the test in this review!
The Standard Luggage Backpack is Huge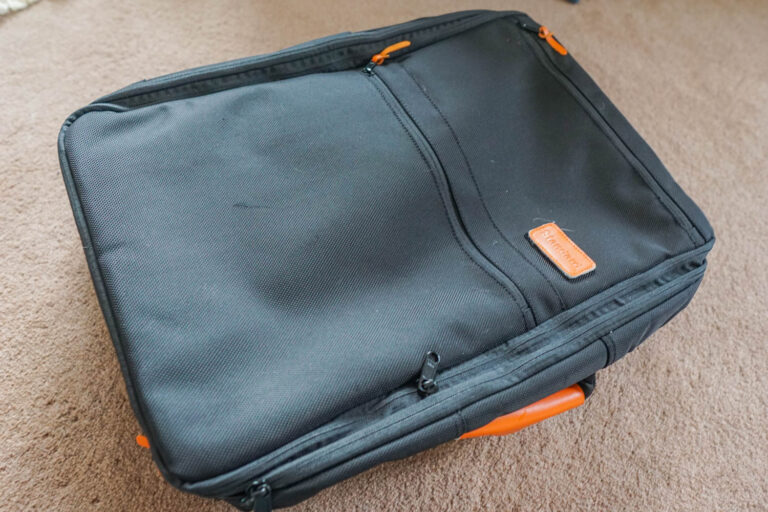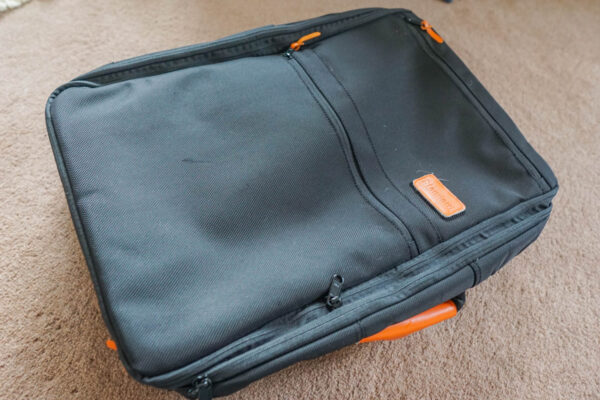 When you read about this backpack, you'll note that it is large. But you don't really grasp the scale of just how large this one until it is in front of you in person. We'd go as far as calling this one immense.
The bag measures 21.5″ x 13.5″ x 7.5″ when zipped and can expand an additional 2″ to 9.5″ deep when it is all said and done. As most airlines have a standard carry on max of 22″ x 14″ x 9″, you can see that this one is pushing just about as large as you can get (and for those who think in liters, this bag expands out to 45 L!).
In the weight department, the empty bag is about 3.7 lbs and, while somewhat heavy on its own, does not feel too bad when you're carrying it. That being said, the bag's ample space allows you to load it up with a lot of clothes and (in my case) accessories. If you are like us and fly on a lot of budget carriers when you travel, you may want to keep this in mind as it could be quite easy to go overweight with this carry-on if you overpack.
Since this one has a lot of space, let's talk about it more.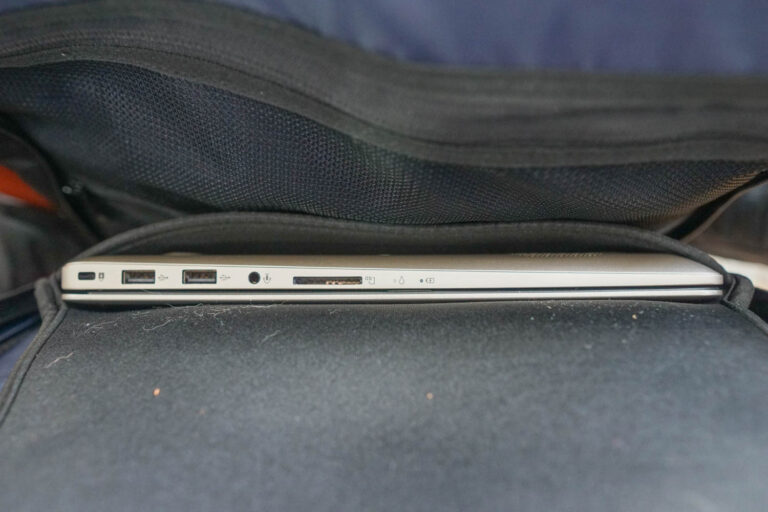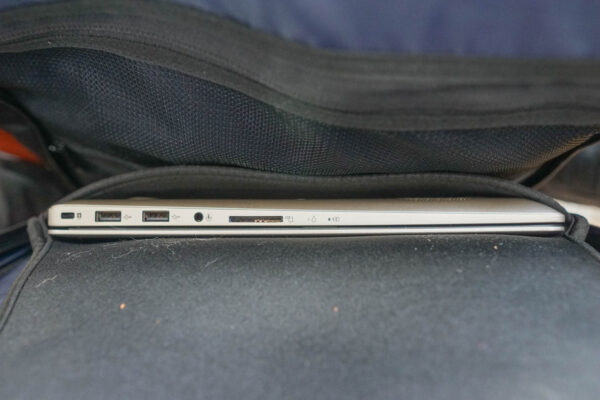 What is nice about this backpack is that is separated into a few distinct zones. The laptop and electronic pocket features pouches designed to fit laptops up to 15.6″ (or 15″ MacBooks) and a 10″ tablet. The rest of the space is pretty slim and could accommodate a few folders, charging cables, and the like. As this section does not expand much, it may not the best of fits for bulkier items like an SLR camera with lens on which we would likely put in the clothing department.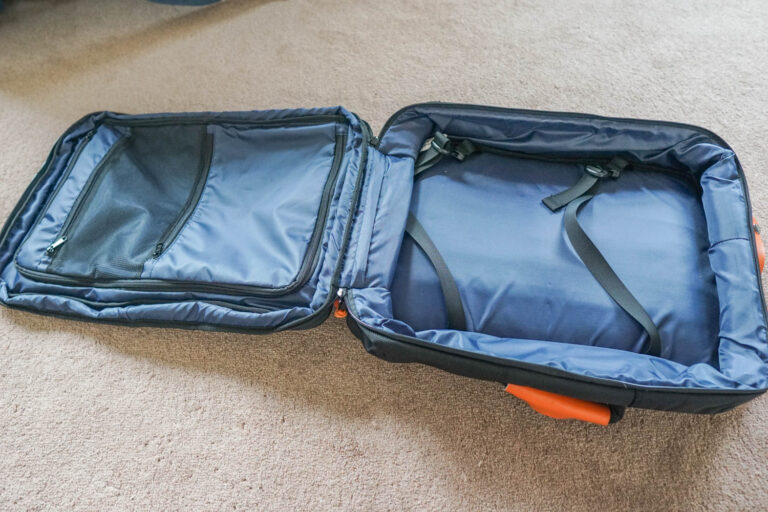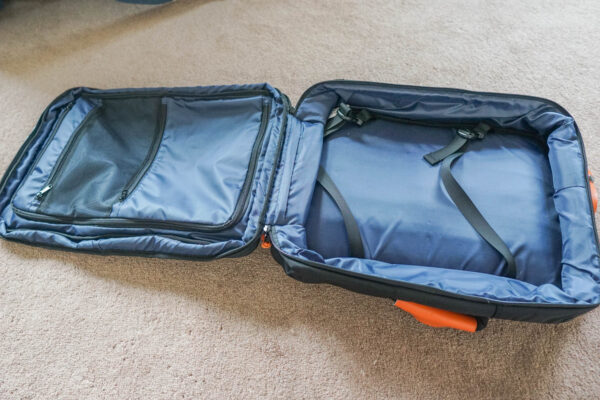 The clothing compartment is the real winner in this bag as it comes with an end-to-end zipper that allows the entire bag to be opened like a suitcase (the laptop section only opens about 50%). Standard Luggage boasts that this space can hold 5-7 outfits, and apart from bulky men's jeans we were able to fit in several sets of clothes in this with ease, specifically the following:
1 pair of long pants
3 shorts
7 shirts (inside a packing cube that also doubles as a day pack w/straps)
7 pairs of socks
7 pairs of undergarments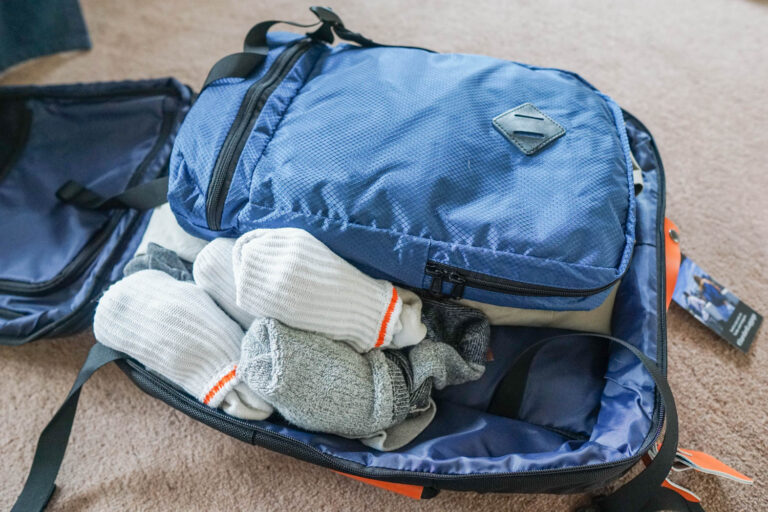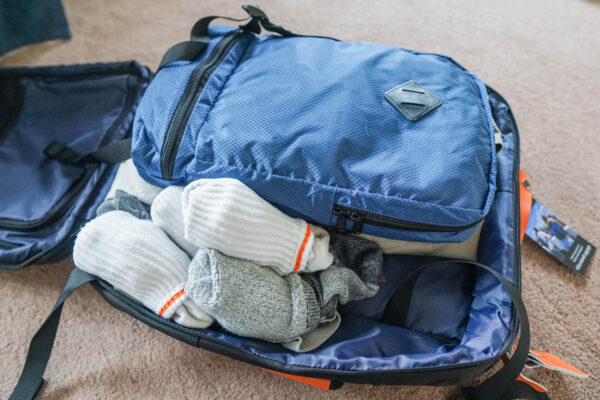 You'll note in the image above that we still have a fair bit of space in the bag with this packing list, so I'd say that the company's estimate of 5-7 outfits is right on. The reason I left out more clothes is I kept some space reserved for camera lenses instead of more clothes as I have, well, many. It would've been easy to add more pants and shorts in this one, and with expanding the suitcase the seven target is likely within range for most users.
Beyond this, the suitcase has many small compartments for things like a travel toiletries bag, passports, etc. and is more than capable of fitting all the generally loose items we travel with. When fully loaded with my level of gear (read: camera, lenses, and computer), the bag tips the scale pretty heavily (all of my carry-ons do), but I didn't notice it on my back as much as the weight was somewhat dispersed. That being said, I like how this one has handles and an over-the-shoulder strap as well to vary the ways you can carry it beyond just a backpack.
As mentioned above, this bag is quite large, and we do have a few concerns on this end that may be worth keeping in mind for select travelers.
This Backpack is on the Larger End for a Carry-On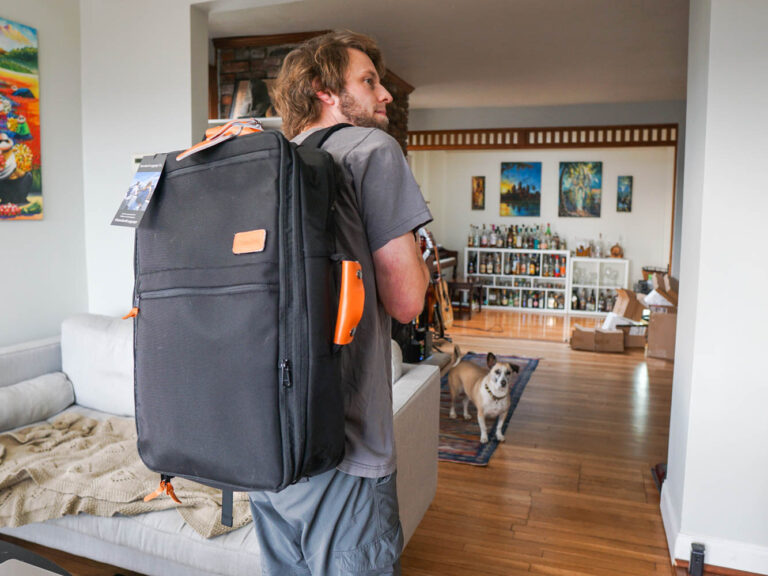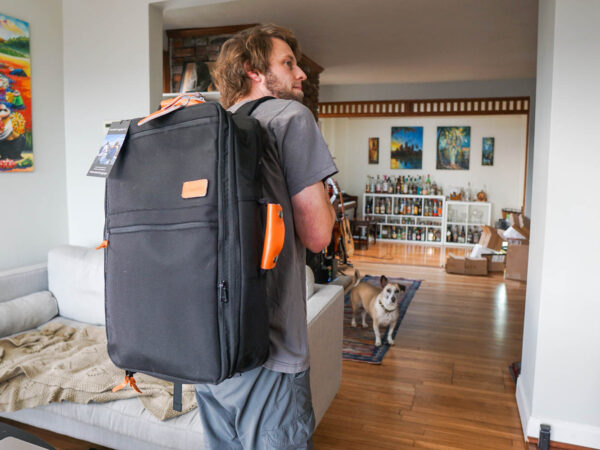 You may be sick of us repeating that this is a large bag at this point, but honestly, its size is the only major concern we have. There are a few cases where it may be too big for some travelers.
While its dimensions technically fit within most airlines' listed carry-on limits, in practice we've been on many planes where the overhead bins, quite frankly, don't match up to listed policy. This specifically occurs when we fly from Pittsburgh to a major hub on a small 2 x 1 plane where every rolling suitcase has to be gate checked (we also had an incident on one international flight which will remain nameless where the crew was overzealous in enforcing a carry-on policy despite most every bag actually fitting in the overheads with ease).
In this particular instance, we would hesitate on saying if a fully packed bag could fit into the overhead bin or underneath the seat in front of you. As this bag can compress down, there is potential but part of that could depend on your packing as well.
We should note up front that we have not tested this bag on a smaller aircraft yet (we fully intend to the next time we hop on a plane). But we have had to routinely gate check a rolling suitcase of ours that is the exact same dimensions as this bag. So we think this bag could be pushing the size limits of what can fit on small, regional planes like the above.
The biggest concern in these situations would be for those who pack electronics like cameras or computers. You may have to remove some of these in the event of a gate check (items with batteries, specifically), and we would not feel comfortable parting with a bag of expensive lenses.
Thankfully, the above scenario only likely applies to some travelers.
If you would likely not be carrying electronics like we do, are traveling with a partner who carries electronics in a separate bag, or perhaps do not fly to smaller airports at all, odds are good this will not be a concern. When it comes to flying on larger planes (as is the case of most every flight outside of the short regional ones), this bag should fit in the overhead bins just fine. But if you regularly fly on smaller planes to reach a hub, you may have to be prepared to gate check this one in select circumstances
We look forward to checking this aspect out on our next flight, which will assuredly include a small regional flight!
Overall, apart from the possible concerns of the bag being too large for some planes, I really like Standard Luggage's Carry On Backpack. I generally am averse to taking a rolling suitcase with me on a plane in addition to my backpack when I travel solo (call it personal preference, pet peeve, or whatever- I'm just not a fan), and this carry-on bag is large enough that I would feel comfortable traveling on some decently sized trips carry-on only.
Now that we have a lot more capacity in our carry-on, we intend to put it to good use!
We were provided this backpack courtesy of Standard Luggage Co. for this review. Click here to check out their products and pick up a backpack today!
About Jeremy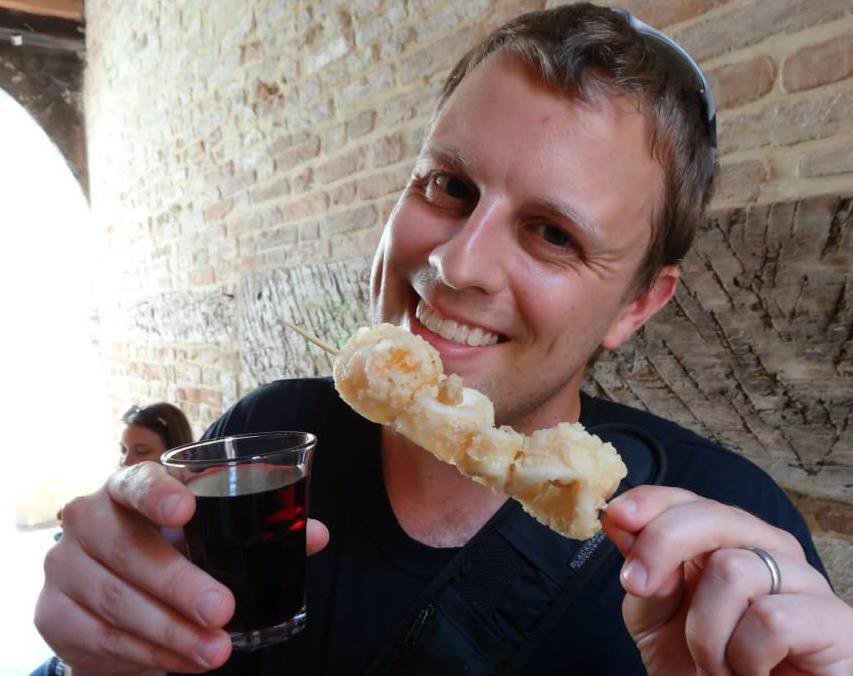 About the Author: Jeremy is a full-time travel writer based in Pittsburgh and primary author of this site. He has been to 70+ countries on five continents and seeks out new food, adventure activities, and off-the-beaten-path experiences wherever he travels.