Last Updated on August 26, 2019 by Rylei
Disclaimers: Our site uses demographic data, email opt-ins, display advertising, and affiliate links. Please check out our Terms and Conditions for more information. Listed prices and attraction details may have changed since our visit and initial publication.
I arrived in San Pedro de Atacama, Chile with a sense of coming home. It was warm, there were cacti, and it smelled like the desert. Essentially it felt like home.
After stashing my bags and taking my first shower in three days, I set off to see what activities could be had in the area. The consensus seemed to me more lakes, more geysers, and sandboarding. While the lakes in South America are beautiful, I've had my fill of staring at bodies of water that inevitably all end up looking the same.
The geysers involved getting up around three in the morning.
Sandboarding it was.
What Could Go Wrong?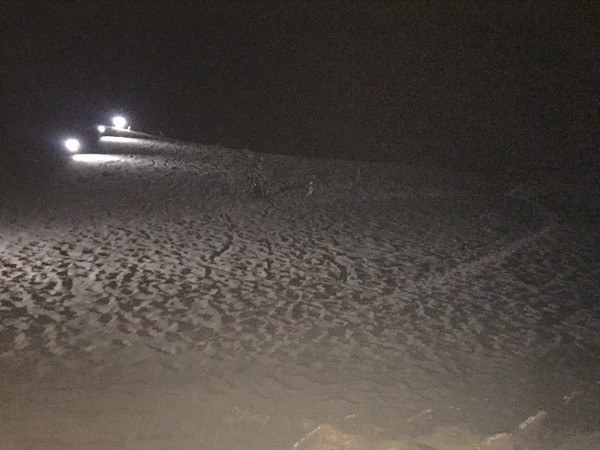 There are three times a day sandboarding is offered in San Pedro. In the early morning, in the afternoon, and at night. I had planned on going in the morning because the afternoon was hot, and morning would be best for picture taking and seeing what I was doing.
The idea of sandboarding at night quickly gained appeal though – there would be a fire, a dj, and a pisco sour at the end of it.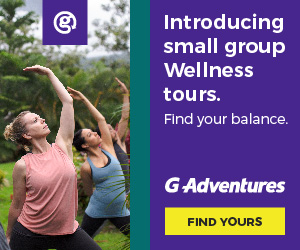 I'd unbound my fingers during the coldest night on the Bolivian salt flats when I awoke in a ridiculous amount of pain, and had left them unbound since, being careful not to use my left hand. It was nice to be able to gently wash my hair again, but any slight rap on my fingers and I was in pain.
A group of traveling Norwegian doctors assured me leaving it unbound was ok, and at this point there wasn't much to be done. They'd either set properly or not, but they seemed to be doing fairly well. I didn't mention my plans to sandboard, figuring this would not gain their approval.
I did however mention it to my guide, who advised me that if and when I did fall off the board, I was more likely to break my fall with my knees, bottom, or face. He figured my hand would be alright. We drove out to the sand dunes just outside of San Pedro and suited up in our boots.
A couple minutes of practice undoing ourselves from the boards – a bit of a challenge with only one good hand – and we were off, dragging our boards up the heavy sand in the dark. I think getting up to the top with the board in one piece was more of a challenge than getting down.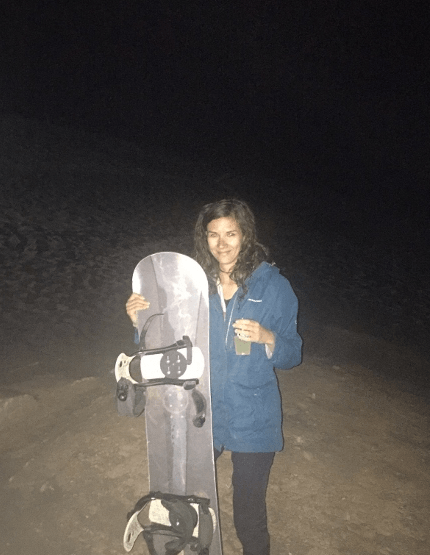 At the top, my guide attached me to the board quickly and announced I'd be going first. I stood strapped to my board in the cold for several minutes as he dragged me about on my board, pulling me to my heels and then my toes, lecturing in Spanish about how best to control the board.
I couldn't understand the lesson but could tell with my body what points felt unstable, so that was good enough. He pushed me off and down the hill without warning and suddenly I was sandboarding.
"It's Just a Little Sand"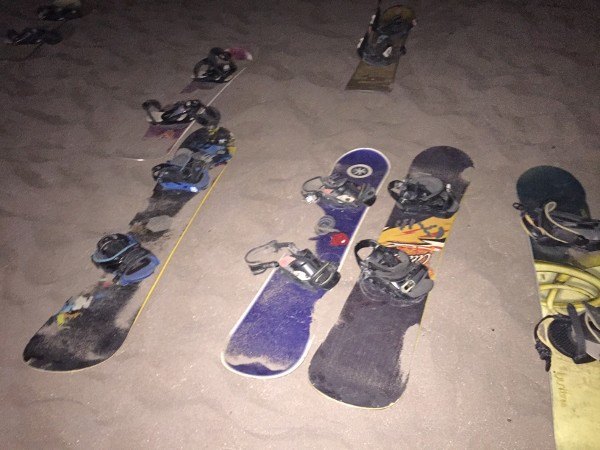 The board flew down the hill much faster than I'd been led to expect, but the movements were instinctual and I was marveling at actually doing well at a sport, when I fell over flat on my face three quarters of the way to the bottom. It wasn't scary. I was simply upright one moment and spitting sand out the next.
I rolled awkwardly about trying to get to my back, a reverse turtle trying to get off its shell. I managed to get turned around, unclip my board, and venture back up the hill for another go, madly sniffling in the cold.
My guide yelled down to me as I was walking up, asking if I was ok. I gave back the thumbs up and continued my struggle up through the sand. When I looked back up, all three guides were rushing toward me, so I stopped where I was, confused, until the reached me.
"Your face!" one gestured at me.
"It's just a little sand," I answered, scrubbing away at my face with my good hand. It came away covered in sand but wet with blood. I groaned and pulled out my iPhone, using the camera to confirm I was in fact bleeding heavily from my nose.
My guide sat me down and helped me wipe my face while others trekking up the hill passed me with a look of mild horror.
"You did say I could break my fall with my face," I mentioned.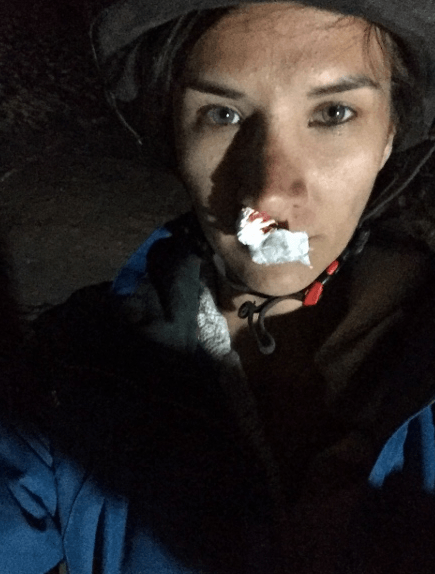 Thankfully the bleeding eventually stopped and I was able to do several more runs down the hill without incident. This is one of the few sports I've enjoyed and actually did somewhat well at.
And I managed not to break any more bones.
About Rylei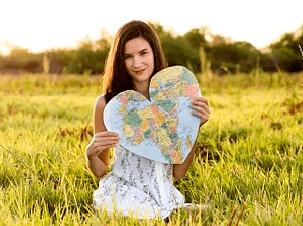 About the Author: Rylei took a trip around the world from 2015 to 2017 and shared her experiences here and on her former blog. She got into adventures such as visiting Easter Island, exploring Antarctica, going on safari in Africa, and more.