Last Updated on September 15, 2020 by Jeremy
Disclaimers: Our site uses demographic data, email opt-ins, display advertising, and affiliate links. Please check out our Terms and Conditions for more information. Listed prices and attraction details may have changed since our visit and initial publication.
As most long-term travelers and nomads will say, it is only a matter of time before you are a victim of theft while traveling. No matter how skilled you are at keeping your gear safe and how cautious you are about protecting your valuables, one day someone will get the better of you.
After 550+ days of travel since 2008, being gone for almost a whole year on this trip, and visiting hundreds of cities in 62 countries, our day finally happened in Puno, Peru.

And we nearly lost everything.
Getting Robbed While Traveling
As we were in the bus station getting ready to leave for Cusco, I looked down and noticed something odd. My bag containing a computer, expensive SLR, camera gear, passports, and emergency money was nowhere to be found.
In a flurry of emotions and panic, we realized we were robbed.
It didn't take long to figure out what happened and we soon determined that we were victims to one of the oldest techniques in the book: the diversion.
A man came up to us in the bus station asking if we wanted tickets and we said no. In that instant someone came up from behind, grabbed our bag, and was out of a nearby side door without a noise.
If this sounds silly, it shouldn't. This tactic has gone on for so long for a simple reason – it works. And we were its latest victims.
After crying, almost passing out, yelling for the cops, and their "patrol" all turning up empty, we found ourselves sitting in the tourist police office at the bus station wondering how it could have happened to us. Then, the most unsettling thing happened: 3 more groups came in who were robbed while traveling in Puno within the same hour– two local, two tourist, all devastated.
This station was clearly a hotbed of activity, and our headache was just beginning.
The Tourist Police Were The Worst Part!
The scariest part of it all was definitely having to deal with the tourist police. Rather than helping right away, they told us to leave Puno! Somehow they thought it was a good idea for us to get on the 9 hour bus to Cusco (which we already missed) and file a police report there over 10 hours after the theft occurred!
Yes, that really happened.
After they got our itemized list with pricing, and asked us if we had insurance over and over, all they could say was that we should leave.
Thankfully we refused, because odds are we would have never got our police report if we left and then would have been out of luck in filing an insurance claim. (Not to mention be traveling around Peru without any acceptable legal documents).
It only took a lot of prodding in Spanish and conversations via Google Translate to finally get them to produce the report, and after about 3 hours of going between police stations, internet cafes to cancel credit cards and change passwords (while Angie was alone in a police station crying uncontrollably), and ultimately returning to the bus station- were we finally on our way to Cusco with a police report.
In any case, the biggest relief of the day was getting away from the station and leaving Puno for good.
Lessons Learned
This post is, unfortunately, going to be the first part in a larger series about our stolen gear. The next entries will be focused on our insurance company, how we filed a claim, and the results as well as getting our replacement passports while abroad.
Instead of featuring it here, we are going to focus on the lessons learned from this event that we must impress upon every single reader of this site. If we can help prevent at least one theft from this post then the whole experience will not have been a complete disaster.
1) Never take your eyes off your bags when someone is talking to you. Easier said than done, but worth being said again.
2) Never keep your duplicate copies of emergency info, photos, and videos in one bag. Triplicate backups are great, but not if they go running off in the same bag. (Back up on one, or maybe even two, of these in a separate bag).
3) Be sure to have someone at home that has copies of everything that is important. Send it via email rather than a USB transfer to be sure you have it too. If they forget where they put it, well, you'd really be out of luck then.
4) Online backups of your computers are your friend. Upload all your data as often as possible and set your computer to be backed up on the cloud quite frequently. We lost our videos and a few hi-res photos purely because our internet was so bad in South America we never had a chance to back them up. If our computer could have done this automatically it is quite possible they would have been saved. (Or, if you really want to have some fun, install this software like Expert Vagabond did before his computer was stolen).
5) Always buy insurance. Seriously. Our $3,000+ loss was covered almost in-full by our travel insurance. The only headache is having to wait and finding all the receipts (which luckily Amazon does a great job of storing).
6) Do not leave the scene of the crime or city without a police report! Period. You will be completely screwed on insurance claims and other paperwork later on without it.
7) Do not trust other tourists in a group. There were at least 10 travelers and another 10 locals right by our bag when it happened and no one said a word. Not. One. Word. If anyone saw it and didn't say anything I hope karma has something in store for them one day.
8) If it can happen to the "experts" it can happen to anyone. Within minutes of posting our story on Facebook, most travel writers I know who are far more seasoned related a similar incident that happened at one point in time. If it can happen to us, and happen to them, it can happen to you.
The Fundamental Rule
What is the moral of this story? It can happen to anyone. It is because of this that our original motto that was formed from my first vacation rings true – Never take anything you wouldn't be too upset losing.
There is a reason we left our wedding rings at home, never carry around huge wads of cash, wear clothes to make us look like poor college students, and only buy cheaper equipment to use when traveling. First is to not look like rich, but the second is the most important. It hurts less when they're gone!
As we found out, even though our big ticket items like the SLR don't really matter in the end, it is still upsetting to be robbed all the same. The only thing I can only say is that I really wouldn't want to know the pain if I had lost all my photos from not backing them up online in the meantime. I always say those are the only things that matter to me, and as it turns out, it is still true.
Our total losses from this fiasco were a few hi-res photos (we still have lo-res copies from Facebook), the passport stamps, some work files that were not backed up, all our videos from the trip (not that we ever watch those anyway), and a few souvenirs- and even those trinkets are replaceable with enough effort.
For that, I am thankful.
Have you been a victim of theft on the road? What happened and what did you lose? Feel free to rant as much as you like in the comment section because we truly feel your pain!
About Jeremy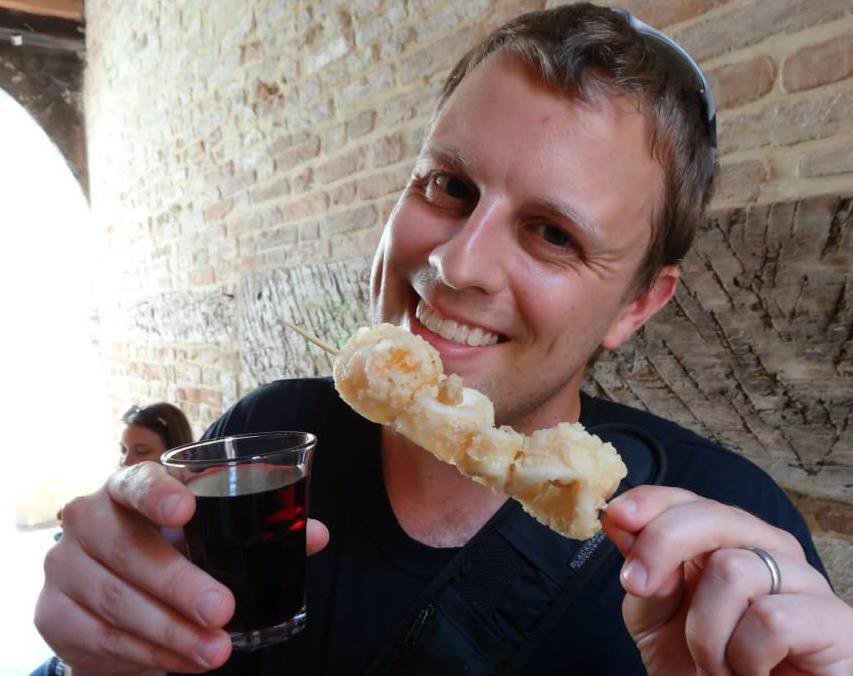 About the Author: Jeremy is a full-time travel writer based in Pittsburgh and primary author of this site. He has been to 70+ countries on five continents and seeks out new food, adventure activities, and off-the-beaten-path experiences wherever he travels.