Last Updated on October 28, 2022 by Jeremy
Disclaimers: Our site uses demographic data, email opt-ins, display advertising, and affiliate links. Please check out our Terms and Conditions for more information. Listed prices and attraction details may have changed since our visit and initial publication.
When we decided to go on safari in Tanzania, we realized we would be visiting during prime river crossing times during the Great Migration (with best times to view the migration typically being mid-July to early-September).
While the mass wildebeest migration is an on-going event year round as the herds follow the rains in a never-ending loop (primarily throughout Tanzania), the Mara River crossing event occurs at a limited window when the herds head north to Kenya during the dry season and then return a few months later when the rains move south.
This event is exciting for visitors (particularly photographers) as river crossings are incredibly dangerous and chaotic. The water is rushing, rocks underneath the surface can cause the animals to break limbs, and the large volume of crossing wildebeests (think thousands if not tens of thousands at a time) make for targets for predators including crocodiles, lions, and more. If there is any experience that illustrates the raw beauty of Africa of life and death, it would be a river crossing- and we really wanted to see one.
As we successfully witnessed a river crossing migration event during our trip to the northern Serengeti, we thought we'd share a bit more about what you can expect!
It is a Waiting Game, and You May Not See It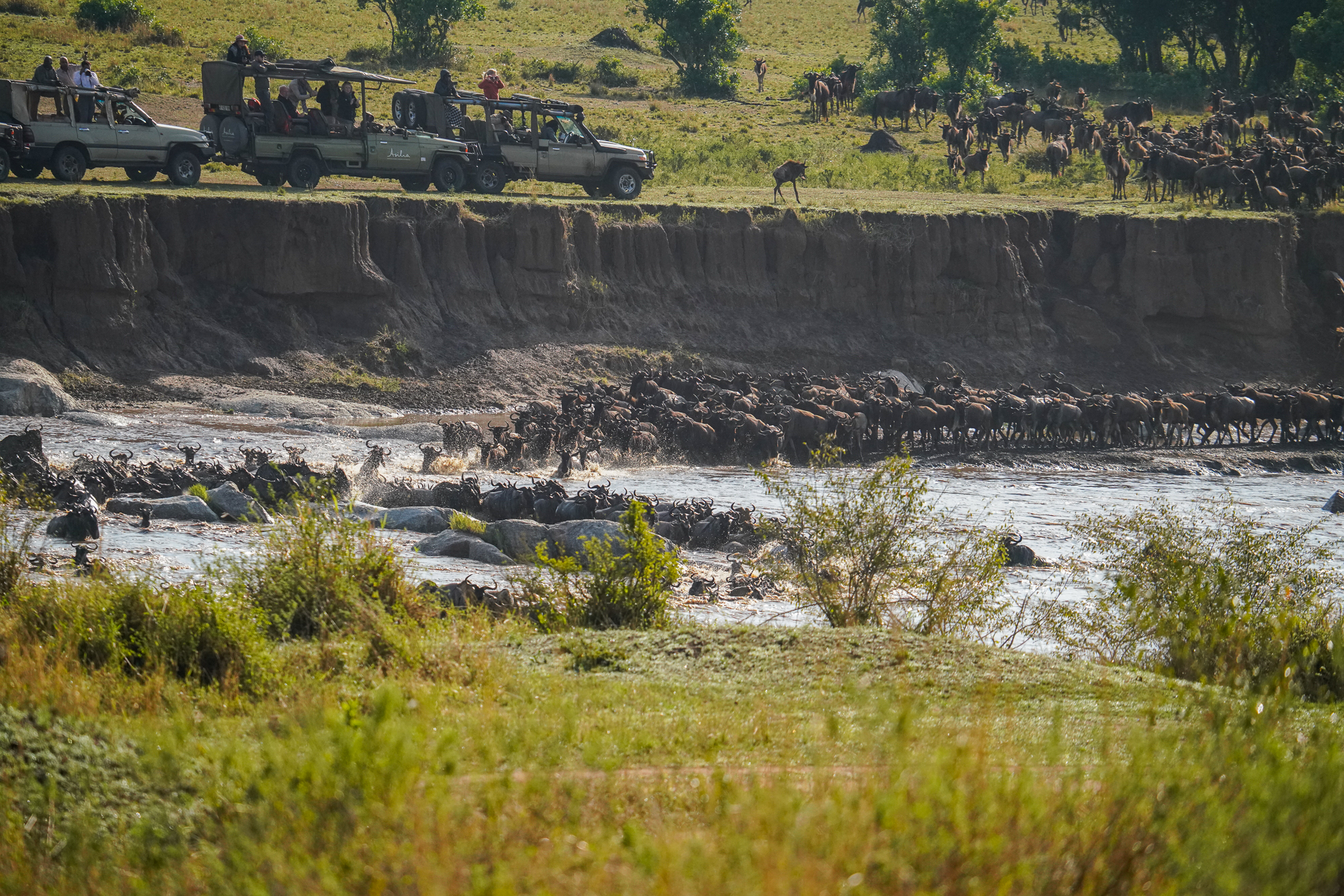 Before you book a safari to check out a river crossing in the northern Serengeti in Tanzania (or from the Kenya side of the river at key points along the border), it is worth pointing out that river crossings are somewhat rare experiences.
This is not from lack of animals. It is estimated that there are over two million wildebeest, zebra, and other animals that engage in the great migration. But rather, the first issue is simply timing your visit at the correct time as the rains are highly variable, and the second issue is that the animals are very particular about when they cross.
The rains help dictate the flow of the migration as the animals move north or south depending on availability of food. We visited in mid-September and were told it may be hard for us to see a crossing event as most of the herds would be north in Kenya and not returning just yet. But early rains brought growing grass, and we were fortunate that the herds were already making their way back to Tanzania for the year when we made it to the north. Cue one for luck.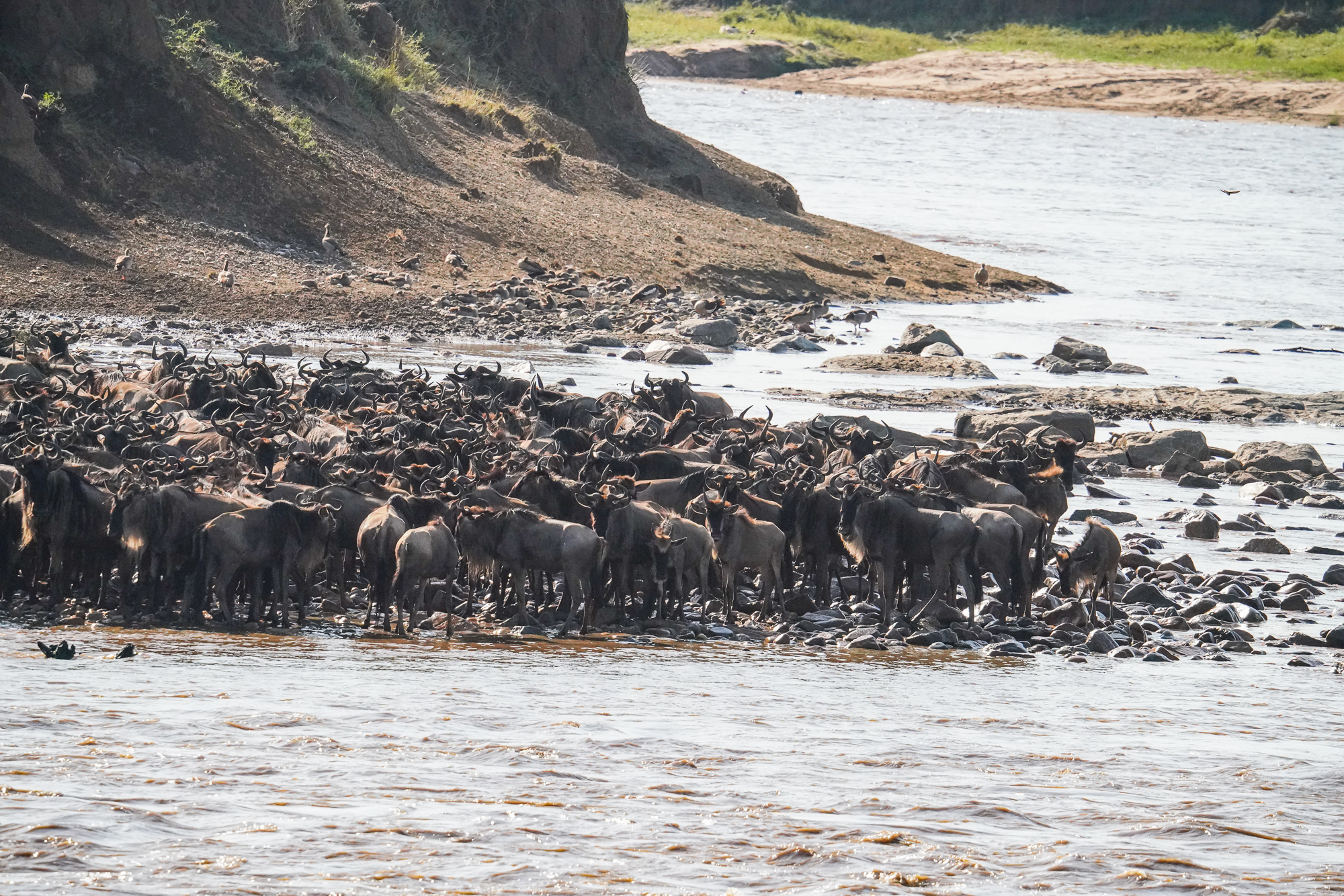 On the decision to cross, the wildebeest and zebra work together in deciding when it is safe. Zebras have great eyesight and tend to alert wildebeest to danger (i.e. crocodiles and even the nearby Jeeps). If they sense this, they will wait, and wait, and wait, and perhaps move to a new section of the river and wait some more. From there, it seems like the herd mentality takes over. One or two brave animals will cross first, seemingly at random, and then suddenly the herd starts stampeding across in large numbers.
Most guides think that the herds treat the presence of Jeeps as a threat and may not cross if they are close. So they tend to hide behind the trees, like a lion in wait, for a river crossing event to start. Then once the action begins dozens of cars rush close to water to watch it unfold. The herd tends to ignore the Jeeps at that point, so it really is just thought to inhibit their decision to cross first.
So if you do make it to the Mara River, and you do happen to be there at the right time of year, odds are good you'll be seeing tens of thousands of animals waiting for one brave creature to do something incredibly reckless.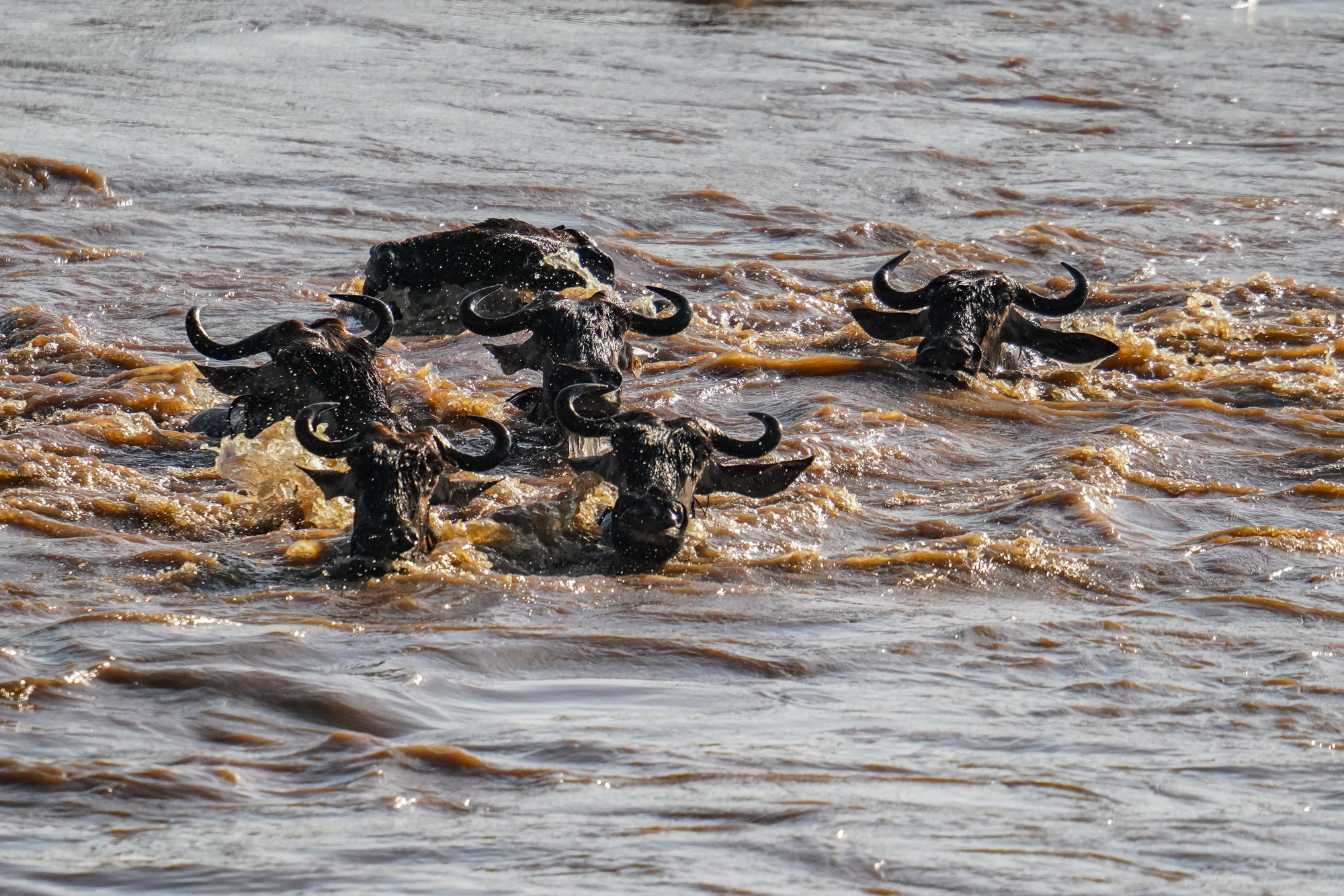 We were fortunate to catch a crossing midway through when we arrived to the Mara River, but then spent six hours waiting for another one to happen (a second crossing never occurred). While we did get to witness the animals running back and forth on the opposing side of the river, and a few brave ones crossing singularly (but not triggering the herd at large), you need to expect to be doing a whole lot of nothing for hours, and even there you may not see a crossing at all.
To increase your odds of success, planning for an extra day (or two) is not a bad idea, and our guide implored us to get up early to make it to the river as crossings tend to slow down in the mid-day heat. Others at our lodge got a later start and completely missed the early crossing (and the only appreciable one that day)!
River Crossings Can Last Minutes… or Over an Hour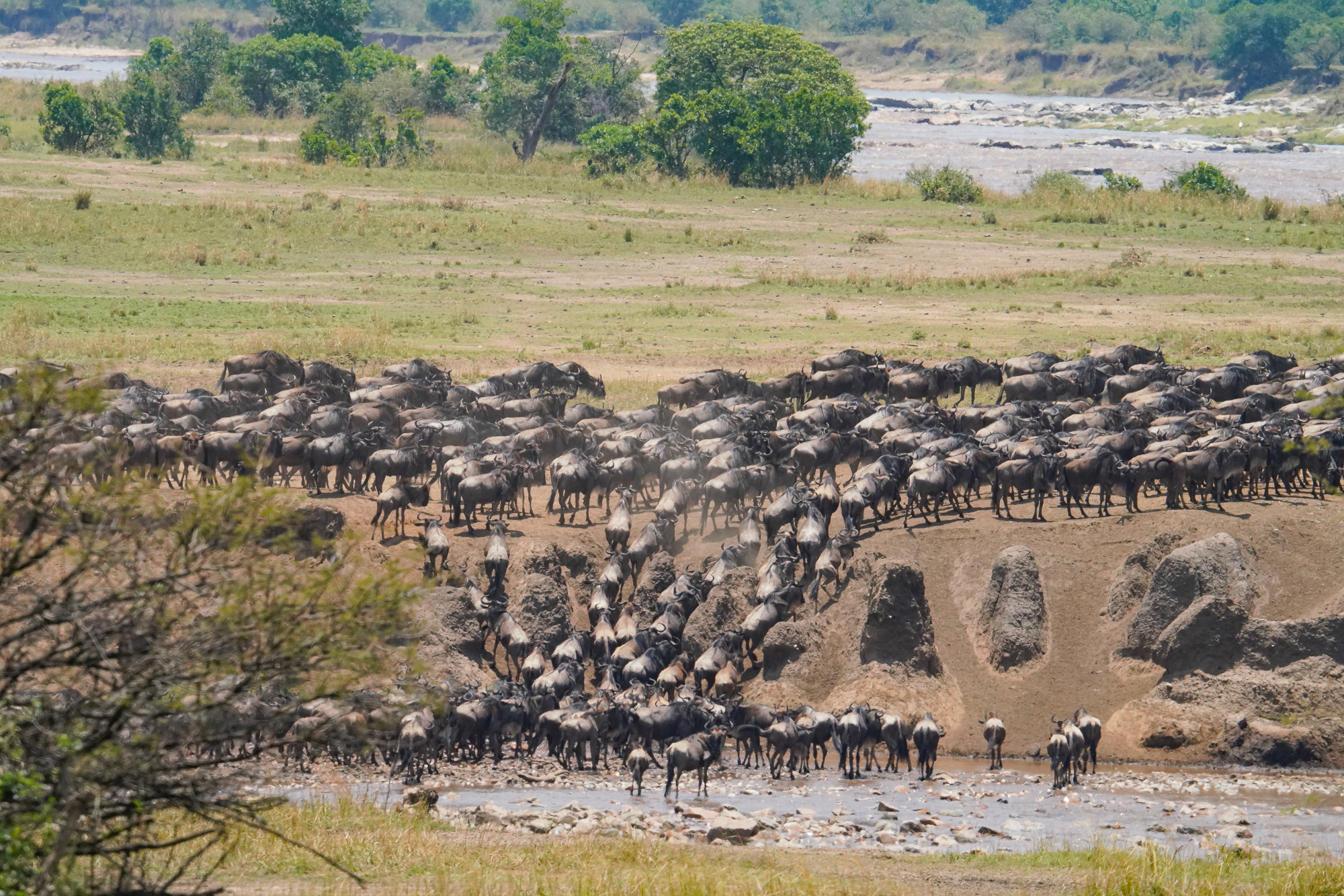 So, let's say you got your timing right and were lucky to witness a migration. It is a beautiful scene and our photos, quite honestly, do not do it justice in the slightest.
But the big thing to note here is that the length of crossing is heavily dependent on the volume of animals in any given herd. Some small herds, in the low thousands, may have an entire crossing done in just 5 to 10 minutes. If your guide hears about a crossing event somewhere else on the river, it may take you longer than that to drive over outright, and you'll miss it ("popular" crossing points for these animals tend to be scattered about 15-20 minutes apart from each other by Jeep).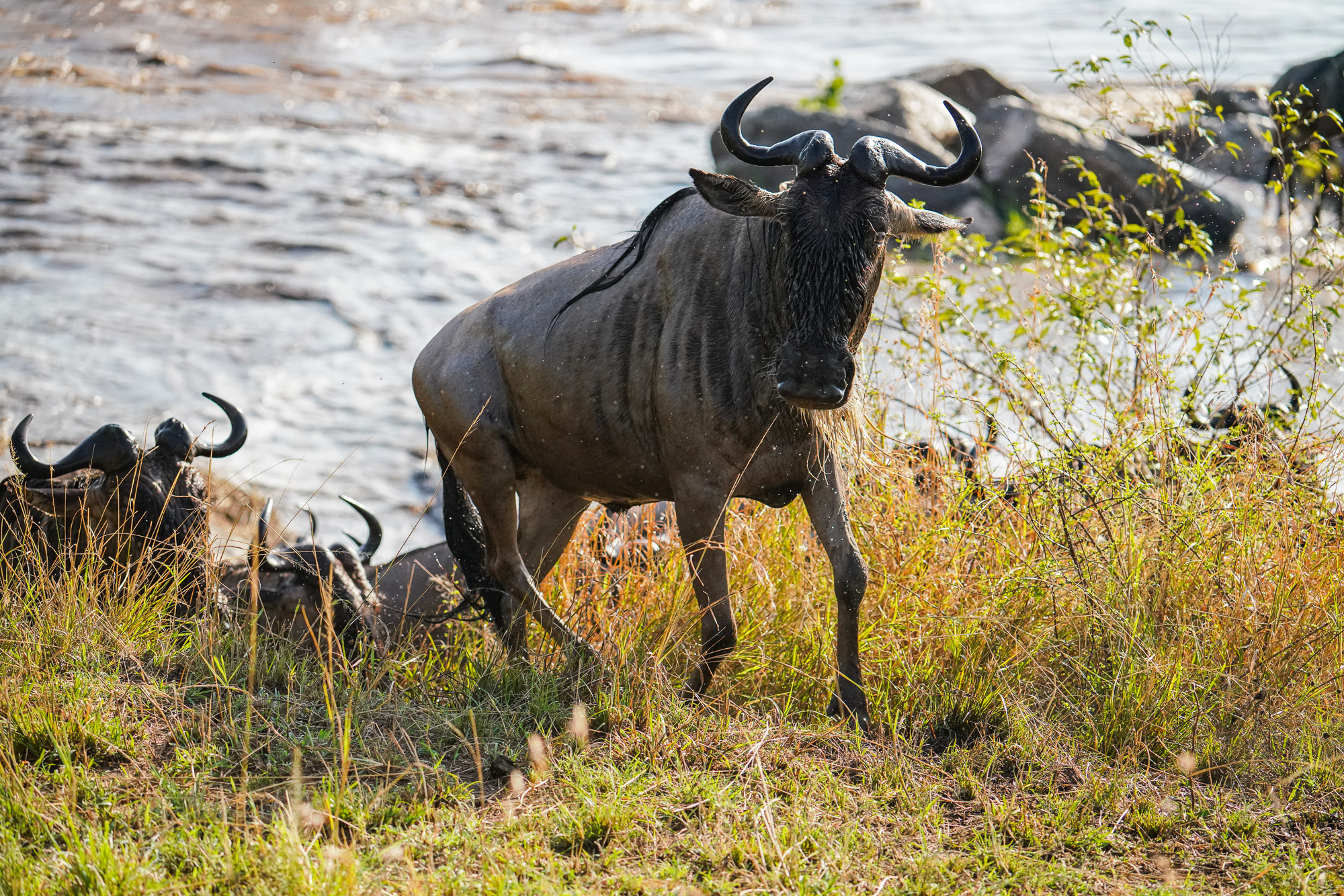 Larger events, with tens of thousands of wildebeest and zebra, can last upwards of an hour or longer. We talked to others on safari who witnessed this, but here it sounded like a rarity as well.
For us, our crossing event lasted about 20 minutes, and we missed the first few minutes as we caught it as soon as we got to the river in the morning. Here, it is really hard to get a full appreciation for everything that is going on in such a short window.
There are thousands of wildebeest crossing, so you want to take in all of that. Wildebeest get injured and stuck in the rocks, so you want to take in all of that. The wildebeest run on land on both sides of the rivers too, so you want to take in all of that (particularly on the side you are on as you'll possibly be right in it). Then there are the crocodiles that attack wildebeest, so you want to take in all of that, too.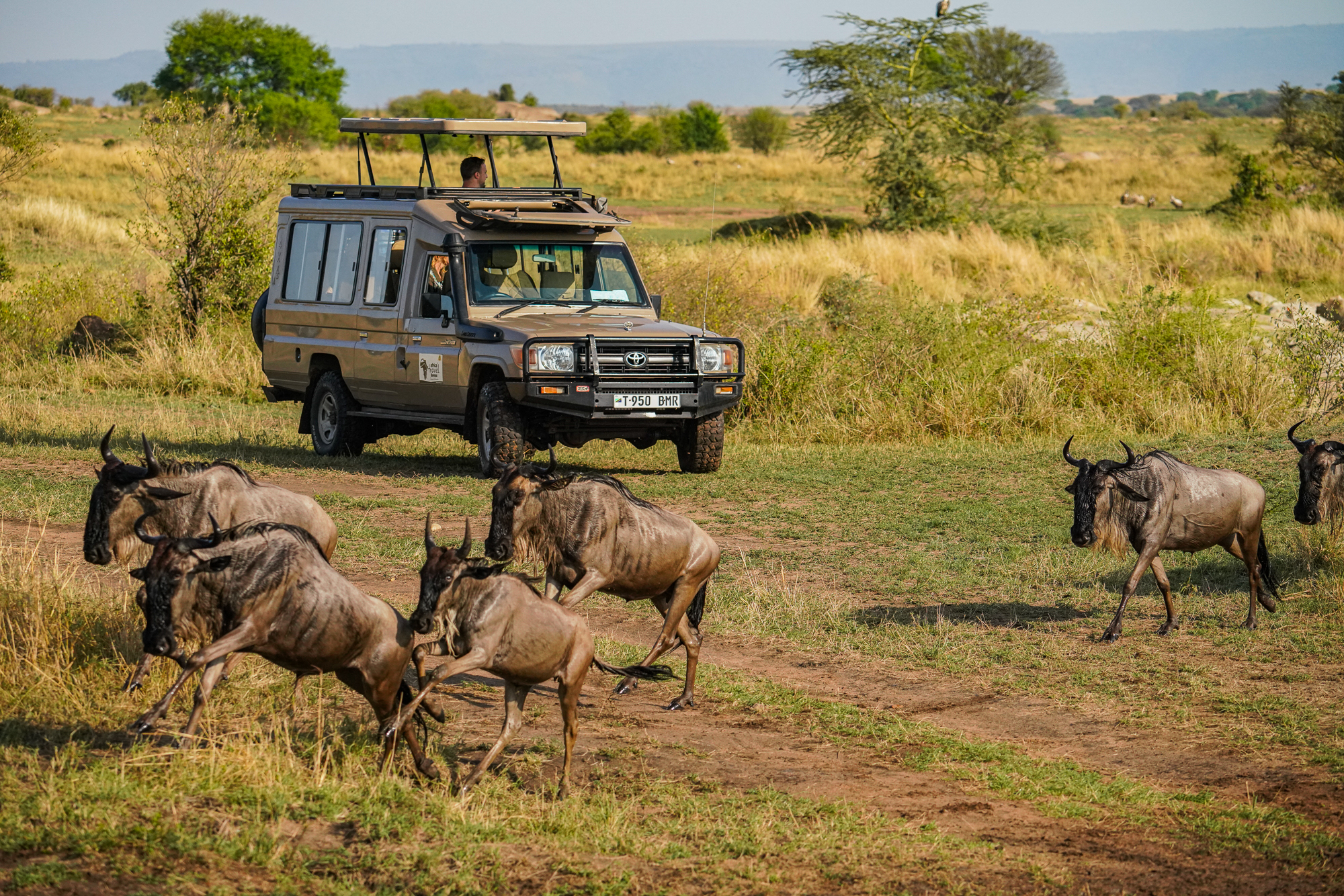 Ultimately, the entirety of the river crossing for us was over almost as fast as it began, and while it was a truly magical experience, it was also really hard to process just how much was going on in that moment. We wished we could have seen another to enjoy it longer (next time we'll stay for three or four days), but alas that is how crossings are most of the time!
It is also worth noting that while you will likely get close to one bank of the river, and that the river itself is often not that wide, you'll do well to have a good telephoto lens for your camera to get the best shots. Some of my best photos were 400 mm+ focal lengths!
Warning: The following section contains graphic imagery that some may find disturbing. If you do not want to see animal death, please scroll up and check out other articles on our site from here.
River Crossing is a Matter of Life and Death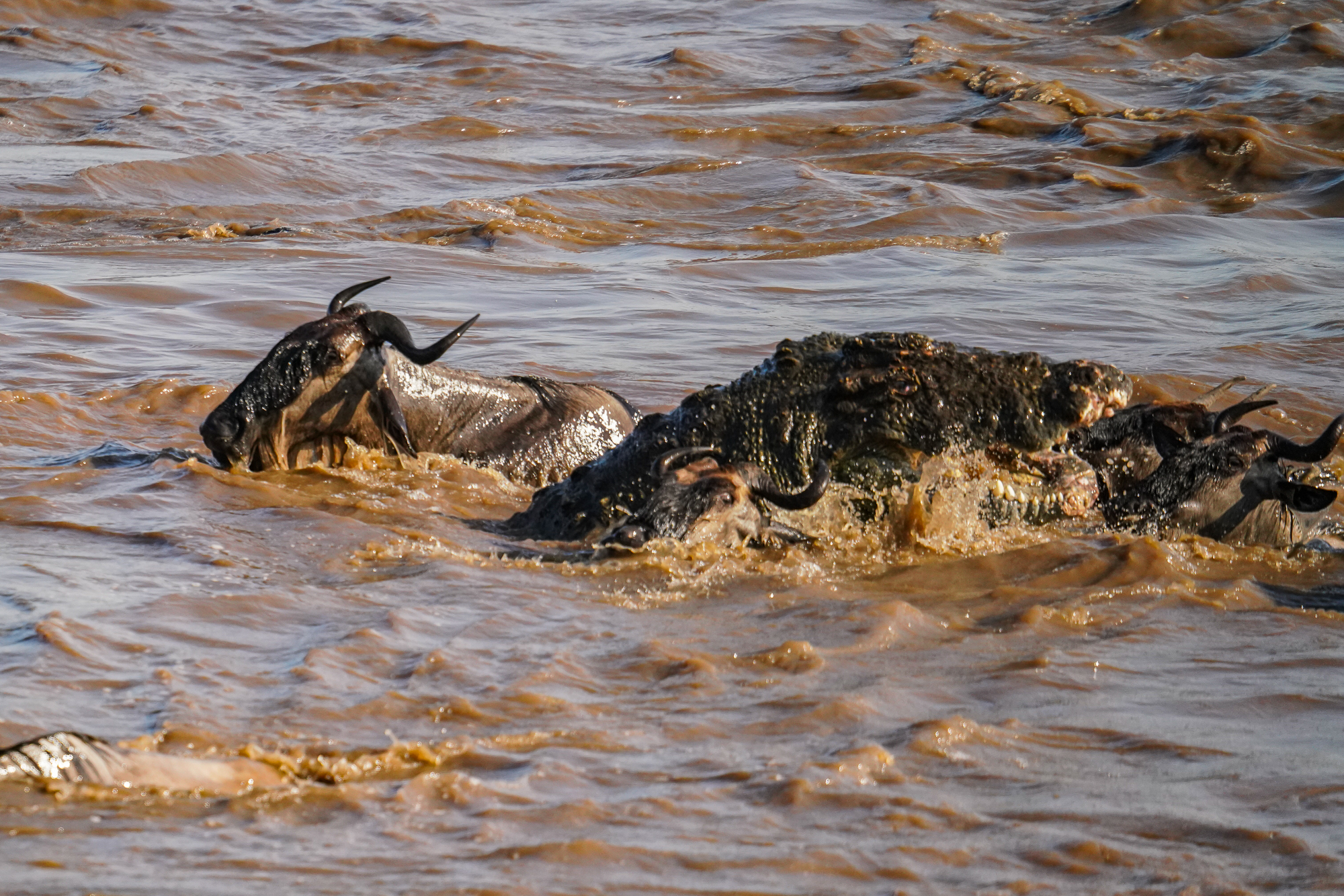 Now we must touch on a topic that may be hard for some readers, so bear with us here- river crossings mean death. There is no way to sugarcoat this. If you want to see baby animals on safari, stick to other parts of the continent. If you want to see animals completing the circle of life, check out a river crossing.
River crossings are, to put it bluntly, dangerous.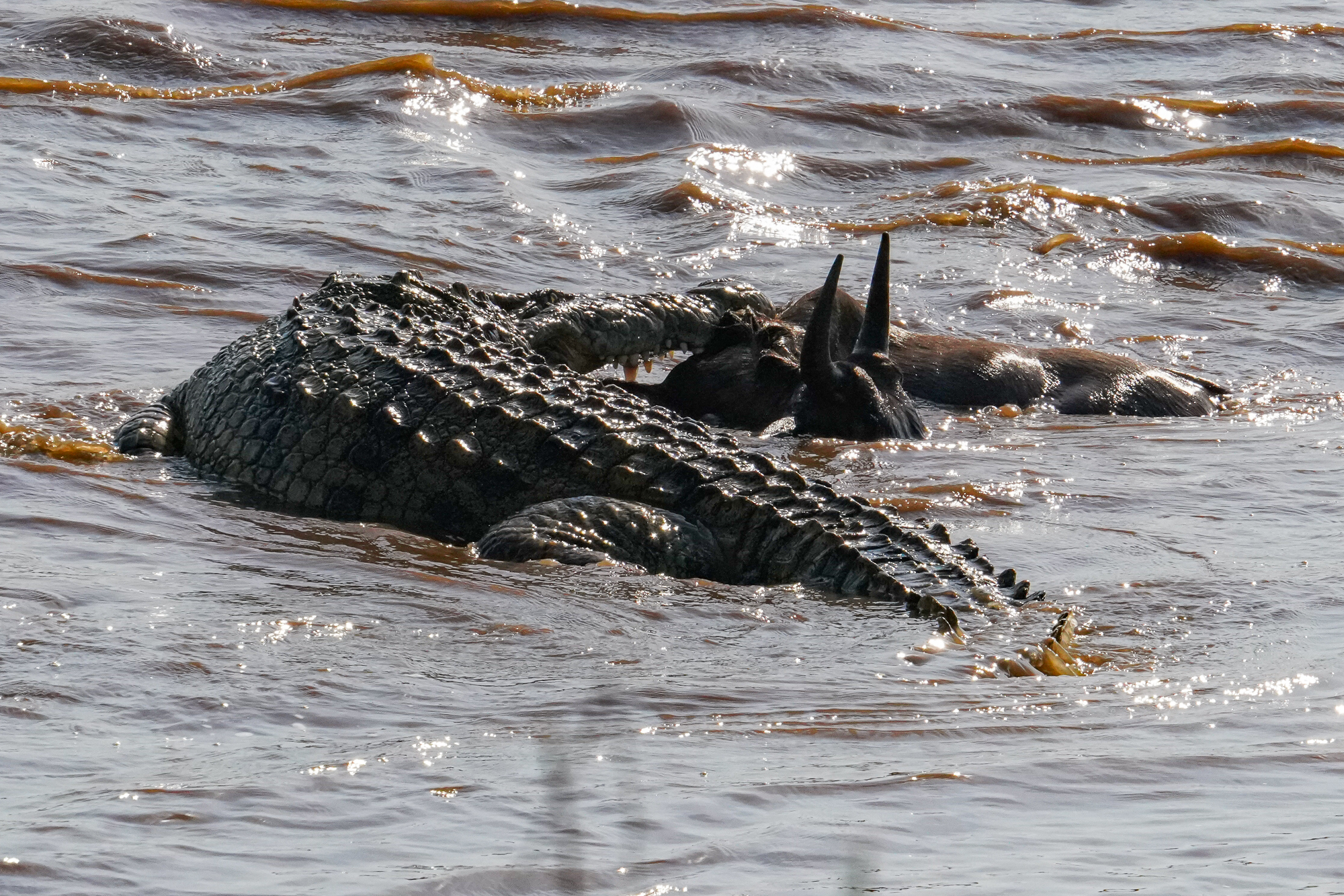 We've alluded to it at times so far, but during our limited crossing experience we saw several deaths due to crocodile attacks, a dozen or so wildebeest (that we counted, at least) trapped within the rocks, and even a few with broken limbs climbing out of the river- those of which will inevitably be eaten by big cats shortly thereafter.
You'll see this even just driving around the northern Serengeti as the landscape is littered with bones, carcasses, and scavengers feasting on the remains. While we saw lions eating kills elsewhere in Tanzania, there is a rawness to the region in and around river crossings that you do not see elsewhere.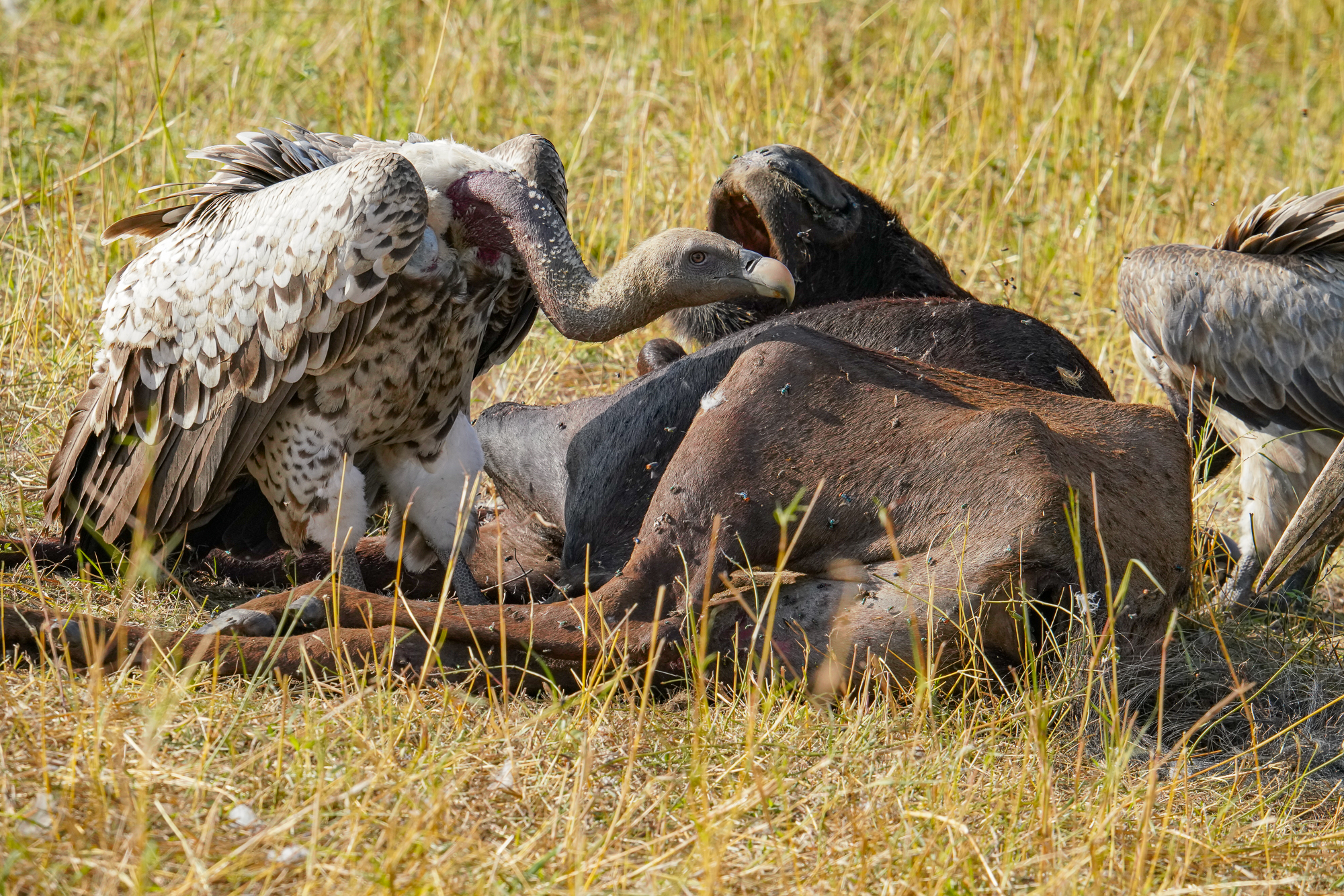 As such, if you have any feeling of uneasiness about anything that is written here (and shown in the photos herein), you may not want to add this to your itinerary. River crossings mean death, and you will 100% see this in some capacity even if you do not witness a crossing outright.
Overall, witnessing a river crossing in Tanzania is an experience you'll likely get nowhere else. It highlights the power of life and death more than any other scene we've witnessed on safari, and at its core is truly raw and amazing. That being said, those who visit need to understand that these events are rare and the overall experience is unlike any other game drive there is. So go in this one knowing what to expect, plan for extra time if you can to increase your odds of success, and go check out a crossing!
Have you seen the migration cross the Mara River? What did you think? Comment below to share!
About Jeremy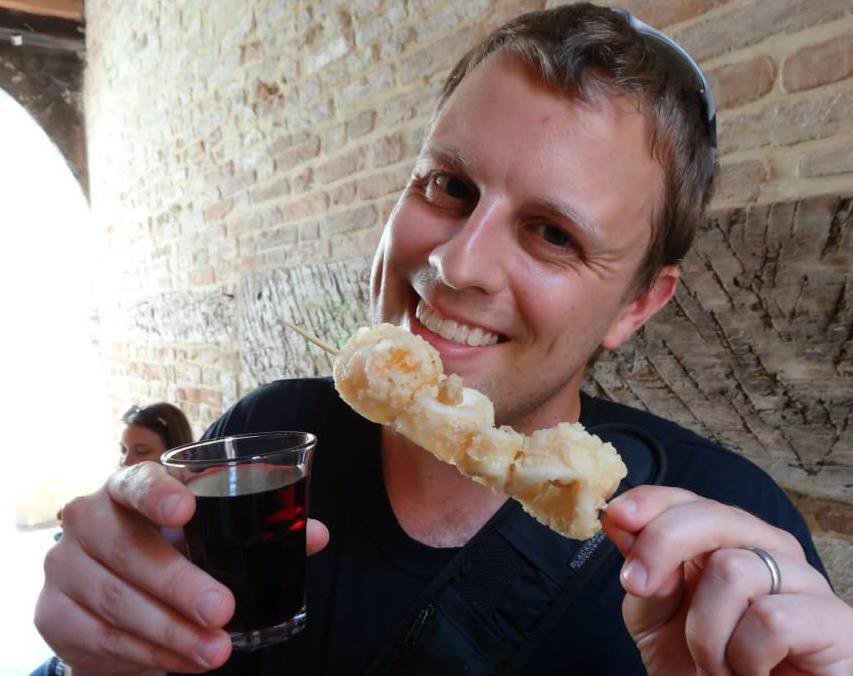 About the Author: Jeremy is a full-time travel writer based in Pittsburgh and primary author of this site. He has been to 70+ countries on five continents and seeks out new food, adventure activities, and off-the-beaten-path experiences wherever he travels.