Published by Jeremy. Last Updated on August 25, 2022.
Disclaimers: Our site uses demographic data, email opt-ins, display advertising, and affiliate links. Please check out our Terms and Conditions for more information. Listed prices and attraction details may have changed since our visit and initial publication.

Hooray!  We've sold all our furniture, moved out of our apartment, and have begun packing our final few items for our upcoming long-term trip in our travel bags. As this is Living the Dream's second long-term adventure, we have the opportunity to revisit our long-term travel packing list.
For this go around, we're trying to include the theme "multi-purpose" in as many ways as possible.  But what does that really mean? Let's find out!
The Multi-Purpose Packing List
On this trip we will be on a "chasing summer" itinerary like most other long-term travelers.  After exploring the world in previous adventures, both short and long-term, we have found that we are what you would call over packers.  While our bags are light, our packing list is extensive.  As this trip will have us not only going to summer destinations throughout the trip, we are hitting a few places that could get quite chilly or down right cold.  To accommodate, we tried to develop a packing list that would be multi-purpose to cover us in all environments without requiring any extra gear.
How can a packing list be multipurpose?  Most of our gear is rated for all weather conditions: extreme heat to bitter cold, hiking grade and waterproof at the same time.
A great example of this is our KEEN shoes and sandals which are not only built for hikes, but also waterproof and fast drying.  The rest of our packing list follows this same logic.  We may not be taking thick winter gear, but our jacket is thick enough that will protect us from most cold days but thin enough that we can pack it easily.  Angie's long pants tie up to double as a pair of shorts for use on the many summer days we see, without the need for another pair of long pants.
We tried to apply this type of logic in the selection of all of our gear to make our packing list ideal for any weather environment we may face – short of the extreme cold weather during our hike in Nepal and potential Antarctica excursion.  In those destinations we may buy more heavy duty gear and resell as soon as our cold days are over with.
So, what goes into a 14 to 18 month packing list for a couple? Lets find out!
Angie's bag is a respectable 55L backpack by Guerrilla Packs.
7 Tank Tops
3 T-Shirts
1 Long Sleeve Shirt
2 Pants
3 Shorts
1 Bathing Suits
Pajama Set
10 Pairs of Socks
3 Bras
10 Pairs of Underwear
The Guerrilla Pack comes with a nice detachable day pack that will double as Angie's carry-on bag when traveling.  The following items are featured in her daypack:
Documents
Sony HX20V Digital Camera  (Later Replaced by HX50V)
Acer AOD250 Netbook
Allergy Medicine
Cables and other equipment for above gear
Sunglasses
Glasses
Business Cards
Tripod (Small)
Power Adapters
Travel Pillow
Passport Photos
Jeremy's bag is a beast and, at 95L, is the largest bag that you can check in an airplane without paying oversize fees.  While we already know that this bag is large, our packing list that goes inside it is not. This bag was bought entirely with souvenir acquisition in mind and has tons of room to load up with great purchases before we ship a box home.
10 T-Shirts
1 Long Sleeve Shirt
1 Button Up Shirt
4 Shorts
2 Pants
1 Swim Trunks
5 Pair Boxers
10 Socks
Alarm Clock
Rain Coat
Chain Lock / Luggage Locks
Swiss Army Knife
Corkscrew
Digital Scale for Bags
Toiletries (outlined below)
Jeremy is also the lucky one to get to carry all the toiletries due to having the obscenely large bag (yay?).
Toothbrushes and Toothpaste
Deodorants
Face and Body Soap (one of each)
Razors
Shampoo
Cotton Swabs
Nail Clippers
Tweezers
Floss
Mouth Wash
Medicine (Allergy, Motion Sickness, Immodium, Advil, Anti-Bacterial/Itch Ointment)
Sunscreen
Lip Balm
Bandaids
Hand Sanitizer
Bug Spray (with 15% DEET)
Contact Cases, Solutions, Extra Contacts
The High Sierra bag that Jeremy carries does not have a detachable day pack and he uses an old school backpack that is large enough to fit in his favorite Tripod.  The following items are featured in his daypack:
Documents
Dive Log and ID
Canon D20 Dive Camera
External Hard Drive
Cables and other equipment for above gear
Sunglasses
Glasses
International Driver's Permit
Business Cards
Power Adapters
Tripod (Large)
Oscar the Roaming Gnome
Umbrella
Travel Pillow
Playing Cards
Passport Photos
Journal and Pens
Final Weights
In the grand scheme of things, we still cannot get over the feeling of being over packers.  I know I could take a few less shirts and one less pair of shorts.  The same is true for Angie.  But we hate doing laundry, and carrying a bag around for 20-30 minutes with a few more pounds twice a week is much better than a few more laundry loads.
Angie's pack weighs around 10 kg (22 lbs) when it is all said and done.  My pack weighs around 17 kg (37 lbs), primarily due to the load of all the toiletries.  Not bad when you consider my last long-term trip's bag weight was 14 kg.  I blame the extra toiletries.  A necessary evil.
Have you been on a long-term trip before? What do you think of our packing list?  Join the conversation by commenting below!
About Jeremy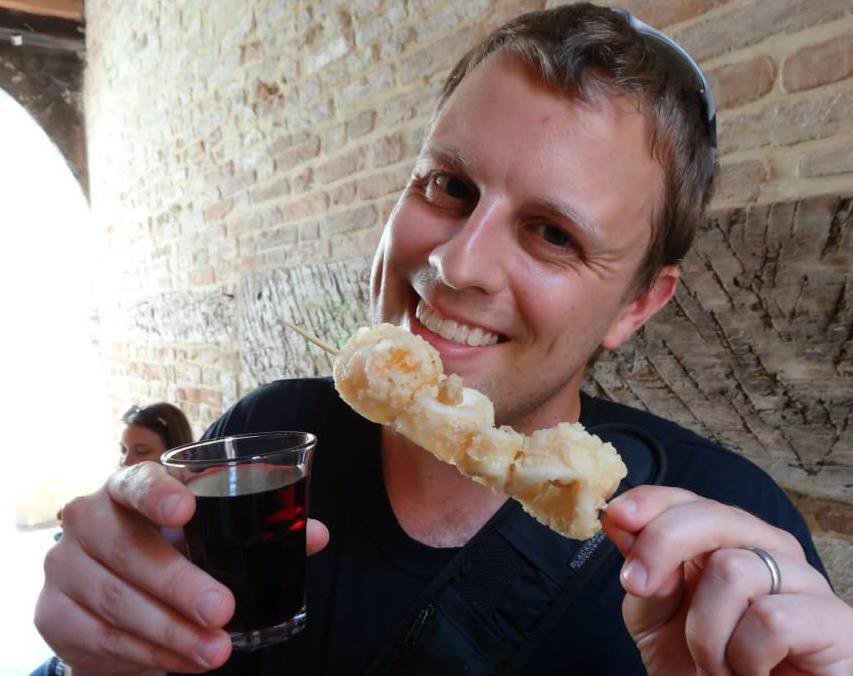 About the Author: Jeremy is a full-time travel writer based in Pittsburgh and primary author of this site. He has been to 70+ countries on five continents and seeks out new food, adventure activities, and off-the-beaten-path experiences wherever he travels.