Last Updated on January 13, 2022 by Jeremy
Disclaimers: Our site uses demographic data, email opt-ins, display advertising, and affiliate links. Please check out our Terms and Conditions for more information. Listed prices and attraction details may have changed since our visit and initial publication.
The Rila Monastery in Bulgaria is the most impressive sight you'll see during your visit to the country. In fact, we would go as far as calling it the world's most beautiful monastery.
We don't often make that distinction on this website because we know everyone has different interests, but Rila Monastery goes beyond anything we ever would have hoped for. 
It is one of the most beautiful complexes we've ever been to, and the paintings inside rival that of the Sistine Chapel or Florence's Duomo in Italy (although may not match up in terms of origin by a master artisan or age).
The one downside to the Monastery is that it is remote. Very remote. 
As it is located in the mountains of Bulgaria, every city is at least a one to two-hour drive away (with the exception of the tiny village of Rila right next door). 
Luckily private tours exist from all corners of the country to visit this famous monastery, making the long journey an easy option for all visitors.
The point we're trying to make is simple: if you go to Bulgaria you must visit Rila Monastery, and you have no excuse to miss it.  It is one of the few sights we've ever been to that we would have seriously regretted skipping, and it takes a lot for us to say that.
But why are we making such a fuss about Rila Monastery?  Check out the following photo essay to see why.
A Brief History of Rila Monastery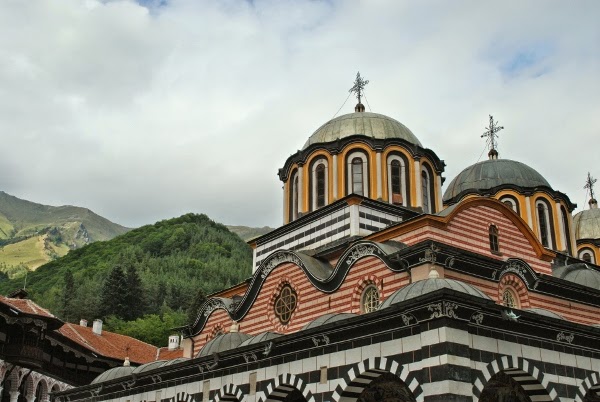 Rila Monastery was founded by the disciples of Saint Ivan of Rila. 
In the early 900's, Saint Ivan went into near complete isolation in the mountains of Rila, living off the Earth with very little contact to the world around him all for the glory of God. 
His disciples founded the Rila Monastery and over the next 1,000 years was built into Bulgaria's most famous sight.
The monastery has been destroyed and rebuilt several times over the centuries, with the most recent being due to a fire in the 1800s and rebuilt thanks to donations from all over Bulgaria (and the world).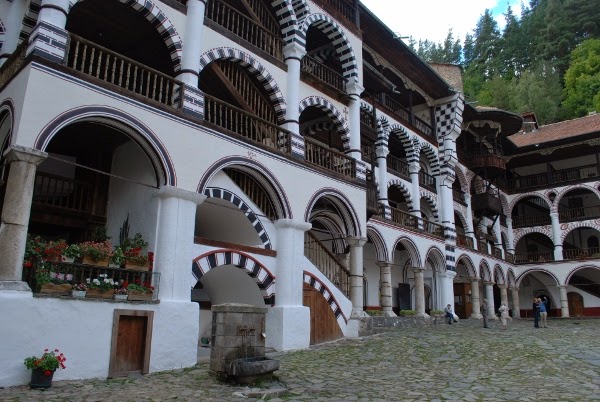 Today, like in the last thousand years, the monastery is an active place of worship for the faithful and visitors alike.  It is estimated that this remote site welcomes almost a million visitors every year, making it one of Eastern Europe's most treasured attractions.
Paintings in the Orthodox Style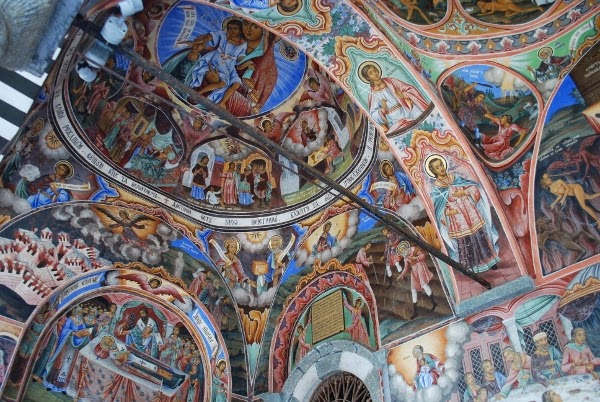 In keeping with traditional Orthodox style, Rila Monastery is covered with paintings depicting scenes from the Bible.  These were used to help educate illiterate worshipers in a time when published material just did not exist.
In most monasteries, these paintings are only in the inside; covering every square inch.  But at Rila Monastery, the paintings overflow into the outside corridor in an impressive display of color. 
Since you are not allowed to take photos while inside most monasteries in Bulgaria, getting a few shots of these is a real treat.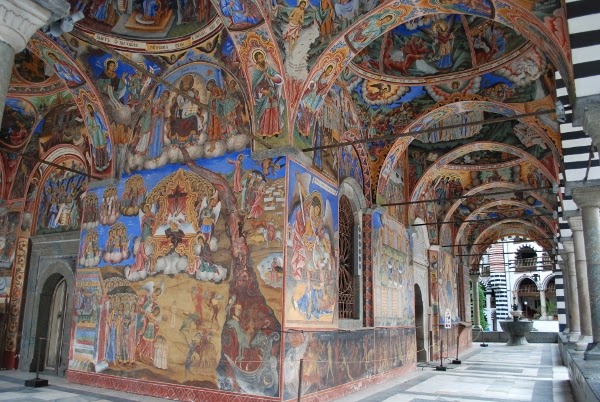 The one thing worth noting is that in many monasteries the interior paintings are discolored from years of candle smoke.  In the Bachkovo Monastery near Plovdiv, for example, the paintings are so charred from smoke that the images are barely visible. 
Rila Monastery has had some restoration over the years, but it is obvious which sections have been done more recently than others.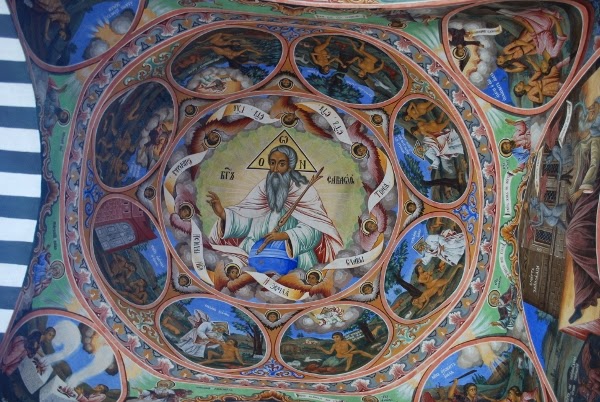 It is because of this that the external paintings are so special as they are the most pristine of any we saw during our stay in Bulgaria.
If the photos on the outside are getting your attention, you're in luck.  The ones on the inside are just as beautiful, and that is not even mentioning the rest of the architecture of the monastery too!
How to Get to The World's Most Beautiful Monastery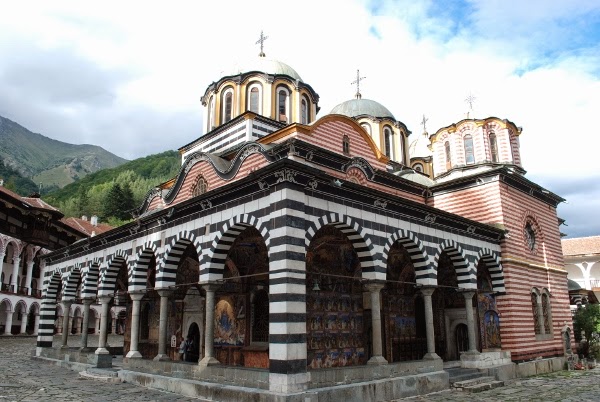 As we mentioned at the beginning of the post, unless you are staying in the tiny village of Rila (or at the monastery itself), getting to the monastery is a long, but relatively easy process.  
Many companies offer day trips from all cities in Bulgaria, including Sofia and Plovdiv, but would make for a long day of driving. 
We stayed in the city of Govedartsi on the opposite side of the Rila mountains to hike to the nearby Seven Lakes and it was still a 60+ minute drive at 40 LV per person ($26 USD) by our hotel.
Since most of these tours are private through 3rd party companies, you may end up getting a better price if you couple a visit to the monastery with a transfer to your next city.  
It would be a long day in any case, but would likely save some money when the two bookings are merged into one.  (Note: We did not do this, and instead booked a private transfer from Plovdiv to Govedartsi and later the same day booked another private driver to Rila.  It was only after doing this that this idea came about).
No matter how you do it, a trip to Rila Monastery is a must.  So when you visit Bulgaria be sure to figure out how to allocate time to visit this attraction; you won't regret it.
A Bit More Info: Entry into the Monastery is free. There is an attached museum that costs a few dollars to enter. It is open til about 4:30pm with extended hours in the summer. Even for the fastest of visitors, you'll likely spend at least 2 hours at this famous spot inclusive of the museum, monastery, and nearby shops. 
If staying in Govedartsi, where we stayed, we do not recommend leaving for the monastery after 2pm due to the long drive there and back. For those who want convenience, Viator offers tours that can be booked in advance too.
For more articles from Europe check out our favorites like Oktoberfest tips, crafting an itinerary in the Schengen area, or Buda and Pest.
Book a Train Ticket in Europe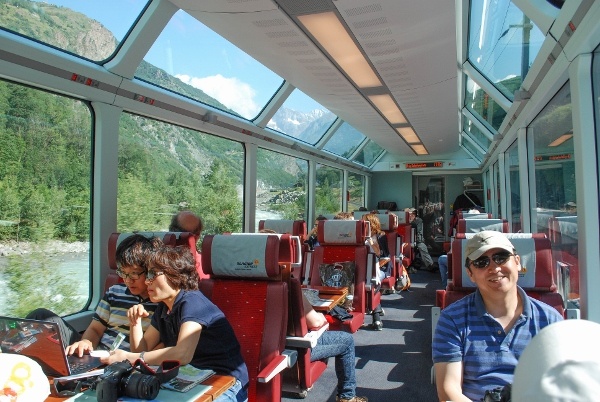 Want to learn more? Check out our Omio review!
About Jeremy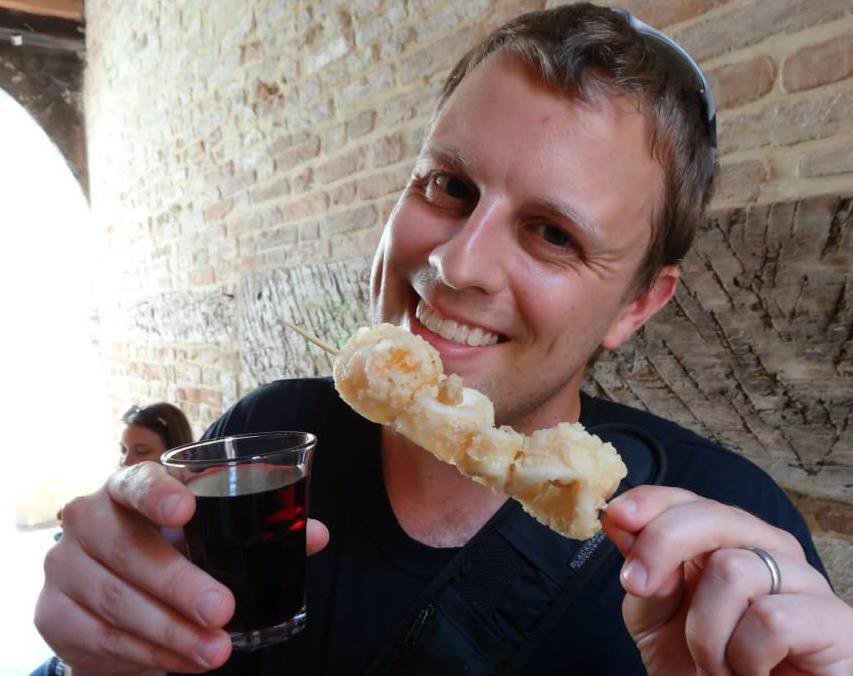 About the Author: Jeremy is a full-time travel writer based in Pittsburgh and primary author of this site. He has been to 70+ countries on five continents and seeks out new food, adventure activities, and off-the-beaten-path experiences wherever he travels.