Published by Jeremy. Last Updated on September 16, 2020.
Disclaimers: Our site uses demographic data, email opt-ins, display advertising, and affiliate links. Please check out our Terms and Conditions for more information. Listed prices and attraction details may have changed since our visit and initial publication.
Our time in the Greek Islands of Crete, Santorini, and Milos was mostly spent enjoying the sights from the land either by long hikes or public transportation to the furthest corners the roads will take you. These experiences were some of the best any visitor to the islands can have, but there is one way you can enjoy it even more.
The absolute best way to get to know a Greek island is to see it from the sea.
We were holding off on taking a boat tour in Greece until our last island, Milos, because it is full of many unique geographical features that can only be enjoyed by being on the sea. 
In fact, if you don't plan on taking a boat tour of this particular island, you might not even want to bother going (although, it is still a pretty neat place if you decide to go anyway).
Boat Tour on the Thalassitra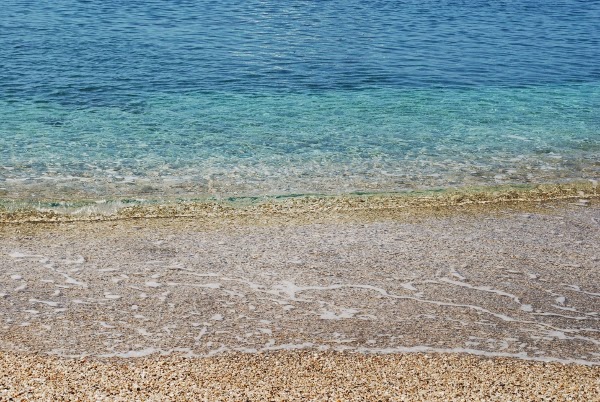 As a boat cruise is a must-experience day trip in Milos, dozens of companies parade their offerings around the main port in Adamas.  The easiest way to find the best cruise is to walk around the port while comparing the offerings published at the docks and at the nearby travel agencies for your day of sailing.
Our hotel recommended we go on a boat tour on the Thalassitra, a twin mast yacht that is one of the larger ones you'll find in Milos.  The boat is a recreation of the traditional Greek "Trehantiri" boats that existed in the early 20th century.
We were pretty excited about that one, but just to be sure, we checked out a few other places and discovered a trend in the types of boats you can take around the island:
Half-day cruise with 40+ people – Around 25 Euro pp

Half-day cruise with < 12 people – Up to 50 Euro pp
Full-day cruise with 40+ people – Around 50 Euro pp
Full-day cruise with < 12 people – No limit to what you can spend
These cruises will either pick one side of the island to visit (both half-day or full-day options) and give you ample time at each spot or attempt a full island cruise with brief stops at many destinations (full-day options only).  Many of these provide lunch, but in some of the half-day cruises, it is not always included.
The first issue with figuring out which is the best for you is not so much the destination but the boat. Some boats that take 40 people are incredibly small and offer little breathing room.  
It is a very common sight in the port of Milos to see overcrowded ships setting sail while you can only think "I don't want to be on that one."
The second issue, naturally, has to do with the destination.  This one is second only because a poor destination choice is even worse if you are loaded up on a small ship with dozens of travelers without any breathing room.   A poor destination choice on a good boat?  Well, at least you're on a good boat!
Avoiding the Wind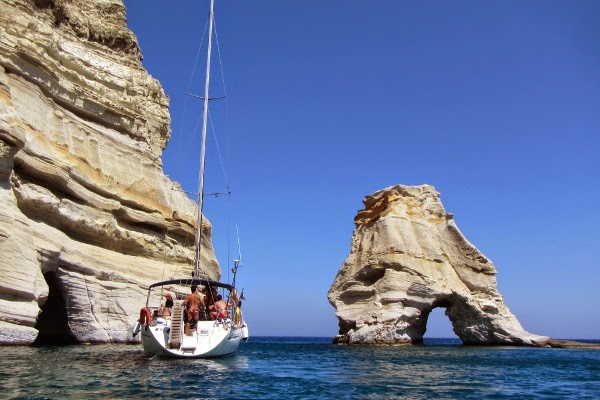 During the summer months, Milos and the rest of the Greek Islands can become very, very windy.  So windy, in fact, that many companies change their itineraries on a daily basis to accommodate. 
Thanks to climate change, the windy days in the summer are only getting worse, so it is best to be flexible in what you want to see!
We found that only a few of the companies we spoke with even mentioned that. 
Many boats were still leaving from Adamas and sailing down the west coast, while other companies were saying that the north and west coasts were too rough for our particular day of sailing.  These ships were docked on the south side of the island and crafted their itinerary accordingly.
Naturally, we went with the one that was honest about it, and it turned out to be the Thalassitra after all.
Cruising in Milos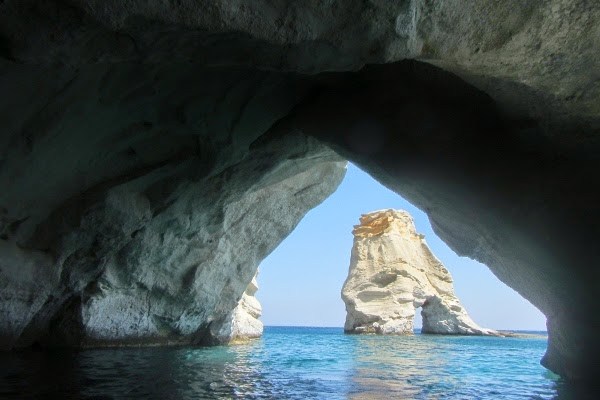 Our boat tour started with an early morning transfer to the south side of the island where we boarded the ship.  For the next 9 hours we were on one of the most relaxing boat rides we've ever been on – aside from the occasional splashes of water due to the winds.
The itinerary was simple:
Cruise along the southern coast of Milos with a couple stops for swimming and snacks.
Continue to the cave filled coast of Kleftiko for 3+ hours of swimming, personal cave tours in the accompanying inflatable boat, and lunch.
Cruise back along the southern coast with a stop at Tsigrado Beach (one that is otherwise only accessible by a ladder and rope), and finally ending with a coast past the iconic Sulfur Mines.
Return to Milos by sunset.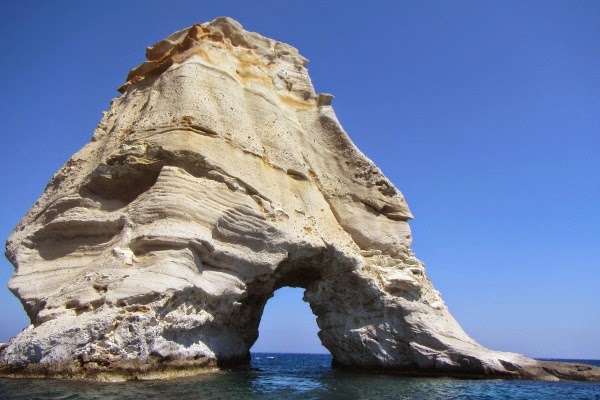 As the highlight of the day was the sailing to Kleftiko, and we've already shared some of the best photos from the first part of the cruise in this post, we're going to skip to that.
Kleftiko is one of the most interesting spots on Milos, and the only way to enjoy it is by boat.
This part of the island is full of interesting rock formations and numerous caves on the water.  Hundreds of years ago pirates would use these caves to hide in before attacking merchant ships that passed by Milos (a popular route due to the winds).  The pirates could pop out of the caves unnoticed and make their retreat with relative ease.
Our ship docked in the central bay where we had several hours to spend swimming and enjoying lunch, a massive feast that outlasted just about everyone on the ship. 
During this time the captain took small groups out on an inflatable raft while zipping through the caves and going into the history of the region in great detail.
At first, I was a bit concerned that this itinerary was a bit more laid back than I normally like.  Other itineraries in Milos fill in many more stops in the same amount of time, so to do this particular route we had to cut a few places out that we would have liked to see. 
But the bad winds made us lose interest in trying to attempt the other ones, and Kleftiko was the one we wanted to see the most, so we were really glad we did.
A relaxing boat ride, beautiful scenery, and crystal clear water? You couldn't really ask more on a perfect day.  Well, perhaps some fresh watermelon for a snack during the ride back to port.
Oh, wait a minute… that happened too.
Relaxing on a wonderful sailboat after being on the road for 2 months is just what we needed.  Having one of the most beautiful coasts in Greece as our background (and watermelon)?  That was just a bonus.
Looking for more articles from Greece? Check out some of our favorites about topics like the Greek pastry bougatsa or our favorite European food!
About Jeremy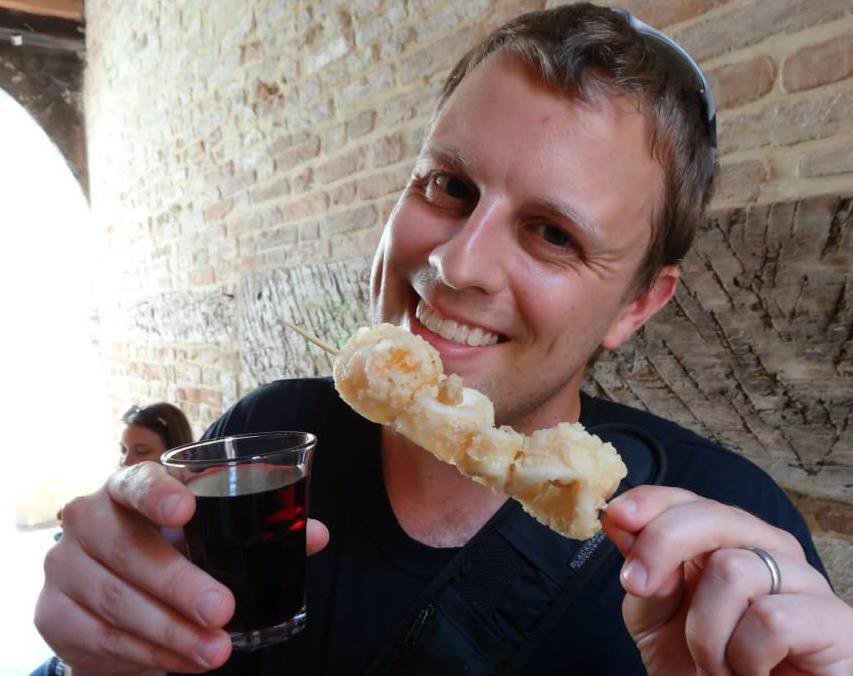 About the Author: Jeremy is a full-time travel writer based in Pittsburgh and primary author of this site. He has been to 70+ countries on five continents and seeks out new food, adventure activities, and off-the-beaten-path experiences wherever he travels.