Published by Jeremy. Last Updated on July 21, 2022.
Disclaimers: Our site uses demographic data, email opt-ins, display advertising, and affiliate links. Please check out our Terms and Conditions for more information. Listed prices and attraction details may have changed since our visit and initial publication.
When we impulsively decided to visit the Algarve in southern Portugal, we decided we would do it in style at Marriott's Pine Cliffs Hotel.
Part of this is because when you're at one of the most beautiful seasides in Europe, you probably want to stay somewhere with a view. The other part is that finding accommodations with a view in the Algarve is rather difficult!
The simple explanation for why this is an issue is because the beaches in the Algarve are backed by some of the most dramatic cliffs you'll ever see. Due to this unique geography, hotels typically do not build directly on the beaches, but rather on top of the cliffs themselves and many are several blocks away near the main roads at that.
Finding properties at the edge of one of these cliffs with a prized view is easier said than done, and generally means you're going to be paying a premium to stay at a resort and even more if you want a room with a view.
It was the best decision we made in the Algarve.
Splurge for a Balcony Room at Pine Cliffs Resort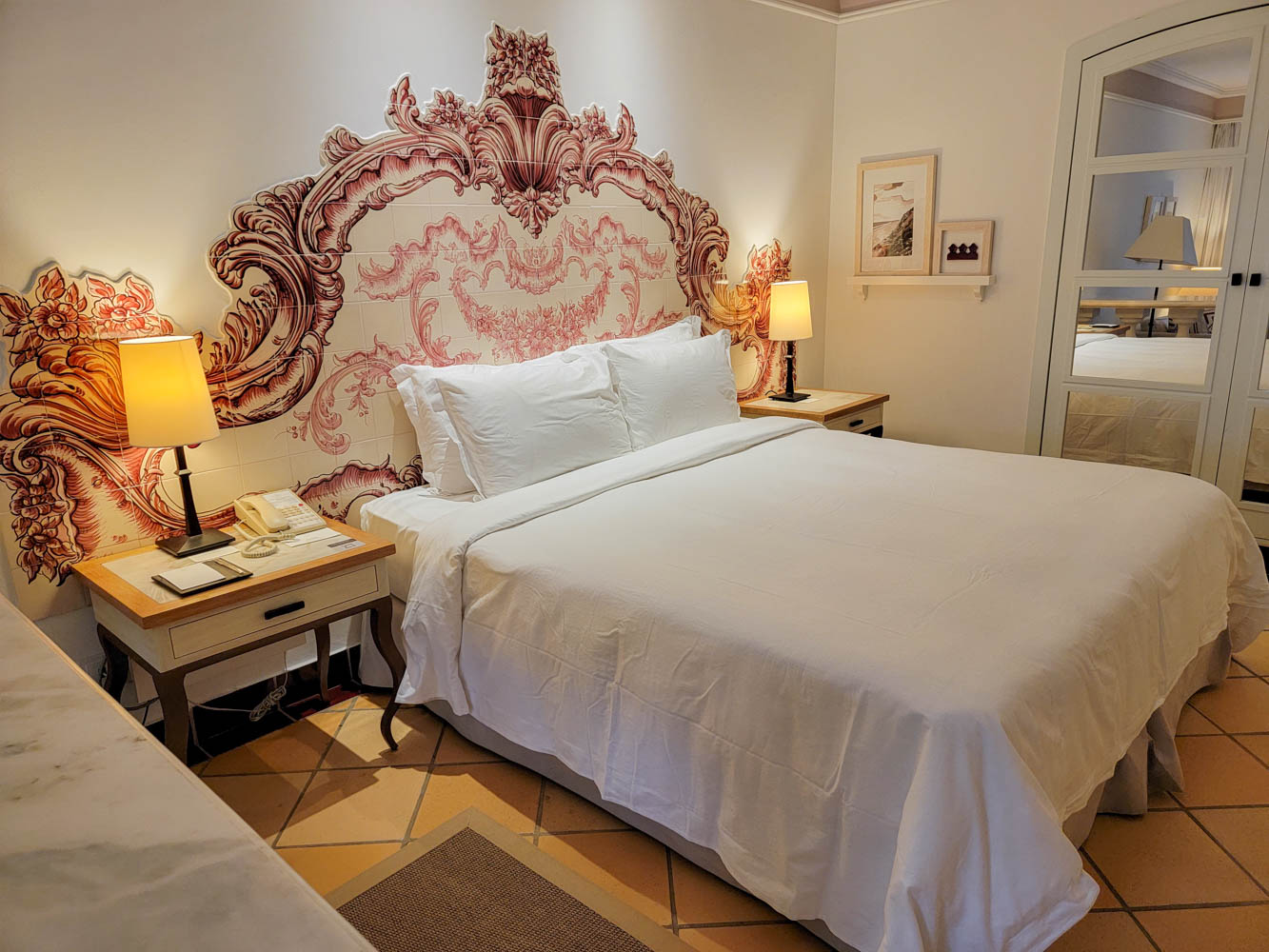 Before talking about our room, it is worth discussing the resort at large because if there is one word that describes it, it is expansive. The property runs from the cliff's edge all the way back to the main road a half-mile away. When you look at booking a room on Marriott, you're actually shown three properties available with the Pine Cliffs name. There are Pine Cliffs Ocean Suites (one and two-bedroom apartments), Pine Cliffs Residence (two and three-bedroom apartments), and Pine Cliffs Hotel (standard hotel room layouts)- all seemingly located on the same plot of land, but at different spots between the cliff and the road.
As such, when you are deciding on the room to pick, it is worth noting you may cover a pretty impressive distance and may not be any closer to the water than other properties in the area.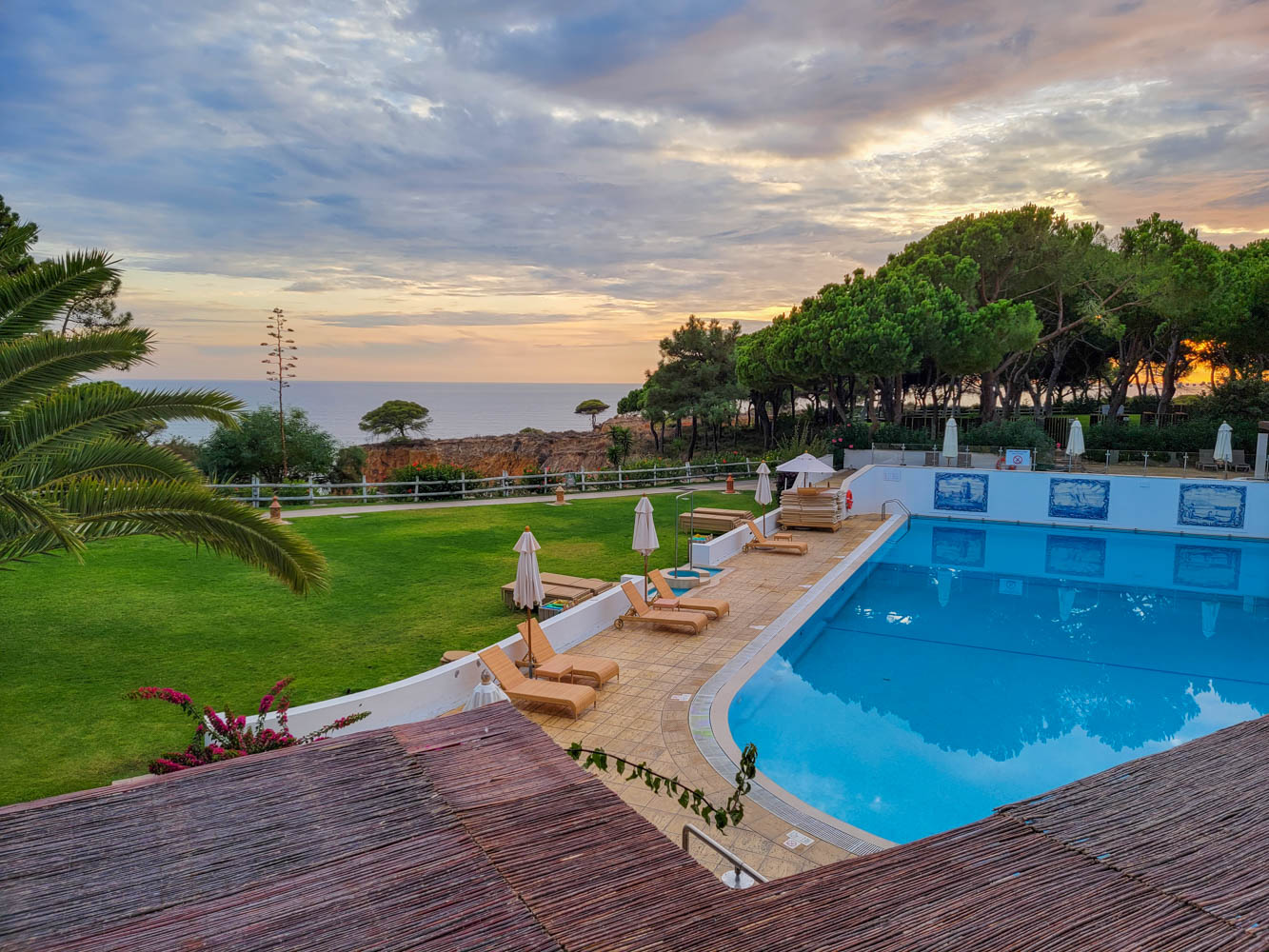 Naturally, when staying at an ocean-side property, we wanted a room with a view and booked a Grand Deluxe Ocean View room with Queen bed. This, coupled with my status on Marriott, ended up with us in a prime room just over the pool overlooking the ocean.
The room itself was quite spacious with its own seating area separate from the bed and bath areas as well as a fairly expansive deck that could've sat more than just the two of us comfortably had there been more chairs. The bed and amenities in the room were quite comfortable; however, we would be remiss if we don't highlight that you can't really see the ocean perfectly from this property- the rooms are still a bit too far back from the cliff for the best views. But considering how crazy these cliffs are, well, being a little back isn't the worst thing in the world.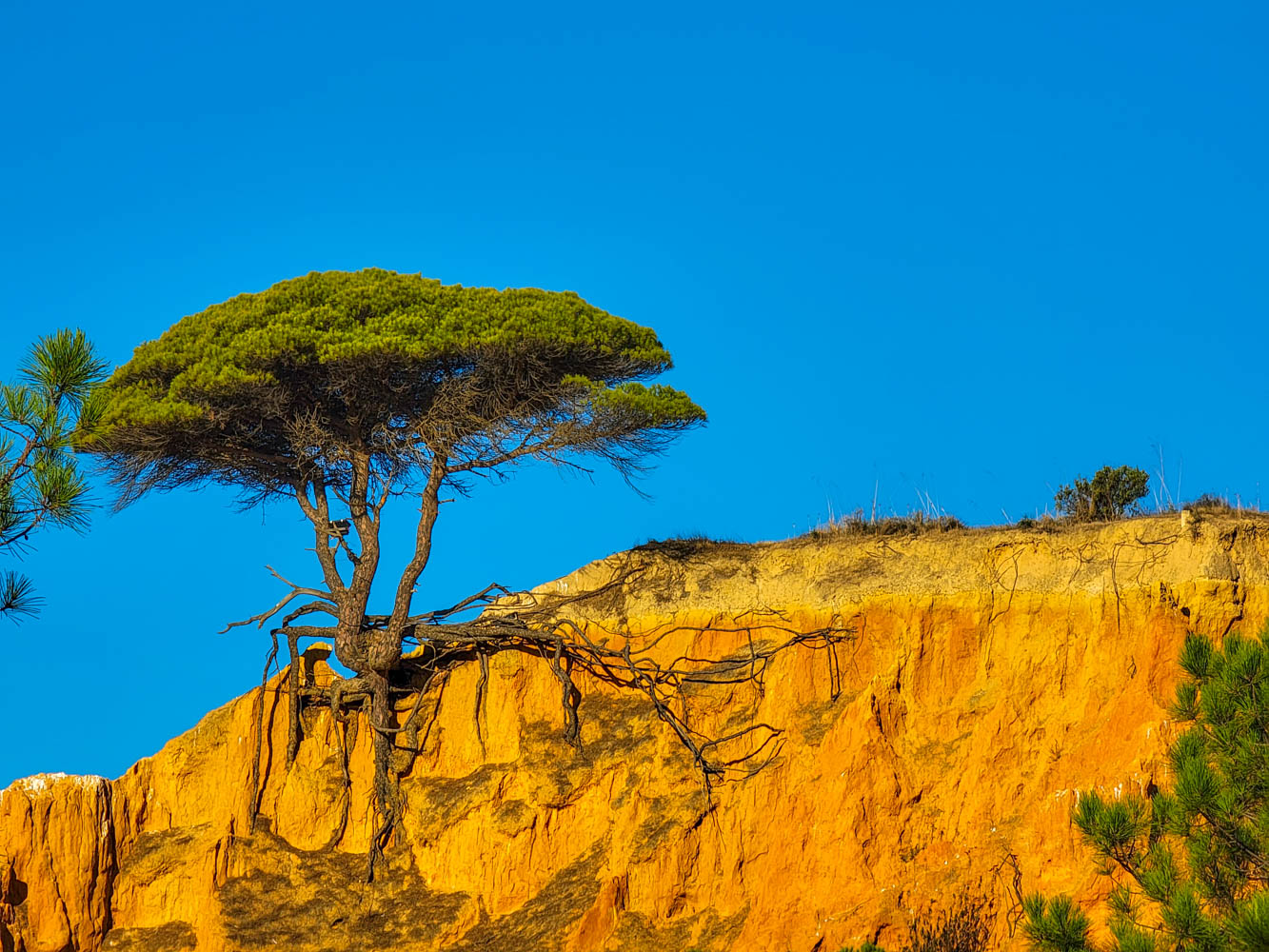 All things being equal, we were not bothered by a partial ocean view at this property. Simply having one of the most ocean-facing rooms meant wonderful accessibility to many of the resort's amenities we came to enjoy anyway- namely the Mirador bar, the pool, and of course the elevator down to the beach outright. Being able to get to these within seconds of leaving our room may be subtle, but is something to not discount when you remember just how huge this property truly is.
The Subtle Details of this Resort Make It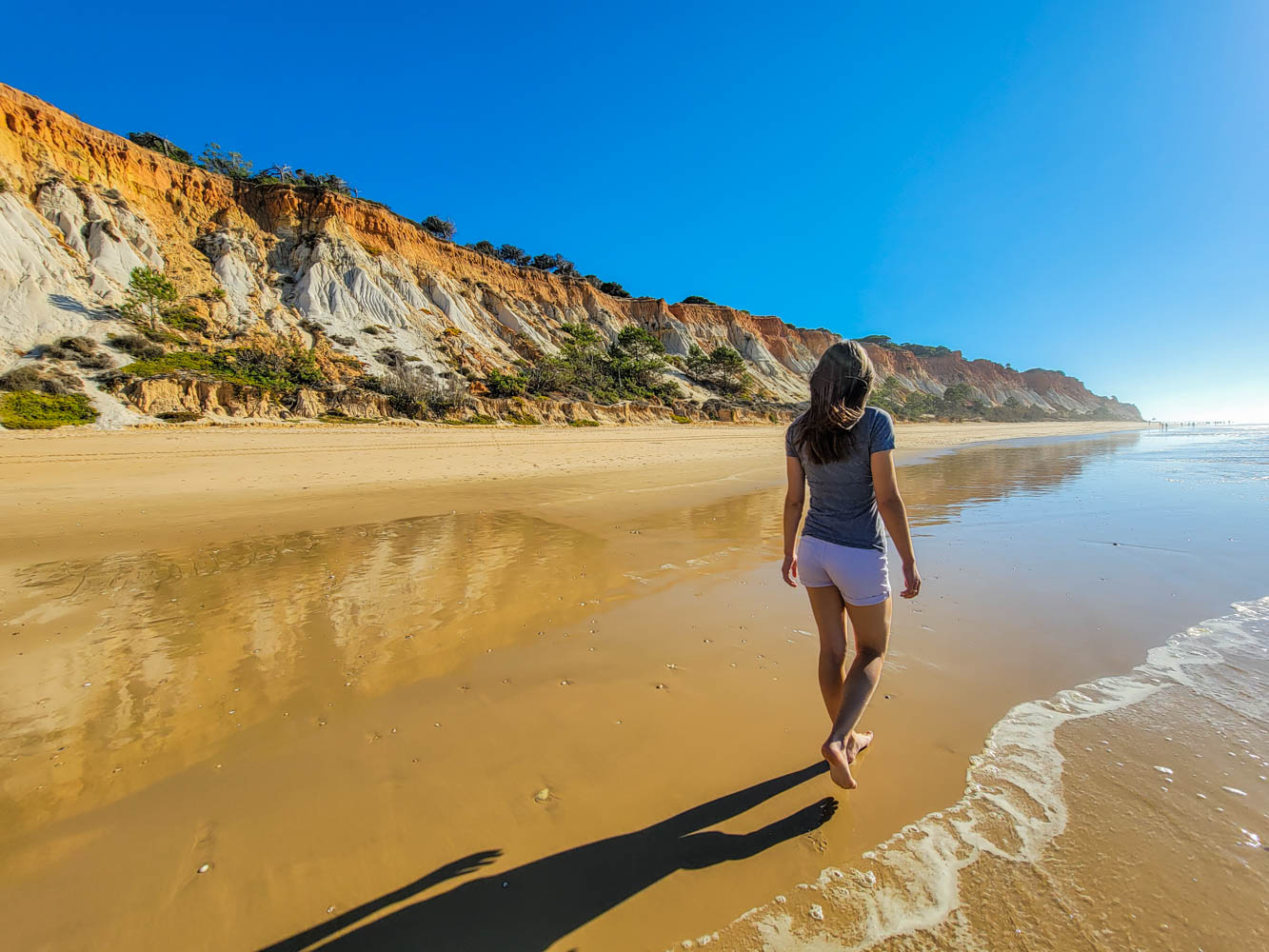 When it comes down to it, you could simply make the case that Pine Cliffs Hotel is worth staying at purely for a balcony room with a view, but really that would not be selling the property at large as well as we should. This one had some really fascinating details that we absolutely adored.
First off, there is the property design itself. The resort felt like it was designed to be a Moorish palace with many outdoor gardens, painted ceramics, and vaulted ceilings everywhere you look. If you fancy yourself a fan of architecture, walking around the property was a treat. For those who want an all-inclusive vacation spot, the property has so many activities to do that you'd never have to leave at all (of course, we did because the Algarve's hundreds of miles of dramatic coastline must be seen).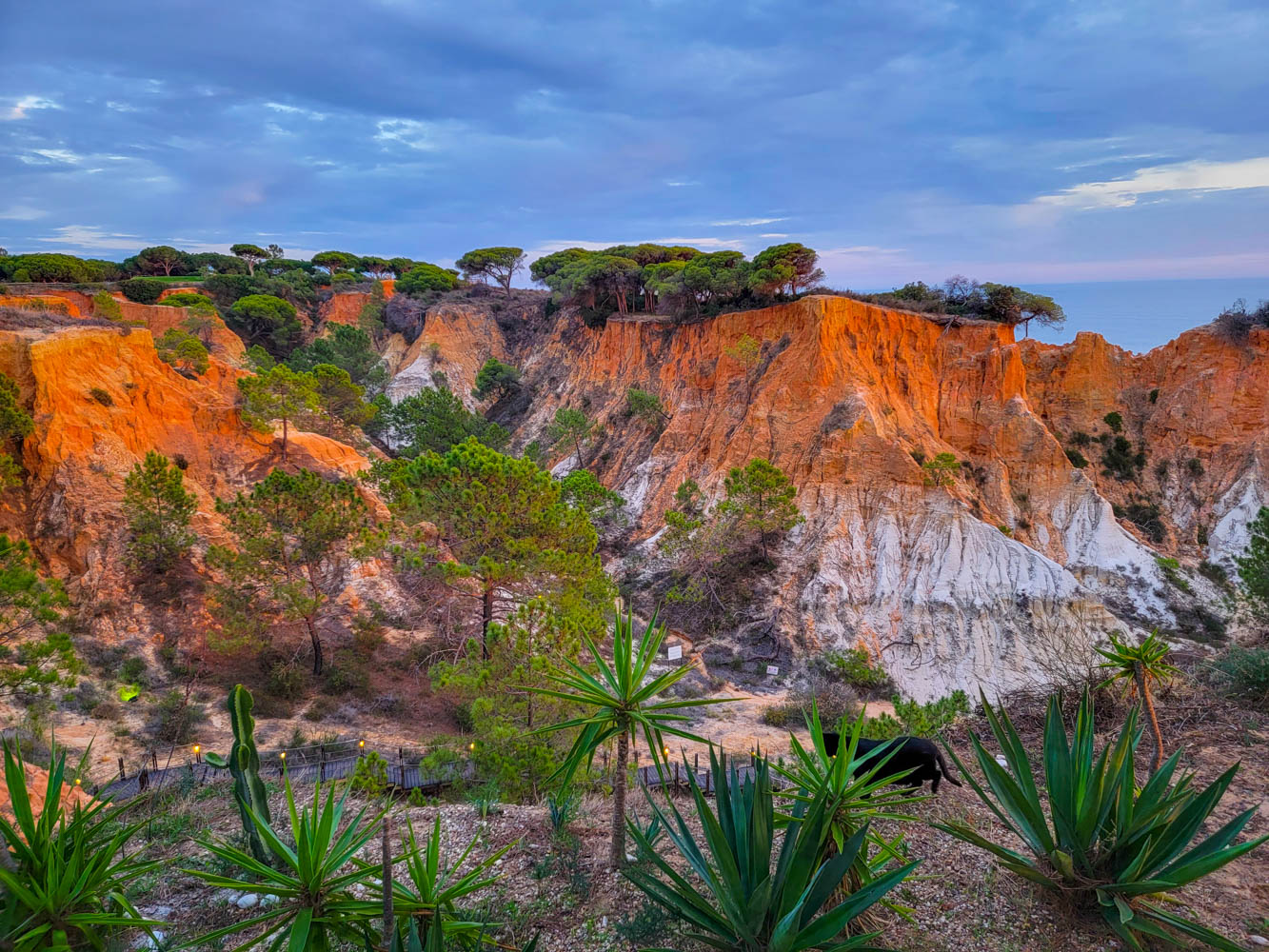 Then there was the beach. Praia da Falesia is an exceptionally stunning beach that is several miles in length and Pine Cliffs is perched at the westernmost edge of it. Even better is that to reach the beach, you can take the hotel's private elevator down to sea level for a rather easy walk to the ocean. Yes, you read that right- an elevator to the beach. Love it.
Had we not wanted to explore the entire coastline of the Algarve, we could very much see plopping down here for days on end and being perfectly content with the scenery.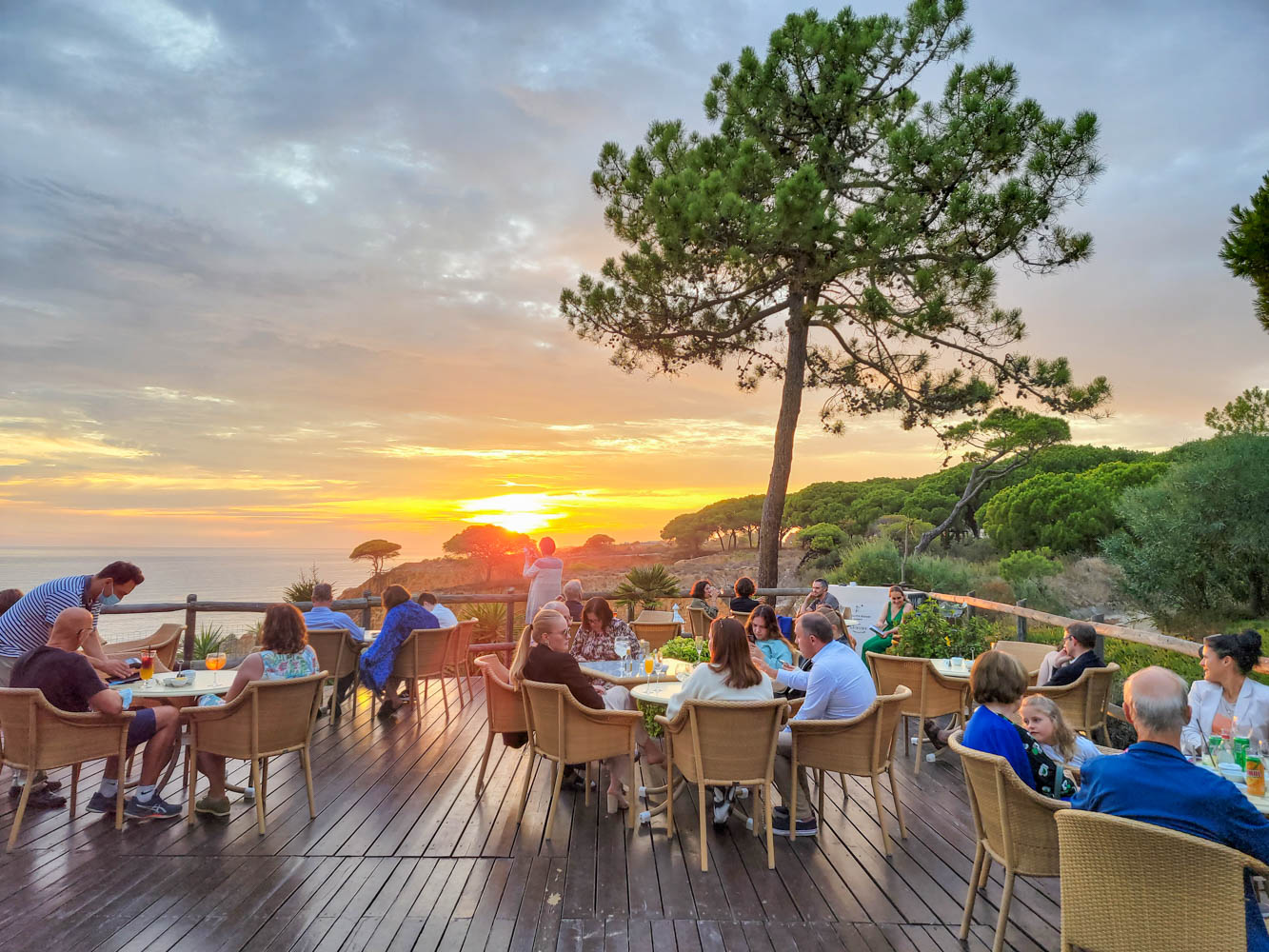 Finally, there is the Mirador Champagne Bar. This outdoor, cliffside bar was our go-to spot to watch the sunset every night while at the resort. Although we'd admit that the Champagne prices here were woefully overpriced for what they were offering, the non-sparkling Portuguese wines here clocked in at about $10-$12 per glass- expensive by Portuguese standards but more or less in line with what you'd pay for a glass in the USA.
For this bar, be sure to arrive early because it is highly sought after- often filling up well over an hour before sunset. Savor your wine until the sun goes down, wait for the ceremonial applause for another wonderful sunset in paradise, and, if there are some clouds in the sky, stick around for a bit after as the colors in the sky tend to open up even more once the sun is fully set. We saw so many people leave before the best parts of the sunset every night, and we can only imagine it is because they either didn't know any better or, in the case of someone whose table we ended up getting for sunset, had to leave for dinner reservations. Their loss was truly our gain.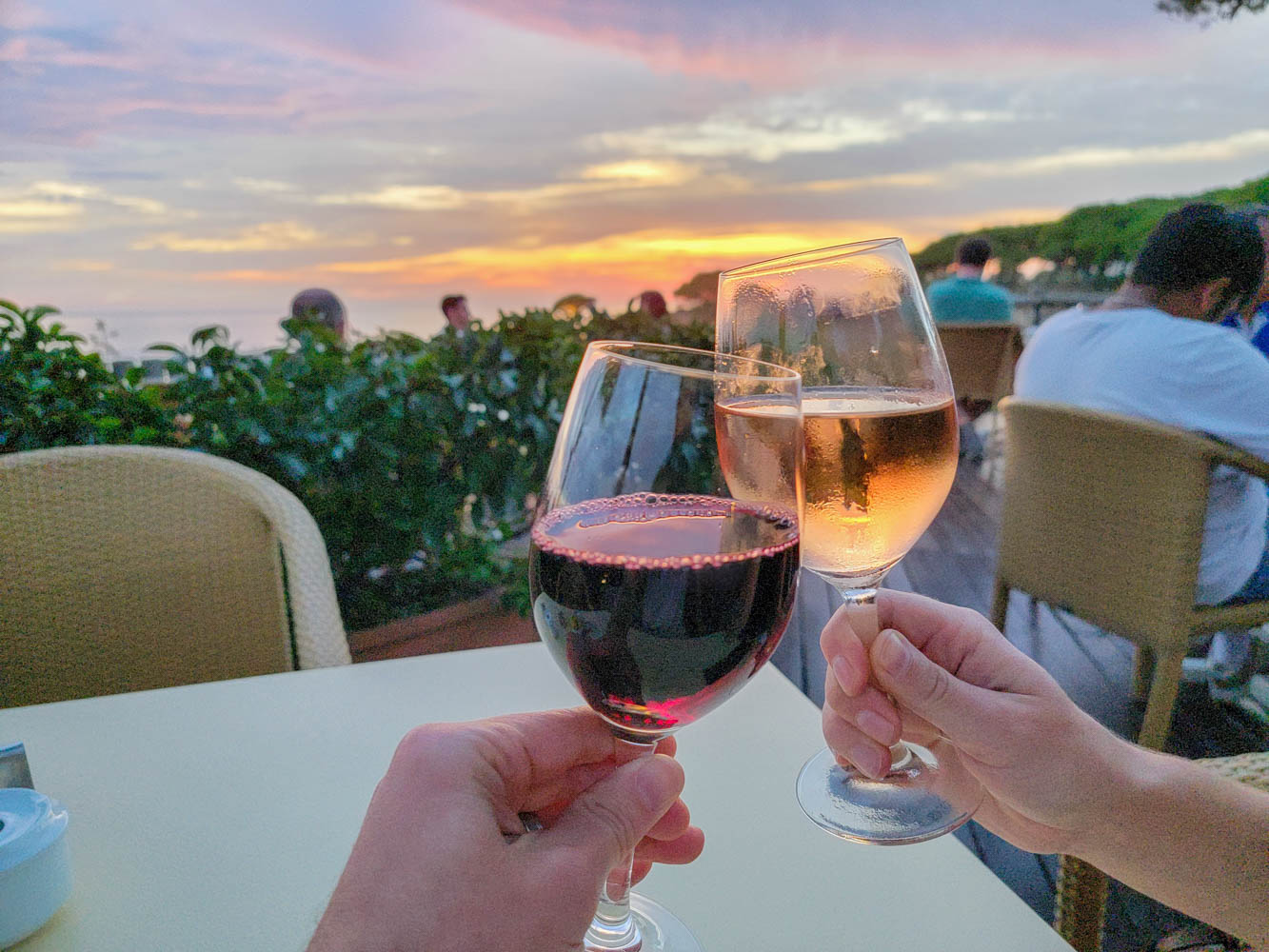 The only real part of the property we didn't get to experience in earnest was the restaurants, as they were all fully booked for dinner by the time we arrived as there was a conference on-site and they were at capacity (although we did eat many a Pasteis de Nata at the buffet breakfast). Thankfully, this meant we got to hit several of the local restaurants just outside the property which helped offset the premium room rate a fair bit as well. For those who want to bail on resort-priced meals, Restaurante Adega TiCosta was a nice typical Portuguese restaurant and Casa do Frango served up some incredibly affordable Piri Piri chicken- both just outside the resort gates.
Overall, our stay at Pine Cliffs Hotel in the Algarve was nothing short of an opulent resort experience. Did it come at a premium? Yes, it was definitely our most expensive stay in Portugal. Was it worth it? Well, to be this close to Algarve's stunning cliffs and gorgeous beaches, it is a small price to pay. We'd gladly stay here again without hesitation.
Marriott's Pine Cliffs Hotel is located near Albufeira in the Algarve. To book a room, click here.
Book a Train Ticket in Europe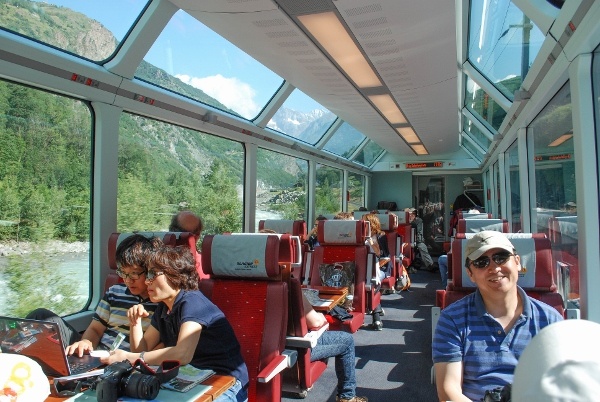 Want to learn more? Check out our Omio review!
About Jeremy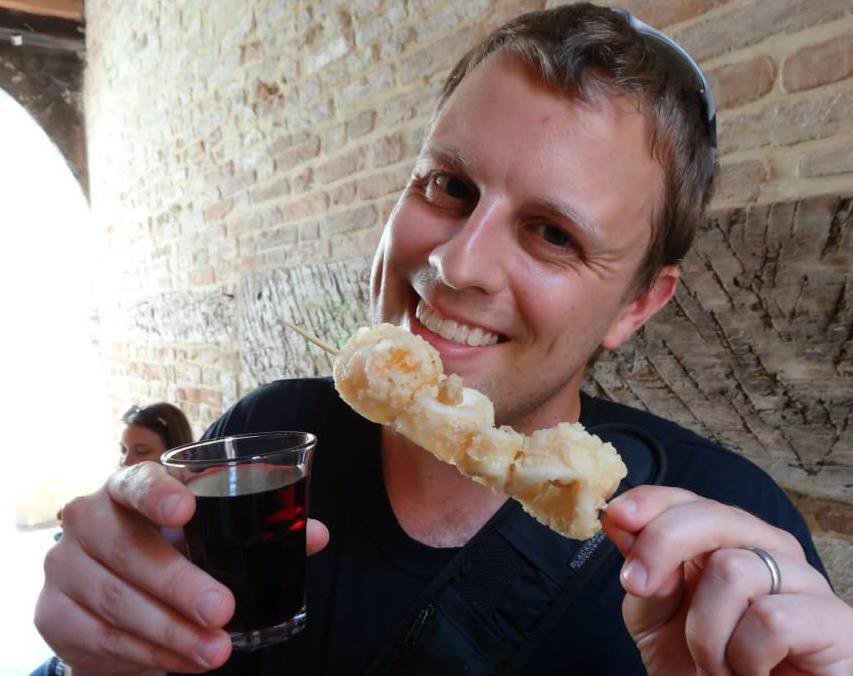 About the Author: Jeremy is a full-time travel writer based in Pittsburgh and primary author of this site. He has been to 70+ countries on five continents and seeks out new food, adventure activities, and off-the-beaten-path experiences wherever he travels.