Published by Angie. Last Updated on October 12, 2023.
Disclaimers: Our site uses demographic data, email opt-ins, display advertising, and affiliate links. Please check out our Terms and Conditions for more information. Listed prices and attraction details may have changed since our visit and initial publication.
Marg & Bein is a prix fixe fine dining restaurant located in Bergen, Norway, that utilizes only Norwegian meats and produce in their 4, 6, or 9-course menus. On our visit we tried the 6-course menu with wine pairings and, although each dish was rather small, the creativity and flavors were outstanding.
The sleek and minimalist typical Scandinavian decor, combined with their hyper-local focus, offers a truly unique and of-the-moment dining experience.
A Modern Look at Norwegian Dining at Marg & Bein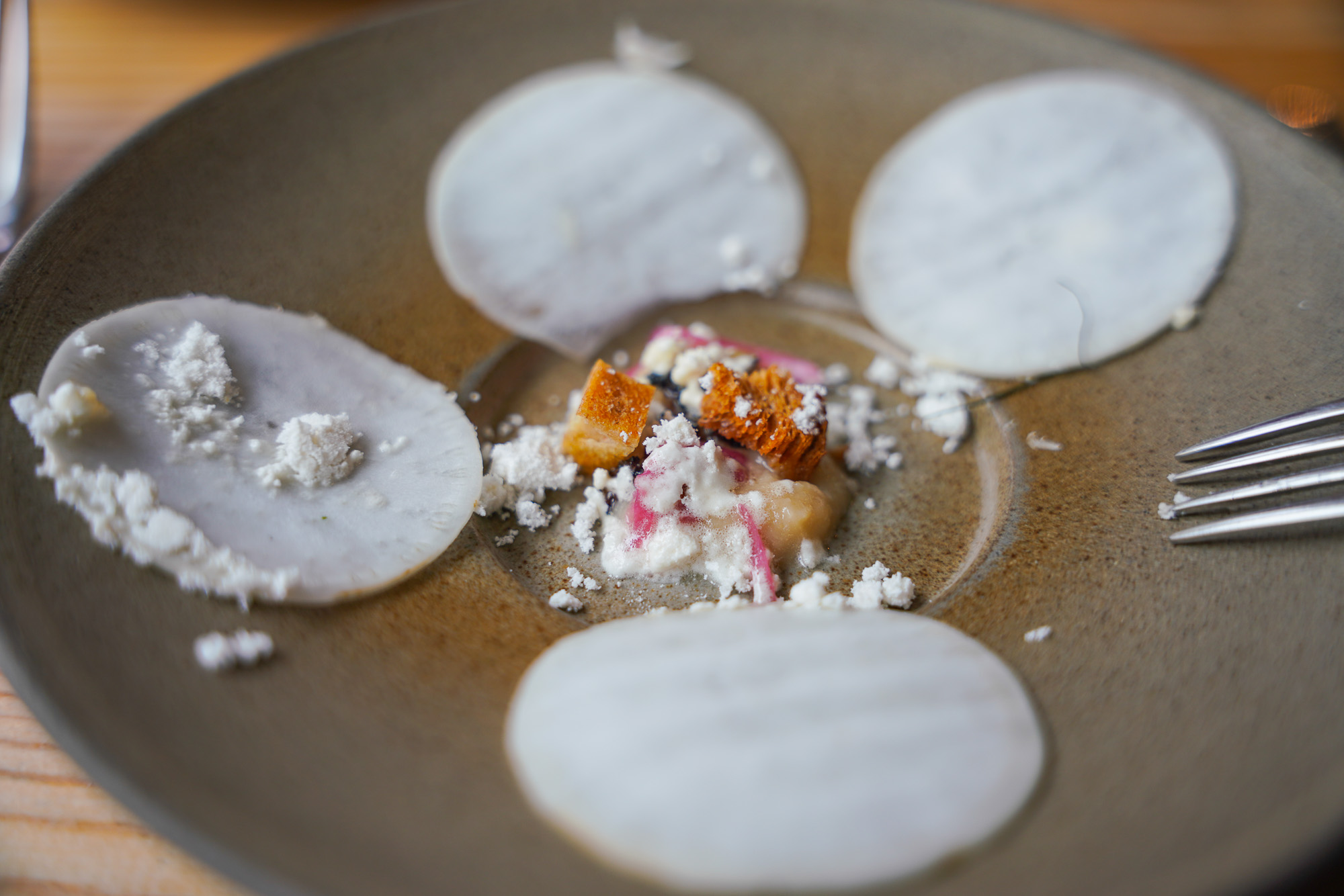 We dined at Marg & Bein on a typical rainy Sunday in Bergen on the evening before our flight back home. The restaurant is located in the heart of Bergen but on a quiet side street with large street-facing windows. As we were seated our server explained the restaurant's concept of using only Norwegian ingredients, and that they only offered prix fixe menus with optional wine pairings.
Seeing as Jeremy had to drive back to our airport hotel that night, we opted for just one wine pairing for myself, plus the 6-course menu for both of us. An amuse bouche soon arrived which was a brisket taco with smokey, tender, delicious meat. We were also served some house-made sourdough bread with pumpkin seeds and butter with toasted yeast.
The first wine pairing was a Chenin Blanc from Swartland, South Africa, which had a good acidity to pair with the first course, a bone marrow dish. Sliced turnips covered the plate; once moved they revealed a celeriac puree with bone marrow and pickled onions. It was savory and rich but punctuated by the sharpness of the turnips.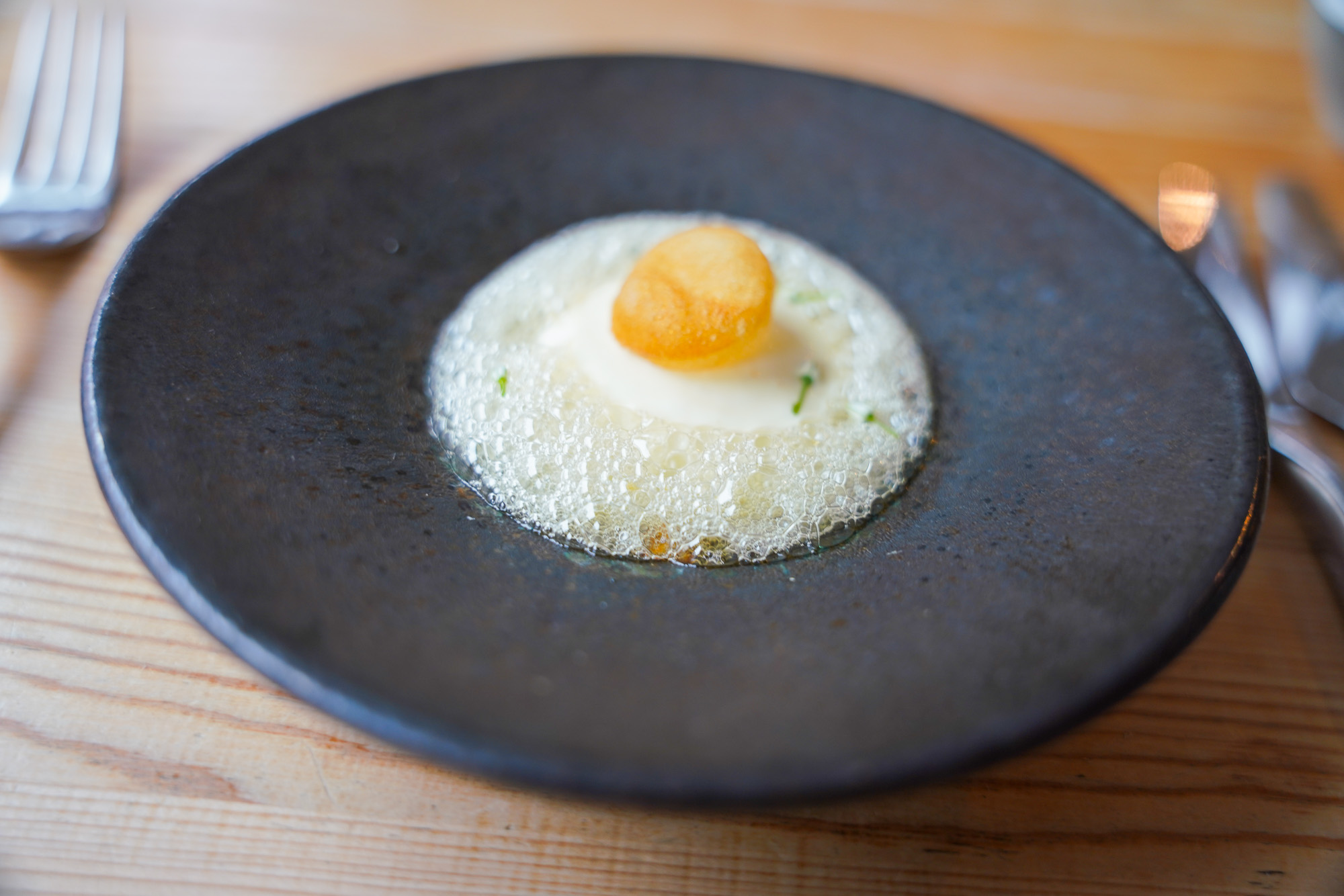 A Morgon was the next wine which was paired with a potato and onion course – my favorite dish of the night! This one had a potato foam, a creamy melted cheese from the Trondheim area, a crispy potato piece in the middle of the dish, and on the bottom were crispy fried onion bits in a rich, oily jus with mini potato dumplings.
The dish was a perfect contrast in textures (creamy + crunchy), and very umami, savory, and well-seasoned.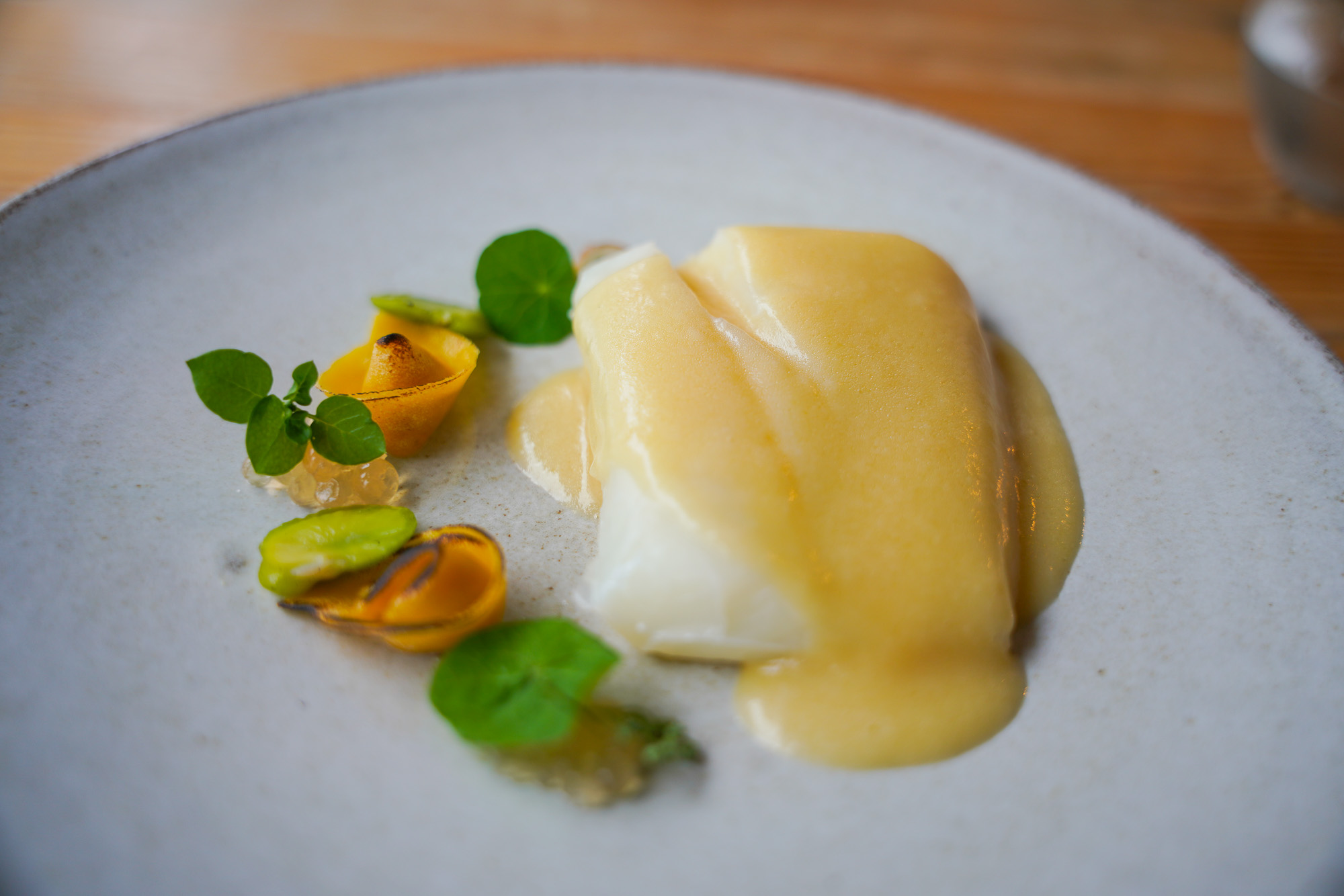 A fish course with a Santa Barbara Chardonnay was served next. A cider beurre blanc topped a beautiful, mind-blowingly tender piece of halibut. On the side were two little tortelli type pastas stuffed with fermented halibut; the tortelli were torched for a smokey taste. Little cider spheres and some green leaves that looked like nasturtium provided pops of color on the dish. We loved this dish for its smooth and luxurious textures.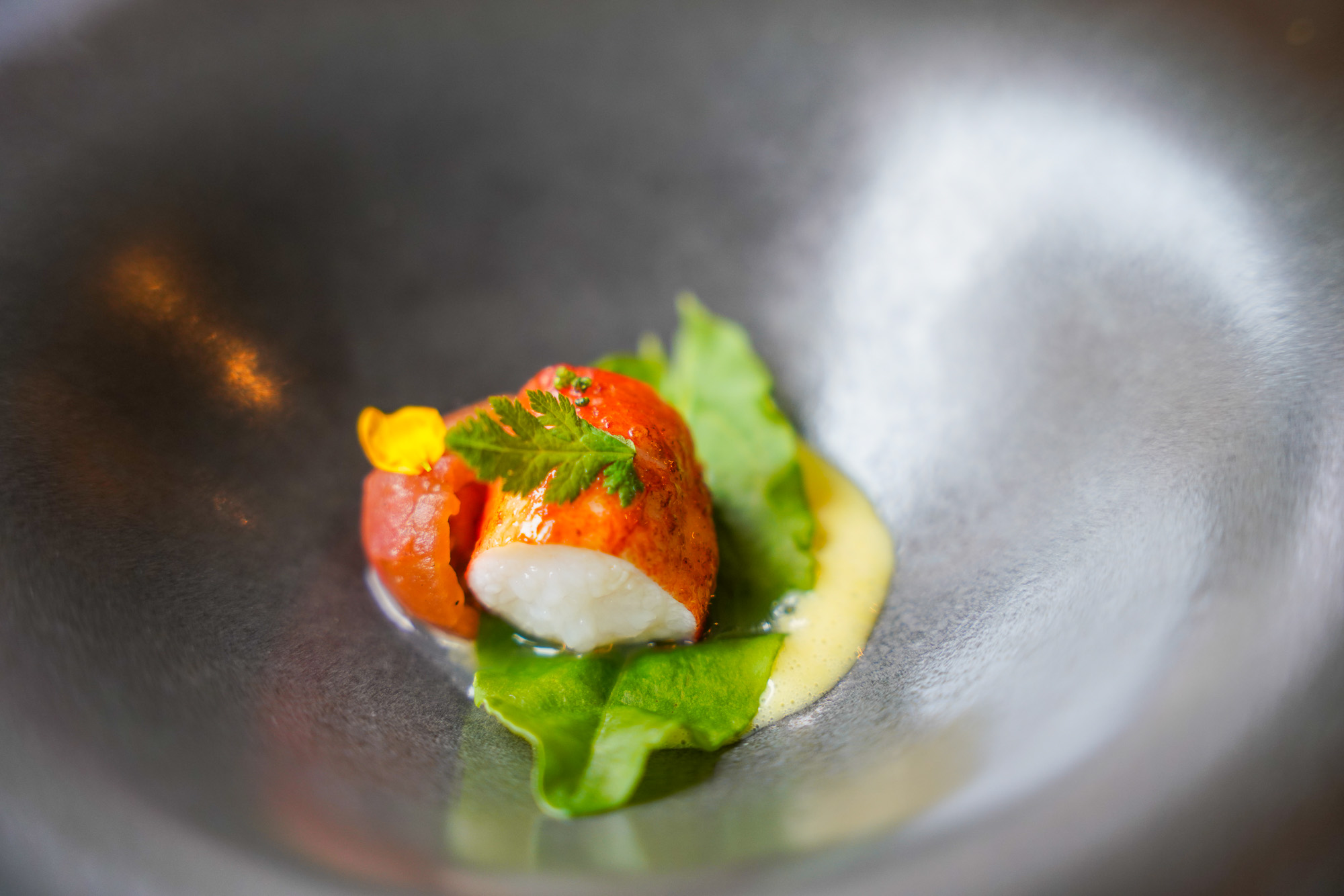 A halbtrocken German riesling was the accompaniment for the next course, a king crab dish. This dish was basically a one-bite dish with a tiny bite of sweet, juicy king crab on top of some fermented crab, all topped with a sabayon sauce for creamy richness, half a cherry tomato for a touch of acidity, and a sorrel leaf. We absolutely loved this dish; we just wish the portion was a bit larger.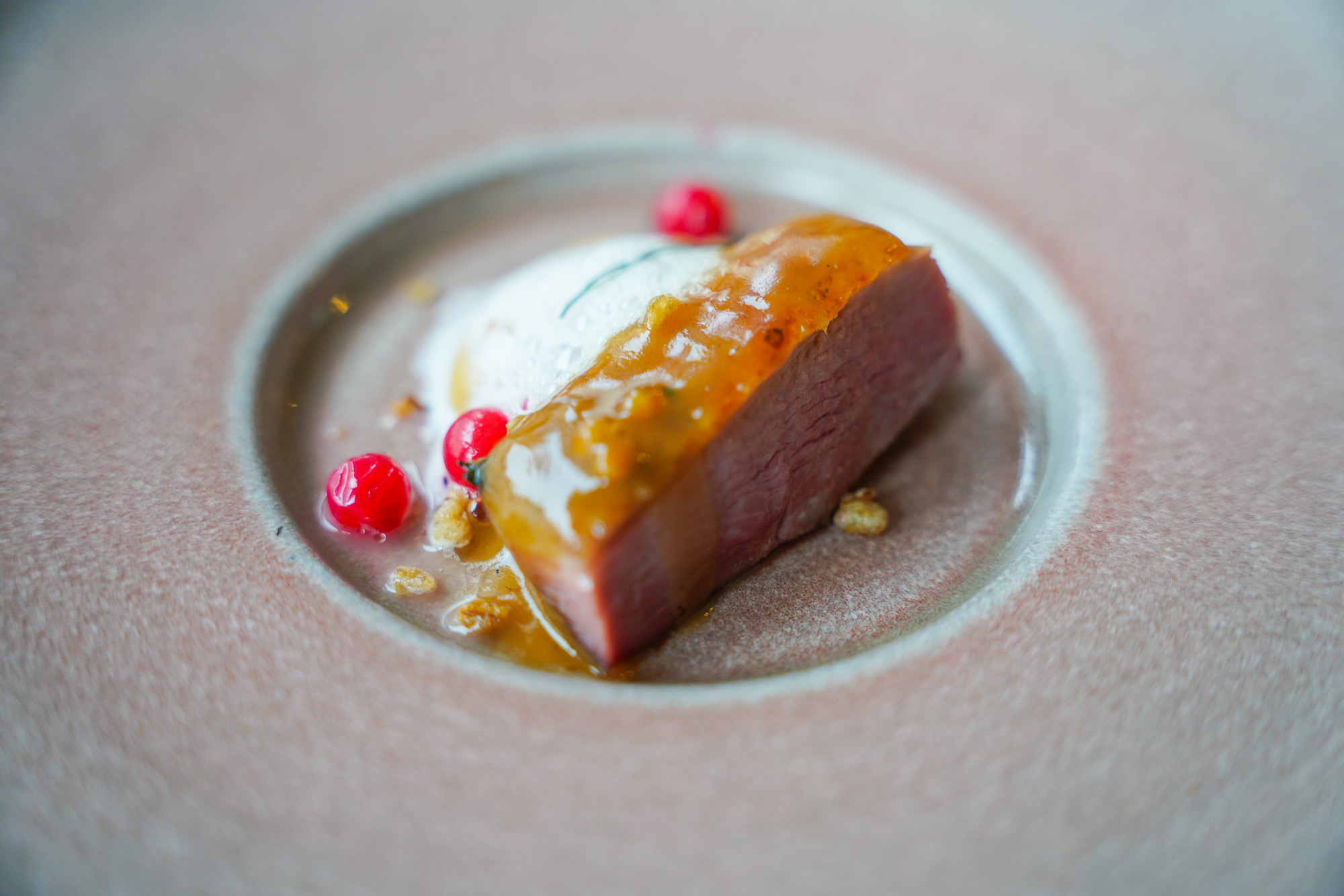 From the delicate fish dishes we moved on to the most intense dish of the meal, a duck course. A Sicilian Nero d'Avola and Frappato blend provided the needed acidity and tannins for this dish. A rich stock-based sauce glazed the top of the duck, and a foam made from a local beer topped it all off. Creamy, floral, rich chanterelle mushrooms were on the side, plus crunchy popcorn bits for texture, and a pop of acidity from a few red currants. The duck was delightfully tender, and we really loved the thought put into all of the flavor accompaniments to this dish.
Last but not least, the dessert course and wine pairing – an elderflower cider from Ulvik cidery in Hardanger that we actually visited on our trip. We had even tried this elderflower cider when we did a tasting there and picked up a bottle because we loved it so much.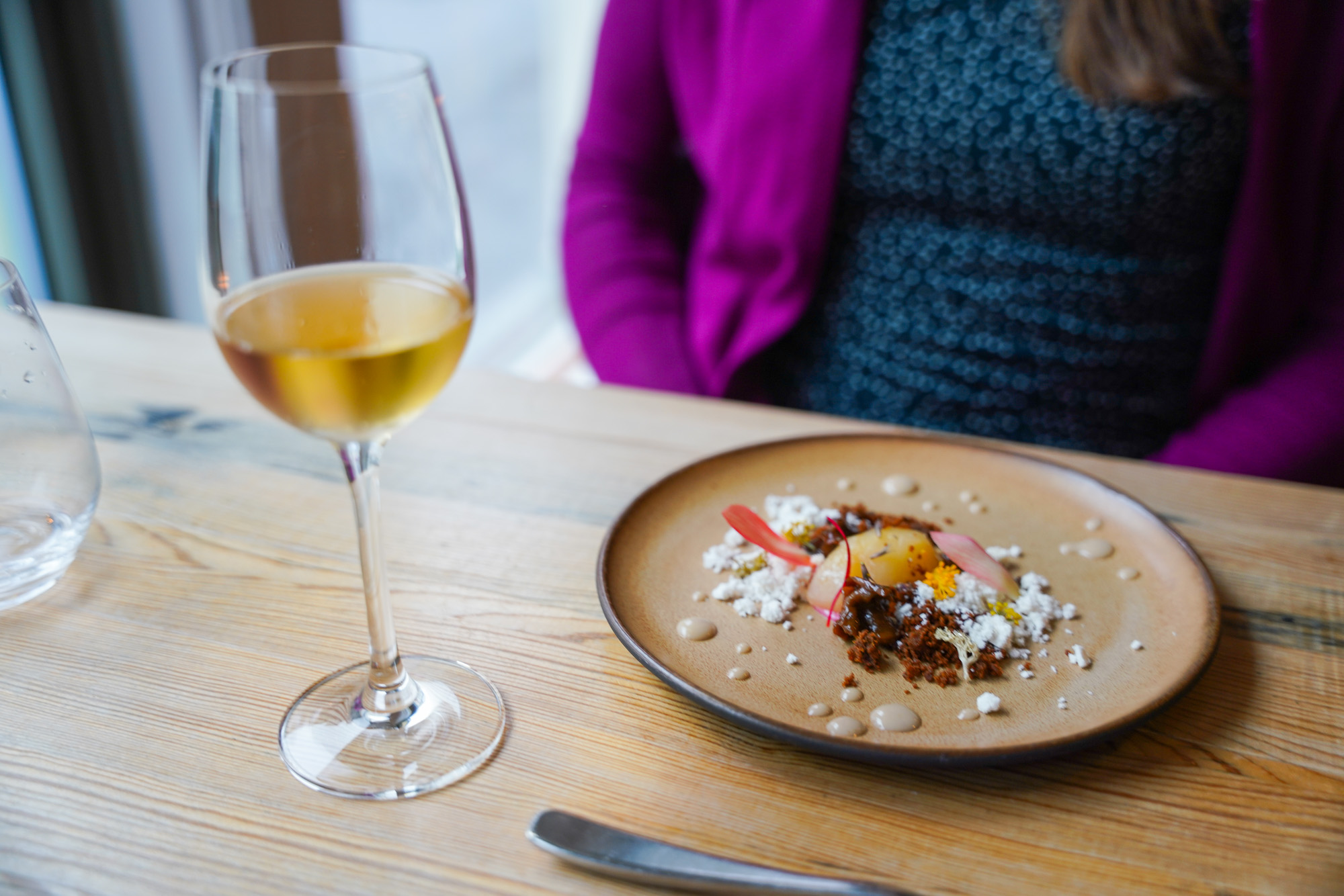 We told our server that we'd been there and I guess the place is a little off-the-beaten path because she was genuinely surprised. At any rate, the elderflower cider was just as deliciously floral and balanced as we remembered (and were really glad we picked up a bottle to take home!).
The cider paired with my second favorite dish of the evening – a slow cooked apple with chanterelles that were cooked down in a caramelized toffee, punctuated by crispy granola-like toffee bits, moss (yes, edible moss!), flower petals, and plum sauce. The chanterelles were the biggest surprise on this dish as they were so floral but earthy and sweet. The moss was also super interesting with an anise/sassafras flavor. The whole dish was delightful, amazing, and surprising, full of beautiful colors, textures, and contrasting flavors.
One final bite came along with the bill – a housemade caramel of sorts made with brunost (Norwegian brown cheese) that was sweet, savory, caramelized, soft, and creamy.
Overall, we loved the intense focus on Norwegian ingredients and flavors here, but we thought the portions were incredibly small for the price (even by Norwegian standards). The service was friendly but succinct, to the point that the wines were presented so briefly and quickly that I sometimes barely knew what we were drinking.
Despite the above points, we still think in general that Marg & Bein is a good option if you want to splurge on a modern Norwegian meal in Bergen if you're interested in local ingredients. The kitchen's creativity really shines here, and you're sure to enjoy some special ingredients cooked in unique and delicious ways.
Marg & Bein is located at Fosswinckels gate 18, Fosswinckels gate 16, 5007 in Bergen, Norway.
Book a Train Ticket in Europe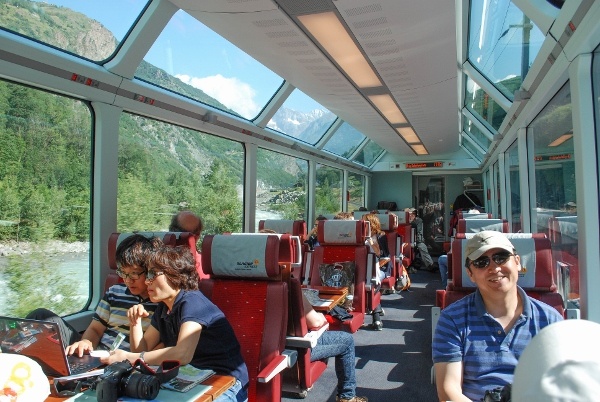 Want to learn more? Check out our Omio review!
About Jeremy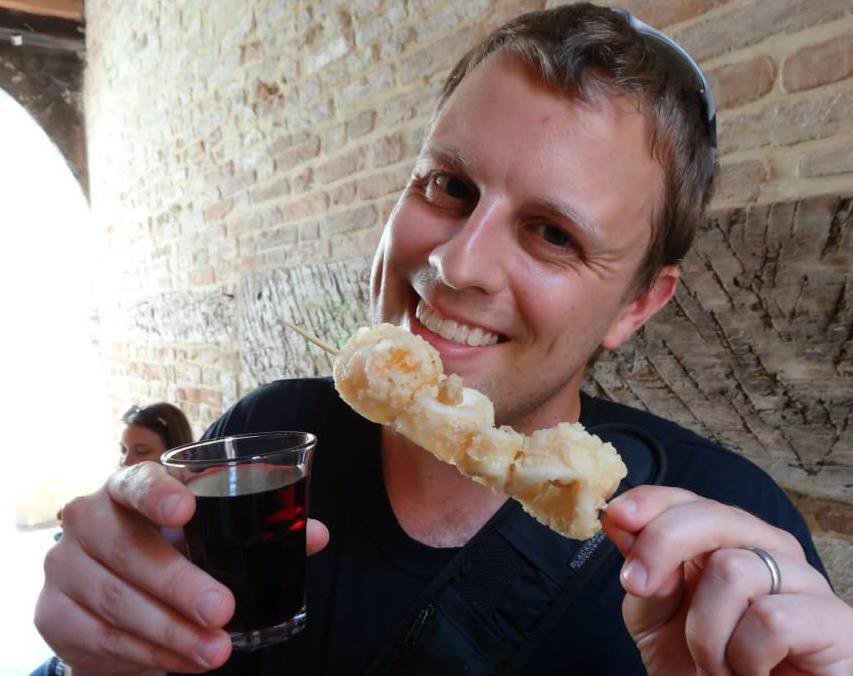 About the Author: Jeremy is a full-time travel writer based in Pittsburgh and primary author of this site. He has been to 70+ countries on five continents and seeks out new food, adventure activities, and off-the-beaten-path experiences wherever he travels.