Last Updated on September 14, 2020 by Jeremy
Disclaimers: Our site uses demographic data, email opt-ins, display advertising, and affiliate links. Please check out our Terms and Conditions for more information. Listed prices and attraction details may have changed since our visit and initial publication.
When we were planning our honeymoon vacation in Spain, Madrid always seemed like a no brainer.  Not only because of all of the culturally important sights and museums the city has to offer, such as the Prado and Reina Sofia museums; but because of its proximity to several other amazing cities in Spain. 
Yes, one of the major reason we chose to go to Madrid was purely so we could leave Madrid, and of all of the options available Toledo and Segovia became our destinations. 
Are we crazy to think this way? Probably, but all the time spent outside of the city was certainly worth it!
Madrid Day Trips are the Best
It seems a bit odd to think that one of the draws to a major European city is to leave, but that is precisely one of the highlights of Madrid. 
As far as large Spanish cities go, it is a near-unanimous viewpoint from many friends, family, and fellow travel bloggers that Barcelona is the place to be.  In having two weeks before we reached the city that everyone talks about, we were really unsure as to why Barcelona got such a great distinction.  
After our first day, we were certain that Madrid has a lot of great sights, tons of wonderful restaurants, gorging on charcuterie and churros con chocolate, and enjoying the art museums that are world class displays of great Spanish and European art. 
But even though these staples of a large European city were a lot of fun, we found ourselves leaving Madrid for two out of the four days we were there.  Why did we leave? Well, Toledo and Segovia were beckoning.
Day Trip #1 – Toledo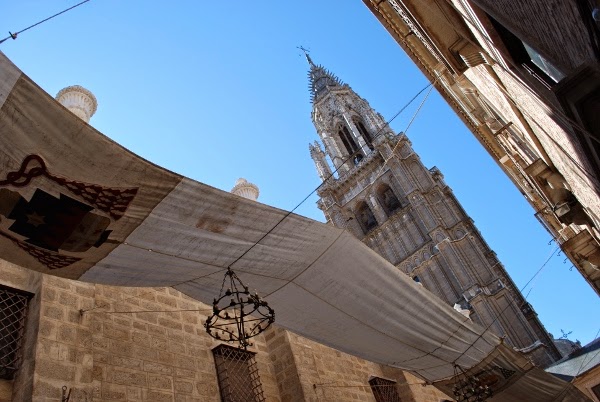 In many respects, a visit to Toledo is like a step back in time. The bustling streets of Madrid are traded for narrow cobblestone streets that can barely pass one car let alone foot traffic.
Newer and renovated buildings are few and far between and buildings that have stood in the same spot for centuries takes its place. 
Before heading out for this day trip, the only piece of advice that people had given to us was a simple statement: Get Lost. 
In Toledo, you are either on top of the hill in the old town, or you are not.  Since the old town is where most travelers like to be, it is pretty easy to stay on the right track even if you have no idea where you are at any given time.  The roads twist and turn, and getting lost will quite simply put you back in the place you began just a few minutes or hours later.
In fact, the entire experience of visiting Toledo is a bit disorienting.  But after a couple hours of wandering the streets, you'll have a very good grasp of the city layout and your trusty map. 
But what exactly is there to see?  The gem of Toledo is the cathedral, one of the largest we visited throughout our time in Spain; often considered to be one of the largest in the world by volume. 
Get a timed ticket for the top and great views of the old town are your reward as well as being able to learn the history of one of the heaviest bells in the world (be warned, guides are conducted in Spanish).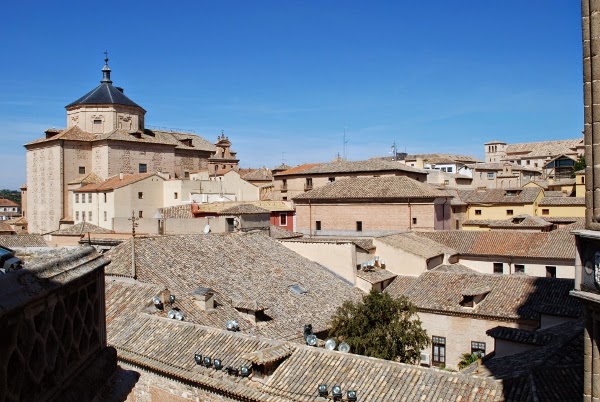 After the central Cathedral of Toledo, most of the other attractions are either afterthoughts or up to your own personal discretion.  Interested in a 1,000-year-old mosque? The Mezquita Cristo de la Luz will be your preferred stop, even if the building itself is incredibly small. 
Want to see one of the most famous works of El Greco?  Then Iglesia de Santo Tome is for you.  But for us, Toledo was for walking, and we opted to avoid the tourist pass for these major entries instead to enjoy the serenity of getting away from the other travelers and enjoying Toledo the way it should be – with complete isolation and wanderlust without the aid of a map.
Day Trip #2 – Segovia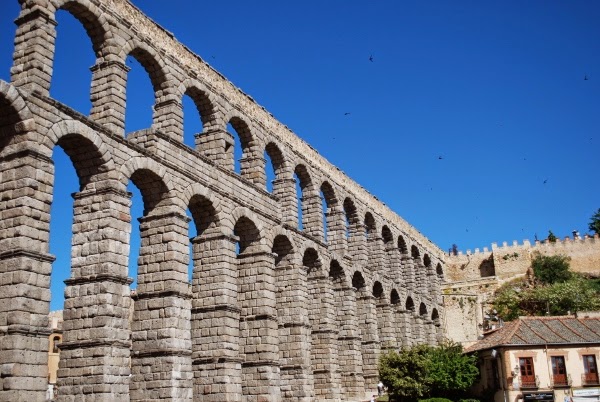 When compared to the day trip destination of Toledo, Segovia seems like a secondary thought for most travelers.  That is not to say that Segovia is not a popular destination. 
This couldn't be further from the truth. 
The only distinction that should be conveyed in this statement is that Toledo is that much more popular for tourists who only have the choice of picking a one-day trip location. 
It is almost because of this one fact that we enjoyed Segovia slightly more than our day trip to Toledo just 48 hours prior.  But it also had the Alcazar, the beautiful castle of Segovia.  For that very reason, Toledo simply cannot compete.
The 11th century castle known as the Alcazar is the star of Segovia as it has been decorated, redecorated, and restored many times over the centuries such that it houses influence from all of the major artistic styles the world has known in the last thousand years.  As inspiring as the inside of the castle is, there are two main highlights to the visit that you would not think. 
The first is the walk to get to the castle itself, as you end up walking through the entire old quarter of the city from the bus stop before ultimately reaching a lookout point where the castle stands.  This walk includes a stroll past the 2,000 year old Roman Aqueduct and the historic Cathedral of Segovia amongst several other beautiful spots. 
The second is the view from the castle itself.  The view from the top of the tower is only available for those who purchase the extra ticket, but is something we highly encourage to do after touring the entire castle grounds. 
The reward for the extra hike up the tower is a beautiful view of the city of Segovia and everything you walked through to get to that point throughout the day.  With a 360 degree view, you may never want to leave.
Yep, that'll do.
Visiting Spain soon? Be sure to book your Spain train tickets in advance to get the best prices and routes!
Book a Train Ticket in Europe with Omio!
Traveling around Europe by train? Book your ticket with Omio to get your trip locked in today!

Omio is one of the leading train booking services out there and can get your tickets booked fast, cheap, and get you out exploring right away!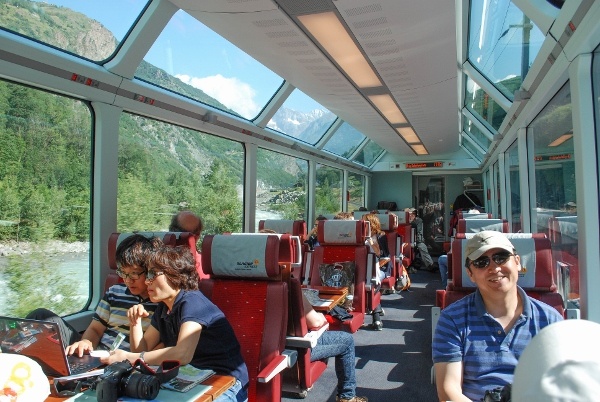 Click here to read more!
About Jeremy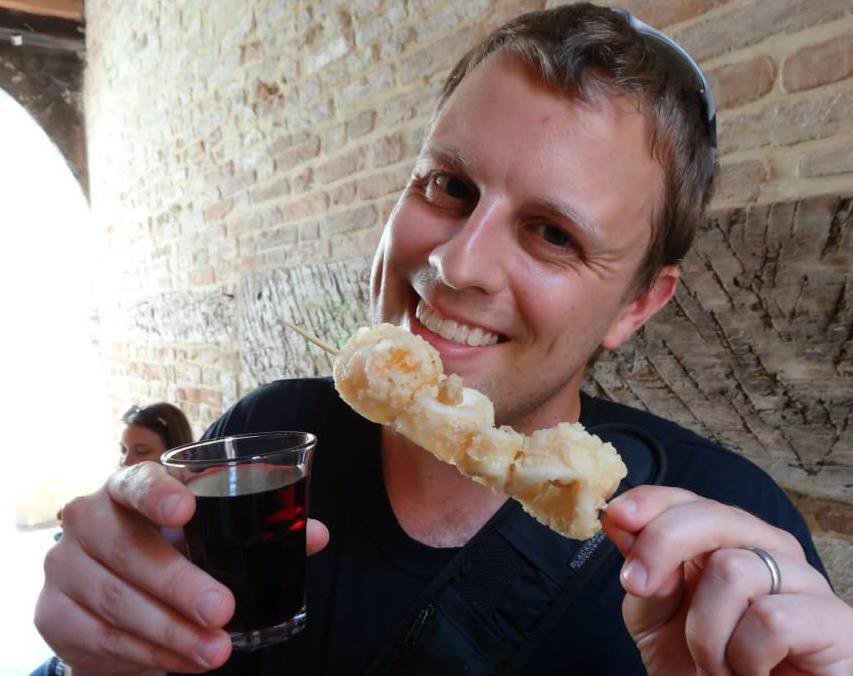 About the Author: Jeremy is a full-time travel writer based in Pittsburgh and primary author of this site. He has been to 70+ countries on five continents and seeks out new food, adventure activities, and off-the-beaten-path experiences wherever he travels.