Published by Jeremy. Last Updated on January 23, 2023.
Disclaimers: Our site uses demographic data, email opt-ins, display advertising, and affiliate links. Please check out our Terms and Conditions for more information. Listed prices and attraction details may have changed since our visit and initial publication.
Whenever we talked to other travelers who have visited Portugal, one of the first questions they would ask always was "Are you going to Sintra?"
It was almost comical how fast this question would come up.
The answer was, "of course we are going to Sintra", and we went there on our second full day in Portugal. After visiting, we can see why this spot was such a highlight as it was a truly amazing day trip from Lisbon.
In this one, we don't want to convince you to go to Sintra. Odds are good you already have it on your agenda (although we're going to talk about it a bit). Instead, we want to talk about the different Sintra day trip options you have and why taking the train may be the best option.
Why Should You Day Trip from Lisbon to Sintra?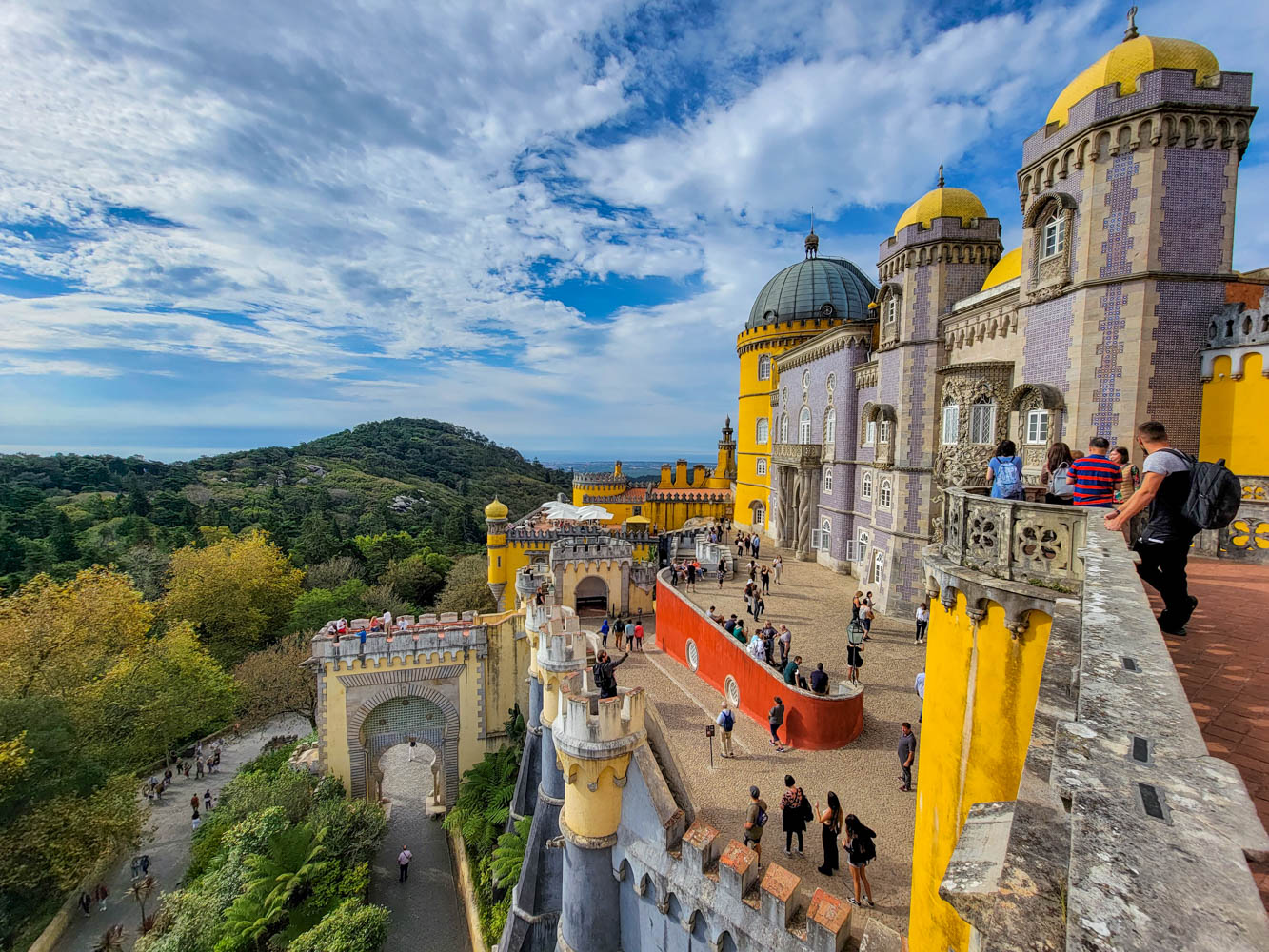 Sintra is an incredible town located in the hills just 30 minutes outside of Lisbon by car and roughly 40 minutes by train. It is home to several historical palaces with period decor as well as ruins of a Moorish castle dating back to the 8th century to name a few.
As such, during a visit here you can take a trip back through over 1,000 years of Portuguese history all by visiting three sites located at various points upon the hillside.
The crown jewel of Sintra is the Palacio da Pena at the top of the hill. This spot first was a chapel, then a monastery constructed at the end of the 15th century (and mostly destroyed in the earthquake of 1755), and the ruins were rebuilt into a palace by King Ferdinand II in the early 19th century.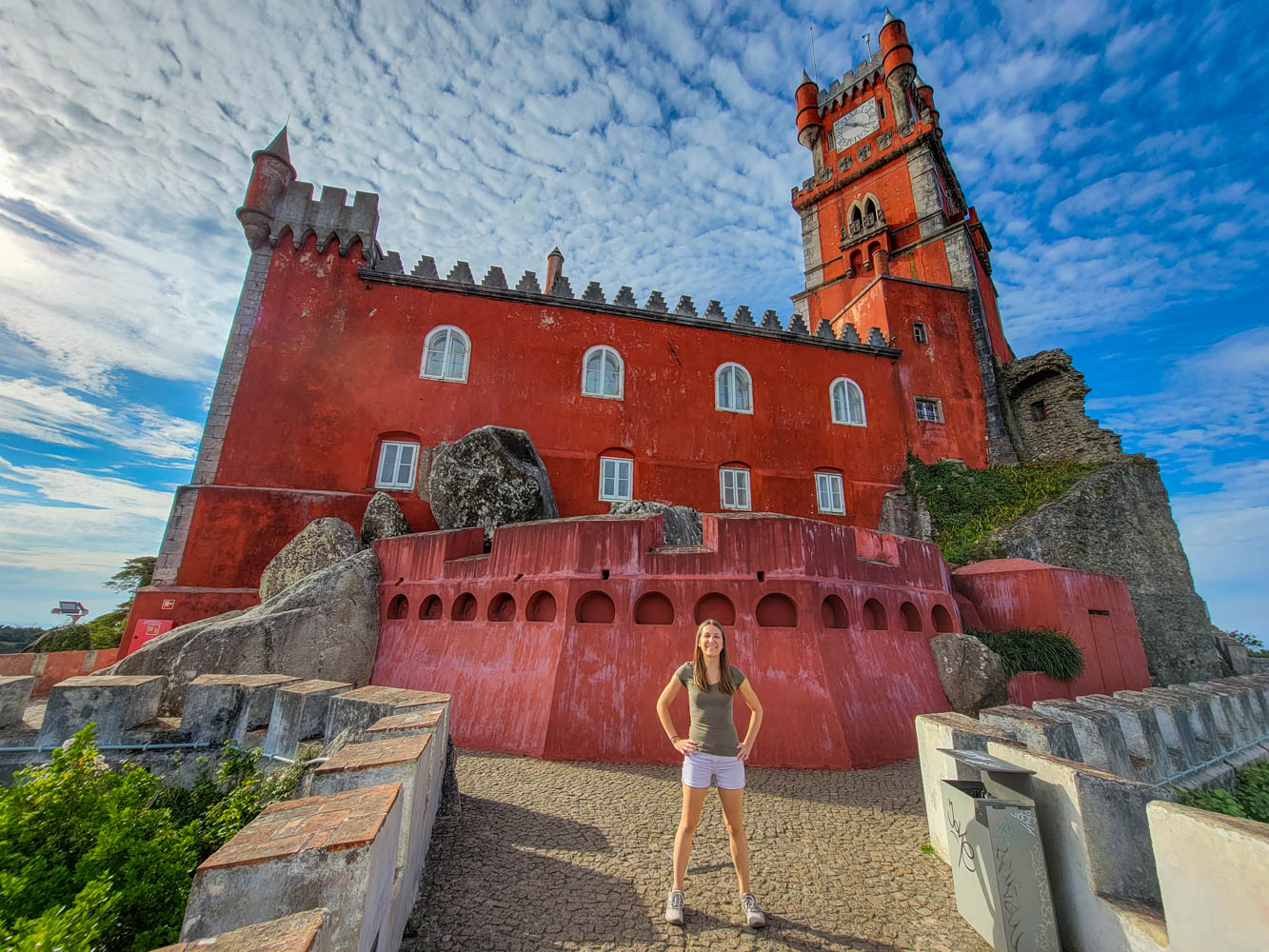 The design of the palace is a bit unlike any other you'll see in Portugal. It is massive, perched at the top of the hill, and painted in such vibrant colors that would put both Disney and Gaudi to shame. (When there, I said this castle is if those two artists came together to design Hogwarts- it is a pretty close summary of what to expect.)
All-in, these sights come together for a pretty amazing glimpse into Portugal's history and, ignoring that, simply are worth seeing for the architecture alone!
So, what are some options to reach Sintra to explore? We've got three for you.
Drive to Sintra on Your Own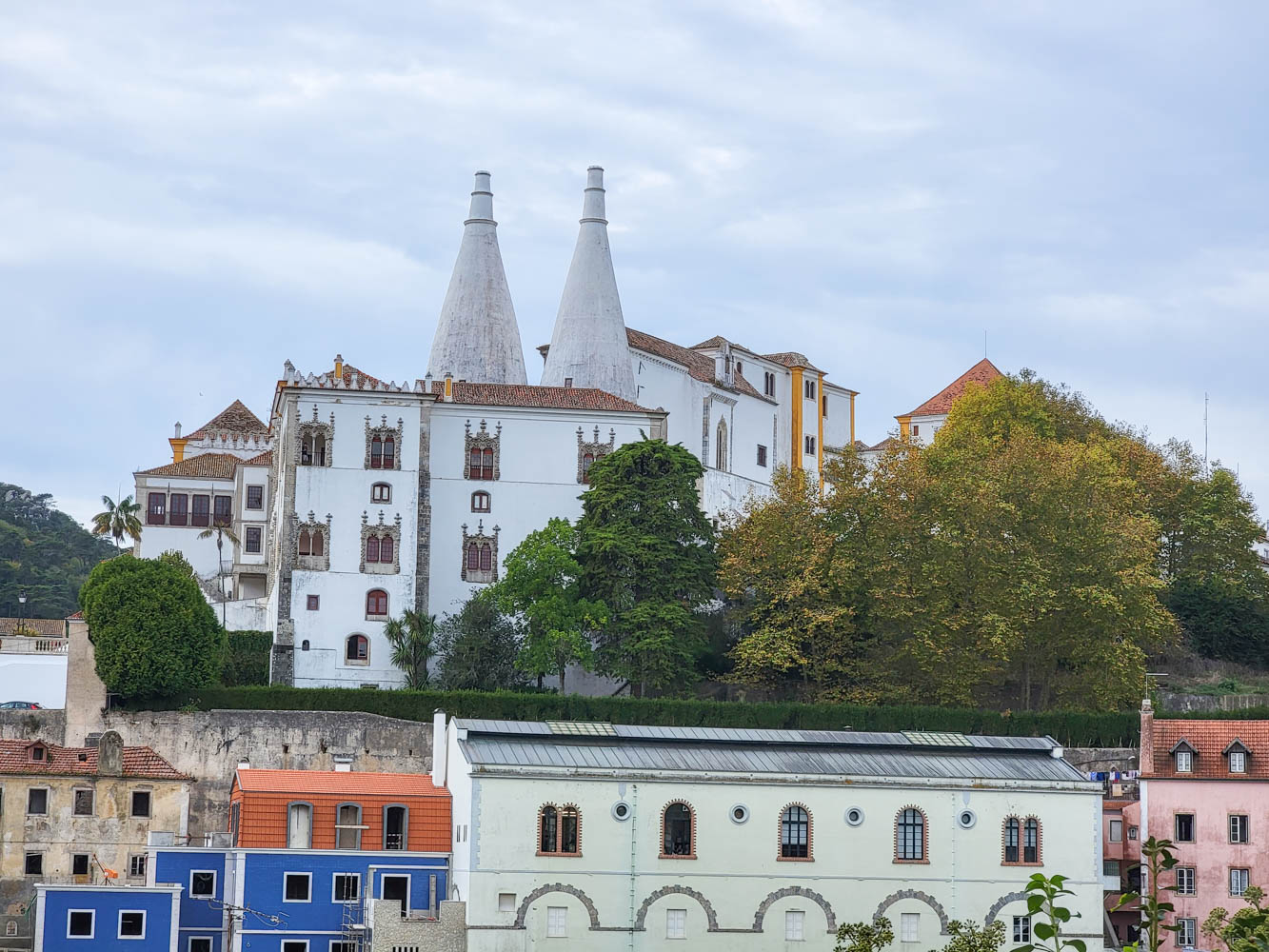 If you are like us, you will probably rent a car to drive around Portugal on your vacation. As such, you may stop and wonder if driving to Sintra would be worth it. If you have a car, why pay for other transit when it is an easy 30-minute drive to the town?
While we can see the merit in this logic, there are two reasons we did not drive to Sintra, and both are quite important to keep in mind.
Driving in Lisbon is chaotic at best- we picked up our car on the way out of the city to avoid driving there outright.
Parking in Sintra is limited relative to its incredible popularity.
The chaos of having a car in Lisbon is pretty self-explanatory. Packed streets, overflowing roundabouts, and a bit more hustle and bustle were enough to get us to commit to skipping driving here outright. We loved this decision and have no intention to ever drive in the city on return trips.
Parking probably needs a bit more elaboration. There are just a few parking lots in Sintra town and it is pretty safe to say they are all full by 9:30 to 10 am when visitors arrive in bulk. In fact, when we were leaving Sintra at around 3 pm, we still saw cars waiting to get into a lot that was completely full.
The parking lots at the top of the hill near Palacio da Pena are not much larger, and also were completely full by the time we left the castle at around 11 am (we can only imagine that, again, it'd be full by about 9:30 to 10 am). Unless you can commit to getting in very early, parking is going to be impossible to come by- even in the shoulder season like when we visited.
But there is one caveat we'd make on who should drive to Sintra, and that is anyone who will be booking a hotel (with parking) and staying overnight. If you have a dedicated parking spot available to you, then this becomes a non-issue. For everyone else, taking the train is a better option.
If you are looking for a hotel to stay in Sintra overnight, click here.
Take the Sintra Train from Rossio Station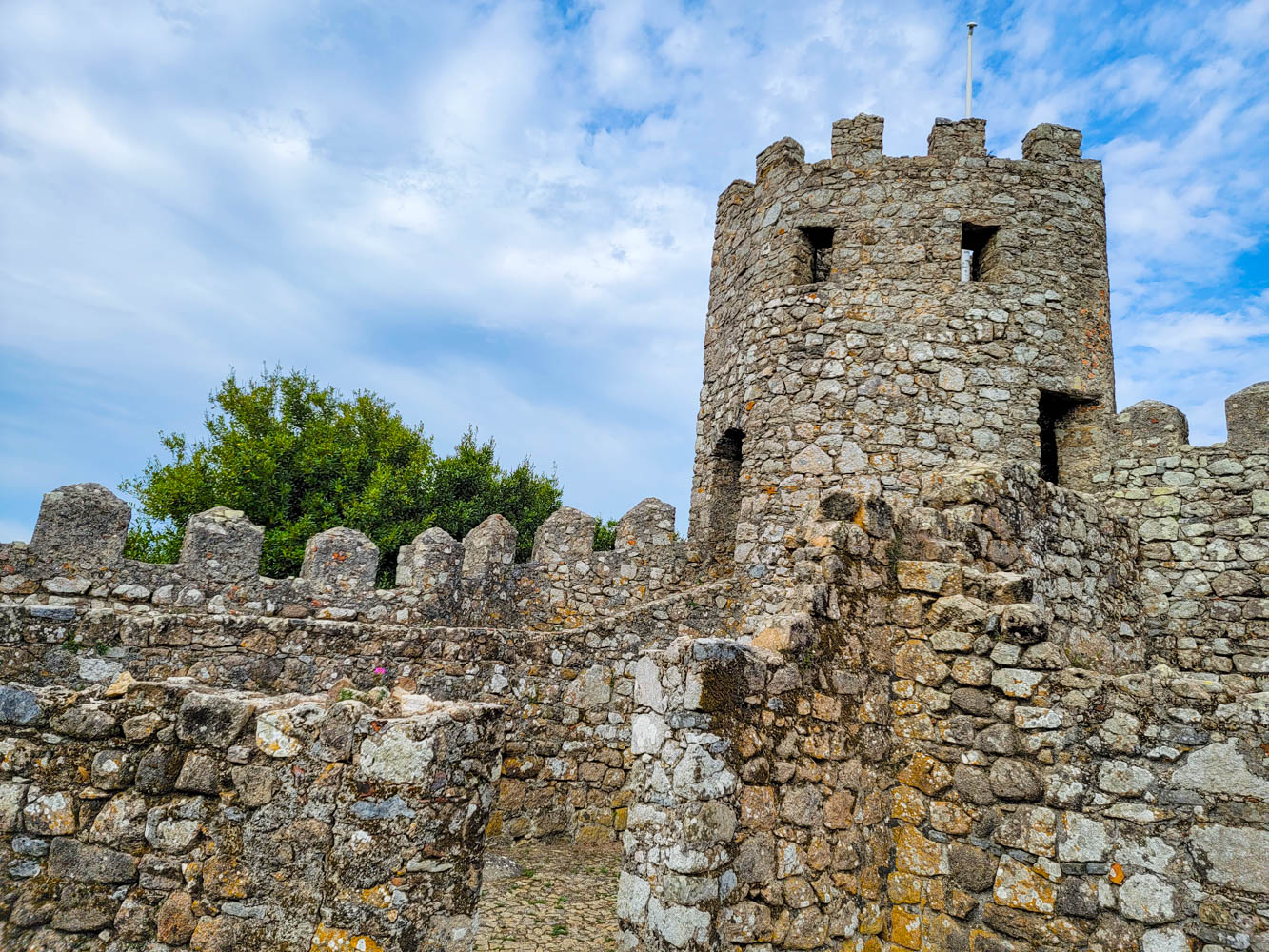 The easiest way to get to Sintra is to take the train from Rossio Station in central Lisbon. Trains depart every 30 minutes or so and cost about 5 Euro round trip for the ~40-minute journey. This is what we did as we stayed at the Marriott Fontecruz Lisboa just a few blocks away, and it was as easy as it sounds.
It would be a stretch for us to say that there is any downside to taking the train. If there are any caveats, we'd simply say to pay attention to train times as although the fastest options take about 40 minutes, you may find a couple of slower trains that take just a bit longer. It is all a matter of convenience at what is the best time for you to depart, but that was the only thing we caught ourselves checking out.
We got up early for our day trip to Sintra, caught an 8 am train, were in the heart of Sintra town by 9 am, had a brief breakfast, and walked up to Palacio da Pena by about 10 am (roughly 30 minutes after the palace opened). We then had the place virtually to ourselves for about 30 minutes before the masses started arriving via the 9 am trains and organized day tours.
So if you want to have the possibility of any sort of quiet time at Palacio da Pena, departing no later than 8 am is worth it.
In planning our day trip to Sintra, we found many sources that suggest starting at the palace in Sintra town and ending at Palacio da Pena. This felt like terrible advice unless you went much later in the day when most day-trippers would be departing. The crowds are no joke here.
Take a Guided Tour of Sintra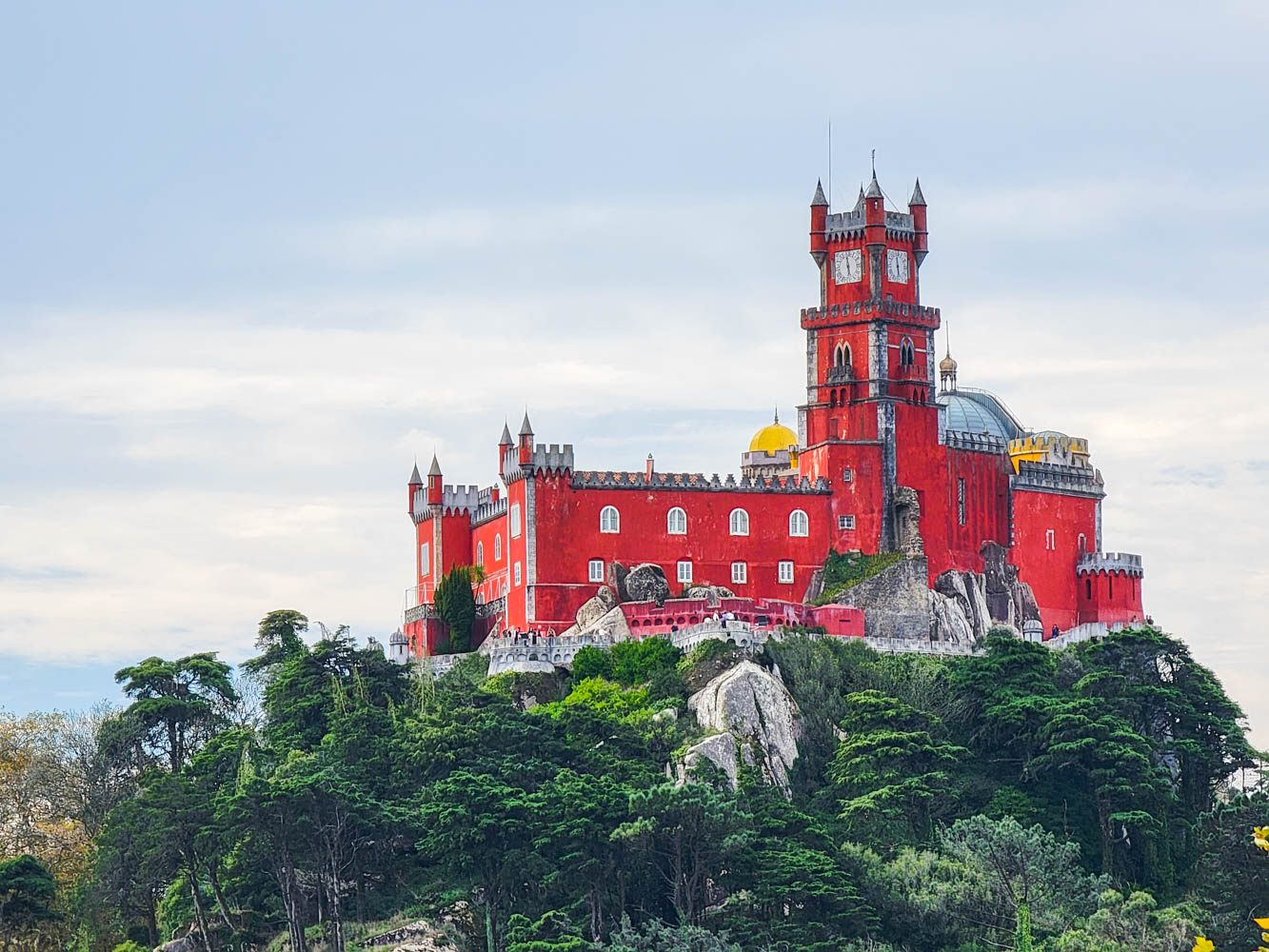 The final option to reach Sintra is to take one of the many guided day trips from Lisbon to Sintra. These are organized tours conducted via bus or van and really take out all of the planning of the day.
There are, of course, tradeoffs for the convenience here- namely in the price and how much time you are allowed to have at each of the major sights (which is the case on virtually every day trip out there). But there may be other bonuses like being able to explore Cascais as well.
For Sintra on its own, at least, we personally think that because of how easy it is to get to Sintra by train, day trips should only be considered by those who need the extra transit assistance or aren't staying near a train station, those who want a fully private tour with guide, or those who want to do a combination tour that also includes nearby places like Cascais. If you simply want to go see the castles and return to Lisbon, the train is the best option by far in order to explore at your leisure.
Whatever way you choose for your day trip to Sintra is up to you, but when it comes down to it, you simply need to go. If this means driving, drive. If this means taking the train, take the train. If this means taking a guided tour, take the tour. The only wrong answer when it comes to Sintra is not going at all, as we really would've regretted missing the palaces and castle ruins in this beautiful town!
Have you taken a Lisbon day trip to Sintra? Which method did you take and what did you think of it? Comment below to share!
Book a Train Ticket in Europe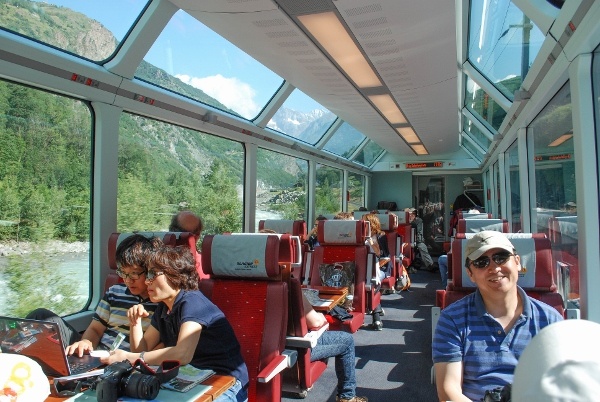 Want to learn more? Check out our Omio review!
About Jeremy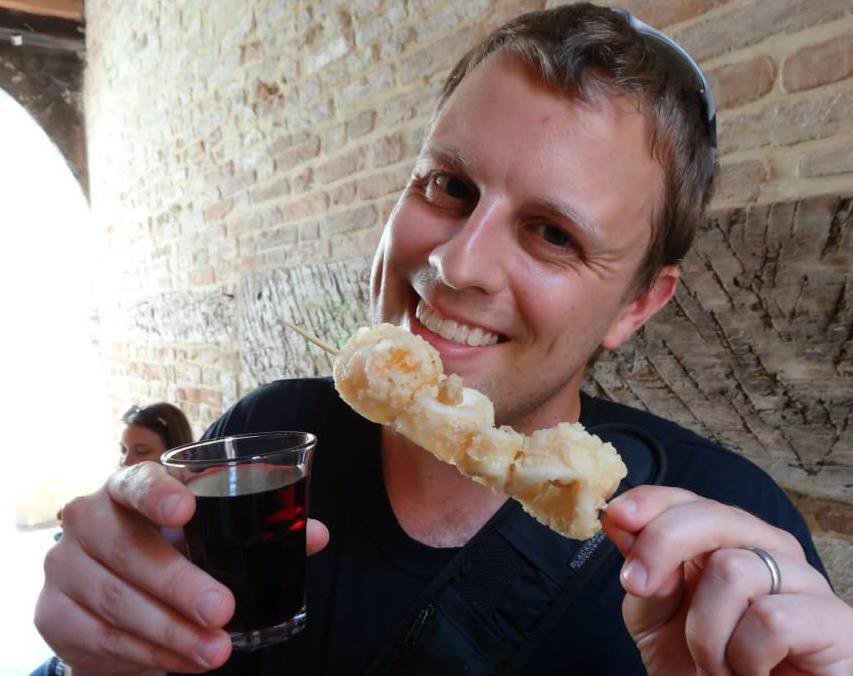 About the Author: Jeremy is a full-time travel writer based in Pittsburgh and primary author of this site. He has been to 70+ countries on five continents and seeks out new food, adventure activities, and off-the-beaten-path experiences wherever he travels.