Published by Jeremy. Last Updated on September 29, 2023.
Disclaimers: Our site uses demographic data, email opt-ins, display advertising, and affiliate links. Please check out our Terms and Conditions for more information. Listed prices and attraction details may have changed since our visit and initial publication.
Seeing waterfalls on the fjords of Norway is often high on every visitor's list.
There are many ways to accomplish this, either by taking a cruise, ferry, boat tour, or, in some cases, simply stopping at an overlook with a car. But in Geiranger, you can check out waterfalls like the Seven Sisters waterfall via kayak as well.
Although this one makes for a long day out, the kayak trip (and, for those up to it, hike to Skagefla) was truly one of our favorite experiences in Norway!
What You Can See When Kayaking to the Seven Sisters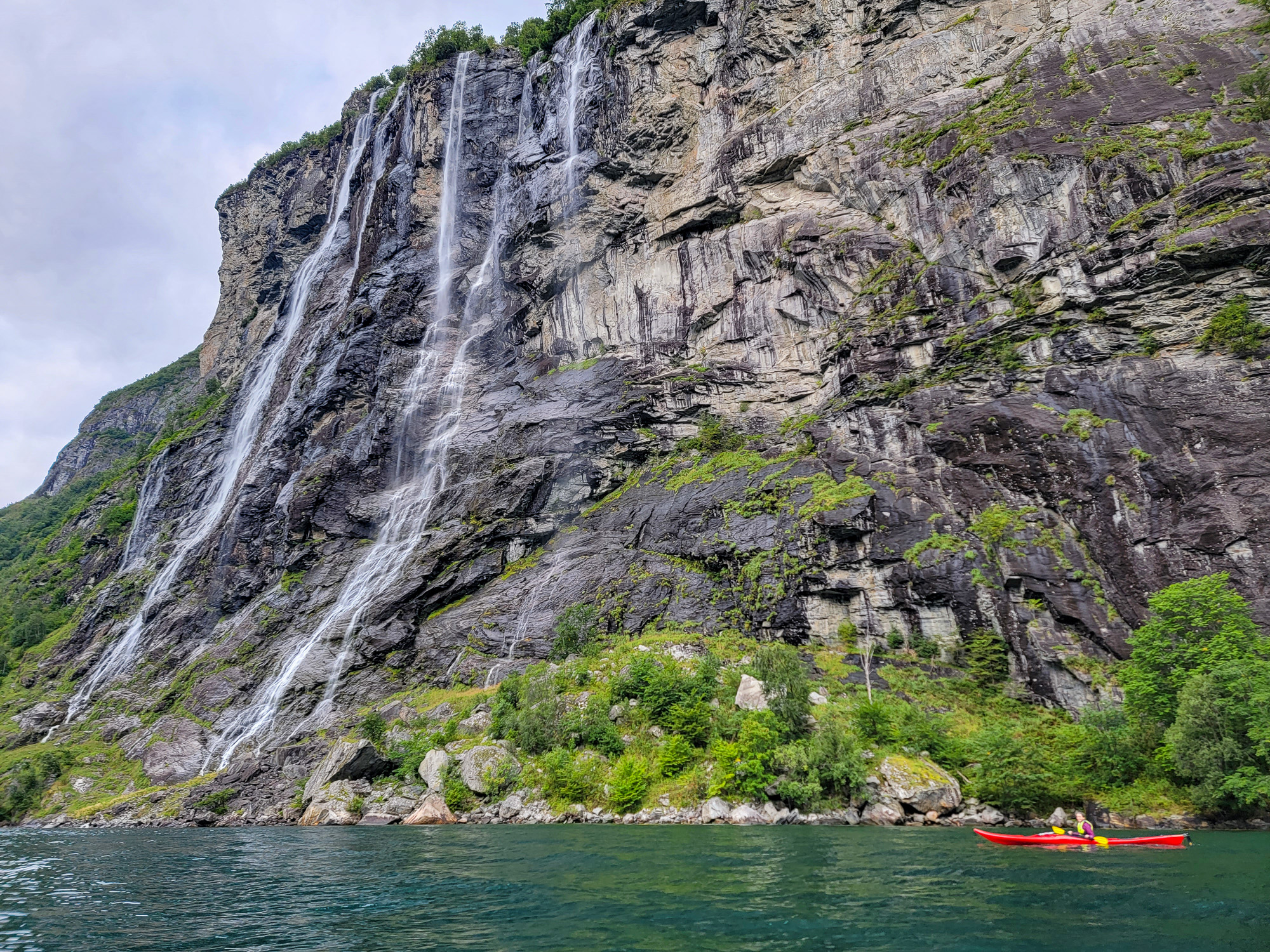 Kayaking to see the Seven Sisters is far more than going out to see the set of waterfalls, as you will be able to see two other waterfalls (Gjerdefossen and Brudesloret) during the trip.
All of these waterfalls are clustered relatively close to each other but require a fair amount of kayaking to reach from the departure points just outside of Geiranger (so get ready for a workout!).
Kayak rental points are found on both sides of the fjord outside of Geiranger town. We rented from the kayak shop at the campground next to the Grande Fjord Hotel.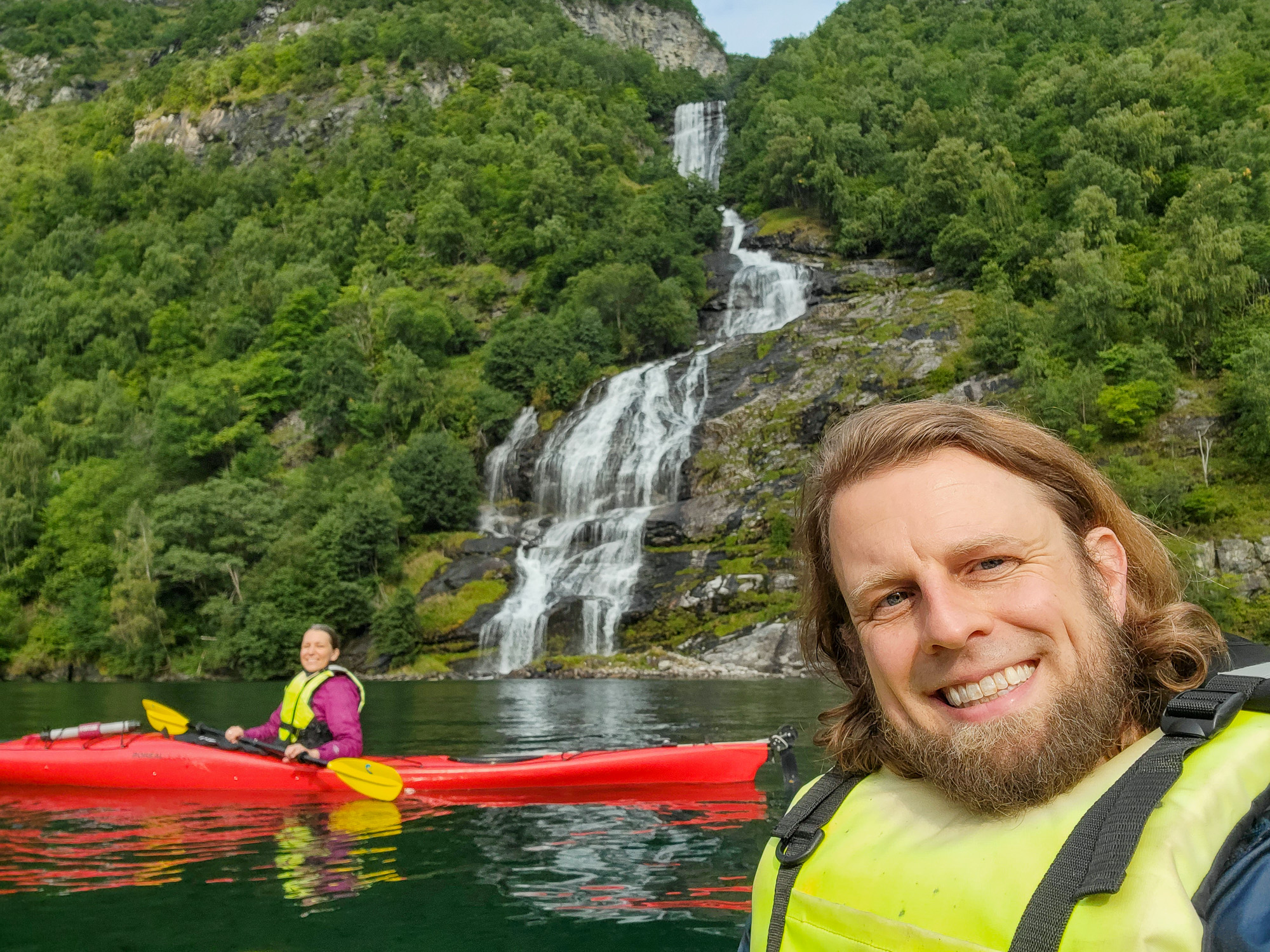 Along the way, you will have an intimate look at the fjord right from the water, with some truly amazing scenery all around. It is truly hard to get much closer to a waterfall than you do at these!
For those who want to take the optional hike up to Skagefla, you get a complete outing as the ruins of the farm (dating back to the Middle Ages) and overlook present one of the best fjord views you will see not only in Geiranger but perhaps all of Norway!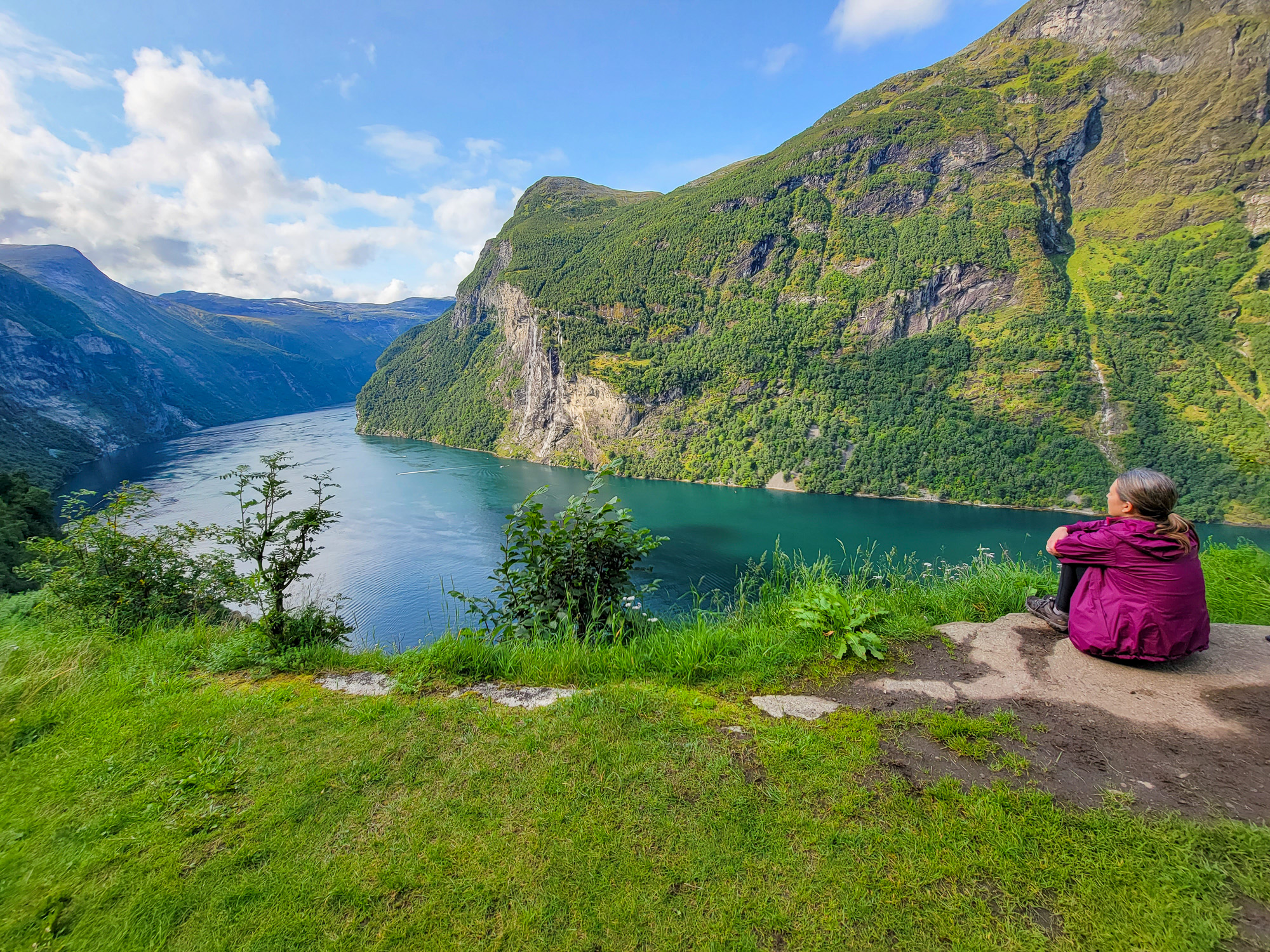 All told, the kayak trip takes about two hours, and those who want to add on the optional hike would need an additional hour. But the farm is reachable from a (much longer) hike from Geiranger in case you want to check it out on another day, too.
Things to Know About Kayaking in the Fjord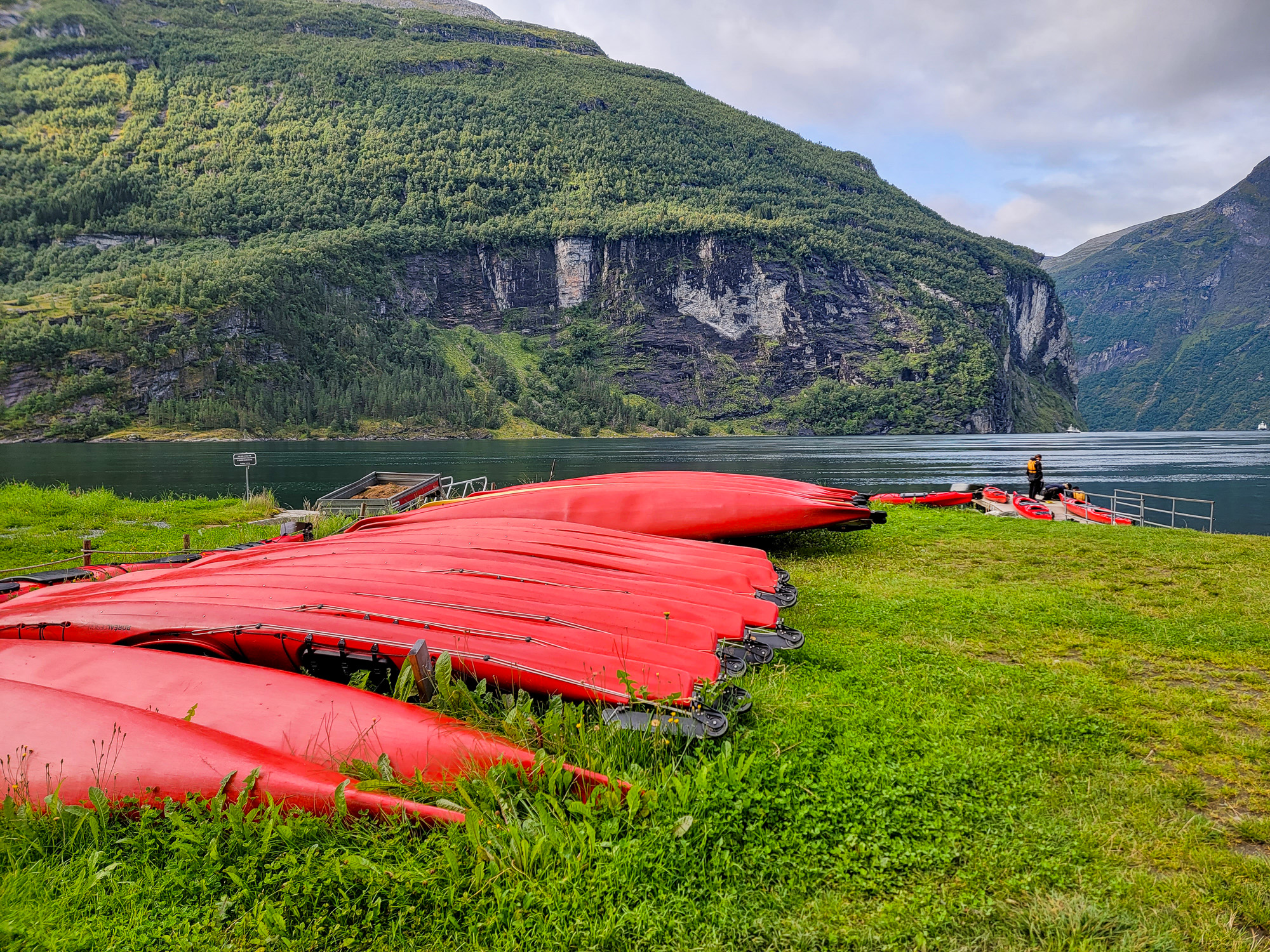 Before heading out to kayak in Geiranger, there are a few things you should know ahead of time.
First, the kayak rental companies generally require you to pay in advance, and rates are invoiced hourly. As such, you'll likely want to know whether you are doing the hike to Skagefla before you head out for the day in order to purchase the correct amount of time.
In most cases, the kayak element out to the Seven Sisters waterfalls and back will take over two hours, so a three-hour rental is minimal. For those who want to add on the hike, another hour would be necessary. As such, we'd recommend renting the kayaks for a minimum of four hours (if hiking) to leave room for relaxing at the viewpoint unless otherwise recommended by your rental agency.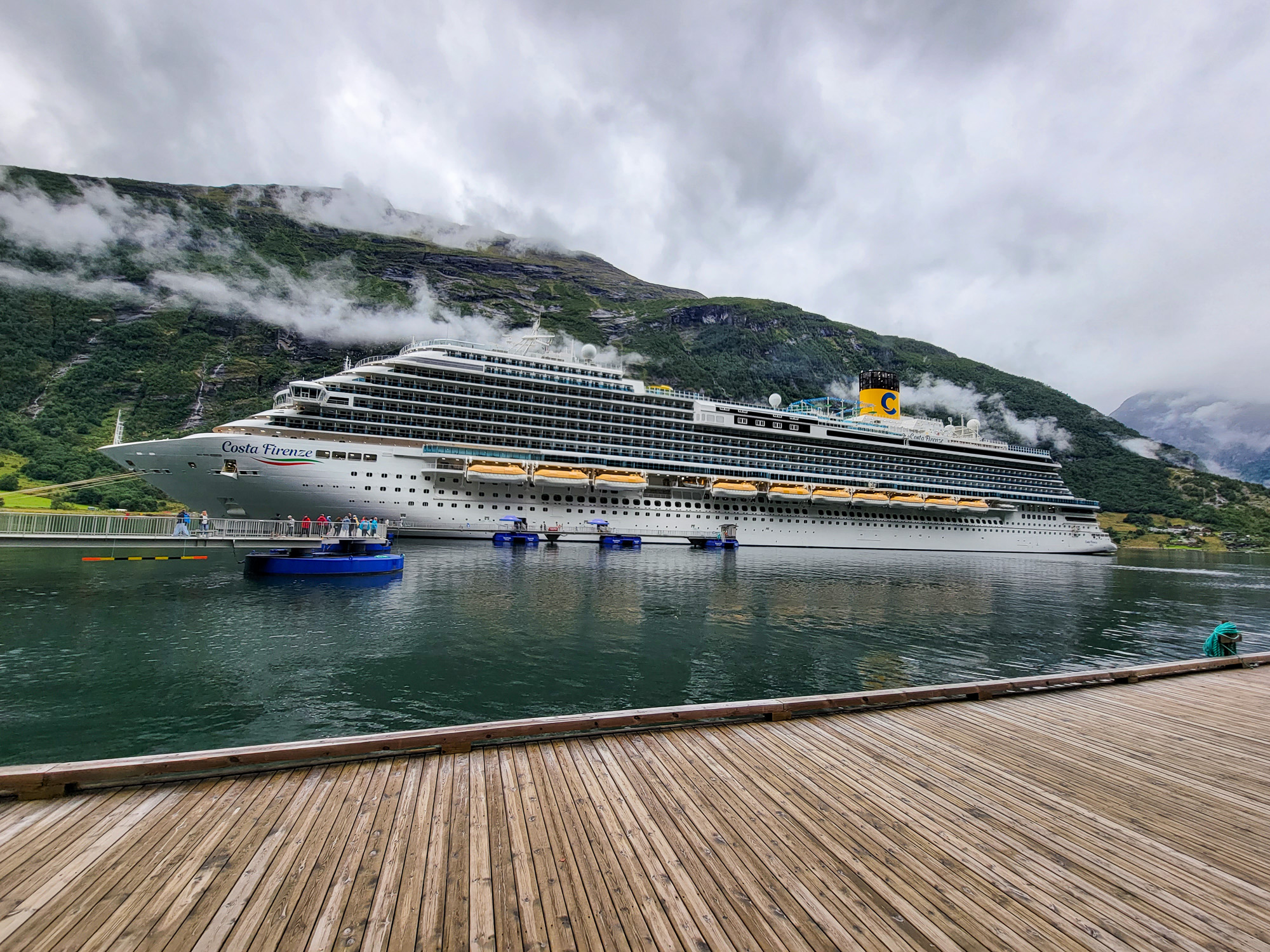 Next, the fjord is an active waterway with many boats of all sizes from small fishing boats to speedboat tours, ferries, and massive cruise ships. Wakes will be common; however, even the largest cruise ships go quite slow and do not generate too much that we would be terribly concerned. That said, you are responsible for getting out of the way, so be sure to time your crossing of the fjord based on the ship traffic you can see coming and going.
Third, the overall distance you will be kayaking is about 10 miles (16 kilometers) round trip. Although the fjord can be pretty calm outside of the wakes as noted above, the distance is likely more than most have kayaked before, so get ready for a workout.
Fourth, for those who want to take the Skagefla hike, remember that the trail itself is strenuous and steep. There are a few elements of the climb up that can be vertigo-inducing with drop-offs on the side, but you will have some railings at the more difficult sections- just don't look down!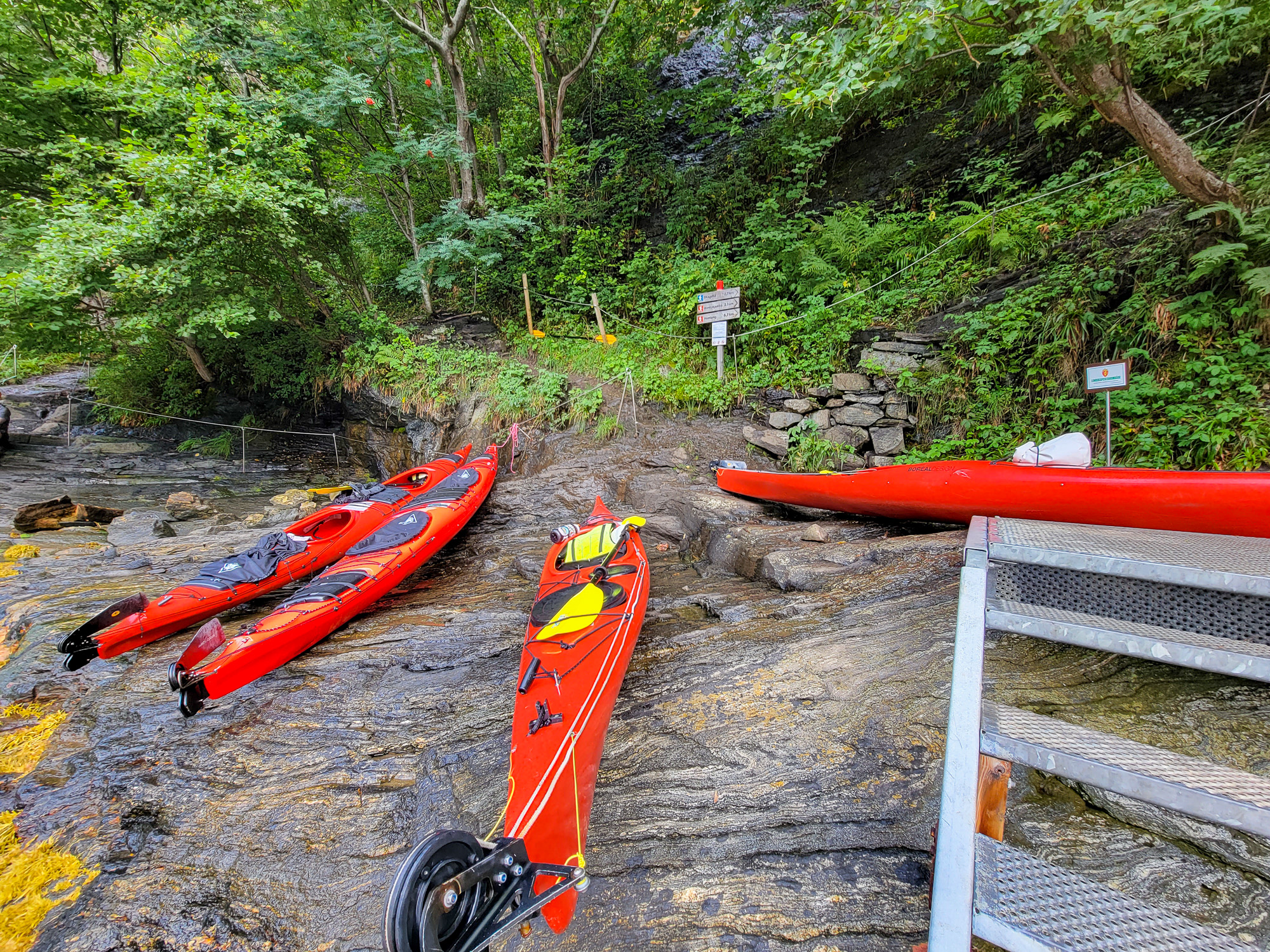 Finally, the kayak docking area for the trail is also quite small, hard to see, and can fill up with kayaks on a busy day. This one is about a mile (1.6 km) to the left (east) of Brudesloret, the waterfall directly across the fjord from the Seven Sisters. The hidden cove will become visible only as you approach and a small ladder and trail sign are present (likely other kayaks, too, depending on if you are the first one out for the day or not).
Pulling a kayak out of the water, up to a safe spot, and getting back in can be somewhat tricky as the rocks can be slick, so proceed with caution. Kayaks must be fully out of the water as the tide change can be significant. Thankfully, the fjord is quite calm with minimal current and we had little issue here apart from those noted above.
Overall, while kayaking in Geiranger is fairly active and may be more kayaking than most are used to, it makes for a really stunning day out in the fjord. If you can justify the extra hour of rental and want to break up the trip, the hike to Skagefla is not to be missed, too. This was truly one of our favorite outdoor activities in Norway!
We rented from Active Geiranger at the campground next to the Grande Fjord Hotel where we stayed. Another kayak rental company is located on the opposite side of the fjord and guided kayak tours and boat tours are also available.
Book a Train Ticket in Europe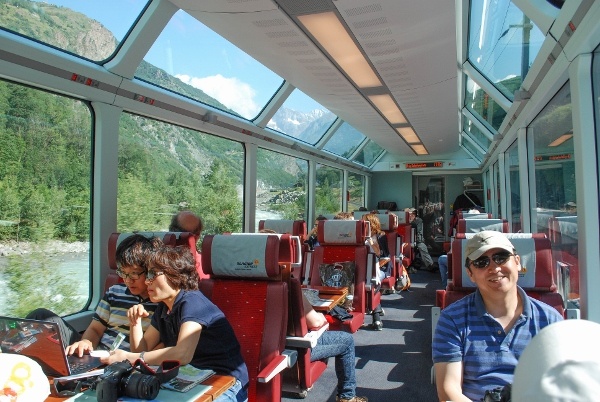 Want to learn more? Check out our Omio review!
About Jeremy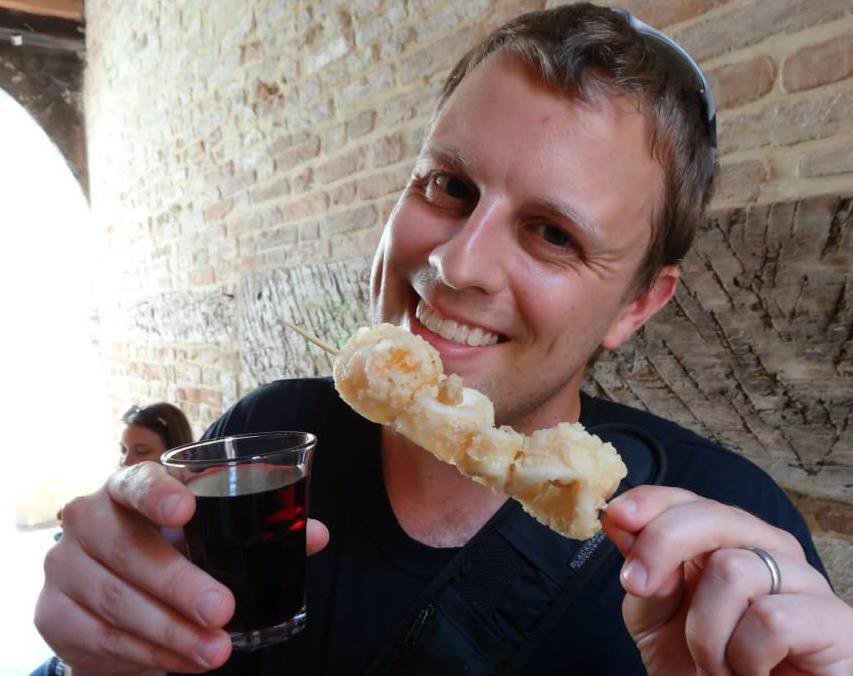 About the Author: Jeremy is a full-time travel writer based in Pittsburgh and primary author of this site. He has been to 70+ countries on five continents and seeks out new food, adventure activities, and off-the-beaten-path experiences wherever he travels.