Last Updated on June 5, 2023 by Jeremy
Disclaimers: Our site uses demographic data, email opt-ins, display advertising, and affiliate links. Please check out our Terms and Conditions for more information. Listed prices and attraction details may have changed since our visit and initial publication.
Welcome to the 101st entry into our monthly income and traffic report!
In this monthly update we share our traffic, earning, and spending figures for our blogs from the previous month so you can get a glimpse inside the business of blogging. In addition to sharing these for your use, by publishing our information we are also able to stay on track with our own goals for our business.
Prior to reading, it is worth noting that we feature two blogs in this report (one global travel and one local travel) and our income is based on the combined total of the two. We break down the traffic for each in this report for additional information.
May 2023 Travel Blog Traffic Report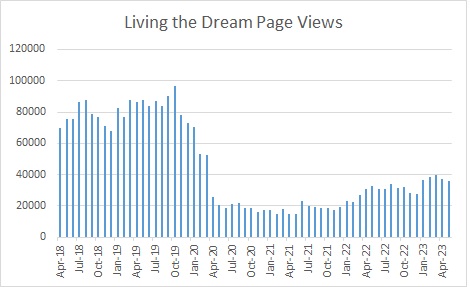 Our traffic on Living the Dream for the month of May was roughly 36,000 page views. This was a decrease of 6% on a per day basis from April 2023 and an increase of 18% from May 2022.
May was a slow month for the travel blog after our amazing growth in the spring, and it looks like the search pullback from an algorithm update slowed our growth yet again. While were flat because of this, I also did not do myself any favors here because I haven't published a new article on this site in six weeks.
Oops.
That said, after returning from Piedmont at the beginning of the month, I have a whole slew of articles lined up to come out in the next few weeks. Hopefully that will help with a little bump in traffic moving forward!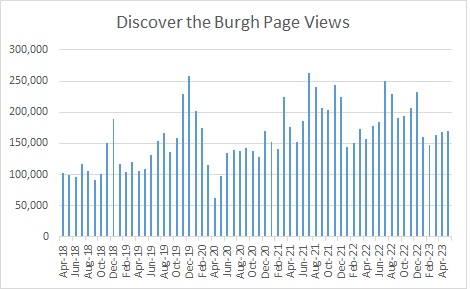 On the Discover the Burgh front, our traffic in May was approximately 169,700 page views-a decrease of 2.5% on a per day basis from April and an increase of 7.5 from May 2022.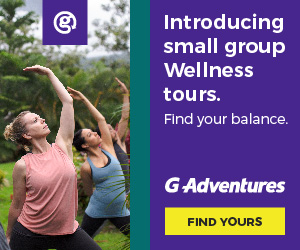 We had yet another flat month in May, likely stemming from Google algorithm changes seen similarly in on Living the Dream (above). That said, the last of the month had a slow uptick that we are hoping to carry through into June as summer content generally does quite well for us.
May 2023 Travel Blog Income Report
Our booked income for May was approximately $7,665- down approximately 12% on a per-day basis from April 2023 and an decrease of 8% from May 2022. This income was approximately 75% from our local blog and 25% from our travel blog.
The breakdown includes the following:
*CPM Ads: $5,000
*Affiliates: $2,565
*Calendar: $100
Overall, our income for May was not too bad especially when considering the previous month had a four figure sponsored content order to buoy the numbers (without that, May would have been better).
Ad rates seem to be up slightly, our affiliate sales jumped up a significant amount (mostly via Stay22), and overall we're getting a whole lot closer to our 50:50 target between ads and affiliate sales- one week was 55/45!
Baby steps make big gains too, and we're excited to move forward with some new plans in June to help supercharge our earnings in Q3/Q4 and beyond, too.
May 2023 Expenses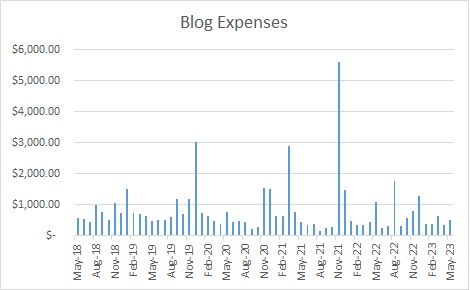 Our dedicated blog expenses* for the month of May were roughly $499 with the following breakdown:
*Advertising: $125
*Domains: $60
*PO Box: $194
*Programs: $120
We had a rather light month in spending with our only major expenses for the month being our annual renewal of several domains and a PO Box. I also forgot to boost posts as much as I normally do this month, so that helped offset some of the expenses from the other purchases.
*We do not share our travel/local expenses in this report. This can be anywhere from $100-$3,000+ per month extra, but your mileage may vary as the costs to generate content can vary wildly from blog to blog. We strive to only share true blog operating expenses here.
June 2023 Goals
June is going to be yet-another marathon at the start of the month before things slow down. We get home from Italy in the first few days of the month before I immediately turn back around and head to Maine to take my mom on a birthday trip to Acadia.
While that will eat up the first half of the month, from mid-June onward our schedule is quieting down as we like to stay at home for the summer months to enjoy our garden and local activities. As such, this will be when I can get back to my 8-10 article/week target and start pumping out a ton of new content for growth!
Likewise, on our local blog I am going to work towards one more certification that should help me improve our income substantially moving forward and I hope to have that started by the end of the month, completed in July, and start getting some new product ideas going for that in the meantime. I can't discuss these just yet for private reasons, but when it is public knowledge I'll be sure to share more here!
Looking For Past Reports?
Unlike other websites that host an article series on this topic, we only have one article for our travel blog income and traffic reports.
We do this for a number of reasons, but it is mostly because we do not want dozens upon dozens of posts on our site on this one specific topic. Over time, the monthly details become irrelevant and trends are the only thing that matters.
To compensate for this, we update this article every month based on our current data and publish a graphical summary of previous months as well. If you have any questions about data from a specific month we are happy to share more details via email if you contact us.
Have an existing blog that is in need of an upgrade? Check out the following services we personally use!
Need SEO help? Check out our consulting services!