Last Updated on August 31, 2022 by Jeremy
Disclaimers: Our site uses demographic data, email opt-ins, display advertising, and affiliate links. Please check out our Terms and Conditions for more information. Listed prices and attraction details may have changed since our visit and initial publication.
Welcome to the 92nd entry into our monthly income and traffic report!
In this monthly update we share our traffic, earning, and spending figures for our blogs from the previous month so you can get a glimpse inside the business of blogging. In addition to sharing these for your use, by publishing our information we are also able to stay on track with our own goals for our business.
Prior to reading, it is worth noting that we feature two blogs in this report (one global travel and one local travel) and our income is based on the combined total of the two. We break down the traffic for each in this report for additional information.
August 2022 Travel Blog Traffic Report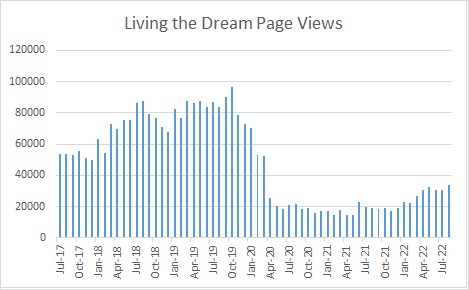 Our traffic on Living the Dream for the month of August was roughly 33,900 page views. This was an increase of 9.3% on a per day basis from July 2022 and an increase of 76% from August 2021.
For a few weeks in August, we thought our traffic was skyrocketing. We were up month-over-month something like 30%+, and we were all a flutter.
But as it turns out, there was a near universal referral spam campaign going on this month with fake Google Analytics hits coming from Czech Republic ("Czechia") and the Seychelles. This hit all our sites and, to be quite honest, literally everyone who is on Universal Analytics.
After factoring these out, our traffic was approximately 34,000 page views for the month- still a solid gain month-over-month all the same. I suppose with all the drama going on this is still pretty awesome to see!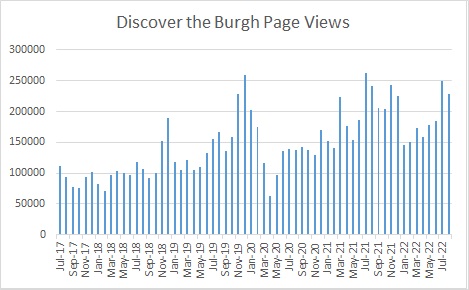 On the Discover the Burgh front, our traffic in August was approximately 228,800 page views- a decrease of 9.5% on a per day basis from July 2022 and a decrease of 5% from August 2021.
Historically our traffic from July to August is often flat. Some years we're up a little, other years we are down. While this month was absolutely beautiful in all respects, we were down a little bit overall (more people outside sometimes does mean less time for looking at websites!).
Still, no shame in hovering around 225,000 page views all the same!
August 2022 Travel Blog Income Report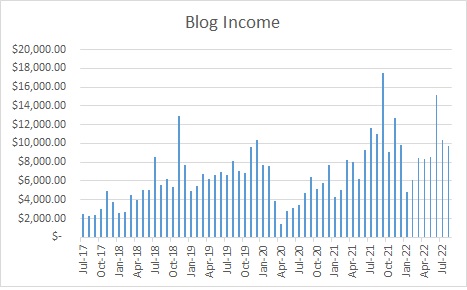 Our booked income for August was approximately $9,750- down approximately 6% on a per-day basis from July 2022 and an decrease of 11.5% from August 2021. This income was approximately 85% from our local blog and 15% from our travel blog.
The breakdown includes the following:
*CPM Ads: $8,400
*Affiliates: $1,350
Overall, while we had hoped for higher income this month, it seems like flat (if not outright down) RPMs for Q3 have reduced our earnings ever-so-slightly.
If we have to settle in for a floor for the rest of the year, being right around five figures is a great place to be. Onward to churning out more long and/or affiliate oriented content for the rest of the year!
Please note that the above is booked income. This is money that we have negotiated, contracted, and/or earned throughout the month but is not necessarily money that was received in-house. Payment for income can often range from a few minutes to several months (and, in some cases, can be canceled outright). While we track this for tax purposes, we only share booked income in this report.
August 2022 Expenses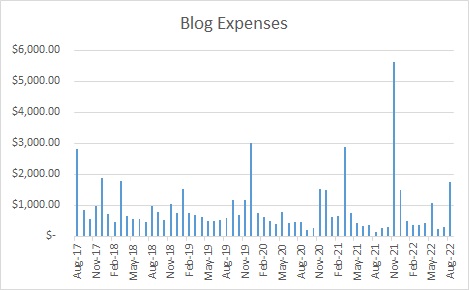 Our dedicated blog expenses* for the month of August were roughly $1,756 with the following breakdown:
*Social Media Ads: $90
*Programs: $86
*Camera Lens and Accessories: $1,500
*Tripod: $80
This month I only had one major "blog" expense in the form of a new telephoto lens for our safari in Africa- the behemoth Sigma 150-600mm f/5-6.3 Sport lens.
Of course, after buying this I found out that my tripod was both broken and also not rated for a ~10 lb camera and lens combo, too. So naturally I had to buy another one as well plus some lens accessories to boot.
Youch.
This will be among the last big spending for the year apart from the big server renewal in November. Saving my pennies now!
*We do not share our travel/local expenses in this report. This can be anywhere from $100-$3,000+ per month extra, but your mileage may vary as the costs to generate content can vary wildly from blog to blog. We strive to only share true blog operating expenses here.
September 2022 Goals
September is going to be primarily a work trip as we will be spending almost three weeks out of the month in Tanzania. So while I will be doing some "work" here or there, most of the time will be on a content finding mission to get new articles here for the coming weeks and months.
Apart from that, I'm finishing a campaign on my local blog that will eat into the bulk of my free time for the month. So between these two there will be little time other than a baseline amount of articles being published (most of which are already pre-scheduled, too).
As such, things will be light next month with more ambitious goals in October!
Looking For Past Reports?
Unlike other websites that host an article series on this topic, we only have one article for our travel blog income and traffic reports.
We do this for a number of reasons, but it is mostly because we do not want dozens upon dozens of posts on our site on this one specific topic. Over time, the monthly details become irrelevant and trends are the only thing that matters.
To compensate for this, we update this article every month based on our current data and publish a graphical summary of previous months as well. If you have any questions about data from a specific month we are happy to share more details via email if you contact us.
Have an existing blog that is in need of an upgrade? Check out the following services we personally use!
Need SEO help? Check out our consulting services!