Last Updated on by Jeremy
Disclaimers: Our site uses demographic data, email opt-ins, display advertising, and affiliate links. Please check out our Terms and Conditions for more information. Listed prices and attraction details may have changed since our visit and initial publication.
Welcome to the 68th entry into our monthly income and traffic report!
In this monthly update we share our traffic, earning, and spending figures for our blogs from the previous month so you can get a glimpse inside the business of blogging. In addition to sharing these for your use, by publishing our information we are also able to stay on track with our own goals for our business.
Prior to reading, it is worth noting that we feater two blogs in this report (one global travel and one local travel) and our income is based on the combined total of the two. We break down the traffic for each in this report for additional information.
August 2020 Traffic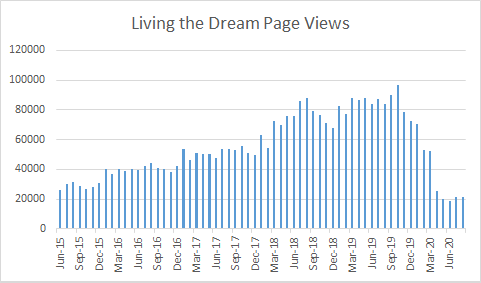 Our traffic on Living the Dream for the month of August was roughly 21,600 page views. This was a 2% increase on a per-day basis compared to July and a decrease of 74% from August 2019.
The 'rona shutdown continues, and our traffic is reflecting that accordingly.
On the Discover the Burgh front, our traffic in August was 137,500 page views- more or less on par with July (<1 % decrease) and a 17% drop from August 2019.
Things locally are not much different than they were in July. Restaurants are at reduced capacity, you still must order food if you want to get served alcohol, and most of the popular things to do are simply being outside (thankfully, we've had great weather).
While I'm still pleased that we're breaking 100,000 page views per month consistently right now (it is truly saving us), we are struggling with producing as much content as we otherwise could. Still, we carry on.
August 2020 Travel Blog Income Report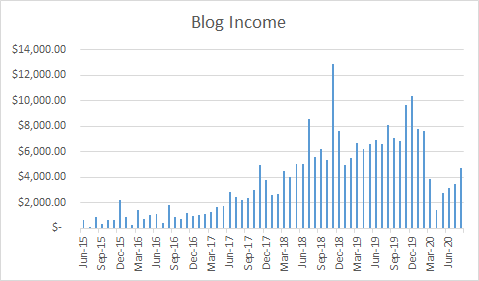 Our booked income for August was approximately $4,720- a 37% increase from July and, unfortunately, a 42% drop from August 2019. This income was approximately 65% from our local blog and 35% from our travel blog.
The breakdown includes the following:
*Sponsored Article: $1,000
*CPM Ads: $3,520
*Affiliates: $200
This month's ad and affiliate sales followed the norm, with RPMs for our ads going up to near record highs (shame our traffic doesn't match that).
That being said, we accepted a sponsored post for the month and are in talks for a few other sponsored campaigns moving forward as well. While we historically have not done many of these as it was easier to rely on ad/affiliate income, we have to admit we're quite excited for these opportunities both topically and, well, financially.
Please note that the above is booked income. This is money that we have negotiated, contracted, and/or earned throughout the month but is not necessarily money that was received in-house. Payment for income can often range from a few minutes to several months (and, in some cases, can be canceled outright). While we track this for tax purposes, we only share booked income in this report.
August 2020 Expenses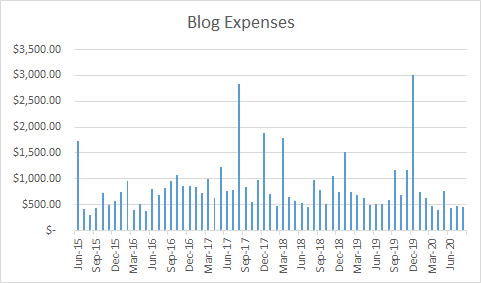 Our dedicated blog expenses* for the month of August were roughly $450, with the following breakdown:
*Mailerlite: $45
*Programs: $25
*Pinterest VA: $250
*Social media ads: $130
Another month at our bare minimum with not much to say about it.
*Plus travel/local expenses which we do not track here. This can be anywhere from $100-$3,000+ per month extra, but your mileage may vary based on your blog niche. This report strives to only track true blog expenses.
September 2020 Goals
I'm pleased to say I finally accomplished something in August. One of my SEO tasks was to truncate old post titles such that they are not clipped in Google search results.
I did all of these on Living the Dream, and hit about 60% of the posts on Discover the Burgh (organized by those that get the most traffic). As such, we now no longer have the dreaded ellipsis appear on our target posts when you search for them in Google. Win!
I have two back-end goals for September. The first is to update to include FAQ sections in all of our museum and restaurant posts on our Pittsburgh blog (we did not find FAQ helped out this site as much as on our local blog). The second is to go through and invite people to like that site's Facebook page, as now we are seemingly able to invite people to like our page despite being over 100,000 fans (where we were previously blocked from doing so).
Hooray getting to go through 2 years of popular posts and sending out invites. Eye bleeding, but worth it!
Beyond this, it'll be write, write, write as per usual and continue that slow march of time to a world where this coronavirus is a distant memory.
Looking For Past Reports?
Unlike other websites that host an article series on this topic, we only have one article for our travel blog income and traffic reports.
We do this for a number of reasons, but it is mostly because we do not want dozens upon dozens of posts on our site to this one specific topic. Over time, the monthly details become irrelevant and trends are the only thing that matters.
To compensate for this, we update this article every month based on our current data and publish a graphical summary of previous months as well. If you have any questions about data from a specific month we are happy to share more details via email if you contact us.
Have an existing blog that is in need of an upgrade? Check out the following services we personally use!
Looking for tips? Read our Blog Your Trip series!
Need SEO help? Check out our consulting services!
About Jeremy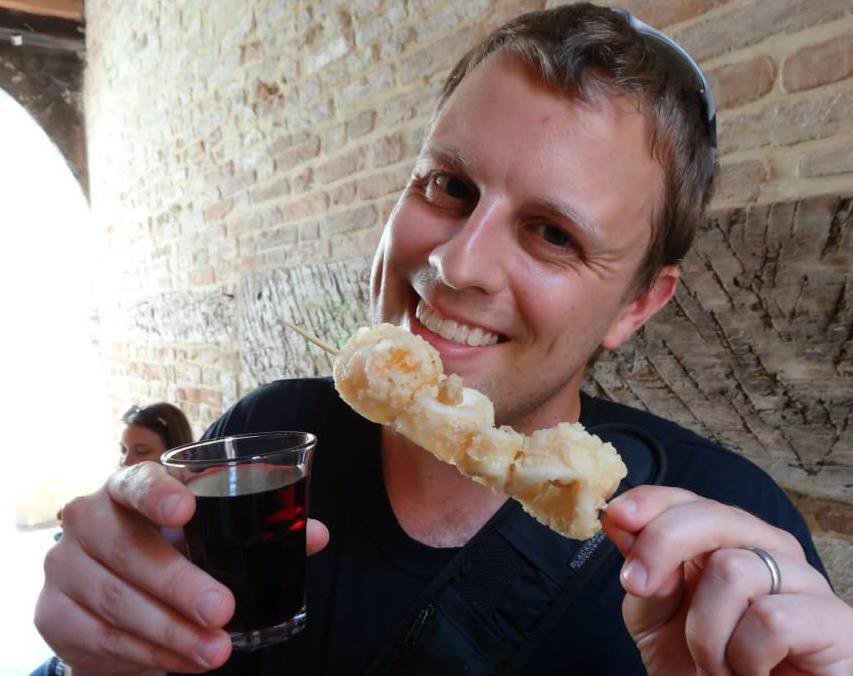 About the Author: Jeremy is a full-time travel writer based in Pittsburgh and primary author of this site. He has been to 70+ countries on five continents and seeks out new food, adventure activities, and off-the-beaten-path experiences wherever he travels.