Last Updated on December 31, 2020 by Jeremy
Disclaimers: Our site uses demographic data, email opt-ins, display advertising, and affiliate links. Please check out our Terms and Conditions for more information. Listed prices and attraction details may have changed since our visit and initial publication.
Welcome to the 72nd entry into our monthly income and traffic report!
In this monthly update we share our traffic, earning, and spending figures for our blogs from the previous month so you can get a glimpse inside the business of blogging. In addition to sharing these for your use, by publishing our information we are also able to stay on track with our own goals for our business.
Prior to reading, it is worth noting that we feature two blogs in this report (one global travel and one local travel) and our income is based on the combined total of the two. We break down the traffic for each in this report for additional information.
December 2020 Traffic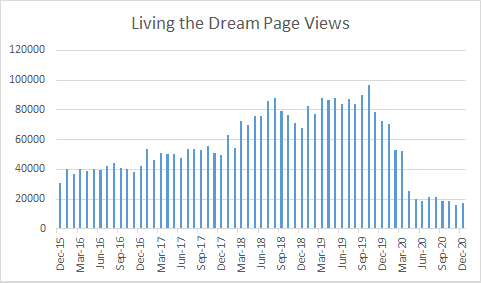 Our traffic on Living the Dream for the month of December was roughly 17,500 page views. This was an increase of approximately 6.5% on a per-day basis from November and a decrease of 76% from December 2019.
We've not published any new articles on this site since October, and with global travel being more or less shutdown, this figure is not surprising. Likewise, Google had another algorithm update this month and is perhaps the first time we've actually seen a benefit from an update in over a year!
As such, we think that a good bit of the bump is purely from algorithm changes.
For 2020 at large, Living the Dream received approximately 355,000 page views. This was a drop of 65% from 2019 where we just barely broke 1,000,000 page views for the year. We attribute roughly half of the decrease to COVID, but also half due to Google's algorithm updates that hit late in 2019 and early 2020 (such that if COVID never happened we'd likely only be down about 33%- or about 60,000 page views a month).
How the latest algorithm update and vaccine rollout affects things in 2021, well, we're not even going to be thinking of that right now as a lot of that is out of our control.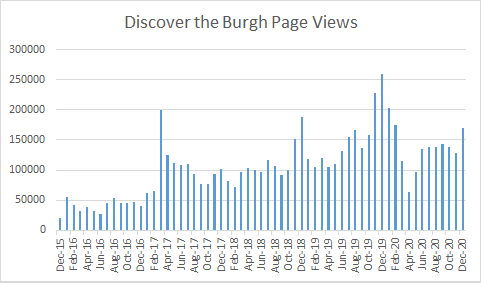 On the Discover the Burgh front, our traffic in December was approximately 169,500 page views page views- an increase of 28% on a per-day basis from November and a decrease of 35% from December 2019.
Despite so many things being canceled this holiday season for reason that should be obvious at this point, we are quite happy to have increased our traffic month-over-month by 28% despite the pronounced YOY drop. Couple this with higher Q4 RPMs, and we ended the year on a high note.
Now that the holidays are over, however, we fully expect traffic to decrease significantly. From 2019-2020 we saw a 20% drop in January, but we expect to see a drop of at least this much (and likely more) due to the current closures. Now we just have to buckle up and see what happens.
For 2020 overall, Discover the Burgh received roughly 1,650,000 page views- down just about 8% from 2019. This site was not affected by any Google algorithm changes that we know of, and was mostly down due to COVID. Thankfully, people sticking around locally helped minimize this loss despite a good percentage of our content being irrelevant due to closures.
That being said, January 2020 was up 70% from January 2019, and had COVID not hit we likely would've had over 3,000,000 page views for the year. Sounds like a stretch goal for 2021.
December 2020 Travel Blog Income Report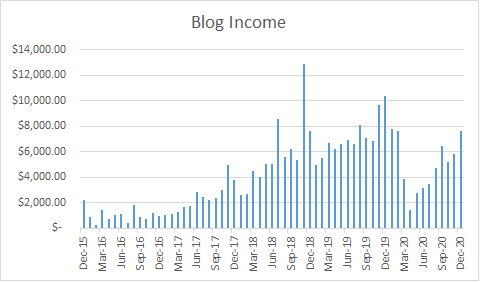 Our booked income for December was approximately $7,661- a 27% increase from November and a 26% decrease from December 2019. This income was approximately 95% from our local blog and 5% from our travel blog.
The breakdown includes the following:
*CPM Ads: $5,805
*Affiliates: $1,520
*Image Licensing: $336
December matched our best income months of the year (January and February, naturally), which considering the year behind us we certainly will not complain. Q4 ad income and a good number of Airbnb bookings helped carry us via our local blog, and we'll take that with a smile that maybe, just maybe, things are turning around.
Now we just have to get through Q1 2021 as we expect ad rates to tank along with traffic!
For 2020 overall, we booked approximately $60,000 on our sites. This was a decrease of approximately 30% from 2019. Ad income plus Airbnb sales on our local blog helped offset the loss of ad and affiliate income from our travel blog (which is proportionally more affiliate heavy).
We're hoping that travel picks back up again starting Q2/Q3 2021 to help boost that a bit more, but we have to take a wait and see approach for now.
Either way, 2020 was alright. Good enough, but something we don't want to repeat in 2021.
Please note that the above is booked income. This is money that we have negotiated, contracted, and/or earned throughout the month but is not necessarily money that was received in-house. Payment for income can often range from a few minutes to several months (and, in some cases, can be canceled outright). While we track this for tax purposes, we only share booked income in this report.
December 2020 Expenses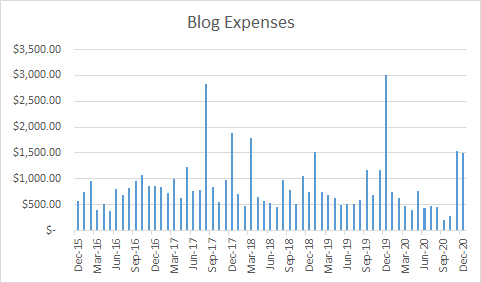 Our dedicated blog expenses* for the month of December were roughly $1,504, with the following breakdown:
*Mailerlite: $45
*Programs: $27
*Social media ads: $266
*Hosting Renewal: $1,166
December is when our annual server renewal bill comes due, and was the primary reason why our spending for the month was higher than normal average. Still, that is an expense I'll happily pay time and time again as Bigscoots pays itself off over and over again in my opinion.
For the year, our dedicated blog expenses were around $6,500- a drop of about 50% from 2019 mostly due to the fact that I had to be careful with expenses due to the income drop. As things turn around, we'll likely ramp spending back up again accordingly.
*We do not share our travel/local expenses in this report. This can be anywhere from $100-$3,000+ per month extra, but your mileage may vary as the costs to generate content can vary wildly from blog to blog. We strive to only share true blog operating expenses here.
2021 Goals
In our December income report roundups, I like to report on goals for the upcoming year at large as well as local goals for the month of January.
This year, I took January off because I thought it'd help give me a break before the big year I had planned ahead. Oops. Still, producing new content on these sites doesn't make the most sense when ad rates are at their minimum and I am, once again, burnt out.
So my goal for January, beyond taking a good bit of time off to destress, is to work on back-end projects that have built up throughout the year. Adding FAQ to local blog posts, keyword research, working on some ideas for our new blogs This Week in Blogging and The Grape Pursuit, and getting back to my Pittsburgh book that I originally wanted to release this summer but paused due to shutdown concerns are some priorities.
The intent of January is to get through all the backlog such that we can hit things hard contentwise moving forward in February. Although, in this case, it is entirely likely the projects may keep going through February and then push more new content ideas to March when the world slowly starts to open up.
From there, my yearly goals are the following:
Living the Dream – Start traveling more to publish a new article at least once a week. When this can happen ethically is out of my control, but I'm hoping somewhere between Q2 (perhaps driving distance) and Q3 (further out via plane flights). It's sad having a travel blog when you can't travel.
Discover the Burgh – Release our guidebook in the summer and continue to publish new content with a focus on finishing our neighborhood guides, hotel reviews, and "completing" the project of doing everything in Pittsburgh. We've now been to over 1,000 spots in the city and are slowly running low on new, non-restaurant spots to visit. There will be a point in the not so distant future where we change our content style, and it may be likely that will occur by the end of 2021.
Get the new sites on Mediavine – My year-end goal for my wine blog and blogging blog is to get both to Mediavine traffic levels by the end of 2021. Gotta diversify those income streams.
Looking For Past Reports?
Unlike other websites that host an article series on this topic, we only have one article for our travel blog income and traffic reports.
We do this for a number of reasons, but it is mostly because we do not want dozens upon dozens of posts on our site to this one specific topic. Over time, the monthly details become irrelevant and trends are the only thing that matters.
To compensate for this, we update this article every month based on our current data and publish a graphical summary of previous months as well. If you have any questions about data from a specific month we are happy to share more details via email if you contact us.
Have an existing blog that is in need of an upgrade? Check out the following services we personally use!
Looking for tips? Read our Blog Your Trip series!
Need SEO help? Check out our consulting services!
About Jeremy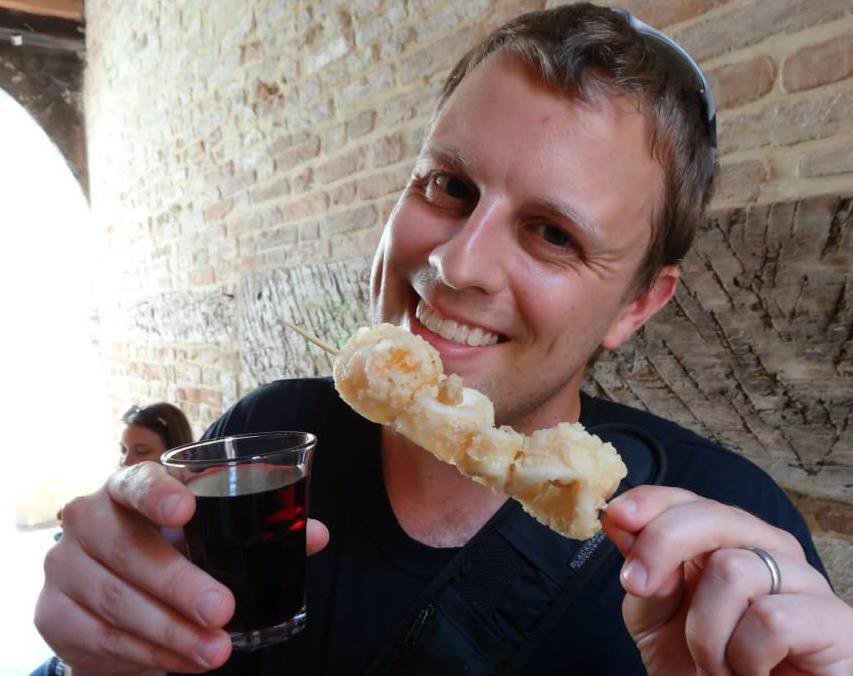 About the Author: Jeremy is a full-time travel writer based in Pittsburgh and primary author of this site. He has been to 70+ countries on five continents and seeks out new food, adventure activities, and off-the-beaten-path experiences wherever he travels.