Last Updated on by Jeremy
Disclaimers: Our site uses demographic data, email opt-ins, display advertising, and affiliate links. Please check out our Terms and Conditions for more information. Listed prices and attraction details may have changed since our visit and initial publication.
Welcome to the 69th entry into our monthly income and traffic report!
In this monthly update we share our traffic, earning, and spending figures for our blogs from the previous month so you can get a glimpse inside the business of blogging. In addition to sharing these for your use, by publishing our information we are also able to stay on track with our own goals for our business.
Prior to reading, it is worth noting that we feater two blogs in this report (one global travel and one local travel) and our income is based on the combined total of the two. We break down the traffic for each in this report for additional information.
September 2020 Traffic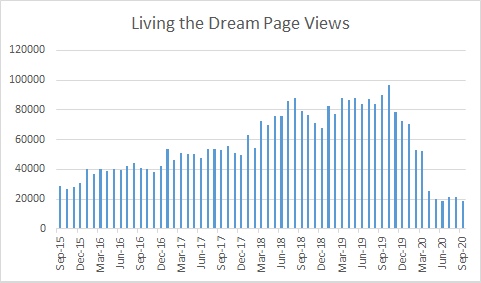 Our traffic on Living the Dream for the month of September was roughly 18,600 page views. This was an 11% decrease on a per-day basis compared to August and a decrease of 80% from September 2019.
At first I looked at this data and shook my head, because the lack of travel is still hitting hard. But then when I dug into things more I realized that we had a few really good days of direct traffic at the end of July and start of August that is untraceable that caused an arbitrary bump there that we did not see in September.
Likewise, since I've not been producing much new content on this site (until now, that is), I am not surprised with how things are going for the time being.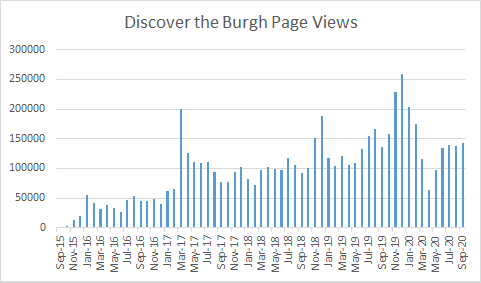 On the Discover the Burgh front, our traffic in September was 142,700 page views- an increase of 7% on a per day basis from August and an increase of 5% from September 2019.
We're continuing our massive content push on Discover the Burgh to capitalize on the local travel movement going on right now, and we see this being a considerable effort in the coming months as well.
What was interesting for September; however, was that we saw a slight uptick in Google traffic and steady social numbers all around (as opposed to August which had a viral pop that accounted for a good chunk of our traffic). It is definitely nice to feel like our social marketing plan is working in addition to SEO to help get through this year.
September 2020 Travel Blog Income Report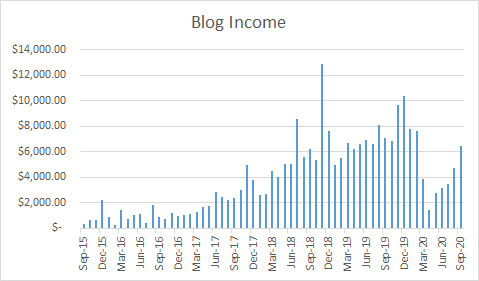 Our booked income for September was approximately $6,436- a 36% increase from August and just a 9% drop from September 2019. This income was approximately 95% from our local blog and 5% from our travel blog.
The breakdown includes the following:
*Sponsored Article: $1,500
*CPM Ads: $4,200
*Affiliates: $736
It seems like advertising is back, and we're hitting near-record RPM numbers on our Pittsburgh site (often exceeding $40 session RPM daily). Whatever money advertisers were hoarding at the beginning of the year is flowing now, and we're quite excited to start seeing numbers that are more in line with 2019's earnings.
Likewise, while it seems like affiliate earnings are on the rise, I have to admit that it is almost entirely due to integration of Airbnb's new affiliate program on our local site. When people travel, they're sticking close to home, and they're most certainly avoiding big hotels for independent rentals. Airbnb's opening up of a wide affiliate program (with stellar commission) is something we're going to double down on more soon, because the $500 we earned in September is only scratching the surface of its potential- especially for when international travel starts to resume.
As such, we're going to be putting a big effort on this one moving forward.
All things being equal, we haven't had a month over $6,000 in booked income since February, and even though part of that was due to a sponsored article sale, we're still excited at the prospects of the next few months.
Please note that the above is booked income. This is money that we have negotiated, contracted, and/or earned throughout the month but is not necessarily money that was received in-house. Payment for income can often range from a few minutes to several months (and, in some cases, can be canceled outright). While we track this for tax purposes, we only share booked income in this report.
September 2020 Expenses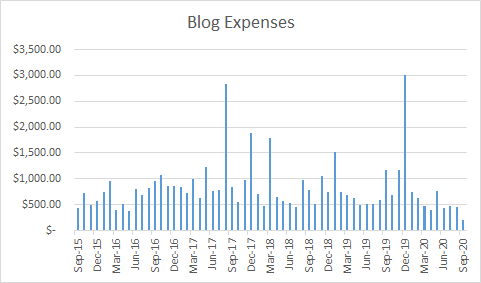 Our dedicated blog expenses* for the month of September were roughly $207, with the following breakdown:
*Mailerlite: $45
*Programs: $25
*Social media ads: $137
As the travel market is more or less dead on arrival for the time being, we've decided to pause our Pinterest VA as the cost for the services have not matched the return of the traffic we're able to get. So as such we're paying minimal fees for programs and some social avertising all the same.
*Plus travel/local expenses which we do not track here. This can be anywhere from $100-$3,000+ per month extra, but your mileage may vary based on your blog niche. This report strives to only track true blog expenses.
October 2020 Goals
My goal for September was to write as much as possible, and we did that. As a bonus, we decided to take a last minute socially distant road trip to the Finger Lakes to get out and go wine shopping, and enjoyed that immensely.
This means we actually have content to share here now!
As such, my October goal will be to write as much as possible on all my sites, but also putting an express focus on rolling out content from the Finger Lakes and also more Airbnb ideas for my Pittsburgh blog.
From there, it'll be work on the new blogs we don't roundup in this report as well as starting a plan for back-end projects for the winter when our content production may slow down.
Looking For Past Reports?
Unlike other websites that host an article series on this topic, we only have one article for our travel blog income and traffic reports.
We do this for a number of reasons, but it is mostly because we do not want dozens upon dozens of posts on our site to this one specific topic. Over time, the monthly details become irrelevant and trends are the only thing that matters.
To compensate for this, we update this article every month based on our current data and publish a graphical summary of previous months as well. If you have any questions about data from a specific month we are happy to share more details via email if you contact us.
Have an existing blog that is in need of an upgrade? Check out the following services we personally use!
Looking for tips? Read our Blog Your Trip series!
Need SEO help? Check out our consulting services!
About Jeremy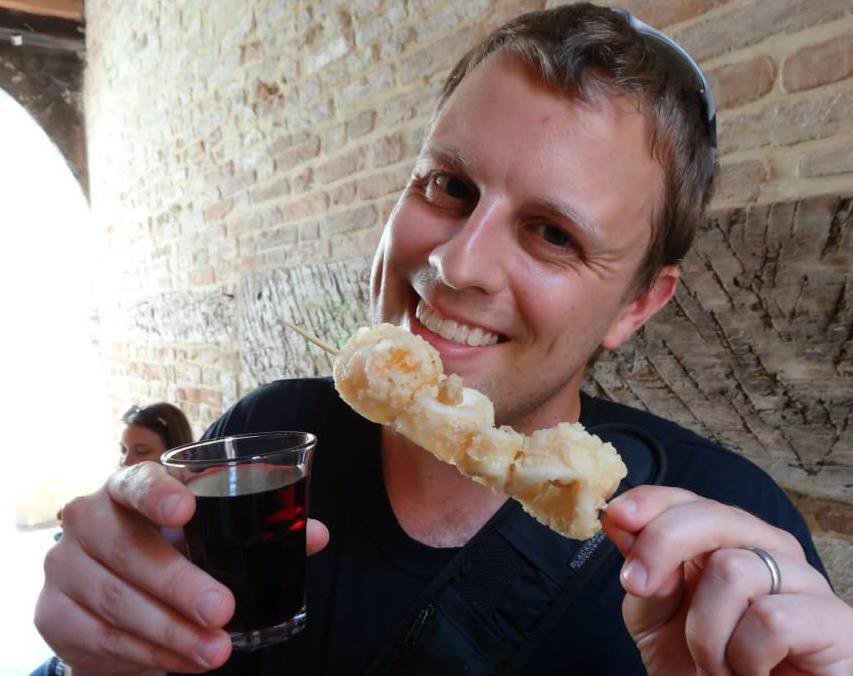 About the Author: Jeremy is a full-time travel writer based in Pittsburgh and primary author of this site. He has been to 70+ countries on five continents and seeks out new food, adventure activities, and off-the-beaten-path experiences wherever he travels.