Published by Jeremy. Last Updated on December 1, 2023.
Disclaimers: Our site uses demographic data, email opt-ins, display advertising, and affiliate links. Please check out our Terms and Conditions for more information. Listed prices and attraction details may have changed since our visit and initial publication.
Welcome to the 107th entry into our monthly income and traffic report!
In this monthly update we share our traffic, earning, and spending figures for our blogs from the previous month so you can get a glimpse inside the business of blogging. In addition to sharing these for your use, by publishing our information we are also able to stay on track with our own goals for our business.
Prior to reading, it is worth noting that we feature two blogs in this report (one global travel and one local travel) and our income is based on the combined total of the two. We break down the traffic for each in this report for additional information.
Note: In July 2023, Google switched from Universal Analytics to GA4 reporting. We use custom templates to ensure we are still reporting on page views as our traffic metric; however, it is possible this figure is different slightly from the past.
November 2023 Travel Blog Traffic Report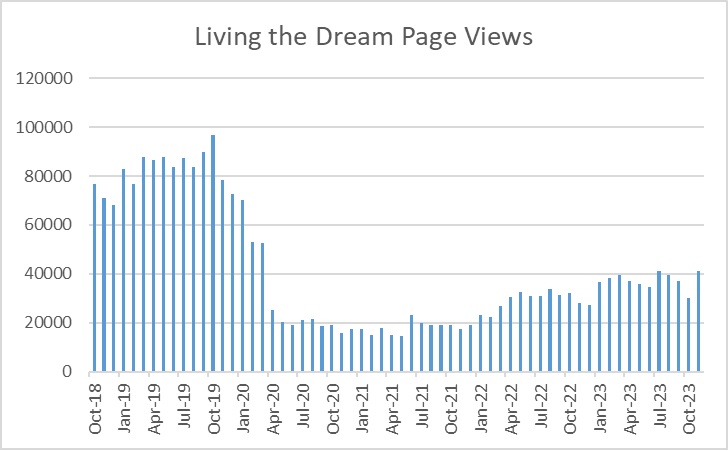 Our traffic on Living the Dream for the month of November was roughly 41,300 page views. This was an increase of 42% on a per day basis from October 2023 and an increase of 48% from November 2022.
November was an interesting month because we had a day with a large spike in traffic that we, admittedly, are having a hard time telling the origin of. If real, it would put November at the berst month of the year for us and perhaps the best month since the start of the pandemic outright.
We really can't say for certain, though.
The reality is that spikes like these can often be glitches or other bot-related influences too, and as such ignoring this would put our traffic more or less on-par with Octobers 30,000 page views.
Still, considering there was yet-another algorithm update to condend with in November, coming out either the same or possibly ahead is quite fine by us. We just won't be shocked if the traffic drops back down in December all the same.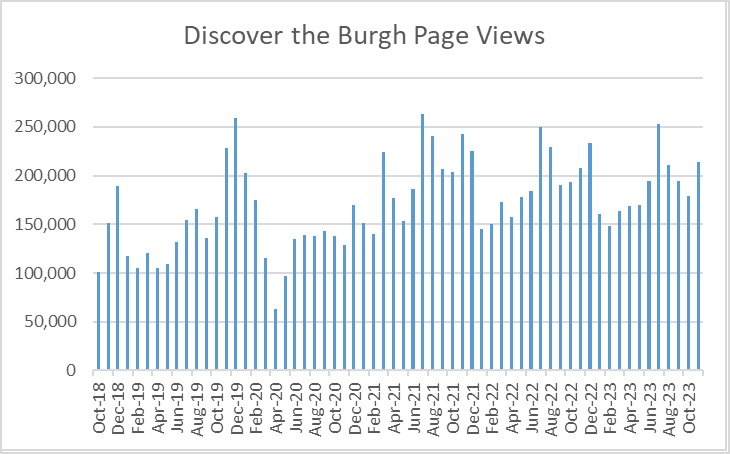 On the Discover the Burgh front, our traffic in November was approximately 214,000 page views- an increase of 23% on a per day basis from October and an increase of 3% from November 2022.
Discover the Burgh, on the other hand, hit a stride in November, particularly due to an article getting picked up in Google's Discover feature and contributing 10,000 page views for the month. Unlike Living the Dream's questionable traffic search, this one was fully verified and confirmed on our end, much to our amazement.
Throw on a relatively successful social media push during the Thanksgiving shopping weekend, and we beat last year's traffic by just a bit, too!
November 2023 Travel Blog Income Report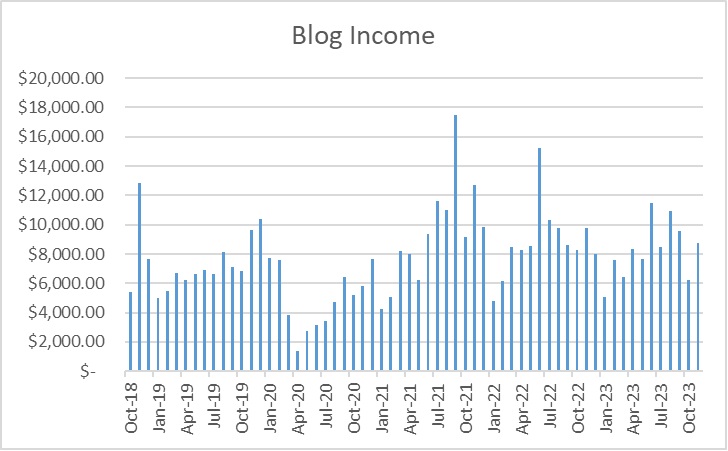 Our booked income for November was approximately $8,750- up approximately 45% on a per-day basis from October 2023 and an decrease of 10% from November 2022. This income was approximately 90% from our local blog and 10% from our travel blog.
The breakdown includes the approximate following:
*CPM Ads: $7,750
*Affiliates: $800
*Facebook Bonus: $200
Although November's income fell short of the last couple of years, we are thrilled to be pushing close to $9,000 for the month.
Most of this had to do with a decent ad income period over the Black Friday weekend, with RPMs hovering around $55 on a session basis getting us over the hump. But that article that got picked up in Google Discover also was tracking at about $85 RPM and helped us pull in another $800 or so as well!
We certainly won't say no to that, even if this means that we may see a small dip for December. Either way, we're pleased with that.
November 2023 Expenses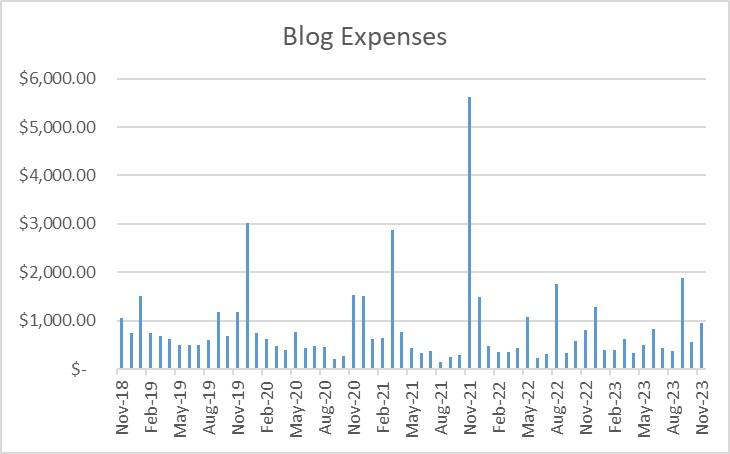 Our dedicated blog expenses* for the month of November were roughly $958 with the following breakdown:
*Advertising: $210
*Programs: $533
*Domains: $40
*Professional Org Renewal: $175
November is always a bit of a doozy in spending for us if only because all those Black Friday deals we buy into over the years come due for renewal.
But as high as this one was, our hosting is up for renewal in December, and we are expecting a big spike for the month here!
*We do not share our travel/local expenses in this report. This can be anywhere from $100-$3,000+ per month extra, but your mileage may vary as the costs to generate content can vary wildly from blog to blog. We strive to only share true blog operating expenses here.
December 2023 Goals
We ask this question every year, and here we go again- how is it December already?
While we aren't sure we'll ever get the answer we want for this, the month itself is going to be a mad dash to publish as much content as possible to capitalize on Q4 ad rates as best as possible.
Hopefully somewhere in the mix I'll finally schedule my two outstanding exams that I need to take as soon as possible; however, the work towards those has taken a bit of a backburner to the more pressing opportunity to make the best out of Q4.
Thankfully, January is coming up fast and with that comes a much needed rest.
Looking For Past Reports?
Unlike other websites that host an article series on this topic, we only have one article for our travel blog income and traffic reports.
We do this for a number of reasons, but it is mostly because we do not want dozens upon dozens of posts on our site on this one specific topic. Over time, the monthly details become irrelevant and trends are the only thing that matters.
To compensate for this, we update this article every month based on our current data and publish a graphical summary of previous months as well. If you have any questions about data from a specific month we are happy to share more details via email if you contact us.
Have an existing blog that is in need of an upgrade? Check out the following services we personally use!
Need SEO help? Check out our consulting services!