Last Updated on January 31, 2023 by Jeremy
Disclaimers: Our site uses demographic data, email opt-ins, display advertising, and affiliate links. Please check out our Terms and Conditions for more information. Listed prices and attraction details may have changed since our visit and initial publication.
Welcome to the 97th entry into our monthly income and traffic report!
In this monthly update we share our traffic, earning, and spending figures for our blogs from the previous month so you can get a glimpse inside the business of blogging. In addition to sharing these for your use, by publishing our information we are also able to stay on track with our own goals for our business.
Prior to reading, it is worth noting that we feature two blogs in this report (one global travel and one local travel) and our income is based on the combined total of the two. We break down the traffic for each in this report for additional information.
January 2023 Travel Blog Traffic Report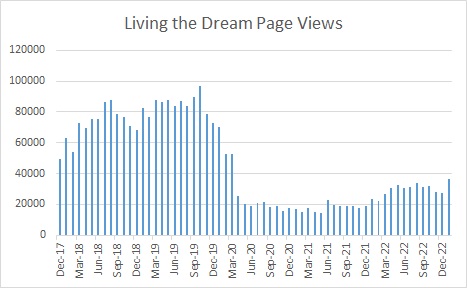 Our traffic on Living the Dream for the month of January was roughly 36,500 page views. This was an increase of 34% per day basis from December 2022 and an increase of 57% from January 2022.
Ignoring a few years with random exceptions (an algorithm change one year and COVID another, in particular), we almost always see +20% to +30% growth from December to January on our travel blog. This has been true ever since I started this site almost 15 years ago.
So seeing a jump this January wasn't that much of a surprise (although we're going to take it being 34%!) and almost all of this was due to an increase of Google traffic all around.
We are now +150% in traffic from our COVID low point, but are still about -50% from our best January ever (2019). At our current growth rate we still expect it to take a year or two to fully recover back to our former peaks, but with improved advertising, an updated niche, and our generally broader understanding of SEO over when we were at our peak, we hope to speed this along a bit faster now.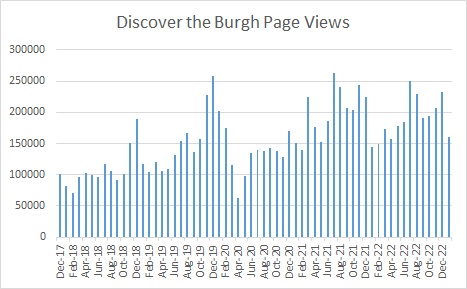 On the Discover the Burgh front, our traffic in January was approximately 161,000 page views- a decrease of 31% on a per day basis from December 2022 and an increase of 11% from January 2022.
Unlike Living the Dream, our local blog always has a 30% crash from December to January. This is mostly due to the fact that we get a ton of holiday traffic, and most of those experiences end at Christmas. Likewise, January is generally just a gross month weather-wise so we are often limited to only promoting museum, restaurant, and nominal ski content overall.
We are still a bit behind our record January traffic (2020); however, we'll take an 11% gain YOY from 2022. If this traffic holds, 2023 will be a very good year.
January 2023 Travel Blog Income Report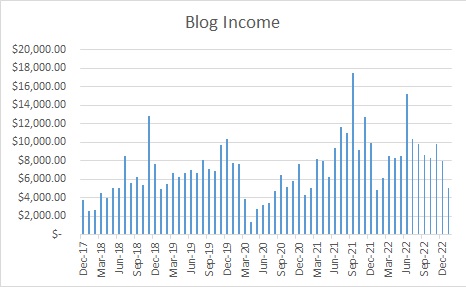 Our booked income for January was approximately $5,050- down approximately 37% on a per-day basis from December 2022 and an increase of 5% from January 2022. This income was approximately 80% from our local blog and 20% from our travel blog.
The breakdown includes the following:
*CPM Ads: $3,250
*Affiliates: $1,800
If you have been following display advertising rates at all, you would know that things are lower right now thanks to the global recession. Throw on generally large drops in January due to the start of Q1, and you have the makings of some really bad income for those reliant on display advertising.
Thankfully, we saw this one coming.
As such, we spent a great deal fo time working on affiliate sales in January, and are pleased that some of our tests are paying off dividends. The biggest of which has been incorporating Stay22's popup feature which shows popups of hotel booking engines to select users who engage on select pages.
Our hotel bookings went from about 10-20 per month to well over 40 for January, and that is even before noting that we only turned this one on halfway through the month!
We're going to be testing more affiliate setups in the coming weeks, but our ultimate goal is to stop being 80/20 heavy on advertising and bring our affiliates up so they are more in line at 50/50. If we achieve this, future January's will give us much more breathing room, and other months will be quite lucrative indeed.
Please note that the above is booked income. This is money that we have negotiated, contracted, and/or earned throughout the month but is not necessarily money that was received in-house. Payment for income can often range from a few minutes to several months (and, in some cases, can be canceled outright). While we track this for tax purposes, we only share booked income in this report.
January 2023 Expenses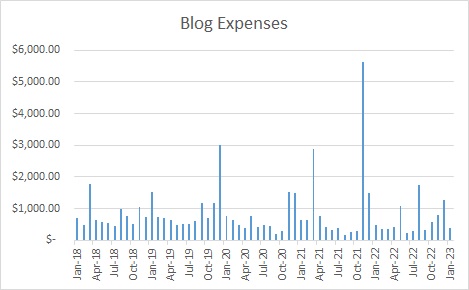 Our dedicated blog expenses* for the month of January were roughly $386 with the following breakdown:
*Advertising: $160
*Grammarly: $140
*Programs: $86
January is always a light month for us since most of our subscriptions renew in Q4 as we purchased many of them during holiday sales. That being said, we are ramping our advertising back up again and had a renewal of a Grammarly subscription, so our spending was about at our baseline.
*We do not share our travel/local expenses in this report. This can be anywhere from $100-$3,000+ per month extra, but your mileage may vary as the costs to generate content can vary wildly from blog to blog. We strive to only share true blog operating expenses here.
February 2023 Goals
My main goal for January was getting caught up on my to do list for all the things I had put off in 2022. I had completed many, but have to admit that a few outstanding tasks got pushed to February (likewise, I made zero progress on any ebooks, too).
That being said, I'm happy about all the work made in January so apart from a few outstanding things I need to work on we will be shifting to a growth-at-all-costs mindset for the forseeable future.
This means writing roughly 10 articles per week, every week, without fail. But throw on some much needed studying for my last wine exam (May), and some of my available time will be reduced all the same. Either way, if we can finish February with about 40 posts published, I'll be content.
Looking For Past Reports?
Unlike other websites that host an article series on this topic, we only have one article for our travel blog income and traffic reports.
We do this for a number of reasons, but it is mostly because we do not want dozens upon dozens of posts on our site on this one specific topic. Over time, the monthly details become irrelevant and trends are the only thing that matters.
To compensate for this, we update this article every month based on our current data and publish a graphical summary of previous months as well. If you have any questions about data from a specific month we are happy to share more details via email if you contact us.
Have an existing blog that is in need of an upgrade? Check out the following services we personally use!
Need SEO help? Check out our consulting services!