Last Updated on May 27, 2022 by Jeremy
Disclaimers: Our site uses demographic data, email opt-ins, display advertising, and affiliate links. Please check out our Terms and Conditions for more information. Listed prices and attraction details may have changed since our visit and initial publication.
Welcome to the 88th entry into our monthly income and traffic report!
In this monthly update we share our traffic, earning, and spending figures for our blogs from the previous month so you can get a glimpse inside the business of blogging. In addition to sharing these for your use, by publishing our information we are also able to stay on track with our own goals for our business.
Prior to reading, it is worth noting that we feature two blogs in this report (one global travel and one local travel) and our income is based on the combined total of the two. We break down the traffic for each in this report for additional information.
April 2022 Travel Blog Traffic Report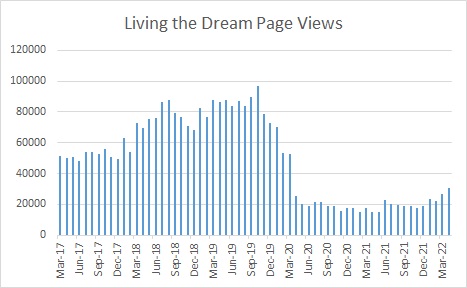 Our traffic on Living the Dream for the month of April was roughly 30,500 page views. This was an increase of 16.7% on a per day basis from March 2022 and an increase of 105% from April 2021.
Oh be still my heart. Traffic up nearly 17% month over month? I know we're still far away from our 2019 peak of ~100k page views, but it does feel like things are finally going in the right direction. If, last April, you would've told me we'd be back up 100% I would've laughed outloud at the prospect- but here we are.
We've seen an uptick in search traffic here but also increases in direct traffic and social traffic too. I'm not sure what is going on with the algorithms now (especially social which we'll talk more on our local blog summary), but we most certainly won't say no!
One more year of 15%+ month-over-month and we're back in business. Of course, you know, that's likely not going to happen at all. But we'll take what we can get!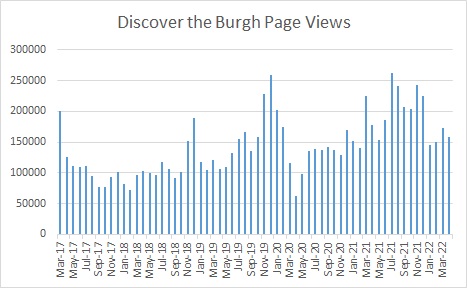 On the Discover the Burgh front, our traffic in April was approximately 157,800 page views- a drop of 5.8% on a per day basis from March 2022 and a drop of 10.8% from April 2021.
While we saw a slight drop in search traffic for the month, we also saw a monster improvement in social traffic as the algorithm is heating up for us. While we are quite excited about that as a means to really push social posts moving forward, it didn't quite explain the drop this time.
All we can see this month is that we had a solid drop in Direct traffic, and the only thing we can think of for the moment is that it has to do with web stories. We had a few articles do quite well historically (~10k PV), but the traffic for the month had slowed a bit.
So I guess we know what we're going to do next month- make more web stories and/or update our old ones!
Ignoring this, however, we are quite happy with the month at large purely for the bounce in social traffic we're seeing.
April 2022 Travel Blog Income Report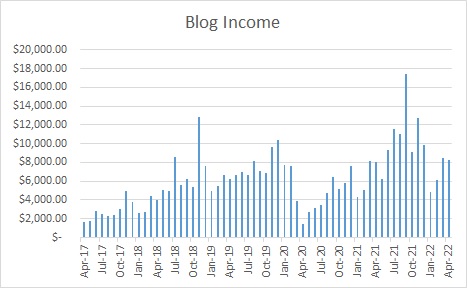 Our booked income for April was approximately $8,300 – an increase of 1.5% on a per-day basis from March 2022 and an increase of 3.75% from April 2021. This income was approximately 85% from our local blog and 15% from our travel blog.
The breakdown includes the following:
*CPM Ads: $5,950
*Affiliates: $1,350
*Sponsored Content: $1,000
April was another interesting month income-wise. Despite our YOY decrease in traffic, we have still had a nice jump in YOY income all the same.
Part of this is the sponsored content order we received, we're not going to lie. But at the same time our local blog has been seeing RPMs as high as $45, $50, and sometimes even $55 on good days. This is a monster increase from 2021 and the overall income there cannot be understated.
Likewise, with the return of some decent traffic to our travel blog we're seeing an uptick in RPMs and also affiliate sales. As such, this is the first time in a lonnnnnggg time that we can remember the travel blog accounting for more than 10% of our monthly income, and we like this a lot!
Please note that the above is booked income. This is money that we have negotiated, contracted, and/or earned throughout the month but is not necessarily money that was received in-house. Payment for income can often range from a few minutes to several months (and, in some cases, can be canceled outright). While we track this for tax purposes, we only share booked income in this report.
April 2022 Expenses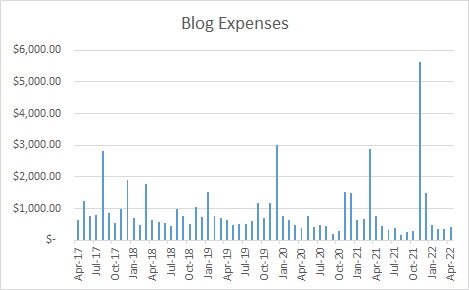 Our dedicated blog expenses* for the month of April were roughly $430, with the following breakdown:
*Social Media Ads: $344
*Programs: $86
For the most part, our spending for the month of April was pretty much at our baseline if we ignore our travel spending (which we never share in these reports). That being said, towards the end of the month I started an uptick on my Facebook advertising now that bulk invitations have rolled out into my accounts.
We've seen some solid page growth in the last couple weeks because of this, so I've started advertising about everything that has potential, even on our local blog, because of this new found ROI opportunity.
*We do not share our travel/local expenses in this report. This can be anywhere from $100-$3,000+ per month extra, but your mileage may vary as the costs to generate content can vary wildly from blog to blog. We strive to only share true blog operating expenses here.
May 2022 Goals
April was rough for us. Between seeing family over Easter, traveling to Washington for TBEX and San Juan for NATJA (where we still are at the end of the month), it was a busy month of travel.
May is the catch-up month where I want to put out as much content as humanly possible to get the backlog out and grow.
This is also necessary because our June travel schedule includes two trips to see family for birthdays, a wine exam for me (that I am woefully underprepared for), a trip to Telluride for the bluegrass festival (plus a detour to Arches, Canyonlands, and Denver area), and more.
Suffice it to say, we're making up for two years of no travel, and we are going to use May as a month to really hit things hard content wise to make Q3 and Q4 solid ones.
Looking For Past Reports?
Unlike other websites that host an article series on this topic, we only have one article for our travel blog income and traffic reports.
We do this for a number of reasons, but it is mostly because we do not want dozens upon dozens of posts on our site on this one specific topic. Over time, the monthly details become irrelevant and trends are the only thing that matters.
To compensate for this, we update this article every month based on our current data and publish a graphical summary of previous months as well. If you have any questions about data from a specific month we are happy to share more details via email if you contact us.
Have an existing blog that is in need of an upgrade? Check out the following services we personally use!
Need SEO help? Check out our consulting services!