Last Updated on by Jeremy
Disclaimers: Living the Dream uses demographic data, email opt-ins, display advertising, and affiliate links to operate this site. Please review our Terms and Conditions for more information. Listed prices and attraction details may have changed since our visit and initial publication.
Welcome to the 62nd entry into our monthly income and traffic report!
In this monthly update we share our traffic, earning, and spending figures for our blogs from the previous month so you can get a glimpse inside the business of travel blogging. In addition to sharing these for your use, by publishing our information we are also able to stay on track with our own goals for our business.
Prior to reading, it is worth noting that we have two blogs (one global travel and one local travel) and our income is based on the combined total of the two. We break down the traffic for each in this report for additional information.
February 2020 Traffic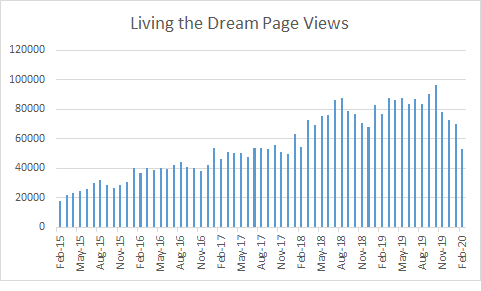 Our traffic on Living the Dream for the month of February was just over 53,000 page views. This is was a decrease of approximately 19% on a per-day basis from January and a decrease of 33% from February 2019 (adjusted to account for 29 days due to leap year).
It looks like Google had another update in January and really hit us hard once again. We're now down close to 45% in traffic from our October peak and are back to where we were in February 2018. I have to say, I find all of this really discouraging overall and I am going to have to do a deep dive into our articles to see what, if anything, we can do to improve moving forward (apart from new content as usual).
The interesting thing we're learning about all of this traffic change from search algorithms is that our overall positions and CTR have not changed for the most part. But what has changed is our overall number of impressions we are receiving overall- directly correlating to clicks.
To me, this suggests that Google is rolling out more non-traditional content on the front page of search and pushing down articles that were lower on page one to page two. We've seen this on some search terms that no longer have 10 results on the first page, but may just have as little as six or seven. So for these, if we were in position eight, that now means we are pushed to page two and receive a significant reduction in overall impressions.
I'm hoping that these tests may be temporary, as search results right now are genuinely awful from a user perspective, but I'm also not holding my breath for improvements any time soon.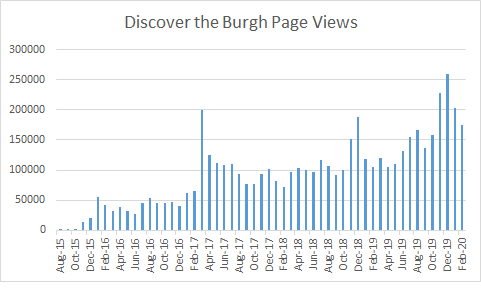 On the Discover the Burgh front, our traffic was 174,800 page views- down about 8% from January on a per-day basis and an increase of 61% from February 2019 (also adjusted to account for 29 days this month).
With each passing Google update, Discover the Burgh has been offsetting any drop from Living the Dream, and February was no different- although we did not have much in the form of Facebook virals like we did in January which accounted for a slight dip.
Much like on Living the Dream, our average position and CTR has not changed much over the last year on this site. But instead, our visible impressions are up almost 100%. In this particular instance our CTR is down, but we are still up a noticeable amount in Google traffic overall.
We've also noticed a reduction in articles on the first page for terms we rank for (often around eight or nine instead of ten), but our articles tend to rank in the top 3 more often than not here so we saw less of a push to page 2 as a result.
Still, as with most Google changes, it is all speculation. But we're still happy to get over 225,000 page views combined in February all the same- a 25% increase from 2019.
February 2020 Travel Blog Income Report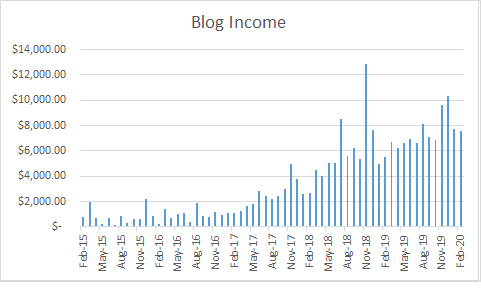 Our booked income for February was approximately $7,634. This was a decrease of 2% from January 2020, an increase of 38% from February 2019, and an increase of 184% from February 2018.
The breakdown includes the following:
*CPM Ads: $4,634
*Sponsored Post: $2,000
*Affiliates: $1,000
I am a bit disappointed that our income is not a bit higher this month, as based on our traffic I would've expected about $1,000 more. Thankfully, a high-paying sponsored advertisement came in (to be published) that helped pad our projected earnings for the month- so thanks to the universe for delivering here!
One of the reasons why I think this may be the case is because Living the Dream is stronger at affiliate sales, and our noticeable drop in traffic could be responsible for reducing our earnings overall. (Discover the Burgh, on the other hand, is more beholden to ad rates.) Our best performing posts are still ranking well, but others are down in traffic and may be likely causes.
Still, we are up nearly 46% YOY in income so far- just a bit more than our traffic growth overall. Throw in the fact that January and February are often our worst months by far, we have high hopes for the rest of the year all the same.
Please note that the above is booked income. This is money that we have negotiated, contracted, and/or earned throughout the month but is not necessarily money that was received in-house. Payment for income can often range from a few minutes to several months (and, in some cases, can be canceled outright). While we track this for tax purposes, we only share booked income in this report.
February 2020 Expenses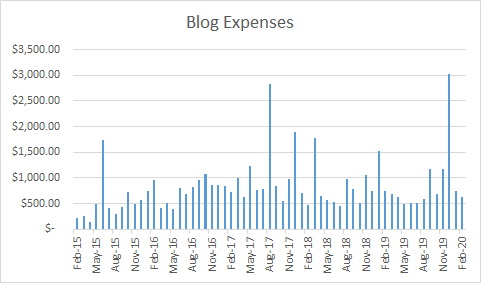 Our dedicated blog expenses* for the month of February were roughly $630, with the following breakdown:
*Mailerlite: $45
*Programs: $65
*Pinterest VA: $250
*Social media ads: $230
*Contest entry fees: $40
I have no complaints over our baseline spending for the month as we had a pretty non-eventual spending period.
We expect our baseline to go up about $400 per month or so once we get our new site going (Pinterest VA + social ads), but so far for February we have little to talk about other than staying the course.
*Plus travel/local expenses which we do not track here. This can be anywhere from $100-$3,000+ per month extra, but your mileage may vary based on your blog niche. This report strives to only track true blog expenses.
March 2020 Goals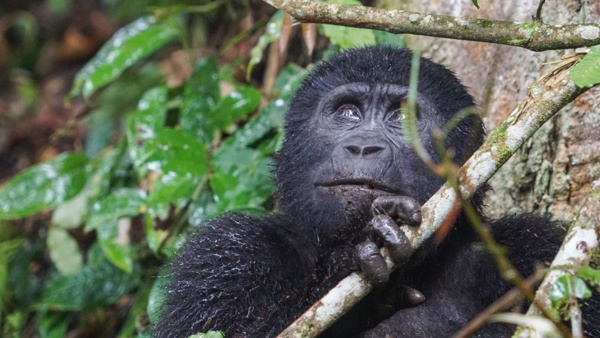 February ended with a bit of a lull in terms of traffic, but picked up in one big way. While on vacation in the Maldives I got an email that said I won a Bronze (3rd place) award from NATJA in the category "Photography- Landscape, Architecture, and Nature (Online)" for my photo of the young mountain gorilla from our trek in Uganda last year!
That was a pleasant surprise which helped make up for the overall meh month we had traffic-wise. But there wasn't much time to sit back and reflect on this all so far because we are currently in the Maldives!
As we'll be enjoying the Maldives for another week, there will be very limited blogging work until we get home. It is, after all, vacation time, and we are enjoying a well deserved break (yes, I wrote most of this post before leaving and only updated figures quickly on the road).
Our blogging plans for March focuses around our new work-life balance and starting to roll out articles from the Maldives, of course! I'll likely write several on the (many) plane rides home and will have them coming out part-way through the month and throughout April. After that we'll shift over to more Puerto Rico content after I get back from a conference there in early May.
Beyond this, we are going to prioritize the launch of our newest website and look forward to sharing more information about that in an upcoming update (plus another new project that should be coming out by summer)- gotta diversify those income streams people!
But published content on our two main sites comes first, so we'll see whether the first rollout will be this month or next.
Until next time!
Looking For Past Reports?
Unlike other websites that host an article series on this topic, we only have one article for our travel blog income and traffic reports.
We do this for a number of reasons, but it is mostly because we do not want dozens upon dozens of posts on our site to this one specific topic. Over time, the monthly details become irrelevant and trends are the only thing that matters.
To compensate for this, we update this article every month based on our current data and publish a graphical summary of previous months as well. If you have any questions about data from a specific month we are happy to share more details via email if you contact us.
Have an existing blog that is in need of an upgrade? Check out the following services we personally use!
Looking for tips? Read our Blog Your Trip series!
Need SEO help? Check out our consulting services!