Last Updated on February 28, 2021 by Jeremy
Disclaimers: Our site uses demographic data, email opt-ins, display advertising, and affiliate links. Please check out our Terms and Conditions for more information. Listed prices and attraction details may have changed since our visit and initial publication.
Welcome to the 74th entry into our monthly income and traffic report!
In this monthly update we share our traffic, earning, and spending figures for our blogs from the previous month so you can get a glimpse inside the business of blogging. In addition to sharing these for your use, by publishing our information we are also able to stay on track with our own goals for our business.
Prior to reading, it is worth noting that we feature two blogs in this report (one global travel and one local travel) and our income is based on the combined total of the two. We break down the traffic for each in this report for additional information.
February 2021 Traffic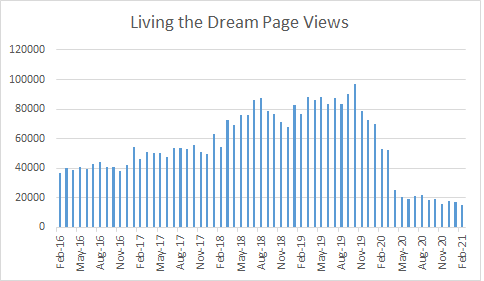 Our traffic on Living the Dream for the month of February was roughly 14,800 page views. This was a decrease of approximately 5.5% on a per-day basis from January and a decrease of 72% from February 2020.
Another month of quarantine, another month of low traffic. The fact that we didn't publish any articles over the month probably didn't help. As sad as it is to say, we need to wait until the one year mark of judging the pandemic drop (April) to really start pulling out any other trends beyond these blanket statements.
But with the ramp up of vaccinations in the country (including Angie receiving hers for being a healthcare worker), we think the end is in sight. Then we hope to (safely) ramp up traveling again and start producing new content rather quickly!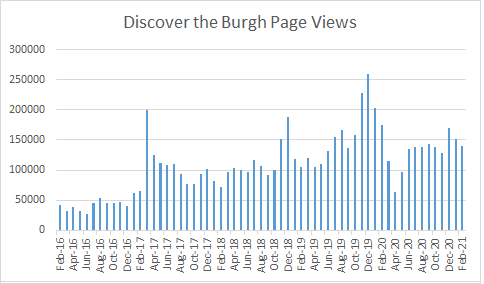 On the Discover the Burgh front, our traffic in February was approximately 140,200 page views- an increase of 2.5% on a per-day basis from January and a decrease of 20% from February 2020.
Much like with Living the Dream, our local blog is still down year-over-year as the pandemic lockdowns really didn't start til the end of March. All things being equal, I'll take being over 100,000 page views for the month as win. Our current traffic gives me a lot of hope for the near future!
February 2021 Travel Blog Income Report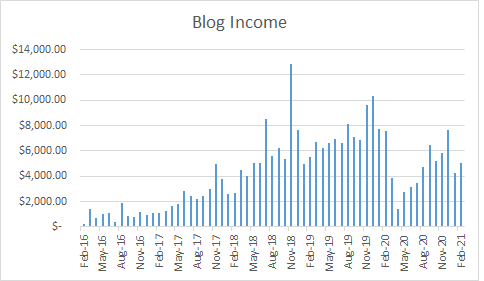 Our booked income for February was approximately $5,050- a 31% increase from January and a 33% decrease from February 2020. This income was approximately 95% from our local blog and 5% from our travel blog.
The breakdown includes the following:
*CPM Ads: $3,800
*Affiliates: $1,250
Having a big jump from January to February is amazing, and is even more encouraging when you think that February had three fewer days.
The reason for this jump was primarily due to a strong increase in RPM rates for our display ads, but we also had a nice jump in Airbnb lookings on our local blog as well. People are most certainly preparing for the warmer months and the promise of the vaccine, and we are here for it.
Please note that the above is booked income. This is money that we have negotiated, contracted, and/or earned throughout the month but is not necessarily money that was received in-house. Payment for income can often range from a few minutes to several months (and, in some cases, can be canceled outright). While we track this for tax purposes, we only share booked income in this report.
February 2021 Expenses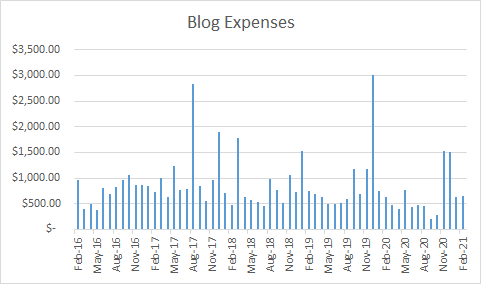 Our dedicated blog expenses* for the month of February were roughly $652, with the following breakdown:
*Mailerlite: $65
*Domains: $10
*Programs: $27
*Social media ads: $550
As with last month, we have been slowly ramping up our social media spending on order to bring in new audiences to our blogs. We expect this figure to continue for the foreseeable future as well.
*We do not share our travel/local expenses in this report. This can be anywhere from $100-$3,000+ per month extra, but your mileage may vary as the costs to generate content can vary wildly from blog to blog. We strive to only share true blog operating expenses here.
March 2021 Goals
As with January, my February goals were to work on more backend projets which were slowly, but surely, getting done.
I've gotten into a good habit now of making backend tasks more of a weekly priority rather than my sole focal point of work, which I am happy about keeping on the forefront moving forward.
As such, I don't really have any major goals for the month of March other than chugging along on working on some major guides for our local blog in the mix of regular content (plus keeping the foot on the gas for the new blogging projects). But as soon as I get my vaccine, you can be certain I'll be buying a plane ticket for shortly after my second dose is completed.
It feels like this is going to happen sooner rather than later.
Looking For Past Reports?
Unlike other websites that host an article series on this topic, we only have one article for our travel blog income and traffic reports.
We do this for a number of reasons, but it is mostly because we do not want dozens upon dozens of posts on our site to this one specific topic. Over time, the monthly details become irrelevant and trends are the only thing that matters.
To compensate for this, we update this article every month based on our current data and publish a graphical summary of previous months as well. If you have any questions about data from a specific month we are happy to share more details via email if you contact us.
Have an existing blog that is in need of an upgrade? Check out the following services we personally use!
Looking for tips? Read our Blog Your Trip series!
Need SEO help? Check out our consulting services!
About Jeremy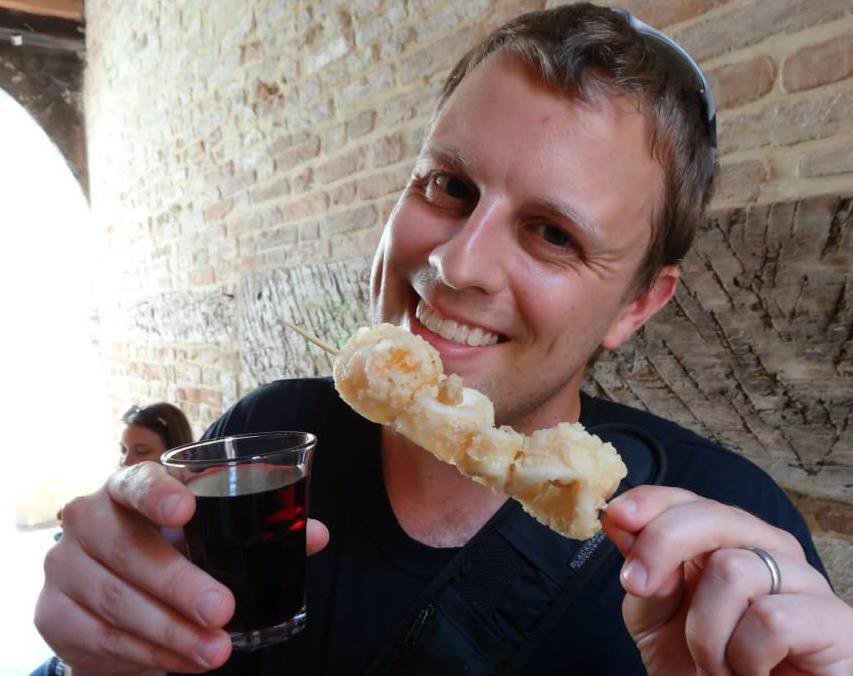 About the Author: Jeremy is a full-time travel writer based in Pittsburgh and primary author of this site. He has been to 70+ countries on five continents and seeks out new food, adventure activities, and off-the-beaten-path experiences wherever he travels.