Last Updated on by Jeremy
Disclaimers: Our site uses demographic data, email opt-ins, display advertising, and affiliate links. Please check out our Terms and Conditions for more information. Listed prices and attraction details may have changed since our visit and initial publication.
Welcome to the 67th entry into our monthly income and traffic report!
In this monthly update we share our traffic, earning, and spending figures for our blogs from the previous month so you can get a glimpse inside the business of blogging. In addition to sharing these for your use, by publishing our information we are also able to stay on track with our own goals for our business.
Prior to reading, it is worth noting that we feater two blogs in this report (one global travel and one local travel) and our income is based on the combined total of the two. We break down the traffic for each in this report for additional information.
July 2020 Traffic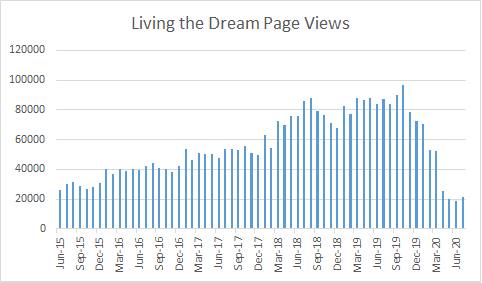 Our traffic on Living the Dream for the month of July was roughly 21,200 page views. This is was an increase of approximately 9% on a per-day basis from June and a decrease of 75% from July 2019.
While we're seeing a bit of an uptick in Google traffic coming our way (partly, we think, due a test we're working on behind the scenes), travel is still more or less dead in the water for the time being.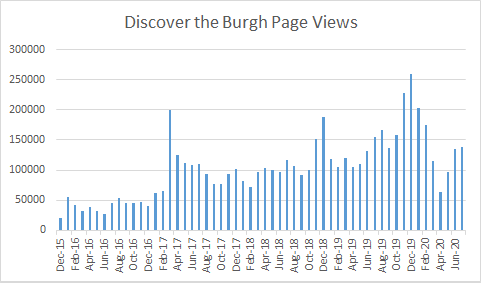 On the Discover the Burgh front, our traffic in July was 138,900 page views- more or less on par with June on a per-day basis and down approximately 10% from July 2019.
Pittsburgh had another set of closures in July and we ended the month with another crazy Facebook viral like we had in June, so our traffic was more or less on par with the previous month. I'll take breaking 100,000 page views for the month all things considered, but I still wonder where we would be if things were different.
July 2020 Travel Blog Income Report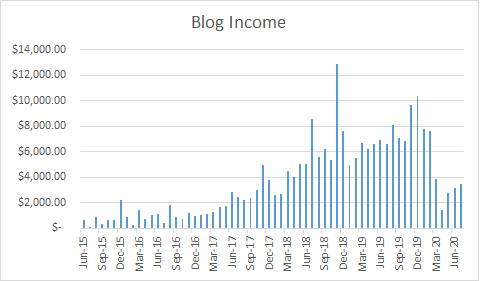 Our booked income for July was approximately $3,440- an 8% increase from June but a decrease of 49% from July 2019. This income was approximately 93% from our local Pittsburgh blog and 7% from our travel blog.
The breakdown includes the following:
*CPM Ads: $3,160
*Affiliates: $286
Our income could've been better in July as ad rates were slightly lower due to the start of Q3 (a common trend in the industry). But we are seeing more affiliate bookings, mostly local hotels, which gives us hope that things will start rising back up here soon.
Admittedly, I'm more or less ready to just skip to 2021 right now.
Please note that the above is booked income. This is money that we have negotiated, contracted, and/or earned throughout the month but is not necessarily money that was received in-house. Payment for income can often range from a few minutes to several months (and, in some cases, can be canceled outright). While we track this for tax purposes, we only share booked income in this report.
July 2020 Expenses
Our dedicated blog expenses* for the month of July were roughly $475, with the following breakdown:
*Mailerlite: $45
*Programs: $25
*Domains: $20
*Pinterest VA: $250
*Social media ads: $135
Another month at our bare minimum with not much to say about it.
*Plus travel/local expenses which we do not track here. This can be anywhere from $100-$3,000+ per month extra, but your mileage may vary based on your blog niche. This report strives to only track true blog expenses.
August 2020 Goals
With additional restrictions in Pittsburgh, I've decided that working on a book right now is a bit too ambitious of a project if only because who knows what will still be around when things open back up. As such, I've moved this to be a winter project to get out in the spring after things, hopefully, return to a sense of normalcy.
As such, I'm really diving down into working on some back end SEO improvements on these sites, and then doubling down on content for The Grape Pursuit and This Week in Blogging to hopefully build those up as fast as possible (Doctor of Coffee is still a slow project for the future).
Gotta work on what excites you during quarantine, right?
Looking For Past Reports?
Unlike other websites that host an article series on this topic, we only have one article for our travel blog income and traffic reports.
We do this for a number of reasons, but it is mostly because we do not want dozens upon dozens of posts on our site to this one specific topic. Over time, the monthly details become irrelevant and trends are the only thing that matters.
To compensate for this, we update this article every month based on our current data and publish a graphical summary of previous months as well. If you have any questions about data from a specific month we are happy to share more details via email if you contact us.
Have an existing blog that is in need of an upgrade? Check out the following services we personally use!
Looking for tips? Read our Blog Your Trip series!
Need SEO help? Check out our consulting services!
About Jeremy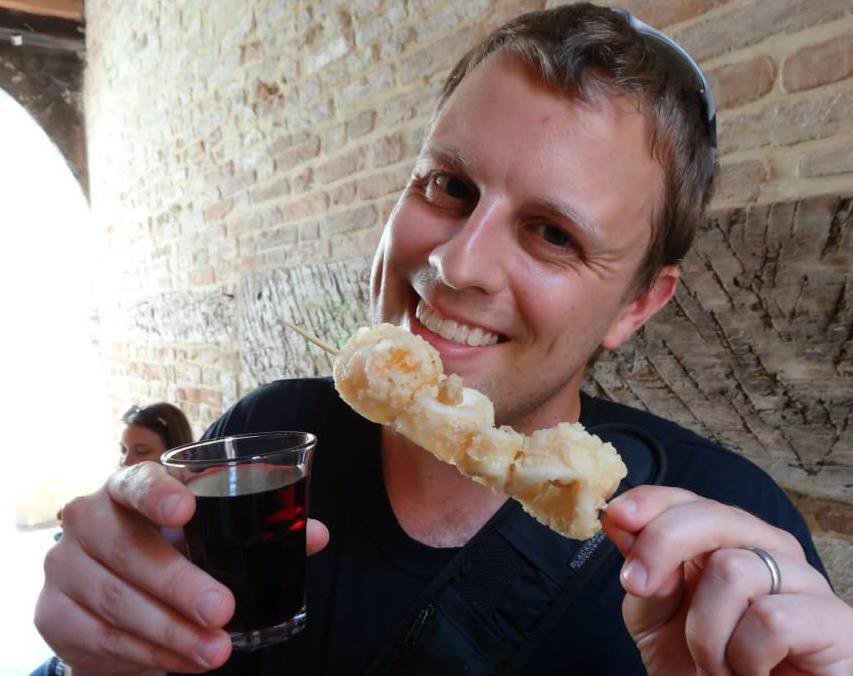 About the Author: Jeremy is a full-time travel writer based in Pittsburgh and primary author of this site. He has been to 70+ countries on five continents and seeks out new food, adventure activities, and off-the-beaten-path experiences wherever he travels.