Last Updated on November 30, 2021 by Jeremy
Disclaimers: Our site uses demographic data, email opt-ins, display advertising, and affiliate links. Please check out our Terms and Conditions for more information. Listed prices and attraction details may have changed since our visit and initial publication.
Welcome to the 83rd entry into our monthly income and traffic report!
In this monthly update we share our traffic, earning, and spending figures for our blogs from the previous month so you can get a glimpse inside the business of blogging. In addition to sharing these for your use, by publishing our information we are also able to stay on track with our own goals for our business.
Prior to reading, it is worth noting that we feature two blogs in this report (one global travel and one local travel) and our income is based on the combined total of the two. We break down the traffic for each in this report for additional information.
November 2021 Travel Blog Traffic Report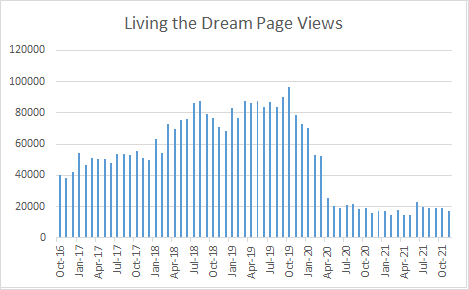 Our traffic on Living the Dream for the month of November was roughly 17,450 page views. This was a decrease of 4.5% on a per-day basis from October and an increase of 10% from November 2020.
It always stinks to see a decrease in traffic right now, although November has historically had a drop in traffic from October for the past five years- so this isn't surprising at all.
But so far the last few months have had an increase in traffic over the same month in 2020 which indicates that things are slowly moving in the right direction. Slowly being the keyword, at least.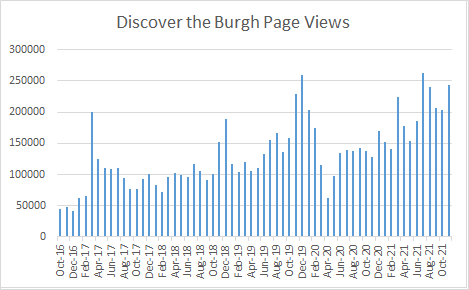 On the Discover the Burgh front, our traffic in November was approximately 243,000 page views- an increase of 23% on a per-day basis from October and an increase of 89% from November 2020.
I'll take third best month ever traffic for November- we were only bested by December 2019 (Christmas traffic) and a nice summer spike this July.
Really, the jump from last year was predictable because it was early November when we had another COVID spike that caused everything to be shutdown- thus killing our holiday traffic completely. Seeing a 6% gain over 2019 traffic was a bit lower than we anticipated, but as growth is growth, we are not upset.
Onward to a new record in December? We hope so.
November 2021 Travel Blog Income Report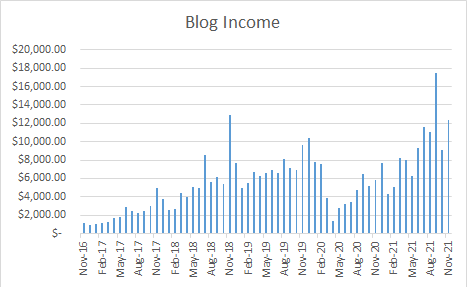 Our booked income for November was approximately $12,714 – an increase of 44% from October on a per-day basis and a 118% increase from November 2020. This income was approximately 95% from our local blog and 5% from our travel blog.
The breakdown includes the following:
*CPM Ads: $11,900
*Affiliates: $514
*Sponsored Advertising: $300
A new record on Mediavine is what pulled us through this month. I've learned to be a lot more strategic when it comes to my Black Friday weekend marketing and managed to get a number of viral shares out on Facebook plus some solid Google traffic as well.
All told, the four-day period between Black Friday and Cyber Monday contributed $3,100 of this total- not bad for four days and zero work for me as it was all scheduled in advance.
This holiday spike was necessary because I immediately spent all of it (and then some) on some Black Friday deals.
Please note that the above is booked income. This is money that we have negotiated, contracted, and/or earned throughout the month but is not necessarily money that was received in-house. Payment for income can often range from a few minutes to several months (and, in some cases, can be canceled outright). While we track this for tax purposes, we only share booked income in this report.
November 2021 Expenses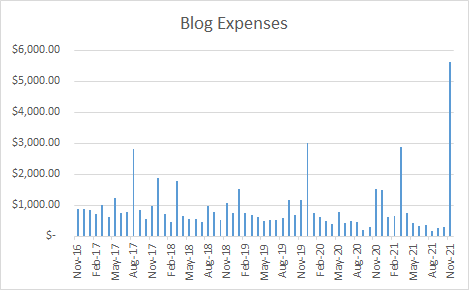 Our dedicated blog expenses* for the month of November were roughly $5,623, with the following breakdown:
*Social Media Ads: $527
*Programs: $607
*Stock Photos: $78
*Camera and Lens: $3,238
*Laptop: $848
*Professional Membership Dues: $325
What can I say? Black Friday has good deals. Unfortunately, some of those good deals have annual renewals associated, so it means that a number of items I purchased in previous years come back for subsequent payment again in November.
I've hedged my costs a bit here by upgrading my GeneratePress license to a lifetime option, but suspect that my program and professional due cost will more or less hold constant every November.
With regards to the tech, I was planning this one for a while. My old laptop wouldn't charge past 10% and had a broken hinge. My camera has a scratch on the sensor and changes modes on its own without touching it. And since I finally upgraded to a full-frame sensor, well, I needed a new lens for it as I only ever shot APS-C before this.
Hopefully next year will not be as much, but I do also want a drone, so we will see!
*We do not share our travel/local expenses in this report. This can be anywhere from $100-$3,000+ per month extra, but your mileage may vary as the costs to generate content can vary wildly from blog to blog. We strive to only share true blog operating expenses here.
December 2021 Goals
December this year is back to my old habits of writing as many articles as possible to capitalize on Q4 ad income.
This means 3-5 articles per week on the local blog, 1-2 articles per week on the travel blog, plus a few on our other projects that are not included in this income roundup.
I'll be hitting a ton of holiday activities and then immediately publishing an article the next day, and intend to hit it as much as possible until just before Christmas where we will slow it down for our annual break until spring.
The end is in sight friends!
Looking For Past Reports?
Unlike other websites that host an article series on this topic, we only have one article for our travel blog income and traffic reports.
We do this for a number of reasons, but it is mostly because we do not want dozens upon dozens of posts on our site on this one specific topic. Over time, the monthly details become irrelevant and trends are the only thing that matters.
To compensate for this, we update this article every month based on our current data and publish a graphical summary of previous months as well. If you have any questions about data from a specific month we are happy to share more details via email if you contact us.
Have an existing blog that is in need of an upgrade? Check out the following services we personally use!
Looking for tips? Read our Blog Your Trip series!
Need SEO help? Check out our consulting services!
About Jeremy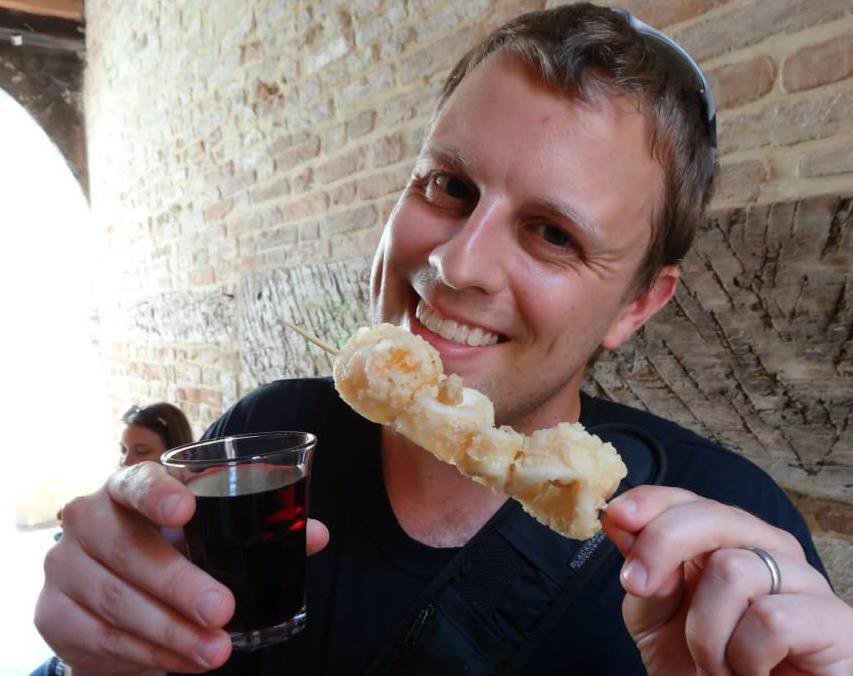 About the Author: Jeremy is a full-time travel writer based in Pittsburgh and primary author of this site. He has been to 70+ countries on five continents and seeks out new food, adventure activities, and off-the-beaten-path experiences wherever he travels.