Last Updated on May 1, 2021 by Jeremy
Disclaimers: Our site uses demographic data, email opt-ins, display advertising, and affiliate links. Please check out our Terms and Conditions for more information. Listed prices and attraction details may have changed since our visit and initial publication.
Welcome to the 76th entry into our monthly income and traffic report!
In this monthly update we share our traffic, earning, and spending figures for our blogs from the previous month so you can get a glimpse inside the business of blogging. In addition to sharing these for your use, by publishing our information we are also able to stay on track with our own goals for our business.
Prior to reading, it is worth noting that we feature two blogs in this report (one global travel and one local travel) and our income is based on the combined total of the two. We break down the traffic for each in this report for additional information.
April 2021 Traffic
Our traffic on Living the Dream for the month of April was roughly 14,900 page views. This was a decrease of approximately 14% on a per-day basis from March and a decrease of 40% from April 2020.
I'm a bit disheartened to see a drop in April from our March figures, but such is life when virtually all of the articles on our site are from international destinations and domestic travel is heating back up.
Thankfully, we just finished our first domestic trip in six months and I have no fewer than twenty article drafts lined up to go in May and June, so hopefully we'll start turning this around in a hurry. Either way, it kind of feels like we're starting this blog over from scratch, and honestly I'm okay with this.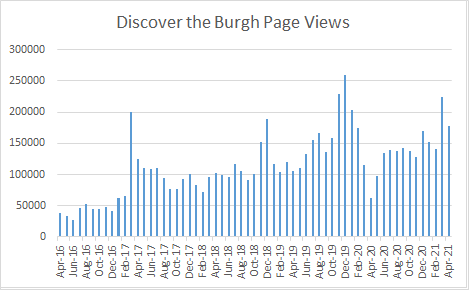 On the Discover the Burgh front, our traffic in April was approximately 177,000 page views- a decrease of 18% on a per-day basis from March and an increase of 80% from April 2020.
While we didn't have any virals in the month of April as we did in March, which resulted in a slight drop in traffic, I'm still pretty pleased to see an 80% increase in traffic from April 2020 all the same. In fact, we are up 73% in traffic from 2019 so if we assume that 2020 was simply a lost year all things are looking good here.
It should keep on looking better as more people get vaccinated and start exploring even more locally this summer!
April 2021 Travel Blog Income Report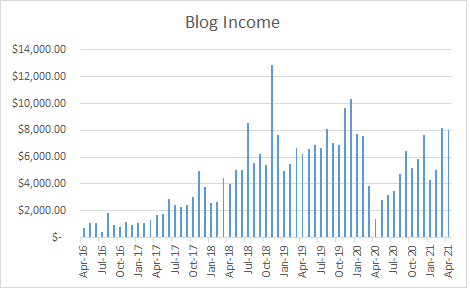 Our booked income for April was approximately $8,080- a 1.5% decrease from March and a whopping 477% increase from April 2020. This income was approximately 95% from our local blog and 5% from our travel blog.
The breakdown includes the following:
*CPM Ads: $6,200
*Sponsored Ad: $1,500
*Affiliates: $380
First off, we have to highlight just how bad April 2020 was. That was the month where the world was 100% shut down and, as such, we only made just under $1,400- a figure so low we last made that in April 2017. To be up nearly 500% from that just a year later when things are still not entirely back to normal is, well, simply amazing.
Going further, I was bracing myself for a big drop in income this month with Airbnb closing their affiliates program (cutting out $2,000 in monthly income just like that). Somehow the universe delivered a sponsored campaign opportunity on our local blog that was not only a fit for what we do but also incredibly stress-free and went over quite well with our audience.
I have to admit, I didn't see that coming. All this came together for our sixth-best income month ever, and we couldn't be more pleased.
Either way, I feel like this is a bit of breathing room even though I do not anticipate accepting another sponsored campaign in May. Progress all the same works for me!
Please note that the above is booked income. This is money that we have negotiated, contracted, and/or earned throughout the month but is not necessarily money that was received in-house. Payment for income can often range from a few minutes to several months (and, in some cases, can be canceled outright). While we track this for tax purposes, we only share booked income in this report.
April 2021 Expenses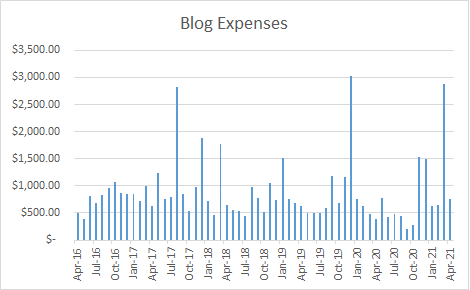 Our dedicated blog expenses* for the month of April were roughly $762, with the following breakdown:
*Mailerlite: $65
*Domains: $10
*Other Programs: $257
*Social media ads: $430
I had a number of programs renew this month including GeneratePress, Tailwind, as well as a few domains, so these one-off fees added up a fair bit. But my social media spending dropped some to offset that.
Still, we're slightly higher than our baseline spending this month but within 10% of our earnings which is always a good percentage target to have.
*We do not share our travel/local expenses in this report. This can be anywhere from $100-$3,000+ per month extra, but your mileage may vary as the costs to generate content can vary wildly from blog to blog. We strive to only share true blog operating expenses here.
May 2021 Goals
May is going to be an interesting month as we will be returning home from our first real vacation in just over a year. Yep- we spent the last part of April in Hilton Head (SC), Savannah, and Tybee Island (GA) after waiting for our vaccines to take full effect. Throughout this trip, I got enough ideas for twenty articles and I hope to push the lot of them out on Living the Dream over the coming days and weeks with the bulk of them out by the end of May.
Why so fast? Because we booked another trip for Maine and Boston (MA) in June!
2021 will be the year of domestic travel, and we have no fewer than four trips lined up in the four corners of the country if all goes well. I also have a few partnered domestic trips scheduled solo with nearby destinations as well, plan to return to Washington DC a few times to continue my wine certifications, and we have an international trip to Istanbul/Georgia (the country) in October if all goes well with their recovery too.
Soon there will be content overload here!
So my goals for May will be to push these out plus resume indoor activities in Pittsburgh (and publishing corresponding articles there as well). Time to resume our growth at all costs model and that means pushing out as many articles as we can throughout the month!
My side project for the month of May will also be to continue work on the ebook for This Week in Blogging, toying around a bit more with a few affiliate product sites I built in the last few months, plus pushing out more wine reviews on my wine blog. But these are all side projects to my main sites so we'll see how much we get out on these in May.
Living the Dream is the priority for the first time in a year!
Looking For Past Reports?
Unlike other websites that host an article series on this topic, we only have one article for our travel blog income and traffic reports.
We do this for a number of reasons, but it is mostly because we do not want dozens upon dozens of posts on our site to this one specific topic. Over time, the monthly details become irrelevant and trends are the only thing that matters.
To compensate for this, we update this article every month based on our current data and publish a graphical summary of previous months as well. If you have any questions about data from a specific month we are happy to share more details via email if you contact us.
Have an existing blog that is in need of an upgrade? Check out the following services we personally use!
Looking for tips? Read our Blog Your Trip series!
Need SEO help? Check out our consulting services!
About Jeremy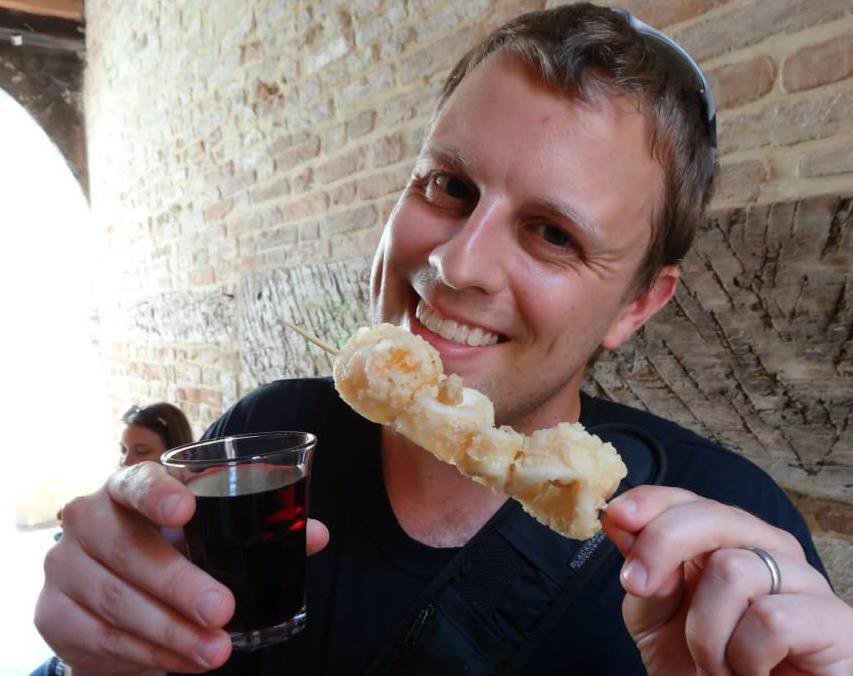 About the Author: Jeremy is a full-time travel writer based in Pittsburgh and primary author of this site. He has been to 70+ countries on five continents and seeks out new food, adventure activities, and off-the-beaten-path experiences wherever he travels.