Last Updated on by Jeremy
Disclaimers: Our site uses demographic data, email opt-ins, display advertising, and affiliate links. Please check out our Terms and Conditions for more information. Listed prices and attraction details may have changed since our visit and initial publication.
Welcome to the 66th entry into our monthly income and traffic report!
In this monthly update we share our traffic, earning, and spending figures for our blogs from the previous month so you can get a glimpse inside the business of blogging. In addition to sharing these for your use, by publishing our information we are also able to stay on track with our own goals for our business.
Prior to reading, it is worth noting that we have two blogs (one global travel and one local travel) and our income is based on the combined total of the two. We break down the traffic for each in this report for additional information.
June 2020 Traffic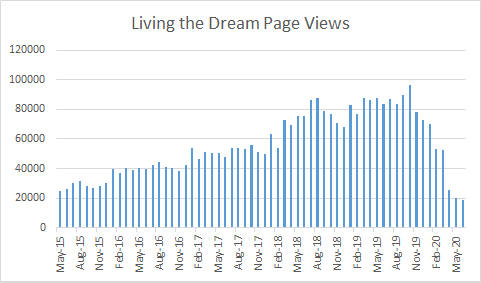 Our traffic on Living the Dream for the month of June was roughly 18,850 page views. This is was a decrease of approximately 4% on a per-day basis from May and a decrease of 77% from June 2019.
We haven't really seen much change this much as global travel is still more or less halted for the foreseeable future. I've also only published a couple new articles, so it is not surprising that traffic is still at a standstill.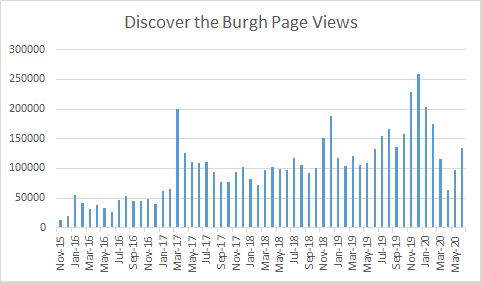 On the Discover the Burgh front, our traffic was 135,000 page views- up 43% on a per-day basis from May and up approximately 2% from June 2019.
What? Real YOY traffic increase? Hooray!
This was our first month since the start of COVID where we were above 100,000 page views, and the first month where we had improived compared to the same month in 2019.
In general, our Google traffic is still down 25-35% most days due to a mix of people not going out to all the business we've written about as well as past algorithm changes. The real change for this month was in Facebook where we had several shares do exceptionally well and a week-long viral surge accounting for about 35,000 page views.
This one is happening more and more frequently, noting the power of Facebook, but we do wish we could make this one happen in regular intervals!
June 2020 Travel Blog Income Report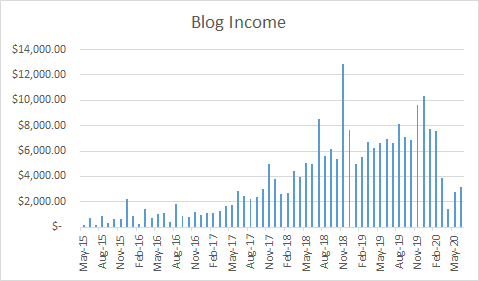 Our booked income for June was approximately $3,159- a 14% increase from May but a decrease of 54% from June 2019. This income was approximately 90% from our local Pittsburgh blog and 10% from our travel blog.
The breakdown includes the following:
*CPM Ads: $2,918
*Affiliates: $241
First and foremost, it is worth noting that our CPM ads had a huge jump this month partly due to our traffic increase but also as RPM rates are slowly making their way to pre-COVID levels. Our CPM rates went up over 90% despite a roughly 50% increase in overall traffic.
This is good because our affiliate earnings are still quite low, but we are finally at least back in a territory where I can actually pay my bills. Hopefully we'll keep going up!
Please note that the above is booked income. This is money that we have negotiated, contracted, and/or earned throughout the month but is not necessarily money that was received in-house. Payment for income can often range from a few minutes to several months (and, in some cases, can be canceled outright). While we track this for tax purposes, we only share booked income in this report.
June 2020 Expenses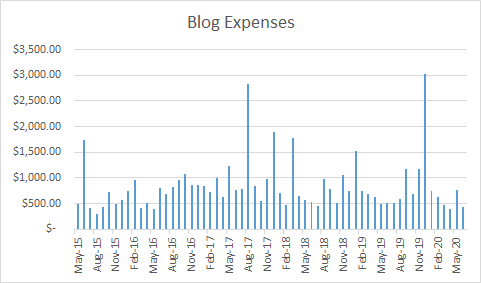 Our dedicated blog expenses* for the month of May were roughly $430, with the following breakdown:
*Mailerlite: $45
*Programs: $25
*Pinterest VA: $250
*Social media ads: $150
For the time being we are not going to include the expenses we have to get our new blogs and blogging newsletter off the ground, and instead only want to focus on expenses for running our two existing travel blogs for the time being as they're actually making money as well.
As such, our spending for the month was right around our baseline. Hard to say no to that!
*Plus travel/local expenses which we do not track here. This can be anywhere from $100-$3,000+ per month extra, but your mileage may vary based on your blog niche. This report strives to only track true blog expenses.
July 2020 Goals
I gave myself a goal of finishing my Pittsburgh guidebook's first draft in June, and I failed miserably. Mostly I had lost all motivation and also put more of my time and effort into getting This Week in Blogging up and running which, for the most part, we've finally streamlined.
So working on my book will be my primary goal for July.
That being said, it looks like COVID cases are on the rise here, and our city just shut down some bars once again, so releasing the book right now may not make the most sense. As such, my goal for July is just to get as much done as possible rather than be 100% finished.
Looking For Past Reports?
Unlike other websites that host an article series on this topic, we only have one article for our travel blog income and traffic reports.
We do this for a number of reasons, but it is mostly because we do not want dozens upon dozens of posts on our site to this one specific topic. Over time, the monthly details become irrelevant and trends are the only thing that matters.
To compensate for this, we update this article every month based on our current data and publish a graphical summary of previous months as well. If you have any questions about data from a specific month we are happy to share more details via email if you contact us.
Have an existing blog that is in need of an upgrade? Check out the following services we personally use!
Looking for tips? Read our Blog Your Trip series!
Need SEO help? Check out our consulting services!
About Jeremy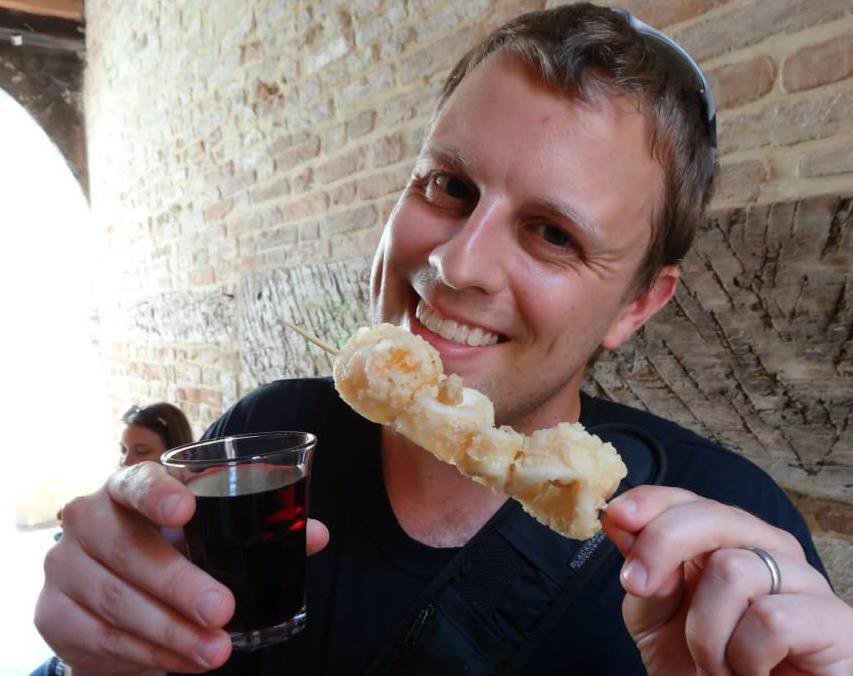 About the Author: Jeremy is a full-time travel writer based in Pittsburgh and primary author of this site. He has been to 70+ countries on five continents and seeks out new food, adventure activities, and off-the-beaten-path experiences wherever he travels.