Last Updated on November 30, 2020 by Jeremy
Disclaimers: Our site uses demographic data, email opt-ins, display advertising, and affiliate links. Please check out our Terms and Conditions for more information. Listed prices and attraction details may have changed since our visit and initial publication.
Welcome to the 71st entry into our monthly income and traffic report!
In this monthly update we share our traffic, earning, and spending figures for our blogs from the previous month so you can get a glimpse inside the business of blogging. In addition to sharing these for your use, by publishing our information we are also able to stay on track with our own goals for our business.
Prior to reading, it is worth noting that we feater two blogs in this report (one global travel and one local travel) and our income is based on the combined total of the two. We break down the traffic for each in this report for additional information.
November 2020 Traffic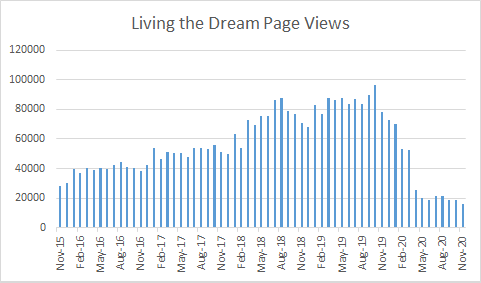 Our traffic on Living the Dream for the month of November was roughly 15,900 page views. This was a decrease of approximately 13% from October on a per-day basis and a decrease of 80% from November 2019.
As the world approaches another massive shutdown, I am not surprised that we are seeing a decrease in traffic (our lowest month to date since COVID went global). Add in the fact that I migrated some of my more popular articles to our new wine blog and blogging blog, and the dip is even more pronounced. In fact, when accounting for the traffic on these posts our drop from October would likely have only been 1-2% by my estimates.
On the plus side, we booked an international trip for October 2021 (Georgia!) and hope we can start pushing out more content on this site by then. The holding pattern continues.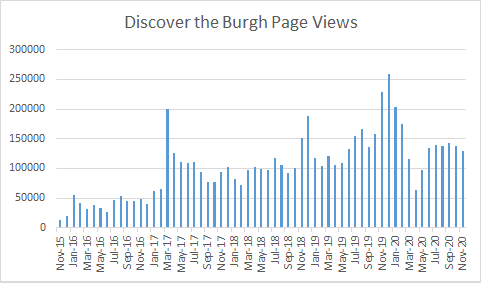 On the Discover the Burgh front, our traffic in November was 128,500 page views page views- a decrease of 3.5% on a per day basis from October and a decrease of 44% from November 2019.
With the rise in local COVID cases, we're seeing fewer and fewer articles get traffic. Since November and December normally have huge traffic spikes for us due to seasonal content, and most things are being canceled this year, this lack of a spike is not surprising.
As such, while I'm pretty happy with breaking 100,000 page views for the month I have to admit if COVID was not a thing right now we'd probably be at least triple that. Ouch.
November 2020 Travel Blog Income Report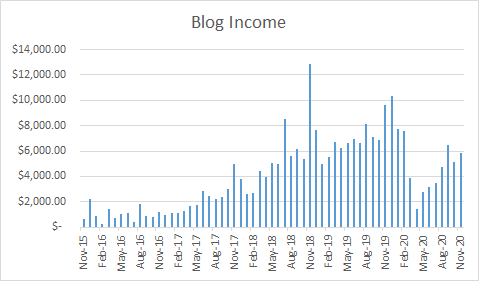 Our booked income for November was approximately $5,822- a 12% increase from October and a 40% decrease from November 2019. This income was approximately 95% from our local blog and 5% from our travel blog.
The breakdown includes the following:
*CPM Ads: $4,450
*Affiliates: $1,122
*Consulting: $250
With Black Friday and Cyber Monday come stellar ad rates, and we did our best to get as much traffic as possible over the course of this weekend to capitalize on that. It wasn't quite as good as 2019, where we made over $2,000 in ads alone over the weekend four day BF-CM weekend, but I'll take the ~$1,250 we made in that stretch all the same.
This was the main reason for our income spike from October (a modest increase in Airbnb bookings didn't hurt, either).
When looking at it, our income drop YOY was just about 40% but our traffic drop was closer to 53% as this travel blog is still severely depressed. As such, it is a bit encouraging that our sitewide RPMs have increased to pick up some of the slack.
Hopefully that'll carry through to 2021 when traffic is likely to recover more.
Please note that the above is booked income. This is money that we have negotiated, contracted, and/or earned throughout the month but is not necessarily money that was received in-house. Payment for income can often range from a few minutes to several months (and, in some cases, can be canceled outright). While we track this for tax purposes, we only share booked income in this report.
November 2020 Expenses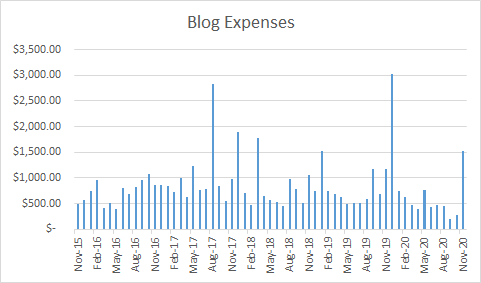 Our dedicated blog expenses* for the month of October were roughly $1,533, with the following breakdown:
*Mailerlite: $45
*Programs: $27
*Stock Photos: $78
*Social media ads: $230
*Plugin Purchases: $326
*Professional Org Dues: $175
*Home Server: $652
November always seems to be a high spend month if only because I'm a sucker for Black Friday and Cyber Monday deals for blogging. And, since many of these feature recurring charges, returning dues hit the accounts as well in addition to new purchases.
This year's new purchases include upgrading to a WPForms premium subscription to prevent contact spam, more stock photos, and upgrading to Rank Math Pro.
I also am in desperate need of a new laptop, but since I did not find a great deal on the models I've been eyeing I'm building a home server instead and hoping my current laptop can last a few more month while I save my pennies for a dream machine. (The home server will be used for local redundancy plus other fun projects.)
Our server hosting renews next month! That'll be another $1,000+ doozy.
*We do not share our travel/local expenses in this report. This can be anywhere from $100-$3,000+ per month extra, but your mileage may vary as the costs to generate content can vary wildly from blog to blog. We strive to only share blog operating expenses here.
December 2020 Goals
We're quickly approaching the end of 2020 (we're so ready), and with that means one final push to get as much traffic as possible to enjoy Q4 ad rates.
While I expect our traffic to be down significantly YOY thanks to the rise in local/global COVID cases and cancelation of Christmas events left and right, we are still making an effort to get as much content as published as possible.
If we can end the year caught up on all draft posts to start 2021 out fresh, I'd consider that a pretty solid win independent of whatever our traffic turns out to be. In fact, I think I had the same exact goal last December too!
Looking For Past Reports?
Unlike other websites that host an article series on this topic, we only have one article for our travel blog income and traffic reports.
We do this for a number of reasons, but it is mostly because we do not want dozens upon dozens of posts on our site to this one specific topic. Over time, the monthly details become irrelevant and trends are the only thing that matters.
To compensate for this, we update this article every month based on our current data and publish a graphical summary of previous months as well. If you have any questions about data from a specific month we are happy to share more details via email if you contact us.
Have an existing blog that is in need of an upgrade? Check out the following services we personally use!
Looking for tips? Read our Blog Your Trip series!
Need SEO help? Check out our consulting services!
About Jeremy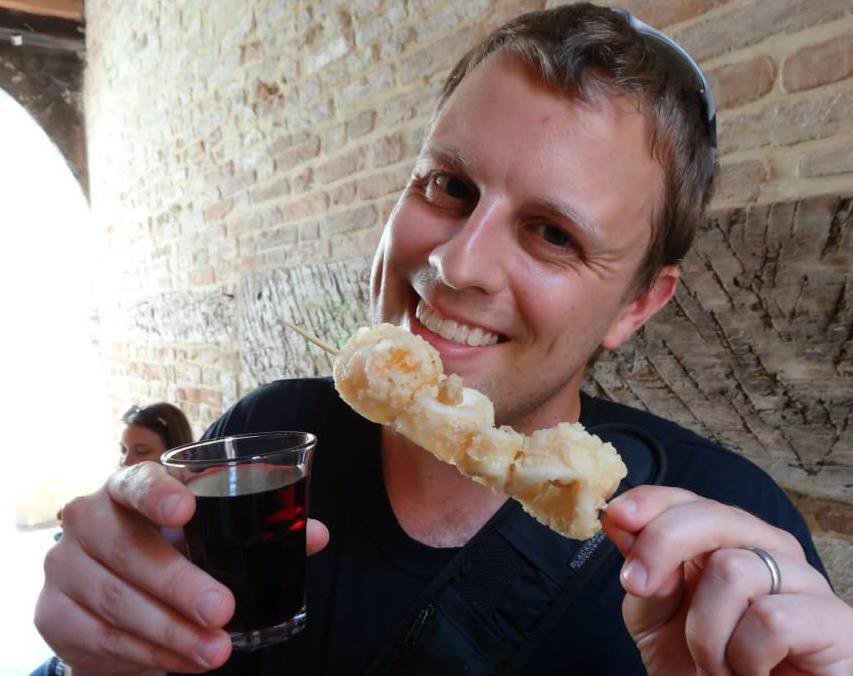 About the Author: Jeremy is a full-time travel writer based in Pittsburgh and primary author of this site. He has been to 70+ countries on five continents and seeks out new food, adventure activities, and off-the-beaten-path experiences wherever he travels.