Last Updated on by Jeremy
Disclaimers: Living the Dream uses demographic data, email opt-ins, display advertising, and affiliate links to operate this site. Please review our Terms and Conditions for more information. Listed prices and attraction details may have changed since our visit and initial publication.
Welcome to the 60th entry into our monthly income and traffic report!
In this monthly update we share our traffic, earning, and spending figures for our blogs from the previous month so you can get a glimpse inside the business of travel blogging. In addition to sharing these for your use, by publishing our information we are also able to stay on track with our own goals for our business.
Prior to reading, it is worth noting that we have two blogs (one global travel and one local travel) and our income is based on the combined total of the two. We break down the traffic for each in this report for additional information.
December 2019 Traffic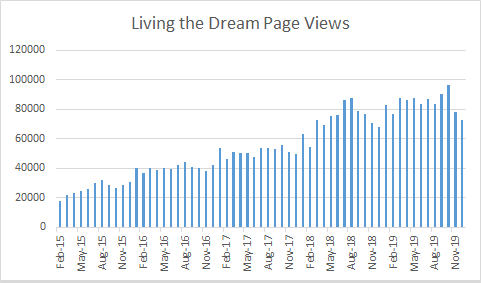 Our traffic on Living the Dream for the month of December was approximately 72,750 page views. This is was a decrease of approximately 10.2% on a per-day basis from November and an increase of 7% from December 2018.
We normally see a big dip in traffic on our travel blog from November to December, and this year was not much different. The effects of the recent Google algorithm change are still on-going, but so far seasonal traffic seems to be the predominant factor in this month's change.
That being said, in the last few years we've seen an uptick in traffic starting on December 26th to the tune of 20-30%, and we are seeing a similar jump again this year (although a bit closer to 20%). While we are not holding our breath that this continues, if it does it would be enough to offset the algorithm changes we saw a few months ago almost entirely.
Still behind where we could've been, but not that much behind our peak traffic in 2018. I guess we'll take that.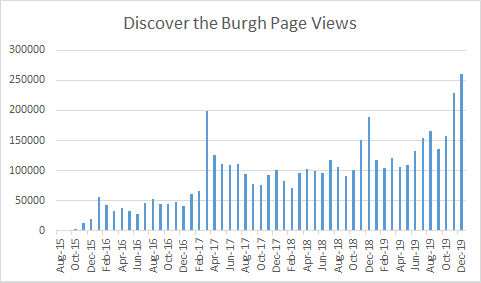 On the Discover the Burgh front, our traffic was 260,000 page views- an increase of approximately 10% from November on a per-day basis and an increase of 38% from December 2018.
Much like November, this was our best traffic month ever thanks in part to a large amount of traffic coming in from holiday searches on Google. While we are sad that Q4 traffic and ad rates are over, getting nearly 650,000 page views for the quarter is certainly excellent.
Now we look to Q1 and anticipate a fairly large traffic drop. From December 2018 to January 2019 we saw a 38% drop in traffic, which is quite significant. But if that happens again this year, we'll have traffic almost comparable to December 2018 (which was our 3rd best month in recent history).
So, suffice it to say, if that trend holds we will not be upset.
December 2019 Travel Blog Income Report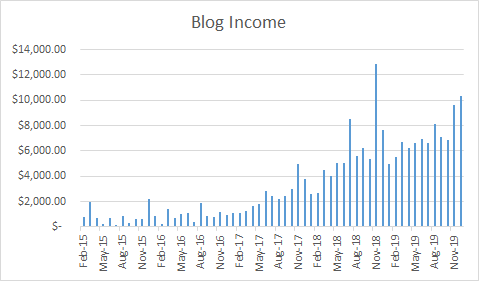 Our booked income for December was approximately $10,363. This was an increase of 7% from November 2019, an increase of 35% from December 2018, and an increase of 175% from December 2017.
Even better, it was our second month over $10,000 in earnings and it was our first time doing it entirely with passive income!
The breakdown includes the following:
*CPM Ads: $8,722
*Affiliates: $1,641
From an income standpoint, we did not have anything really unusual happen for the month as our RPMs and affiliate conversion rates were about what we expected. Apart from good Q4 rates, most of the rise here was due to the fact that our traffic was up considerably for the month.
This definitely is proving that our growth at all costs model is working, but we are also not looking forward to the drop-off at the start of Q1.
Please note that the above is booked income. This is money that we have negotiated, contracted, and/or earned throughout the month but is not necessarily money that was received in-house. Payment for income can often range from a few minutes to several months (and, in some cases, can be canceled outright). While we track this for tax purposes, we only share booked income in this report.
December 2019 Expenses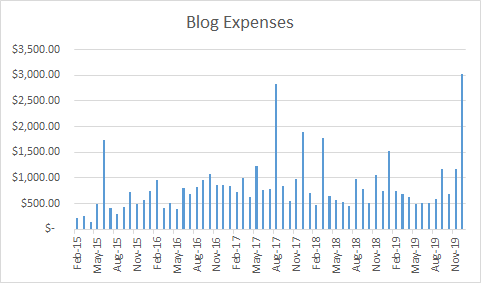 Our dedicated blog expenses for the month of December were roughly $3,017, with the following breakdown:
*Hosting: $1,245
*Mailerlite: $45
*Programs: $65
*Pinterest VA: $250
*Social media ads: $315
*Conference fees: $927
*Quickbooks: $13
*Photography Gear: $157
Wait, what? Over $3,000 in spending?
As it turns out, I had a nice business profit this year. Really good business profit.
In fact, just a few weeks ago I finally got my act together and got an accountant on retainer to help out with tax filing in the spring, and found out that my tax bill was just a bit higher than what I had anticipated. As such, I was encouraged to make some spending this year to help offset the bill.
I originally was going to purchase a new camera to help with this, but decided not to and had a bit of extra money burning a hole in my pocket. But rather than have some out-there spending (as a camera may have been), I went ahead and prepaid some of my major expenses for the year that I would have regardless- namely hosting, fees for two conferences, and some travel expenses (these I do not summarize in this report).
As such, this month's spending is much higher than normal, but our baseline monthly spending in 2020 will be much lower due to not having hosting or conference fees on the books!
I call this a good business problem to have- until December 2020 rolls around at least.
*Plus travel/local expenses which we do not track here. This can be anywhere from $100-$2,000+ per month extra, but your mileage may vary based on your blog niche. This report strives to only track true blog expenses.
2019 in Review
Overall, I am pretty happy with how 2019 turned out.
Our two sites received just over 2,800,000 page views combined for the year which was a 28% increase from 2018. A nice little jump considering the Google traffic decrease in Q4 on Living the Dream, but short of my stretch goal for the year of a 100% increase.
That being said, I predicted about 30% growth so this is right in line with my estimates.
Our gross income (booked) for the year was $86,000 which was a 23% increase as well. When you factor in basic blog expenses, I finally made more this year than the day job I quit near the end of 2018. It was always a goal to fully replace that income and was something I had to make happen this year. So I'll call this a win.
Beyond this, the biggest change on the income front was that I only took about $1,700 of sponsored advertising for the year which was a 75% decrease from 2018 (a couple of fluke campaigns that year paid out really well). While most people would be upset about a revenue stream drying out, I am not- I did this by choice. I am actively declining most sponsored campaigns now (read: paid ads with required copy/links) because I simply do not want to do them anymore. They're more hassle than they're worth.
If you only look at our passive income, we grew at a rate roughly proportional to our traffic increase- hooray!
On the affiliate front we made nearly $24,000 this year (a 50% increase from 2018) coming from an estimated $350,000 in gross sales. These were spread out between hotels, tours, experiences, and more. A nice little sum added into the mix, and something I look forward to working on more in 2020 to try and get it closer to 1:1 with display ads.
And Mediavine, well, they keep rocking, and we made just over $59,000 with them for the year. Onward to $100,000!
This all balances out to an overall CPM rate for our sites of $30- or just about $0.03 per click.
January 2020 Goals (and 2020 Goals at Large)
I have no goals in January because I am tired, burnt out, and ready for a break.
I decided to end my push for publishing as much content as possible in early December in order to have more time to relax, and I'm going to cut my time working down in January even more- something I hope to make a new tradition for the month moving forward.
My main goal for this month is to give myself a detox- both on the electronics front but also in a few bad habits I have in real life. So I'm only going to work about 10 hours a week doing nominal writing and site upkeep while using the rest of the time to enjoy hobbies like reading, playing music, and going to the gym.
It is time for a much-needed break, and I am looking forward to it.
The one caveat here is that I will be going to IMM in NYC at the end of the month, but other than that I am ready for some downtime when things are quiet and it is simply too cold to go outside to explore.
When things pick up again in February, my main goal will be to produce as much content as possible, but with the caveat of not wanting to work more than ~40 hours a week in the process.
I quit my job in order to enjoy a slower pace, and intend to do just that. Thankfully, some of my biggest projects were completed in 2019 (which accounted for a large amount of that time), so 2020 is looking good for that coveted slowdown.
But I still have a lot of new things coming all the same!
Looking For Past Reports?
Unlike other websites that host an article series on this topic, we only have one article for our travel blog income and traffic reports.
We do this for a number of reasons, but it is mostly because we do not want dozens upon dozens of posts on our site to this one specific topic.
To compensate for this, we update this article every month based on our current data and publish a graphical summary of previous months as well. If you have any questions about data from a specific month we are happy to share more details via email if you contact us.
Have an existing blog that is in need of an upgrade? Check out the following services we personally use!
Looking for tips? Read our Blog Your Trip series!
Need SEO help? Check out our consulting services!