Published by Guest Blogger. Last Updated on August 16, 2022.
Disclaimers: Our site uses demographic data, email opt-ins, display advertising, and affiliate links. Please check out our Terms and Conditions for more information. Listed prices and attraction details may have changed since our visit and initial publication.
One of the most unique travel and nature experiences you can find in Colombia, or anywhere in the world for that matter, is a visit to Caño Cristales. Often called the River of Five Colors or the Liquid Rainbow, people from all around the world come to marvel at this unique natural phenomenon and off the beaten path destination in Colombia.
Where is Caño Cristales?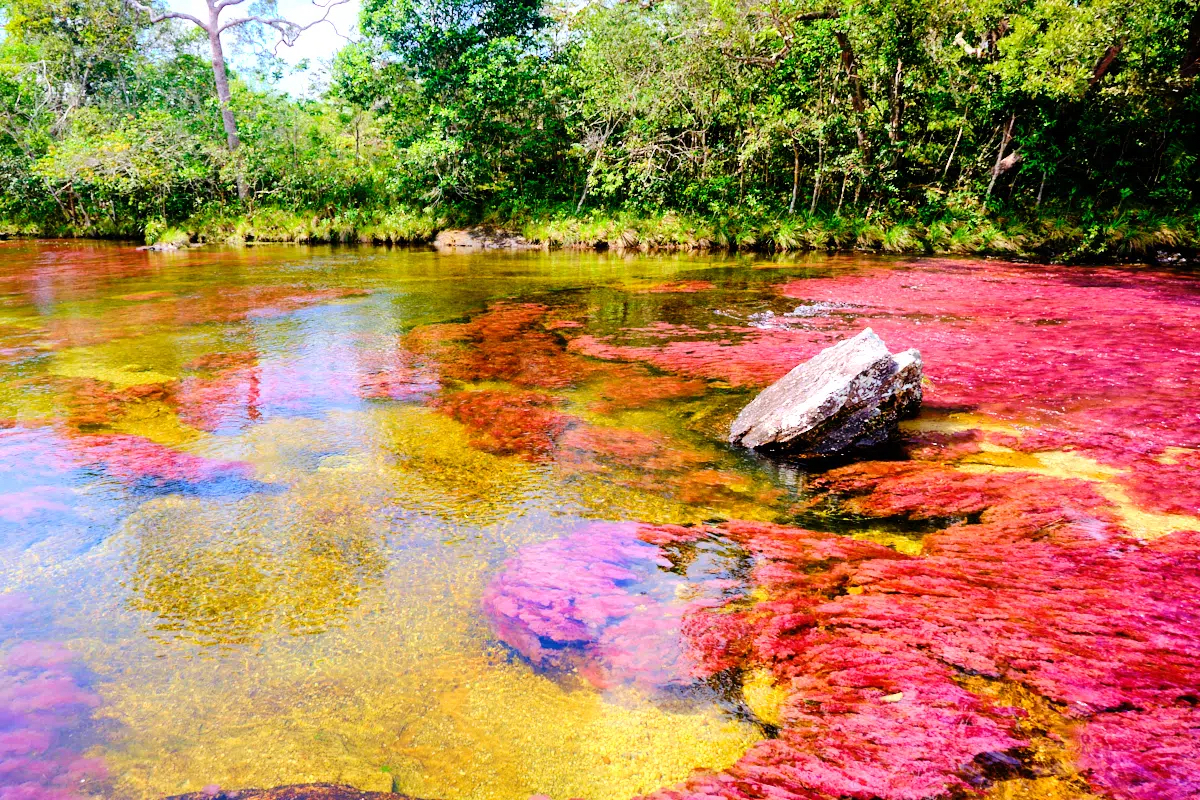 Caño Cristales is located just outside the town of La Macarena, in south central Colombia. Surrounded by jungle and isolated, it's a world apart from the more popular destinations in Colombia like the colonial charm and beaches of Cartagena or the modern urban landscapes of Medellín and Bogotá.
It's also a bit more difficult to reach than other nature destinations in Colombia like Leticia or Tayrona National Park. While, it is technically possible to travel overland to La Macarena, it is a long and arduous journey, not recommended for most travelers. Therefore, it is best to fly, and the airline Satena offers regular flights to La Macarena from Bogotá and Medellín.
It's worth noting that this area was once a conflict zone, and the river of five colors was under the control of rebel group FARC for a long time. However, the peace agreement in Colombia has helped open Caño Cristales up to more and more visitors and the current situation is very safe for travel, although there remains limited infrastructure, so don't expect any 5 star hotels here.
Is it Necessary to Purchase a Tour Package to Caño Cristales?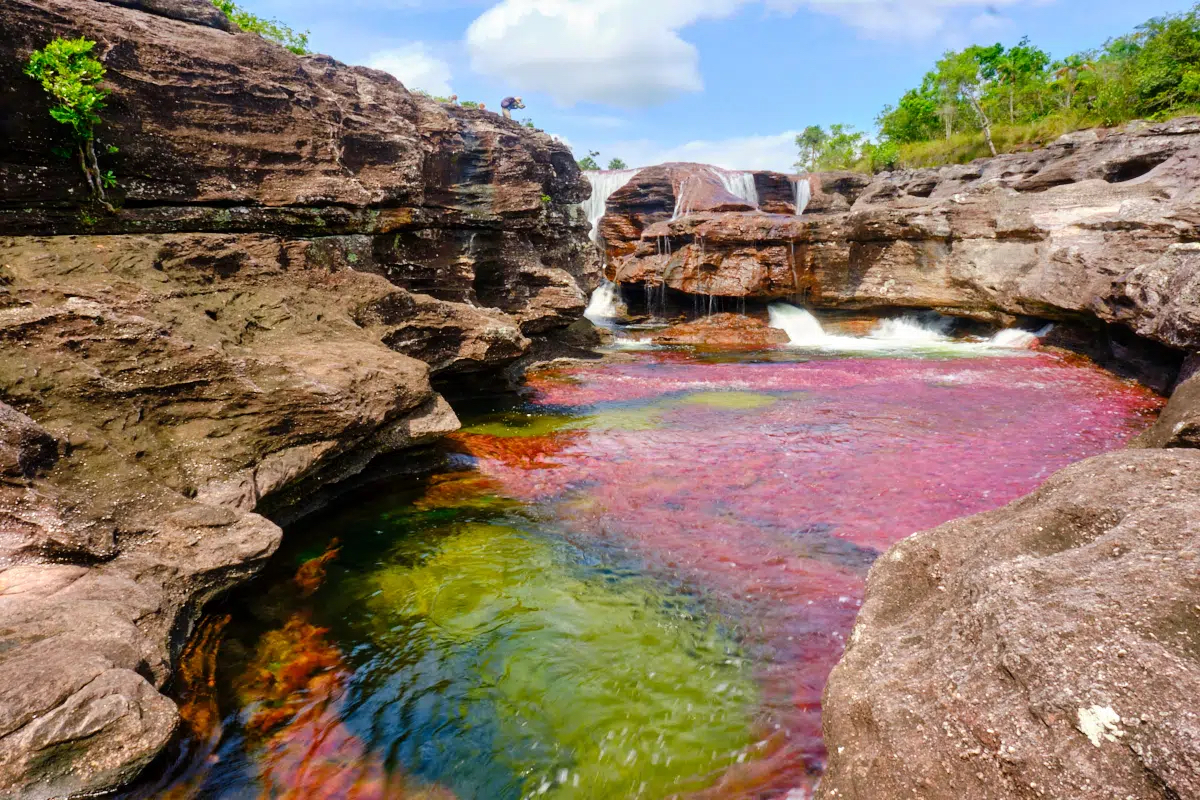 While it is not necessary to plan a visit to Caño Cristales with a tour agency, for most travelers it's a good idea do to so. To enter the national park itself, you must go with a local guide and be preregistered with the park service, so if you do choose to come on your own, you will need to coordinate with a local agency either before hand or once on the ground in La Macarena anyways.
Tour packages usually offer an all-inclusive experience that includes accommodations, food, and, in some cases, even flights, and are usually reasonably priced. Three, four, and five-day packages are the most common.
Keep in mind the first and last days are half days, so four or five days are best, so you can have two days in the park and see different sections of the river. Five day packages usually include a third day visiting another site nearby.
What Gives Caño Cristales the River of Five Colors Effect?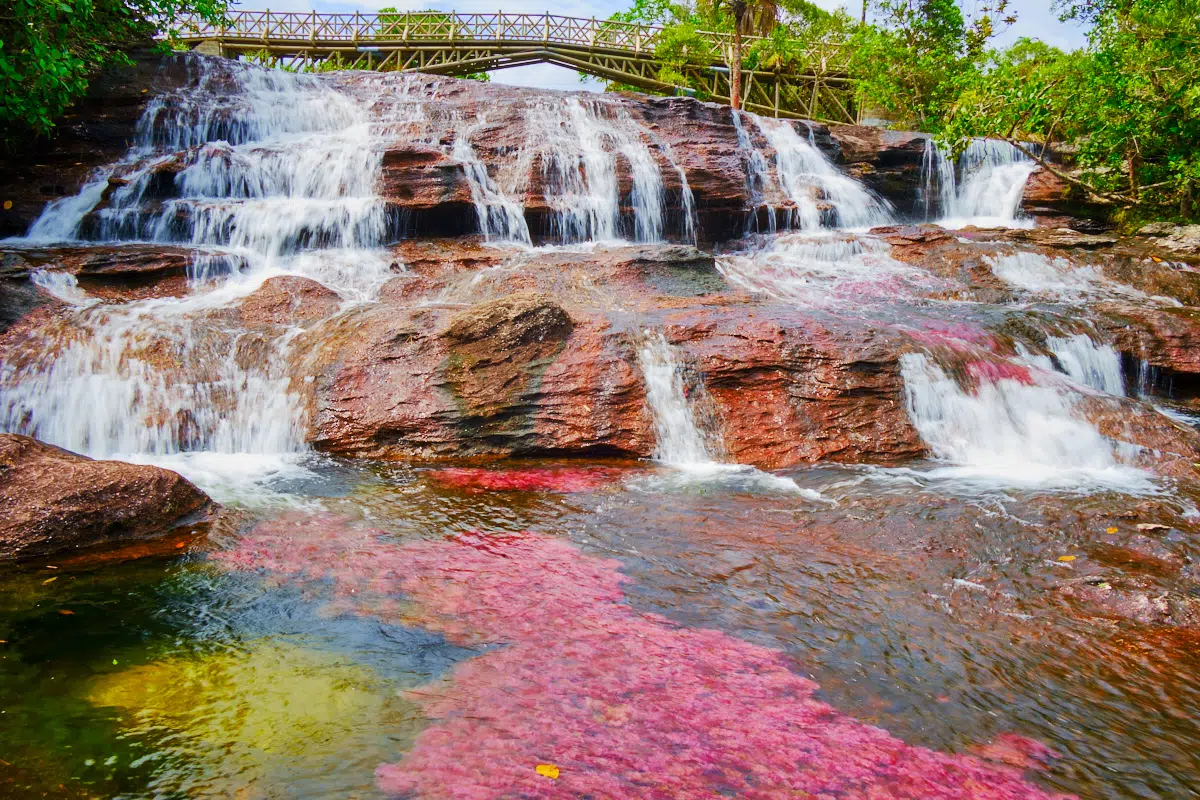 The multicolored effect of the river is due to an aquatic plant known as the macarenia clavigera. This plant only grows in this area and a few other nearby areas of Colombia. It cannot be seen anywhere else in the world.
The plant blooms from July to November, so you'll need to plan your visit to Caño Cristales in that period. The rest of the year, the plant lays dormant, and the color of its blooms depend on the amount to sunlight it absorbs.
In the areas receiving the most sunlight, they bloom bright red and maroon, while areas with some shade might bloom more pink or even white. Minerals in the water give rocky sections of the river a yellow color as well. Along the jungle covered sections of the river, the plant blooms into neat looking shades of green. The blend of all these colors is why Caño Cristales has earned the nickname of the River of Five Colors.
What You'll See at Caño Cristales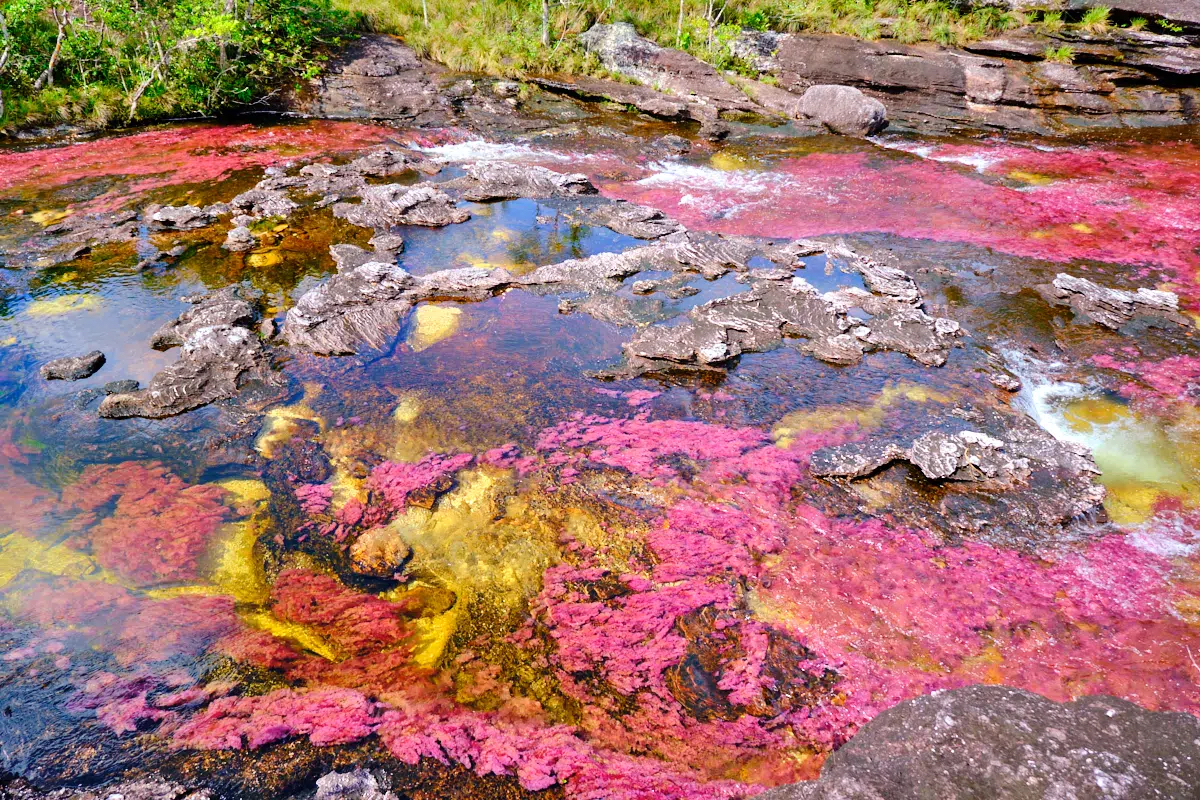 There are several trails inside the park that take visitors along different sections and to various points of interest. Which trail you take will be up to your guide, who will make a determination based on the skill level of your group and the number of other groups visiting that day.
Keep in mind that the river itself is a roughly two hour hike from the trailheads at the entrance to the park, and most guides will plan 6-8 hours of hiking throughout the day to see as much as possible. Most of the terrain is fairly flat but there are some areas of incline, therefore a visit to Caño Cristales is best for those that are at least moderately fit.
Good hiking boots or shoes with a grip for the rocky and sometimes slippery terrain are worth bringing along. Also, sunscreen and bug spray are not allowed in the park so that they do not damage the ecosystem, so long sleeves and pants and good sun hats are also very useful to have. Finally, single use plastics are also prohibited, so bring along a a good sized refillable water bottle that will last you a full day hiking.
The most commonly visited sites you can count on seeing include the stunning Cascada de la Virgen, the falls at Los Ocho, and the swimming hole known as the Piscina del Turista.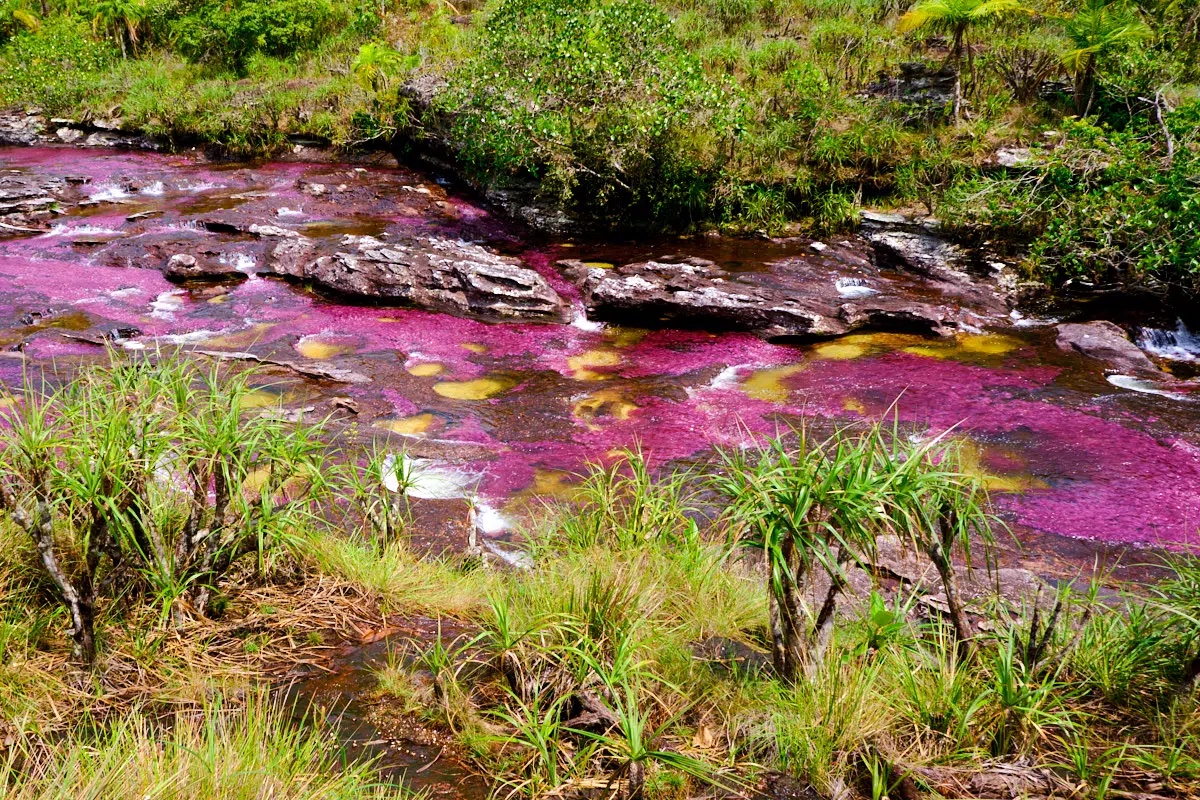 The waterfall of Cascada de la Virgen inspired scenes in the recent Disney film Encanto and is absolutely stunning. The multiple falls at Los Ocho are also really neat looking, and below them, you'll see the area known as El Coliseo, which is gorgeous with the multicolored river flowing through the rocky cliffs on each side.
Just above Los Ocho, you'll find the Piscina del Turista, where you can go for a nice and refreshing swim. Besides not allowing sunscreen and bug spray, visitors are discouraged from using deodorant or any other chemical products for their skin if they plan to swim so as not to pollute the river.
Other sites of interest, are the Los Pianos waterfalls, a series of falls located along the trail known as Los Pianos. This trail will also take you by the area known as El Tapete, Spanish for rug. Here the river is exceptionally calm and the colors makes it look like a colorful rug.
The lesser known trail of Los Pailones, usually only included if you have a second day in the park, takes you through jungle covered sections of the river where you'll find lots of green blooms and another pretty swimming hole. The visit here makes a four or more day trip well worth it.
Finally, most tour packages include the smaller river known as Caño Cristalitos on the first day. Here, you can also see the macarenia clavigeras growing. The hike here is a bit tougher as it is almost constantly up a rock bluff.
Planning to See the River of Five Colors Yourself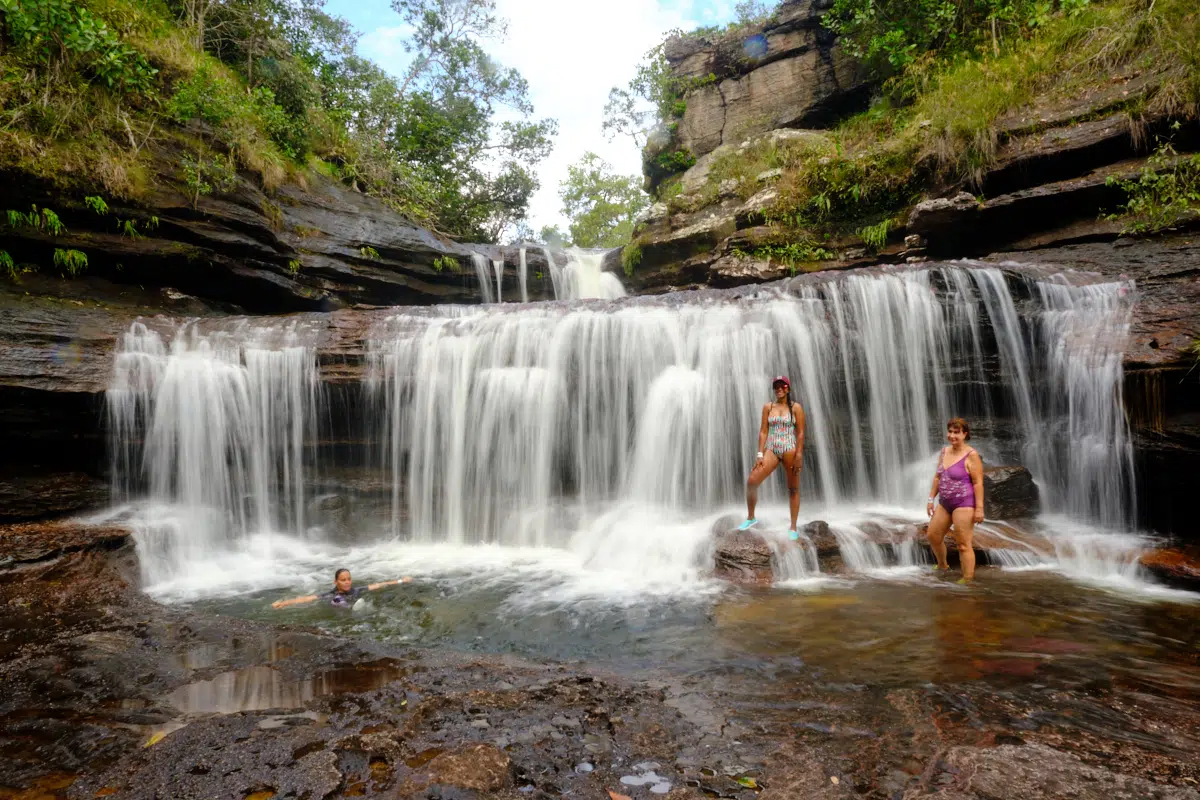 Visiting La Macarena and the River of Five Colors of Caño Cristales is a true adventure and once in a lifetime experience. You'll be seeing one of the more unique and rare natural phenomena in the world and visiting a still largely undiscovered region of Colombia.
Keep in mind that you will want to plan your trip in the July to November season. It's not a bad idea to plan in advance, especially if you will go on a weekend. It's a really special experience that would certainly qualify as living the dream!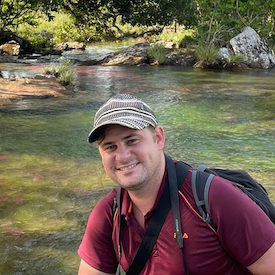 Adam McConnaughhay lived in Cartagena, Colombia from 2011 to 2022. During that time he had the chance to see lots of Colombia, including Caño Cristales in November 2021, and he writes about Cartagena and other destinations in Colombia at CartagenaExplorer.com.
All photos were provided courtesy of Cartagena Explorer.