Published by Jeremy. Last Updated on September 28, 2023.
Disclaimers: Our site uses demographic data, email opt-ins, display advertising, and affiliate links. Please check out our Terms and Conditions for more information. Listed prices and attraction details may have changed since our visit and initial publication.
Taking a ride on the Flam Railway is often a highlight of visitors to the region. It is a beautiful trip up into the mountains that departs just feet from the shores of the fjord.
Admittedly, most travelers will simply buy a round-trip ticket to go up the mountain and back. But for the more adventurous, renting a mountain bike at the upper train station and biking to Flam is a great option!
So book a one-way ticket to Myrdal, grab a bike rental from Cafe Rallaren, and hit the trail for a stellar 12-mile (19-kilometer) ride through the countryside!
What You Can See Biking from Myrdal to Flam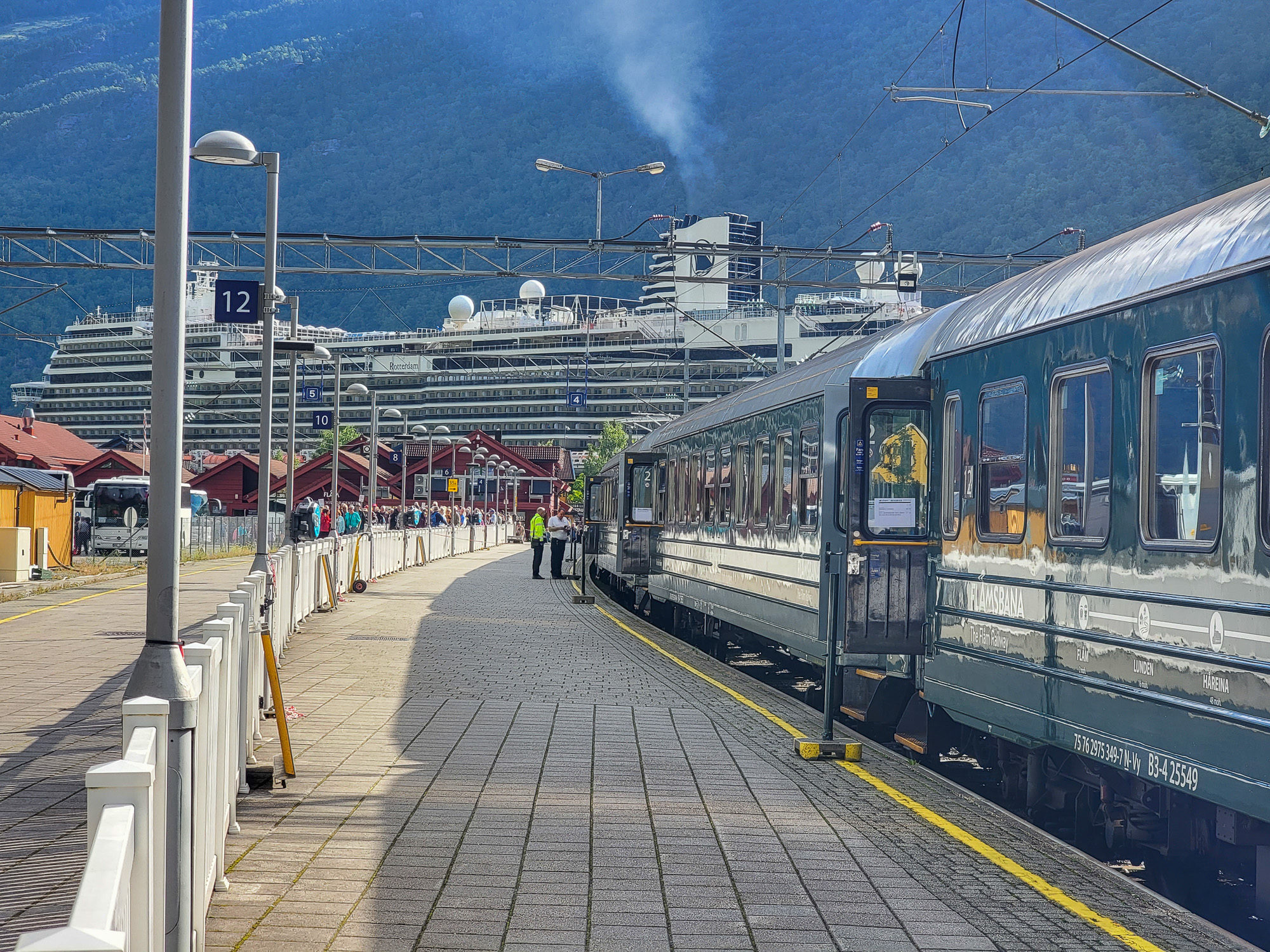 When doing the Flam Railway and biking combination, there is a lot to see.
The ride up the mountain takes just about 40 minutes and includes views of the fjord, mountains, and numerous waterfalls. The latter is perhaps the most exciting element as you can see waterfalls from several elevations as the train travels higher and higher into the mountains. At one spot you may be at the base of a waterfall, the next you are halfway up, and later, you may see some waterfalls from above, too!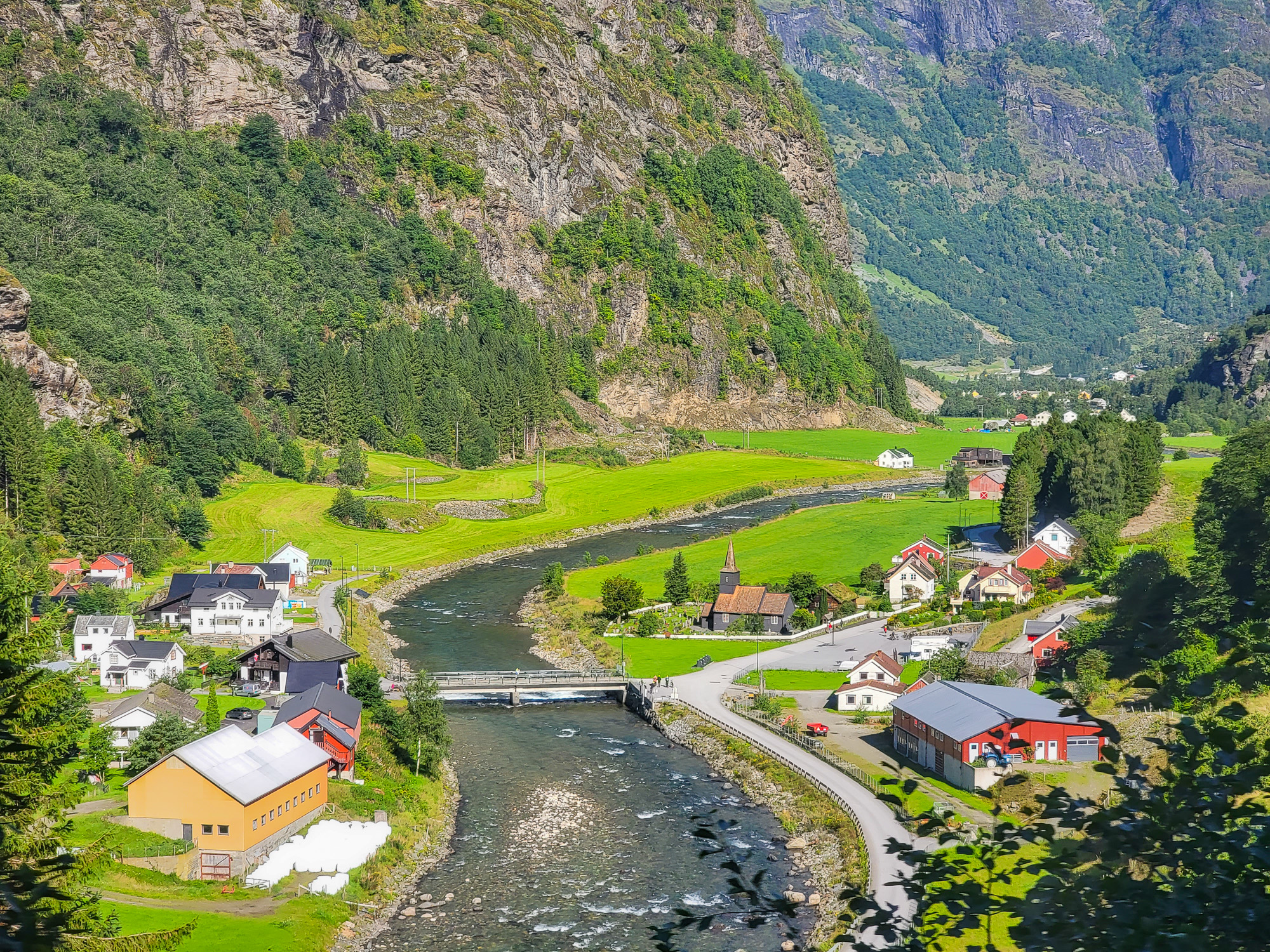 The train also stops at a waterfall on the way up that includes music and a theatrical element featuring a dancing forest spirit, Huldra- so be sure to get out and watch during the brief stop.
For those who take the 2-3 hour bike journey back to Flam from Myrdal Station, you get a much more up-close-and-personal experience with several of the waterfalls you see on the ride up as the path will take you much closer than you get on the train.
Perhaps our favorite highlight of the ride back, apart from the region's natural beauty, was stopping at a local farm about halfway to try their homemade cheeses. This farm offered our first experience with Brunost, or Norwegian brown cheese, and was a pleasant surprise.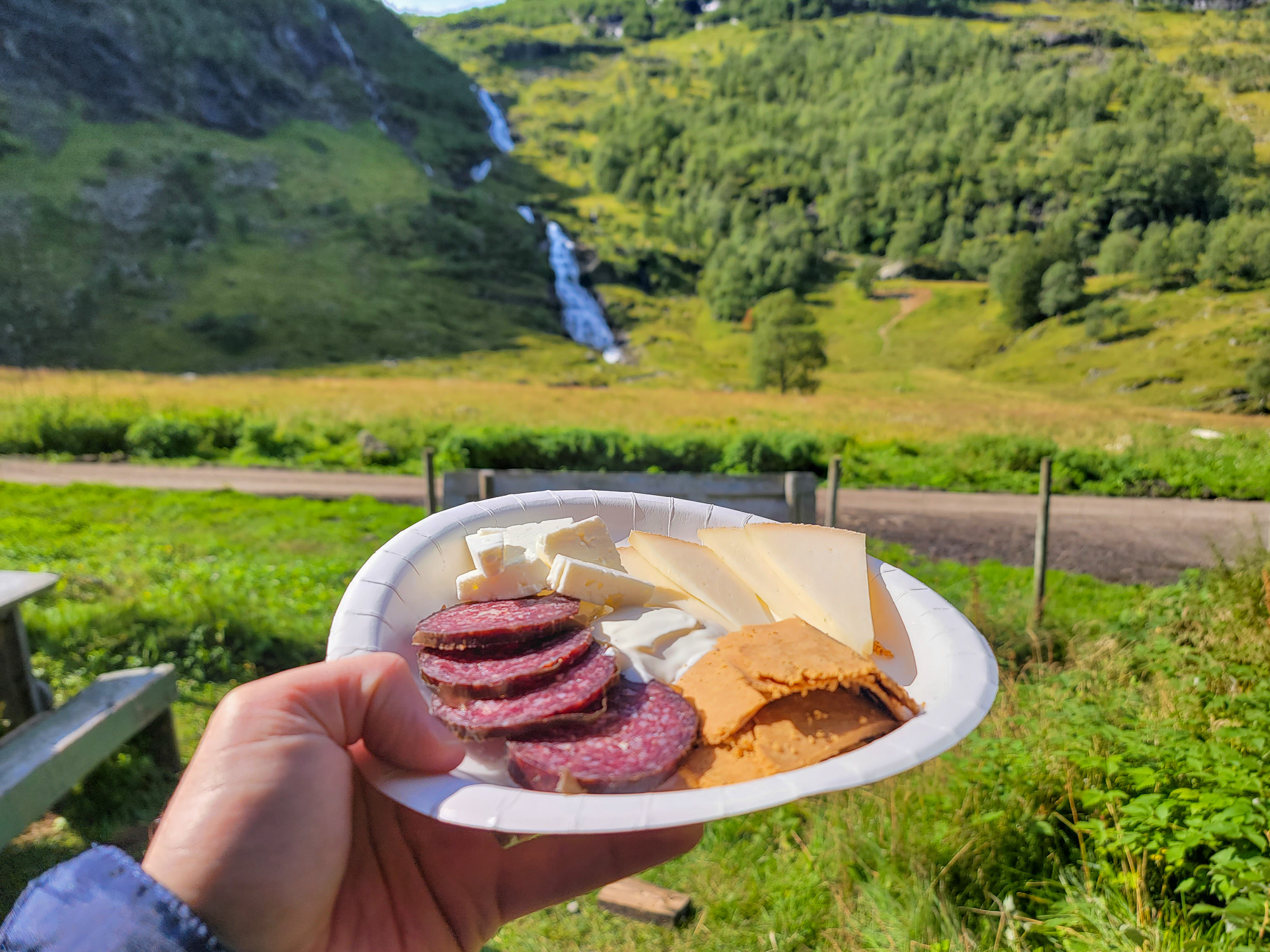 Overall, the combination of taking the train and biking made for a beautiful duo, as those who return down the mountain on the train will mainly see similar views for the ride. Getting out on a bike is a gorgeous change of pace!
Tips for Biking from Myrdal to Flam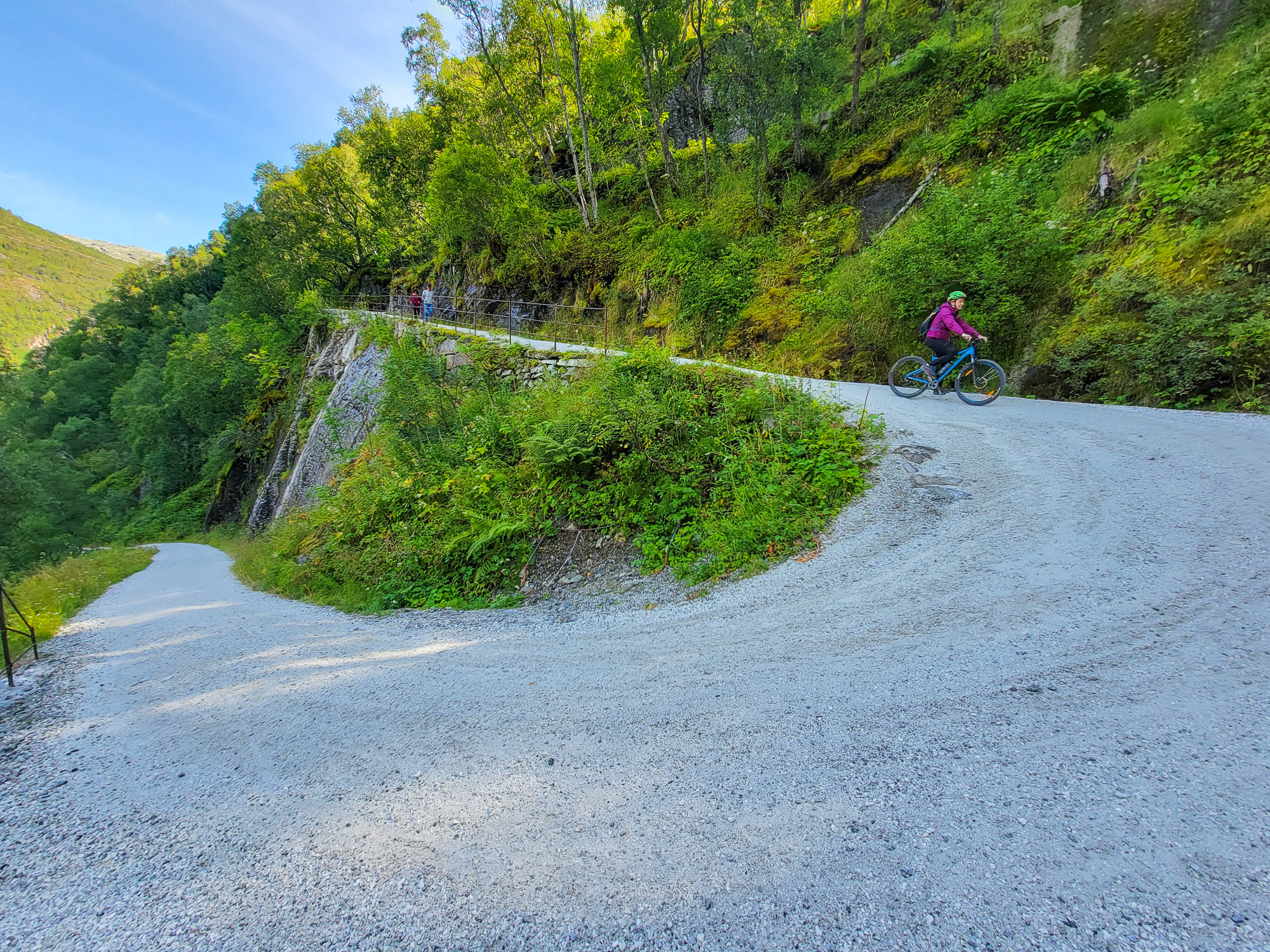 Regarding biking from Myrdal to Flam, a few things are worth noting.
First, those who get on the train with a one-way ticket board in a separate compartment from those going round-trip (read: most cruise excursions or 90% of passengers). For us, the line was on the far right of the queues and had, at most, 25 people. It would be worth asking in advance to avoid standing in a long line for the wrong section.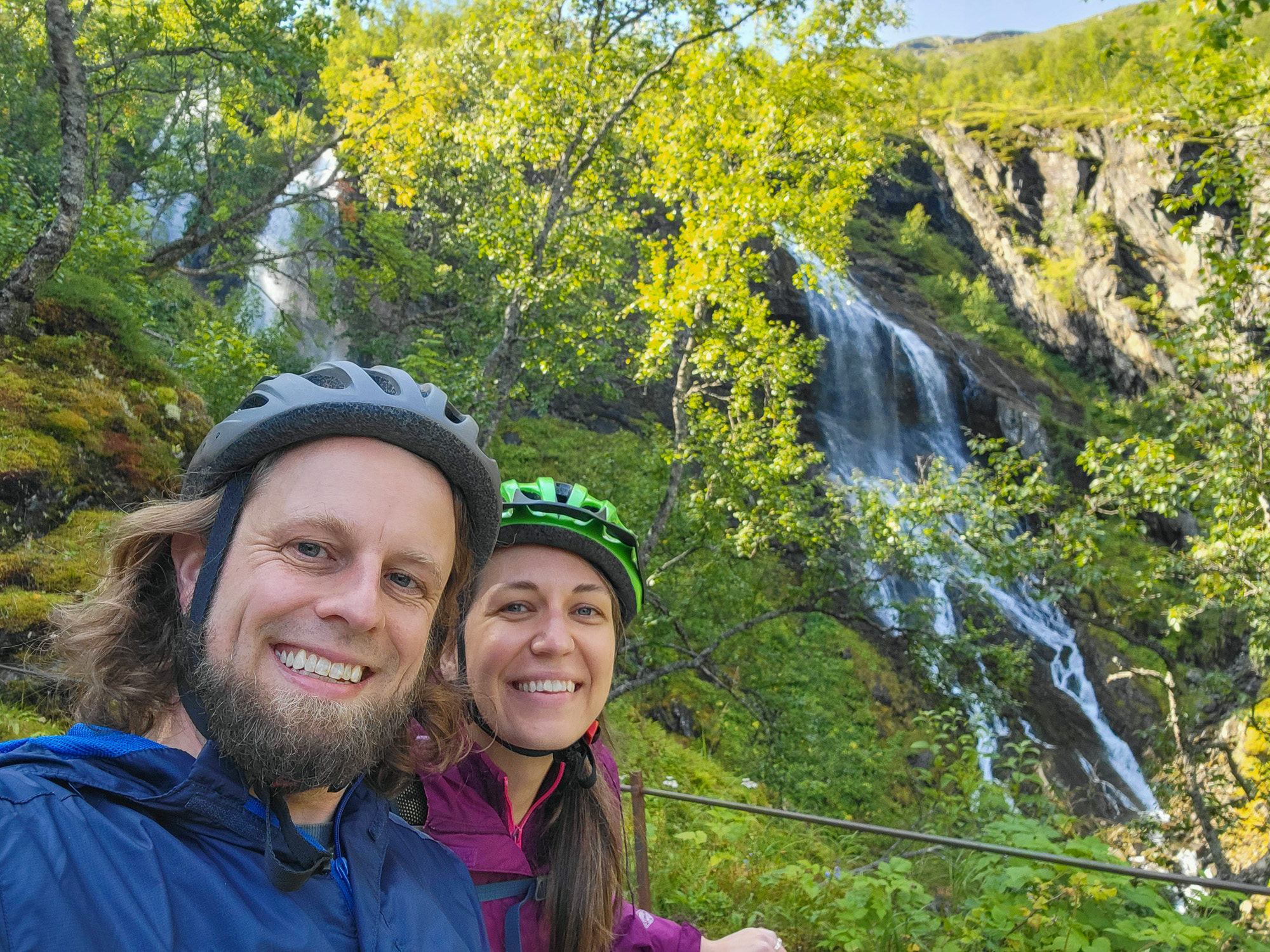 Second, the overall journey is approximately 12 miles (19 kilometers). The trail itself can be split into two main segments- a downhill section on some rather steep switchbacks and a mostly flat ride back into town.
The downhill segment is on crushed gravel, and you may experience hikers coming up just as much as other bikers coming down. Bike operators will point out that if you are concerned about the ride, it is better to walk your bike down; however, we successfully navigated our way down while riding without issue. It is technical but not challenging if you have ever mountain biked.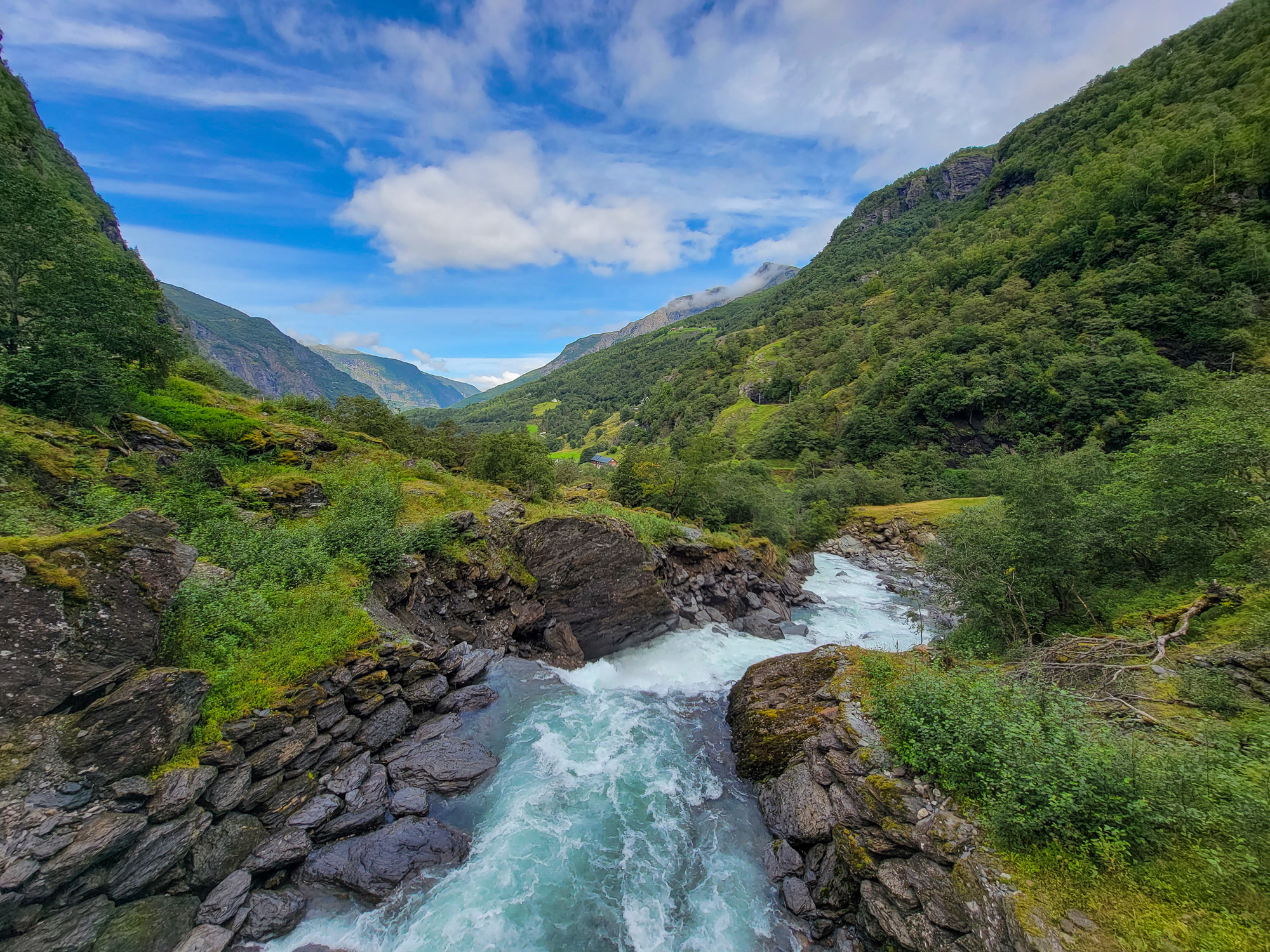 That said, the crushed gravel can be a bit loose at times, and we would be concerned about biking down this segment if it has recently rained or the gravel was damp in any capacity. Be slow, take your time, watch the lines, and off you go.
For those who want something a little different, Flam Zipline operates a 1.3-kilometer zipline down the mountain where you can pick up a bike to ride back into Flam. This could be an option for thrill-seekers while also avoiding the switchback elements.
Those who go this route would want to get off the train at Vatnahalsen station. The zipline also has recommendations for those who wish to drive to near the base point and miss the biking segment outright.
The zipline base is conveniently right at the farm where we bought our cheese!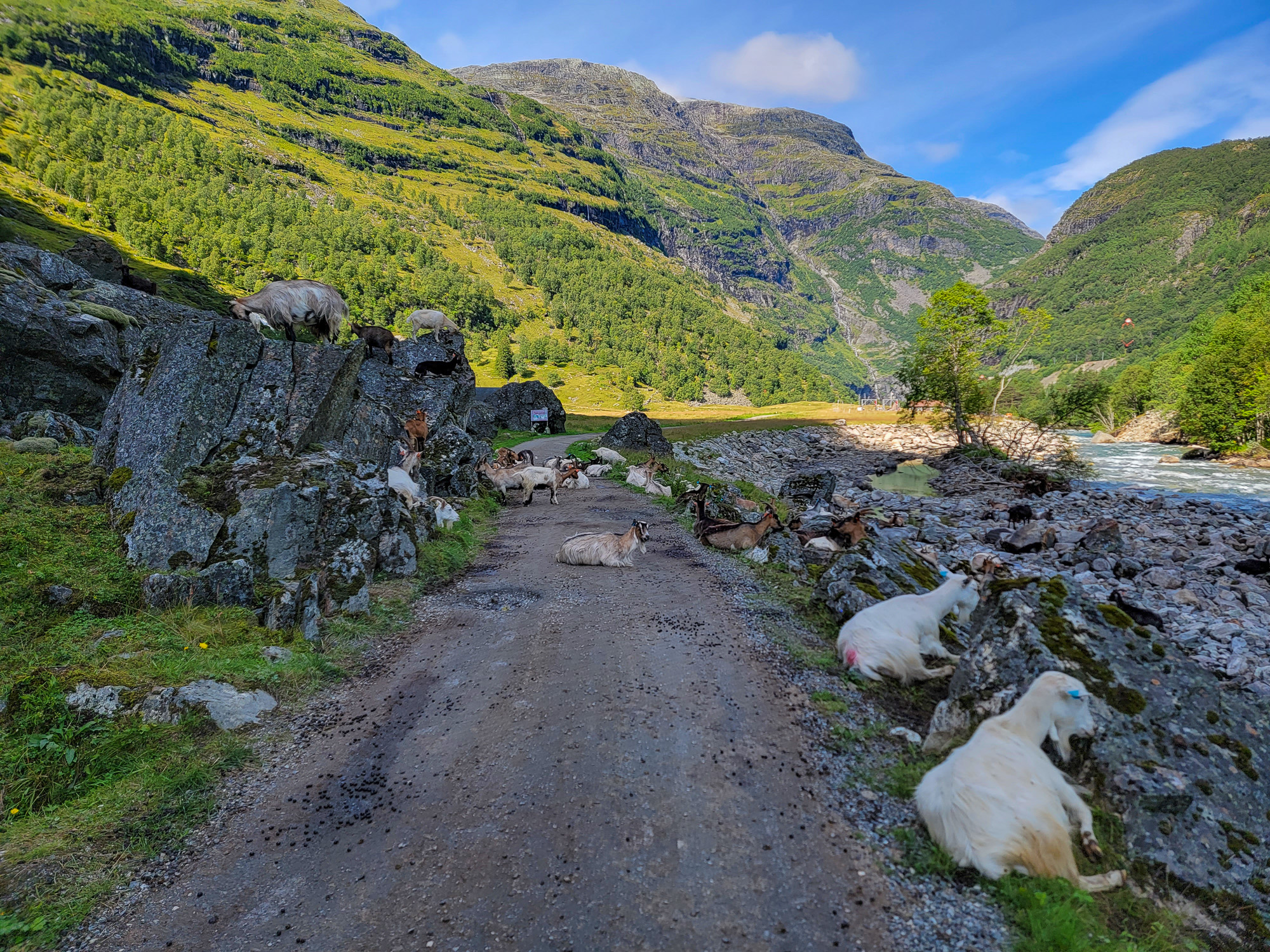 Once down to level ground, the ride becomes relatively straightforward but may mix segments between trials and riding on the road. Apart from a periodic car, you will have some crossings of the train tracks and, in our case, perhaps seeing a flock of sheep or herd of goats blocking the road as well.
This all comes together for a wonderful day out from Flam that is much more rewarding than simply taking the train up and down the mountain!
Have you take the Flam train with biking combo? What were your experiences like? Comment below to share!
Book a Train Ticket in Europe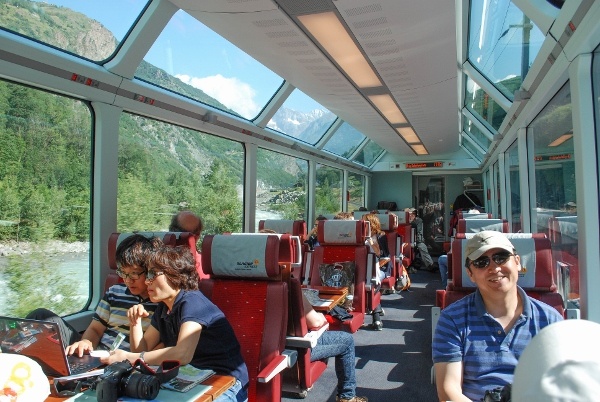 Want to learn more? Check out our Omio review!
About Jeremy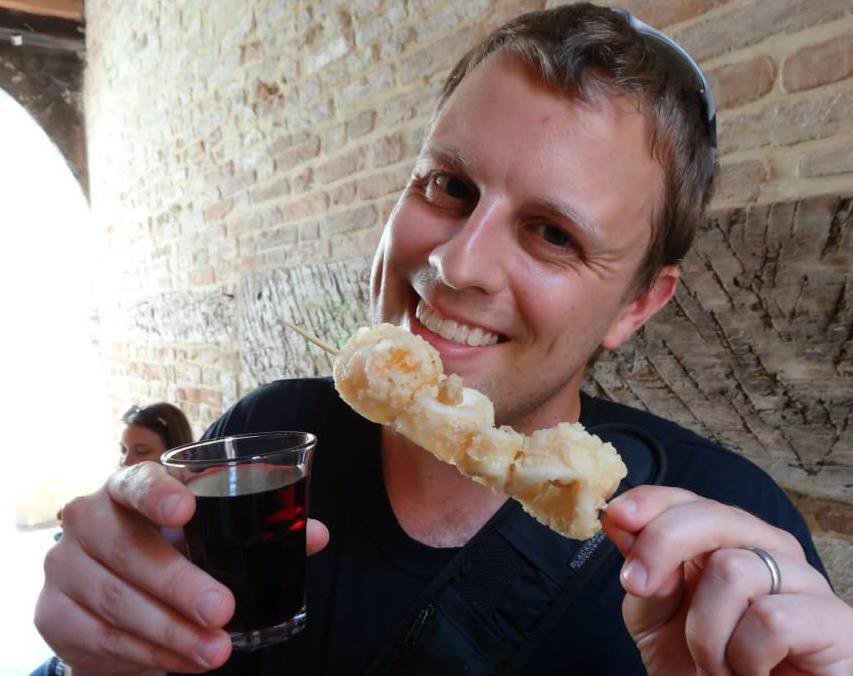 About the Author: Jeremy is a full-time travel writer based in Pittsburgh and primary author of this site. He has been to 70+ countries on five continents and seeks out new food, adventure activities, and off-the-beaten-path experiences wherever he travels.