Last Updated on March 25, 2022 by Jeremy
Disclaimers: Our site uses demographic data, email opt-ins, display advertising, and affiliate links. Please check out our Terms and Conditions for more information. Listed prices and attraction details may have changed since our visit and initial publication.
When it comes to luggage disasters, we are no stranger to them.
One month into our year-and-a-half long trip I discovered that my bag had a rather sizable hole where the seams had come undone in the side. We then came up with a rather robust backpack repair that lasted for the rest of the trip.
Shortly thereafter, we found out that my five-year-old backpack was falling apart even more– this time with more holes and a handle which refused to go down. 
We needed to decide whether to buy a new bag on the road, order a new piece of luggage online and get it delivered to us by mail, or try a luggage handle repair just to endure.
We decided to try one more fix, and wanted to share our technique for what we did to help if you wind up in a similar situation to us on your next trip abroad.
Holes and a Stuck Suitcase Handle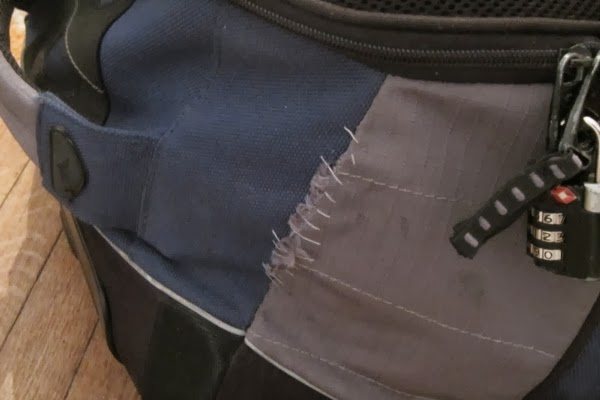 After repairing one hole that we found in the bag, another relatively smaller hole popped up along a new seam.
As this particular spot was on the top of the bag and not the bottom, we decided against going the reinforcement route that we detailed in the first post. Instead, it was just a quick sew and duct tape job- using dental floss as our reinforced thread of choice (which lasted for well over a year!).
The second issue we had come up was one that required a bit more skill to fix. The handle to the bag became stuck when in the extended position and would not push back into the body of the bag.
After a quick search, we found that this is an incredibly common issue and is likely due to 1 of 2 reasons:
The shaft on the inside was bent and the retractable rod was having a hard time going back down.
The button on the handle was no longer connecting with the trigger mechanism to lower the rods.
Since fixing #1 is far more difficult (if not impossible depending on where it is damaged), we started our troubleshooting with the second one.
Luggage Handle Replacement May Not Be Necessary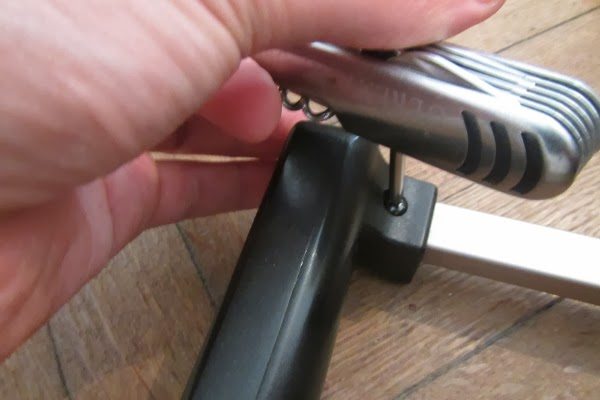 To figure out if the triggering mechanism on your bag is broken, it is first necessary to remove the handle. Often the handle will have a set of screws that need to be removed. Set the screws aside in a safe place and remove the handle.
If your bag was like ours (a High Sierra AT Gear Access Duffel), you may find two internal tubes with a small plastic piece on the end near the handle.  In many cases this plastic piece is the only part of your bag that touches the mechanism controlled by your handle's button.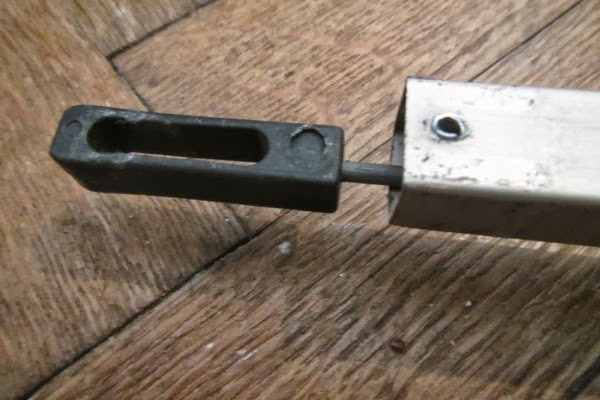 Push this piece down yourself and see if the handle will move freely. If this is the case, you probably have a failed triggering mechanism. Often only one side will be broken and you'll know which if only one side sticks when using it.
If the handle will not go down, well, you've likely got a broken tube and may need to try greasing the pole to see if it'll slide easier (or remove the lining to see if you can find a bent spot).
As our bag had a failed triggering mechanism as discovered in the test we outlined above, we put our duct tape to good use in our fix we're affectionately calling: Plug the hole with duct tape. (Yes, it is very scientific.)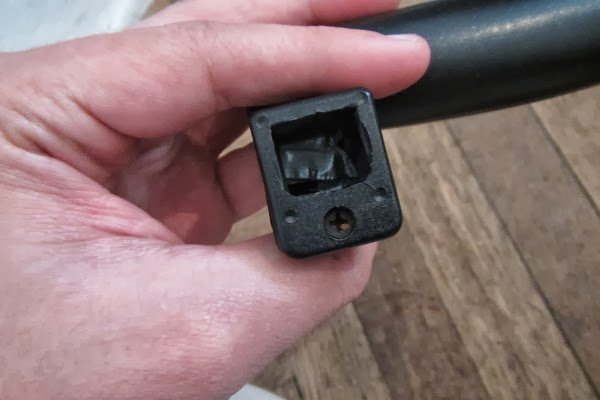 The cause of this issue with your bag is likely due to the fact that a piece of the internal tube is no longer coming in contact with the button. A few layers of duct tape shoved inside your handle will provide that extra contact that you need and will get you through a while longer.
This Isn't a Permanent Luggage Repair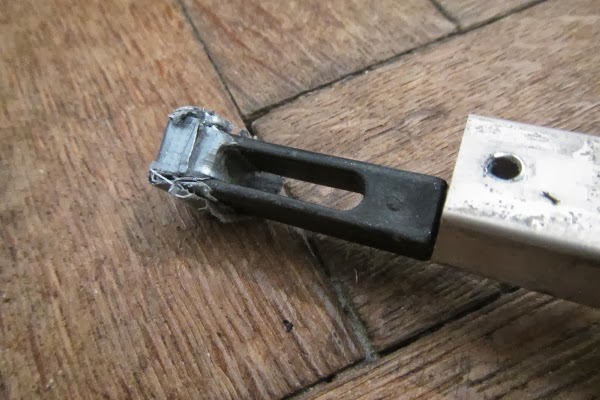 Unfortunately, we had to go through this method several times over the course of our travels as our handle would continue to fail over the period of a few weeks, so it is not the best fix out there.
The problem we came into was that the tape would get compacted or dislodged within the handle and would eventually stop making contact again.
Naturally, that got old rather fast.
Cue fix number two.
Our second fix for this was not to cram the tape up in the handle itself but rather wrap it around the plastic piece on the long tube located within the support bar.  It'll likely get dislodged a bit, but not nearly as much as loose tape that is piled within the handle.
But why are we mentioning the first fix if the second one is a better choice?  You'll probably need both to ensure constant contact can be made.
As the room is limited inside the handle space, you only have so many options for where the filler can go.  By filling the void near the button and securing tape onto the handle, the chances of the tape getting out of place should be minimized.
For the rest of our trip, over nearly a year later, this fix held- but the rest of our bag continued to fall apart from there.

By the End, We Had a Broken Piece of Luggage
These fixes are not permanent, and by the end of our trip we knew we had (and if you're reading this from a search on this topic, likely you too have) a broken piece of luggage.
Although this fix lasted for many months, and may do the same for you too, the only thing you can do to truly fix it is buy a new bag from sites like Amazon.
We ended up going with the American Tourister as our replacement suitcase and have not been disappointed since then, although if we were armed with a bigger budget we probably would've purchased the more robust Samsonite or other hard shell suitcases instead to avoid any future cloth tears like we had in our first repair.
So if you tried out this fix, or have another issue you just cannot repair, you may be finding yourselves in a situation where the best outcome is to stop stressing out and start looking into that new bag you've been dreaming of over the past few weeks.
In the grand scheme of things, stressing over the minor details like this is not worth it.
About Jeremy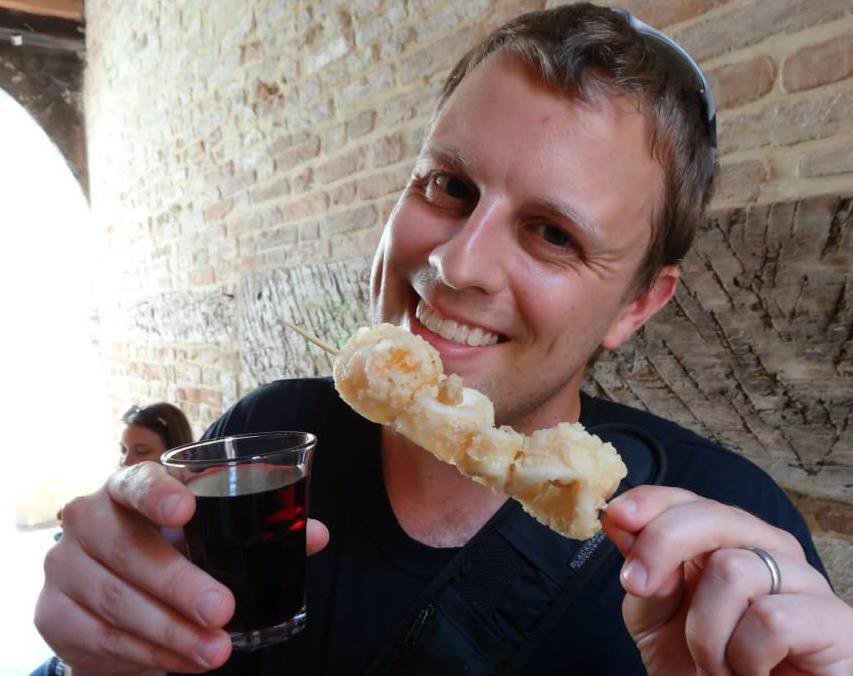 About the Author: Jeremy is a full-time travel writer based in Pittsburgh and primary author of this site. He has been to 70+ countries on five continents and seeks out new food, adventure activities, and off-the-beaten-path experiences wherever he travels.