Last Updated on September 12, 2023 by Angie
Disclaimers: Our site uses demographic data, email opt-ins, display advertising, and affiliate links. Please check out our Terms and Conditions for more information. Listed prices and attraction details may have changed since our visit and initial publication.
After road-tripping around Norway in some very remote places, often cooking our own meals, we arrived in the town of Alesund excited to eat at some proper restaurants. Highest on our list to try was the fine dining restaurant Bro (Norwegian for "bridge"). This spot was recommended to us by a Norwegian couple we met at Aegir Brewery in Flam (thank you guys!), and it was the most delicious, creative meal we had on our entire trip.
So if you're looking for a prix fixe dining experience with delicious wine pairings to match, Bro most certainly needs to be on your radar.
Bro Offers Up a Modern Look at Norwegian Cuisine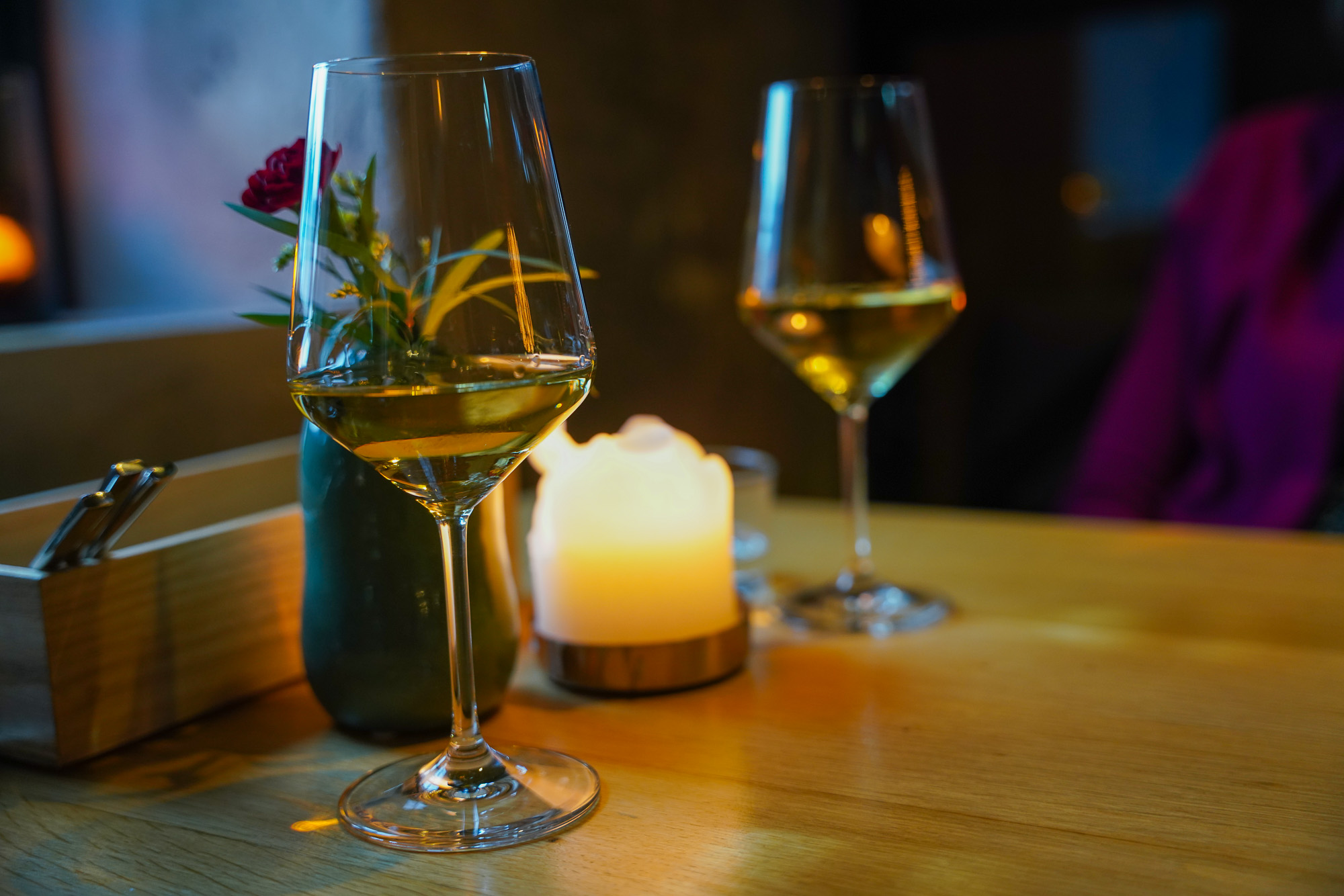 Bro is located right on the water in charming Alesund. The vibe is pure Scandi: lots of exposed wooden beams, simple wooden tables and chairs, and clean lines everywhere. The beautiful open kitchen is the heart of the dining space and commands your attention.
In terms of the menu, the food is heavily focused on regional Norwegian ingredients used in creative ways. The main draw here is the tasting menus of 3, 5, or 7 courses, with optional wine pairings. There are a few a la carte options, but we wanted to try a little of everything so we opted for the 5 course tasting menu with wine pairings.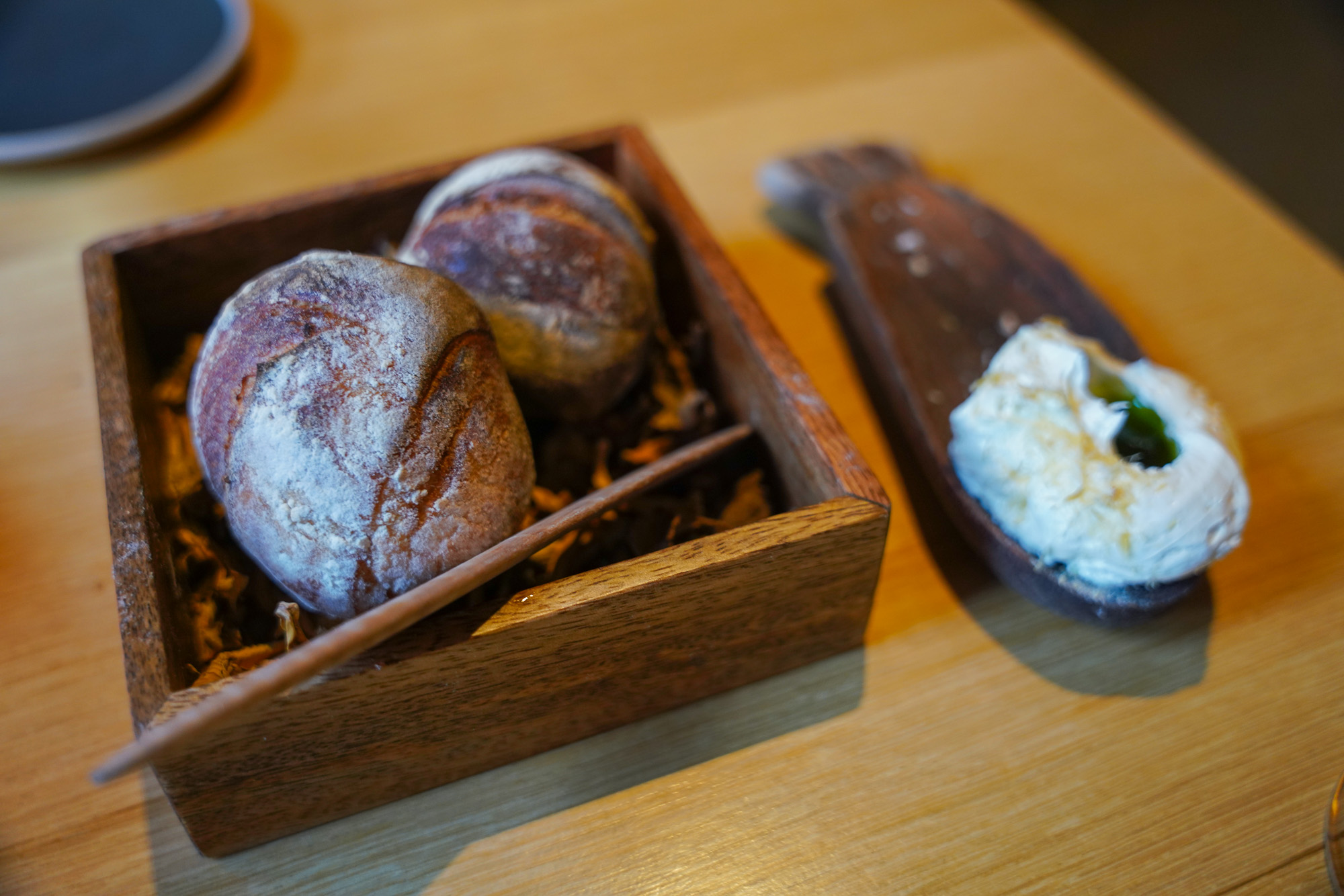 To begin with we were brought sourdough rolls with a nice crisp crust with an airy crumb, and they were served with Norwegian butter with a dollop of ramson sauce. We'd never heard of ramson before but apparently it's like a European ramp – the sauce was vivid green and had a beautiful oniony, garlicky flavor.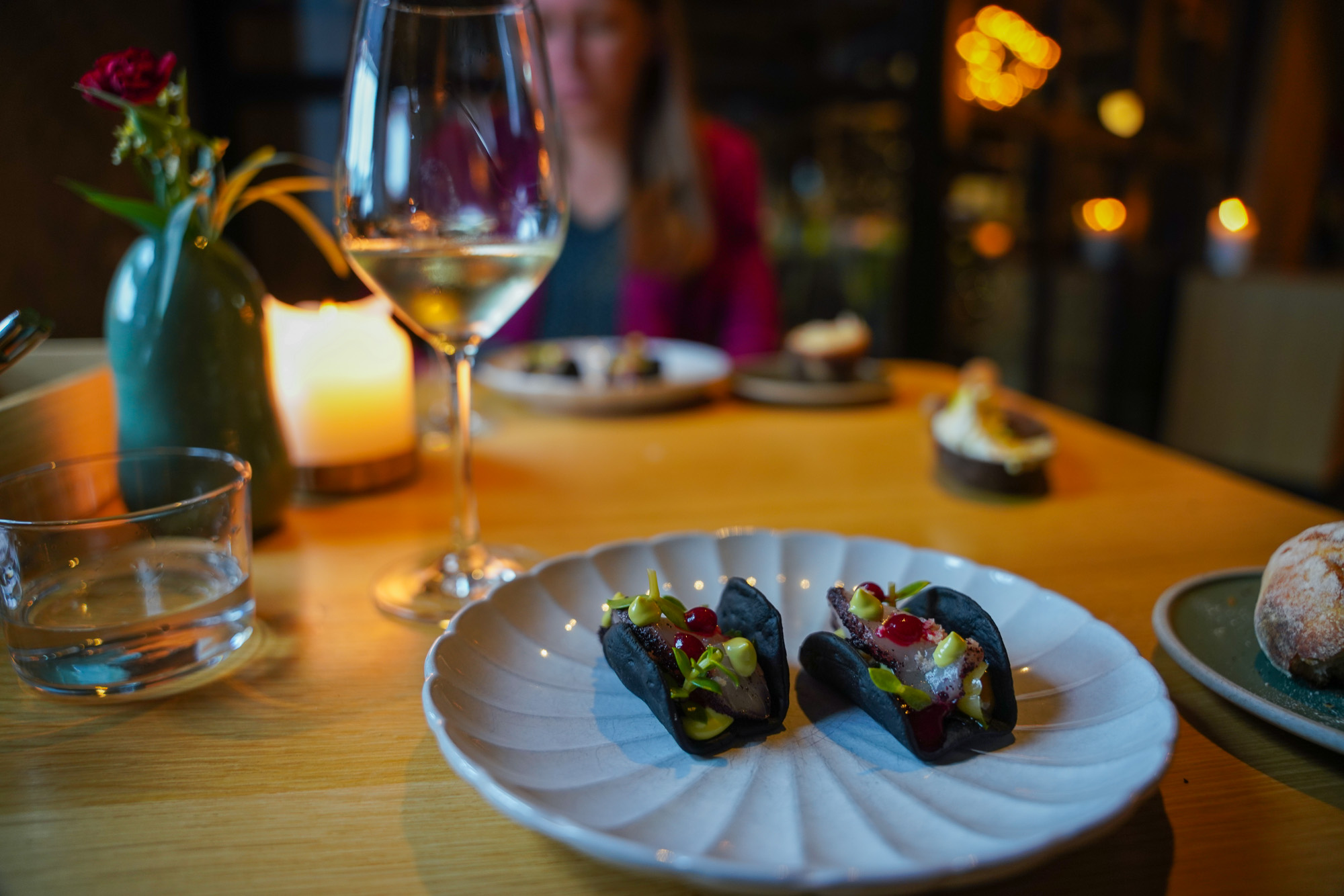 The first wine was an Alsatian white wine from Hugel with floral notes that paired nicely with the first course of halibut tacos. This Nordic take on tacos started with cured halibut and was garnished with a beet sauce and Icelandic wasabi, all served on a house made squid ink taco. The dish was floral with a big junipery punch, and the crunch of the taco shell contrasted nicely with the sashimi-like texture of the fish.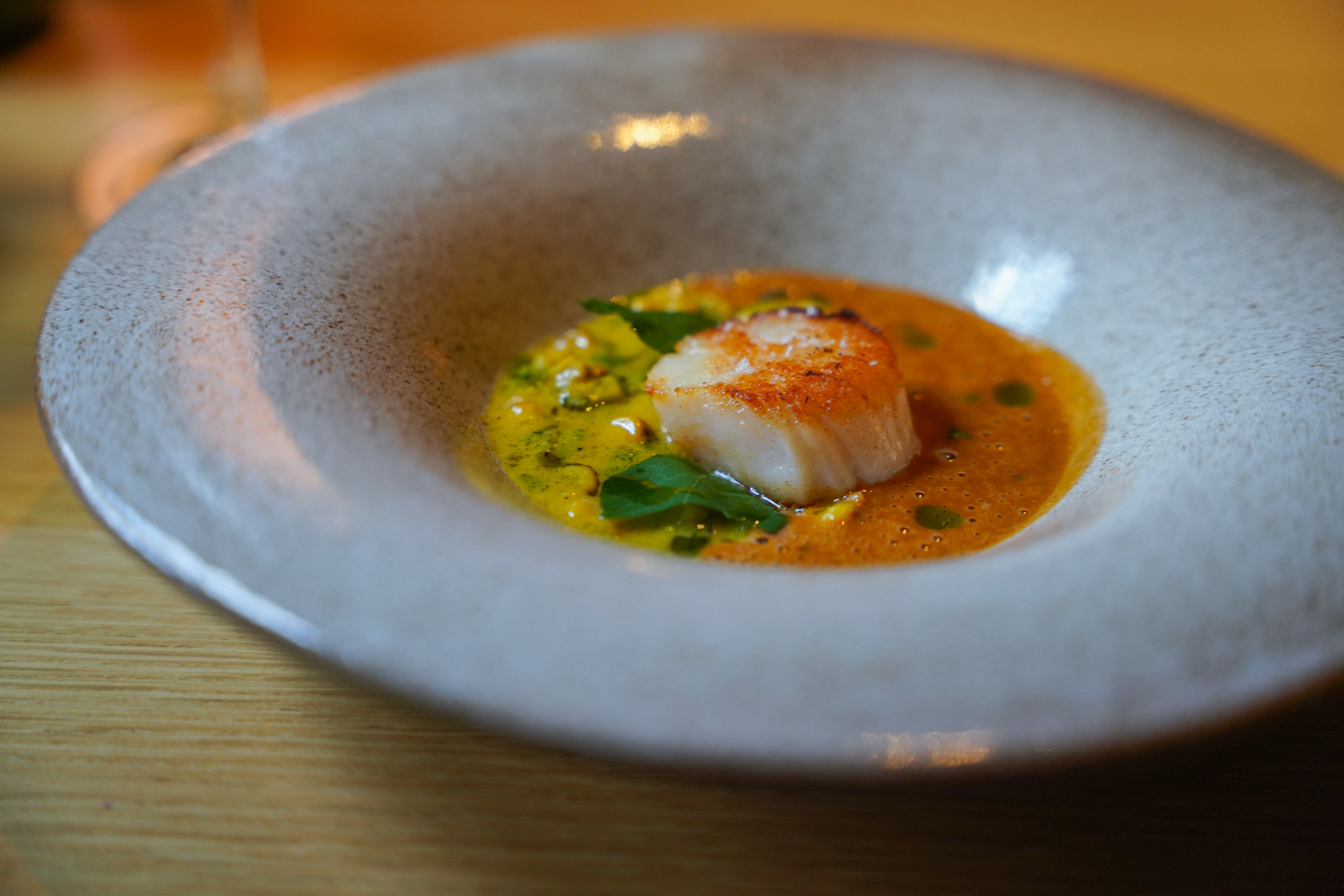 Next up for was a Riesling from Nahe, Germany, paired with a scallop dish – one of our favorite dishes of the meal. This delightful dish paired a seared scallop with a charred corn and fermented peach succotash, and a creamy sauce made with scallops and chipotle. The resulting flavors were the perfect combination of sweet, spicy, smoky, and creamy – every bite brought a new flavor nuance that kept us intrigued!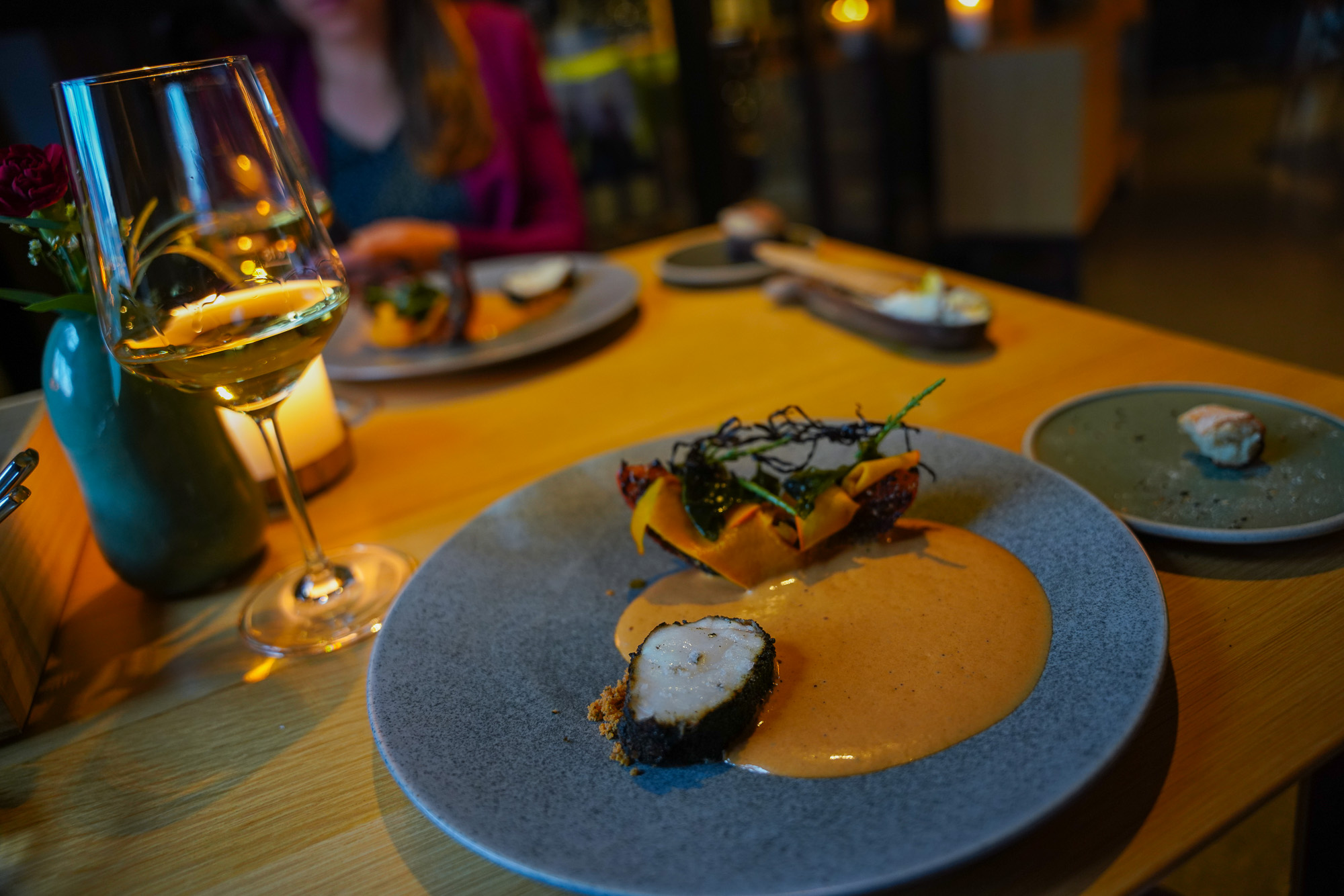 A Furmint wine was a perfect smoky match to our next course of monkfish. A thick, meaty monkfish filet was served alongside a pumpkin slice coated in shichimi togarashi, topped with sea spaghetti and bits of soy-cured seaweed. A creamy langoustine and shiitake sauce served as the base for the whole dish. This dish tasted like the essence of the sea from the briny sea spaghetti and the seaweed on the pumpkin, with lots of earthy, smoky flavors, too – and a hint of citrus from the togarashi.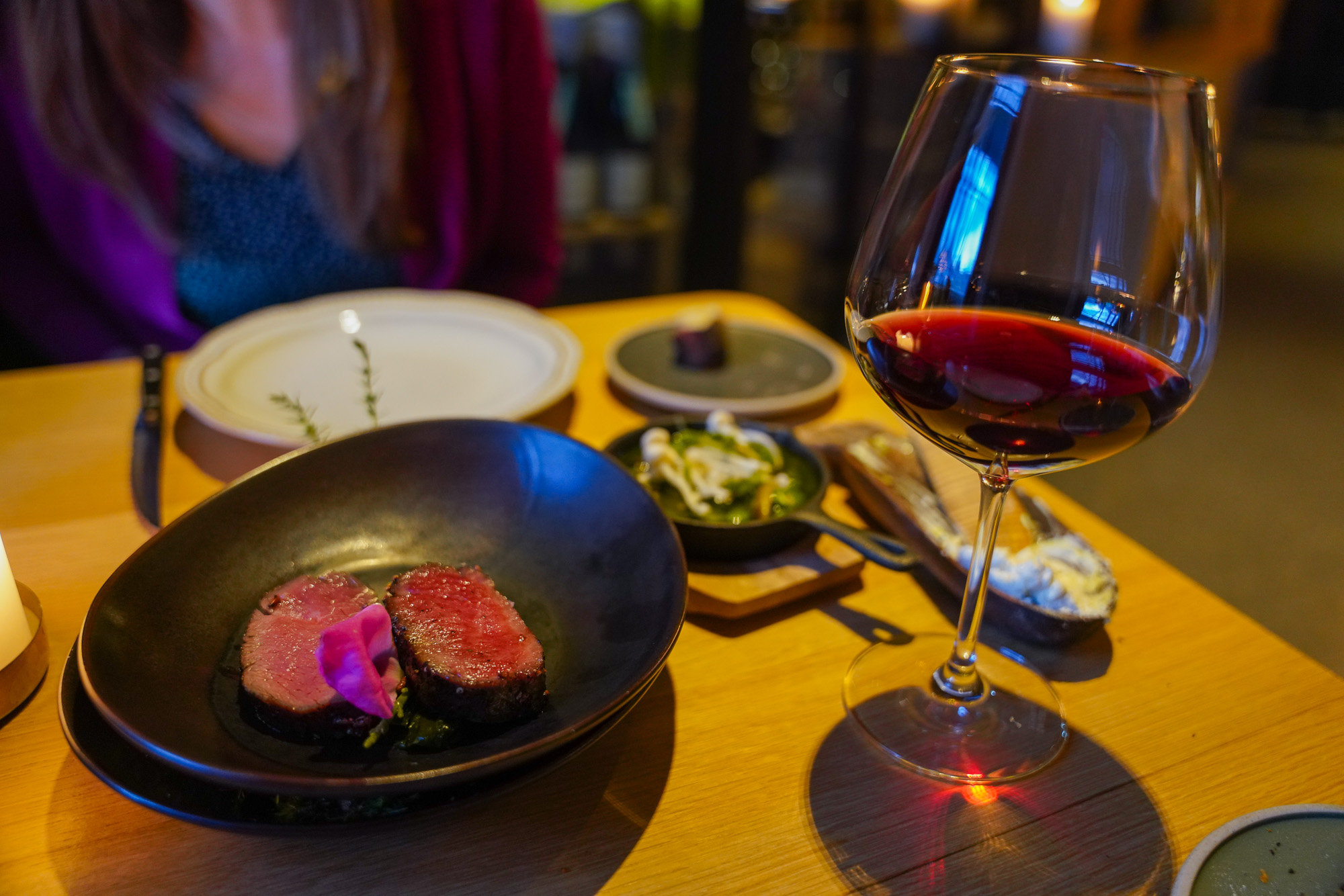 Moving in to heartier flavors, the next course brought a Pinot Noir from Santa Rita Hills, California, paired with a steak dish. Normally we wouldn't think of pairing a lighter red like Pinot Noir with steak, but it worked here as the steak had lots of green, herbal flavors. The meat was smoked and then torched just before it was served – the dramatic flame from the open kitchen got everyone's attention. The meat was served with a jus on the side with enoki mushrooms, bone marrow, fava beans, and smoked juniper. The steak was deliciously tender, and the flavors here were earthy and rich balanced by a green herbalness. We've never had a steak quite like this before!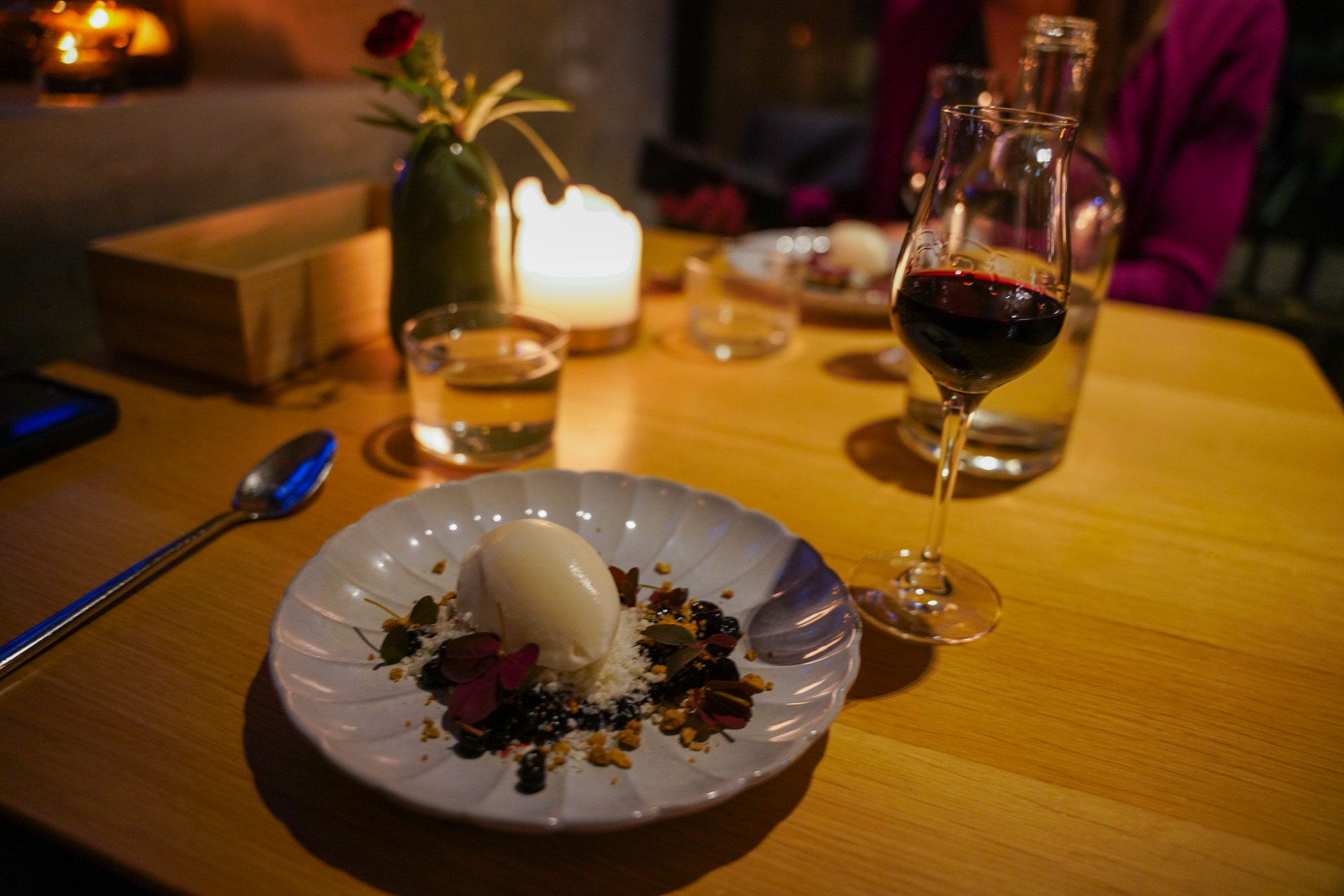 Finally, dessert: a 2017 Niepoort vintage port was a stunning match for a blueberry dish. Blueberries preserved in verjus (juice from unripe grapes) were the star of this dish, along with a goat milk ice cream, oat crumble with meadowsweet, and a touch of grated goat cheese. The blueberries were a revelation – tangy and slightly pickled in flavor. The meadowsweet gave a hint of sweet vanilla flavor to the dish, and the goat cheese a touch of salt.
We loved the overall focus at Bro on Norwegian meats, seafoods, fruits, veggies, and herbs, while also pulling in spices and ideas from other cultures and traditions. The only aspect of the meal that was a little bit off was the pacing. The time between courses seemed extensive at times, and the servers apologized for it a few times. There was a rather large party in a back room when we were there, so perhaps that may have contributed to the pacing. In any case, the slower pace gave us ample time to enjoy the extremely generous wine pours that we were given with each course.
We also loved the service here – each server was friendly and knowledgeable, and asked for our feedback on each dish. Their pride in the dishes being served was apparent and made for an overall pleasing atmosphere for the meal.
We can't say enough good things about Bro. In a land of great natural beauty and food resources but relatively few cities that can support this level of fine dining, we think it's important to support the places utilizing Norwegian ingredients in such a fine manner as Bro.
Bro is located at Notenesgata 1, 6002 in Alesund, Norway
Book a Train Ticket in Europe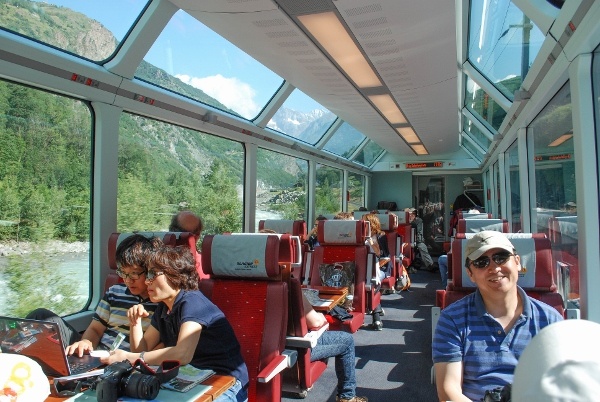 Want to learn more? Check out our Omio review!
About Jeremy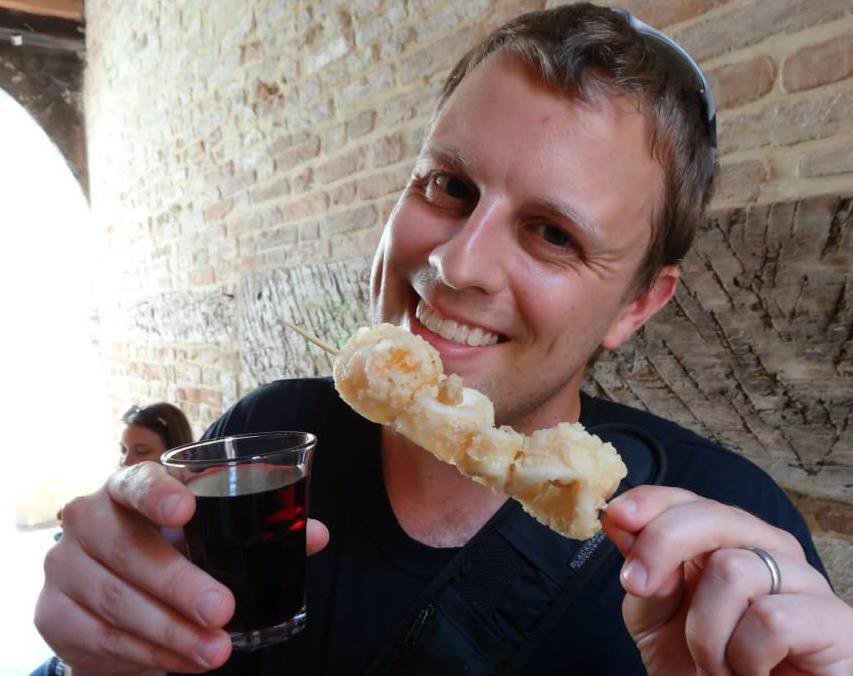 About the Author: Jeremy is a full-time travel writer based in Pittsburgh and primary author of this site. He has been to 70+ countries on five continents and seeks out new food, adventure activities, and off-the-beaten-path experiences wherever he travels.