Published by Jeremy. Last Updated on August 3, 2022.
Disclaimers: Our site uses demographic data, email opt-ins, display advertising, and affiliate links. Please check out our Terms and Conditions for more information. Listed prices and attraction details may have changed since our visit and initial publication.
Bougatsa is one of those things that when you see pictures of it or read about it you instantly start drooling, even if you've never eaten it before.
Such was the case for us when we heard about it on Anthony Bourdain's show "No Reservations," and again from one of our friends who traveled to Greece.  (Okay, fine, so you have heard about it, but you probably have long since forgotten). 
So what is bougatsa? It's a Greek pastry consisting of buttery, flaky phyllo dough wrapped around either a cheese filling or a sweet semolina custard filling.
Drooling yet? Yep, I thought so.
Bougatsa – A New Greek Pastry Addiction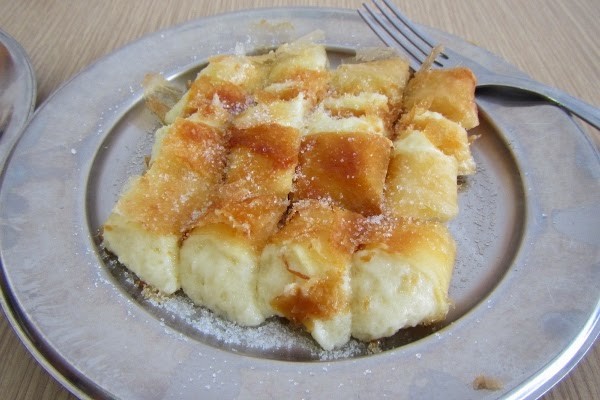 Our first taste of bougatsa came from Lions Square in Heraklion, Crete. The place we went to, Kirkor, had both the cheese and the cream types, but I'm a sucker for breakfast sweets so we went for the cream version.
Our square of bougatsa was chopped into small bite-sized chunks and sprinkled with powdered sugar and cinnamon.
By the fountain in Lions Square, we giddily munched our breakfast: the phyllo dough was nice and flaky (albeit a little soggy on the bottom), and the custard was sweet enough to satisfy my sweet tooth but not so sugary that I felt like I was eating dessert.
And, of course, the powdered sugar and cinnamon on top added a little extra tastiness.
Try Bougatsa Any Chance You Can Get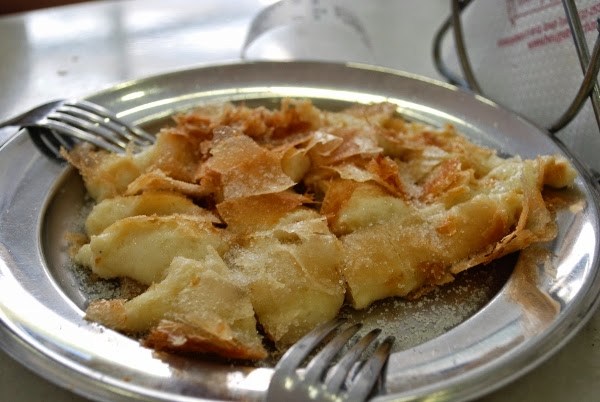 In Chania, Crete, we became acquainted with the cheese variety of these Greek pastries, mainly because we couldn't find the cream version anywhere. We decided to be complete tourists and went to Bougatsa Chanion, the place featured on Anthony Bourdain's "No Reservations."
When a restaurant focuses on a single food item, odds are it's going to be awesome. We each ordered a serving of the bougatsa filled with a local cheese, mizithra, and topped with course sugar.
The phyllo wasn't soggy like it was at Kirkor in Heraklion, the soft cheese was hot and gooey, and the sugar on top gave an ever so slight hint of sweetness.
Although this bougatsa was extremely tasty, so good that we went back the next day, we still pined for the cream-filled bougatsa.
After our time in Crete we resigned ourselves to the fact that we probably weren't going to be eating anymore bougatsa, let alone the awesome cream bougatsa. But then, serendipity!
Walking down the main street in Adamas, Milos, we saw a case of beautiful pastries, pies, and, yes, bougatsa!
We went inside, getting ready to ask if was the cream or cheese kind, when the man behind the counter started pointed out everything in the case.
"Would you like a cream bougatsa, it's a —"
"Yes! Yes! Yes!"
The men in the shop probably thought we were deranged. And maybe we are. But we were so elated to have found the elusive cream bougatsa, especially on our last day in the Greek islands!
Even better, the phyllo was perfectly crispy, the filling perfectly creamy, and the cinnamon sugar on top perfectly sweet. Simply perfection.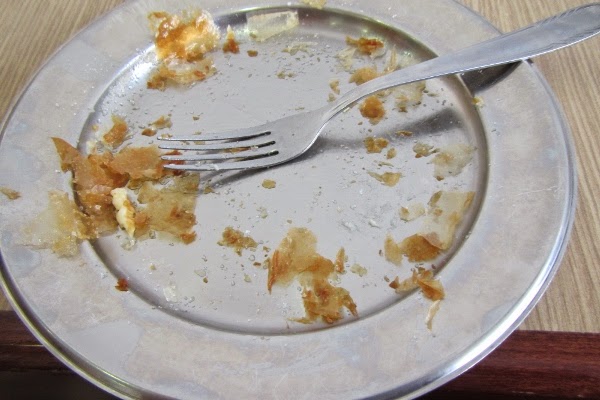 Although we are sad to leave bougatsa territory, we are excited to try our hands at making our own version of bougatsa once we return home. It seems one of the keys to making bougatsa at home will be perfecting the number of layers of phyllo dough used.
This sounds like one tasty experiment that we certainly won't mind performing!
Looking for more articles from Greece? Check out some of our favorite European food which includes a delicious meal in Greece!
About Jeremy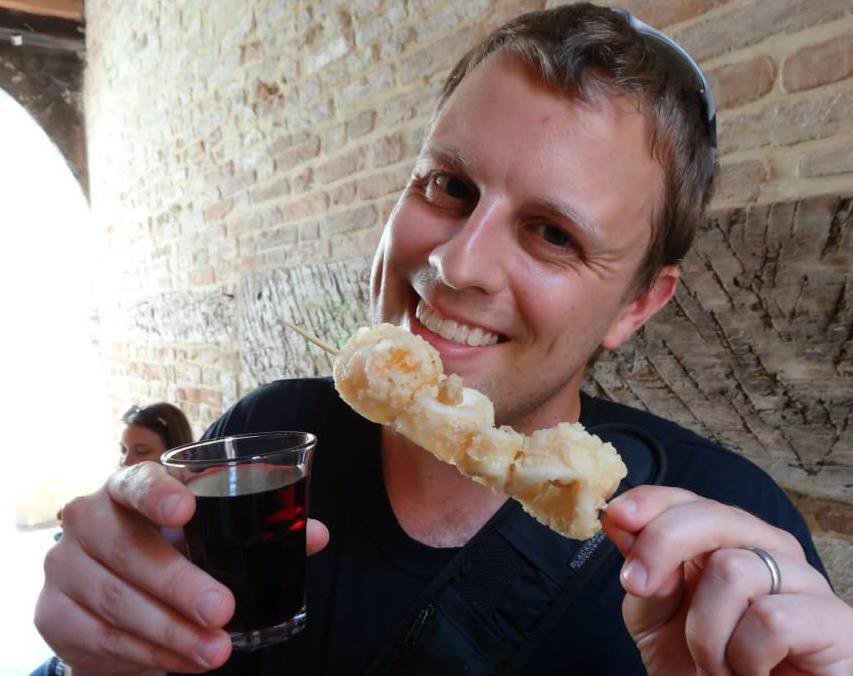 About the Author: Jeremy is a full-time travel writer based in Pittsburgh and primary author of this site. He has been to 70+ countries on five continents and seeks out new food, adventure activities, and off-the-beaten-path experiences wherever he travels.