Published by Jeremy. Last Updated on December 30, 2022.
Disclaimers: Our site uses demographic data, email opt-ins, display advertising, and affiliate links. Please check out our Terms and Conditions for more information. Listed prices and attraction details may have changed since our visit and initial publication.
We always hold our breath for just a moment when we are in the baggage area of an airport. We know that missing and lost luggage when flying is a more common phenomenon than you would think. After almost 15 years of international travel, visiting well over 100 airports in 60+ countries, we have been fortunate enough never to have a bag go missing.
Until now.
We returned to the USA from Amsterdam (via London) on British Airways when they lost our luggage. Not just one bag. Not just two bags. But four missing bags.
You can imagine our panic when we were at baggage claim, the conveyor belt came to a halt, and we (along with many others) were told that was it. Not only did our suitcases have all of our clothes in them (thankfully we were heading home and not just starting our trip), but also all of our toiletries, many souvenirs, Christmas gifts, and, perhaps most importantly, a lot of rare Belgian beer from our holiday.
We sprang into action to either be reunited with our bags promptly or, worst case, adequately compensate for all that lost value. So in this one, we wanted to walk through what you should do if you find yourself at an airport baggage claim and an airline has lost your luggage.
Note: This article will include the steps we took for our lost luggage on British Airways; however, most airlines have similar processes albeit possibly with slightly different timescales. When in doubt, always speak to a representative before leaving the airport, find out their recommended steps, and, if possible, get everything in writing and/or in an email with company letterhead for tracking as quickly as possible.
The First Thing to Do? Talk to a Representative at Baggage Claim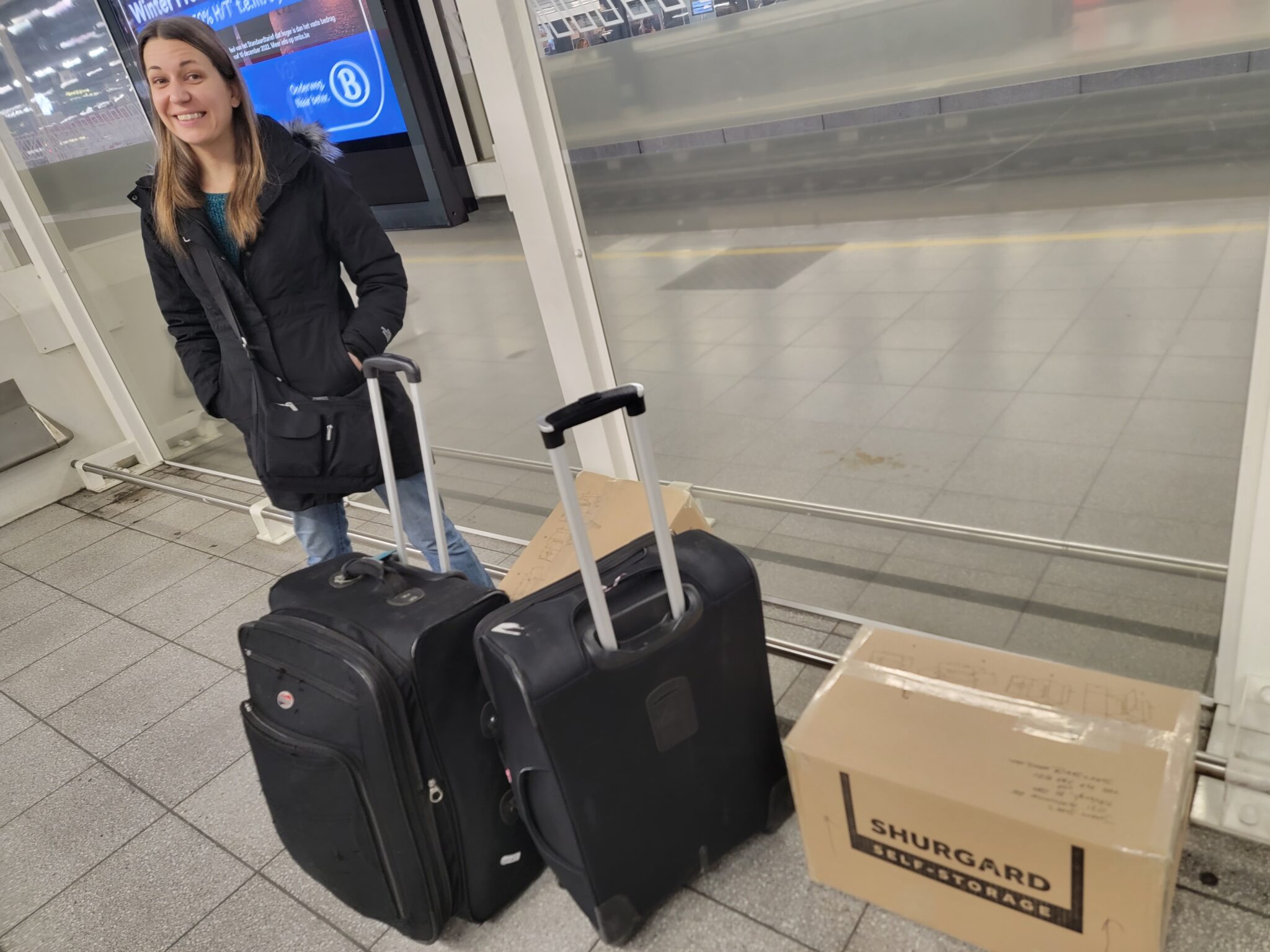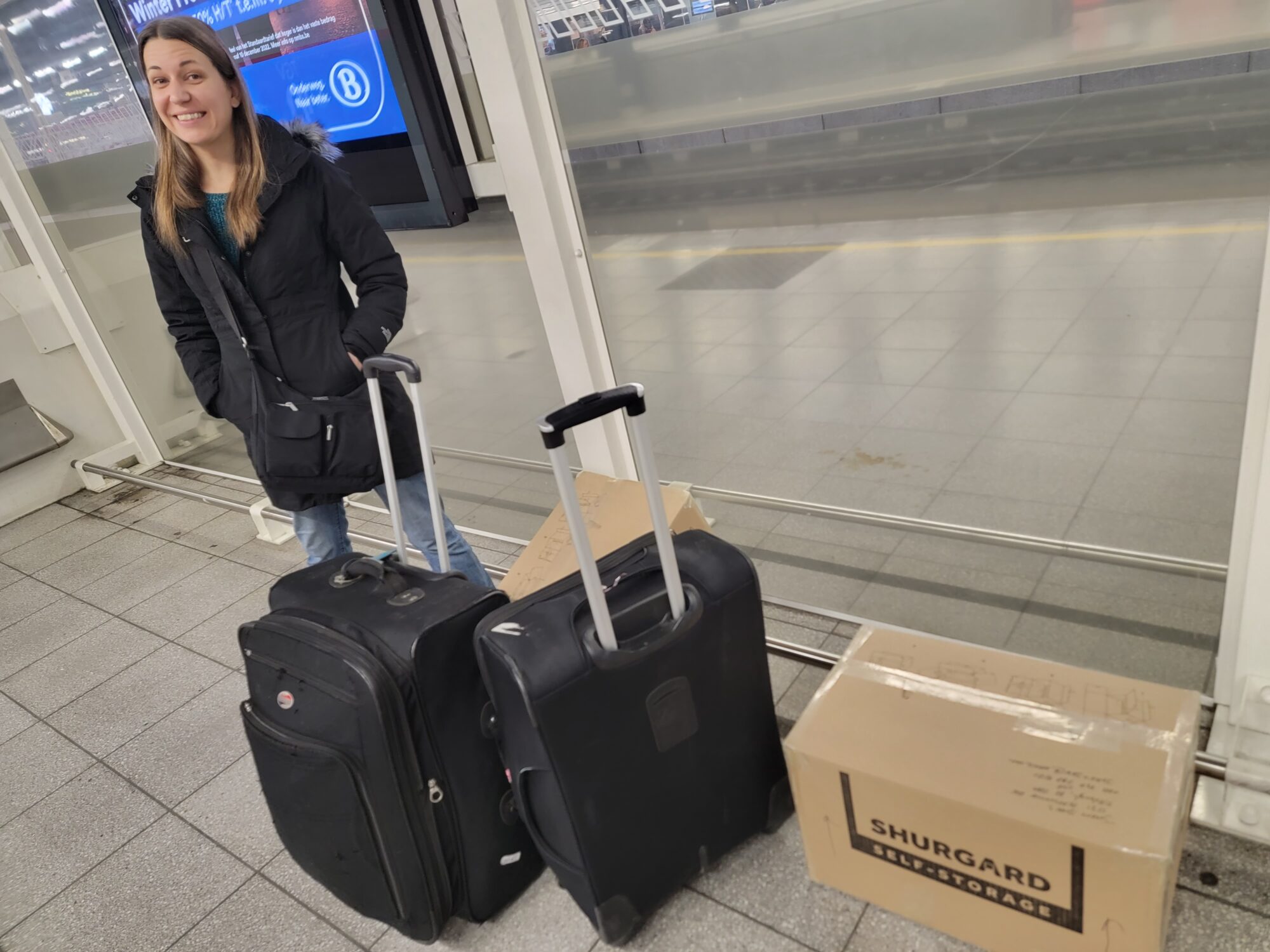 Before having any sort of panic attack or meltdown over possibly lost luggage, the very first thing you need to do is talk to an airline representative at baggage claim. Most airlines will always have a representative on hand, and in most cases, this person can be incredibly helpful to you as they deal with this issue all the time.
First, you should note that this person did not personally lose your luggage. So no matter how worried or frustrated you may be, approach them with kindness because they may be able to tell you a lot. This holds true for anyone you talk to at any point in this process- kindness goes a long way in any stressful situation.
In our case, we handed over the luggage receipts we were given at check-in* and they were able to tell us that our bags likely left Amsterdam but were never scanned in London. They said it was possible it never got onto the plane in Amsterdam, but was more than likely in London and simply missed our connection.
*This particular agent checked the status of other guests' bags by their reservation numbers. However, we cannot guarantee all airlines can do this. Never throw away your luggage receipts!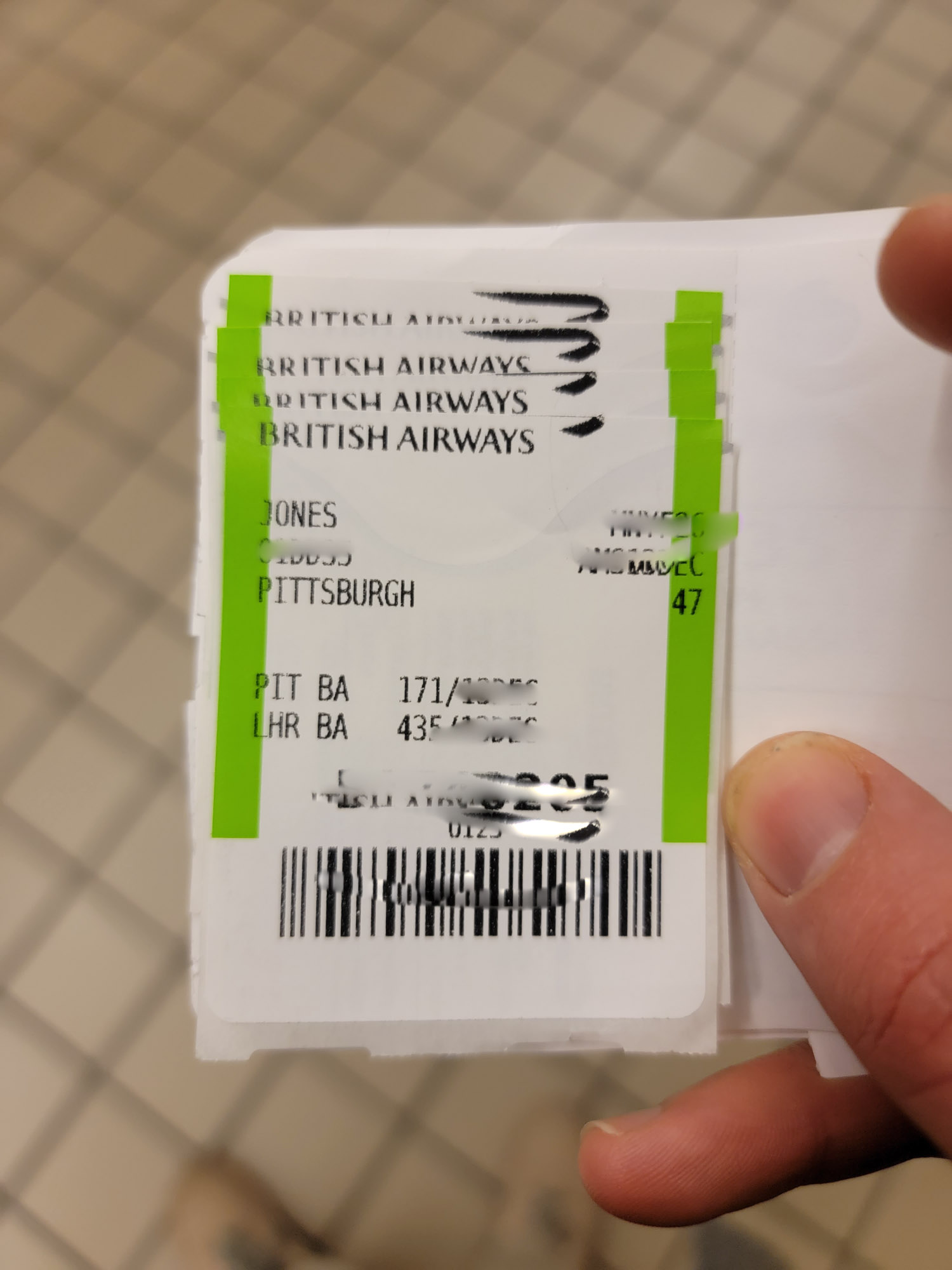 For our own scenario, the possible explanation given made a lot of sense. The odds of four bags all going missing most likely points to a plane not being unloaded in enough time for them to catch our connection (even though our layover was 2+ hours). We checked two of our bags at the gate, and two at odd-sized luggage, so they were already separated in Amsterdam. So for all four to be scanned into the flight but also go missing later on points to an unloading delay.
But there are other scenarios where your bag may not come out of the luggage carousel. It may already be in your city but be of unusual size or damaged. These are often pulled out of the regular luggage handling path and taken to a separate building area for pickup. One guest in line with us was told "your bag was scanned here but not at this carousel" so they had to go to a separate area of the building to find it. If this is the case, the same agent can likely point you where to go.
But if this does not solve your problem, they'll either likely take your information to call you if the bag turns up locally (if it is in the building, for example), make a claim for you on their system, or point you to the online portal for their network to fill a claim out yourself. We were in the latter category and will discuss this step next.
Online Lost Baggage Portals Can Be Surprisingly Robust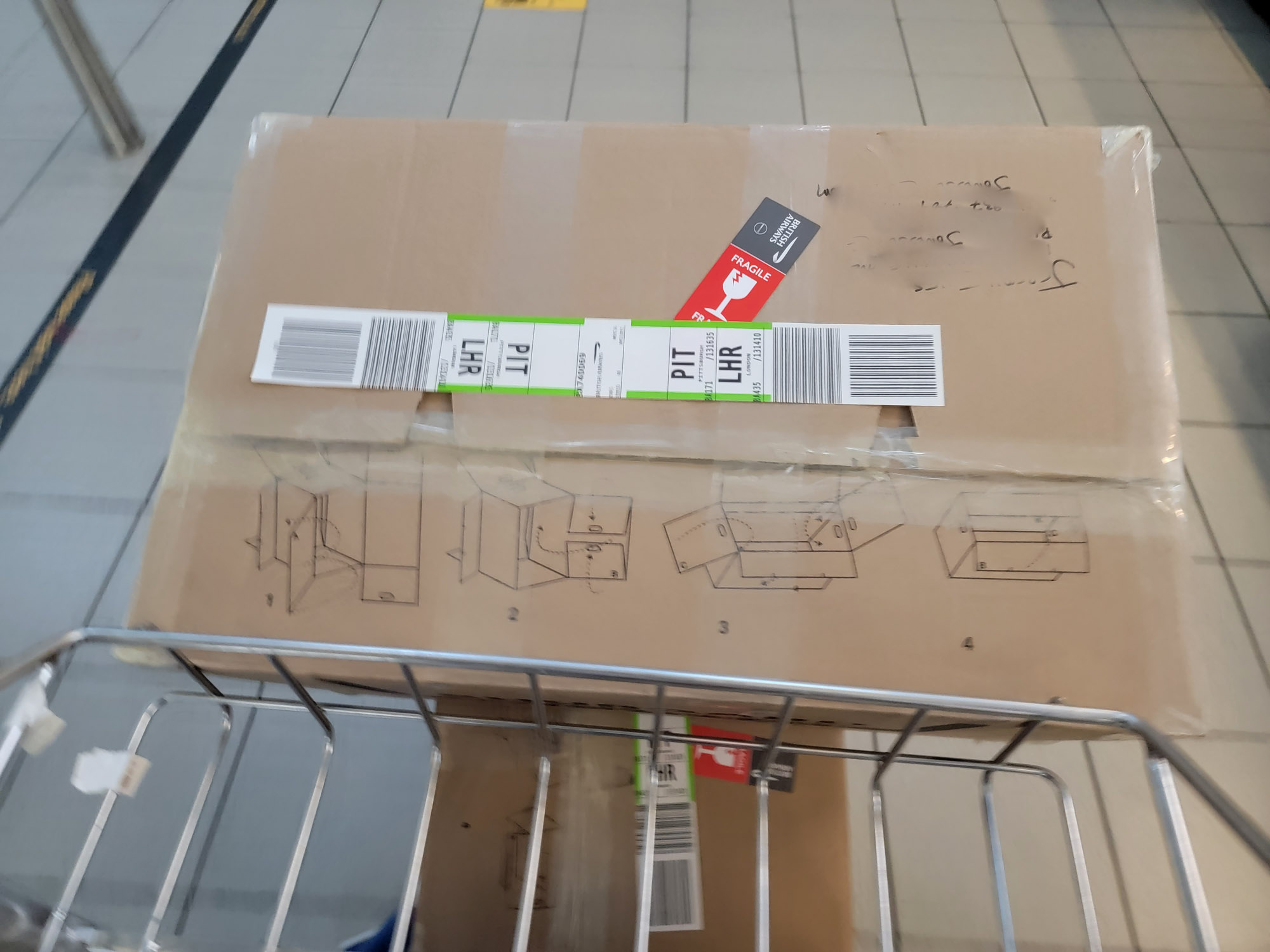 Now, we should note in advance that this section will likely vary considerably by the airline, but we were impressed by how robust British Airways' online system was for reporting a lost bag. I am not sure if we should be excited by this or sad at the need for it (do they lose that many bags to require such an advanced system?), but here we are.
This online system allows you to put the luggage bag tag number from each receipt (seriously, don't throw these away!) and then fill out a long list of information about the bag, including the type, color, manufacturer, listing "unique items" that could be found inside, and more. More or less, you are filling in so much information that, if all identifying baggage tags and airline tracking stickers got lost, this information could help them identify the bag as ours. It was a bit of a pain to fill out four times over, but we're okay with the hassle if it means our bags can be found.
Note: We did not know which tag corresponded to which bag in particular. We just guessed here and made sure that all four bags were described. Ultimately the airline will either scan the tag or, in the event of a lost tag, trace it via the descriptions either way.
After that, we had to give our information to be sent updates via email, text, or phone, and also were given the option to have the airline deliver the luggage direct to an address or if we wanted to return to the destination airport to pick it up.
Once all this was done, a dedicated portal was created where we could log in and see updates for our bags over time. While this one wasn't updated too frequently (once per day changes if that), it was still nice to have a tracking portal all the same.
By the next morning, we had been alerted that three of the four bags had been scanned in London and would be put on the next flight to Pittsburgh (the exact flight number was also given). As most bags are found and/or delivered within 72 hours, this certainly made it seem like they simply missed the connection as we thought.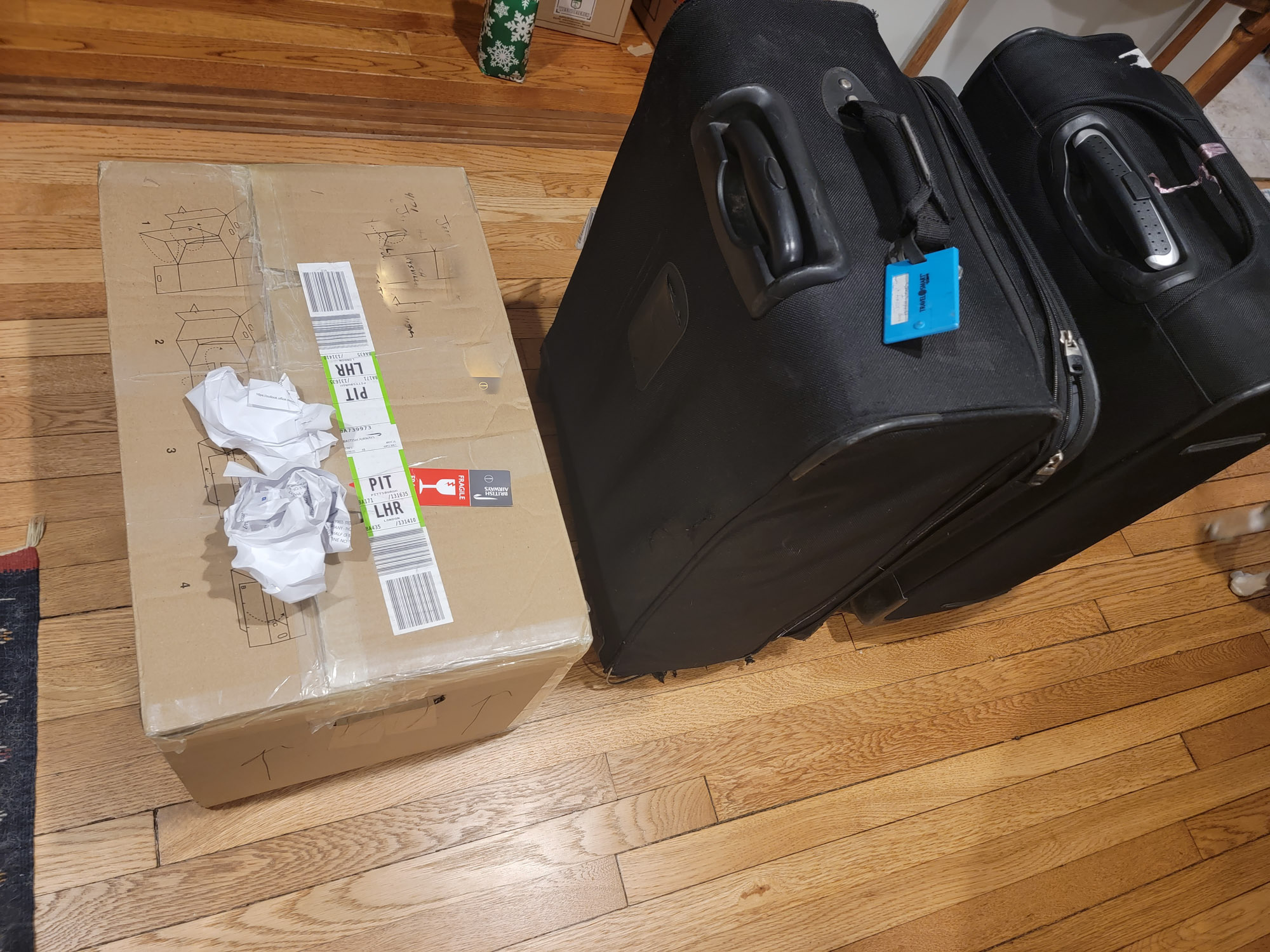 Each of the three bags was given a corresponding tracking link, much like you'd expect from UPS or FedEx, and we received text updates to their status and a call from the 3rd party courier when they were about to be delivered the following day. Ultimately, three of our four bags were delivered within 48 hours from when we landed. Robust and punctual? Two words you don't normally use to describe an airline, but here we are. It was a fairly seamless process for the bags missing their connection all aroudn.
The fourth bag (technically, a box) took eight days to be found, and likely had lost its luggage tags during travel. Much like with our other bags, we received emails and text message updates the entire way once it was found- but for the first week, there were no updates at all.
This one then found an incredibly roundabout and, admittedly, terrifying way to get home. Instead of flying on the next LHR-PIT flight after being found, which would have been too easy, it was routed to JFK via American Airlines, onward to PIT via LGA for some reason, missed that connection (as the plane it was supposed to go on departed LGA 10 minutes after the JFK flight landed), and was ultimately shipped from JFK to our house via overnight FedEx with a stopover in Memphis.
For those following along, this means that the case of beer we bought was driven through Belgium and Luxembourg, taken on a train to the Netherlands, flew AMS->LHR->JFK->MEM->PIT, and was ultimately delivered almost two weeks from the first flight- all without a single bottle breaking. (You can read more about how we bought Westvleteren beer and packed it here.)
There were two downsides to this new shipping setup- we were out of town for delivery and the delivery day was the coldest day of the year (think 0-5°F). One missed delivery with an overnight on a truck in that weather, and the entire case would've likely been ruined.
This was an unforeseen issue as with our previous bags a courier called us to finalize delivery. They were incredibly nice and more than happy to adjust delivery on our request (i.e. putting a bag on the side of our house, delivering to a neighbor, etc.). With FedEx, we weren't sure if we would have to sign for the package (we didn't), if they'd hold it at the warehouse with a vacation hold (they did not as it was shipped priority overnight), or if they'd deliver to our neighbor if we put an address in delivery exceptions (they did).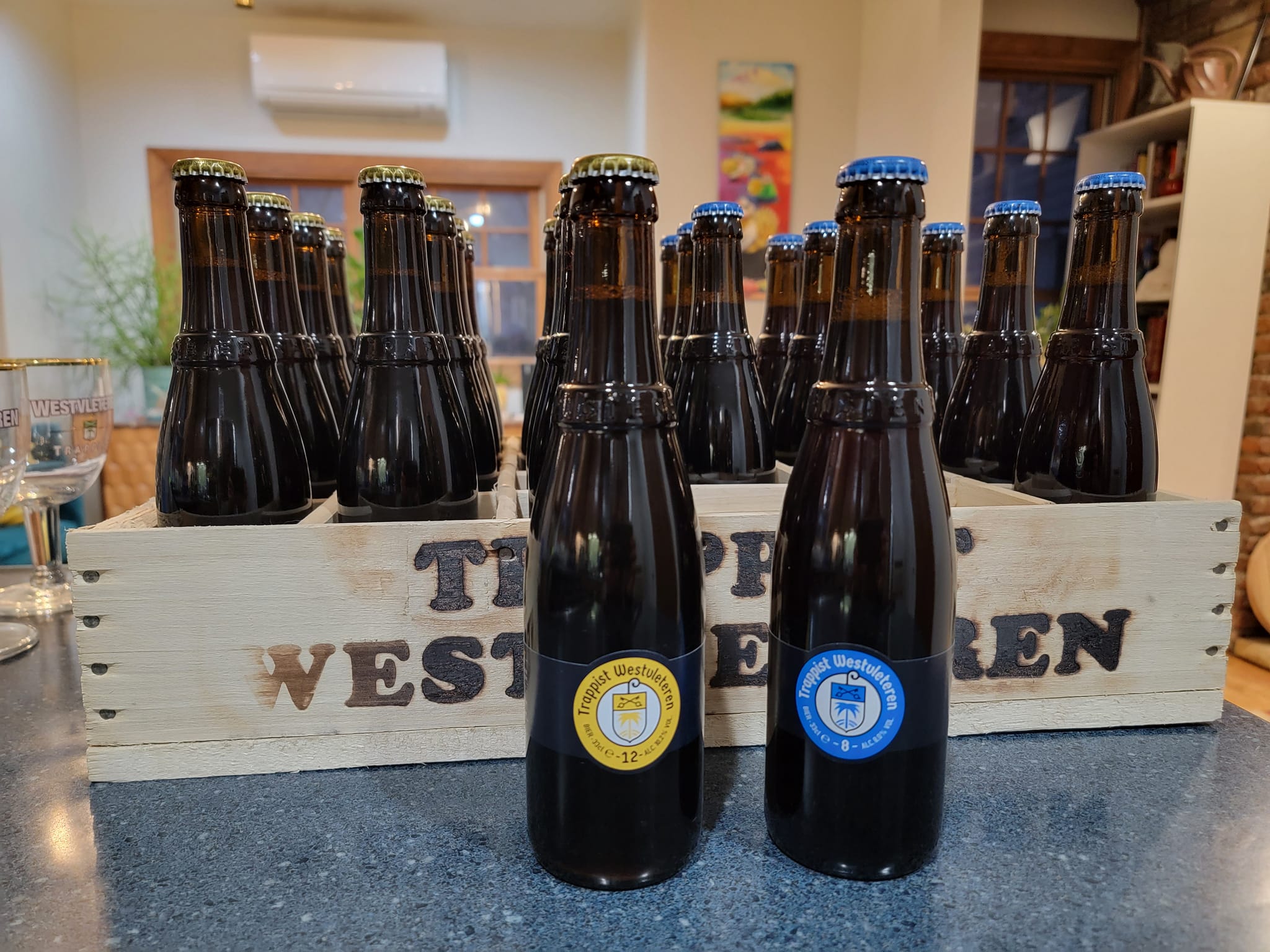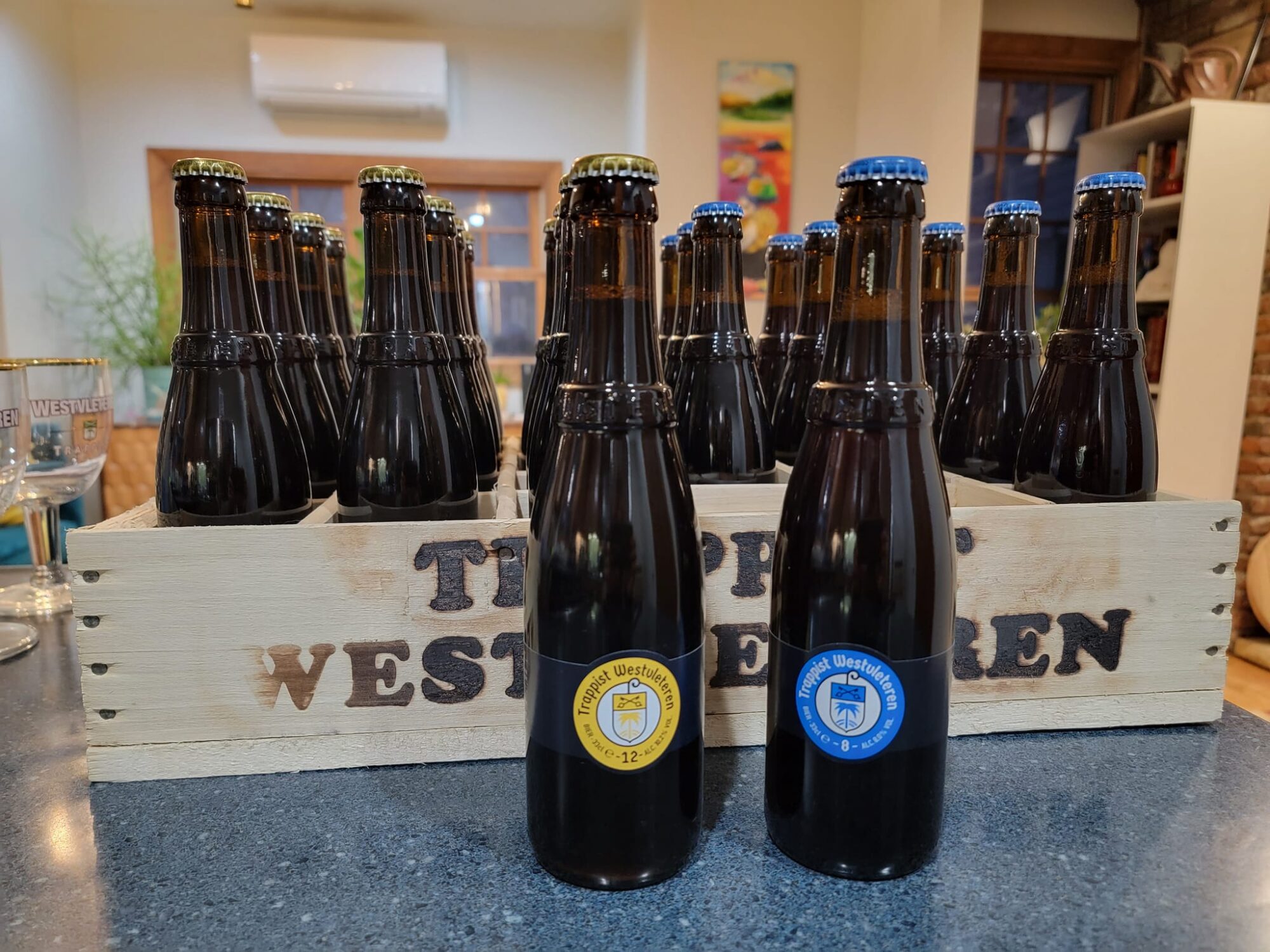 Ultimately, our fourth bag arrived safe and sound within British Airways' 21-day window. Shocking, we know!
So, what's next? Even if your bags do ultimately arrive, you are likely entitled to compensation as airlines are required to pay customers for both delays and fully lost luggage. But, as noted at the start of this article, you need to register your bags as lost with the airline as soon as possible as claim windows can close quickly.
Filing Claims for Compensation – Delays and Lost Luggage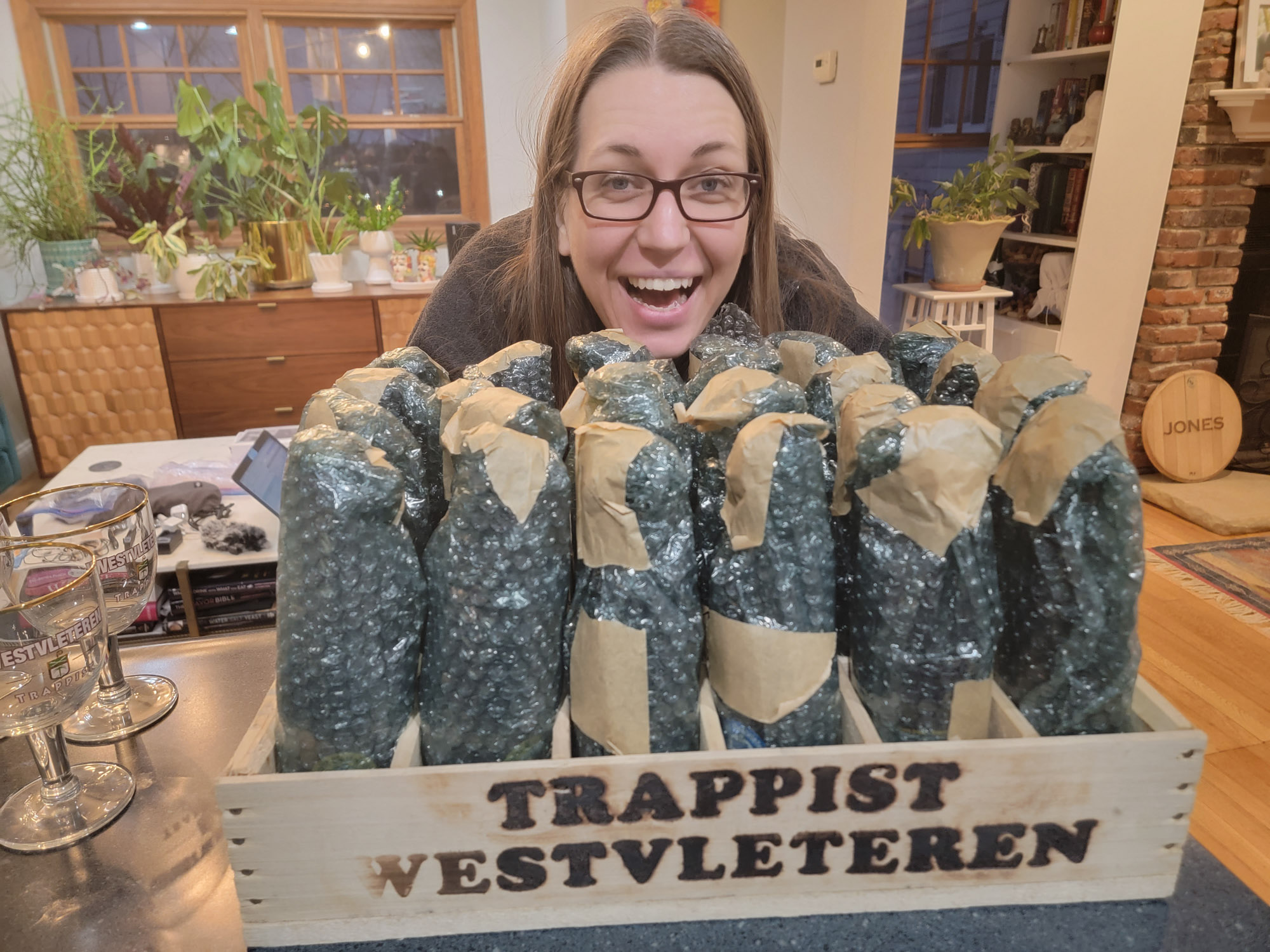 After filing your claim, you are sadly waiting to see what the airline can do to find your bags. They may find your bag in an hour at the airport you are standing in. They may find it the next day at a missed connection. It may take weeks for them to find it at all. In fact, British Airways does not pay out any lost bag claims until at least 21 days have passed. This is likely because most bags are found and dealt with in a few days, but it is worth keeping in mind it may quite be a while all the same.
So let's talk about what you can do for baggage delays and lost bags because these are two separate scenarios which airlines and travel insurance companies have policies for.
Baggage delays often cover a nominal amount of money to repay you for essentials you need while your bags are lost. Think things like toiletries, clothes, etc., and are paid against submitted receipts after arrival. We had almost all our toiletries in our bag, with very little at home as a backup, so filing a baggage delay claim covered us for buying all new products (~$80). Had we also needed clothes, which would have been a bigger issue had this occurred at the start of our winter trip to Europe rather than the end, we could have had reasonable clothes purchases reimbursed as well.
At the time of our flight, British Airways didn't seem to have a max coverage limit here ("reasonable expenses" is the phrase often used here) and our 3rd party travel insurance covered up to about $2,000 less anything reimbursed by the airline. We've read of receipts being refunded up to $700 or $800, but again the term "reasonable" applies here. A winter coat? Sure. A designer winter coat with an extra 0 in the price? Probably not.
It is worth noting that reimbursement may take weeks or months (not hours or days), but at least you will likely get some form of compensation to cover incidental spending at some point in time. We are still waiting on our reimbursement and will update on how long it took once it is received.
Lost bags are where things get tricky. Most airlines have a set policy for a coverage limit per bag and may also ask for receipts for the lost items as well- which is easier said than done. At the time of our flight, British Airways had a cap of about 1300 GBP ($1,600 USD), but we were not sure if that was per bag, per passenger, or total- the language in the T&Cs is purposefully ambiguous. The real kicker here is having to wait to file for this particular claim (which for BA is 21 days after a bag goes missing), but this is the route you must go for truly lost luggage.
Please note, all our bags were found so we did not have to file this claim.
If you fall into this category, figuring out how to price a bag is where things get tricky if the airline doesn't offer a fair flat rate (we've heard stories of airlines offering flat rates, sometimes $500, just to get people to accept it, save everyone time, and move on). Do you cover the purchase cost of the item only? The additional expenses you went through to buy the products as well (i.e. a rental car, hotel nights, packing material, checked bag fees, etc)? What if items in your luggage aren't available on true retail and have high secondary market prices? Or what if the lost items are old and on sale for significantly cheaper than what you originally paid? What if something is irreplaceable but absolutely had to go in your checked luggage?
Your guess may be as good as ours here. We firmly believe that airlines should be on the hook for the replacement cost of lost items whether that means it is higher, lower, or the same as what you originally paid. Does this sync up in practice? We really can't say.
After getting any compensation, you should check to see if your insurance or the credit card you booked your airline tickets through has a policy for these, too. Our 3rd party travel insurance, for example, had a limit of $2,000 minus whatever the airline paid back (with a cap of $500 for any high-value items). So you may be able to get more compensation through 3rd parties, especially if the airline gives you a hard time on values. When our luggage was stolen in Peru, for example, our travel insurance paid us back the original purchase price for things even though they were heavily depreciated at the time of the theft.
You should also check with your insurance as soon as your bags get delayed to make sure they do not have a reporting window you need to abide by.
Finally, we should note that airlines also have a separate policy for damaged items during shipment. Generally speaking, the timetable to report these is often a bit longer (British Airways was seven days at the time of our flight), so it is worth keeping this in mind, too.
Worried About Lost Luggage? AirTags May Be a Good Investment
When our bags went missing, many of our travel blogging friends asked an almost universal question: "do you have AirTags?"
Of course, we do not. First, because we're not Apple users. Second, because we never thought about it before now.
For those who do not know what AirTags are, they are a simple little device that anonymously pings Apple's "Find My" network via Bluetooth. As long as a Bluetooth-enabled (Apple) phone with Find My enabled comes close to the AirTag (aka your bag), you can get up-to-date location information sent directly to you whether you are 10 feet away or 10,000 miles away.
These may not help a gate agent find your bag in the next 10 minutes but can go a long way to let an airline know that you can see your bag is located at a specific airport. When the airline couldn't tell us whether our bags were in Amsterdam or London, we could have followed up with "they're in London roughly at [place]" and go from there.
But you may rightfully point out that AirTags are Apple products and, to no one's surprise, only work with Apple products (particularly those with Find My enabled- which is about a billion devices). Due to this volume of available connections, AirTags is the king. But 3rd parties, like Tile, are coming out to be used on all phones- these are particularly becoming popular with Android users who do not have access to Apple products.
The downside to Tile is simply the volume. By the end of 2021, Tile had sold about 40 million devices. This suggests that, at most, there are 40 million phones that enable Tile tracking. As tracking is a power-by-numbers game, you can see how AirTags have an enormous advantage.
In either case, some form of tracking is inevitably better than none, so even if you have to go the Tile route because you do not use Apple, there could be some tracking opportunities available for you- even if it is on a more limited basis.
Overall, while a missed or lost bag is certainly a frustrating experience, rest assured that airlines do everything they can to find your bag and most are delivered within 72 hours. But if your bag goes missing, be sure to act as quickly as possible to ensure everything gets addressed in a timely manner. The clock starts ticking as soon as you land!
Has an airline lost your luggage before? How did it all work out for you? Comment below to share your experience!
About Jeremy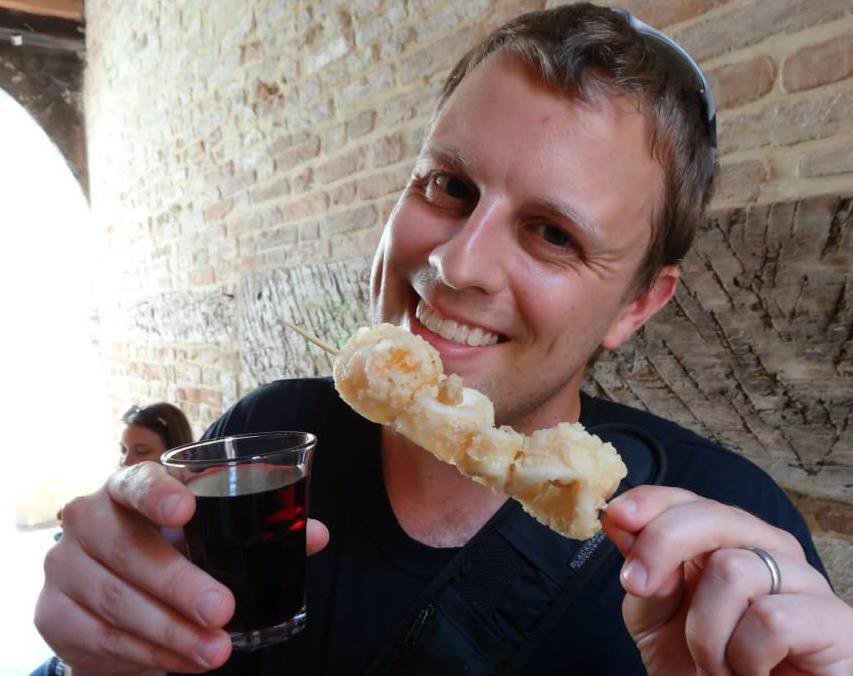 About the Author: Jeremy is a full-time travel writer based in Pittsburgh and primary author of this site. He has been to 70+ countries on five continents and seeks out new food, adventure activities, and off-the-beaten-path experiences wherever he travels.