Last Updated on by Jeremy
Disclaimers: Our site uses demographic data, email opt-ins, display advertising, and affiliate links. Please check out our Terms and Conditions for more information. Listed prices and attraction details may have changed since our visit and initial publication.
In our ever-present quest to improve our travel blog, we have done a lot of back-end work you may not notice on the surface.
One of those is optimizing our WordPress plugins, as these tools are what take sites like ours from a normal blog and transform them into something special (not to mention helping get a ton of awesome blog traffic too).
A problem we've noticed when it comes to viewing websites is that you can't tell what plug-ins they use outright, and today we wanted to share a breakdown of the WordPress plugins we use and love!
Our goal with this article is to maintain a running list of all plug-ins that we currently use on our sites. As we rotate plug-ins in and out we will update this article accordingly, and all formerly used plug-ins of note will be featured at the end of this article as well as they could still be useful to others!
Note: We use BigScoots for our host and GeneratePress for our theme. In many cases the resources allocated by your server and how well plug-ins integrate with your theme have a direct impact on whether you can utilize them or not. While we cannot guarantee performance in every scenario, the following seem to work for us. If you need to upgrade your host or theme, we highly recommend both!
Ad Inserter – Free with Premium Upgrade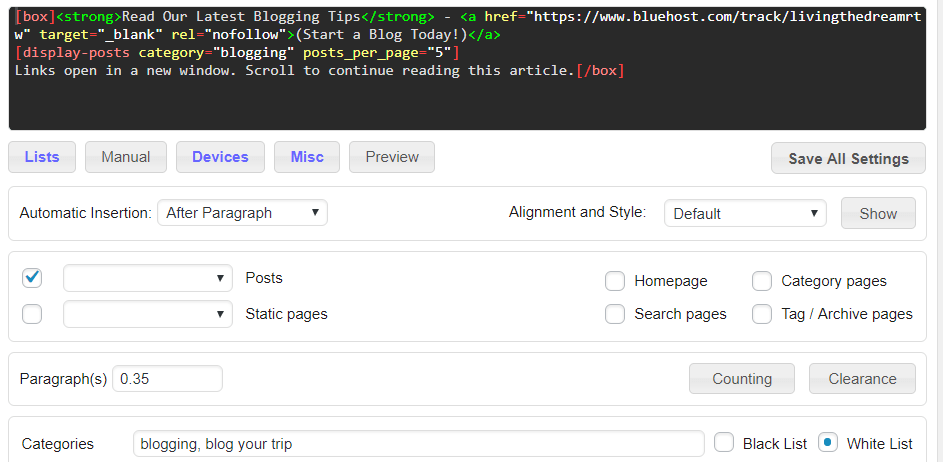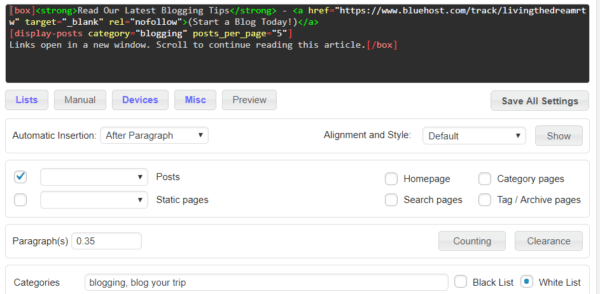 If there is any WordPress plugin that we would deem a work-horse that is absolutely essential for our success, it would be AdInserter.
This plugin is like having a developer on call 24/7 to place HTML boxes wherever you want at the click of a button. The free version of the plugin allows for up to 64 custom placements to be inserted practically anywhere on your site. Pro offers more functionality including Lazy Load of boxes themselves, which we absolutely love for site speed (seriously worth the minor investment if you care about site speed).
Placement options include at the beginning of articles, at certain percentages inside of articles, at the end, in the header or footer, on specific categories or tags, on individual post IDs, and so much more. It also works with negative features too in order to exclude the boxes from displaying in any of those previous categories too! Going even further, the program also lets you a/b test placements with a rotation tag that will randomly distribute display features in any given box.
Yes, this one really does it all.
This amazing functionality has allowed us to supercharge our affiliate marketing game as we've been able to create custom ad displays in-body, in our footers, and on our sidebar to be inserted exactly where we want and on specific post categories. So rather than testing an ad for, say, European train tickets site-wide, we were able to immediately place it in all of our articles with our Europe category tag (we now make about $50-$100/month just from that one change).
The best part is that since AdInserter makes changes site-wide you do not have to go into hundreds of posts to make an adjustment. All you have to do is edit one little box of code and you're finished. Throw in the fact that the Pro version can lazy load elements, and we use this one for almost our entire site design for the speed element alone.
Truly a must for any blogger!
Pro tip: This one has a steep learning curve, so be sure to read all the tutorials ahead of time. Figuring out the best settings can be a pain at times if you get into specific inclusion / exclusions.
Pretty Links Pro – Premium
Pretty Links Pro is a premium link cloaking program that is best used for changing the structure of affiliate links for select services. The reason this is useful is that some affiliate programs create jumbled hyperlinks that look, to be blunt, like spam.
The service lets you create a hyperlink with your domain such as livingthedreamrtw.com/hotelbooking instead of whatever jumbled mess the affiliate program offers (think lksdjflksj.com- looks like spam, right? I'm looking at you CJ and Awin!). This is far more trustworthy for discerning readers and helps increase outbound clicks.
The plug-in also allows for a central resource of all links, so if we insert a new link in 100 articles and the affiliate link changes we just change it in the Pretty Links dashboard and all of the links across our site update automatically. Not bad for just under $100/year for multiple sites!
It is important to note that not all affiliate services allow link cloaking, so it is best to confirm with each network prior to changing your link (we know Amazon does not allow this, for example). Likewise, we also make all of our links setup as livingthedreamrtw.com/affiliate/[brandname] in order to add an extra level of disclosure.
WP Rocket – Premium
WP Rocket is a fairly comprehensive plug-in that offers image lazy loading, page caching, CSS & javascript optimization, preloading files, and more. While you can use the free version of this plugin, Lazy Load by WP Rocket, for a big benefit in deferring your images, the paid version offers just a bit more oomph to optimize your page speed a bit more- albeit ever-so-slightly.
We personally use this one for a few of the caching settings and then use CSS and Javascript with Autoptimize (a separate, free plug-in). It only helps a fraction of a second of our load time (only partly because the CSS/JS optimizations with Autoptimize do a fair bit of the legwork), but is worth it for the pretty low annual fee for it all the same if you want the best load times possible.
Fun fact – WP Rocket detects that we have some settings enabled in Autoptimize and has safeguards built in to caution double optimizations. We do not know the limitations of this, but think its a fun feature when plug-ins work together.
Grow by Mediavine – Premium
Grow by Mediavine (formerly Social Pug) is quickly becoming one of the most popular social sharing services out there, especially after competitor Social Warfare crapped the bed in late 2018 and again in early 2019.
This light-weight plugin has a number of options in its premium version including share recovery, Social Warfare migration, and more! Our only regret is not switching to this one sooner.
Display Posts Shortcode – Free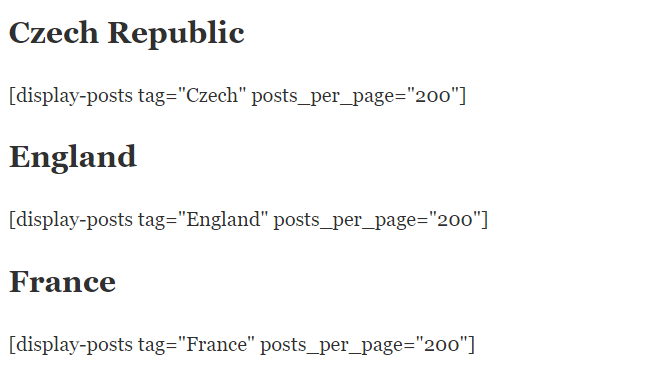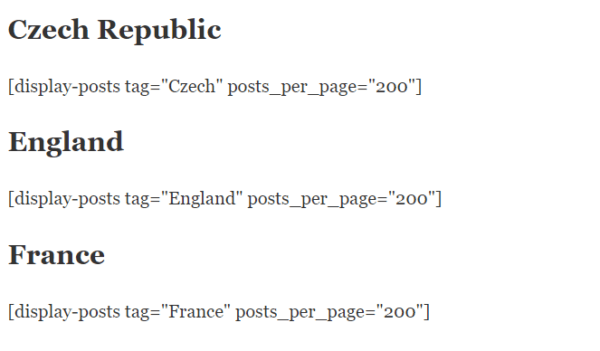 Display Posts Shortcode does just as its name implies- it generates a shortcode to display a bulleted list of post titles based on a given category or tag.
This one may be hard to visualize, so an example from our Europe category is below:
By inserting a shortcode into any post or html box, it is immediately transformed into a list like as above. You have control over the tag/category used, how many posts it will display, restrict it to only display posts within a given range, and can customize it from there to display more details like the date published or even an excerpt!
Pro tip: Combine Ad Inserter with Display Posts Shortcode for a supercharged related post prompt. Take the above "Europe" category display and put it in Ad Inserter to display 50% of the way down on all posts with the Europe category, and now every post will recommend your newest Europe posts to readers automagically.
WP Show Posts
WP Show Posts is the plugin we upgraded to from Yet Another Related Posts Plugin (YARPP). It is a highly customizable plugin that shows posts based on category tag, but does not contain logic based on the current post that YARPP and others do (in a way, it is quite comparable to Display Posts Shortcode above with some different settings- we simply utilize both for different purposes).
We like how lightweight it is compared to something like YARPP and decided to pair it with AdInserter (using category logic) to be just a bit faster in our offering. Yes, this one required more coding plus an AdInserter box for each insertion at the end of our posts (tapping out at 64- we use most of them), but it was worth it for the slight speed improvement and more customization options.
This is really helpful when putting together database pages like our Destinations list because all you have to do is insert the code once for any given tag and it will continually add posts as you go. In fact, we think we're only just scratching the surface of the power this one provides, which is truly saying something!
Yoast SEO – Free with Premium Upgrade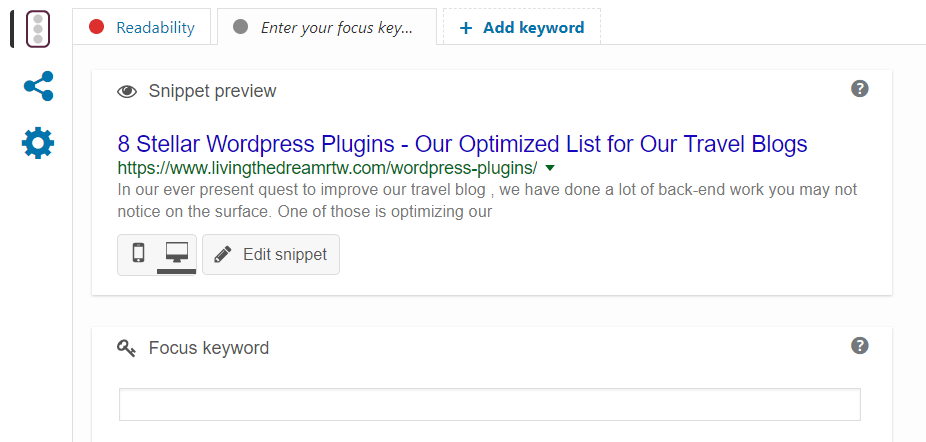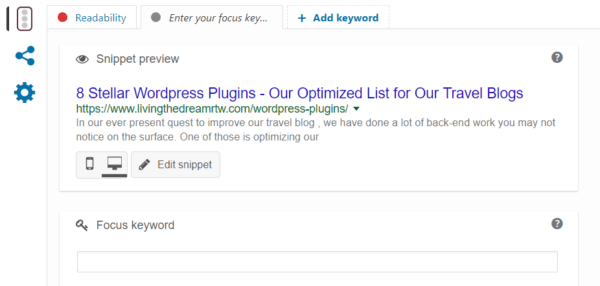 Yoast is a workhorse SEO plugin that allows you to change a lot of behind the scenes details in your articles in order to optimize them for search engines and social media.
We use this plugin a number of ways, but namely to add custom SEO titles and meta descriptions, and also to monitor our readability and target keyword scores as well (something we admittedly need to do more of moving forward). But as there are many SEO guides out there specifically built for Yoast, we're not going to comment on this one more than saying it is a must because, well, it is a beast!
Other Staple WordPress Plugins We Use
While the above are the core plug-ins we use to really help our travel blogs grow and thrive, we do use a few more that we have to note.
The following are a list of other standard plug-ins you should consider using to help your blog. These are more of the staple plugin varieties such that we are not going to spend a lot of time talking about them since their benefits and usage is pretty self-explanatory:
Akismet Anti-Spam – Adding a layer of security to prevent spam blog comments with this great plugin.
Autoptimize – A CSS/JS minification plug-in that is quite impressive at improving load times. Some exclusions may need to be added for ad networks and other services. Does not work with all themes in our experience (but appears to work with our plug-in configuration on GeneratePress).
Custom 404 Error Page – Our theme did not have a good generic 404 page, so this plugin allows us to convert a page into a 404 landing. (Check out our 404 page here.)
Smush – A free image compression software for uploads < 1 MB in size. Pro version is quite expensive (~$50/month) but offers bulk optimization of existing images (free for ~50 image batches) and optimizing > 1 MB files. Good for a one-month payment (or free trial) if you've not optimized in the past, otherwise the free plug-in works well if you compress images in a 3rd party service like Lightroom (recommended).
WP Last Modified – This plugin can be used to display your last modified date instead of the published date in your posts. It should be noted that GeneratePress allows you to show last updated automatically in the theme, but we found that it did not include that in the revised meta description to show to Google. As such, we still use this plug-in for the meta data aspect alone.
WPForms – Light weight contact forms.
Mediavine Control Panel – From our premium ad service, Mediavine. If you have 25,000+ sessions a month we highly recommend joining their service.
KingSumo Giveaways – A premium giveaway plugin that builds newsletter subscribers for entry. We turn this one on and off when not using. Received free with our membership to the PTBA.
WP External Links – An external link plugin that converts all links to add the target="_blank" code to open in a new window. Could be done permanently with a developer.
That's it, all of the plug-ins we currently use to help our site grow and thrive!
Plug-ins We've Used in the Past
In a way, sharing the plug-ins we currently use is only half the story. To paint the full picture, we have to also share the laundry list of plug-ins we've used in the past and why we've moved on from them to our current list above.
In some cases we removed plug-ins because they added too much burden onto our server. In other cases we removed them purely because we found a better option (featured above). Other times there was a plugin conflict and we had to remove one. When applicable, we'll share why we removed them to share a more detailed view into our thoughts.
That being said, the below plug-ins are not necessarily bad, and when we used them we enjoyed their functionality completely such that you may still find them useful!
Note: Many of these plug-ins were not tested with our current host and/or theme. We cannot speak on if their performance would change if you run on the same setup we are on now. These are all based on their usage at the time.
Linkify Text – This one is a cool plugin that will automatically link text within a post to a desired link that can be swapped out on the fly. We had to have a developer add nofollow tags to it to use for affiliates, but end the end changed our affiliate strategy and moved away from this plugin altogether to improve our site speed. Still liked it a lot!
Yet Another Related Post Plugin – As its name suggests, this one displays related posts based on the content of your article (categories/tags, mainly). We replaced this with WP Show Posts if only because YARPP did not have a shortcode offering for us to insert where we liked, and the new plugin is just a bit more lightweight despite needing more programming.
Monarch – We used Monarch for side bar buttons displaying our fan count; however, like other plug-ins below we removed it for being an unneeded burden on our server. We since replaced our social profile buttons with static images and a text count of total fans that we update when we hit milestones.

Monarch is run by Elegant Themes (a theme provider that we used to use on this site). If you use them you may get this one for free depending on your package.

SumoMe – SumoMe offers a suite of tools (from social sharing to heat mapping) that is really powerful for helping your site grow. We used this one for social shares (amongst other things) and enjoyed their offering to limit our plugin count. Admittedly, this one did put some strain on our server and affected our load times, but we moved away from this one because they did not offer share recovery for when we migrated to a secure server (https).
Facebook Comments Plugin – A plug-in that is no longer supported for Facebook comments. This one glitched and we had to remove it. Then we couldn't find a good substitute that would keep our comments from prior to switching to https. I'll miss all those comments, but I'll take a faster loading site as a side perk.
Disable Google Fonts – A plug-in that turns off the load-bearing Google fonts package in most themes. When we switched to GeneratePress and we didn't seem to need it anymore so we turned it off.
OIO Publisher Software – Oio Publisher is a plugin that allows you to host display CPM ads via an integrated invoicing system. Counts impressions, clicks, etc. and automatically rebills the customer based on total impressions received. We removed this one because Mediavine has this feature built in to their service and we are required to provide exclusivity.
Revive Old Posts – A plug-in that will continually re-share old posts on social media. We used this for Twitter, but at one point got dinged for being a potential automated account (which wasn't totally wrong). We're not sure whether or not this plug-in caused that, and also don't care about Twitter in the slightest, but we removed it anyway as an unnecessary burden on our server.
Lazy Load by WP Rocket – A free lazy load plug-in to defer loading of images and improve page speeds. We stopped using this as we upgraded to the Pro version of this plug-in which includes Lazy Load features.
Slide Anything Responsive Content – Slide Anything is a plugin that converts your standard, static HTML boxes into a fully custom slider that can be inserted anywhere via a shortcode! We use this one for A/B testing and have it turned off right now as we are finished with our testing. We occasionally turn it back on as needed, however.
WP Google Maps – A map plugin that allows you to embed Google maps onto your site. We removed this as it was a bit glitchy (and added load times) and Google's own iframe embedded map works just fine- albeit a little less pretty.

Be sure to go for the pro add-on for added functionality which we found was essential.

Interactive World Maps – A premium map plugin that allows you to embed custom maps onto your site. We used this on Living the Dream to highlight countries that we had articles from. We removed this one because it conflicted with another plugin.
ONet Regenerate Thumbnails – A free plugin that allows you to refresh thumbnails if sizes change site-wide. We removed this one because
OptinMonster API – A premium plugin that allows you to display pop-ups for newsletter subscribers. Works quite well at what it is designed for but comes at a ~$200/year price tag. We removed this to reduce our page weight and instead now just use a MailerLite generic sign-up box displayed at the end of our posts via AdInserter. Read our Mailerlite review here!
Official StatCounter Plugin – A second analytics software that we used since day one. A bit easier to use and different data than GA. Once we redesigned this site we figured it was time to wave goodbye in the effort of providing just a bit faster site performance.
W3 Total Cache – A workhorse caching plugin that helps optimize your site for performance.
Broken Link Checker – Broken Link Checker is a plugin that, when active, continually scans your site to find broken links and returns them in a report. This one is a major server hog and is one you'd only want to turn on and off when you want to run a scan. We have since removed this as it adds a load to your server. Now we use Xenu Link Sleuth (a free desktop app) for the same job which admittedly is much better at the task anyway.
Q2W3 Fixed Widget – A simple plugin that allows a sidebar widget to become sticky and scroll down with the reader. Great for preventing white space and allow an ad or affiliate prompt to stay with a reader as they scroll. We removed this one because Mediavine requires a sticky sidebar ad without competition.
WP About Author – Our theme did not offer a good author box at the end of articles, and this plugin worked out quite well! We removed this one to reduce our site's load time as we could replicate this with AdInserter via tag logic (added a tag per each unique author).
Check back soon for more updates as we plan to keep this one a running guide to our current plugin setup!
Do you have a favorite plugin we need to know about? Comment below to share!
Have an existing blog that is in need of an upgrade? Check out the following services we personally use!
Looking for tips? Read our Blog Your Trip series!
Join Our Newsletter
Check Out Our Latest Posts
About Jeremy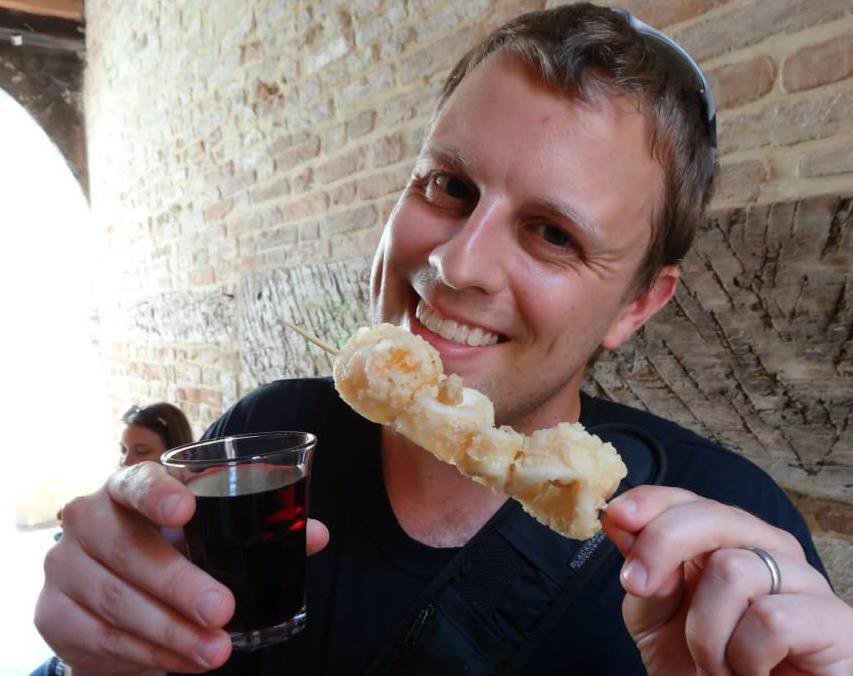 About the Author: Jeremy is a full-time travel writer based in Pittsburgh and primary author of this site. He has been to 70+ countries on five continents and seeks out new food, adventure activities, and off-the-beaten-path experiences wherever he travels.