Last Updated on September 18, 2019 by Jeremy
Disclaimers: We were hosted for this experience. Our site uses demographic data, email opt-ins, display advertising, and affiliate links. Please check out our Terms and Conditions for more information. Listed prices and attraction details may have changed since our visit and initial publication.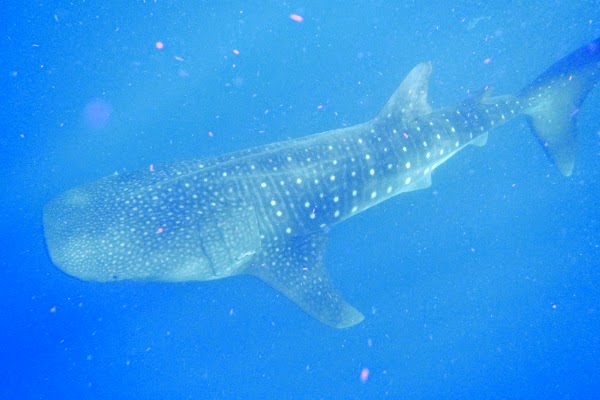 With the end of the whale shark season approaching fast, I was worried that I would not be able to get out and snorkel with these giant fish during our visit to the Yucatan.  Many trips in the week we were there were canceled due to bad weather and high tides, and my tour with Eco Colors kept getting pushed back until I was finally scheduled to head out on my very last day.
With an early wake-up call, an alarmingly calm sea, and no more days to go out if this was a bust, our group made the hour-long trip out of port to find the mysterious whale shark.
Swimming With the World's Largest Fish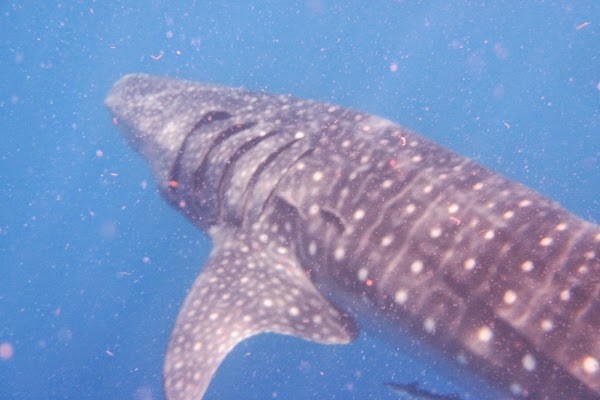 Our first glimpse of the ocean was inspiring as the waves were almost non-existent and we were given the green light to head out to sea by our captain.  Yes!
Before we departed, our guide told us an interesting fact to keep in mind.  The area where the whale sharks come to feed is gigantic, and it may take some time to find them once we get out in the water.  So on top of the nearly 60 minute boat ride to get to the entrance to the feeding zone, it could take another 1 to 90 minutes to even find the sharks in the first place.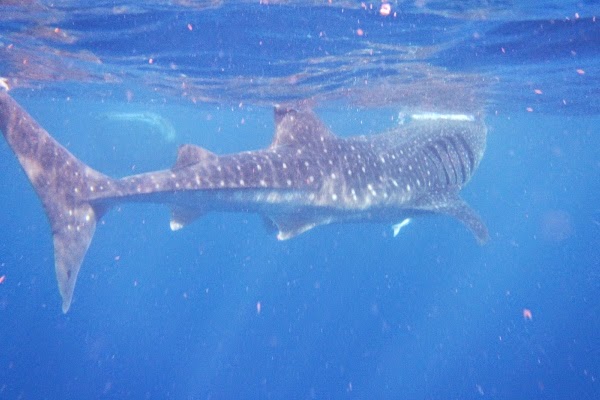 After popping a Dramamine as a precaution for the supposed rough waves to come, I was thoroughly prepared to spend several hours on a boat before seeing anything (just as a tour a few days earlier had to do).  But we were lucky, within moments of arriving to the zone where the whale sharks can be found we stumbled upon a group of 25- giving us even more time to get into the water and observe these beautiful giants.
The tours in the Yucatan are quite structured to abide by Mexican law, and each guide is only licensed to take in two snorkelers at a time.  In order to get all 10 guests in the water with sharks multiple times, our time in the water was segmented to no more than 5 minutes each- with about 20 minutes of boat time in between.  Although this sounds a bit short, it actually works out quite well because whale sharks swim fast and are often out of sight well before this time limit. The snorkelers then have to get out of the water, zoom over to another nearby shark, and let the next group have their turn.
The Shark That Almost Ran Into Me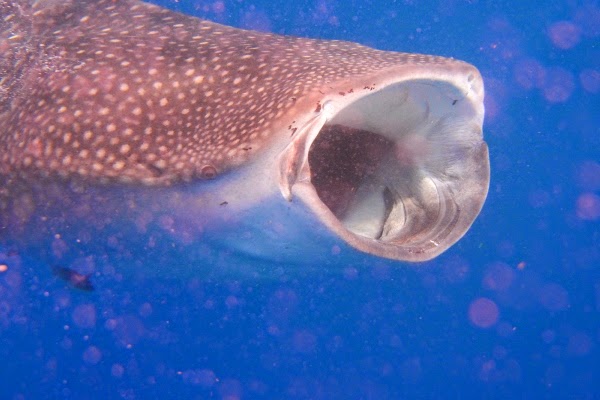 In my second swim with the whale sharks, the guide asked if I wanted her to take my photo with the shark in the background.  Not missing the opportunity, I handed her my camera and began to pose in hope that a whale shark would be behind me for the photo.
A few moments later I hear her scream "MOVE NOW!" and turn around to find the mouth of a whale shark just a few feet from my toes.  I swam as hard as I could and just barely missed the body of the giant.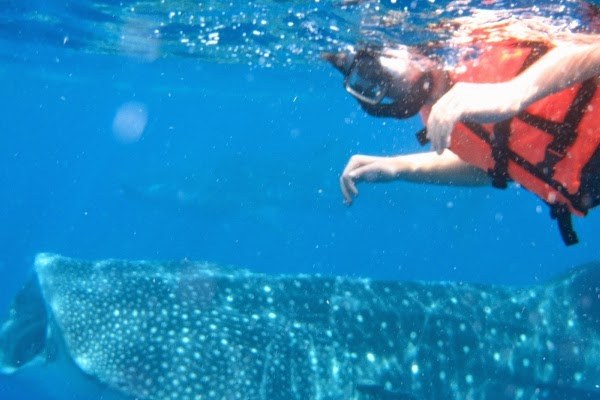 Somewhere during the few moments I turned around to get my photo, the whale shark changed course and came directly towards my location.   Not for me, since they don't eat humans (or any large animals, for that matter), but purely because I was in the middle of a large concentration of tasty food.
With my heart rate elevated, and a new found appreciation for their speed, I made sure to keep my distance even more as I watched the giant sharks swim by with the majestic movements I came to witness first hand.
A few more dips in the water and we ended the stunning day.
Do The Sharks Care?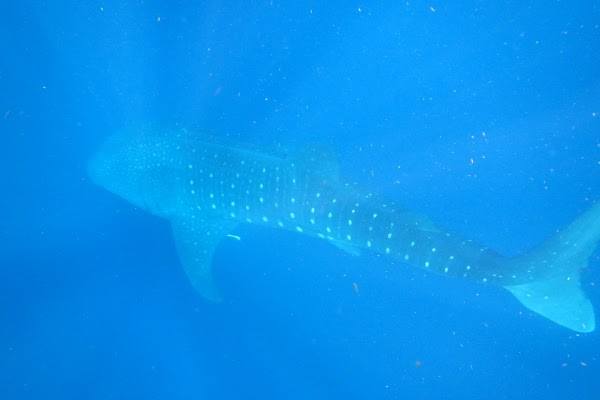 During the snorkel, I had a very interesting observation- the sharks really didn't care that we were there.  With roughly one boat to every two sharks visible at the beginning of the day, and a government law prohibiting no more than two snorkelers in the water at any given time (per guide), the sharks appeared to have very little response to the fact that we were there.
I found this interesting because it is a stark difference to an earlier wild animal encounter we had where we snorkeled with wild dolphins in Mauritius.  In that case the dolphins clearly had no desire to be around us even though the tour was structured almost exactly the same.  As the day went on and the sharks left the area, the number of boats in the water per shark began to increase until finally there were about a dozen boats tracking only one or two whale sharks (and even more swimmers in the water as a result).
I'm thankful that our tour operator called it a day at this point, because even with the limits of two snorkelers per boat in the water at a time, having that many visitors trailing one shark was a bit beyond my comfort zone.  So rather than increase the congestion and potential stress on the sharks, we were out and making our way back to Cancun well before the other boats out that day.
It wasn't until we returned to port and I looked at all my photos did it register how lucky we were on this outing.  The season was ending, the weather patterns for the year were getting worse, and we had an unusually calm day at sea with 25 beautiful sharks (and no seasickness on our boat).  Although the numbers we saw were far lower than the peak season rate of 100-150 sharks, the fact that I was able to get out and see the sharks at all was a true stroke of luck and something I will never forget.
For those looking to swim with whale sharks in Mexico, the season to spot them begins May 15th and lasts until September 15th.  Tours typically depart from Cancun or Isla Holbox and transfers are often available from Tulum, Playa del Carmen, and other parts of the peninsula for an extra fee.
I'd like to thank Eco Color Tours for inviting me out to experience their whale shark snorkel in Cancun.   If you are looking to experience these animals with a company that really cares about their conservation, this is the one to check out.  As always, all opinions are our own.
About Jeremy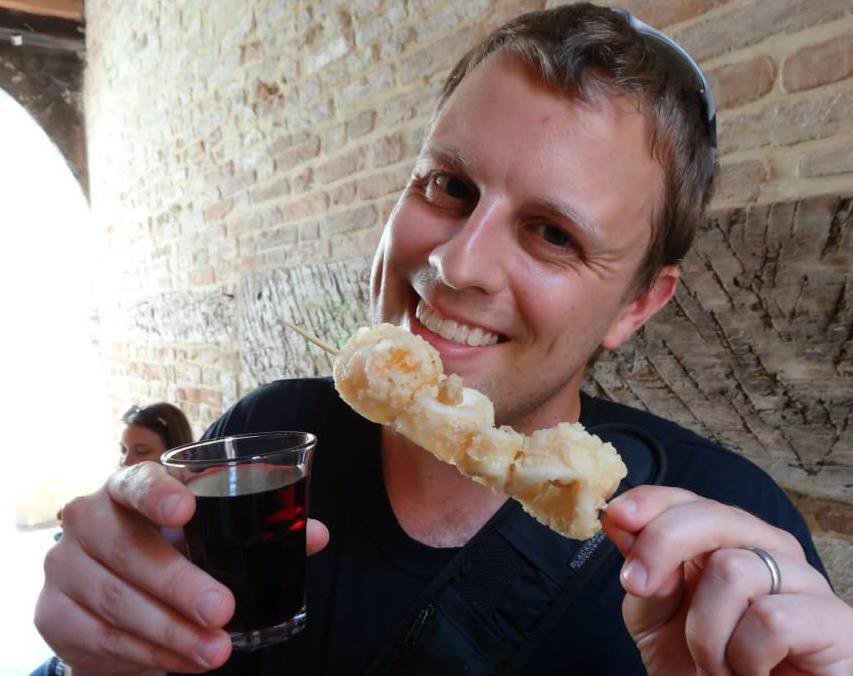 About the Author: Jeremy is a full-time travel writer based in Pittsburgh and primary author of this site. He has been to 70+ countries on five continents and seeks out new food, adventure activities, and off-the-beaten-path experiences wherever he travels.