Last Updated on July 10, 2018 by Jeremy
Disclaimers: Our site uses demographic data, email opt-ins, display advertising, and affiliate links. Please check out our Terms and Conditions for more information. Listed prices and attraction details may have changed since our visit and initial publication.
Being in Venice for Carnival has been something I've dreamed about for the longest time.  I'm not particularly interested in most Carnival celebrations around the world because, well, they all seemed a bit cheesy, but Carnival in Venice always sounded to me like it would be a step above the rest and be an event worth experiencing.
When I found out I would be traveling to northern Italy towards the end of the celebration, I knew a detour to Venice was in order.  Unfortunately, once I arrived I realized that Carnival is best left to the imagination as the reality will certainly not live up to your expectations.
Once Again, the Crowds Ruin the Fun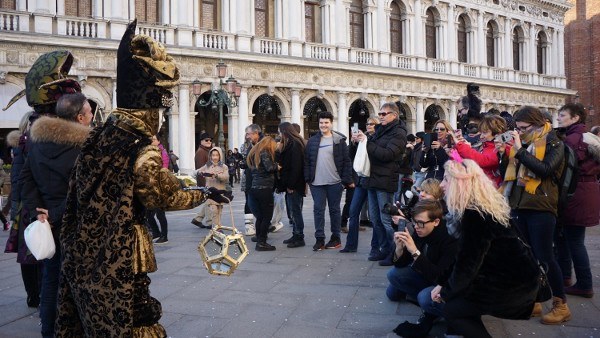 As someone who has visited Venice multiple times in the past, I really should have seen this one coming.  At the best of times the city is overflowing with tourists, and during Carnival the city appears to be even busier.
This means hoards of people in the city, and, not surprising, very few were there to actually take part in the Carnival celebrations by dressing the part- myself included.  For a rough number, consider it to be one person in costume for every two to three hundred people. Naturally, like the geisha hunters in Kyoto, the crowds of would-be paparazzi plagued those who came dressed for the experience and left me feeling sorry for people who were there to enjoy Venice as much as the next person.
For those dressed up, crossing Saint Mark's Square is a lesson in futility as it seemed to involve walking five feet, stopping for 50 photos, walking for five more feet, and repeating.  Even in the narrow alleys far removed from the crowds those in costume always seemed to get stopped for photos from just about everyone.  No matter where you are, someone, somewhere, will be wanting a photo..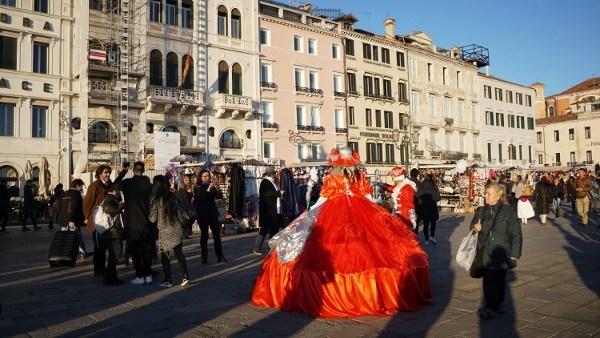 I'm sure there are some people who visit Carnival in full costume for this ego boost, but if I were there to visit and actually do anything while costumed, I would be beyond frustrated. (Admittedly, considering I was there to do things, perhaps this is one reason I wasn't in costume to begin with.)
Suffice it to say, watching the costumed visitors be followed around like zoo animals or celebrities made me realize I did not want to take part in it and kept my photos to be as minimal and unobtrusive as possible.
Carnival is Pretty Much Halloween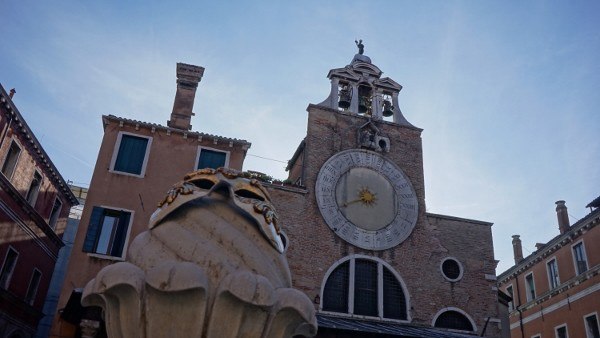 Another frustrating point about Carnival in Venice is that it is not limited to the traditional masked costumed characters you see floating around in major publications.  Those who want to get into the Carnival spirit but do not want to spend a lot of money on traditional costumes seemed to be happy wearing last year's Halloween costume and calling it a day.  From the numerous witches, one-piece animal suits, to children dressed at super heroes, Star Wars characters, and even a Princess Elsa, I had my fill of the holiday very quickly after arriving.
Attending an Event Is Probably Better (Maybe)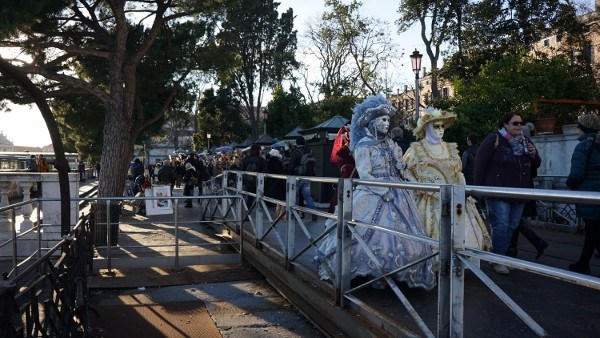 This brought me to an important thought.  If you want to visit Venice for Carnival, it is probably best in the evenings at the private events where everyone is supposed to be dressed up and you have to pay a hefty sum to get in the door (up to $500 per ticket depending on the event).
Although being out during the day is maddening, it is a hard sell to pay what is likely hundreds, if not thousands of dollars for a costume, a few thousand more for hotels and event tickets, and then only be able to get to enjoy it all for a few hours per day.
It makes me sad to have to say it, but if you have your heart set on visiting Venice for Carnival, you better get set to go big and endure the crowd, or otherwise you'll end up like me and leave a bit disillusioned by the whole thing.  I am certain that this is entirely my fault for going in with such unrealistic expectations, but as with most of the world's major destinations and celebrations, it is only when you go in with low expectations that you are truly blown away.  It never works the other way around.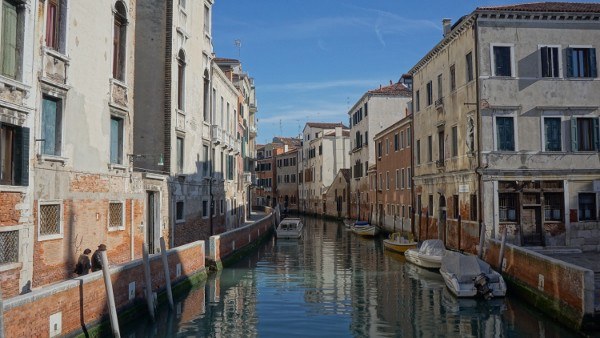 At least it was easy to get lost and get away from it all.  Venice will always have that going for it.
Looking for more things to do in Italy? Why not explore an after hours tour of the Vatican City!
Book a Train Ticket in Europe with Omio!
Traveling around Europe by train? Book your ticket with Omio to get your trip locked in today!

Omio is one of the leading train booking services out there and can get your tickets booked fast, cheap, and get you out exploring right away!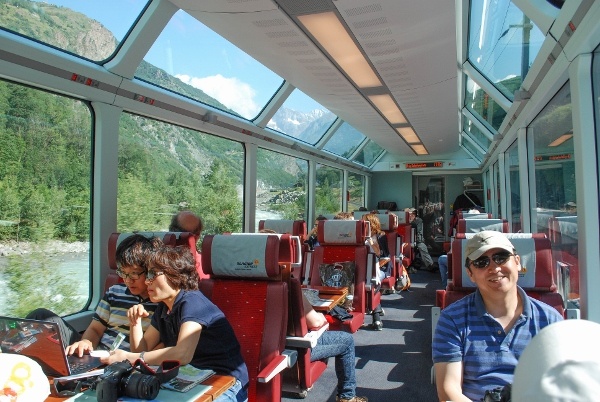 Click here to read more!
About Jeremy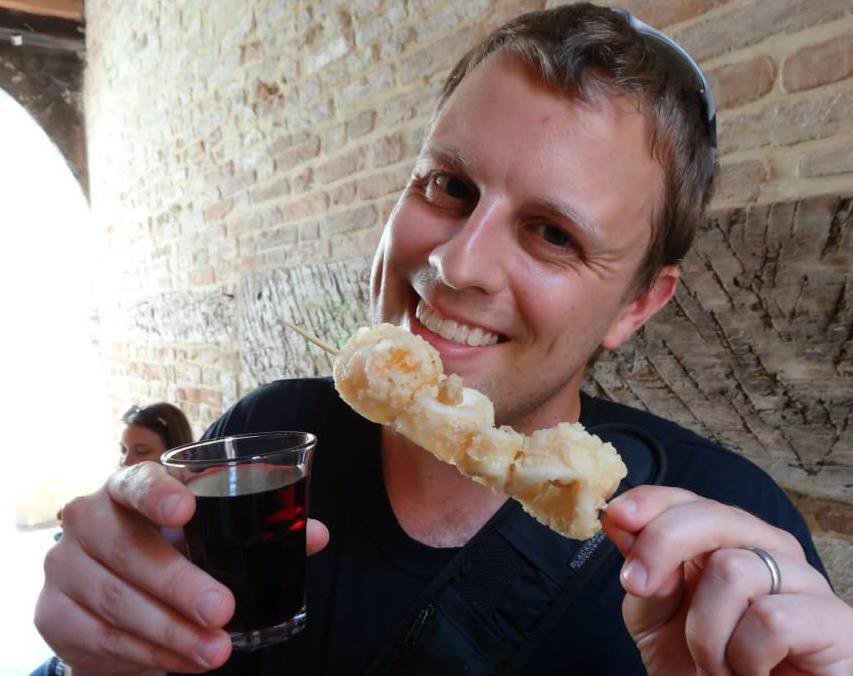 About the Author: Jeremy is a full-time travel writer based in Pittsburgh and primary author of this site. He has been to 70+ countries on five continents and seeks out new food, adventure activities, and off-the-beaten-path experiences wherever he travels.