Last Updated on September 15, 2020 by Angie
Disclaimers: Our site uses demographic data, email opt-ins, display advertising, and affiliate links. Please check out our Terms and Conditions for more information. Listed prices and attraction details may have changed since our visit and initial publication.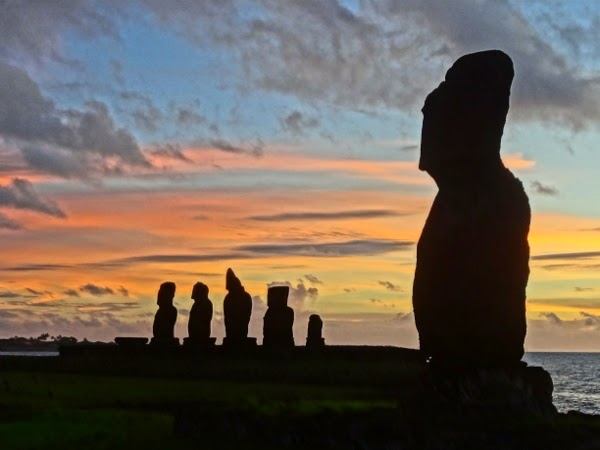 The sky was on fire with purples and pinks and just the right amount of clouds: it was our last night on Easter Island and we were giddy that we finally had a good sunset. As we busily snapped our photos with silhouettes of moai in the foreground, a woman approached us.
She seemed a bit worried and told us in Spanish that there had been a terremoto, an earthquake, near mainland Chile with a magnitude over 8.0 and that a tsunami warning was issued for Easter Island.
She said she'd just received the warning on her phone and that we should get to higher ground immediately. We nodded and said ok, but as we looked around at all the other people she had told, no one seemed to be concerned or moving from their spots.
We went about our business for the next half an hour or so until the colors disappeared from the sky. As we were leaving the sunset spot a cop car pulled up to where we were sitting, and several others could be seen in the distance.
Our night was just beginning.
The Watch for a Tsunami on Easter Island Begins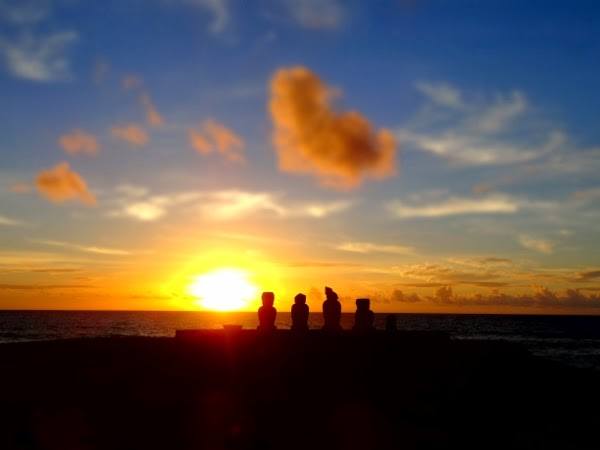 Sure enough, they repeated the same information that the woman had given us and told us that we should get to the church, a high point in town. We made our way over there and noticed dozens of cop cars throughout town spreading the information and preventing people from driving on the coastal road.
We sat on the church steps as dozens of people poured in and my thoughts kept going back and forth between, "oh this is nothing," and being legitimately scared. No one seemed to know what was going on or how long we were going to have to stay at the church.
We saw something on a TV in a shop that said the warning would last for 6 hours, which we guessed might mean 1AM since the earthquake happened around 7PM.
Jeremy was incredibly irritated that we had to stay there and wondered if we could sneak past the cops in front of the church to go back to our hotel and go to bed before our early flight the next morning.
An elder Rapa Nui woman sitting behind us began singing a traditional song that was soothing and beautiful. I tried to just settle in and not worry about the fact that I might be killed by a massive wave, or, more likely, that we'd have to sleep on the concrete steps on our last night.
We pondered getting some beer from a store across the street, but it's a good thing we didn't; the singing Rapa Nui woman got extremely upset at a group of Asian tourists who were drinking wine on church property. She didn't speak English, and they didn't speak Spanish, but luckily a Dutch guy next to us translated for both parties. They stopped drinking but the woman still wasn't satisfied and complained to one of the cops.
Luckily the cops had bigger things to worry about, like the possibility of a giant wall of water coming to destroy us all, and everything carried on.
No Information and Ready to Give Up
We stayed at the church until 10:30 PM, at which point we snuck around the cops (actually, they didn't care that we left) and headed for our hotel.
Jeremy was convinced nothing was going to happen, since Hanga Roa is on the opposite side of the island from where the wave would hit if it came, meaning we would be screwed no matter what, but I was still uneasy.
The main street in town was incredibly creepy, dark, and deserted, except for a few people eating dinner at a restaurant and drinking on their patios. Apparently they didn't get the tsunami memo, or didn't care if they did.
Jeremy joked that if a tsunami was really coming, there would be more sirens and the cops would be more agitated.  As if he timed that joke with precise delivery, sirens began to go off with recordings presumably saying there was a tsunami warning and to get to higher ground.
When we got to our hotel, the owners were just about to leave and frantically told us we had to get some blankets and pillows and go with them to the airport, the other emergency meeting point.
I breathed a sigh of relief that we wouldn't be allowed to stay at the hotel by ourselves, but Jeremy was even more upset than before as the airport is closer to the side of the island facing mainland Chile (and the likely direction of a tsunami).
We packed up our valuables and headed to the airport in the hotel owners' truck.
Our Last Night on Easter Island – Spent in the Airport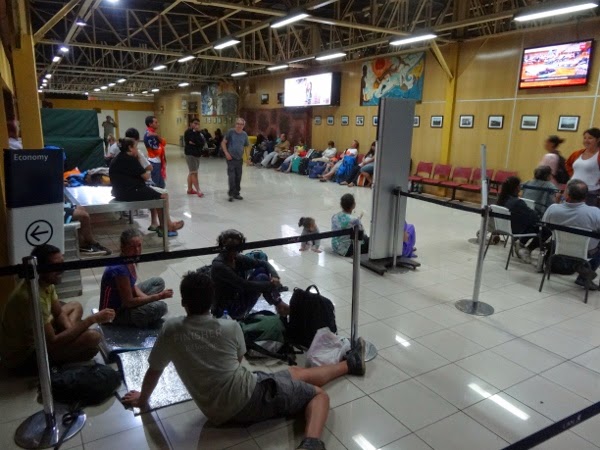 We received the only piece of helpful information that day once we arrived at the airport. It came from a man who spoke English and seemed to be in charge. He told us the wave was supposed to come at 12:30 AM and that they would have more information after that.
We found a dark corner by the LAN check-in desk, spread our blanket and pillows out, and watched Tropic Thunder on Jeremy's computer.
I tried to fall asleep after that but the TV was blaring with news. I dozed off and on while Jeremy walked around trying to find out what was happening (and stargazing since there wasn't anything else to do).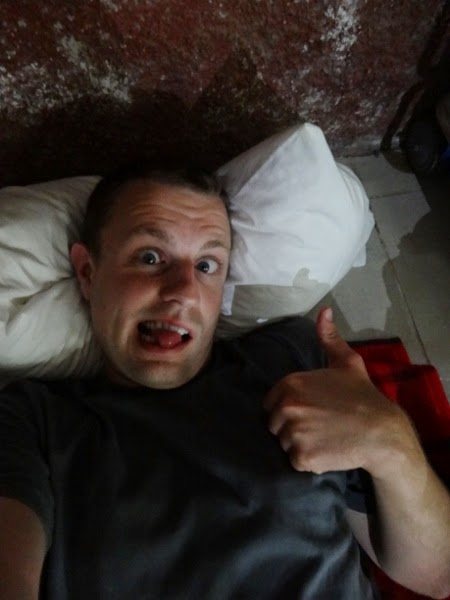 12:30 AM came and went, and even though the tsunami warning was extended until 2 AM, people started leaving. At 2 AM the warning was extended until 4 AM. Hardly anyone was left at 2 AM except the people from our hotel, who wouldn't take us back to the hotel until the warning was officially over.
In the interest of sleep we decided to walk back to the hotel ourselves which was luckily only a few minutes away. Despite feeling that the danger was pretty much over, neither of us slept very well.
We woke up the next morning thankful to be alive and happy that Easter Island didn't disappear under water! Hooray. Jeremy was still upset that we were forced to leave the hotel, but I was glad that the island had an organized tsunami protocol in place.
True, nothing happened, but it could have.
After all, the strongest earthquake ever recorded on earth happened in Chile in 1960, and it caused a tsunami that hit Easter Island with such force that it moved the massive moai in Ahu Tongariki more than 600 meters inland.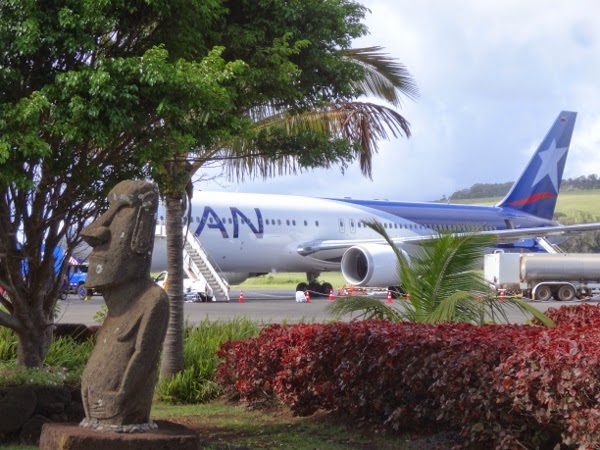 We're thankful everyone was okay on the island, and that there were minimal deaths in mainland Chile near the epicenter. We'll definitely never forget our last night on the island. But hopefully the next time we come back there will be less excitement and more sleep!
Looking to book a room in Easter Island? Check out these great options!
About Angie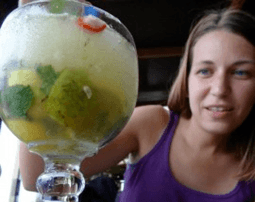 About the Author: Angie is a contributing author. She has been to nearly 60 countries and seeks out the best restaurants, bars, bakeries, and other unique food items wherever she goes- often with her husband, Jeremy.