Last Updated on January 5, 2021 by Jeremy
Disclaimers: Our site uses demographic data, email opt-ins, display advertising, and affiliate links. Please check out our Terms and Conditions for more information. Listed prices and attraction details may have changed since our visit and initial publication.
If you are a new blogger looking to jump into professional travel blogging, you may be daunted at the number of ideas there are within the industry when it comes to how to start a travel blog.  There is far more to travel blogging than just taking pictures and writing stories, and most of it is behind the scenes work and expenses you may never have considered.
As a part of our Blog Your Trip series, we wanted to take a look at some of the first expenses future professional travel bloggers can expect when starting a travel blog. To keep this fictitious spending in check, we gave ourselves a $1,000 limit and tried to allocate it to the best items on which new bloggers can spend it. Whether you spend this over the course of just a few months or over a year or more, the following is what we think is the best use of the first thousand dollars you invest in your site, other than traveling (of course).
Please note, this list is not an end all list of what you must buy when launching a travel blog.  This is just our reflection on what we'd do if we started over again today with the knowledge we have gained after writing on this site for nearly a decade.  You could easily throw all $1,000 into any one category featured below (in fact, I think we have in all of them), but if you want a decent split of everything we'd start with the following.

Must Haves To Start a Travel Blog

If you are looking to open a professional travel blog, there are simply some things you must have. In our opinion, those are owning your domain name, having a dedicated hosting plan, and running on a premium WordPress theme that you can customize to have a unique look that helps you stand out. Since these things are important to have as soon as possible (for numerous reasons like SEO and social stats), they are likely the first costs you'll have for your travel blog and are hard to avoid.
Developer Work
Unless you are familiar with CSS and HTML coding, the premium theme you choose to use will require some external work to be optimized to how you like it.  It is our experience that most premium themes do not perform like the demo does out-of-the-box, so you'll probably have to make some modifications to get it up to your ideal performance level. (This is most certainly true for our current theme, GeneratePress).
While tinkering around with a theme is a great chance to learn settings, CSS, and other code, you may want to simply pay a developer to do work for you. Initial site optimizations for plug-ins and aesthetics can be quite reasonable for a standard spread, and often runs just about $200 (generally a developer will charge $70-$100+ per hour).
So when you play around with designing your theme, if there is a couple of things you really want but cannot figure out how to integrate, paying a developer to do it may be worth the nominal fee at the start. This would be a great balance over, say, paying for a fully customized theme which can run well over $5,000.
More advanced users may try their hand at the Ad Inserter Pro, a WordPress plugin which does the same as the above developer work to insert widget boxes for free. This one does have a learning curve, and we highly recommend the pro version for just about $25 to get the lazy load features (great for site speed).
Developer Work: $200 (roughly 2-3 hours).
Premium Plug-Ins and Programs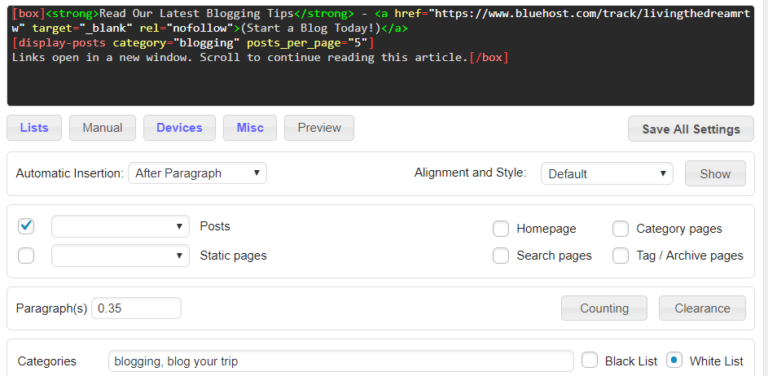 It took me quite some time to figure out if I wanted to include this one in the first round of spending for your travel blog, but in the end I wanted to highlight premium plug-ins as an option that you may want to look into. (Click here to see a list of every plug-in we personally use.)
When it comes to outfitting a site with the best plug-ins that are out there, a new blogger should consider two important things:
The user experience.
The burden on your site's resources (resulting in increased load time).
For just about every task for which you would want a plug-in, there is likely a free option out there that will work for your needs.  The downside is that one of the two above categories may be lacking such that at some point in time you want to upgrade.
On Living the Dream we have a few premium plug-ins that we paid for that you may want to consider from the start:
Ad Inserter Pro – As mentioned above, a great plug-in for widget logic for content insertion. Lazy load features for scripts as well. A strong learning curve but instrumental in improving our site speed. $25 for Pro but a free version exists without the lazy load feature.
WP Rocket – A caching and image optimization plug-in that will help improve your site speed. If on a budget you may want to use the free Lazy Load by WP Rocket plugin to save money, but the $49/year fee is great for caching settings.
Social Pug – A lightweight social share bar that is also quite powerful. About $40/year.
Generally speaking, I try to avoid any premium service that has a subscription cost and will look for one-time payment alternatives whenever I can. The problem that I'm running into now is that a few plug-ins I'm looking at purchasing in the future come in at the $200 mark, a 10x increase over some of the basic plug-ins we already installed. That is a threshold I have not been able to commit to just yet and do not think beginners should, either.
Premium Plug-Ins: $100 although your mileage may vary on which plug-ins you need starting out.
Conferences vs Blogging Course
We've visited many conferences (mostly TBEX for travel blogging) and participated in many online courses. While we loosely compared them in the past, we need to make a conclusion today. For brand new travel bloggers, conferences are a waste of your time, and the reason is simple- the value of attending conferences is for the networking, not the learning.
I do not want this statement to be misinterpreted to mean that new bloggers shouldn't attend conferences to network- you should network whenever you can– but in the context of spending money on your blog, visiting a conference may not be the best bet early on.
Why is that?  First, lets look at price. That $97 early-bird TBEX ticket price sounds great, but you also will have to pay for airfare ($200-$1,500 depending on destination), accommodation and food ($200-$500+), and extra if you want to attend any pre-conference workshops ($200 each).  While you may walk away having met lots of potential partners down the line, you will have also spent a serious amount of money ($500-$2,000+) to invest in something that may not have a return until years in the future.  In the more immediate sense, you will have only spent that money to make friends, visit a cool destination, and attend a few training sessions.
Instead, we have to recommend the online community Super Star Blogging for new bloggers (note: Super Star Blogging is no longer open for new subscribers). The price tag was fairly high, but in 2019 was dropped to just $99 per course. In this case you have access to dozens of courses that cover similar material to many TBEX sessions and can access it all from the comfort of your home. 
When it comes to being a new travel blogger who has $1,000 to invest on their site, go this route first, spend that extra cash on something else, and save to attend conferences later on.  (Note: If you have a higher budget past $1,000 and can afford a conference in addition to the items featured on this list, we wouldn't discourage you from attending. We are recommending courses for the more immediate return for your investment in the form of valuable training.)
Courses or Educational eBooks: $100 (estimate)
KeySearch
Great SEO starts on day one, and implementing best practices and target keywords from the start will do two things:
Put you in position to harness search traffic as you go.
Eliminate re-work that often plagues bloggers down the road (us included).
While you may be able to get by without keyword research tools right at the start, the above points are enough for us to recommend investing in research tools sooner rather than later, and our favorite is Keysearch. This tool is quite powerful and tells you search volume and competitiveness of almost every keyword you can think of.
But the best part is that it also finds similar keywords that help steer you in the right direction both in terms of search volume and competitiveness. So maybe your idea is not the best, you can find the alternative that is. This one has paid itself off many times over for us!
Keysearch runs about $169/year or can be invoiced at $17/month.
This could be a good alternative to some of the plug-ins mentioned above if you are not quite ready for them, or if you opt not to go for development work.
Advertising

Building up social media is a hotly contested topic depending on the niche about which you are writing. Some businesses have no need to run social media and therefore think it isn't important, while others receive nearly all of their traffic from their most popular social media pages. 
If you are looking to start a travel blog, it is my opinion that social media should be a strong focus in your online marketing. So while you should spend a great deal of time trying to build subscribers to your RSS Feed and newsletter, an equal amount of time (or more) should be spent figuring out update patterns to your favorite social media networks to encourage views, shares, and engagement.
I'm not going to lie to you, there are techniques to build followers on every social media network without spending any money at all, and we're testing some of the best techniques to see how viable they are in the travel community in our Blog Your Trip series.  But the one thing we've noticed with all of these is that they take time- a significant number of hours each day and also a long period of time to begin seeing results.
One way to get around that is by testing social advertising on the major networks to build followers.
Now, I'm not going to outline all of the ways that you can advertise your blog on social media here.  I don't think that I need to re-invent the wheel when there are dozens of guides out there for every social media network which I suggest you read prior to spending a single penny.  But what I have to say is this: build a test plan.  
Open a spreadsheet, write out your test variables, and log the results for each and every social network.  For just $1-2/day on each social network you can test dozens of different settings over the course of a month for just $250.
Note: Be sure to check with your host and other services you are registered with as many give complimentary advertising credit on social networks or Google Adwords. Depending on the restrictions it could be more free money to play with (or require a minimum spend to access), but be sure to read up about marketing on each platform prior to spending a single penny as otherwise you may just be throwing your money away.
What You Can Get for $1,000
Let's recap everything you can get for roughly $1,000 when starting your travel blog:
$100-$230 will be spent on basic necessities to get your blog going (recurring fees either monthly or yearly).
$200+ can be spent on developer work to tweak site performance and fix minor issues (optional).
$100-$150 can be spent on premium plug-ins to give your site a better user experience (recurring yearly).
$170 can be spent on Keysearch for SEO research.
$100 can be spent on a course or educational eBook.
$250-$500+ can be spent on advertising to try and jump start your social media presence and build a following (possibly recurring when you find what works).
For what it is worth, the fact that you can build a nice looking site with premium features, access an incredible training course, and test some advertising for $1,000 is pretty incredible.
It is important to point out, however, that to get your cost down to this figure you must do a substantial amount of the work yourself. Topics you will have to learn include working with a host and installing premium themes on your own, customizing your site using CSS coding, and the rules of thumb for successful advertising practices on social media. This takes time and is a trial and error process, but for new bloggers it is a step we highly recommend taking.
You can get around this with more money or being fine with standard templates, naturally, but if you are a quick learner these are important skills we think bloggers should have and it may be better in the long run to learn on your own. Otherwise be prepared to spend more money for developers and designers down the road when you want to make changes every month.
Learn to do it yourself and save that money for the road!
For the seasoned bloggers in the audience, do you have any other recommendations for new travel bloggers when it comes to the first $1,000 they spend on their site?  Comment below to let us know about it!
Looking for more information on how to promote your blog? Click the previous link to learn all of our secrets! Or for more blogging tips, check out or travel blogging ideas for city blogging!
Have an existing blog that is in need of an upgrade? Check out the following services we personally use!
Looking for tips? Read our Blog Your Trip series!
Join Our Newsletter
About Jeremy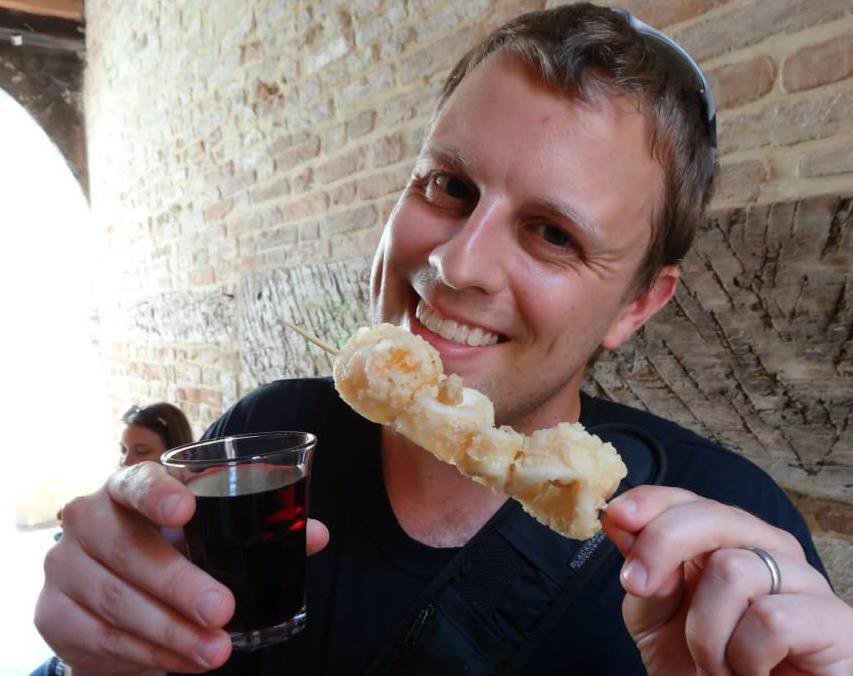 About the Author: Jeremy is a full-time travel writer based in Pittsburgh and primary author of this site. He has been to 70+ countries on five continents and seeks out new food, adventure activities, and off-the-beaten-path experiences wherever he travels.