Last Updated on July 25, 2019 by Jeremy
Disclaimers: Our site uses demographic data, email opt-ins, display advertising, and affiliate links. Please check out our Terms and Conditions for more information. Listed prices and attraction details may have changed since our visit and initial publication.
In the last decade of our blogging journey, we've noticed a lot of marketing questions have shifted into the realm of blogging advice- both on a global scale via this blog but also on the local level with our Pittsburgh destination blog, Discover the Burgh.
In most of those cases, there is one particular issue that plagues most everyone equally- search engine optimization (SEO).
As the holy grail to many website operators, search traffic is often the hardest to figure out as it involves optimizing your site around a search engine's algorithm (namely Google's) and improving 200+ ranking factors in order to get that coveted edge to reach page one.
In theory, this shouldn't be hard.
In practice, understanding how it works and what to prioritize is difficult at best and that is being generous.
Why is SEO So Hard… and Also So Important?
The reason for most website operators can't figure out SEO is because there are few established guides by Google beyond generalities like "produce good content". How the algorithm works is essentially a trade secret.
What we have left are self-described experts who only share opinions and tested theories, and often do so using industry terminology that is hard to understand.
To say that people dislike SEO for the above reasons is an understatement, but we are bit of outliers. We find the topic fascinating.
Over the last several years we've spent a great deal of time researching and implementing techniques to help improve the organic search traffic on our two blogs to the tune of 5,000-7,500 page views a day on average (that is sometimes over 200,000 a month!).
Our daily growth for the last four or so years is shown below (Living the Dream, left, January 2015 to January 2019. Discover the Burgh, right, June 2015 to January 2019):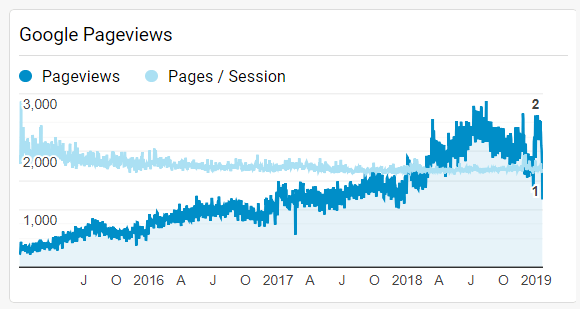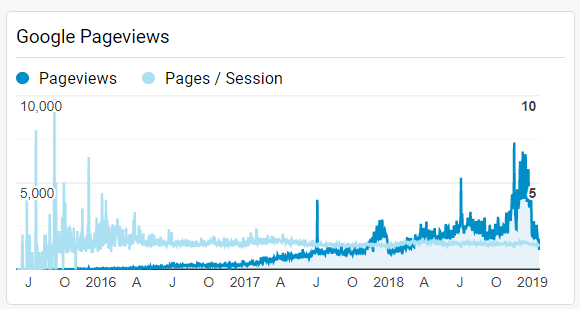 *Spikes on Discover the Burgh are due to Fourth of July and Christmas content in 2017 and 2018. Gotta love holiday traffic!
While some could view this traffic as simply the luck of the draw, we've spent countless hours researching, testing, and re-testing different "best practices" to find what works best (we share a lot of these in our Blogging Tips series, too)- both on old posts and new.
When you look at our performance averaged out on a per post basis of only articles receiving impressions in Google, you'll see why it means so much (Living the Dream data below, monthly averages).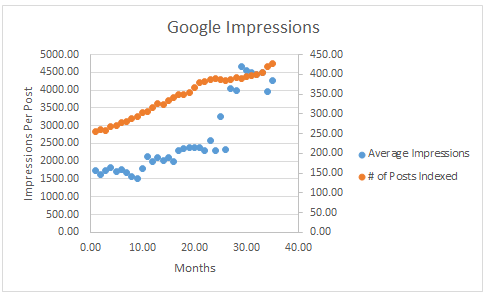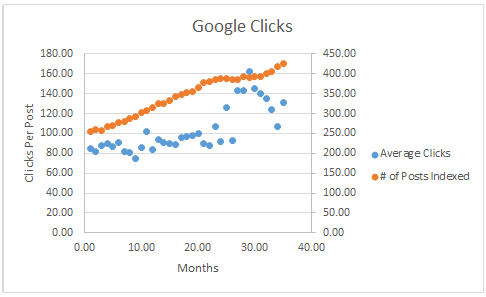 These graphs are much more telling because not only did we improve our average Google impressions per post (left graph), clicks also rose as well over a three year period (right graph).
This was done all through SEO, both in getting more articles indexed (right axis on both graph) and improving impressions and clicks on new and existing articles as well.
*Drop at the end of the graphs is seasonal decline we see in each Q4. Due to having such a better year prior, this drop was more pronounced than normal. We're already seeing a firm rebound in Q1, as expected.
So, how'd we do it?
What we found is that there is not really a special trick to SEO. Sites that succeed are not just lucky. Success in SEO occurs via targeted work, a fair bit of time, even more hard work, and constantly seeking improvement in a number of categories to improve your authority in the eyes of the algorithm.
The O in SEO stands for optimization, mind you. This is a continuous improvement process as no site can truly be 'optimized'.
This often results in a lot of work that most people simply are unwilling to do, while those who make the effort will most certainly reap the benefits.
In order to help explain this, we have created this consulting service to provide a report of actionable SEO tips for DMOs/CVBs who are looking for direction on what SEO is, how to succeed, and what they should specifically prioritize in order to improve their standing in search engines.
Who This SEO Consultations Service is For
This service is inherently not for everyone (this is by design), and is primarily for CVBs and DMOs who match the following:
DMOs/CVBs who want a clear explanation of current best practices in SEO and a customized to-do list for their site.
Sites with some Google traffic coming their way, even just a few hundred page views per month.
Those who are willing to do the work after receiving our suggestions!
Now, some of the above metrics are flexible, we'll admit. But generally speaking the people we are looking to assist are DMOs/CVBs who are getting some traffic from Google, want to jump headfirst into SEO (and all the work that entails), but do not know where to begin.
For those who have less than the above, you're probably a bit too early to get tailored, actionable advice that you can see results from in a short period of time. We can certainly provide a guide on best practices in our report, but it will not be customized to your site as much as those who have an established benchmark.
For those who are more established, you may not find as much value in paying for this service. Part of this service is explaining basic SEO principles and providing actionable direction. Those who are on the larger side may know many of the principles being shared and simply need to stay the course in order to scale.
We are happy to look at all sites upfront and let you know if we think you'll find value in our consultation. We do not want to waste anyone's time if you are not a great fit.
What is Included and Price
The base package of our SEO consultations service includes the following:
An evaluation for your site on several dozen of Google's most important ranking factors.
A PDF report on your site's current performance and actionable tips that should be prioritized (report length 10-20 pages on average).
A two-hour recorded Skype call with screen share to go over the report and visually walk you through improvement steps / SEO best practices you may wish to implement.
A researched list of keywords, search volumes, and difficulties for keywords you currently rank for and can improve and other keywords to target in new content.
One month of email correspondence after the Skype call to clarify follow-up questions.

Maximum one email reply per week, four in total (bulk questions accepted and recommended in each email).
The above package is available for $500 USD. All reports and Skype calls are produced by Jeremy. To keep quality high, no more than two consultations will be scheduled in any given week at this time.
If you would like an additional hour-long Skype call as a follow-up, it can be purchased for $100 per hour. Note, we do not offer Skype calls without the purchase of a report in our base package above.
The audit will include a breakdown of the following:
Site load times, page size, backlink analysis, broken links check, keyword usage evaluation, and checks for site design factors that are often considered to be an SEO factor.
Recommendations for improvement on the above (plus other factors) and prioritization based on your site's performance.
How to perform the above checks yourself on popular services.
A breakdown of keywords and articles that currently rank in Google and can be improved upon plus future keywords to target.

Exact quantity varies based current performance and ranking potential.

Explanations in simple English with links to guides and recommended services for additional reading.
What this service does not include:
Doing the work on your site on your behalf.
This is a consultation service only. Our report will give a concise to-do list of critical, recommended, and potential SEO factors you should consider for your site and a framework on how to implement improvements for each.
The recorded Skype conversation will go over the report, recommended services (free and paid), and share our standard process for implementing SEO best practices based on your site's needs.
It is up to you to implement the recommendations as you see fit. We are not offering services to work on your site beyond this consultation report and call at this time.
We strive to make all recommendations be things that can be done for free; however, please note that we recommend a few premium services in order to help streamline the process (especially with regards to hosting and keyword research- two things worth spending money on).
At the end of the day, the goal of this service is to explain the basic principles of SEO in an easy to understand fashion and provide actionable tips that you can do to improve your site as soon as you get off the call.
But as with all thing SEO, how long it takes before you see results can be weeks, months, or more than a year based on the work you do and your existing site metrics.
To inquire about a consultation, please email [email protected]
About Jeremy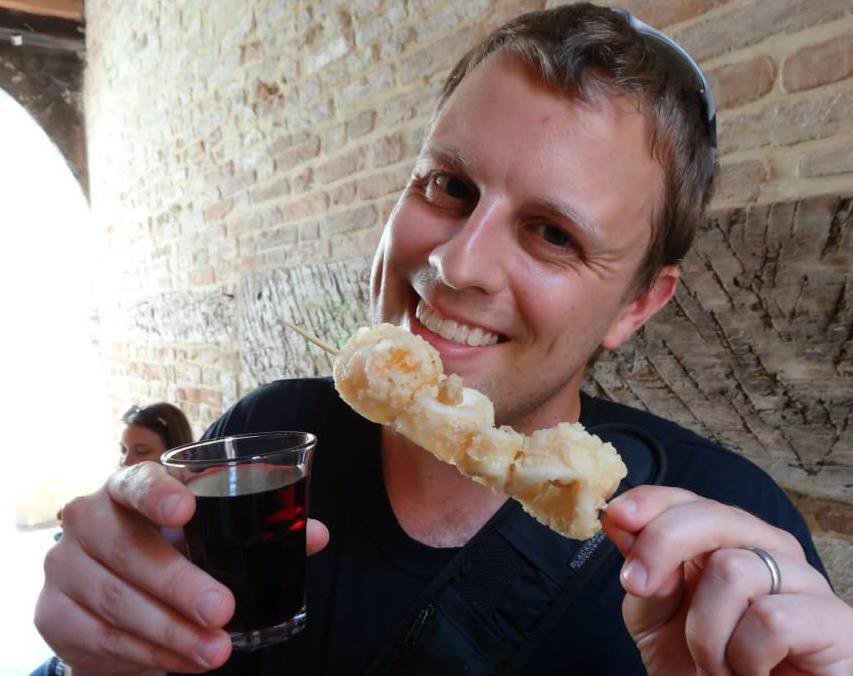 About the Author: Jeremy is a full-time travel writer based in Pittsburgh and primary author of this site. He has been to 70+ countries on five continents and seeks out new food, adventure activities, and off-the-beaten-path experiences wherever he travels.