Last Updated on January 10, 2022 by The Morgans
Disclaimers: Our site uses demographic data, email opt-ins, display advertising, and affiliate links. Please check out our Terms and Conditions for more information. Listed prices and attraction details may have changed since our visit and initial publication.
We spent $726 USD over 9 days while visiting Malaysia. That works out to $81 USD a day or $13.50 per person per day for our family of six.
During our brief visit, we explored Johor Bahru and Kuala Lumpur and enjoyed a a few western luxuries that we had been missing while travelling.  We visited Johor Bahru for 3 days to go to Legoland and the Legoland waterpark. Next we headed up to Kuala Lumpur by bus and spent 6 nights there.  The following includes our summary of traveling to these two destinations in Malaysia as a family.
Transport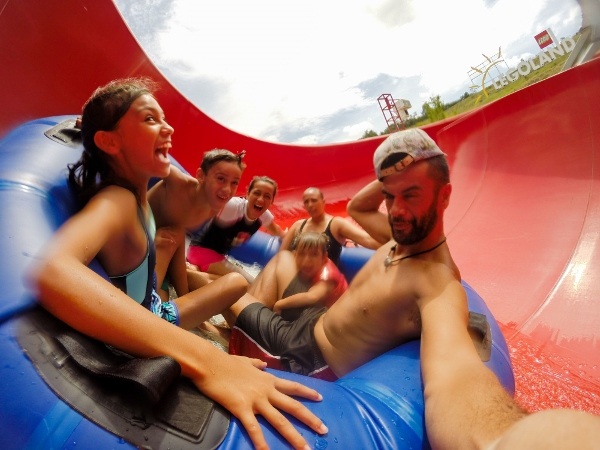 Transport in Malaysia is great.  We could easily catch 1 taxi (Dad in the front and the rest of us in the back with Mo on my knee) to any destination and all the fares were metered.  We caught a few taxi's including one to Legoland and back which cost around $3.50 USD and one to the airport in Kuala Lumpur which cost $30 USD and the airport was approximately 65 km away.
Our bus up from Johor Bahru was comfortable and included air-conditioning and seat belts.  I found a reputable company that makes the journey between the two cities and booked directly online.  I am glad that we did this as when we arrived at the Larkin Bus Terminal there were many touts trying to sell tickets.  We paid $7 USD each for the 6-hour journey.
The public transport system in Malaysia is also excellent with an Light Rail Train System and a Monorail.  You can get to most tourist attractions on one of the train systems.  You pay cash at a ticket machine in a train station and you are given a small plastic coin that you scan on your entry and deposit into the coin slot on your departure.   Train prices were very reasonable costing around $0.70 USD to travel between a couple of stations.
Accommodation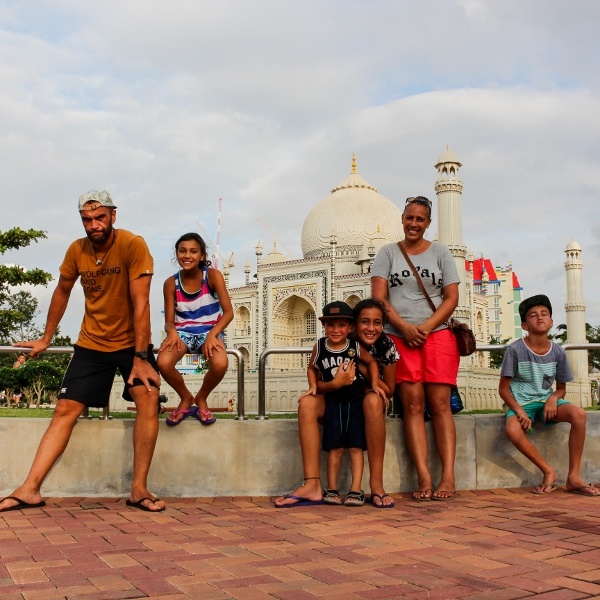 While in Johor Bahru we stayed in our first hostel as a family.  It was called Warm Blanket Hostel and we chose it as it was only 5 minutes away from Legoland.  We had 2 quad rooms and shared a bathroom.  This hostel had the fastest Internet that we had encountered in Asia so far which is always a bonus.  It was also close to a big mall and that was a bonus too. We paid $28 USD a night for two rooms.
In Kuala Lumpur we had our first Airbnb experience.  We rented a house in the heart of Kuala Lumpur that was only a 15-minute walk to KLCC. We enjoyed having a house and especially appreciated the washing machine.
We had been hand washing for over 4 weeks (that is hand washing for 6 people in small hotel bathrooms) so i was ecstatic to finally be able to wash the clothes without my elbow grease.  We paid $47 USD for this house, which also included a stocked fridge when we arrived, fast Internet, 2 bedrooms and satellite television.
There is an abundance of accommodation options for families in Kuala Lumpur but if you can stay somewhere in the golden triangle you will be connected to everything you may want to see or do.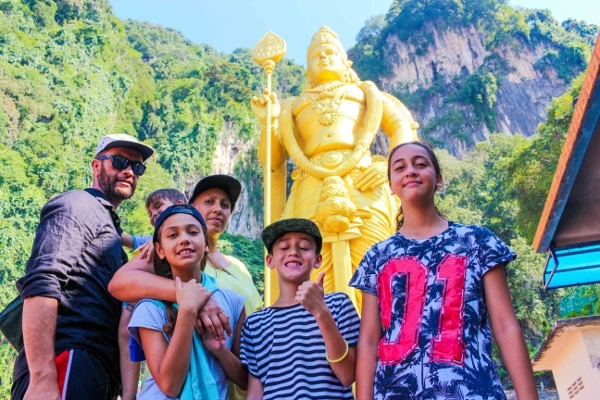 Food
The food in Malaysia was so good.  There are food courts in all the malls in Malaysia that have so many choices of cuisines and the prices were so low.  We were paying just over $2 USD for a meal each.  Most the meals were combos and also included a drink.  We ate Curry Chicken, Sizzling hotpot's, noodles, Subway sandwiches and drinks, Fish and Chips, Vegetarian dishes, Lasagna, Spaghetti Carbonara, Waffles with fruit and many more dishes.
We were also staying directly above a couple of food stalls and enjoyed Pad Thai and Roti from the food stalls.
Activities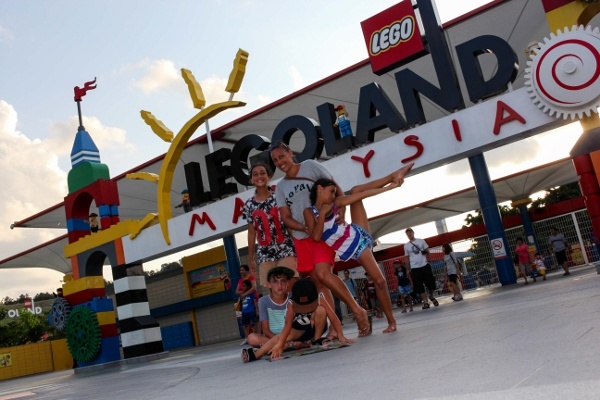 Legoland and Legoland Waterpark were really fun days out.  The boys had been pining to visit and this was their most anticipated part of our trip around the world.
What a wonderful couple of days we had.  Not only was it the boys dream come true, the girls really enjoyed themselves and even my husband and I had a great time.  The parks are huge and there was so much to keep everyone entertained.  Miniland is extra impressive and even if you are not a Lego buff you will still appreciate the intricate work that has gone into making each display.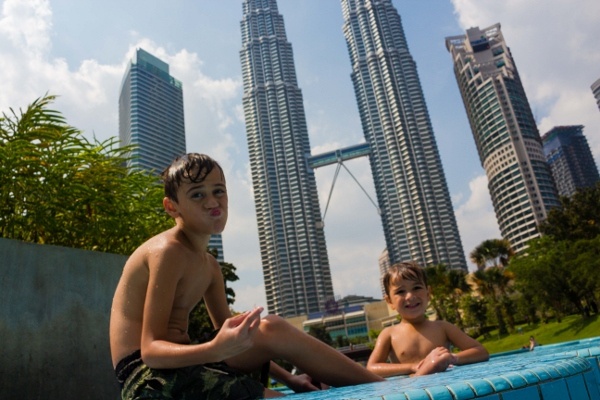 While we were in Kuala Lumpur we did a lot of free or cheap activities.  Because we were so close to KLCC we visited the KLCC playground and free waterpark nearly everyday.  The kids enjoyed playing for hours in the late afternoon and then staying to see the water and light show at the entrance of the park.
We also visited the Batu Caves.  The Batu Caves are free to visit and a return trip out to the caves, which is situated about 20 minutes from KL Sentral, was only $15 USD for our family of 6. The Batu Caves are impressive with several hundred stairs up to the top to visit the caves and statues that tower over the landscape.  There were also cute monkeys lining the stairs, which the kids were very impressed with.
Other activities we enjoyed (J did not enjoy this part of the trip as he said it was too western) were visiting the several huge malls in the area.  We visited Berajaya Times Square, which had a full size roller coaster, and theme park rides inside.  The amount of malls in Kuala Lumpur however is a bit ridiculous as they are nearly on every corner.  If you are into shopping Kuala Lumpur would be heaven.  There are many stores so they compete and as a result there are many bargains to be found.
Another luxury that we took advantage of was the movie theatres.  We were dying to see the final chapter of The Hobbit which came out on Boxing Day and were finally able to see it in KL.  What made it even more awesome was that the movies only cost $3.50 USD each.
They also have the best movie popcorn in the world.  It is caramel popcorn but we found it was not very sweet so we ended up eating a lot more than we should have.  We also discovered that the movies have special prices before 12pm on Monday-Friday.  For our family of 6 to go to the movies we paid $12 USD total.
While we were visiting we had to try out a movie in a beanbag lounger.  The tickets are sold in pairs and 2 people get to share a huge beanbag while watching the movie of choice.  Mo had a nap on the beanbags while we all enjoyed feeling like we were at home.
We enjoyed Malaysia a lot more than we thought we would and are planning a return trip to do a bit of shopping before we fly out to Europe in May.
About The Morgan Family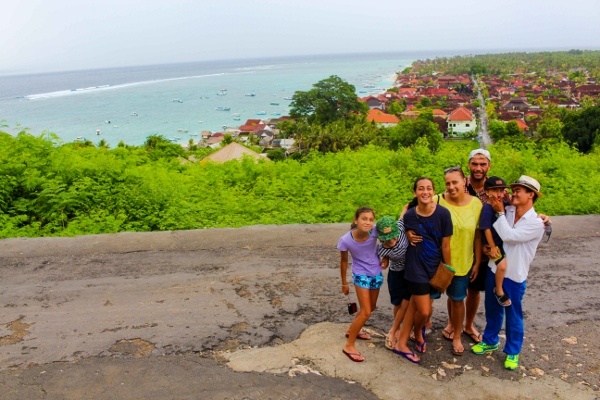 About the Author: The Morgan Family of Morgans Go Travelling are a traveling family that shared stories from their around-the-world trip from 2014 to 2015. They share frequent travel updates on their Facebook page.