Last Updated on February 7, 2021 by Jeremy
Disclaimers: Our site uses demographic data, email opt-ins, display advertising, and affiliate links. Please check out our Terms and Conditions for more information. Listed prices and attraction details may have changed since our visit and initial publication.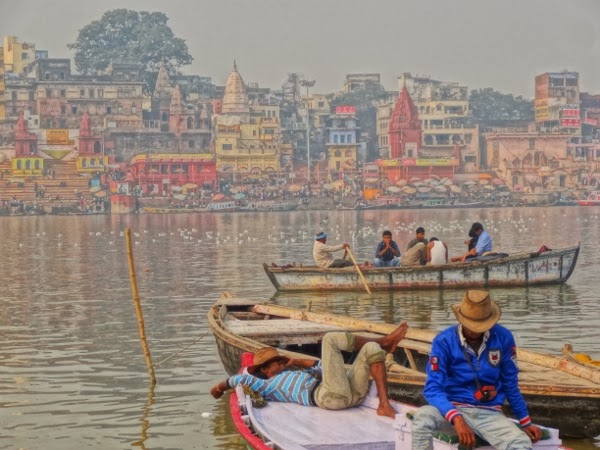 Ah, India.  The only country of this trip that Angie was visibly unsettled over visiting (but still excited at the same time).
Traveling to a country of over 1 billion people often brings these mixed emotions in many travelers. It is not shocking when you think about it, as with that many people there are so many stimuli to the senses that visiting can often be overwhelming until you get a detailed understanding of the place.
For our first city in the country after crossing from Nepal to India, Varanasi gave us a welcome we would never forget as it offered a sensory overload we haven't seen in a while.  But while this change was incredibly different from our previous surroundings, the most shocking part was not entirely due to this new environment, but also that international tourism did not seem to be present when we were there.
Varanasi Isn't a Foreign Tourist City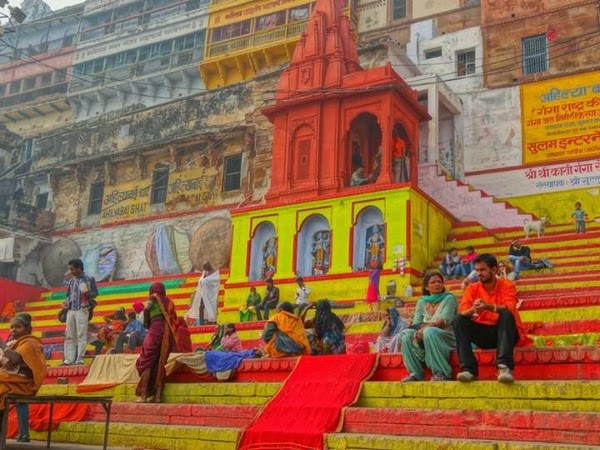 Before arriving to Varanasi, we knew that the city was a significant one for Hindus and is considered to be one of the holiest places in all of India.  One of the main reasons local travelers visit, the Ganges River, is not so much for its geographical beauty but due to the belief that bathing in it will help absolve your sins in attempts to lead a better life (amongst many others we cannot feature in this post).
But while there are no shortage of foreigners coming to witness the religious acts going on, we felt one stepped removed from the usual touristic travel environment we've always been in.  Where other cities are famous for their religious sights and several other historically significant ones, Varanasi seems to stand alone on the latter.
But some aspects of foreign tourism are still present.
Yes, you get harassed by a few vendors to buy cheap knick-knacks or soft drinks, even one tout offered us opium in broad daylight (really?), but compared to the number of stalls in the city it is a small fraction that actually harass you.
Instead of the usual hustle of other cities full of foreign tourists, in Varanasi you're surrounded by Indians who make the trip to the city for the religious reasons we mentioned above.  It only takes a few minutes before you quickly realize that the touts are harassing them even more than they are you.
But while this break from the touristic flow is incredibly genuine in many respects, and even welcomed, it becomes old very fast.  The city is bright, vibrant, busy, dirty, authentic, and real.  Unfortunately, without any other monument or museum to visit, you also get no respite from the action.
Burning Bodies? It Is 24 Hours!
One of the religious practices carried out in this city is the burning of bodies on the Ganges, which is said to allow the person to be liberated from the cycle of death and rebirth.  In fact, old and sick people even try to get to Varanasi just to die just for this very reason.
What we didn't expect; however, was just how public this display actually is even though we read about it many times before arriving.
While walking along the ghats, our guide told us we would be seeing the burning ceremony coming up and to not take any pictures.  As we passed over onto a new ghat (which are essentially different sections of steps along the Ganges – no more than 50-200 feet wide – but often referred to like you would neighborhoods at home), we saw our first body wrapped up cloth being put on a stack of logs while having more piled on top.
As we waited, the family gathered around, set the stack on fire, and the burning began.
This process was repeated several times at this particular spot, and the bodies burn until ash in a process that takes at least 3 hours.  But on the Ganges, this spot we visited was a lesser one. Little did we know that down river at the main burning ghat, which we'd see later on, bodies are burned 24 hours a day.  Wood is continually hauled in and prepped that the towers reach 10 to 15 feet in height and extend along several alleyways.
It all happens in public view, and tourist and locals alike seem to come out to witness a deep and profound religious ritual.
To be honest, we're still not sure how we feel about it, but we are greatly humbled to be able to see it.  The most shocking part to us was not the fact that we were watching what is no different than a live cremation, but rather due to it being so public.  There is no privacy other than the request to not take photos, no barriers giving a grieving family space, and death is right there for any onlooker to see, 24 hours a day, 7 days a week, without end.
If that isn't enough to make one sick thinking about it (which surprisingly didn't for us), the food will certainly make up for it if you have just arrived like we did.
Then The Sickness Came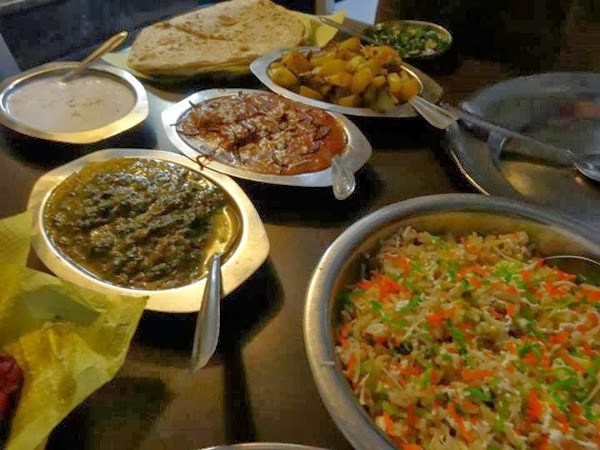 To end our first stop in India, both Angie and I came down with a case of Delhi Belly, making our welcome to the country complete.
Angie's occurred on Day #3 where she spent the entire night using the toilet to evacuate her fluids in both directions no less than 7 times each.  The following day she spent in bed sleeping for a solid 24 hours, only getting up to eat 1/4th of a Digestive cookie and drinking 2 mL of water at a time, possibly setting a new record for the slowest pace of consumption ever seen by man.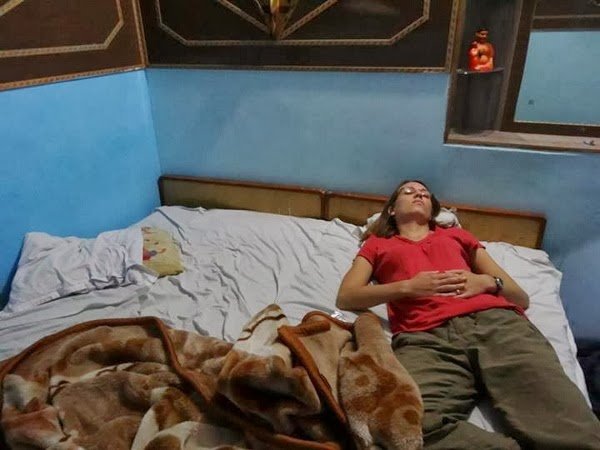 Mine, unfortunately, occurred on the overnight train to Agra.  After struggling with a mild fever (or at least, what felt like one) for the entire night with minimal sleep, my attack came on at around 5am, 3 hours before our train arrived in Agra (after an unfortunate 2.5 hour delay).   For the remaining time on the train I continually rushed to the nearest squat toilet for the same mass evacuation like Angie.
We are still arguing who had it worst, but I'd like to claim the fact that I had to leave the Taj Mahal after 45 minutes to find a private toilet one of my most shameful travel experiences to date.  Although, when considering Angie's and her constant question of "am I going to die?," I didn't have the heart to tell her that if she did I'd probably have to burn her on the Ganges.
Good thing she didn't.
Luckily Angie's worst feelings passed after 48 hours, and mine went away after just 12, and we are still holding strong for now (well, more like 80%, which as a friend told us is the new 100% in India).  Will it come back?  It is hard to say, but we certainly hope not. India has too many amazing things we want to see to let it be ruined by some bad water in the otherwise delicious food.
Welcome to India!
For those who just arrive to India, especially when crossing from Nepal, there is no easing into it as the city of Varanasi takes charge and shows you what it offers.  But compared to other, larger alternatives like Delhi, we cannot help but feel we made the right choice to ease into the country, all things considered.
There have been a few hurdles, but we're ready to go for all the things this country has in store for us over the next month.  Bring it on, India!
About Jeremy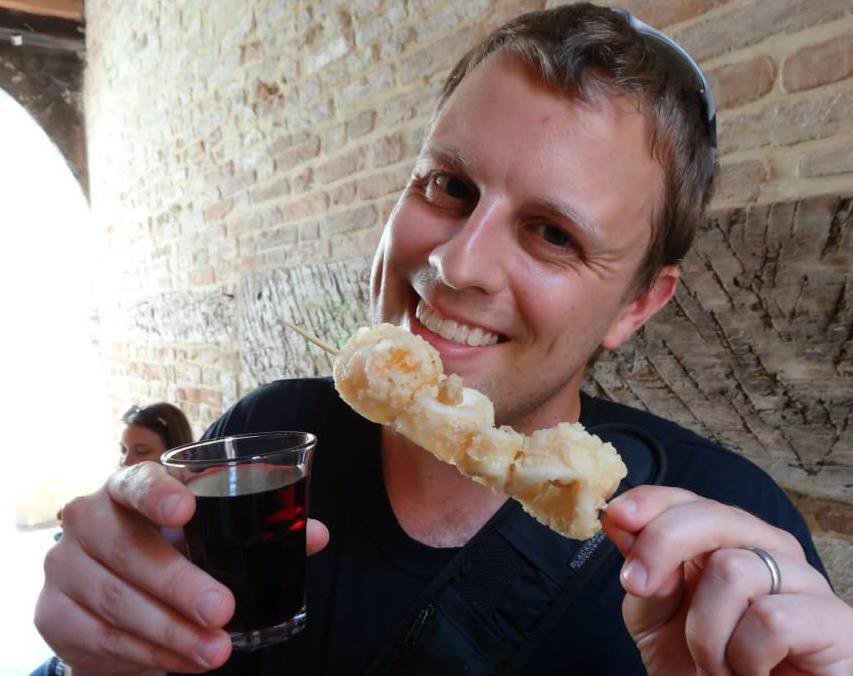 About the Author: Jeremy is a full-time travel writer based in Pittsburgh and primary author of this site. He has been to 70+ countries on five continents and seeks out new food, adventure activities, and off-the-beaten-path experiences wherever he travels.