Last Updated on March 2, 2021 by Angie
Disclaimers: Our site uses demographic data, email opt-ins, display advertising, and affiliate links. Please check out our Terms and Conditions for more information. Listed prices and attraction details may have changed since our visit and initial publication.
Mount Everest trekking has been one of the most awe-inspiring experiences on our RTW trip so far.
Something about working hard towards accomplishing a goal, doing something not many people do, and being in the wilderness surrounded by beautiful nature just really appealed to me.
However, having never trekked before, I definitely wasn't sure going into it that trekking would be my thing. In fact, I was downright terrified of the whole experience.
There were several times in the days leading up to our departure for the trek that I broke down and told Jeremy I didn't think I could do it.
Mount Everest Trekking is Daunting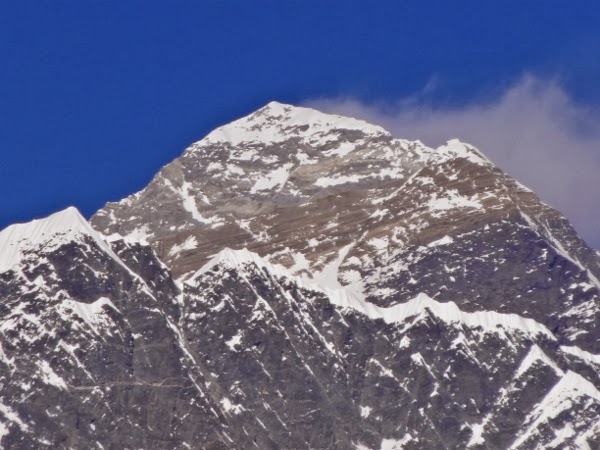 There were a few reasons for my panic attacks.
1.    The Lukla airport: This is one of the most dangerous airports in the world, and we had to fly into it to begin our trek and out of it to get back to Kathmandu. The runway is only 460 m long, at one end is a brick wall, and at the other end is a sheer drop off into the valley below.
2.    Altitude sickness: I read about altitude sickness before the trek in order to be prepared to recognize the signs and symptoms, but the more I read, the more I made myself panic.
3.    My tree nut allergy / being in the middle of nowhere: I have a pretty severe tree nut allergy for which I carry Benadryl and several Epi-Pens at all times. I knew that if I accidentally ate a nut, it'd pretty much be game over for me since it would take quite some time to get airlifted out and to a hospital.
I had the same line of thought for any other potential disasters that might arise: if you need medical care immediately, well, you're done.
Flying to Lukla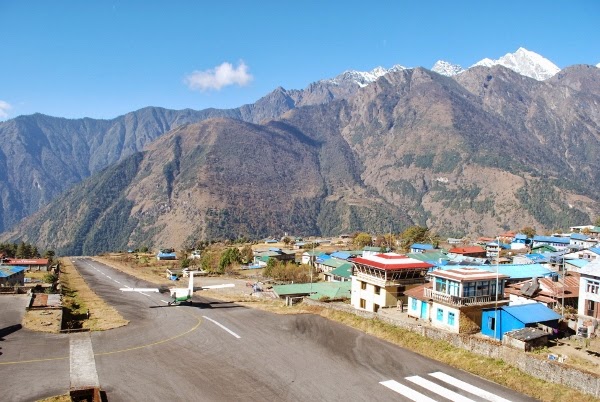 Jeremy tried to convince me that everything would be ok, but I was still shaking with nerves when we boarded the teeny plane from Kathmandu to Lukla.
Luckily the plane did not shake as much as I did: our flight was incredibly smooth, much smoother than anything I had anticipated. And we didn't crash when we landed!
The first hurdle was cleared, and I was feeling a little more positive.
Avoiding Allergies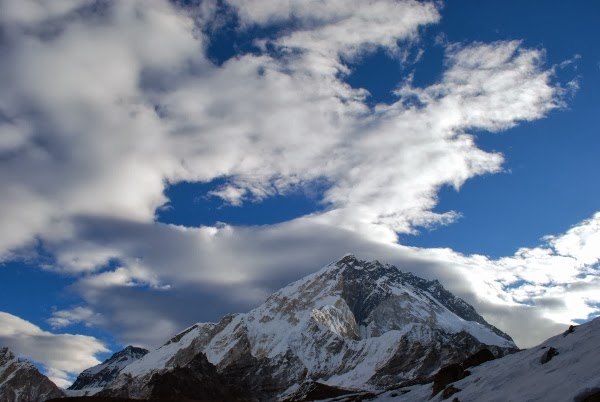 Fortunately, getting over my fear of accidentally eating a tree nut was pretty easy, too. Nuts are expensive in Nepal, especially in the little mountain villages along the trekking route.
Simple things like rice, pasta, cabbage, and carrots are the food staples in the tea houses.
I don't think a single thing on any tea house menu contained tree nuts, and that helped me relax immensely.
Getting Altitude Sickness?  Or Just Dehydration?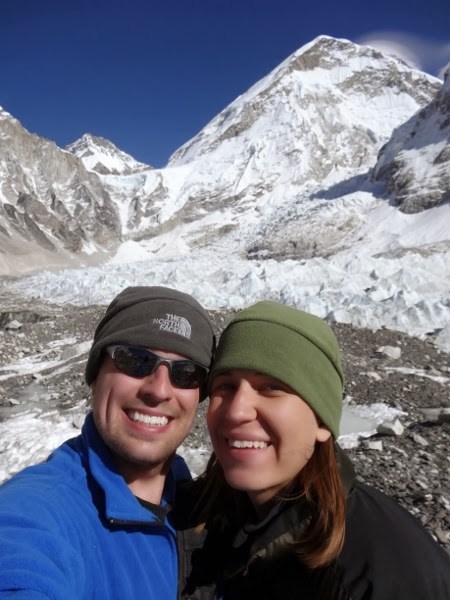 Unfortunately, it took me most of the trek to get over my fear of altitude sickness. On the fourth day, hiking from Namche to Tengboche, I started out the day with a headache (one of the symptoms of altitude sickness). It only got worse as the day went on.
After climbing up the massive hill into Tengboche for three hours with the sun beating down on me, my head started literally throbbing and I felt very sick to my stomach.
When we finally made it to our tea house in Debuche, I thought I might pass out.
I was certain that I was suffering from altitude sickness and wasn't going to be able to go on any further. If I already felt sick at 3867 m, how could I make it to Base Camp at 5365m?
I couldn't eat any food that was put in front of me, and I was very scared. Jeremy asked me a math question to test my faculties, and when I answered correctly, he told me I was fine. Hah!
Eventually, I was able to drink some water, eat some crackers, and take my first Diamox pill to help speed up acclimatization.
In the morning when I woke up I felt so much better and we continued trekking upwards. I'm still not sure if my symptoms were from dehydration or altitude sickness, but either way, they never returned the rest of the trek.
Even so, I was constantly in a state of hyper-awareness about my body: is that a headache? Am I overly tired or just tired because I walked uphill for three hours? Is my pulse faster than normal?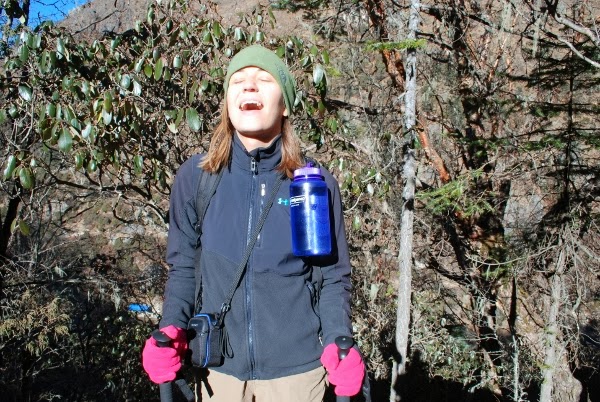 The more we hiked, though, the more that I just focused on putting one foot in front of the other. I tried to immerse myself in the surroundings- it's hard to feel bad when you have views like this everyday.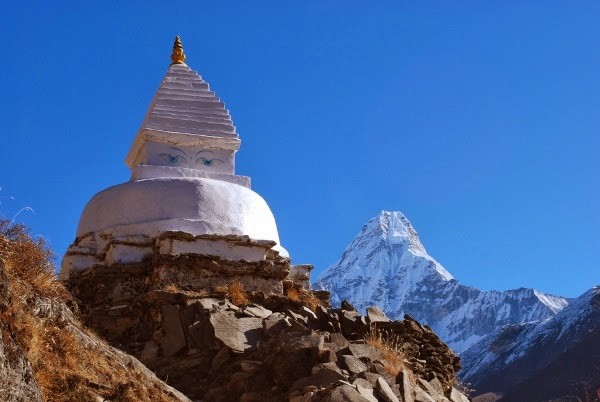 Out of all my fears, the fear of altitude sickness was probably the most well-founded.
But, to others reading this who may have the same fear, I would say this- as long as you know the symptoms, drink a ton of water (4 L or more per day), and walk much slower than you think you should, you'll have a much better chance of not getting sick.
Sure, lots of people do get sick and have to turn around. But as long as you stay put or descend when you don't feel well (don't keep ascending!) you should be fine.
There is also a clinic in Namche Bazaar if you need to talk to a doctor, and there are several places along the trek where doctors give talks about altitude sickness at a scheduled time every day.  (For more tips on the Everest Trek, check out our FAQ page)
As much as it's not fun to be afraid of things, it's such a thrill to get over those fears! I'm so happy and proud of us for completing the trek to Everest Base Camp. Now it's on to surmount some more of my fears.
Looking to travel to Everest Base Camp but don't want to go solo with a guide? Check out a tour by Intrepid Travel to go with a group! And since this is an adventure activity, be sure to pick up travel insurance before you head out as well!
Complete Mount Everest Trekking Guide
For our complete Everest trekking guide, check out the following posts:
Grab Travel Insurance For Nepal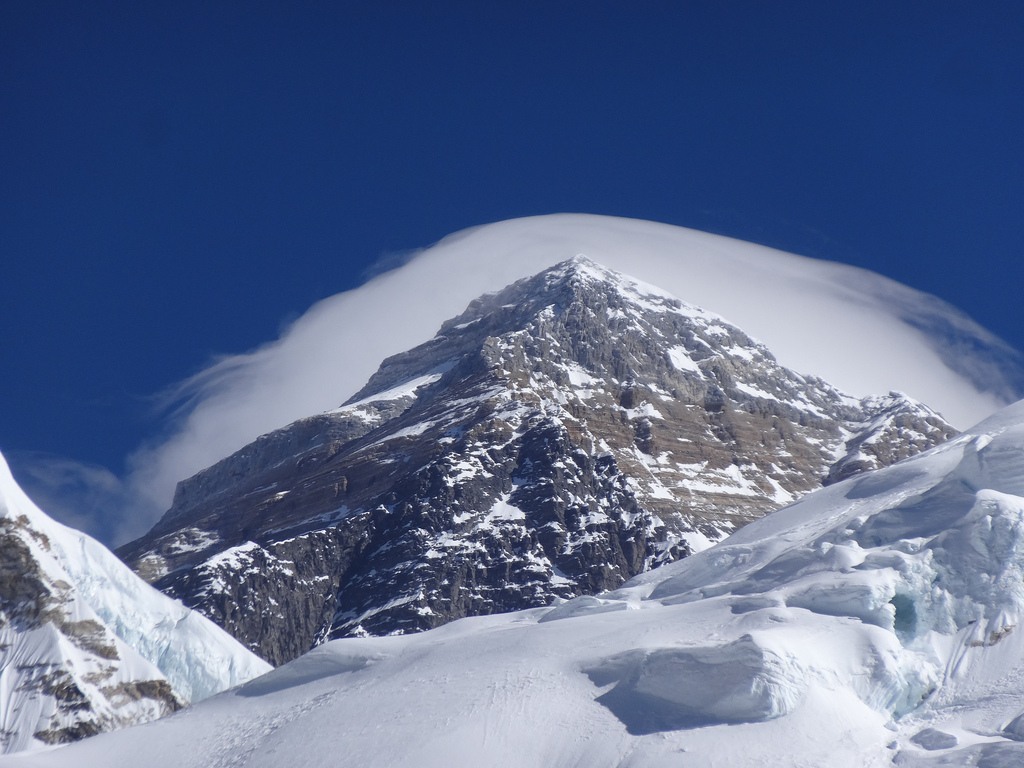 Don't forget travel insurance!

Visiting Nepal soon? Don't forget to pick up an insurance policy from World Nomads before you go!
Book Your Next Trip Today
Looking to book your next trip? Check out the following services we use!
Read More from Nepal
Read More from Asia
About Angie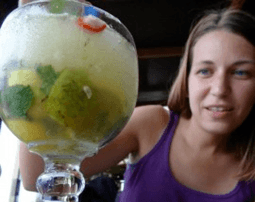 About the Author: Angie is a contributing author. She has been to nearly 60 countries and seeks out the best restaurants, bars, bakeries, and other unique food items wherever she goes- often with her husband, Jeremy.