Last Updated on September 16, 2020 by Rylei
Disclaimers: We were hosted for this experience. Our site uses demographic data, email opt-ins, display advertising, and affiliate links. Please check out our Terms and Conditions for more information. Listed prices and attraction details may have changed since our visit and initial publication.
The fact that I love cooking classes usually surprises most of the people who know me. To begin with, I'm not what's considered an adventurous eater. You're more likely to find me eating a bag of plain potato chips than octopus salad.
On top of being a fussy eater, I have a lot of dietary sensitivities that usually make the whole process of eating something new more of a mine field than a fun pastime.
Couple that with my general inclination to let all my fresh produce rot in my fridge while I eat takeaway over the sink, people are generally amused to learn that I absolutely love cooking classes. So while traveling in Brazil, I opted to learn some Brazilian cooking in a class!
Learning Authentic Dishes of Each Country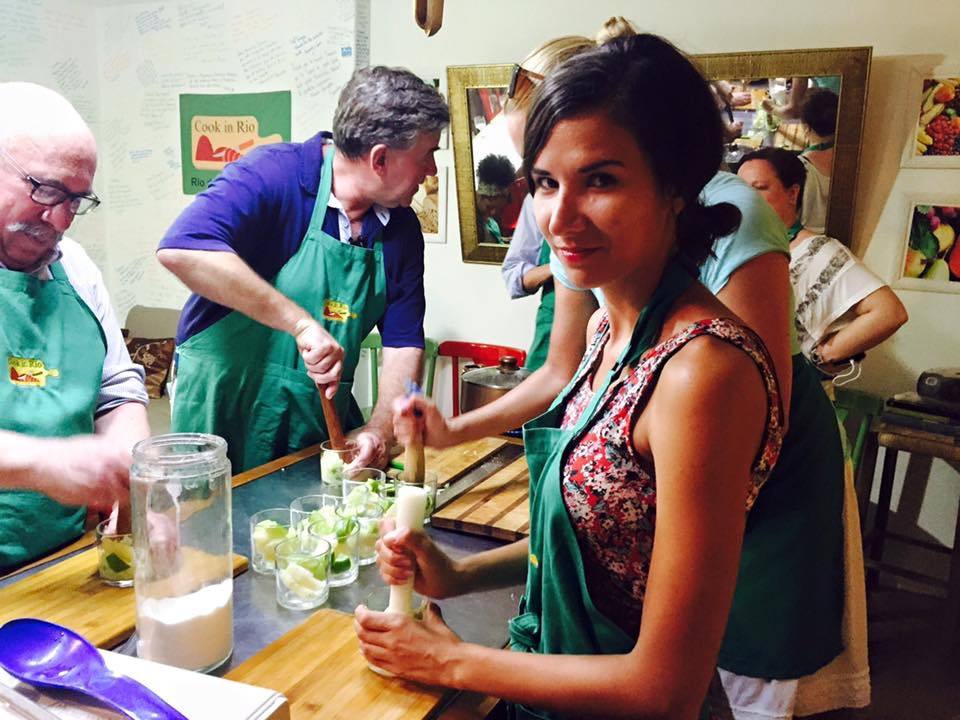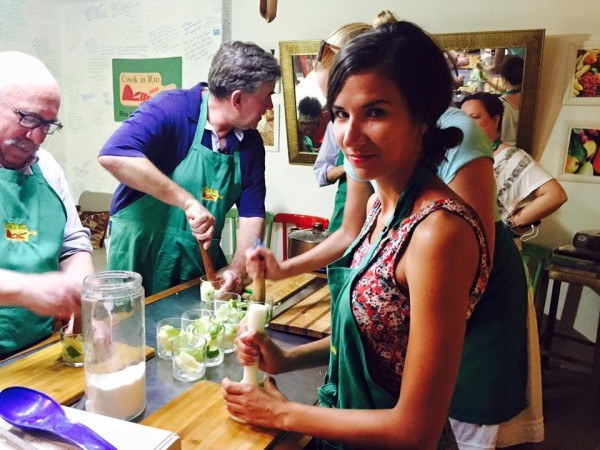 The goal when I set off to see Central and South America was originally to try and take a cooking class on the local authentic dishes of each major country or region.
For a lot of reasons, these classes have almost always been bust: whether it be the language barrier rearing its ugly head resulting in the dish we are cooking being loaded with foods I'm allergic to or too many people crowded in a tiny room only to learn we are really there to watch the cook prepare the food, not learn anything of value ourselves.
Not to mention the utter lack of authenticity of some of the classes I've taken; in one Chilean cooking class I took we made chicken nuggets as the main course.
All of the googling I did afterward assured me that even though McDonald's is keen on overtaking the world, the chicken nugget is not a traditional Chilean dish.
After all of this folly, I was naturally a bit hesitant when I agreed to try a cooking class at Cooking in Rio a couple of hours after I landed in Rio de Janeiro.
Barely two hours after my plane has touched ground, I was on the subway navigating myself downtown to the Copacabana district to find the centrally located classroom.
The room was spacious enough to accommodate fifteen to twenty people well enough that we wouldn't be trampling one another to get a better look, but cozy enough it fostered conversation among all of the strangers.
Professional Chefs Teaching Amateurs Brazilian Cooking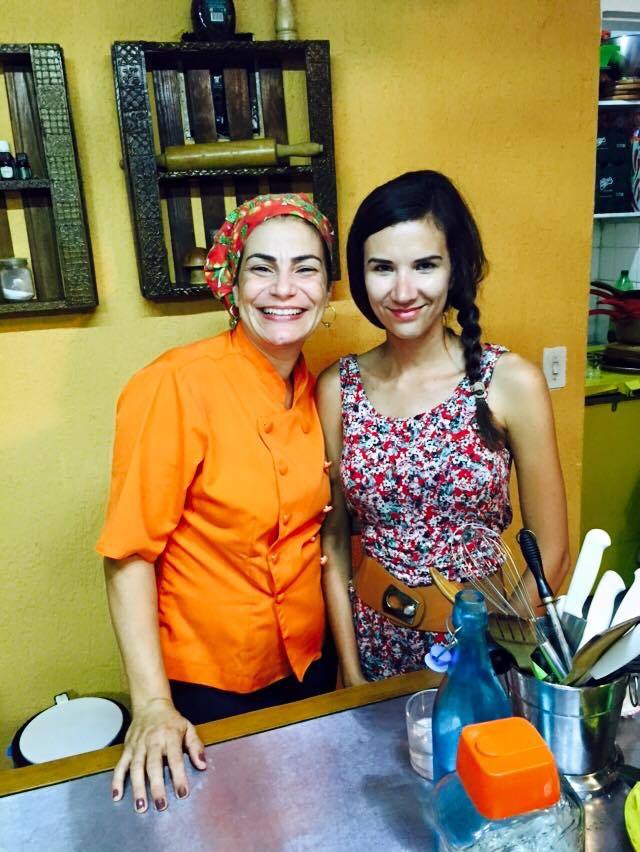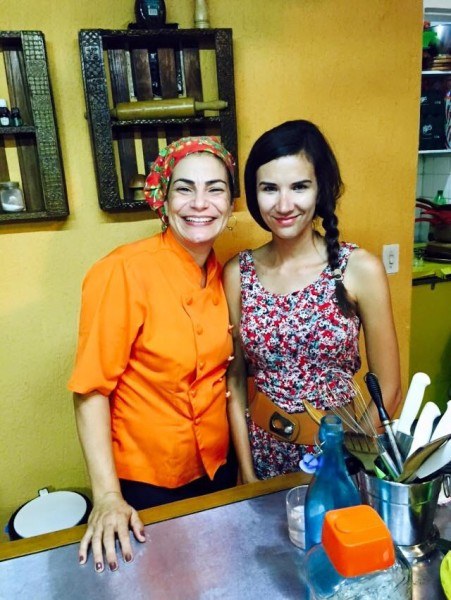 Cooking in Rio is run by a Brazilian woman named Simone, a professional chef fluent in Portuguese, English and German.
She is the kind of woman you want teaching a class when you've just arrived in a foreign country and are still on shaky ground – she is warm and friendly and constantly drags participants about the room engaging them with other people until it feels like you're all old friends meeting up to cook a traditional Sunday dinner.
We began the class with making the national drink of Brazil – the caipirinha. Consisting traditionally of cachaca (sugarcane hard liquor), sugar and lime, we tried our hand at getting a bit creative by muddling in some passion fruit for our first glass and pineapple for the second. Simone encouraged us to use a heavy hand pouring in the cachaca, and the result was a refreshing cocktail perfect for summertime.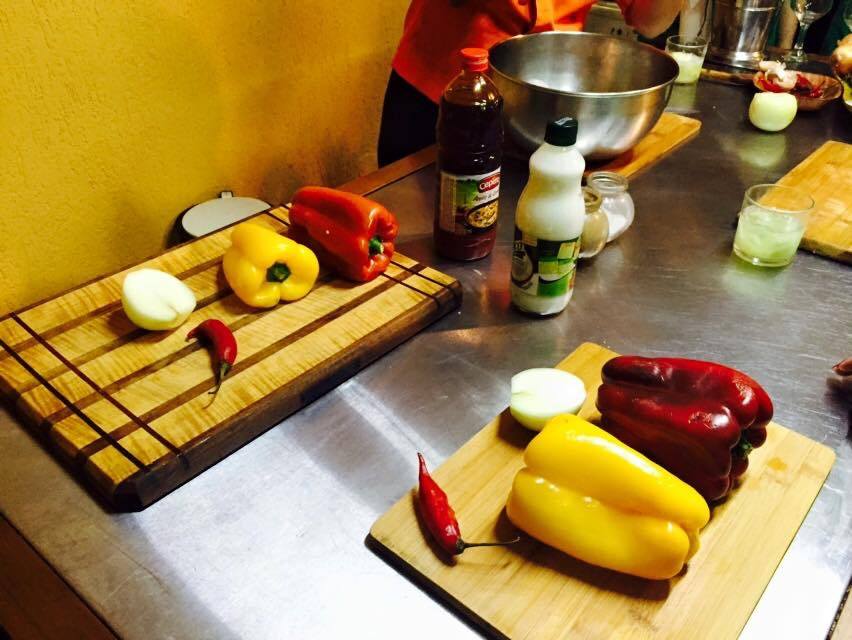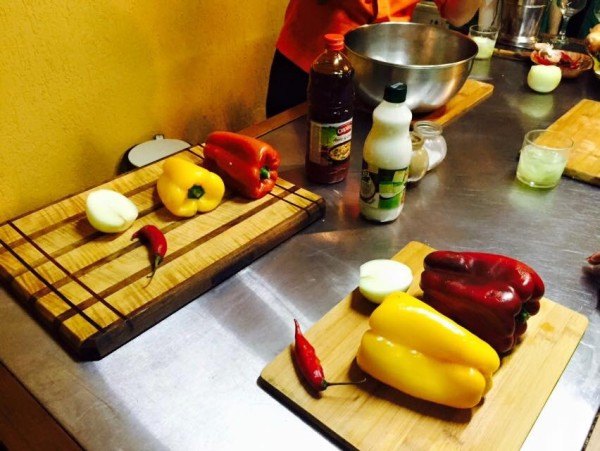 Cocktails in hand, we moved on to Brazil's most famous dish – feijoada. Feijoada is a black bean stew with pork and beef that is traditionally made on the weekend for family and friends.
We began by starting to cook the black beans in boiling water as they take the longest to cook in this recipe. Moving on, we started chopping copious amounts of a dry pork sausage called chourico and beef that were fried up with onion and garlic. The smell was tantalizing.
When the meat was ready, it was added to the beans along with some bay leaves and left to simmer. Traditionally, this meal can be left simmering for many hours to bring out the flavor. Adding a touch of green, we began to sautée collard greens with oil and salt. The slight bitterness of the greens was the perfect complement to the subtle spice of the feijoada.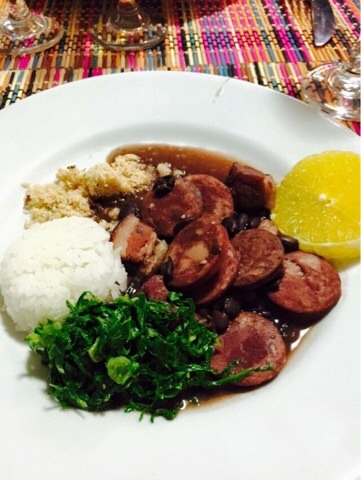 For a side dish, we fried bananas coated in cassava flour. I was fairly hesitant about this dish as I don't particularly like bananas, and like them even less fried. However, it turned out I could not get enough of them when I actually got around to eating.
Because the Brazilians love to eat almost as much as they love to feed others, we weren't finished cooking yet. Next up was a fish course. I have to be honest here and say I generally hate fish and won't eat it.
In that case, Cooking in Rio is wonderful, as Simone was more than prepared to make substitutions of a different meat for my dish. In the end however, opting for the authenticity I've lacked in other classes, I decided to go ahead and try my hand at both eating and making the fish course.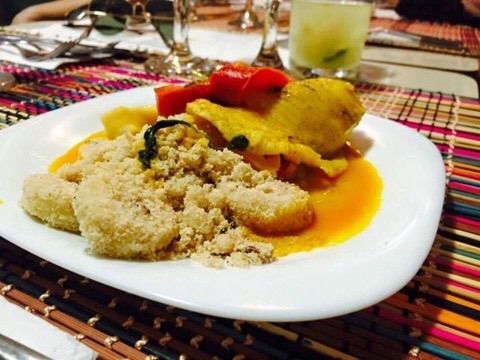 Finally, we sat down to an elegantly-plated meal that was almost too pretty to eat. Almost. I was surprised to find everything as delicious as it looked, even the fish. For a girl who doesn't even like fish, the plate was suspiciously empty when it was time to say our goodbyes to Simone and Cooking in Rio.
I spent a week in Rio de Janeiro eating and exploring, and I have to admit my lesson and meal with Cooking in Rio was definitely one of the main highlights. While the food itself was incredible, the atmosphere of the class and everyone there made for a thoroughly enjoyable afternoon.
I'd like to thank Cooking in Rio for inviting me to try out their Feijoada Class! This 4-hour class pairs small groups of around six novice chefs with a professional chef to make traditional and authentic Brazilian dishes. Make sure you come with an empty stomach and you'll be sure to leave happy.

About Rylei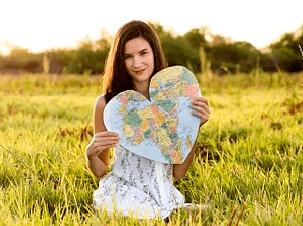 About the Author: Rylei took a trip around the world from 2015 to 2017 and shared her experiences here and on her former blog. She got into adventures such as visiting Easter Island, exploring Antarctica, going on safari in Africa, and more.