Last Updated on August 26, 2019 by The Morgans
Disclaimers: Our site uses demographic data, email opt-ins, display advertising, and affiliate links. Please check out our Terms and Conditions for more information. Listed prices and attraction details may have changed since our visit and initial publication.
Our recent trip to Bali as part of our round the world trip was a different one. We were travelling on a budget. This meant watching every penny and keeping a record of what we spent money on. These are our tips on visiting Bali on a budget- especially for families.  Even though this country is affordable, there are still ways to make it more economical.
Arrival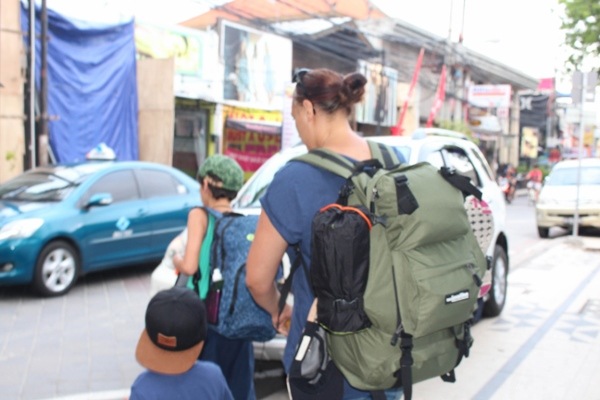 When you arrive at the airport everyone must pay visa on arrival which is $35 USD. However in mid January if you are from the countries of Australia, Russia, China, Japan or South Korea you will be able to enjoy free visa on arrival.
The Indonesian government decided that they would extend free visas to those whose countries had the highest amount of tourists to Bali. Unfortunately New Zealand is not on the list so we cannot save money here, but hopefully you can.  (Note that visa laws change frequently and are best researched prior to your trip to ensure you have the correct fee.)
Transport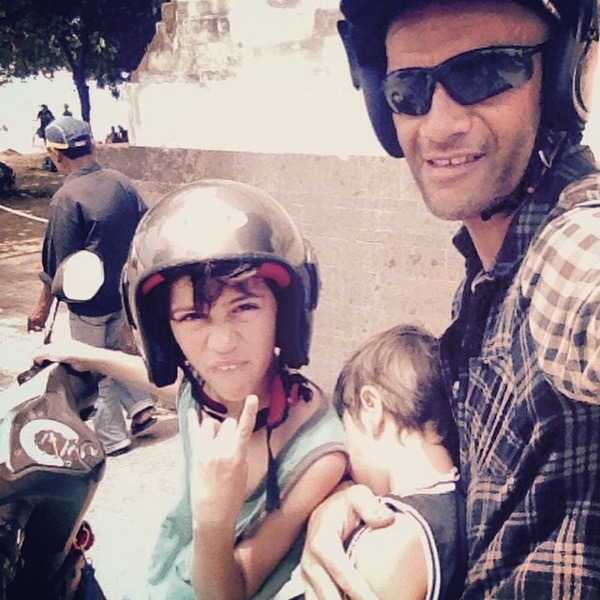 Taxis are cheap in Bali but not all taxis are created equal. Look for Bluebird Taxis these are light blue in colour and you can be sure that they will use their meter and charge you accordingly. While we were in Bali we jumped in a few different taxi's and only found one driver not willing to use the meter.
If you are looking to tour the island or visit different places in one day then hiring a driver may be a good option also. Every driver has different rates but a reasonable rate is around $50 USD for 8-10 hours of driving and waiting for you.
While we were in Bali this time we did use a driver for 4 hours to move villas and do a few errands and were charged $25. It does however pay to shop around and there will be many people that approach you on the street asking if you need transport. If we knew we needed transport the next day we would collect cards of drivers and ask what rates would be for the hours we needed.
The cheapest transport of all in Bali is by scooter which cost around $5 a day. Even though we are family travellers J would hire a scooter sometimes to go surfing and run errands. If you decide to go this route you must have an international drivers license, be covered by your insurance, and have a relevant motorbike license in your home country.
Shopping
Bali has an array of market stalls selling everything from perfume and Beats by Dre headphones to Nike free-runners. The prices of things varies from stall to stall and if you do not know the approximate price you should be paying then it is likely you will be losing money.
A quick google search on price list for shopping in Bali will reveal the prices you should be paying at market stalls. The stall owners love to start the bidding super high and knowing what the approximate prices you should be paying will help you get a fairer deal.
If you are not into bartering then Bali has shops called "Fixed Price Stores". Everything in the shops are a fixed price so there is no need to barter. The prices are very reasonable and although you could probably get some things a bit cheaper at the market stalls by bartering hard. I am always happy to pay a little extra for my sanity, thus I always opt to shop at fixed price stores while in Bali.
Accommodation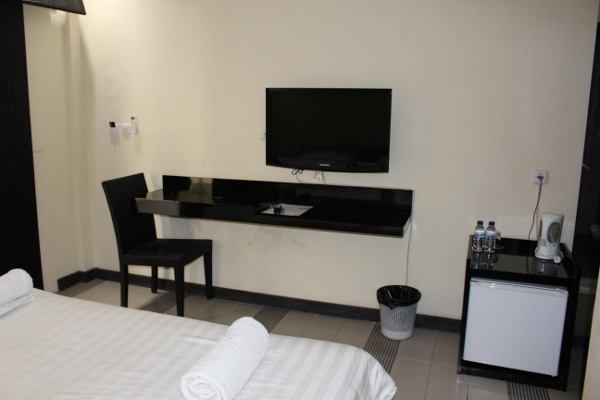 Bali has a huge spectrum of accommodation choices. It has some of the top hotels and resorts in the world, but also has several backpacker type lodgings and local hotels.
We have stayed in our share of 4-5 star properties in Bali, but also frequent the cheaper style accommodations. If you want to save money on accommodation then choosing a 2-3 star property in Bali will cost you 1/3 of the price of a 4-5 star property and you will still get a similar experience.
The property will not be as pristine but everything will be functional. 2-3 star properties will still have a pool, air-conditioning and sometimes include breakfast.
We stayed at a 2.5 star property in Bali called the Zuk Hotel in Legian and we paid $18 per night for a kingsize bedroom with cable tv, air-conditioning, a mini fridge, fast wifi and breakfast. The property also included a pool and was in an ideal location close to amenities. Of course we needed 2 rooms but at $36 for 2 rooms was a steal.
It does pay to shop around so do your research and you will find some fantastic deals on accommodations in Bali.
Food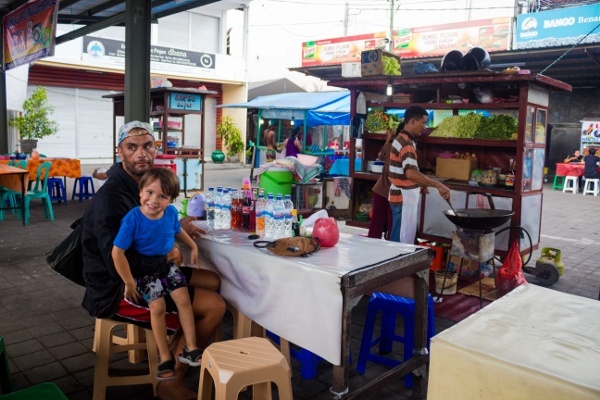 Bali has some great food; some of the top chefs in the world have restaurants in Bali. You can choose to dine 5 star if you like or eat at local warungs. We love good food and if we find somewhere that is delicious but also reasonably priced we are happy and will return.
We have eaten at some of the top restaurants in Bali including The St Regis and The Mulia but this trip we ate more at local warungs like Warung Indonesia.
If you are around the Kuta/Legian areas do make an effort to eat at the Poppies area as the restaurants there do not add the 21% tax and service charges like every other restaurant in Bali. This alone was saving us $3-10 on meals, which adds up over time.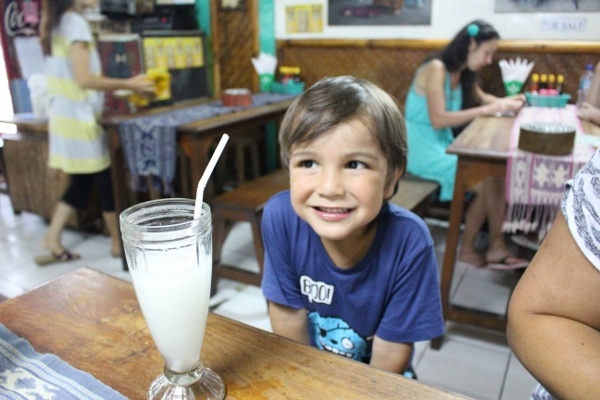 On Poppies lanes you will find an array of food including Greek, Mexican, Italian, Indonesian, Thai, Pub Food and much more if you are looking for something different as well.
If you are visiting Sanur they have a local night market that serves fresh local food at fantastic prices. My children enjoyed visiting and watching their dinner cooked in front of them.
Activities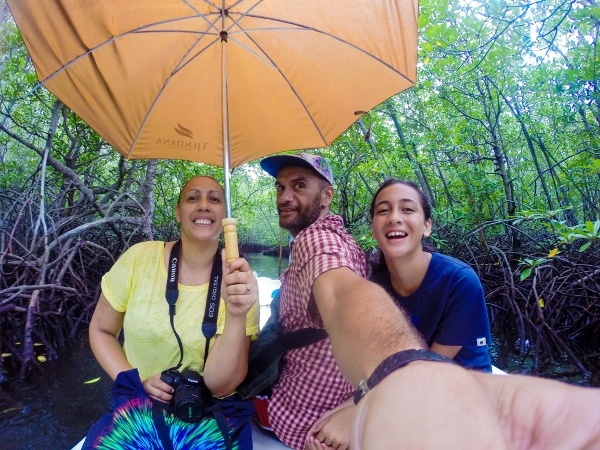 Activities can take a large chunk of your budget when visiting Bali. There are a couple of ways to save money on activities. When walking around you will see several tour booths set up around the streets. Because of competition each will try and undercut the other so if there are certain activities you want to do shop around at the stalls to get the best deal.
We have used tour booths often to get cheaper tickets for Waterbom Bali and Bali Safari and Marine Park. Although we were only saving $5-10 per ticket when you are buying six it is a big saving.
When I was visiting with my parents I negotiated a package online for watersports. I specified which activities we wanted to do and he gave me a price. Remember that bartering for activities is normal so you can negotiate for a better price. I ended up saving over $100 for the 4 different watersports activities I booked.
When visiting Bali as a family a small saving quickly adds up and could mean an extra day or two on the beautiful island. A little bit of research will go along way in Bali.
About The Morgan Family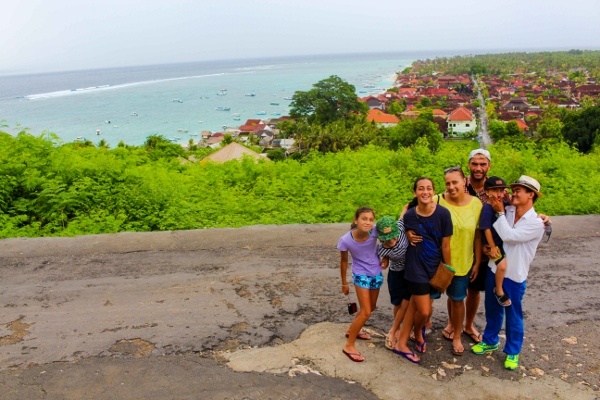 About the Author: The Morgan Family of Morgans Go Travelling are a traveling family that shared stories from their around-the-world trip from 2014 to 2015. They share frequent travel updates on their Facebook page.